A winding road with breathtaking views of the Tyrrhenian Sea winds its way through mountains and charming, colourful villages. Yes, you are on the Amalfi Coast! Perhaps right now you are alone in your imagination, but if you plan to turn that vision into reality, keep reading because in this travel guide to the Amalfi Coast we are going to tell you everything you need to know to make your experience in southern Italy unforgettable.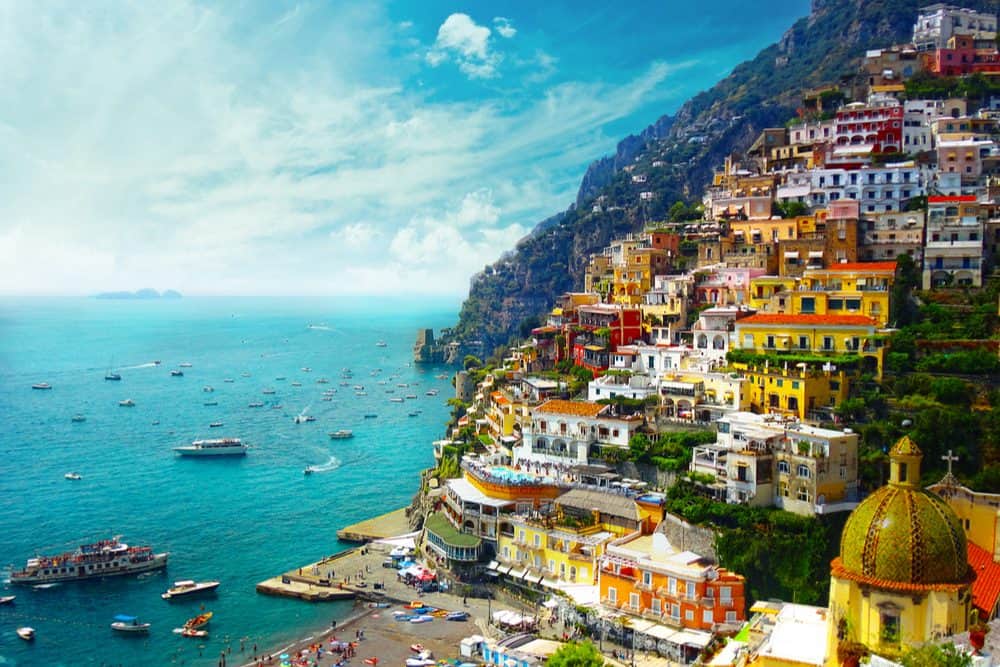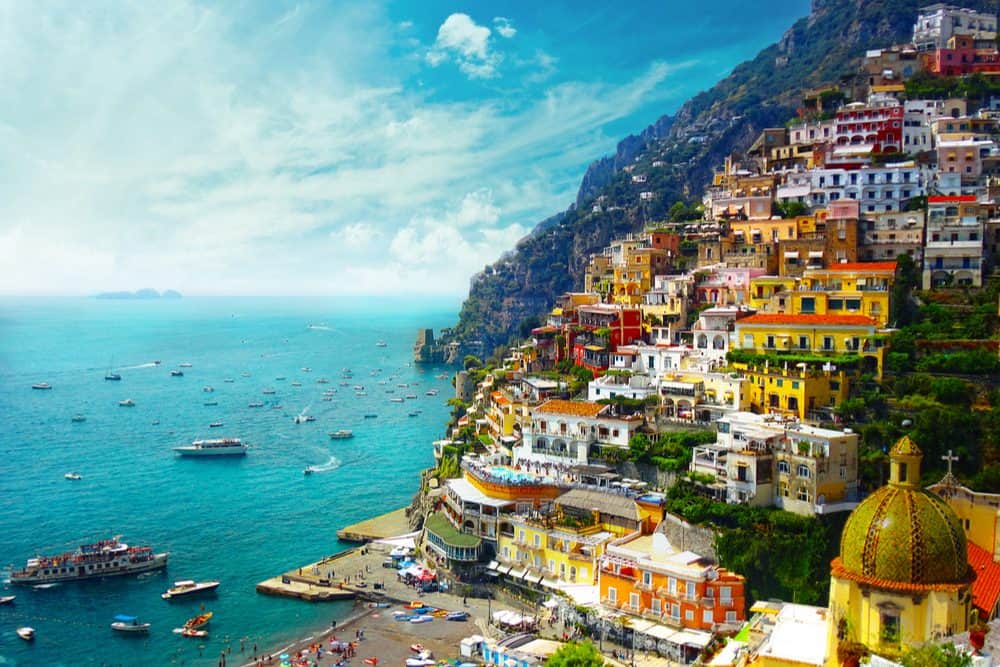 About the Amalfi Coast
In 1997 UNESCO decided to declare the Amalfi Coast a World Heritage Site, thus recognizing the tourist and cultural importance of this stretch of Italian coast.
But let's go back in time a little more… Amalfi, one of the most famous destinations among travelers today, was back in the 12th century the capital of one of the seafaring republics that dominated the Mediterranean. But its tourist importance goes back even further in time – to the Roman Empire, no less! Yes, even in the time of emperors and conquests, the Amalfi Coast was a popular holiday destination. Things did not change over the years, because artists and public figures continued to find in these lands the desired inspiration or simply a perfect place to enjoy the dolce far niente.
Beautiful villages steeped in tradition and culture, dreamy landscapes and delicious cuisine are the ingredients for the Amalfi Coast to remain one of the most sought-after destinations among travellers from all over the world today.
Here's a complete list of thing to do in the Amalfi Coast.
The most beautiful villages on the Amalfi Coast
You know what they say about "colorful taste"? Well, if there's one thing that's not missing on the Amalfi Coast, it's colour! So choosing your favourite town will depend only on your personal preferences and tastes. And to give you an idea, here we tell you which are the most beautiful villages on the Amalfi Coast:
Positano
In a constant battle with Amalfi for the leading role of the Amalfi Coast, there is no doubt that Positano has long since ceased to be a humble fishing village and has become an internationally famous tourist destination. On your way you will come across boutiques and souvenir shops and a good number of tourists at almost any time of the year. In spite of everything, its beauty is unquestionable and a visit to it could be said to be a must on a trip to the Amalfi Coast.
Furore
There was a time when travelers overlooked this place known as "the town that doesn't exist"… But it does exist! A dramatic and beautiful landscape with a fjord that roars when on stormy days the sea is raging.
Conca dei Marini
Without detracting from the importance of this small village, it is worth going there especially to see the Grotta dello Smeraldo. In this marine cavity, discovered by a local fisherman in the 1930s, you will enjoy a good dose of emerald colour… don't miss it!
Amalfi
A photogenic staircase (very Instagram!) leads to the doors of the imposing Duomo di Sant'Andrea, the main tourist attraction of this town. Amalfi is also an ideal place to get lost while strolling through the charming streets of its historical centre, and why not do so while savouring a delicious lemon ice cream so typical of this area?
Atrani
As you wander aimlessly through Amalfi you may inadvertently arrive at Atrani. The two locations are connected and many do not realize where one ends and the other begins. So if you don't reach it by chance, do it intentionally! This tiny village, nestled between the Civita and Aureo mountains, is a little gem of Mediterranean architecture that you can't miss.
Ravello
You won't find beaches in this inland town, but you will find splendid views of the entire coast from the beautiful Villa Rufolo and Villa Cimbrone. As well as some peace and quiet and some fresh air, which you will appreciate especially on warm summer days.
Minori
If history is your thing, you can't stop visiting this town. In Minori you can visit one of the most important monuments of the entire Amalfi Coast, the Roman Maritime Villa of the first century AD.
Maiori
Ideal for those looking to rest after so much tourism and relaxing while enjoying a day at the beach. Maiori beach boasts the longest beach on the entire Amalfi Coast, so you won't have to suffer to find a place to spread your towel. And if you dare to explore the nearby town of Erchie, you will be able to admire one of the most beautiful beaches in the whole area.
Vietri sul Mare
We have already told you that colour is not lacking on the Amalfi Coast and Vietri sul Mare is the best example of this. Its famous ceramics reproduce all the colours of the Coast and you will find them covering different buildings and houses in the town… a delight for the eye!
How to get to the Amalfi Coast from Naples
There are different ways to get from Naples to the Amalfi Coast.
Train
The only town on the Amalfi Coast with a train station is Vietri Sul Mare. It can be reached from Naples Piazza Garibaldi Station (just below Naples Central Station) in just over an hour for less than 5 Euro. As these are regional trains you don't need to book in advance, just get to the station a little before the train leaves, buy your ticket at the ticket office and have it stamped at the machines.
From this summer Trenitalia also offers the possibility to reach Amalfi for less than 15 Euro by buying a ticket that combines a train ride to Salerno and a road connection to the centre of Amalfi (it is called "Amalfi Buslink"). All information about prices and timetables here.
Various regional and high-speed trains connect Naples Central Station to Salerno Station daily. Once in Salerno you can continue by bus with the Salerno-Amalfi route of the SITA company to Vietri Sul Mare, Maiori, Minori, Cetara, Atrani and Amalfi. More information here.
It is also possible to reach Sorrento with the Circumvesuviana, a railway company that operates services in the metropolitan area of eastern Naples, and from there continue to one of the towns on the Amalfi Coast with the bus services of the SITA company.
Bus
From Naples' Capodichino Airport there is a bus that takes you directly to Sorrento in about one and a half hours for 10 Euros (more info). Once there, SITA buses connect Sorrento to the various locations on the Amalfi Coast.
From the port of Naples, SITA also offers connections to the various towns along the coast via Salerno.
Boat
In the past there was the possibility of reaching the Amalfi Coast by boat from Naples, but this is no longer possible today. However, there is still the option of arriving by train or bus to Salerno or Sorrento and from there using one of the existing transport services to reach various towns on the coast by sea (more information in the section on getting around the Amalfi Coast).
Car
And of course, there is always the possibility of reaching the Amalfi Coast in your own car or with a rental car. Just take the Autoestrada A3 Napoli-Salerno and take the exit Vietri sul Mare to continue along the SS163 which runs through the various villages on the coast. However, bear in mind that this is a very winding, narrow and busy road. If you are not used to driving on this type of road we advise against this option.
Getting around the Amalfi Coast
One of the most convenient ways to get around the Amalfi Coast is by bus. As we have already mentioned in the previous section, the SITA company communicates all the towns on the coast quite frequently throughout the day.
There are different types of tickets: from single tickets valid for a single journey, to day tickets that allow you to use their services unlimitedly for 24 hours (from 10 ?), and even a day ticket that includes in the price a boat trip with the company Travesura (13 ?). More information.
However, you have to bear in mind that the coast road is narrow and full of bends and, especially during the summer months, buses often do not respect the timetables and suffer delays.
Moving around by car, motorbike or even bicycle (if you are fit, of course!) will give you more flexibility on your journey, with the possibility of stopping whenever and wherever you want and without having to worry about the timetables of the other means of transport. However, bear in mind, especially if you choose the option of moving around by car, that traffic on the Amalfi Coast can become desperate and much more so during the summer months. In addition, car parks are chargeable and can be easily filled during the peak tourist months.
One way to avoid the inconvenience of moving around by road on the Amalfi Coast, and at the same time enjoy some beautiful views, is to do so by boat by sea. A number of companies (Travelmar, NLG, Volaviamare, Alicost, among others) offer daily connections between the main towns on the coast. Probably the only negative aspect is the high price of tickets, which can also vary quite a bit depending on the company and the type of boat chosen (fast boats are the most expensive).
travel to the amalfi coast
Ravello, one of the wonders of the Amalfi Coast
Accommodation on the Amalfi Coast
If you have several days to spend in the Amalfi Coast, you have several options:
If you travel by car, the ideal would be to stay in several places. You can visit different villages and you don't have to return to the same place every time. Make sure your accommodation has private parking, you'll save yourself a headache!
If you have chosen to travel by bus or boat and depend on transport for your visits, it is best to make a base in one place so that you don't have to carry your luggage every day. In this case the important thing is to find a place in the middle of the Amalfi Coast route and make sure it has good connections with the rest of the places you want to visit.
Here you can find cheap accommodation on the Amalfi Coast.
3-day itinerary along the Amalfi Coast
If you are lucky enough to be able to explore the Amalfi Coast for several days, we recommend that you spend at least three days there. Obviously you can make a day trip from Naples, Sorrento or Salerno… Or spend a week, a month, a summer, but we think three days is the minimum duration to enjoy a trip along the Amalfi Coast. A possible itinerary could be the following:
Day 1
We start our first day of travel visiting the colorful village of Vietri sul Mare, to continue with Cetara and the small town of Erchie. From there we will go to Maiori to perhaps take a swim in the longest beach of the Amalfi Coast and continue our journey towards Minori. If you feel up to it, you can do it on foot by walking along the Sentiero dei Limoni that connects both villages. You can spend the night in Minori or go to Ravello.
Day 2
We start soon this second day to spend an hour visiting Ravello and enjoying its wonderful views. We will continue our tour of the Amalfi Coast by getting to know one of its main attractions: Amalfi. As there is a passage from Amalfi to Atrani (almost literally) we will take advantage of it to get to know this little jewel, before continuing towards Conca dei Marini and visiting the Grotta di lo Smeraldo (closed at 4pm in summer/15pm in winter). We are still in time to finish this second day in Praiano, famous for its beautiful sunsets and good place to spend the night.
Day 3
We spent the first part of the morning of this last day walking around Praiano and finding the "hidden" town of Furore to admire its beautiful landscape. We will put the icing on the cake of our trip along the Amalfi Coast in the famous Positano, an ideal place to do some last minute shopping and enjoy the dolce far niente
If you have only one day to visit the Amalfi Coast, the best option is to take an organized tour, avoiding headaches and making the most of your time. Book a boat trip or a bus tour.
The best excursions from the Amalfi Coast
If after exploring the Amalfi Coast, you still have time, there are a number of interesting places within a stone's throw that you should not miss. Here are just a few suggestions:
Pompeii
From my personal experience I have to say that Pompeii is one of the places in the world that has most impressed me, one of those places that simply MUST be known. Take advantage of your days in this area of southern Italy and come visit the remains of this ancient city of the Roman Empire that remained hidden and forgotten for centuries under the great layer of ashes that caused the eruption of the volcano Vesuvius.
Price: 15$
Summer schedule from 9.00 – 19.30 (from 8.30 Saturdays and Sundays), winter schedule from 9.00 – 17.00 (from 8.30 Saturdays and Sundays)
More information on the visit to Pompeii
From Sorrento you can easily reach us with the Circumvesuviana line. Check timetables here. If you prefer you can opt for an excursion from Positano to visit Pompeii or even to visit Pompeii and the Vesuvius volcano on the same day.
Capri
A symbol of hedonism, famous among the famous, unquestionably beautiful and with a good number of interesting places to see: from its well-known Piazza Umberto I, to the Grotta Azurra or Monte Solaro, with its impressive views of the whole island. "Taking a jump" from the Amalfi Coast to visit the island of Capri is a perfect day trip not to be missed.
More information about visiting Capri
You can reach Capri by ferry from Sorrento and Salerno, or from other ports on the Amalfi Coast such as Positano and Amalfi. Check out different options here. If you prefer, you can hire an organized day tour from Positano.
Things To Do in Capri
Where To Stay in Capri
Sorrento
Get lost in the historic centre, partially surrounded by a wall, browse through the many craft shops, visit the Duomo… but above all don't forget that you are in the land of lemons… and Sorrento's is LEMON with a capital L! Try it in one of its many versions and don't forget a little sip of Limoncello. There are a number of interesting things to see and do in Sorrento on a tour from the Amalfi Coast.
Salerno
A very important enclave in the Campania region for its history and its strategic location. A treasure little explored by travellers and one of the most beautiful medieval cities in Italy. In short, a perfect place to visit on a day trip from the Amalfi Coast.
Tips for visiting the Amalfi Coast
Here are a few tips to help you plan your trip to the Amalfi Coast:
In an area as visited as the Amalfi Coast it is advisable to plan in advance what you want to see and where you want to spend the night. You will avoid unpleasant surprises and find better prices.
Stay away from the more central areas to spend the night. Amalfi and Positano have the highest prices on the coast for accommodation, so avoid them if you are travelling on a tight budget.
Choose the best time to make your trip. During July and August prices are higher, there are more tourists and it can get too hot. Spring and autumn are ideal seasons to get to know the Amalfi Coast.
Italian cuisine is tempting and here you will find temptations at every step, but if you want to save time and money, a good idea is to go to the supermarket. Maybe not every day, but once in a while it is a quick and economical solution.
Get up early and start your day early, if you move around by car you will find less traffic on the road and it will be easier to park. In addition, you will be able to enjoy the places at less crowded times.
Ask for the price before you put your towel on a beach umbrella, after you know it you might prefer to spread your towel out on the sand.
And that's it for our travel guide to the Amalfi Coast. We hope it will be useful and that it will help you to enjoy this part of Italy, which deserves to be visited at least once in your life!
Read more:
Rome Travel Guide
Florence Travel Guide
Milan Travel Guide
Naples Travel Guide
Pisa Travel Guide
Turin Travel Guide
Venice Travel Guide
Cinque Terre Travel Guide