Barcelona is a historical, artistic, gastronomic and sports centre with undeniable appeal. It's perfect for strolling along elegant boulevards in the Eixample, rubbing shoulders with street artists on La Rambla and cooling off on the beach. You can also admire some of the world's most creative architecture, such as the Sagrada Familia and Parc Güell.
This is a city that is pulsating, active, dynamic and cosmopolitan. By day it offers a great variety of attractions, shows, parks, nearby beaches and entertainment. At night, it is a seductive, fun and very up-to-date place.
Read more about Barcelona:
Best Things To Do Barcelona
Best Time To Visit Barcelona
Best Places To Stay in Barcelona
Best Restaurants in Barcelona
If you like football, don't miss a game at Camp Nou, where Barcelona plays. If you are passionate about art, you will find much more than the largest collection of paintings by Picasso.
Top 5 reasons to visit Barcelona
Impressive architecture
The beautiful architecture of Barcelona is world famous. Take a walk through the Gothic Quarter to admire the medieval masterpieces. Then explore Gaudi's masterpieces: Parc Güell and Sagrada Familia.
Some of the world's best works of art
Come to the Joan Miró Foundation and admire the largest collection of works by this artist. The Picasso Museum is also a must, where you can admire, among other things, the famous series of paintings Las Meninas.
Gastronomy and shopping
Barcelona has a thriving gastronomic scene, with elite restaurants like Xerta and Moments and great street food. It also offers upscale boutiques such as Prada on Carrer Gràcia and a fascinating flea market on Las Ramblas.
Sporting events
F.C. Barcelona is the sporting epicentre of the city, where football is a captive sport. In the Camp Nou you will see elite players playing in one of the most powerful teams in the world.
Festivals all year round
Whatever time of year you visit Barcelona, something will be happening there. Whether it's Sonar or Primavera Sound, in June, or the Festival de Gràcia in August. Barcelona loves to party, so check out the programme before choosing your date of travel.
What to do in Barcelona
Admire the Sagrada Familia
Gaudi's imagination is wonderfully displayed all over Barcelona. His Sagrada Familia is the glory of modernist architecture. Its amazing level of detail and the immense scale of the construction make it a wonderful place that shines every day.
Walking along Las Ramblas
The last pedestrian street in Barcelona is La Rambla, which connects Plaça Catalunya and the sea. It offers street artists, cafés, market stalls and a colourful reflection of Barcelona life. Don't forget to go to the Boqueria Market to taste the local delicacies! At the end of the avenue is the Mirador de Colón, with splendid views of the city and the nearby Barceloneta beach.
Activate your imagination in Parc Güell
North of Barcelona and dominating the city, Gaudí placed a real explosion of colour and creativity. This park brings together a stunning compilation of mosaics and sculptures. Entire squares, benches, staircases and other ornaments follow one another in surprising succession, covered with tiles, during this essential tour.
Strolling through the Gothic Quarter
Beyond the bustling Rambla lies Barcelona's oldest neighbourhood: the Barrio Gótico. Its intricate maze of streets and alleys invites tourists to explore the historic area with passion. Pedestrian paths are dotted with picturesque balconies, lovely period doors, boutiques and modern cafes. Between the narrow corridors you will find small charming squares and emblematic places like the cathedral and the Plaza Reial.
Admire the Casa Milà
Also known as La Pedrera, Casa Milà is a minor work of Gaudí's which, however, deserves the same recognition as the Sagrada Familia and Parc Güell. Its exterior is reminiscent of an open quarry, covered with mosaics and embellished by a brilliant interior architecture. Trunks of trees act as support for the building, now converted into an educational space. From here, you can go to the nearby Casa Batlló to continue enjoying Modernism.
When to visit Barcelona
You can come to Barcelona at any time of the year. The summer may be a bit hot for some, but with the beach nearby, the refreshment is immediate. Spring is ideal for visiting the sights and enjoying the Primavera Sound festival in early June. Autumn is also a good time to get to know it.
How to get to Barcelona
By plane
Barcelona's international airport, called El Prat, is the main point of entry. It is located in the southwest and it is not complicated to get there. The RENFE R2 Nord train connection to Sants station leaves from Terminal 2 and costs 4.10 EUR. Another possibility is to take the Aerobus, which takes half an hour and costs 5.90 EUR.
By train
Many European trains arrive in Barcelona from cities like Paris and London. Sants is the main station, which is connected to the Barrio Gótico by the Metro Blue Line.
By car
Getting to Barcelona by road is easy. The main access from France is the A9, which connects with Marseille and Montpellier. Once in Spain, you must change to the E15. If you are travelling from Madrid, the E90 and the A2 are your motorways.
By bus
Numerous bus companies, with operators such as Megabus and Eurolines, cover Barcelona with service. The main bus station is in the North, near the Arc de Triomphe, where you can take a direct metro to the centre.
Airports near Barcelona
(BCN) Barcelona-El Prat
(GRO) Gerona
(REU) Reus
Where to stay in Barcelona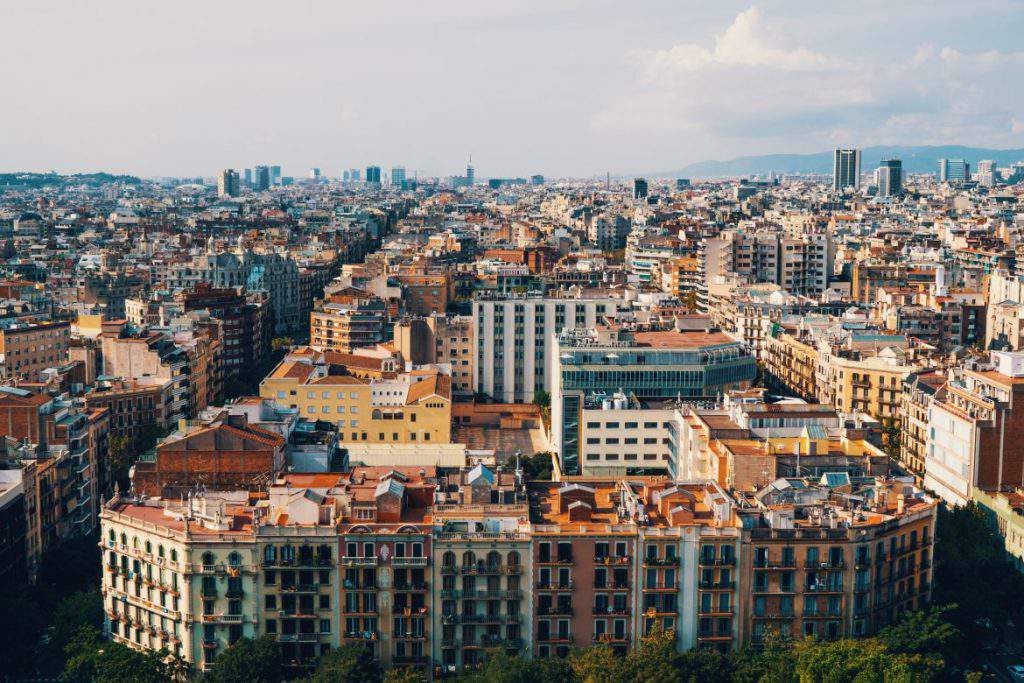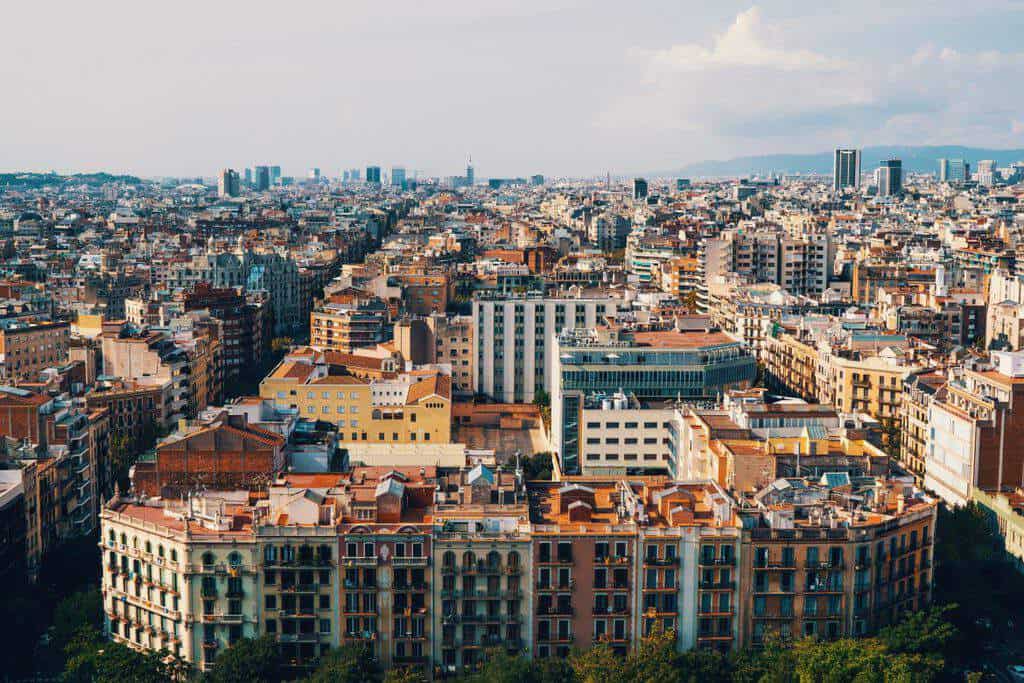 Barcelona offers you a multitude of accommodation styles. In the heart of the Gothic Quarter you will find the Hesperia Hotel and the Adagio Hotel. If you want to stay in front of the sea, W Barcelona is a modern hotel with a rooftop pool. For luxury lovers, Grand Hotel and Murmuri are highly recommended boutique hotels.
Interesting neighborhoods in Barcelona
La Rambla and the Gothic Quarter constitute the most charismatic essence of Barcelona. Both, the most popular street and the medieval city, offer a wonderful historical setting. The beautiful interior of the cathedral of La Seu, the cafeteria Els Quatre Gats which fascinated Picasso, the travelling artists and the market stalls radiate charm and charisma.
Gracia is located north of the old town. Created in the 19th century, it is clean, modern and beautiful. It is home to some of the most exclusive hotels and includes Gaudi's Parc Güell, the August celebrations on Festa Mayor street and elegant squares such as La Virreina, ideal for a coffee break.
The Eixample is one of the world's first designer suburbs. It is made up of American-style square blocks with central courtyards. It is a very prosperous area that is home to architectural gems such as Casa Amatller and the Sagrada Familia. If you feel like mixing gourmet tapas and excellent wines, bars like Bohemic will make you enjoy.
How to get around Barcelona
Public Transport
Barcelona's public transport service is first class. The Tourist Bus is a very interesting basic option, as it connects the main attractions of the city for 27 EUR a day. More economical is the Metro, always reliable, whose individual tickets cost 2.15 EUR and the 10-trip ticket 9.95 EUR. These tickets also give you access to local trains and trams. The Barcelona Card includes travel on public transport and access to most attractions for 37 EUR , valid for 2 days.
Taxis
The taxi fare is uniform in Barcelona: minimum cost of 7 EUR and 1.8 EUR per 1.6 km, between 8 am and 8 pm.
Car
You don't need to rent a car to explore the city, but you do need it to move around. Sixt, Europcar and Avis offer rates between 15 and 20 EUR per day. However, remember that parking can cost you up to 30 EUR a day.
Cost of living in Barcelona
Shopping streets
There are many Barcelona neighbourhoods with high-end shops and boutiques. In Paseo de Gracia you will find the best clothing boutiques, such as Burberry, Prada and Valentino. La Rambla offers you a completely different experience, with street vendors. La Boquería, the city's main market, is ideal for buying food, wine and crafts.
Groceries and others
As well as in La Boquería, you can buy in large stores such as Carrefour, Mercadona and Alcampo. You will find a wide range of products and cheap prices. A 1 litre bottle of beer will cost you 1.19 EUR and a 2 litre Coca Cola will cost you 1.36 EUR.
Where to eat in Barcelona
There are few cities in the world with so many fine restaurants. Do you want to try high-quality tapas in the centre? Quimet i Quimet, Polleria Fontana and El Xampanyet are ideal. Also try the delicious Asian sandwiches from Koju, the European gourmet dishes from Xerta and the Michelin-starred restaurants, such as Moments by chef Raül Balam.
A few portions of tapas will cost you about 20 EUR and, eating in a great restaurant, between 50 and 100 EUR.