Santorini is a truly magical place. Its villages of little white houses make it one of the most romantic destinations in the world. Keep in mind that if you visit Santorini during the hottest months of the year you will have to face the mass tourism. Even so, we found it to be an enchanting island where every sunset leaves you speechless. Here are the best things to do in Santorini, the most beautiful Greek island for most people.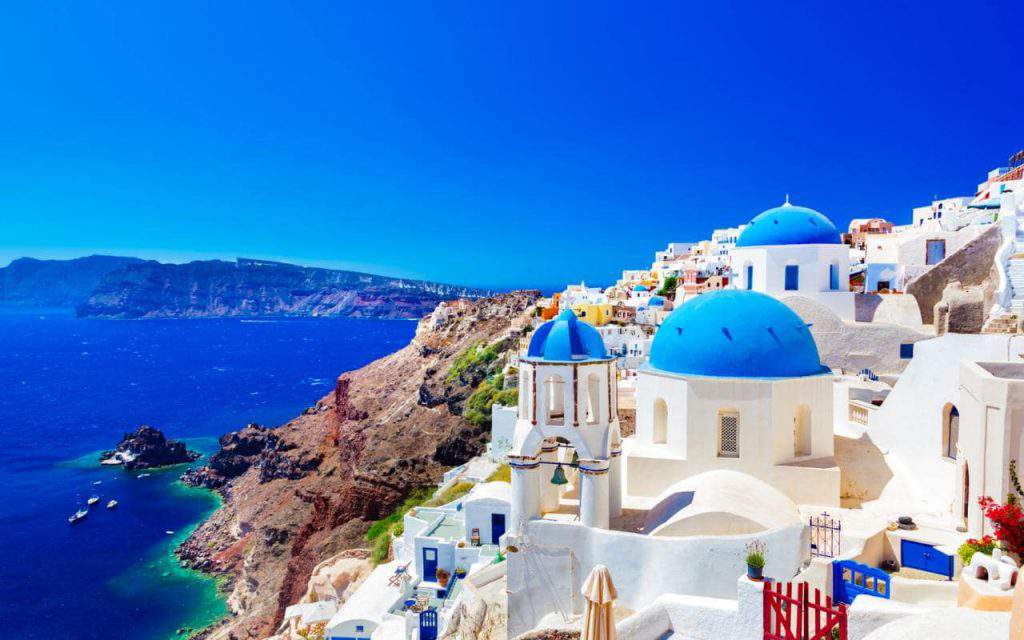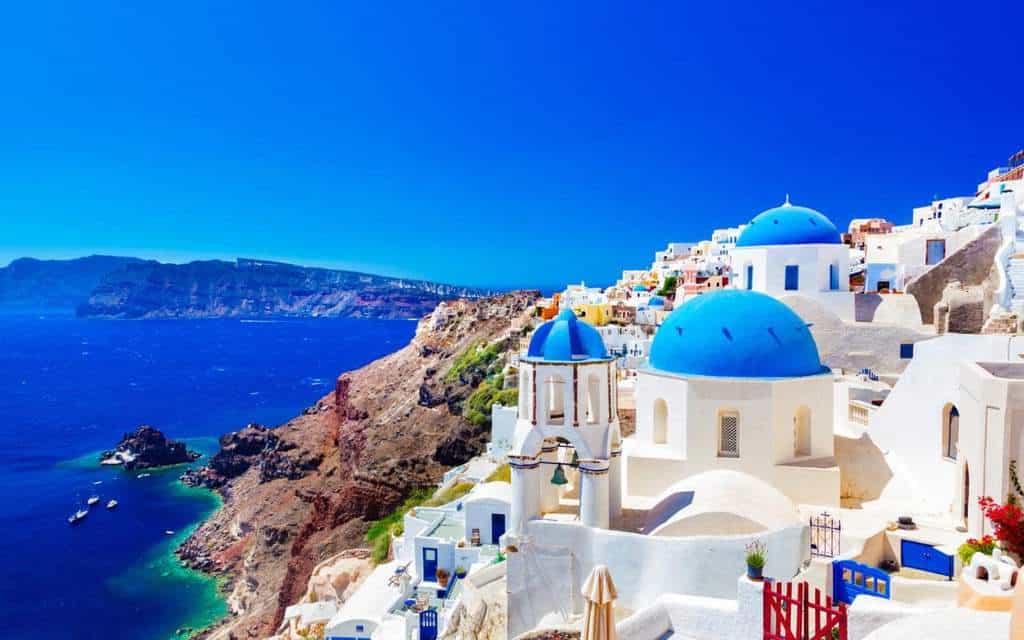 One Day at Santorini
If you only have one day to spend in Santorini, don't miss out on hiking the volcano path between Oia and Fira. There will surely be more time in the day for more activities like a boat tour of the volcano. For dinner, there are many restaurants that serve fantastic dishes but none are as appealing as Metaxy Mas and Mezzo.
Two Days
If you add one day to your itinerary, you can add a few more activities. You can opt to visit more restaurants or schedule a jet ski tour. 
Three Days or More
It is no secret one or two days won't be enough to explore Santorini. It would be best to be there at least three days. The best way to explore the place would be to walk so prepare your walking shoes and extra shirt because it is going to be a long day exploring everything. Among the places you must explore are Pyrgos, and Akortiri. Other options include booking private tours, wine tours and even boat tours. Remember, it is pretty expensive to get there so you may as well maximize your stay.

Hike from Fira to Oia
Perhaps, the best part about this tour is that it is absolutely free. You have all the freedom to take as many pictures you want. There is no time limit for this tour as it all depends on your speed. If you're used to hiking, this tour will end faster than you thought. It's advisable to wear hiking shoes for this trip but others actually do it wearing slippers. Those who easily lose their balance should definitely wear shoes. The tour goes from Imerovigli to Oia to Firostefani then back to Imerovigli. You don't have to worry about getting lost because there is a simple path you just need to follow. It is best to start this tour early in the morning so it is not that sunny. Yes, there are people who faint from too much heat. It is best to do this tour during the summer as the roads may be slipper when it is the rainy season.
Santorini Kayak Tour
Kayaking is fun and tiring at the same time. You're going to explore the caldera and burn a lot of calories at the same time. You have the option of choosing the Sunset tour or the Morning tour. Those who always wake up early should choose the morning tour but you're going to miss out on the sunset. However, there are a lot of other tours that include that. In addition, there is a SUP tour which is always great for testing your balance. It would also be a wonderful idea to explore their marine creatures through the snorkeling tour. 
Jet Ski Tour to the Volcano
There are many types of jet ski tours and all of them start at Perivolos. There are many stops but it is up to you whether you will stop at them and take pictures or proceed to the caldera. Since the longest tour only takes around 3 hours then I highly recommend you to take it. However, be sure to watch out for some waves. The waves can be large depending on the season. It is a fun tour for the entire family and kids will absolutely love it. There is no doubt it is the best way to explore the volcano especially if you're the adventurous type. The staff's number one priority throughout the trip is your safety. Therefore, you can't fault them for making you wear life vests because it is for your own good. Yes, jet skiing can be a bit tiring which is why there is also a motorboat where you can go to in case you get tired. If you've done boat tours of caldera in the past, this one gives it a whole new meaning.
Visit Ancient Akrotiri
It would be a great experience to see the village that was harmed by the volcanic eruption several years ago. The government made a lot of effort to preserve the site so tourists are free to check it out. It would definitely be much better if you hire a tour guide so he can educate you on what happened to the village. Of course, you're free to ask as many questions you want as this is a lesson in history you will never forget.
Walk the Volcano
If you have strong legs, why not try walking up the caldera? You can take your time taking pictures but you need to hire a boat to get there. When you get to the top, you will enjoy the great sunset view and take lots of pictures. It is a long hike but it is worth it. You may even have a hard time deciding when it would be best to go down.
Take the Santorini Winery Tour
For those who want to take a different tour from the volcanoes, this is the perfect tour for you. It is a tour that takes you to the best wineries in Santorini. If you have yet to appreciate wine, this tour is guaranteed to make you love it. Not only is wine healthy, it won't make you dizzy like other types of alcohol.
Take the Sunset, Caldera, and Volcano Boat Tour
Before booking this tour, it would be important to make sure you're taking a tour that includes a sunset view. After all, most tourists are after that. There are many options in the tour including swimming in the hot springs, visiting Thirassia and sunbathing at Black beach. There are many starting points you can choose from including Ammoudi Bay, Old Port below Fira and Athinios port. Finally, there is no need to worry about how you will get to the boat since a majority of the tours will pick you up at your hotel. 
Take a Swim at Ammoudi Bay
Those who like to explore waterholes will love this spot that is just down the cliff from Oia. Whether you drive or walk to Ammoudi Bay, you will take only one path going there. From a small island called Agios Nikolaos, you just need to hike there for a few minutes. You even have the option to jump off a cliff.
Check Out the Open Air Cinema in Kamatri
This activity is best done with the entire family. Of course, what better way to watch movies than to have some popcorn and beer? Better check in advance what movies are playing so you will know what to expect. Some movies may not appeal to the entire family as that would depend on the genre. The place is expected to get busy during weekends especially at night. 
Walk to Skaros Rock
The views are indeed breathtaking. It gets even better when you climb on top of the rock. The starting point is near Grace Santorini hotel so it's not hard to find. Prepare for some views you won't soon forget. Yes, you'll make a lot of people jealous when you post pictures on social media.
Explore the Streets of Fira, Imerovigli and Firstefani
You're going to have to bring your hiking gear because you're going to be hiking from Fira to Oia. However, the trip won't conclude at Oia as it will make a full stop at Imerovigli where you will explore the city. After that, you'll go back to Fira.
Join the Santorini Fishing Tour
You're guaranteed to have a huge lunch especially if you caught so many fish. The challenge is that it is tough to fish at first but the guides will surely guide you until you get the hang of it. There is an option to fish during the sunset if that's what you're aiming for.
Visit the Ancient Thera
The history is pretty magnificent for Ancient Thera. The views are too but getting there is a whole different story. There are several ways to get to the top including hiking and driving a car. However, be sure you used the comfort room before going there because there are no restrooms on top. Good thing, entrance is free from Tuesdays to Sundays. 
Ride the Donkeys
There are two paths to ride the donkeys in Santorini. One is from Amoudi Bay all the way to Oia and the other is Old Port until Fira. It may be a slow trip but you're going to cherish every moment of it.
Explore the Streets of Oia
Compared to Fira, Oia has more places that you wish would be more popular. You're going to get awesome views you never thought you'd see. The starting point is Lotza then move towards the right down the cliff.
Take a Private Tour of Santorini
Santorini has a lot more to offer than the usual tourist destinations. This tour will take you to the lesser known places like streets, villages and beaches. For a different kind of experience, book a private tour.
Explore Kamari Beach
Perhaps, Kamarai Beach is one of the best if not the best beach in Santorini. Not does it have pebbles, the place is packed with highly recommended restaurants. You'll definitely have a tough time deciding among the restaurants there as they all have something good to bring to the table.
Dinner with a Grand View
If you're with your partner, it would be an awesome idea to have a dinner with an awesome view of the volcano. There are many restaurants that offer this spectacular opportunity but the best one has to be Mezzo. It has amazing choices on the menu and the service is wonderful.
Explore Santorini Countryside
If you decide to rent a car, do yourself a favor and check out the countryside of Santorini. You're going to notice lots of farmland due to how small Santorini is. Additionally, you're going to see lots of wineries so stop by and appreciate the local wine. 
Take a Dip in Lioyerma Public Swimming Pool
If you're booked in Oia and you want to swim with like-minded people, this would be an awesome option. However, if you're in another city, this would be a big of a hassle. The best part about it is that entrance is free. It is highly recommended to buy a drink while sunbathing here. It would be ideal to come here on late afternoon because of great the sunset is.
Visit Emporio
One of those undiscovered towns is Emporio as it is less touristy compared to other towns. It would be a great feeling to wander around the streets here as you will never know what you will stumble upon.
Take a Swim in the Hot Springs
When you visit Caldera, it is a must to be on your swimming gear. It would certainly be a relaxing experience to soak in the hot water of the volcanic hot springs there. Unfortunately, it is not possible to get there via foot as the only way to get there would be to book a boat tour. Don't worry though, it will be worth it.
Visit the Museum of Prehistoric Fira
Wow, talk about a blast from the past. You're going to find out how Fira looked like when you visit this museum. You're also going to learn a lot about the history of Santorini. It would be best to spend at least an hour there checking out all the interesting artifacts. Another museum is actually walking distance so you can do two museums in a span of two hours.
Check Out Atlantis Books in Oia
For bookworms, put this on your list of things to do. It didn't get named one of the top 10 bookstores in the world for nothing. Their collection is awesome and the interiors are simply amazing. The staff will even help you once they find out you are a tourist. They even have a map with all their favorite things to do in Santorini. 
Eat at Seafood Restaurants in Amoudi Bay
If you're a fan of fresh lobsters, shrimps and other seafood, make an effort to eat at the restaurants at Amoudi Port. All of them offer a wide range of awesome selections on their menu at reasonable prices. If you only have time to eat at one of them, the best option would be Ammoudi Taverna. Believe it or not, there is no need to book a table in advance. Not a lot of people go there which is good as it make it a quiet place to enjoy fresh seafood.
Visit the Fishing Villages at the East Coast
For those who like exploring villages, why not head over to the east coast as there are many villages there with friendly locals. There are many restaurants there that serve the freshest seafood you'll ever taste but none are as good as Yalos.
Go to the Lighthouse at the Southern Part
Nobody fancies going to lighthouses but what will motivate you to go there is the fantastic views. The views you're going to experience here are unlike any views you've ever seen before. Hence, it is worth a visit.
Visit Red Beach
If it is summer, then that means it is time to hit the beach. What better place to do that than the island's best beach in Red beach. Photos don't do justice to how amazing this beach is. The best way to go here would be via car as it is just 15 minutes away from the carpark.
Visit Art Space Winery
You won't find a tour that will include this winery in their itinerary so the only way to go there would be on your own. The place is not that hard to find and you'll be pleased when you get there. Not only are there a great selection of nice wine, there is also a bunch of magnificent artwork.
Visit Santorini Wine Museum
Be educated about the history of Santorini wine. At the end of the tour, you'll get to try 4 outstanding local wines too. Yes, you're going to go deep into as long as 5 centuries ago. That's how long the wines there were made. You're definitely going to conclude they take their wines seriously.
Take a Boat to Thirassia Island
Depending on the season, it would be a cool idea to do a boat trip to Thirassia Island. It is a quiet place that has several tavernas. It may be a little expensive but it is worth every penny. You may not even notice how fast time flies while you're at the island.
Party at the Best Dance Bar
It is no secret one of the things Fira is known for is the nightlife. Those who want to have some fun way past midnight should party the night away at Koo Club. They may impose some strict rules and regulations but it is for the safety of their patrons. Hence, it is best to dress nicely if you plan to enter Koo Club. You're guaranteed to have the time of your life.
Ride a Cable Car from Old Port to Fira
It is truly a remarkable experience to be riding a cable car with the people you love the most. You can even ride it with family and friends going from Old Port to Fira. There is usually a cable car available every 20 minutes so you don't have to wait in line for too long. 
Join a Greek Cooking Class
If you've enjoyed the food in Santorini, wouldn't you also be curious how to make them? The instructors conducting this class are so knowledgeable that they won't be satisfied until you know how to cook each meal. You're definitely going to have fun and learn a lot of new things at the same time. They will even provide the ingredients so there is no need to go to the nearest grocery to buy one.
Take the Santorini Helicopter Tour
If you've been to helicopter rides before, there is no excuse to not take this one. You're going to get an up close view of the caldera and the villages near it. One of the luxurious places to here is Mykonos so if you are planning to go there, why not ride a helicopter and savor the magnificent views?
Enjoy the Perissa & Perivolos Beaches
For some nice sand, go to the beaches located at Perissa. Whenever you're hungry, you can always grab a bite at the numerous restaurants along the beach front but if you're looking for the best one then Seaside is the place to go to. Nightlife is fun here too as there are many bars to have a drink or cocktail but Tranquillo has the best crowd. Perivolos Beach is beside it and it has basically the same vibe. There is no question you're going to enjoy both beaches a lot.
Most Lively Bar in Santorini
If you're in the mood to dance all your problems away, the best place to go to would be 2 Brothers which is just walking distance away from Koo Club. You'll love the crowd here as it is very easy to make new friends. Of course, after a drink or two, you'll eventually forget all of their names. However, what's important is everyone experiences a great time.
Best Singles Bar
Are you traveling by yourself? Don't worry! Tropical is a great bar where you can meet a lot of other solo travelers. The interiors are fine, the service is excellent and the drinks are magnificent. There is seriously nothing to dislike about this place.
Best Greek Bar
The best place to get drunk with Greeks is Mamounia. The drinks here are so good that you will not notice how many you've had. The place also has nice music so you'll find yourself dancing to the lyrics of every song. Of course, since it is a bar, it won't get busy until past midnight so it won't be advisable to come early.
Oia's Best Bar
The crowd is lively, the music is great and the drinks are awesome at Hasapiko. You don't have to look anywhere else if you're looking for a bar at Oia. You can expect the crowd to pile up around 10 or 11pm. The crowd is a mixture of backpackers, seniors and millennials. Therefore, you're definitely going to find a group you can mingle with. 
Oia's Best Restaurant with Sunset View
There's nothing like eating comfort Greek food while enjoying the sunset. Elinikon not only provides excellent service, they also serve wonderful food while you enjoy the view of the sun setting at the background. Best of all, their serving is huge so you can order a small plate but it is actually good for two people.
Best Dessert 
Just like they say, always save room for dessert. That's something you must remember when you're in Santorini. The most popular dessert in Santorini is baklava in ice cream. In fact, it is so popular that it is also served in other countries all over the world. Some parts in Greece serve this dessert the best but that depends. For example, if you want awesome gelato then Zotos is the place to be and if you want the best baklava then go to Lotza.
Eat Healthy Farm Food
You should never make an excuse of eating unhealthy food just because you're traveling. Besides, there are many restaurants in Santorini that serves authentic local farm food like Good Heart restaurant. This restaurant takes healthy food very seriously that they have their own farm to make sure everything is healthy.
Try the Best Gyro in Santorini
Your first mission in Santorini should be to try their gyro and souvlakis. If you've tried it in other parts of the world, nothing compares to trying it where it was originally created. As expected, there are many restaurants that serve this wonderful dish but none make it as good as Lucky's in Fira. In fact, some backpackers come from far cities just to eat the gyros there. It is not hard to get there anyway as it is only a few steps from the bus station. 
Soak in the Grandest View of Santorini
It is not a Santorini if you haven't taken a nice picture of Santorini as a backdrop. One great way to do that would be to join the 6-hour best of Santorini tour that takes you to the best Santorini has to offer. It even includes the most popular villages you need to check out. Don't forget to charge your mobile phone and cameras before this tour because you'll surely take more pictures than you expected. 
Best Thing to do on the Last Night in Santorini
You can't blame yourself if you feel really sad if it is your last night in Santorini. There are many ways to celebrate and one of them is to check out the show at White Door Theater. It is an extremely underrate show but it is a live musical with a little bit of dancing. The story is good too so you will definitely be drawn to it. It is definitely a show that is great for all ages. You can even buy drinks and food while enjoying the show to complete the experience.
Most Unique Accommodation in Santorini
Believe it or not, you can stay at a windmill at Santorini. What a remarkable experience that is as the place is called Windmills Suite. When you stay there, you'll get a good glimpse of the sunset too. The rooms are awesome and each one includes an incredible deck where you can spend the next sunset looking at the incredible view while chilling with a drink. It can actually fit a lot of people if you decide to come with a group. Since there is only one windmill suite in Santorini, it would be advisable to book weeks or even months in advance to make sure the suite is yours. It even includes free breakfast so you will wake up to a good meal.
Hop on a Ride to Ios
You can choose to do a day trip or to stay overnight in the wonderful island of Ios. Due to its nice beaches, staying overnight is always a good idea. However, it is pretty close to Santorini so doing a day trip is not such a bad idea either. Of course, don't forget to bring your beach essentials such as a beach towel and a suntan lotion. In fact, some items such as a waterproof bag and a pair of sunglasses will also come in handy.
Celebrate Greek Easter
One great time to be in Santorini is Greek Easter even though you should look in your calendar for the exact dates because it is different from western Easter. The restaurants tend to get full on Easter Sunday too so it would be best to reserve a table for you and your family ahead of time. There are a lot of activities during the weekend in Pyrgos including fireworks on Saturday night. 
Would it be a good idea to do a daytrip to nearby islands from Santorini?
The answer is no because the ferry time going and from the islands will take up a lot of time. Of course, the only exception here is Ios because it is nearby. However, if you're planning to go to the other islands, a day trip is not ideal. It would be better to book an overnight stay or even 2 to 4 days depending on the amount of time you have. 
For those who really want to squeeze in an island day trip, then better consult a travel agency in Santorini regarding how it can be done. They will most likely give you the schedules going to your preferred destination and it would be up to you to choose. If you're in luck, you can buy the tickets from them too. However, it would also take a lot of effort to go to the pier. Besides, most ferries land on other Islands so it would take you two or even three rides before you get back to Santorini. You may even have difficulties finding a ride from the pier so a daytrip really isn't advisable.
Ios is a great option for a daytrip as it only takes 35 minutes to go there. Therefore, better spend as much time as possible there to make the trip worthwhile. It would be best to leave early in the morning then head back late in the evening. It is possible you will already have your dinner on the boat which would make you feel bad because there are so many nice restaurants there. The nightlife there is also amazing as a lot of bars are open until late. Therefore, if you book a daytrip, you may miss your ferry going back especially if you have such a good time and drink too much. Ios has some nice beaches including Mylopata beach. Additionally, it has a small town called Chora that is full of local culture.

It won't be a good idea to book the ferry trip weeks in advance. You better make sure the weather is good first before booking it. Hence, it would be best to wait until you get to Santorini before you make any booking. Besides, ferry schedules change all the time so the time slot you want may become available the moment you get there. Arranging a day trip takes a lot of time to prepare so you're going to dedicate at least an hour to that. You're going to check a lot of schedules and availabilities so a lot of patience is required. It will be all worth it once you finally made the booking though.
Crete is one destination a lot of people tend to overlook. However, if you have time on your hands, this is a nice little place for a daytrip. Naxos and Paros are other islands that are possible for a daytrip but you won't have much time to check out what the island has to offer. That would depend on what you want to do though. If you only want to sunbathe in the beaches there, then you won't need much time there. Another option for a daytrip would be Anafi but trips going there from Santorini is in the morning and going back to Santorini is in the afternoon. Unfortunately, that means you won't get much time to explore the island.
TOP TOURS IN SANTORINI
Perhaps, the tour you should not miss is the wine tour. For wine enthusiasts, it is well worth the price of admission. To explore the islands, book a boat tour in advance. When it is peak season, you may have a hard time booking when you get there. After all, it is not that hard to reserve a slot in the tours there as you you can do it online.
SUNSET CRUISE: CALDERA SAILING TOUR
All boat tours are different from one another so better pick the one that most satisfies your needs. Each one provides different activities like swimming at Red Beach, swimming in the hot springs, snorkeling at White Beach and hiking the volcano. This is a very relaxing tour so better bring your sunscreen and shades as you'll basically sail around the volcano. Therefore, you can expect to view the sunset on the boat and it is one wonderful sight. Don't forget to bring extra clothes other than your swimming gear as it gets really cold during night time. Good thing, the fee you pay for the tour is already inclusive of hotel pickup and meals. 
JET SKI TO THE CALDERA
It sounds crazy at first but when you've done it, you won't regret you did. It is like one thing you should put in your bucket list. You'll start at Perivolos beach then up to the volcano. There are many types of tours so be sure to select the one that will take you to the topo of the volcano for some amazing views.
SANTORINI WINE ROADS
A lot of people don't know this but Santorini has some of the best wines in the whole world. This is a tour that only includes a few people and visits the best wineries. If you book the sunset tour, you'll end the tour with a great view of the Caldera. If you're on a tight budget, there is another tour that is similar but costs less. It contains more people so it is less intimate but that is alright because you will make more friends. 
SANTORINI FISHING TOUR
For those who love to go fishing, you're going to catch a lot of magnificent sea creatures. Of course, lunch and dinner with fresh seafood will already be included. You even have the option to eat what you caught which will give you the feeling of satisfaction. For couples, it is best to book the sunset tour as you'll get a good glimpse of the sunset. For groups, it would be better to book the daytime tour.
SANTORINI PHOTOGRAPHY TOUR
It doesn't matter whether you're an amateur photographer or a professional one, this tour is for all photography enthusiasts. Be sure to fully charge your camera because you're going to get lots of great shots. This is certainly one of the most unique tours I have ever experienced. There is nothing to dislike about this tour.
LUXURY CATAMARAN DAY CRUISE
Everything in this cruise just screams first class. Yes, from the service up to the food, you won't have any regrets booking this intimate tour. You're going to get fantastic views of the volcano with lots of snorkeling and swimming opportunities in between. Perhaps, the best part about the cruise is that you can drink until you drop. Of course, you should not get too drunk or you may fall to the sea. It is best to do this tour during summer so you can have a lot of opportunities to swim. If you do it in the winter, you may not have much opportunities because it is going to be so cold. You don't have to worry about getting to the pier because they'll pick you up at your hotel.
BEST OF SANTORINI (6 HOURS)
Without a doubt, this is the best tour that comes with a professional tour guide. The guide will give you details about awesome places such as Oia, Pyrgos and Akrotiri. Remember this is not in a boat so better bring an extra shirt with you because there will be a lot of walking. Wine enthusiasts will be pleased to know there will be a stop at Venetsanos which is a local winery filled with authentic wines. If you take this tour during the summer, there will certainly be stops at Black and Red beaches. Since it is 6 hours, you can expect them to pick you up in your hotel very early so better sleep early the night before. 
SANTORINI PHOTOGRAPHY TOUR
Better make sure you bring your charger because you will definitely take a lot of pictures in this tour. It is very intimate as there can only be a maximum of 4 participants in this tour. Words can't describe how awesome this tour is organized by a guy named Olaf from New Zealand. He will even assist you on using your camera in case you're not that familiar with it. By the end of the tour, you're guaranteed to have a lot of pictures for a lifetime. It will have such an impact that you will look at the pictures you took 10 years from now. Olaf knows which spots you must take pictures of and where you should be positioned. Since this tour is high in demand, it would be best to book it at least 3 months in advance.
Read more:
San Antonio Hotel Review
When to visit Santorini
Where to eat in Santorini
How to get from Athens to Santorini
Santorini's Infinity Pools
Exploring Santorini's beaches
How to get from Crete to Santorini
How to get from Mykonos to Santorini