In Austin, you will enjoy the best weather for walking around in spring and autumn. If you prefer a little more space when you explore then visit in February or perhaps November. The weather is still good although you should come prepared for the odd wet day. In July and August, the roasting temperatures make even the shortest walk unpleasant.
Austin's Weather Month-By-Month
January
You can expect January to be cold. In Austin as in so many other parts of the country, it is the coldest month. Compared to other areas, January in Austin is really pleasant. You can look forward to an afternoon temperature reaching 18°C which is the temperature of a cool room. Overnight the temperature can drop to around 5°C so pack warm clothing.
It is still winter, although mild. It is very rare to experience freezing temperatures or snow in Austin. There will be some rainy days, an average of 14 over the month. It is prudent at this time of year to pack your choice of waterproof clothing. When it's not raining Austin is very sunny even in January so pack your sunglasses and sunscreen as well as your umbrella.
Austin January Weather Stats: 18°C Maximum. Overnight 5°C. Rain 50mm
February
A more uncertain month. Warm and sunny some years. Cool and wet in others. Generally, February is slightly warmer by 2°C than January giving a maximum day time temperature of 20°C. Expect the mornings and evenings to be cold but enjoy warm sunshine during the day. The temperature is unlikely to drop, even at night, below 6°C. You will need to pack for both cool wet weather and warm
sunshine. Pack waterproofs, clothes you can layer up, sunscreen and sunglasses. Typically, 12 rainy days. It's a good month to visit and enjoy all the outdoor activities.
Austin February Weather Stats: 20°C Maximum. 6°C Low. Rain 60mm
March
March is the first month of spring. In Austin, winter is rarely harsh and transitions into spring with no sudden change in weather. A little warmer with day time temperature peaking at 23°C. The rainfall is about the same as February at 60mm. The rain falls over fewer days – 7 on average. There is less chance of having a rainy day on your visit but it is still best to prepare for it. If you get caught by a rain shower it is unlikely to last for very long. Then the sun will come out.
The locals start to emerge to enjoy the spring weather and outdoor activities. They are joined by increasing numbers of visitors. Especially when the South by Southwest Festival starts. The nights are warmer (around 11°C). Definitely pack and wear layers during this month if you are out and about. You will be too cool and too warm by turns. March in Austin is generally sunny and pleasant.
Austin March Weather Stats: High 23°C, Low 11°C, Rain 60mm.
April
April in Austin is generally lovely. Good weather to consider going camping as the overnight temperature does not usually fall below 15°C. All the days are warm, average at least 21°C and can be as high as 26°C in the afternoon. Rainfall is harder to predict. Over four years there will be a really dry year and a really wet year.
The other two years will have rainfall between 20mm and 70mm. It is hard to guess exactly how much rain you will experience. The days are getting longer, by the end of the month sunset will be after 8 pm. Pack mainly for warm weather but add in a few items to cope with odd cool days and evenings.
Austin April Weather Stats: High 26°C, Low 15°C, Average Rain 53mm
May
May is the last month of spring but in Austin, it feels like the start of summer. Day time temperatures can rise as high as 29°C. You are going to need your sunscreen, sunglasses and a hat. May, not April is Austin's wettest month, 140mm of rain falling over 13 days. This combination of hot and wet results in a beautiful display of flowers throughout the region. A good time to enjoy a walk in the park or a bike ride. Despite the rain, there is a lot of sunshine. On average 11 hours of sunshine every day. Dress to be comfortable and safe in the sun but be prepared with an umbrella and footwear that will survive getting wet. Clothing that will dry quickly is a practical choice for this warm wet month.
Austin May Weather Stats: High 29°C, Rain 140mm.
June
Officially the start of summer, June is very hot in Austin. Not the most extreme heat, but for a couple of days this month the temperature will exceed 38°C. Pack your swimming clothes because you are definitely going to want to cool down in one of the swimming holes.
The average high temperature during the day will be around 32°C. The nights will remain warm, unlikely to drop below 22°C. Plenty of daylight exceeding 14 hours for most of late June. It's hot but there is also a lot of rain. On average 110mm will fall. This combination of high heat and rain can result in storms with the most amazing lightning.
You will need to pack hot weather clothing and plenty of sun protection. Think cool and light and don't forget the hat.
Austin June Weather Stats: Average High 32°C, Rain 110mm.
July
Sizzling, scorching, roasting heat. Austin in July is like living in an oven with the temperature set to maximum. The average daytime temperature is 35°C but 38°C is not exceptional. It can be even hotter. The nights rarely drop below 24°C. It is either hot or very warm all the time in July.
And it's dry. Possibly as much as 6 days of rain but very little will fall – 50mm for the whole month. Pack as if you are planning to visit a desert. But pack your swimsuit as the pools are the best place to cool down. Plenty of sun protection and prepare to drink a lot of water.
Austin July Weather Stats: Average High 35°C, Rain 50mm.
August
August in Austin is pretty much like July. The second hottest month and a little less rain. A scant 40mm and even while it is raining it is still going to be hot. Check the weather forecast if you like but it will tell you the same story. Hot. Sunny. Probably not going to rain. High heat in the day with average temperatures of 35°C. Uncomfortably warm overnight as the temperature may drop to 24°C. Loose light clothing. Sun hats. Sunscreen. Sunglasses. Plan to cool off in lakes and pools and to make sure you are carrying drinking water with you.
Austin August Weather Stats: Average High 35°C, Rain 40mm.
September
The first month of the autumn season. The intense heat of the summer months start to fade. Still plenty of heat in this month, it is not unusual to have days where the temperature reaches 35°C. Generally, the daytime high will be a more bearable 32°C. The heat is not as unrelenting as July and August.
The average day time temperature will be a degree around 28°C. Night time is a more comfortable low of 21°C. Rain in September is a little more dramatic in its delivery. Sometimes 125mm or more comes down in a short drenching shower over a few hours. This can result in a flash flood. Typically, there will be 8 days of rain over the month.
An average of 70mm delivered by a thunderstorm. Think about dealing with a lot of rain in a short period of time. Pack hot weather clothing but also make sure you can cope with a short sharp shower.
Austin September Weather Stats: Average High 32°C, Average Rain 70mm.
October
The weather in this month is typical autumn weather and very pleasant. Especially after the sticky heat of the past few months. The cooler temperatures averaging around the mid-20s with the occasional burst of afternoon heat taking the temperature up to 27°C. The days are still warm but not oppressive. Night time may be as low as 16°C. Now is the time to go explore outside. Prepare to deal with some rain. Nine days with a total of 90mm of rain. Summer clothing is still very comfortable but pack some warmer layers to deal with early morning and late evening coolness. The bike and horse trails will be a little busier this month as everyone in Austin is just so glad to be able to move around now that summer has gone.
Austin October Weather Stats: Average High 27°C, Rain 90mm.
November
The last month of autumn is a great time to visit Austin. Mild weather and fewer storms compared to the rest of this season. The highest temperature will reach 21°C but the average has dropped to the high teens. The temperature can drop as low as 10°C in the evenings and overnight. When packing for your visit think about layers that can be used to cope with the chill of evening and can be taken off for the warmer days. You will want to include some warmer jeans and long-sleeved tops. Approaching winter, it is a good idea to pack a jacket and a warm jumper but you may not need them. Bring some wet weather options in case of rain.
Austin November Weather Stats: Average High 21°C, Rain 70mm.
December
Officially the first month of winter. Austin winters are very mild. It is rare for it to be very cold. The days can be as warm as 19°C but expect a typical day to range between 13°C and 16°C. Cool enough to justify warmer clothing than you would normally need to pack for a visit to Austin. Will definitely need a jacket at night and possibly first thing in the morning.
Overnight the temperature can drop to 6°C. In December in Austin, it is possible to see frost but it is not common. This month is winter and there will be some grey days. Austinites are lucky because in December there are as many sunny days as there are overcast ones.
Although warm clothing is needed there is no need to pack for extreme cold. Austin has a very mild climate all year round with the exception of the blistering heat of summer.
Austin December Weather Stats: Average High 19°C, Average Rain 70mm.
Events in Austin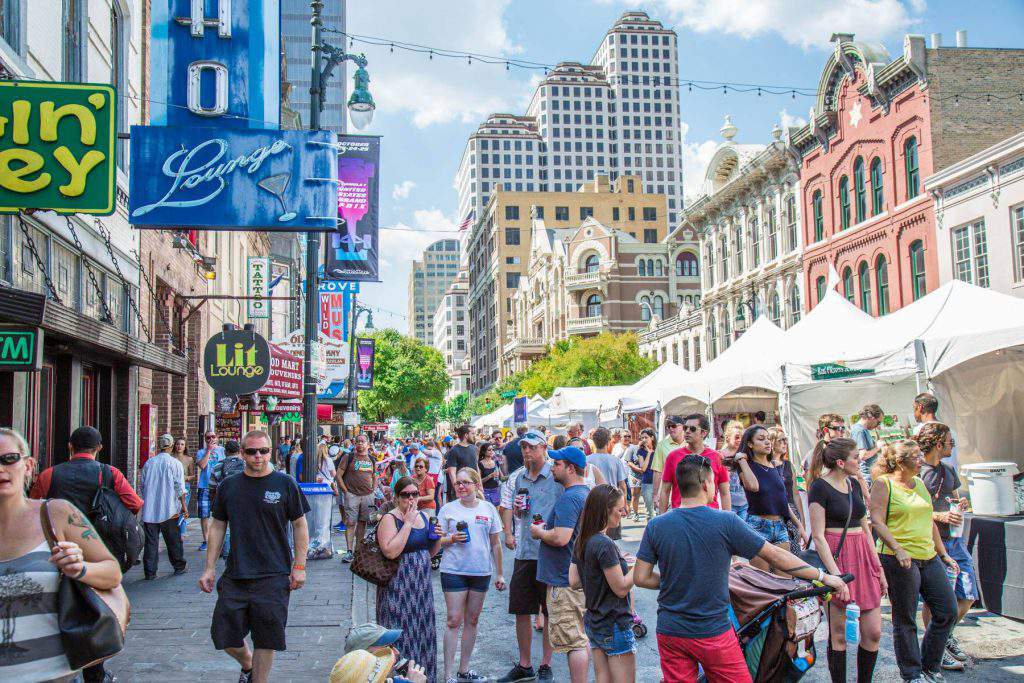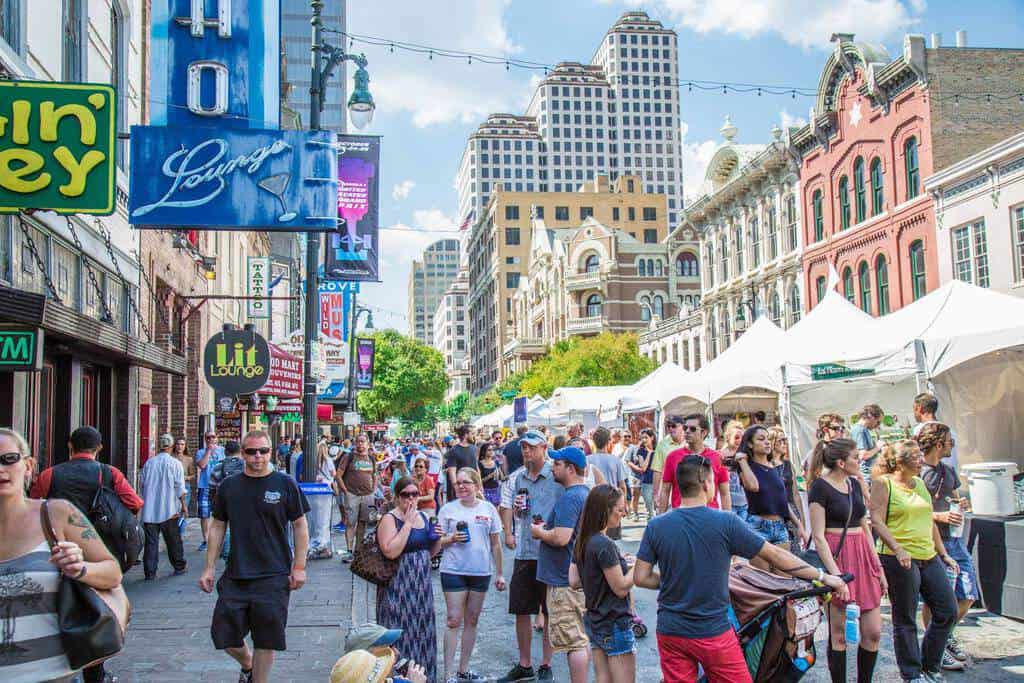 January: Music and Civil Rights
The first week of January is known as Free Week in Austin. An annual event allowing free access to multiple venues across the City. Showcasing the talent of hundreds of local bands. Every single performance can be seen free of charge, so feel free to visit Austin and to enjoy some great local talent.
On the third Monday of the month, Austin celebrates the life and legacy of Martin Luther King. A combination event including both a march and a festival known as the Martin Luther King March and Festival. A short program at the statue on the campus of the University of Texas followed by a community march. Local musicians and vendors take part in the festival. A reminder that hard-fought civil rights still matter.
February: Runners, Lovers, Players and Student Films.
Mid-February is time to don your running shoes and take part in the Austin Marathon and Half Marathon. The largest combined full and half marathons in the country. If you don't feel fit enough to join the 20,000 plus runners then why not join the spectators and cheer them on. The runners will pass through beautiful parks and some historically significant areas. The route will typically pass by Lady Bird Johnson Lake, through Congress Avenue. And it will take in the University of Texas campus and the State Capital complex.
Celebrate Valentine's Day in Austin. Still determinedly single? Come and celebrate that too. Green Pastures is housed in a magnificent Victorian home. It serves gourmet foods accompanied by fine wines and a generous helping of Southern hospitality. You and your loved one can also take advantage of the special romance packages available at many of the hotels and wineries in the area. If all that billing and cooing is not your thing then there is an alternative event just for you. Gibson Bar hosts an annual 'Homewreckers and Heartbreakers Ball'. An all-night dance event that is the opposite of celebrating coupledom. Fancy singing along to a power ballad or two? These are all anti-love and belted out at volume in a sing-along show hosted by Alamo Drafthouse. The show is titled 'Love Bites'.
Late February sees Austin host one of many global events. The No Idea Festival attracts sound artists and musicians from everywhere. Performance art and improvised music. Come and see something that no one has heard or seen before.
Another late February event, this time put on by UT Austin students. An annual event that showcases the students' talents in a film night – Texas Union Film Festival. A chance to see potentially great filmmakers at the start of their careers.
March: Family Events and Creative Industries
Come to Austin in early March for the great free Zilker Kite Festival. Open to all but you must build your own single stringed kite. Great for kids and adults alike. Lots of contests to enter. Some are just for kids and there are a variety of prizes to win. For example – the youngest and the oldest kite flier. A festival atmosphere with food and exhibitors stands. Best of all it's free and it's fun. Come fly a kite …
Ten days in mid-March for the South by Southwest event. One of the biggest events of the year in Austin. A combination of conference and festival. It attracts over 2000 bands from across the globe to perform. The performances are staged all over central Austin. Over 100 stages are provided by the many venues taking part including the Austin Convention Center. This event is all about the creative industries. Expect to see the newest and the best offerings from the interactive media industries, including film and music.
Pioneer Farms hosts an annual St Patrick's Day event. A family-friendly celebration of Irish culture on 17th March. Naturally, the day is fuelled by Irish food and drink. There is more to Irish drinks than Guinness but you will certainly find plenty of the black stuff here. Irish dancers in authentic costumes and bagpipe bands. Celtic musicians from far and wide will perform on two stages as part of this lively annual festival.
Enjoy the rodeo? Then visit while Rodeo Austin is on for two weeks in mid-March. Livestock shows and daily concerts as well as a Top 10 ProRodeo with all the thrills and spills that it delivers.
April: Music and Flowers
The festivals start in early April with the Austin Urban Music Festival. This festival provides a showcase for local African-American performers over two days. The crowds flock to see the local talent perform across a range of music types. A family-friendly event where the visitor can hear soul and gospel along with R&B and hip hop.
Central Market North hosts the Texas Community Music Festival in the second half of April. Festival-goers can enjoy everything from a 70-piece ensemble to a solo performance and everything else in between. The performances are free.
Auditorium Shores can be found in downtown Austin. It plays host to a celebration of reggae aptly called the Austin Reggae Festival. This takes place over three days in mid-April.
In late April the music is spiced with a little dance. The glorious and exuberant Texas Burlesque Festival. Over the three days experience the joy of burlesque in cabaret and vaudeville performances. There is an opportunity to take part in workshops and other activities.
The flowers can be admired at the Zilker Garden Festival in early April. This event takes place over two days. It includes a show that celebrates the rich diversity of flowers that can be found in the state of Texas. There is plenty for all the family to see and do with live entertainment and food and drink on offer. Children's garden-related activities such as building a birdhouse. Stalls selling plenty of plant-related merchandise such as plants and herbal products.
May: Music, Crafts and Celebrations
In 1862 the French were defeated during the Battle of Puebla. Cinco de Mayo is an annual celebration of the day the Mexican troops earned their independence. Fiesta Gardens Park hosts the festivities on the weekend nearest to the actual date. Live Tejano and Mexican music provide the soundtrack for the food and fun.
Austin loves music. Country music is the subject of the Lone Star Jam. In early May country music artists, both regional and national flock to perform over the weekend. As well as the music you can enjoy some of the best food Austin has to offer from the many food trucks.
On the same weekend as the Lone Star Jam, you can enjoy arts, crafts and other music at the Pecan Street Festival. One of the largest and oldest festivals of this type. A busy and entertaining time to be had in the surroundings of the historic Sixth Street District. Lots to entertain the children from a petting zoo to a classic carnival. Street entertainers and plenty of food on offer. An opportunity to go home with a handcrafted memento of your visit to Austin.
Mid-May and another weekend fair. The annual Renegade Craft Fair with over 125 artisans taking the opportunity to sell their lovingly crafted wares. You will find this at Fair Market.
Pflugerville holds an annual parade and carnival on the third weekend of May. A combination of fair and market it is called Deutschen Pfest. Travel 17 miles north from Austin to find it.
June: X Games, Weirdness, Lavender and Dance
June in Austin is action-packed and varied with some unique events.
Early June and X Games Austin is a whole host of festivals packed into one four-day event. The focus is mainly on world-class action sports. Around the action, there is always music and interactive festivals along with other activities.
Perhaps you prefer dance? Then the long-running annual celebration that is the Soul to Sole Festival will not disappoint. Dancers and instructors from around the world attend. Just watch the performances or take a class and get your feet moving to the beat.
The ATX Television Festival is a tributeto television. This quirky festival brings together industry insiders. Get a peek into the inner workings through screenings, panels, and other interesting events. It is held over four days in June and will feature never before seen pilots, cult and classic shows and the brilliant shows that were cut off before they even approached their prime.
Lavender is a perennial favorite. The farms in Texas Hill Country are home to lavender farms. The town of Blanco located less than an hour's drive west from Austin, celebrates this fragrant herb with the annual Blanco Lavender Fest. During this event in mid-June, the farms open their doors to visitors for free for three days. Restaurants in Blanco showcase the culinary uses of lavender during the festivities. You can buy all sorts of lavender merchandise from the traditional pillows to more modern uses. The Blanco courthouse runs a series of talks about lavender, a surprisingly useful plant.
Now for something weird, the Keep Austin Weird Festival. Held in late June and it celebrates well … weirdness. A 5k fun run in which the competitors are positively encouraged to wear strange costumes in keeping with the theme. Feel free to dress weirdly yourself as you enjoy food, games and other activities on this weird day. Afterward, you can tell people that you had a weird day in Austin.
July: Music and Fireworks
Independence Day is a huge event in Texas. Visit the Circuit of the Americas to enjoy Fourth of July Symphony & Fireworks. The Austin Symphony Orchestra provides the music to the impressive evening firework display. Throughout the afternoon there are plenty of contests and games.
For two weeks in July, it is classical music's turn to shine at the Chamber Music Festival. Not just free community concerts but a host of master classes and workshops. Classical musicians will reveal what goes on behind the performance in a series of lectures during the festival.
A change of beat in mid-July at the Moody Theater with Pachanga Presents. An extravaganza of Latin culture on display, not just music but food and activities. The previous name of the Pachanga Latino Music Festival just didn't cover the breadth of the event. Children are catered for with events just for them. Naturally a piñata party but also crafts and music.
Mid-July is the time when Cool River Ranch in San Marcos puts on a weekend Float Fest – an outdoor music festival. In true festival style, visitors can camp on the grounds. Nationally famous acts form part of the packed line-up. San Marcos is south of Austin, approximately a half hour drive time. The float part of the festival? Tubing companies generously provide inner tubes to allow you to float down the San Marcos River.
An alternative weekend event is hosted at Palmer Events Center in the second half of July. The Body Mind Spirit Expo showcases a range of activities and products designed to promote health and wellbeing. Alternative and mainstream are both featured here.
August: Hot, Cold, Batty and Proud.
Mid-August sees two contrasting taste sensations celebrated at the same time in Fiesta Gardens. The Austin Hot Sauce Festival and the Austin Ice Cream Festival. Over 15,000 lovers of hot sauce attempt to sample as many of the 350 plus varieties of hot sauce as they can. Luckily, they can then go to the other festival and cool down with a choice of local and national ice creams. Both events have music and activities.
Between March and October, Austin is home to the largest city bat population in North America. The bats like to hang out at Congress Avenue Bridge. The Mexican free-tailed bats emerge at dusk. Bat Fest is usually held on the third Saturday of August at the bridge. Live music – three stages, arts and crafts and lots of food and drink. Bat-related activities for the kids including a bat costume contest.
Late August and Austin is celebrating the multi-talented African Americans who work in the film Industry. The Capital City Black Film Festival takes place over four days. Film and media-related activities and parties. Film screenings and acting masterclasses along with panel discussions and more.
On the last Saturday in August it is time for the annual Pride Festival in Fiesta Gardens.This packed event features a variety of live performers celebrating gay pride. In the evening there is a colorful parade of floats that starts from the State Capitol.
September: Music, Film and Sport
The Austin Triathlon is a test of swimming, cycling and running. It takes place every year on Labour Day. Lady Bird Lake for the starting swim. Scenic views while riding over Congress Street Bridge. The path along Auditorium Shores is the final part for the running race.
Early September is the Austin Music Video Festival not just a celebration of local talent but a professional networking opportunity. A packed four days covering all the media industries of film, music, gaming, and technology. Attended by industry professionals and packed with events. Plenty of live music as well as screenings, workshops, demonstrations of interactive technologies and an award show.
Mid-September and the music of choice is gospel, jazz, and blues. A weekend event celebrating some of the best current musicians in this field – the Eastside Kings Festival.
There are over 60 craft breweries over the state of Texas. You can sample their product at the showcase of beer that is the Texas Craft Brewers Festival.
Held on the third Saturday of September at Fiestas Gardens it is exclusive to Texan beer.
Last week in September celebrates cinema at Fantastic Fest. Horror, action, fantasy and science fiction are all featured. Attend a movie marathon at Alamo Drafthouse. Typically, this will feature a mixture of short and independent feature-length works. More than 50 of them. As well as screenings there are other film-related activities and events to take part in. Ranging from pub trivia for film geeks to parties, podcasts and award ceremonies. Actors, directors, and critics all take part in the events.
October: Music, Media and the Dead
The Austin City Limits Music Festival is so large that it is spread over two weekends in the first half of October. It takes place in Zilker Park with multiple stages, covers all types of music. Upwards of 130 bands will play at the festival to a massive international audience. Plenty of local food and child-friendly activities are also on site during the festival.
Artists and creators gather in the first weekend in October for MondoCon. A diverse showcase of toys, art, music, comics and movies and the people who create them. Interactive events and screenings. Food is available from the food trucks that are such a feature of Austin festivals.
Speaking of food trucks … there is a six-day event in mid-October that celebrates the food truck culture. Texas Trucklandia Fest gives you a chance to taste all the signature dishes as Austin's food trucks compete against each other. Cash prizes for the winners.
Mid-October through to early November is a fusion festival combining the traditions of Halloween with those of the Dia de los Muertos (Day of the Dead). A perfect opportunity to don a costume and visit the Austin Days of the Dead. Celebrated across the city. All sorts of activities and events on this spooky cross-cultural theme.
November: Celts, Native Americans and Film.
The population of Austin is very diverse. A melting pot of different cultures. The first weekend in November, just after the Celtic festival of Halloween is the Austin Celtic Festival. Fiesta Gardens is filled with performers of Celtic music and dance. There is the opportunity to watch and try out Celtic sports. Really get into the Celtic theme at a workshop.
On the first Saturday in November it is time to appreciate the traditions and culture of Native Americans at the Austin Powwow and Native American Heritage Festival.
Held annually at the Travis County Expo Center. The day is packed with educational and heritage programs. It also features an authentic market and competition dancing.
In the second half of this month, there is the opportunity to tour the galleries, installations and commercial studios of Austin. The East Austin Studio Tour takes place over two weekends. Local chefs provide the food at a special culinary event that starts the celebrations. Throughout the event, there are competitions, educational programs, and art-themed parties.
December: Lights, Crafts and Ending the Year with a Bang
You can enjoy a mile of festive light displays for the whole of December. The Austin Trail of Lights is set up every year in Zilker Park.
The German Free School hosts the annual German Christmas Market on the first Saturday of December. Enjoy shopping for original handcrafted German items to the backdrop of traditional German Christmas music. The items come from the Erzgebirge region and will lend a traditional German touch to your festive season. While shopping you can enjoy traditional German food.
More festive shopping can be enjoyed at the Armadillo Christmas Bazaar at the Palmer Events Center. This art fair and music festival takes place over ten days in mid-December. Over 160 artists offer their handcrafted wares for sale. Live music and a bar for when the shopping is just too much …
The year comes to a close and Auditorium Shores & Vic Mathias Shores celebrate with the last festival of the year. The New Year's Eve Festival is free. See out the year with live entertainment, music, and art. Plenty for all the family to enjoy. At 10 pm the event ends with a firework display.
Things To Do in Austin
GO SWIMMING IN BARTON SPRINGS POOL
Unsurprisingly Barton Springs Pool is kept topped up by a spring. The water maintains a constant temperature. A refreshing 20°C regardless of the season. Refreshing and cooling in the summer but a little more bracing when the temperature falls below 32°C. You can go swimming all year round but the warmest months are May through to October.
This is a really popular attraction so it can get very crowded. Especially during the hot summer months when the locals, as well as visitors, are seeking to cool down. Opening times are from 5.00am so early risers can avoid the long queues and obtain a parking space. Night owls can swim for free between 9 pm and 10 pm. No trip to Austin is complete without taking a dip in a natural swimming pool.
TAKE A FREE HISTORIC TOUR
Perched on a hill, with a great view of the City sits the Texas State Capitol building. It has been recognized as an important historic site by being on the National Register of Historic Places. To make the most efficient use of your time book ahead. Otherwise, you will have to queue. Arrive before your tour starts, at least 45 minutes because you will have to go through a security screening process.
The guided tours are free and take place Monday through to Saturday. Open all year round except for major holidays. You don't have to book in advance. But, if you want to avoid the queues and possible disappointment, it is advisable. The tours run between 8.30am to 4.30pm. Less crowded times for the busy visitor are early mornings and weekdays.
HANG OUT WITH AUSTIN'S URBAN BATS
The time to see this stunning natural spectacle of over 1.5 million bats in flight is around sunset. It can start up to half an hour before or after sunset. Go to Austin's Congress Avenue Bridge in good time to secure a viewing spot. The bats are here between March and October.
They come to give birth and bring up their young. The young pups take their first flights in late August to early September. This is when there are the largest number of bats in the air. Austin has the largest colony of city-living bats in North America.
Save Money in Austin
Austin is a reasonably affordable destination at any time of the year. Spring and Falls' mild weather results in Austin having two High Seasons. These months (March, April, May, September, and October) are also when the City stages some of its many festivals. This means more people, more demand and relatively higher prices.
When there is a major festival in town then you will save on accommodation costs if you have planned and booked ahead. Festivals like Austin City Limits Music Festival (held in the fall in late September or early October) or South by Southwest (held in the spring, usually in March) increase the number of visitors. If you have to book last minute, then at peak season you will need to pay a premium price. Or you could choose good but basic hotel with a more budget-friendly price.
The roasting temperatures of July and August result in fewer visitors. This means summer is low season. If you don't mind really hot weather then this is the time to get the very best deals. As an added bonus there will be fewer people around. Pack the high factor sunscreen, hat, and sunglasses.
The winter months (November to February) and June are the shoulder season. Plenty of choice of accommodation at a good price even if booked at the last minute. Typically, the temperature will not fall below 13°C or above 18°C. This cooler pleasant weather makes taking part in the numerous outdoor activities far more enjoyable.