The best time to visit Bangkok would be around late November or Late December as this is the time when the dry season usually starts and the temperature dips down. The wettest months of the year are September and October. If you are planning to hit the beach or an island, it's best to go from December to March. Sunny weather would be ideal if you want to visit an island after visiting Bangkok.
At any time of the year, Bangkok is usually filled with a lot of people so no matter which day you go, you'll most likely have to battle the crowd although there are some months where the number of the crowd rises more than usual. In April, the Songkran (Thai New Year) usually takes place and this is one of the biggest festivals held in Thailand. There's also a rise of people during Christmas and New Year.
Bangkok Weather mOnth-By-Month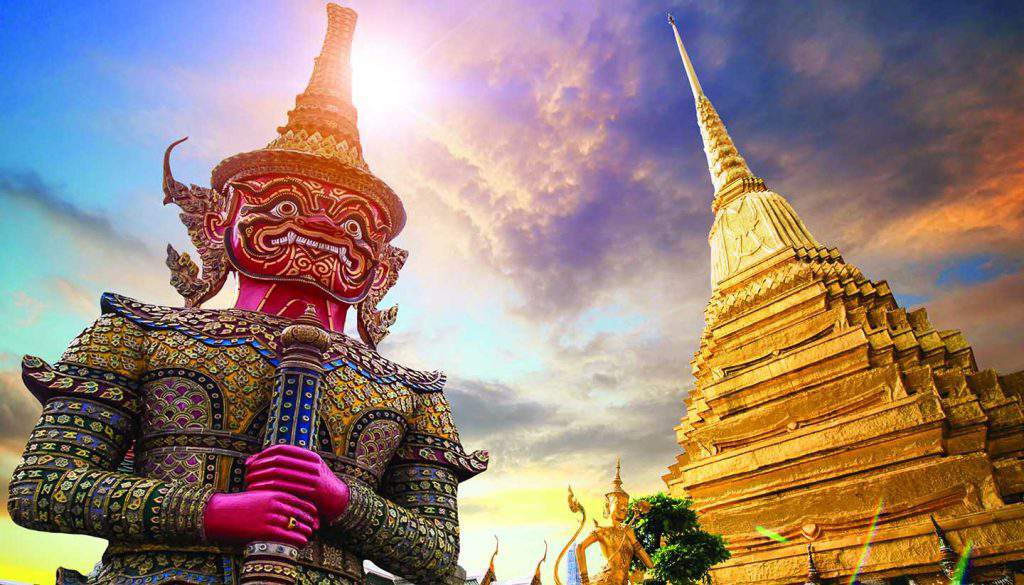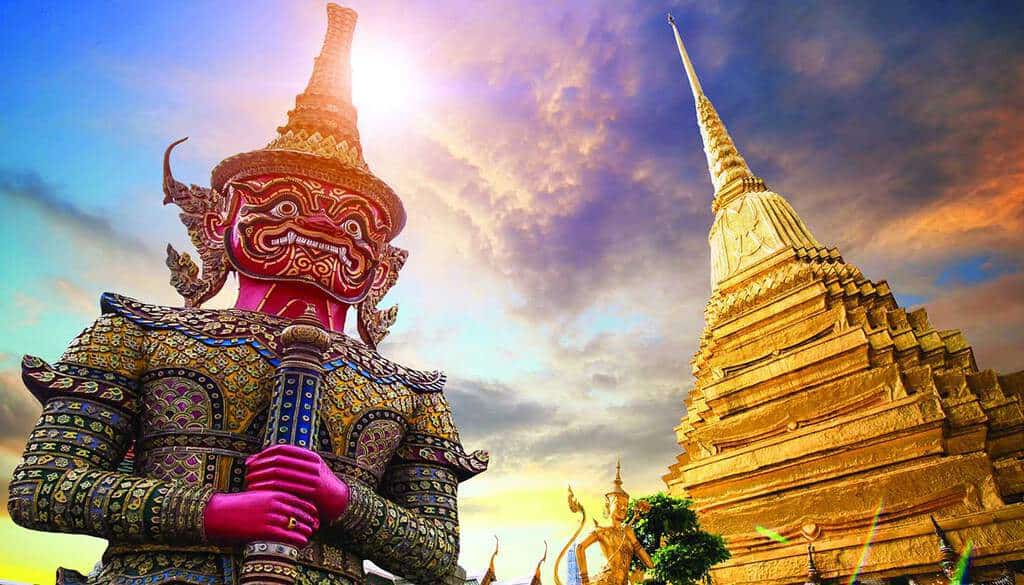 January
Since Thailand is a tropical country, expect high temperatures and humidity at any given month. Winter's a bit cooler compared to other seasons but temperature wise, it's still pretty warm and has lots of sunlight. The highest average temperature during this month is 27oc.
With only 10mm of average rainfall in just two days, there are low chances of raining in January as this is one of the driest months of the year. You'd be better off wearing light clothing made of cotton or synthetic materials that can absorb moisture at any time that you'll visit Bangkok.
Sun protection is also a must. Consider wearing tops with short sleeves and light long pants. Tank tops and shorts are not ideal in cities and inappropriate in temples or palaces. Wide-brimmed hats are perfect to avoid the intense sunlight while going around the place. During your stay, you'll most likely go in and out of air-conditioned places so don't forget to bring a cardigan or something that you can wrap around your shoulders to avoid feeling too cold in these places.
February
Kinda similar to January, February is regarded as the final month of having "cool" weather although the average high temperature of 29oc is a degree higher than that of January. Having only 10mm of average rainfall for three days, rainfall levels are still at a minimum.
Pack similar clothes as what you would bring in January. The temperatures in Bangkok are typically much higher than the rest of the world during this time of the year. Heatstroke is very common so make sure to keep yourself hydrated and avoid the intense heat by having breaks in air-conditioned places.
March
This month is even hotter than February with an average high temperature getting as high as 30oc. Rainfall is still at a minimum, having an average of 30mm of rainfall spread in a span of five days which is slightly higher than the previous months. Expect really hot and humid temperatures during this month.
To prevent dehydration and heatstroke, make sure to drink plenty of water and avoid staying too long under the sun. Plan ahead your trip by booking air-conditioned rooms and itineraries to avoid extreme heat during the day.
April
Regarded as the hottest month of the year, the average high temperature in April is at around 32oc can even go up to 37oc. Humidity is around 70% which can make higher temperatures feel even hotter and stickier.
With the extreme heat, you will need to make sure that you are getting enough protection from the sun. Use a sunscreen with high SPF and a wide-brimmed hat which are perfect if you are going to explore around. Make sure to have enough rest away from the sun and keep yourself hydrated to avoid heatstroke and fatigue. The average rainfall is slightly higher than the previous months which is around 70mm spread in a span of 10 days. The rainfall amount might have increased but it's not enough to make the temperatures cooler. Good thing is that you won't need to worry about it hindering your plans.
May
The average high temperature in May is still a bit hot, creeping at around 32oc. The start of monsoon season is at this month, making the temperatures a bit more tolerable. High humidity and warm temperature are still not a pleasant combination but the average temperature this month which is at 190mm spread in a span of 17 days will help cool things a little bit more.
Expect some flooding in Bangkok during this month since it just came from the dry season which typically brings a lot of debris clogging the drains. This month is definitely wetter than the previous months especially during the last few weeks so make sure to pack up some necessary gear. Avoid wearing a raincoat since it's too hot. A better alternative is to bring a small umbrella that you can easily carry around. There will be times that you will need to take off your shoes and wade around in deeper waters so be prepared for that.
June
Rainfall and temperatures in June are almost similar to May with an average high temperature of 31oc which is lower by a little bit. Still, expect high temperatures and humidity. Similar to things that you would need to pack in May, bring clothing that is light and comfortable.
Monsoons usually arrive during this month. The average rainfall is around 150mm so make sure to bring a portable umbrella to keep yourself dry. Bring a cardigan or a shawl when staying in air-conditioned places so that you won't be too cold.
July
July usually has a very wet season. It still has high humidity but the temperatures gradually lowers each month until September. The average high temperature for July is at 31oc but expect it to go lower as months go by.
The average rainfall for this month is 190mm over 19 days with rains lasting for only a few minutes each time so expect that you'll be encountering rainfall when you go to Bangkok at this time of the year. As always, pack what is necessary for the weather. Wear light protective clothing and some rain gear. The rains rarely last for 30 minutes but still make sure to bring an umbrella with you.
August
The temperatures in August are still pretty similar to July with an average high of 30oc. It will still feel sticky and heavy since the humidity is around 74% although you won't have to worry about the numbers of tourists this time around.
The average amount of rainfall is around 190mm. There's a lot of downpours so expect some flooding in the streets when you come in August. As with the previous months, bring light clothing and a small umbrella with you. There will be times that you need to take off your shoes to wade in the flood. You'll still experience intense heat so make sure that you take enough breaks from the sun.
September
With an average rainfall of 290mm that falls down in about 22 days, September is considered as the wettest month in Bangkok. Autumn is near during this time but you won't feel any cooler since the average high is at 29oc, slightly less than that of August.
You'd get a lot of heavy rainfall during this month combined with high humidity and some sunshine here and there. You can easily take cover inside a mall or a cafe during the rain since it usually only lasts for a short time. Bring light clothing that can easily dry up, high SPF sunscreen, and a small umbrella to let you take cover from the rain. As always, make sure to bring a cardigan or a shawl since you'd be staying at some airconditioned places.
October
Rainfall levels will gradually decrease in October and as months go by, Bangkok will slowly transition into the dry season again. There will be a lot of rainfall at the beginning of the month but expect it to slow down at the middle of the month. Occasionally, there will still be some flooding on the streets although this does not usually happen each year.
The average high temperature is still the same as that of September which is about 29oc. There's a lot of sunshine this month compared to September. Prepare the same things as with the previous months in order to protect yourself from the sun and the rain.
November
Temperature in November will usually stay around the mid-20's range although the average maximum temperature is at around 28oc. The rainy season usually ends during this month and the locals will now prepare for the "cold" season. The average rainfall during this month is only about 60mm over a period of five days.
In terms of weather, this is the most pleasant time to visit Bangkok. But still, make sure to bring sun protection and wear lightweight clothing.
Nights in Bangkok during this month has a relatively cool temperature which is usually around 22oc. You'll surely enjoy exploring the lively nightlife of the city at this time of the year.
December
This is usually the driest month in Bangkok only having an average rainfall of 9mm. There's a pretty good chance that you won't have to deal with rainfall when you visit this time of the year.
One thing to note is there's usually a lot of tourists in Bangkok during December as this is the height of tourists season. The average maximum temperature is around 27oc and usually goes down to about 20oc especially during the nighttime. This makes for a great time to go and explore the city's thriving nightlife.
As with the previous months, bring light clothing, sunglasses, and a cardigan when staying in air-conditioned places. Although this time, you'll most likely won't be needing any umbrella.
Events in Bangkok
January
New Year – January 1 in Thailand is declared as a national public holiday. The place is usually quiet as most residents will visit temples this time of the year. Government offices are closed but malls and shops remain open.
National Children's Day – Places like theme parks, zoos, and many more public attractions will be free for children during the second Saturday of January. Lots of special events will be held throughout the country and places that are usually restricted to the public like the Government House, inner Grand Palace, and the Defense Ministry would be open to everyone.
Chinese New Year – This is a weeklong celebration held in the end of January or early February. Most Thai-Chinese will be celebrating this holiday. A lot of shops and business will be closed at this time of the year. It's great to explore Chinatown as there are a lot of food stalls to try and you'll be able to see lion and dragon dances, lanterns, and Chinese opera.
Bangkok Fringe Festival – This performing arts festival is usually held at the end of January or Late February in the Patravadi Theatre. This event highlights the art of Thai and international artists. You'll be able to watch a lot of dance performances, theatre, music, puppetry, movies, and a whole lot more.
February
Valentine's Day – Although February 14 is not regarded as a public holiday, it still offers a lot of interesting events in a country where an open display of affection is often frowned upon. It's getting increasingly celebrated and more extravagant each year. A lot of restaurants in the city offers romantic themed dinners and events.
Makha Bucha Day – This is a public Buddhist holiday celebrated on the full moon night of the month. This is the day when Buddha had a sermon to about 1,250 devotees. You'll be able to see a lot of candlelit processions of Thai people around Buddhist temples. Foreigners are allowed to observe the holiday which starts at the beginning of the sunset. The great places to go during this time is in Wat Benjamabopit and the Golden Mount where you'll see the procession of monks.
March
St. Patrick's Day – one of the oldest society in Bangkok is the St. Patrick's society. Although there's no parade, you'll be able to see a lot of events during the holiday including St. Patrick's Day Shindig held during 17th of March at Eastin Grand Hotel Sathorn Bangkok. You'll be able to try Guinness and Irish coffee with tasty Irish foods while listening to Irish music. There's also a lot of Irish pubs where you can celebrate a holiday while eating an Irish Stew with a pint of Guinness.
Bangkok International Fashion Week – This event shows various items like clothing, jewelries, leather-made items, and other various handicrafts. It is held in a period of five days in the middle of the month at the Impact Exhibition & Convention Center.
National Book Fair –Local and international writers and publishers gather in this event held at the Queen Sirikit National Convention Center. It is usually held in late March to early April.
April
Chakri Day –Held during the 9th of April, this important Thai holiday celebrates the founding of the Chakri dynasty, the origin of the current royal family.
Songkran – This three-day holiday is a weeklong festivity of Thai New Year. Most government offices, banks, and businesses are close during this day although some shopping malls remain open. Most residents in Bangkok travel back to the provinces to visit their hometown. If you plan to stay in the city, bring some rain gear as you would most likely get wet from the city wide water fights. People would bring water guns and buckets often targeting unsuspecting foreigners and visitors to the city.
May
National Labour Day – During May 1, a national public holiday called May Day is reserved for private banks and companies. This holiday is not usually observed by public officials as they already have their own which is the Royal Ploughing Ceremony celebrated in the middle of May. In the past, various rallies have been held during this holiday but today it is often treated as a vacation time for employees to spend more time with their families.
Coronation Day – Celebrated during May 5, this public holiday celebrates the coronation of King Rama IX, who is currently the king of Thailand. There are nationwide playing of the national anthem and people who have made significant contributions to the country are given royal decorations. Some places in the Grand Palace that are normally shut off to the public are open during this holiday.
Visakha Bucha – Celebrated during the full-moon day of the sixth lunar month, this holiday is considered as the most sacred holiday for Buddhists. This is considered as a public holiday in the country where Buddhists go to temples to uphold merit and the teachings of the Five Precepts of Buddhism including abstinence and avoiding alcohol. Most bars and clubs are closed during this holiday as respect. Some who are open play their music very softly and serves alcohol in tea cups to make it more discreet.Royal Ploughing Ceremony Day – Held at Sanam Luang ceremonial site every year, celebrating the start of the season of planting. It is a public holiday held during the sixth Thai lunar month with no exact date. The specific day of celebration each year is announced by the  astrologers from the Bureau of the Royal Household. The ceremony is headed by a member of the royal family with two Brahmins wearing ceremonial gowns leading two oxen that are considered as sacred. They plow and plant rice seeds over the Royal Field to signify the ceremony.
June
Crab Festival –Held in the middle of the month at the Central Plaza Rama, this festival offers visitors to have a taste of crabs freshly sourced from Bang Khun Thian. This event shows various local and international exhibitions like cooking demonstrations.
Amazing Thailand Grand Sale –This holiday is a heaven for shoppers who want to take advantage of wonderful deals fir various items, stores, hotels, restaurants, and many more. This usually happens during mid-June and some offers discount from 10% and as high as 80%.
July
Pattaya Marathon – Offering runners a wonderful view coastal views on the Pattaya area on the outskirts of Bangkok, this event is attended by runners all over the world. People have the option to join the 10.5 km and 21 km distances while kids can run in the 5 km category.
Asana Bucha and Khao Pansa –These two Buddhist holidays are usually celebrated next to each other. The Asahara Bucha remembers the first sermon of Buddha to hist five disciples while the Khao Pansa serves as the beginning of Lent for Buddhists in the country. The Buddhist Lent is a three-month retreat wherein alcohol is banned for the whole day. During this period, monks would meditate more intensely while common people would take this time to uphold the ascetic values of Buddhism such as abstaining from drinking alcohol, smoking cigarette, and consumption of meat. There are various floats that shows Buddhist and Hindu mythology along with huge candles during the Buddhist Lent Festival.
August
Short Film & Video Festival – This festival is held at the Bangkok Art & Culture Center at the middle of the month. It exhibits various local and international indie films with different topics. People who will attend this festival can watch short films, documentaries, student-made films, experimental, animations, and many more.
Queen's Birthday – This holiday serves to celebrate the birth of Queen Cirkit who was born in the 12th of August 1932. This holiday also serves as Mother's day in Thailand. People would dress in light blue as a sign of respect and to symbolize the birth of the queen on a Friday. Light blue is worn since the color blue is associated with day. Residents of Sanam Luang would have candle-holding ceremonies. You will be able to see shrines all over the city and illuminations on Thanon Ratchadamnoen.
Chinese Ghost Festival –This festival is celebrated by Taoists, Buddhists, and believers of Chinese folk religion on the 15th night of the seventh lunar month in the Chinese calendar at various Chinese shrines all over the country. People believe that this is the days where the gates of Hell are open and spirits can freely roam around to find food and entertain themselves. Residents would prepare food to offer in ceremonies and to give to people in need.
September
International Festival of Dance and Music –This festival is the largest art festival that takes place each year on the second week of September and lasts until the middle of October. People can watch operas, ballet and listen to classical music and jazz.
Chinese Mid-Autumn Moon Festival –This festival originally came from China but the Thais put their own twist on it. Culinary creativity is shown full blown and enjoyed by culinary enthusiasts. Mooncakes of various flavors like roasted chestnut, green tea, coffee, ginseng, and ice cream are sold by food stalls in Chinatown.
October
Awk Phansa –This event celebrates the end of the three-month Buddhist Lent. Monks can begin leaving the temples after meditation and people offer them food and robes. This month-long offering ceremony of the people is called Thot Kathin. Various festivals and events are held around the whole country and a royal ceremony is held at Wat Arun, also called as Temple of Dawn.
Chulalongkorn Day –This public holiday happen during the 23rd of October celebrates the life of King Chulalongkorn. His death anniversary was celebrated last 2010. People would bring flowers and offering on his statues and portraits to ask for prayers and wishes.
Kin Jay Vegetarian Festival –This nine day festival is held during the ninth lunar month of the Chinese calendar usually during late September or October. As a celebration of the Chinese cleansing festival, people would take on a vegan diet during this period. Restaurants and food stalls in the cities would put up a yellow flag to announce to customers that they are partaking in the tradition. Most restaurants serve vegetarian dishes during this season although some will still offer non-vegetarian foods.
Halloween – Most Thais do not celebrate this event, especially those who live outside big cities. This event is mostly celebrated by foreigners and expats in the country. Many bars and clubs throughout the city lets the people dress up during this event.
November
World Film Festival of Bangkok – People attending this festival that happens during early November can watch more than 80 films around the world including short films, documentaries, experimental and animated films from the European Union Film Festival, South East Asia and Latin America.
Loy Krathong Festival – Held during the first full moon during the month, this instagram-worthy festival is held in the streets of Bangkok. People would make or buy a krathong, which is a small boat made from banana leaves filled with various flowers and candles. They would be released in lakes or streams in the evening as a symbol of respect to the goddess of water and to wash away their sins. Thousands of lights from the candles on the boats are a sight to behold. People can join this festival at many locations around the city. For years, the main celebration has been held at the Asiatique in Bangkok.
Beer Garden Festival – This is the Thai counterpart of Germany's Oktoberfest. Heineken, Singha, and many more brands of beer are served on the city streets and are available on tap. This event is more celebrated in the cities compared to surrounding areas. You can expect tons of beer, live band performances, and numerous food stalls in different locations like plazas, bar strip and malls.
December
Trooping of the Colours –Held during the first of the month, this event is held before the birthday of the King. Members of the three armed forces, Royal Air Force, Royal Navy, and Royal army would join together with the royal guards. The ceremony is pretty similar to the Trooping of The Colours of the British Army. The armed forces and royal guards wear colorful uniforms and plumed hats. The ceremony is where they march in unison and declare their oath of allegiance to the King and Queen as well as the other members of the royal family. It is best to go to the Royal Plaza earlier as most people would go in the middle of the afternoon and wear modest clothing.
The King's Birthday – During the 5th of December, Thai people pay their respect and adoration to the current King of Thailand. There is a yearly display of fireworks in the Grand Plaza and streets are usually decorated to honor the king. In the evening, people would light candles, listen and dance to the music.
Constitution Day –Celebrated on the 10th of the month, this event commemorates the first Constitution of the country which was implemented in 1932 transforming the country from absolute monarchy to constitutional monarchy. Thai people around the country would pay their respects to the current and previous kings. Various government offices are lit up and civilian and military parades can be seen around the city. A ceremony takes place usually at the Ananta Samakhom Throne Hall in Bangkok each year.
Christmas Day –Although it's not a part of traditional Thai culture, most Thais still celebrate and enjoy giving gifts to each other during Christmas. It has become a prevalent commercialized event in the country. Visitors in the malls can see huge Christmas trees and various luxury locations have their own events. Christian churches also celebrate during the 25th although most people celebrate it by drinking and shopping.
New Year's Eve –As f the biggest tourist destination in Asia, expect to find numerous party during New Year. There is a count down in Central World's square with private parties dotted all around the city. There is also a yearly fireworks display at the Chao Praya river. Hit the Khao San Road to see a wonderful spectacle in the evening.
WHEN TO BOOK YOUR HOTEL IN BANGKOK
It's best to book your accommodation in Bangkok 1 to 2 months in advance. If you're planning to go in late December or January, make it 3 months in advance to avoid the crowd.
BEST TIME TO GO SHOPPING IN BANGKOK
The greatest time to go shopping in Bangkok is from mid-June to mid-August. It's great to go shopping during the "Amazing Grand Sale" to get the best deals since most shops will have 10% and even up to 80% discount on different items. You'll be able to buy a number of clothes, electronics, jewelry, and a whole lot more during this time. 
A great tip when going to markets in Bangkok is to go during the early morning to avoid the heat. Go to air-conditioned malls in the middle of the day. You'd also want to take note of the morning and evening rush hours which starts from 7:30 to 9:00 and 17:00 to 18:30 pm.
When to explore Chinatown: One of the most culturally colorful and busy districts in Bangkok is Chinatown. It's best to visit this area during late January during the Chinese New year or early February. You'll be able to see a lot of exciting lion and dragon parades, dancing performances and firecrackers. There's a lot of liveliness in here all year long and you'll be able to enjoy it day or night. You can taste one of the best street foods in here as there are a lot of street restaurants on the sidewalk.
When to explore the Grand Palace: The no.1 must-see attraction in Bangkok is the Grand Palace. There are millions of tourist flocking to the Grand Palace every year so expect it to have lots of crowd at any time of the year
The best time to go is around mid-June to mid-September during the early mornings of the rainy season. Go there at 8:15 am as it usually opens at 8:30 am. Head to Wat Phra Kaeo temple to avoid large tourist crowds. If an early morning visit is not possible, the next best option is to go there by 2:30 pm. Avoid going there during the Songkran Festival which is held mid-April, Christmas, and New Year holidays as these are the peak tourists seasons.
High Season (November through March): Weathers and number of crowds differ throughout the year in Bangkok. Cooler and drier weather are expected during late fall and winter. This is the season when Christmas and New Year are celebrated so a rise in tourists can be seen. The city will be packed full of people especially bars, it's almost quite impossible to avoid the crowd during this season. Prices usually increase and accommodations are filled up pretty fast. If spontaneous travel is your thing, this may not be the best season as it is better to book in advance when going to Bangkok at this time of the year.
Shoulder Season (April through June, September and October): Crowds during this season are not as plenty compared to the high season. You should note that April to June are when temperatures soar up to really high levels especially during April, which is considered as the hottest month of the year. Temperatures are lower and rainfall are more common during September to October. Since there are fewer people going to Bangkok during these times, you'll be able to catch lower deals on hotel rates and airfare allowing you to spend the money that you'll save on somewhere else.
Low Season (July and August): Monsoons fall during this season. Frequent heavy rainfall in short bursts can be experienced during this time of the year. Some people like to visit the city during these months as there are a lot of great deals saving them a lot of money. The weather is tolerable which will allow you to enjoy various activities indoor like visiting aquariums, temples, shopping malls, entertainment complexes, and many more. For some, the bit of money saved is worth the effort of not having to go through huge crowds during peak months.
Read more:
Bangkok Travel Guide
Best Hotels In Bangkok
Best Time To Visit Bangkok
Best Places To Stay In Bangkok
Where To Eat In Bangkok
Things To Do In Bangkok
Bangkok To Koh Samui