In this guide, I have tried to transform the experiences of my trip to Crete into tips and practical information. I hope that you will use it to organize your trip and make the most of it!The island has beautiful beaches of crystal clear sea. And its geography is not far behind: orange mountains dotted with olive green. Its towns and cities also have a lot of charm and the people are super friendly and alway smiling.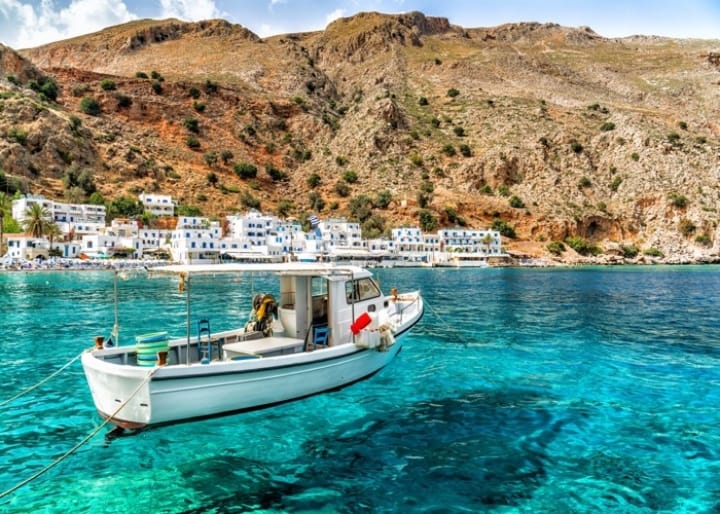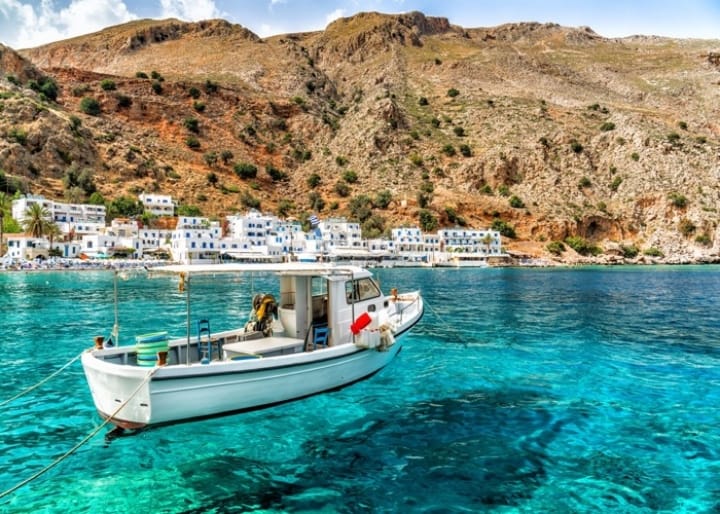 Taking a trip to Crete was something I've wanted to do for a long time. I've always loved Greek mythology and Crete is the cradle of several myths.
What to see in Crete
Crete is a big island, in fact, it is the biggest of the Greek islands, so you have a lot of things to know.
And it's all gonna depend on your tastes and interests.
If you're looking for beaches, the most beautiful ones I've been to are: Elafonisi (Chania), Vai (Lasithi) and the beaches of Bali (Retimo). Of those three, the only one that has hotels in front of the sea is Bali.
If you want a beautiful city with movement, I recommend Agios Nikolaos and Chania. I personally didn't like Heraklion and Retimo that much. I correct myself, it's not that I didn't like them, they are beautiful cities, but they don't compare with Agios Nikolaos and Chania.
When to travel to Crete?
For me, the best time to travel to Crete is at the end of the summer or before it starts. A lot of people (including me) travel to Crete in July or August, because it is summer. But, unless you are looking for a beach to spend your holidays in Greece, it is not such a good option.
So, the best months would be June and October. Even, locals told me that the weather in Crete in November is still good. They say there are still people who go into the sea.
The island of Crete is a destination that needs time. It's ideal to visit its archeological sites, walk through its mountains, tour its cities and towns, and enjoy its beach. And in the heat, the only thing you'll want to do is stay on the beach.
How much does a trip to Crete cost?
Telling you how much money to take to Crete is a bit difficult. It all depends on the type of trip you want to take, the places you go and the people you travel with. So, instead of telling you how much to calculate, I share some prices based on my experience (high season!).
Transportation from one city to another
Heraklion – Retina: 8
Retino – Chania: 7
Heraklion – Agios Nikolaos: 8
Agios Nikolaos – Site: 9
Chania to Athens: 38
Transportation within cities
Heraklion: 2 euros each way
Retimno: 1,30 ? the way (price of the minimarket, if bought in the bus is more expensive)
Chania: 1.20 Euro per trip (price of the minimarket, if bought on the bus it is more expensive)
Taxis
Heraklion airport to the centre: 20
Chania bus terminal to the hotel: 7
From the hotel to the port of Chania: 25
Car rental (in Heraklion): from 20 per day
Fuel (9 days touring the eastern part of the island): 90
There are no tolls and we only spend 2.50 Euro on parking 1 time
Supermarket food: 8 euros per day for 2 people
Main course in restaurant: from 6
Accommodation: 30 euros per night (in Airbnbs – whole house – for 2 people)
Tourist activities
Knossos Palace + Archaeological Museum: 16 ? per person (the palace alone, costs 15 ?)
Excursion to Elafonisi from Retimo: between 15 and 20
Excursion to Elafonisi from Chania: between 20 and 30
Excursion to Balos from Retimo: between 6 ? and 8 ?
Excursion to Balos from Chania: about 30
Umbrella + 2 beds rental: between 5 and 10 euros depending on the beach
Average per day for 2 people: 90 euros per day, not counting tourist activities and transport from one place to another (I put in for two people because I travel with my husband and that makes our budget for accommodation and food, for example, decrease).
Accommodation in Crete
To know where to stay in Crete, you need to first define what you want to see and do on the island. If you have time, I recommend that you stay a few days in the east and a few days in the west.
If you do not have that much time, I think it is best to choose one area to get to know and enjoy it calmly.
To get to know the eastern part of the island, my recommendation is to stay in Heraklion, Agios Nikolaos, Sitia or Ierapetra.
To know the western part, the best spots are Retimo and Chania. As I told you before, I liked Chania a thousand times more, but the good thing about Retimo is that, if you want to make excursions they are much cheaper than from Chania. Accommodation is also cheaper.
Keep in mind that many cheap accommodations are on the "outskirts" of cities. But the good thing is that these "outskirts" are well connected to the cities. However, if you decide to stay far from the centre, ask first if there is a bus stop nearby or if you need to rent a car.
Best Hotels in Crete
Here's the complete guide to the best hotels in Crete.
East of the island
Athinaiko Hotel (downtown Heraklion)
Rea Hotel (downtown Heraklion)
Mirabello Hotel (downtown Heraklion)
New Hostel at Center (downtown Heraklion)
Intra Muros Boutique Hostel (downtown Heraklion)
So Young Hostel (downtown Heraklion)
Pergola Hotel (centre of Agios Nikolaos)
Sgouros Hotel (centre of Agios Nikolaos)
Naiades Marina Hotel (centre of Agios Nikolaos)
Kastro Hotel (center of Agios Nikolaos)
Hotel El Greco (Sitia)
West of the island
Ormos Atalia (Bali beach, Retimo)
Olympic Palladium (Retimno centre)
Anassa Estate Cultural Heritage (Retimno centre)
Kumba Hostel (city of Chania)
Candia Hotel (city of Chania)
Alexis Hotel (city of Chania)
How to travel to Crete?
Airports in Crete
The two international airports in Crete are Heraklion and Chania (La Canea).
Both airports are international, but in both cases, international trips are usually covered only during the summer. Both are served by low cost airlines, so you can probably get cheap flights to Crete.
Click here to search for cheap flights to Crete.
From either airport, you can get to the city centre by public transport and it costs between £2 and £2.50 each way. In both cases, a taxi to the centre costs around 20 Euro.
Click here to book your private transfer from Heraklion airport to the centre
Athens – Crete Ferry
Besides the airports, remember that as Crete is an island, it has important ports. The largest is Heraklion, followed by Chania.
If you're going to Athens, you can go from either of these two ports. I went from Chania with the Blue Star company (website in English) and the ticket for the ferry cost me 38 euros.
If you want to "win" a night on your trip, you can go on the night ferry and book a berth.
The trip takes about 9 hours. And the ferry is huge!
How to travel within Crete?
The bus network in Crete works super well. However, there are some places of interest that cannot be reached by public transport (or that are too heavy to do so and depending on where you are you have to make several changes), but you can always take a tour.
Another option is to rent a car. Even if it's only for a few days. Crete has beautiful landscapes that are best discovered on your own. I ended up renting a car for 25 euro a day! You can even get it from 20 Euro a day depending on the season and the number of days you rent.
Also, you don't have to leave your credit card details (like with the big companies), they don't charge you even half a guarantee and they give you the car 100% insured and don't charge you anything extra.
Note: I rented the car in Heraklion, renting in Chania is more expensive.
Official website of buses in Crete (they are in English):
https://www.ktelherlas.gr/en/ (Heraklion and Lasithi)
https://www.e-ktel.com/en/ (Chania and Retimo)
Read more:
Crete or Santorini?
Family Friendly Hotels in Crete
Best Time To Visit Greek Islands
Greece Family Travel
Top Beaches in Greece