Hong Kong is a city that attracts a lot of travelers. This island city has it all: fabulous scenery, an overwhelming nightlife, a splendid shopping area and one of the best cuisines on the planet.
A former British colony, Hong Kong was the gateway to mainland China. Today it is still one of the world's most important financial centres.
Read more about Hong Kong:
Where To Stay in Hong Kong
Best Time To Visit Hongkong
Things To Do in Hong Kong
Hong Kong's skyscrapers are spectacular and make up one of the most impressive skylines internationally. In reality, these tall buildings were begun as a matter of limited space. Seeing them illuminated at night is a real visual spectacle.
Top 5 reasons to visit Hong Kong
Family destination
Hong Kong has countless gardens and parks and is a perfect destination for picnics and all kinds of outdoor activities. Nah Lian is a beautiful oriental garden worth a visit. On the other hand, the many local theme parks, such as Disneyland or Ocean Park, will delight children and teenagers.
Festivals and spectacular celebrations
Hong Kong is a city known for its festivals full of color, magic and magnetism, where you can admire the famous lion and dragon dances, fireworks and banquets. The most popular celebration is the Chinese New Year, which is usually held in January or February. Other popular celebrations are the Dragon Boat Festival and the Lantern Festival.
Dazzling cultural mix
Wherever you go in Hong Kong, you'll find a sophisticated East-West mix. This comes from the British colonial era and the city's Mandarin and Cantonese past. People from all over China live in Hong Kong, as well as immigrants from all over the world.
The shopping experience
In Hong Kong you can buy everything from clothes to electronic devices in shopping malls, designer clothes in fashion shops or traditional Chinese products in street markets.
Culinary centre
Hong Kong is the gastronomic capital of Asia and there are culinary specialties for every taste and every budget. You can try delicious Cantonese food, dim sum, seafood or some snacks at the street stalls for very little money.
What to do in Hong Kong
Climbing the Victoria Summit
From here you will get the best panoramic views of Hong Kong. To get there, you can take a funicular railway and enjoy this route which attracts more than seven million tourists a year.
Walking around Tsim Sha Tsui
A walk through Tsim Sha Tsui, an urban area south of Kowloon, will give you the opportunity to enjoy magnificent views of the city skyline. This seaside walk starts at the Clock Tower and leads to the Cultural Center. It is ideal to walk it when the skyscrapers are illuminated.
Shopping at Mong Kok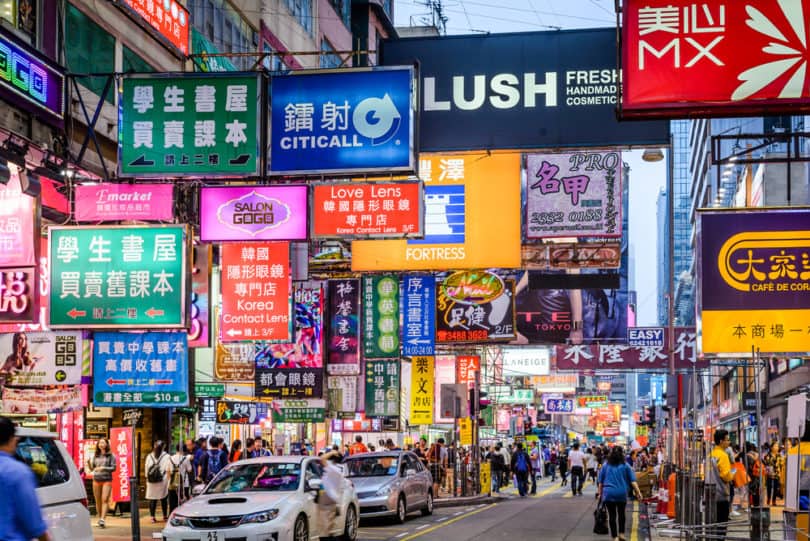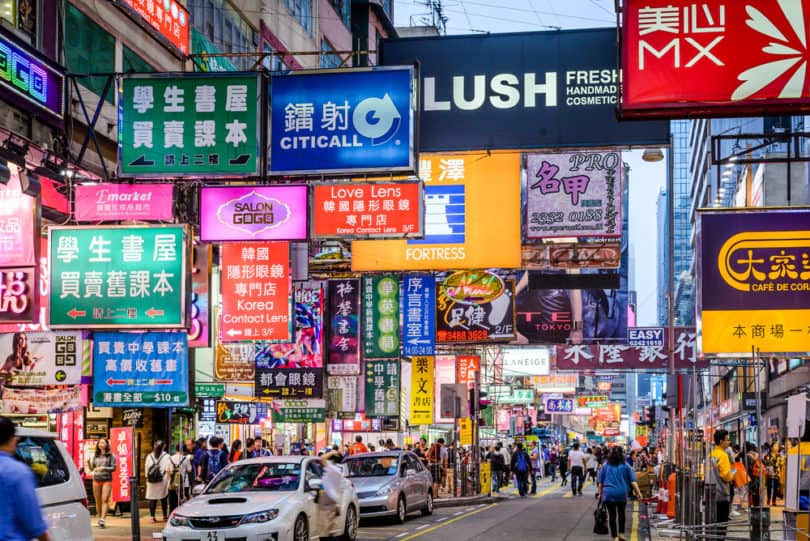 Known as the busiest shopping district in the world, this part of Kowloon is where you can buy anything you want. The streets full of shops have managed to preserve the traditional aspect. You will discover complete streets dedicated to different items: clothes, electronics, birds… anything!
Visit Lantau Island
Lantau Island is known for its beaches and its many attractions, such as Disneyland Park. From here you can also take a cable car up to Po Lin Monastery and admire the 250 ton Tian Tan Buddha made of bronze. On the coast, enjoy the more traditional houses of the Tai O fishing village.
Breathe fresh air at Man Mo Temple
Man Mo Temple is a tribute to the Chinese gods of Literature and War. The locals frequent this place of worship to pray. During the visit to the temple, a large amount of incense is burned; you will never forget this aroma. You will be struck by the red interior of the temple where there are many colorful statues.
When to visit Hong Kong
The high season in Hong Kong runs from October to December, when the weather is at its best. There are also plenty of travelers who visit the city in late January or early February to participate in the Chinese New Year. In spring the weather is usually rainy, so it is not a good time to enjoy the beautiful views of the city in all its splendor.
How to get to Hong Kong
By plane
Hong Kong's airport is located about 35 kilometers from the city and is a very attractive infrastructure from an architectural point of view. In addition, it registers a great deal of air traffic. Flights from all over the world arrive at the airport every day. To access the city you can use the bus service, although the most recommended is the train. For 115 HK$ you can reach Hong Kong by train in just over 20 minutes.
By train
It is possible to arrive in Hong Kong by train if you are travelling from mainland China. Trains from major Chinese cities such as Beijing and Shanghai arrive at Hong Kong's Central Station. A train journey from Shanghai takes about 20 hours and tickets start at HK$320.
By car
It is also possible to drive to Hong Kong, but you should know that you will have to pass a border control to enter from mainland China. In the city of Shenzhen, about 32 kilometers away, is located one of the most used border points. However, you will probably have to wait in long queues.
By bus
Major Chinese cities have bus stations with long-distance connections. It is not easy to book a seat, as the timetables are usually indicative and the average speed is very low. Websites such as chinabusguide.com offer useful information.
Where to stay in Hong Kong
In Hong Kong you have hotels for every taste and every price. From the luxurious Intercontinental Hong Kong, where you can stay for 2200 HK$ a night, or the mid-range Lan Kwai Fong, where the price per night is 1076 HK$.
Among the cheapest options is the Hong Kong Budget Hostel, for only 94 HK$ per night.
Interesting neighborhoods in Hong Kong
Hong Kong Island. Without a doubt, it is the main tourist destination. From places like Victoria Peak or Peak Tower you will enjoy the best views of the island.
Kowloon. In this neighborhood you can find some of the most famous shopping streets in Hong Kong. It is also the location of the splendid Walled City Park and Tsai Park. The History Museum, located in this part of the city, is very interesting for a family visit.
Lantau Island. Known for housing the airport facilities, it is the first contact with the city for many visitors. Disneyland and the famous Ngong Ping 360 funicular are also located here.
New territories. They are located in the north of Hong Kong and you will discover old villages, hiking trails, farms and factories.
Lamma Island. This island is characterized by its white sand beaches and transparent waters.
Getting around Hong Kong
Public Transport
Hong Kong's public transport system consists of five metro lines, three suburban train lines and a modern tram service. It is highly recommended that you purchase an Octopus Card to use it. This is a prepaid card that facilitates the use of public transport. The price is HK$150 and includes HK$100 credit and HK$50 card rental, which is also refundable.
Taxi
Urban taxis are red and have a fare of HK$22 for the first 1.6 kilometers and HK$1.60 for each additional half kilometer.
Car
Keep in mind that the cars here drive on the left. It is not easy to drive in Hong Kong, as there is a lot of traffic and drivers drive very fast. You can rent a car from different rental agencies, such as Avis, Hertz or Hawk, from HK$206 per day.
Cost of living in Hong Kong
Shopping
The options for shopping in Hong Kong are endless. In Wan Chai you will find all kinds of electronic devices, in Hollywood Road and Loscar Road you will find art and antiques, and in Ladmark design shops. But don't forget about the street markets, such as the flower market or the bird market, which are a unique experience. As a guideline, a pair of branded trousers will cost you HK$80.
Food and other necessities
In Hong Kong it is possible to buy the essentials in the supermarkets that are spread out in the different neighbourhoods, such as 7-Eleven, Vanguard and Circle K. There are also larger supermarkets in the city, such as AEON, PARKnSHOP and Wellcome. To give you an idea, a dozen eggs will cost you HK$25.70 and a bottle of good wine HK$150.
Where to eat in Hong Kong
Hong Kong is a destination where you can taste international dishes from anywhere on the planet. Seafood is undoubtedly the local speciality and the best is served in the floating restaurants in Aberdeen harbour. You can try Asian cuisine in luxury restaurants like Aqua and Felix, or taste Cantonese food at Maxim's MX.
An economy meal costs between HK$25-35 per person and a mid-range meal costs between HK$150-200 per person.
Other Asia Destinations:
Bali Travel Guide
Bangkok Travel Guide
Beijing Travel Guide
Chiang Mai Travel Guide
Ho Chi Minh City Travel Guide
Koh Samui Travel Guide
Krabi Travel Guide
Kuala Lumpur Travel Guide
Kyoto Travel Guide
Pattaya Travel Guide
Phuket Travel Guide
Shanghai Travel Guide
Singapore Travel Guide
Tokyo Travel Guide