Las Vegas is the ideal place to enjoy dazzling shows, exciting casinos, luxury hotels and endless buffets with all kinds of food.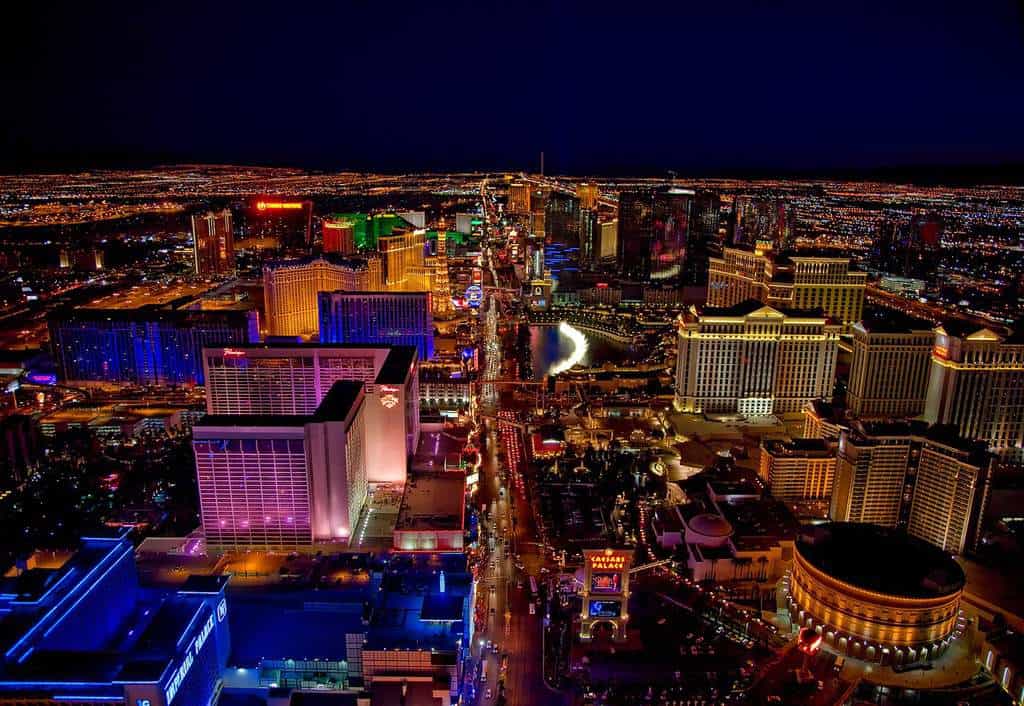 You don't need to play to have fun in Las Vegas. The city has family-friendly amusement parks like Adventuredome and Adventure Canyon. If you like golf, you'll find some of the best courses in America, and if you're into shopping, you'll love the Fashion Show Mall.
Read more about Las Vegas:
Things To Do in Las Vegas
Las Vegas Family Hotels
Best Hotels in Las Vegas
Whether you're looking for the intensity of the biggest casinos, watching world-famous events every night, or pampering yourself in great luxury hotels, Las Vegas is your destination.
Top 5 reasons to visit Las Vegas
The Strip
The Strip is home to some of the most impressive and exotic hotels and casinos in the world. Venetian, with an Italian theme, the Egyptian Lúxor and Paris Las Vegas, which includes a reconstruction of the Eiffel Tower, are the references.
Gambling and betting
Lovers of betting and gambling find their dream place in Las Vegas. But be careful, you could lose everything…
Shows with a global dimension
Las Vegas has one of the highest concentrations of theaters in the world. It features everything from Cirque du Soleil to major pop stars like Britney Spears. You can also attend impressive musicals.
Excursions in the desert
The Nevada desert is only a short drive away. Head to the Burning Man Festival in October, tour the gardens of Las Vegas Springs or wander through the canyons of the Mojave Desert.
Food & Drink
Whatever your favorite food is, you'll find it in Las Vegas. Grab a seafood buffet at the Hollywood Galaxy in Wynn, feast on meat at the Wicked Spoon at Cosmopolitan, and have a healthy, Italian-style meal at Aria.
What to do in Las Vegas
Getting married and doing crazy things
Many films and series present Las Vegas as a wild place to lose your compass and let yourself be carried away by circumstances. You may not be willing to get married disguised as Elvis Presley, but who knows what can await you in this unpredictable city.
Witness the Fremont Street Experience
When night falls, the Fremont Street Experience offers a magnificent visual display of sound and light projected on a 27-meter LED. Nearby is the Neon Museum, where vintage Las Vegas signs explain the evolution of technology in show business.
Be amazed by Caesars Palace
Caesars Palace represents the quintessence of luxury in Las Vegas. Its Roman architecture, amazing sculptures and 4-diamond hotel rating make it a must-see. Open 24 hours a day, not just for high rollers.
Enjoy the tallest tower in the United States
The Stratosphere Tower, which features restaurants with incredible views, tempts the reckless with some of the most exciting and intense experiences in the world, such as Big Shot and Insanity. Do you dare to ride?
Interacting with sharks
The Mandalay Bay Resort is home to the largest aquarium tank in the world. It includes dozens of species of sharks, rays and fish. In the shark tunnel you can observe them from all perspectives, almost as if you lived among them.
When to visit Las Vegas
Just before and after the summer are the best dates to visit Las Vegas. Between March and June, as well as between September and November, you will enjoy a warm and pleasant climate: between 10 and 30 ºC. Spending the New Year in this city is a good option, but you should book well in advance.
How to get to Las Vegas
By plane
McCarran airport, 5 miles from Las Vegas, connects the city with most major cities in the country. Once there, take the RTC City bus from Terminals 1 or 3 for $2. To get to hotels on the northern strip, take the Centennial Express. You can also take the shuttle buses to specific hotels for $9 each way.
By Train
There's no Amtrak station in Vegas. If you want to travel by train, it is best to get off at Kingman, Arizona, which is less than an hour away by rental car. Amtrak's Southwest Chief service stops at Kingman and connects the city to Los Angeles and Chicago.
By Car
The busiest road is Interstate 15, which connects Las Vegas to Los Angeles. This route crosses some of the hottest deserts in the U.S., so stock up on water and rest before your trip. From the east, I-40 connects to Arizona.
By bus
You'll find three bus operators. Greyhound stops at the Las Vegas bus station and offers service from Los Angeles, Salt Lake City, Kingman and Phoenix. LuxBus links it to San Diego, Anaheim and Los Angeles. And Megabus, which stops on the South Strip, provides connections to Los Angeles and Riverside.
Airports near Las Vegas
(LAS) Las Vegas McCarran
(BLD) Las Vegas Boulder City
(IFP) Bullhead City
Where to stay in Las Vegas
Almost all of its visitors stay at The Strip, a collection of hotels and casinos spread over 6 kilometers. Among the most popular are Aria, Casino Royale and Flamingo. If you want luxury without a casino partner, the Waldorf Astoria Las Vegas is impeccable, as is the Four Seasons in Mandalay Bay.
For families and show business enthusiasts, the MGM Grand is incredible. The average price is $190 per night, although you can find good options starting at $40 at the Excalibur and $1129 at the Skylofts at MGM Grand.
Interesting neighborhoods in Las Vegas
Downtown Las Vegas, around Fremont Street, is filled with neon signs and tourist attractions.
Palm Cove offers tranquility and a beautiful beach with good hotels and restaurants. It is famous for its spas and the Tjapukai Aboriginal Cultural Park.
Paradise Road borders the University District and has a more relaxed atmosphere. It includes excellent hotels such as the Hard Rock Hotel and is home to many of the best night clubs. Stop by Piranha and Rehab at the Hard Rock to dance the night away. It's a cheaper place than the rest of the city and has great restaurants like Gordon Biersch Brewery Restaurant and Ferraro's.
Getting Around Las Vegas
Public Transport
Las Vegas has a network of air-conditioned buses at a good price: $2 per trip, $1 for children and seniors. This service is available for residential routes only. Therefore, you will have to walk 10 minutes to get to the Strip. Another, more direct, possibility is to use the SDX or Deuce, a London-style double-decker bus, whose trips are worth $6. A day pass, which includes the Deuce, costs $7.
Taxi
Taxis are an excellent and economical transportation option in Las Vegas. The drawbacks are traffic congestion and delays. For short trips downtown, it's best to walk. The flag drop is $3.30, and then you pay $2.40 for every half mile. Uber offers cheaper rates: $2.40 base plus $1.85 for each half kilometer thereafter.
Car
Renting a car in Las Vegas is recommended if you stay in suburban hotels, are a golfer or plan to go to attractions in the desert, such as Lake Mead. The best car rental companies are present at McCarran airport, including Enterprise, Budget and Avis. Their prices are usually around $25 per day.
Cost of Living in Las Vegas
Shopping streets
Las Vegas is a fabulous shopping destination. The Strip brings together spectacular boutiques, chains and discount points. There are two main shopping centers: Town Square and Fashion Show Mall. If you're a bargain-hungry shopper, stop by Premium Outlets.
Groceries and others
Shopping for groceries can be a problem on the Strip and downtown, where there are very few supermarkets and hotel shops have high prices. For your daily food shopping, Walgreens and Albertsons are good choices. In general, Las Vegas has a lower price index than other American cities, such as New York or Boston. Expect to pay about $2.0 for 12 eggs, $12 for a bottle of good wine and, with the frequent offers of beer, only $1 for it.
Where to Eat in Las Vegas
There are all kinds of restaurants in Las Vegas. Are you looking for a high-end French buffet? Stop by Le Village Buffet. Another suggestion is to eat seafood at Village Seafood. Craftsteak at the MGM Grand has been recognized as one of the best restaurants in the country, while Lucky's 24-7 offers fun and a rocky atmosphere at the Hard Rock Hotel.
In addition, the Bellagio is home to Olives, one of the best Italian restaurants in town. The price for an adult buffet is $40.