New York is an amazing, eclectic and cinematic city. The Big Apple has everything from impressive skyscrapers to world-class museums, shopping districts, sporting events and historical sites.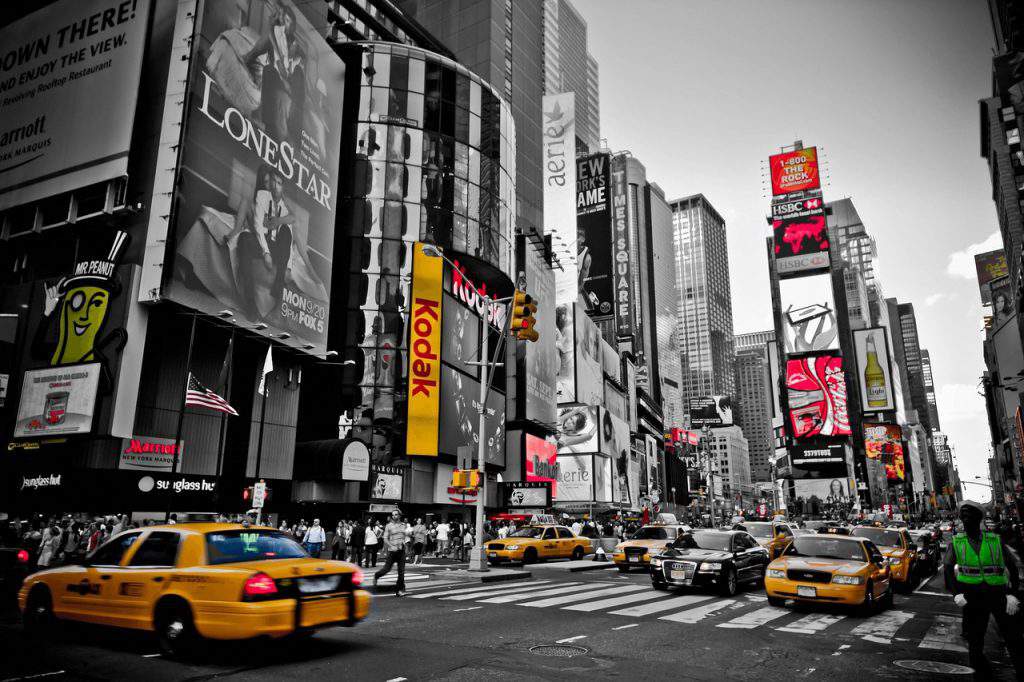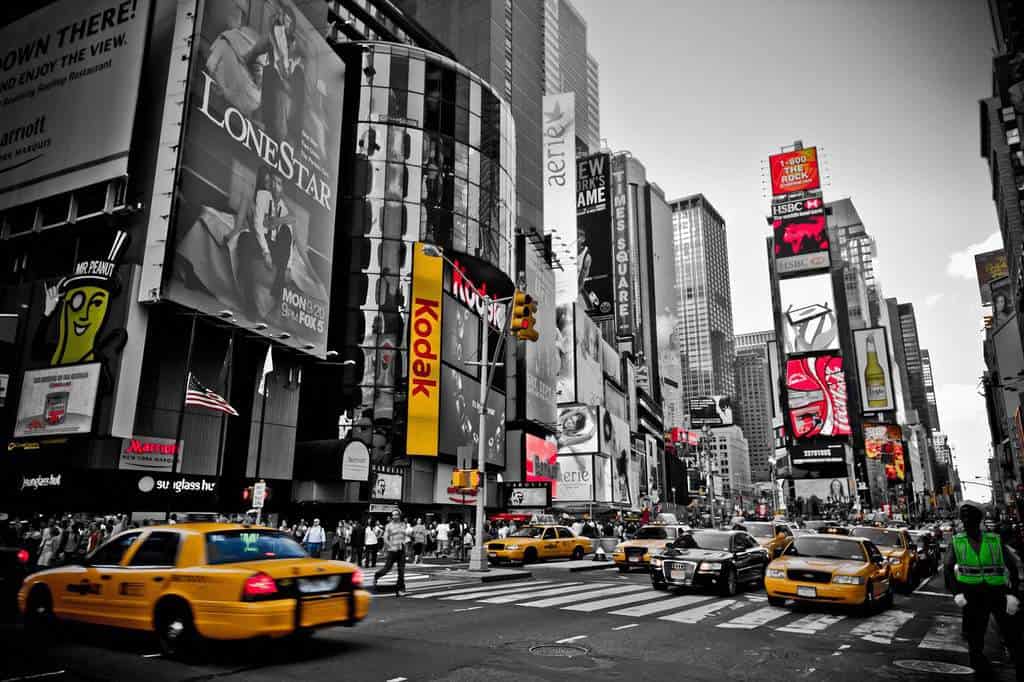 Visit some of the world's masterpieces of art at MoMA, catch a Broadway show or visit legendary stores like Bloomingdales or Macy's. You can also relax in Central Park, climb the Empire State Building and walk down Fifth Avenue.
Read more about New York:
Things To Do in New York
Where To Stay in New York City
Where To Eat in New York
In addition, New York is a year-round destination, where you'll find frequent movie sets. And, if you like ice skating, winter at Rockefeller Center is delicious.
Top 5 reasons to visit New York
Culture
New York is one of the main cultural centers of the planet. Admire impressive art collections at the MoMA, the Metropolitan Museum or the Guggenheim, see shows like Cats or The Phantom of the Opera on Broadway, attend the opera or enjoy live independent music in venues like the Bowery Ballroom.
Global gastronomy
Enjoy street food in places like Thelewala, make your family smile with the burgers from The Spotted Pig, try the seafood selection from Lure Fishbar or taste the Asian food from Zengo.
Impressive architecture
New York is full of dazzling buildings, including skyscrapers like the Flatiron, the Woolworth Building, the Chrysler Building and the mythical Empire State Building. You should also pay your respects to the One World Trade Center, as well as visit Morphosis and the Bronx Museum of the Arts.
Shopping
New York is a shopping paradise. The shops and department stores around Times Square, iconic establishments such as Bloomingdales, fascinating toy stores such as FAO Schwartz, and the cinematic jewelry store Tiffany & Co., where you can admire spectacular diamonds, who knows if you'll be able to have breakfast with them on, are some of the alternatives.
International symbols
The Statue of Liberty isn't the only global icon you'll find. The imposing Wall Street Stock Exchange, the Empire State Building and Ellis Island, as well as sports venues such as Yankee Stadium, are a must.
What to do in New York
Salute the Statue of Liberty
Overlooking New York Bay is the Statue of Liberty, one of the world's most famous monuments. For centuries, it was the first image of the "American dream" that immigrants saw when they arrived in the city by boat. Admire it from the water, aboard the classic ferries, disembark on the island and buy a ticket to go upstairs.
Dazzle in Times Square
The intersection of Broadway and 42nd Street is one of the busiest and most popular intersections in the world. Times Square, in the theater district, shines by itself and features faces known as the Lion King, New York's premier musical attraction, scheduled for the Minskoff Theater. With or without tickets, the show is guaranteed.
Climb to the top of the Empire State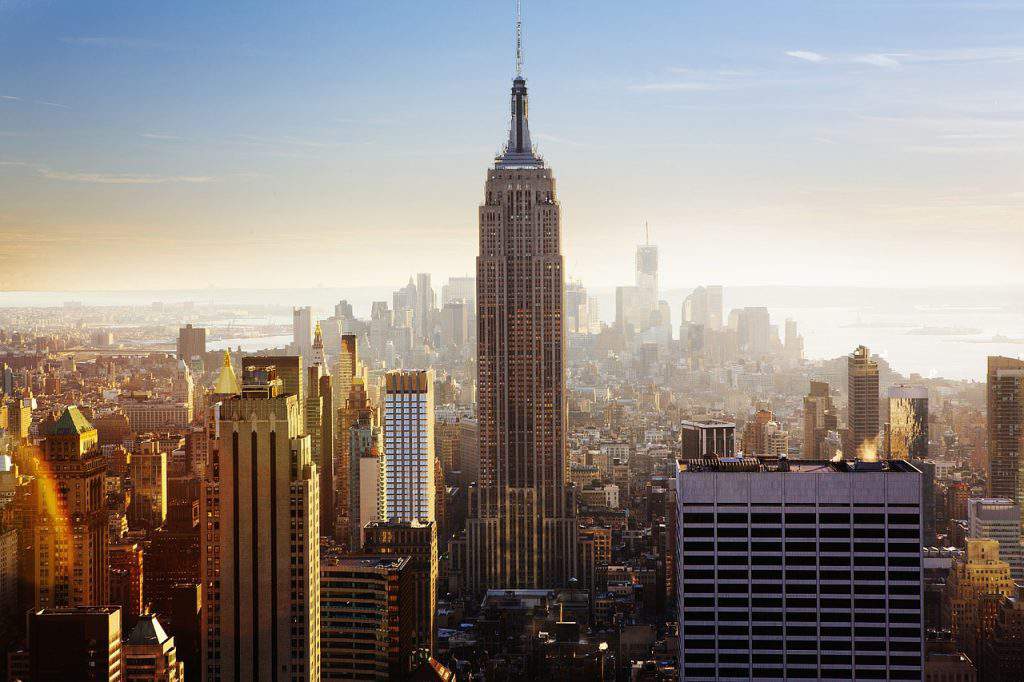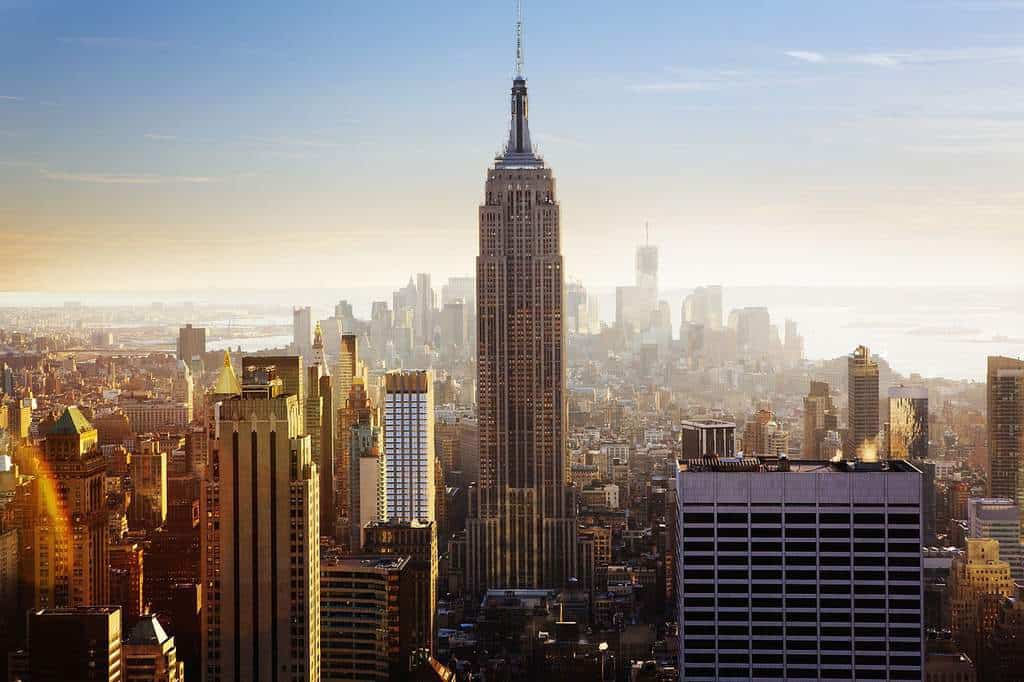 After being the tallest building in the world for decades, the Empire State Building is now content to be the most famous skyscraper on the planet. It's located in downtown Manhattan and has 102 floors. Its upper platform offers panoramic views until late at night.
Oxygenating in Central Park
Located in midtown Manhattan, Central Park is the lung of New York City. It has everything from miles of bike trails to extensive gardens to relax in, read or picnic in, as well as street shows. It's also home to the Metropolitan Museum of Art (MeT) and a zoo.
Touring the Financial District
The financial district is located on the southern tip of Manhattan. Just north of Wall Street, the Brooklyn Bridge takes you directly to Trinity Church, one of the best reminders of the pre-Revolutionary era.
When to visit New York
New York is a perfect destination any time of the year. At Christmas time, it acquires a singular beauty due to its spectacular shop windows, the ice rinks, the lights of Times Square and the presence of Santa Claus in Macy's. In spring, Central Park blooms and the St. Patrick's Day parade is held. In summer you'll find crowds and the excitement of outdoor attractions, such as the Bronx Zoo. In fall, Fashion Week is celebrated and the new Broadway theater season gets underway. The average temperature in the city is 12.1ºC.
Getting to New York
By plane
New York can be reached through three main airports: the largest is JFK, located in southern Queens, less than 20 kilometers from Manhattan. A taxi to downtown costs about $50, although public transportation is much cheaper: AirTrain service to Jamaica Station costs $7.75.
LaGuardia Airport is located in the north of Queens, closer to Manhattan: taking a taxi costs $40, while the direct bus costs $3.
Finally we have Newark Airport, located in New Jersey and 15 miles from Manhattan. A taxi to downtown costs $45, while the AirTrain to Newark Liberty International Airport Station, where you can take a train to Penn Station, costs $5.50.
By Train
Pennsylvania Station, in Manhattan's Midtown district, is the most popular train station and has connections to cities such as Philadelphia, Chicago, Washington D.C., New Orleans, Boston and Miami. Also Grand Central, located at the 42nd Street intersection next to the Chrysler Building, is a useful entry point for reaching New York from the north, for example from Newhaven and Poughkeepsie. You can travel by train from Washington D.C. to New York for $40 or more; it takes about 3 hours.
By car
From the south and west, use Interstate 95 before taking the New Jersey Turnpike to Manhattan through the Lincoln Tunnel. Interstate 87 connects New York City with Albany and Montreal, and Interstate 90 is the right way to get there from the Midwest. From Boston, take Interstate 95.
By Bus
New York City has a wide variety of bus connections operated by Greyhound, Megabus, Bolt Bus, Peter Pan Bus Lines and Adirondack Trailways, to cities such as Boston, Chicago, Miami, Washington D.C. and Pittsburgh among others. A ticket from Boston is available starting at $8.
Airports near New York
(JFK) J. F. Kennedy of New York
(EWR) New York Freedom of Newark
(LGA) New York La Guardia Airport
Where to stay in New York
The New York hotel offer is inexhaustible. From family accommodations near Manhattan's attractions, like the Loews Regency New York, to boutique establishments like the Kimpton Muse Hotel and the CitizenM Hotel in Times Square.
The Indigo Hotel in Brooklyn, The Box House New York in Queens and the Hilton Garden Inn on Staten Island are all highly recommended. Prices for a night in a double room range from $238 at the 32 32 Hotel to $695 at The Peninsula New York.
Interesting neighborhoods in New York
Greenwich Village is a world famous bohemian area, a paradise for artists. It is home to the Blue Note Jazz Club, the Whitney Museum of American Art and the Bitter End Club.
Brooklyn is synonymous with modern youth culture. Cheaper than Manhattan, it has Prospect Park and the magnificent Brooklyn Bridge, the Brooklyn Museum and the Barclays Center.
Queens is the most residential area of New York, perfect for families who want to get away from the hustle and bustle. It is home to the Mets and the US Tennis Open, and offers wonderful Italian restaurants, such as Milkflower and Gaby's Pizza.
Cost of living in New York
Shopping streets
Shopping in New York is wonderful, especially on Fifth Avenue, which is home to brands like Abercrombie & Fitch, Gucci, Saks and Hugo Boss. Broadway is also full of boutiques, such as All Saints and Madewell, while there are shopping centers like Time Warner Center and very attractive discount stores in the Staten Island Mall. The Green Flea Market, which is open on Sundays, is perfect for shopping for crafts and antiques.]
Groceries and others
You'll save money by shopping at supermarkets and independent stores like D'Agostino in Greenwich Village. Whole Foods, Trader Joe's and Fairway, and Duane Reed and Chelsea Market for fresh produce and prepared foods are good options. Typically, you pay $4.30 for 12 eggs and $4 for a beer at a bar.
Where to Eat in New York
New York is full of heterogeneous gastronomic alternatives. Try Rubirosa Ristorante's cakes, Spice Symphony's curries and Fonda's Mexican dishes in the East Village.
There are also plenty of market restaurants, such as Eleven Madison Park and The Lambs Club, where we suggest you try their typical Cobb salads. If you prefer the classic Waldorf salad, order it at Lord & Taylor, and if you're a seafood lover, go to Cull & Pistol Oyster Bar. A mid-range meal costs about $40.
Other USA Destinations:
Austin Travel Guide
Chicago Travel Guide
Miami Travel Guide
Orlando Travel Guide
Seattle Travel Guide
San Diego Travel Guide