Confused between Oia and Fira? Oia has a more peaceful setting while Fira has more shopping choices and bars. Both places may have nice restaurants but in terms of quality, you have to give the edge to Oia. However, if you're on a budget, there are more budget-friendly restaurants in Fira. 
Comparing Oia and Fira
When it comes to Caldera views, both places offer a unique perspective. Both views are great so it would be hard to say one is better than the other as that would entirely depend on a person's perspective. The same goes with the sunset views even though some hotels in Fira offer an awesome view of the sunset. That won't be the case in Oia as there are some Oia hotels where you need to walk a few meters before getting a nice sunset view.
For the location, Fira wins because it is just 10 minutes from the airport compared to Oia's 30 minutes. Even if that is just 20 minutes, you can still do a lot of things during that time frame. Speaking of the airport, you can easily rent a car when you arrive in Fira. As for touring the island, the edge goes to Fira because it is more centralized so it would be easier to book a tour to the southern parts. For Oia, you'll probably need to go on a couple of rides before reaching your destination.
A lot of people go to Santorini to head to the beaches and it would be better if you are coming from Fira as compared to Oia, it is 20 minutes closer to the beaches. Of course, that would only matter if you decided to not rent a car. Withdrawing cash in both cities is easy since there are a lot of ATM machines scattered around the town.
If you only brought a few clothes and plan to just take them to the laundry, you'll find more laundromats in Fira. To reach the top of Fira, you can choose from a variety of options. You can walk, take a cable car or ride a donkey. All of them guarantees to be a fun experience.
View from Fira
This is the fantastic view when you're looking northwards and you see Oia and Skaros Rock.
View of Oia from a cruise ship
When you see Oia, you will immediately notice Amoudi Bay because it is located just below Oia. It would be a great idea to go to Amoudi Bay because of all the fresh seafood in the restaurants there.
View of Fira from a cruise ship
From this wonderful view, Athinios port is at the bottom while Fira is the one on top. 
View of Oia from Imerovigli
Great scenery of Oia from north at Skaros Rock
View of Fira from Imerovigli
Nice View of Fira coming from the south at Skaros Rock.
View from Firostefani
You can clearly see Skaros Rock which is big enough to be the boundary from north Santorini to the south. In fact, Skaros appears in most of the pictures here. That's how noticeable it is.
View of Oia from Perivolas resort in Santorini
From Perivolas Hotel, you can see Oia.
Best restaurant with a nice view in Fira
Nacussa is the best place you should go to in Fira as not only does it serve wonderful food, it also offers a great view of the Caldera.
Donkey rides in Fira
It is a unique way to explore the city.
Main street in Fira
You'll find a lot of amazing restaurants and quaint shops on the main street in Fira.
View of volcano from Santorini
Nothing beats this great caldera view.
View from Oia towards Fira
From this view, you can see Fira, Imerovigli, and Skaros Rock.
Caldera view of Fira
From this view, you will notice a lot of commercial establishments in Fira.
View of cliffs from Fira
Those are place you'd definitely want to go to get a great view.
Sidewalk in Fira
It would be hard to take your kids to the sidewalks in Fira.
Donkeys in Fira
Riding donkeys in Fira would be a remarkable experience.
Cable car in Fira
The cable car ride isn't long and goes from port to Fira.
Where is the best place to see the sunset in Oia?
This is something you should prioritize as it is something you will cherish for the rest of your life.
View from Fira to Oia
You clearly see the church while heading to Oia coming from Fira.
Sunset in Oia
There is only one spot where you should watch all the sunsets in Oia and that is Oia Castle. You won't regret it!
View of the sea from Oia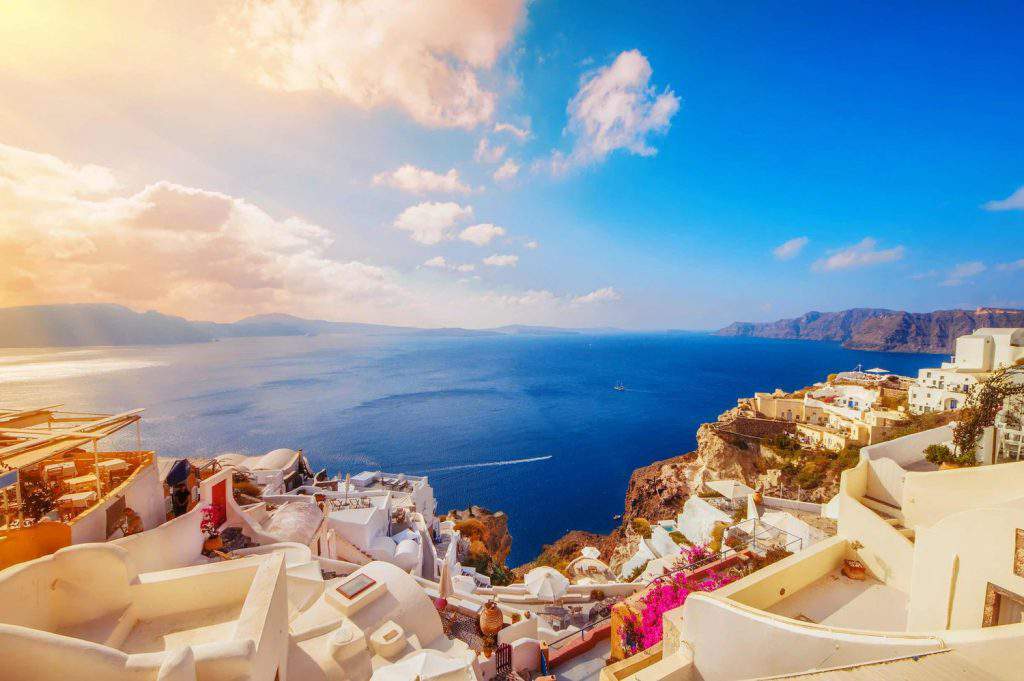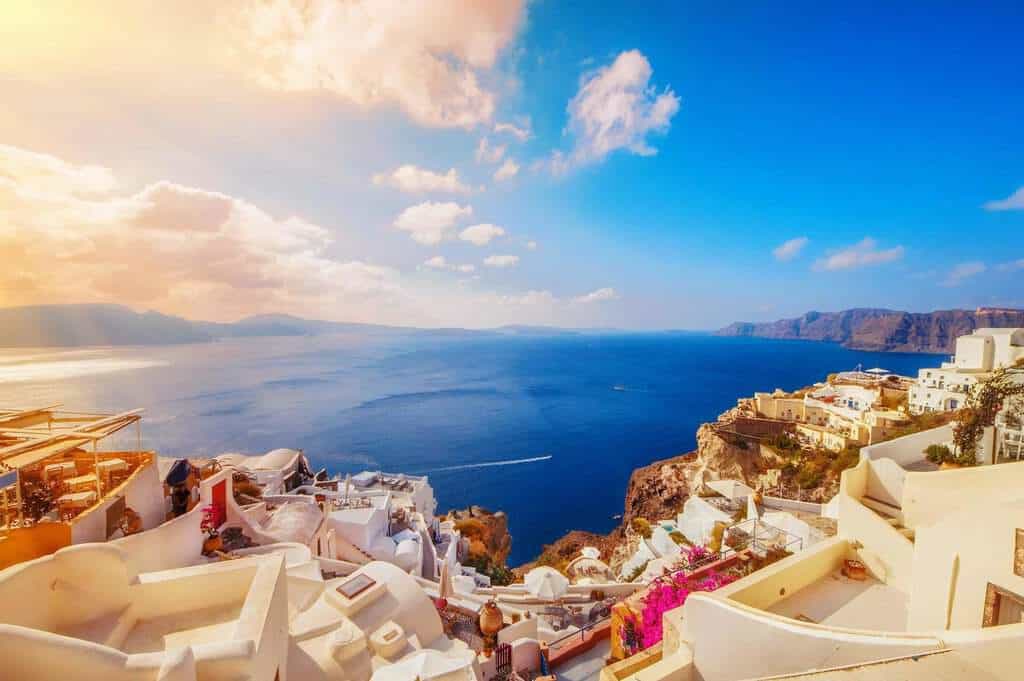 Words can't describe how marvelous this view is.
Best place to watch sunset in Oia
No matter how long it takes to this place, do it as it is worth it.
Best inexpensive food in Santorini
The most popular budget meal in the island has got to be Gyro. There are many restaurants that serve this wonderful dish but the best of them all is Lucky's.
View of Fira looking north
Take lots of pictures of this amazing view.
Sidewalk in Oia
You can take your strollers to Oia's main sidewalk because of how they are made there. 
Large villa in Oia
It would be best to ask for the villa that comes with a private pool or a hot tub.
Is Fira or Oia best for sunset?
It is definitely hard to tell which place is the best for some good old sunset views but Oia edges Fia by a nose because of Oia Castle. Yes, that place is popular among locals and tourists to watch sunsets in Santorini.
Volcano view from Fira
Compared to Oia, Fira attracts loads of tourists even though you may spot a few peaceful spots there.
Loads of seafood restaurants in Amoudi Bay
Amoudi Bay is not hard to spot as it is just below Oia. If you dig fresh seafood, there are a lot of seafood restaurants there that serve just that. There is no doubt they have your favorites like lobsters, shrimps and crabs.
Bus stop a few meters from Oia
This is the bus stop going to a cool village near Oia called Finika. You're not going to see any fine caldera views here but you will come across a bunch of budget-friendly hotels.
Walk from Fira to Oia
Wear your walking shoes if you decide to walk from Fira to Oia. During the path, you're going to come across a very dirty road.
Shops in Fira
This is a street where several shops are beside each other. You'll feel like you are window shopping at a mall.
Public swimming pool
There is only one public swimming pool in Santorini and it is Lioyerma pool in Oia. Not only is it free, it also provides some wonderful views. Don't forget to order some food here as it is lovely. Even if it is free, the place never gets crowded.
Outdoor Cinema in Santorini
There is nothing like watching movies while enjoying the fresh air. Good thing, there is an open air cinema in Kamari. 
Best beach in Santorini
There are many places to get a tan and the best one is Perissa. It is pretty long and easy to find too.
Best Bar in Oia
Hasapiko is a place that is great for meeting like-minded people who enjoy drinks while dancing. Expect it to get crowded shortly past midnight.
Best restaurant in Fira
There are many good places to eat in Fira and the most popular one is Ouzeri. The place has a fine selection of food choice on their menu.
Party places in Fira
You won't be bored if you want to have some alcoholic drinks in Fira as there are more clubs there compared to Oia.
Read more:
Crete Or Santorini
Cavo Tagoo Santorini
Santorini With Kids
Best Places To Stay in Santorini
Best Time To Visit Santorini
Santorini Day Trip
Reviews of Hotels in Santorini