There are several boat tour companies in Santorini that offer excursions to some of the island's wild and unique beaches, such as Red beach and White beach, to the famous volcano and its healing hot springs. They have a wide selection of boats, speedboats, yachts and catamarans with luxurious amenities, fantastic rest areas, exquisite meals and excellent service.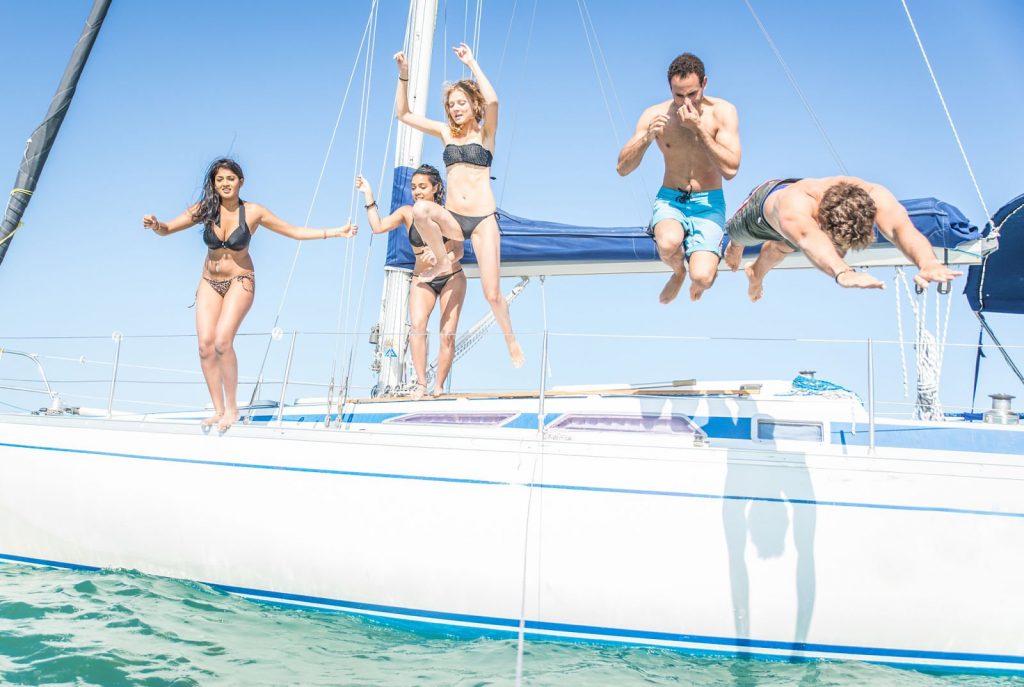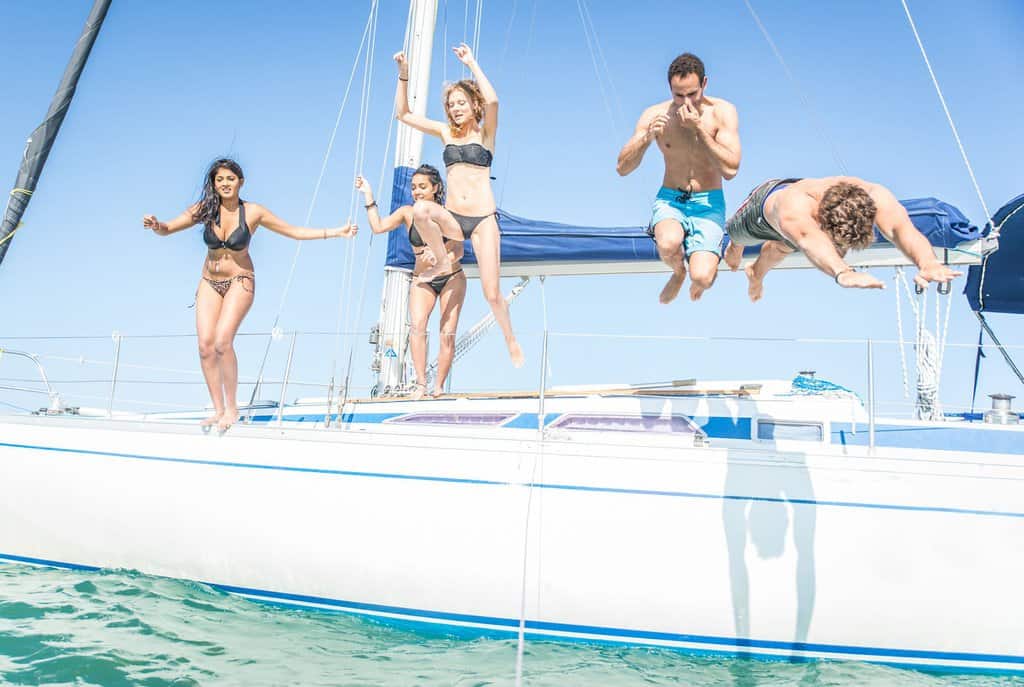 Boat tours in Santorini are tailor-made for large parties and special weddings, as you can enjoy the entertainment as well as for honeymoons and romantic trips around the most romantic island, especially during sunset time, when the light reveals all the splendor of the island.
About Boat Tours
Tours in Santorini are all very good. They will take you to the caldera and the volcano you can only stare at from Santorini.
They're very generous with their food and their alcohol. All the trips have meals included on them. The dishes served on board are never cheap. In fact, they're very lavish. You will feel every single penny you paid for this trip, spent on you.
That's why it's one of the best things to do while you're in Santorini. Just remember to bring a swimsuit with you because at some point in the tour, you'll be allowed to go swimming, and you definitely don't want to pass up. 
A Private Cruise on a Catamaran
A little pricey private tour but definitely worth it. It has two schedules, one at 10 am and another at 3 in the afternoon. You can pick where to go or let the guide decide for you. Amazing food is served on board as part of the tour. Service is top-notch, and you would definitely feel that the money you spent on the tour is worth it. If the price is too much for you, then bring your friends. The tour allows up to six people on board. 
Enjoy the luxury of a private tour around Santorini.

Oia Sunset's Catamaran Cruise for small groups
This tour will show you around the caldera and the volcano. It even has time for swimming in the waters around Santorini and in the hot springs around the volcano. Delicious meals are served on board at huge portions. This tour has two schedules. You can either go on the day trip that leaves at around 10 am or with the sunset trip that leaves at around 3 in the afternoon. The sunset trip is perfect for watching the sunset at a unique location below the cliffs of Oia.
Get a whole new look at the sunset with this tour in Oia. 
Spiridakos' Cruise for Small groups
A very eventful day tour that starts out late in the afternoon. It starts at 3:30 pm so expect to be in a great spot by the time sunset hits the area. This tour has a lot of activities lined up like snorkeling, swimming and plenty of drinking. Staff is very attentive and won't let you go a minute without a glassful of wine. It visits a couple of beaches and amazing cliffs. It also allots substantial amount of time for guests to admire and explore the caldera and the volcano. There's also time to swim in the hot springs around the volcano. It's an awesome, action-packed tour that's very much worth every penny.
Take a tour around the volcano and the caldera on a boat. 
Santorini Tour's Volcano Cruise
If you're looking forward to experiencing the Caldera by boat while on a budget, then this tour is for you. It's one of the most affordable boat tours on the island. You get to go around a large boat with many people, but that's what makes it cheap. You still get to go to the caldera, swim in the hot springs, explore the volcano and Thirassia island. You just won't be going on different beaches like most tours do but that's just the only difference. 
Great tours to take you around Santorini on a boat.
Giorgaros Fishing's Santorini Tour
If you want a more local experience, take this tour. See Santorini on a local fishing boat and enjoy local food served on board while you're floating in sparkling \greek waters. Just make sure you have sharp fishing skills because whatever you catch on the tour, will be served as your meal. They offer a daytime tourthat's good for families even those with kids and a sunset tourthat's great as a romantic date. 
Tour the volcano in a Jet Ski
This is a small tour of about four people max. It's not a typical boat tour, but it's definitely better. See the caldera extremely up close and personal and experience Santorini to its fullest. Ride a Jet Ski around the pristine waters of Santorini and personally ride around its highlights. Get as close to the volcano as you possibly can. Don't worry about being too inexperienced with a Jet Ski because an emergency boat is sailing close by to make sure that nobody gets hurt. It's definitely a one-of-a-kind experience that you shouldn't pass up on while you're on the island. 
Go around the caldera and the volcano on a Jet Ski
Kayaking Excursion
A unique way of exploring Santorini's pristine waters, this tour would take you deep into Santorini's southern coasts. You could either join the morning or the afternoon tour. There's also a tour around the lighthouse that will give you a beautiful look at the caldera and the Santorini's cliffs. 
Read more about Santorini:
Santorini – When To Visit
Santorini – Where To Stay
Santorini – Best Hotels
Santorini – Budget Hotels
Santorini – Beach Hotels
Santorini – Villas & Rentals
Santorini – Boutique Hotels
Santorini – Hotels for Families
Santorini – All Hotels
Santorini – Beaches & Beach Towns