Sophisticated and amazing, Singapore is a young country that has evolved at a dizzying rate since its founding in 1965. Its official name is Republic of Singapore, but it is known as "garden city" and also as "lion city". Its capital is the City of Singapore, so Singapore is considered a city-state.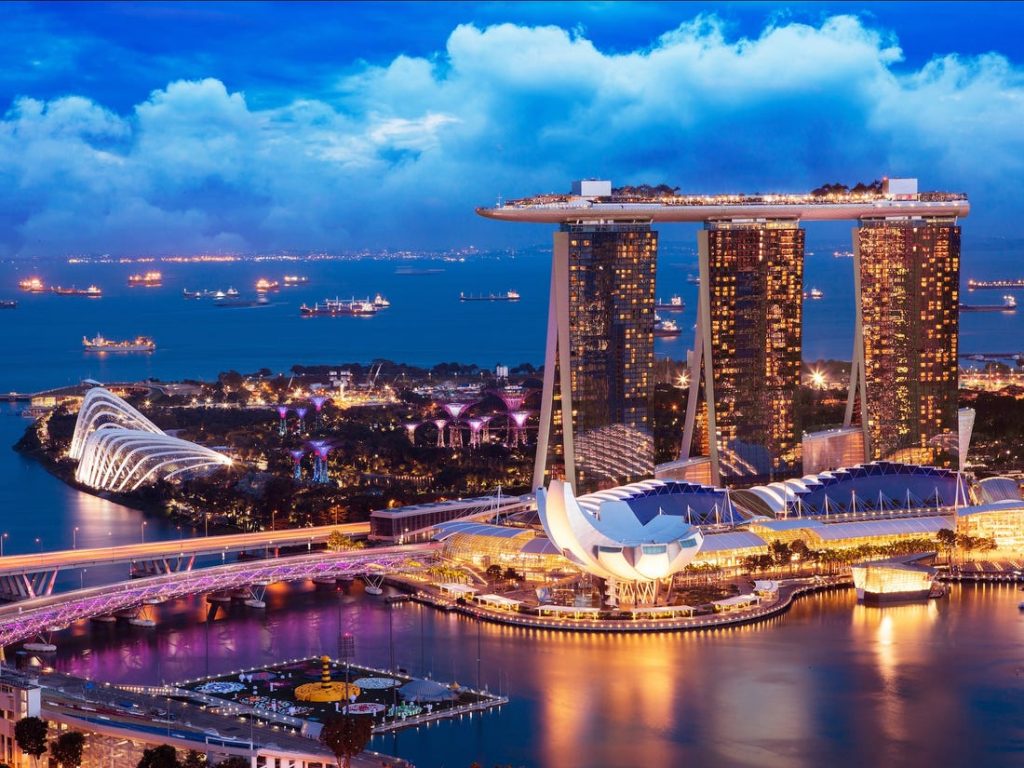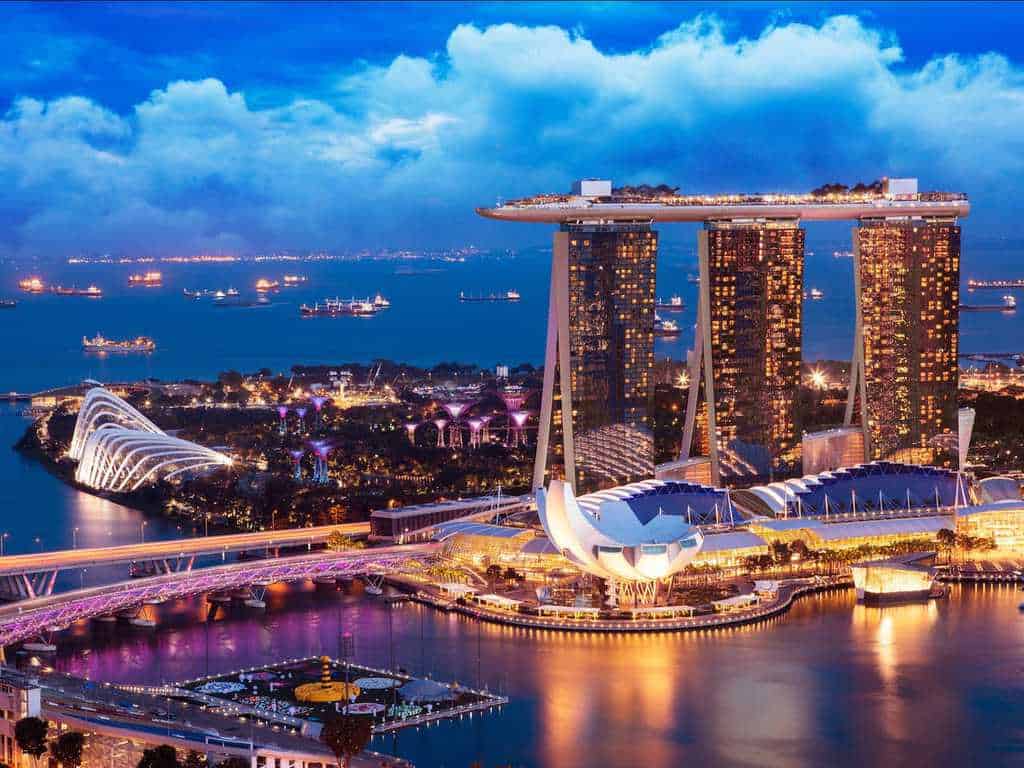 It is impossible to get bored in Singapore. The city incorporates you into its rhythm and pushes you to enjoy a multitude of activities, ranging from boat trips on the Singapore River to immersion in the bustling atmosphere of Chinatown.
Read more about Singapore:
Singapore Travel Guide
Things To Do in Singapore
Where To Stay in Singapore
Singapore Family Hotels
This destination is perfect for travelers of all preferences. Singapore is home to impressive monuments such as the Hindu temple Sri Veeramakaliamman, dazzling amusement parks such as G-Max, and stylish drinking areas such as Clarke Quay, among many other attractions.
Top 5 reasons to visit Singapore
Outstanding ecological destination
Singapore is a densely populated city and yet almost 50% of the island is environmentally friendly. It is home to attractive green spaces such as the botanical gardens, the Pulau Ubin forests and the Admiralty Park. The Bay Gardens, meanwhile, include the Cloud Forest, the Flower Dome and the OCBC Skyway, a promenade suspended between artificial trees.
Merlion Park
This park extends under the skyscrapers of the bay and by the sea, and houses two statues of Merlion, the symbol of Singapore, who is half lion and half fish. The large statue of Merlion squirts water into the bay. If you visit the park at nightfall, the image of the illuminated skyscrapers will be etched in your retina forever.
Little India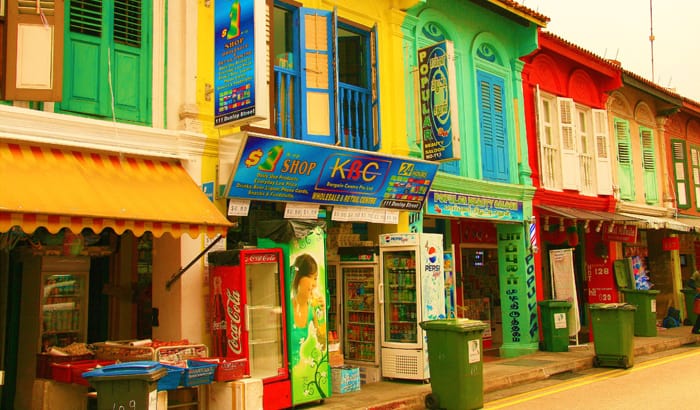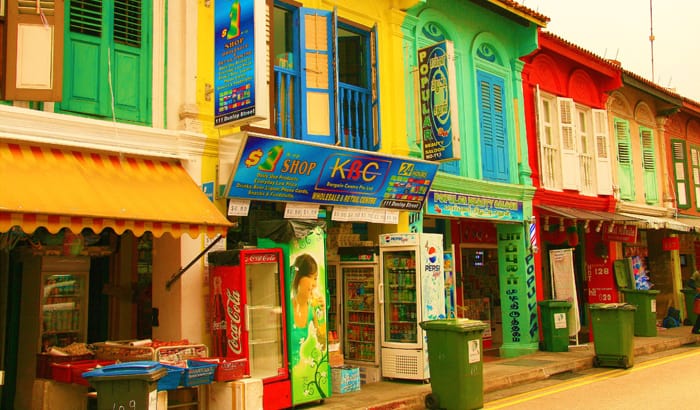 This is one of the most characteristic neighbourhoods in Singapore. Walk through its streets and you will be enveloped by the aroma of incense, while you admire the colorful clothes, architecture, shops and that indescribable charm that makes it so special. Here you will find the Tekka Centre shopping centre.
Singapore Flyer
This 165-metre wheel will give you the best views of the city and part of the Singapore skyline. The circular trip takes 30 minutes and, if the day is clear, you can even see Indonesia and Malaysia in the distance.
Chinatown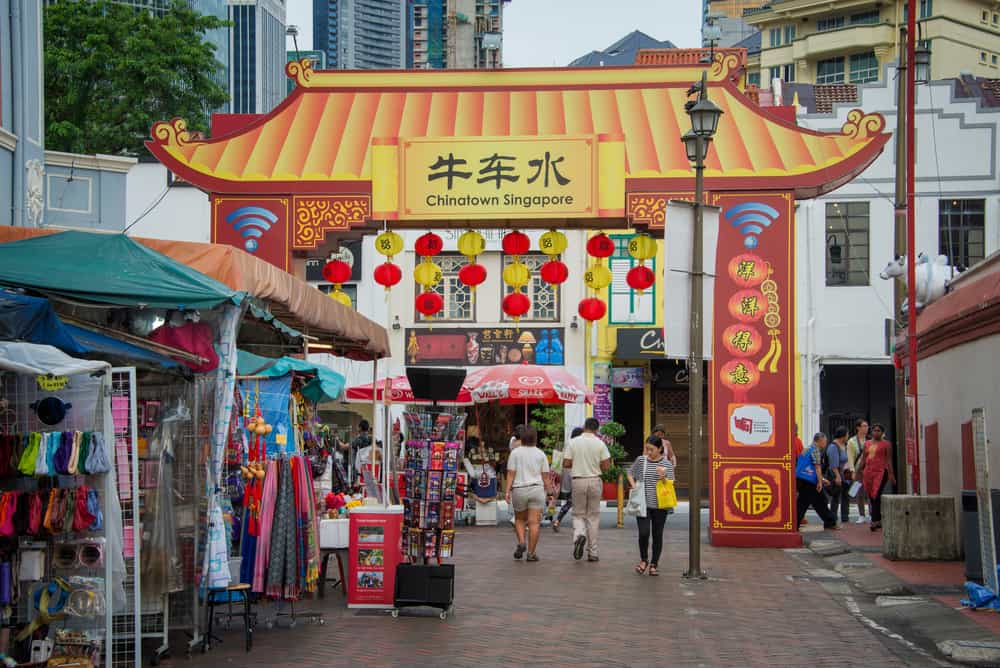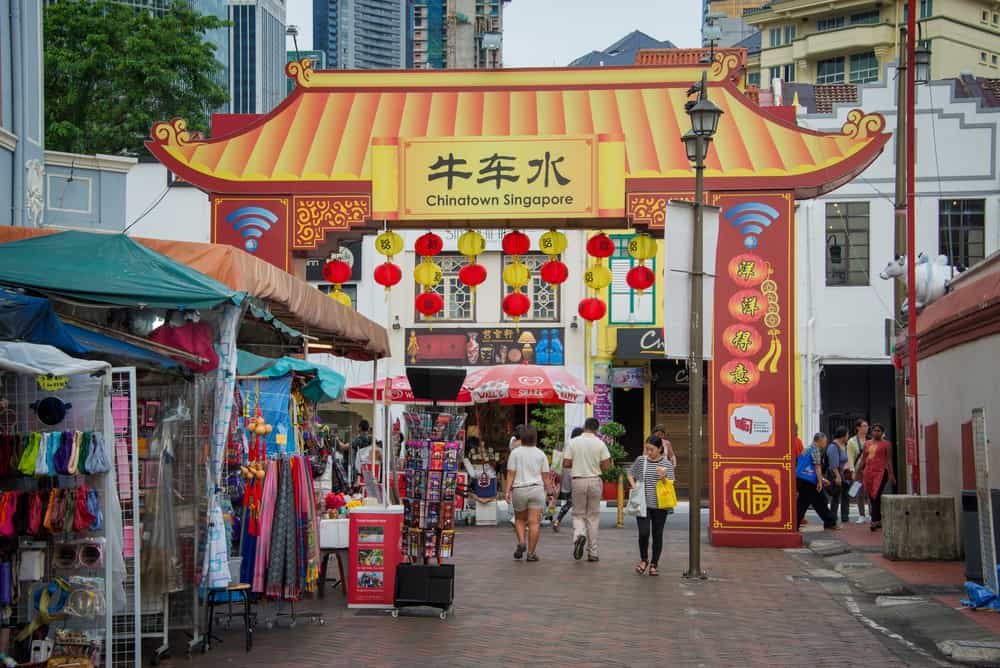 Singapore's Chinatown stands out for its contrasts and cultural mix. As you walk its streets you will find two mosques and the Hindu temple Sri Mariamman. In addition, you will witness the constant hustle and bustle of bars and restaurants, which coexist with historical temples and impressive skyscrapers.
What to do in Singapore
Immerse yourself in the Marina Bay environment
Singapore's major attractions are located along Marina Bay, including the Bay Gardens. The area is home to Marina Bay Sands, a resort that offers world-class dining and has the largest infinity pool on the planet.
Discover the nightlife of Clarke Quay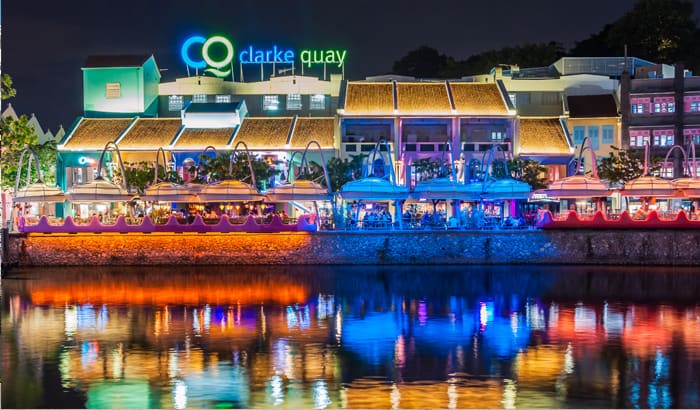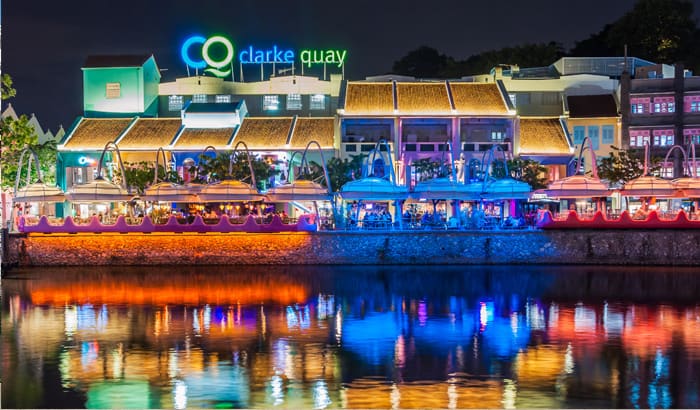 Along the Singapore River, the old docks have been converted into vibrant shopping and leisure centres. Clarke Quay is home to great restaurants and glittering nightclubs. Boat Quay is right at the end, and offers a modern pedestrian centre surrounded by smaller, charming shops and bars.
Getting to know Singapore Zoo
The Singapore Zoo offers various exhibits that recreate authentic climates, such as the tundra or the rainforest. Species such as the white tiger and the Komodo dragon have their habitats there. If you add to this experience the visit to the Jurong Bird Park and the Night Safari and River Safari activities, it will cost you S$ 88 for adults and S$ 68 for children.
Explore Kampong Glam
Kampong Glam is the Arab quarter of the city. Let its suggestive atmosphere guide you and discover the Sultan's Mosque, Kampong Glam Palace and Bussorah Mall street, which is full of restaurants and cafes.
Take a tour to Sentosa Island
On Sentosa Island you can visit the Universal Studios theme park and enjoy beautiful beaches. Climb the Tiger Sky Tower to appreciate the panoramic views of the city and the nearby islands. You can reach this island by train, bus or cable car.
When to visit Singapore
The island enjoys a tropical climate, although it has a monsoon and rainy season between November and January. The high season runs from July to September, so if you travel between February and April you will find less crowding, better prices and a very pleasant climate. On the other hand, if you feel like experiencing the atmosphere of the Singapore International Festival of Arts, schedule your trip for August and September.
How to get to Singapore
By plane
Many travellers land at Changi International Airport (SIN), which is 25 kilometres from the centre. To complete your journey to your destination you can take the metro, which takes half an hour to get to the centre and costs S$3.15; the bus number 36, which takes 45 minutes and costs about S$2; or a taxi. In this case you would arrive in 20 minutes and cost between S$ 23 and S$ 30.
By train
Trains come to Johor Bahru from most parts of Malaysia. From there, travellers can take a shuttle train service to the Woodlands checkpoint in northern Singapore. If you travel by train from Kuala Lumpur, you will arrive in Singapore in just over 9 hours. The ticket would cost you between S$ 19 and S$ 28.
By car
From Johor Bahru you can take the Johor-Singapore Causeway junction, which leads directly to Woodlands in northern Singapore. If you are traveling from Tanjung Kupang, you will want to get to Singapore via the Tuas access in the west of the country.
By Bus
It is possible to travel by bus to Singapore from Kuala Lumpur and other cities in Malaysia. A Grassland Express bus ride from Malaysia's capital city takes 5 hours and 20 minutes, and the ticket costs between S$ 28 and S$ 36.
Where to stay in Singapore
Singapore offers a wide range of accommodation. Among the affordable hotels is the Fragrance Hotel, with rates of around S$ 70 per night. If you prefer an intermediate category hotel, go for the Hotel Boss style establishments, where you can stay for S$ 120 per night.
Singapore's luxury hotel group includes The Fullerton Bay Hotel, which offers glamorous accommodation for S$ 700 per night.
Popular districts in Singapore
Riverside District. This is the colonial heart of Singapore. It is home to many of the city's museums and monuments, as well as good restaurants, clubs, cafes and bars.
Chinatown. In this district, among restored "shophouses" and curious shops, there are excellent restaurants. Attractions include the Temple and Museum of the Buddha Tooth Relic and the Red Dot Design Museum.
Civic District. This district is home to several buildings of European architecture. The Supreme Court, Parliament and many parks are located here, as well as the CHIJMES, a former church now occupied by numerous restaurants.
Getting around Singapore
Public Transport
Singapore has a highly efficient local bus network and the MRT system. To pay for the tickets, the best option is to buy a NETS FlashPay Card or EZ-link contactless RFID card, which costs S$ 12 and includes an immediate balance of S$ 7.
Taxi
Taxis are widely available and reasonably cheap. The fare is set at S$ 3.50 and each kilometer travelled costs S$ 0.55.
Car
If you decide to rent a car, you can book it with companies like Sixt and Hertz. It is possible to rent a car for 4 people for about S$ 100 per day.
Cost of living in Singapore
Shopping streets
On the Orchard Road shopping street you can buy everything from branded clothing to electronics, while on Haji Lane you'll find boutiques and unique shops. The shops of Marina Bay Sands offer the latest in luxury shopping, while the bustling flea markets, such as the MAAD Pyjamas and the artist and designer market, attract bargain hunters. Also visit the Mustafa Centre in Little India, which is open 24 hours a day, and Arab Street in Kampong Glam.
Supermarkets and groceries
In Singapore you can buy groceries in supermarkets like FairPrice, FairPrice Finest and Giant. You can also access Cold Storage, which offers products from international brands such as Waitrose and Huber's. When it comes to pricing, keep in mind that a liter of milk costs S$3.20 and a dozen eggs S$2.40.
Where to eat in Singapore
Foodies will be delighted in Singapore, as the gastronomic scene encompasses Chinese, Indian, Malaysian, European and fast food cuisines. Tiantian Hainanese Chicken Rice, located at Maxwell Food Center, is a local institution, but you can also try the dishes at Wing Seong Fatty's Restaurant for authentic Chinese flavors.
Enjoy the elegantly prepared nasi goreng at Spize or PappaRich, and be sure to visit Chef Gordon Ramsay's Bread Street Kitchen. A meal at an affordable restaurant can cost you about S$ 12 for a simple lunch and S$ 150 for dinner at a top restaurant.
Other Asia Destinations:
Bali Travel Guide
Bangkok Travel Guide
Beijing Travel Guide
Chiang Mai Travel Guide
Ho Chi Minh City Travel Guide
Hong Kong Travel Guide
Koh Samui Travel Guide
Krabi Travel Guide
Kuala Lumpur Travel Guide
Kyoto Travel Guide
Pattaya Travel Guide
Phuket Travel Guide
Shanghai Travel Guide
Tokyo Travel Guide