Although Miami is often overshadowed by other American cities like New York or San Francisco, you will not regret visiting it. Miami is a unique city, so much so that you will not believe that you are in the United States at all. Its Latin atmosphere will capture you and make you feel at home.
The beaches of South Beach, with transparent water and white sand, will conquer you during the day. In neighborhoods like Wynwood you will be able to discover the latest urban movements in the south of the country. What more could you ask for?
Get to know all the places of interest to visit in Miami and be surprised by the most Latin city in the United States. Read on to find out which of Miami's attractions are not to be missed.
Read more about Miami:
Where To Stay in Miami
Miami Family Hotels
Where To Eat in Miami
Villa Vizcaya
This villa was the dream of the magnate James Deering, who wanted to own a winter residence in the city and managed to open it in 1916. It is a 3-story Italian Renaissance style mansion surrounded by manicured gardens next to Biscayne Bay. His owner could only enjoy it during 9 years, since he died. However, it is now open to the public and houses Deering's impressive art collection located among the 34 spectacular rooms of the mansion. One of the highlights of the visit is the large stone barge that opens onto the bay. Without a doubt, one of the most interesting places to visit in Miami.
Miami Children's Museum
If you are going to travel with children, one of the places to go sightseeing in Miami for you is very clear: the Miami Children's Museum. Located on Watson Island, the museum has 14 galleries and an auditorium where children (and adults) can learn about art, culture and communication. Besides, you don't have to worry if your English is not too good, you can enjoy it perfectly in Spanish.
South Beach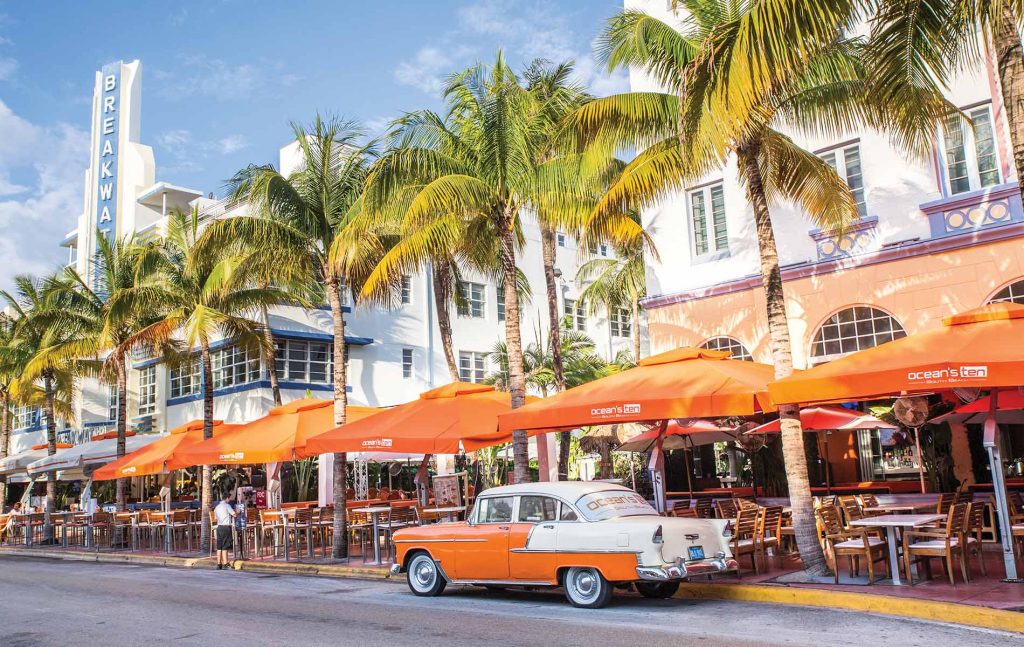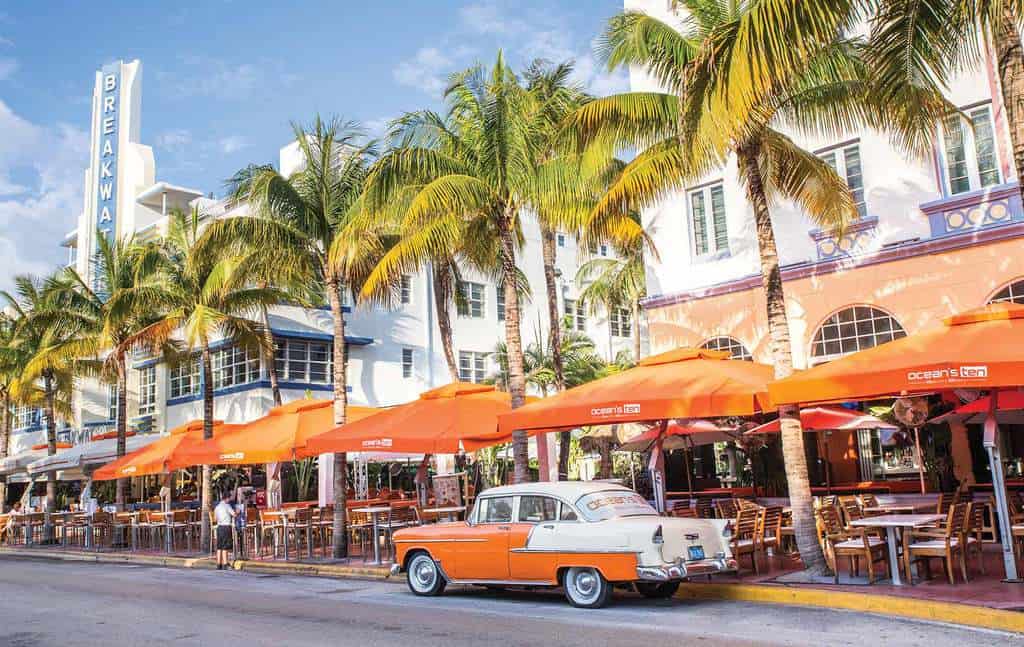 Known as SoBe to the locals, South Beach is the most famous and beautiful part of the city, so be sure to check it off your list of places to visit in Miami. Miles of white sand, beach bars, beautiful art deco style beach guard houses, shops and good restaurants await you. Don't forget to walk along the famous Ocean Drive, where vintage cars can be seen at any time of day and where it's best to keep your eyes open, there are always some celebrities in the area!
Little Havana
Little Havana is Miami's Latin Quarter and, as you might have guessed from the name, home to a huge Cuban community. One of the most interesting things to do in Miami is to walk along the so-called Calle Ocho, where you'll feel like you're walking down a Cuban street (over great distances, of course). In addition to typical restaurants, where you can taste a good Cuban sandwich, you can visit cigar stores, see how the older people gather to play dominoes in a small park (Domino Park) and, obviously, drink a mojito. If you're planning on sightseeing in Miami during the month of March, you shouldn't miss the huge street party in the neighborhood.
Miami Art Museum
The Miami Art Museum or Perez Art Museum Miami (PAMM) is one of the city's attractions. Located across from Biscayne Bay in the beautiful Bicentennial Park, the museum building is already a work of art. It was designed by the famous architects Herzog & de Meuron and is one of the most photographed buildings in Miami because of its beautiful vertical garden. Inside you'll find over 1800 works of art by artists from around the world produced from the mid-20th century to the present. Without a doubt, one of the most interesting places to visit in Miami.
Tower of Freedom
The Freedom Tower is one of the most representative buildings of Miami. Don't feel strange if you notice something familiar about it, as it is an 88-meter tower inspired by the Giralda in Seville. It was built in 1925 as the headquarters of the News & Metropolis newspaper and in 1960 it housed the first exiles from Cuba in order to facilitate their identification and naturalization.
Now you can visit the museum of contemporary art inside or simply walk around and contemplate it. Nearby is the Bayside area, where you'll find plenty of restaurants and shops by the sea.
Bayfront Park
One of the places to visit in Miami is this park located in the heart of the city. Next to Biscayne Bay, you can walk around enjoying the sea breeze and the shade of the palm trees, while contemplating the spectacular skyscrapers of Downtown. The busiest part is usually the area around the large fountain in the park and there are always interesting events in the area. We recommend that you spend a few hours enjoying the atmosphere and soaking up the local way of life.
Click here and find out about the 10 best beach and party destinations.
Venetian Pool
The most famous pool in the United States is in Florida and swimming in it is one of the things to do in Miami. The pool was opened in 1924, after an old abandoned coral quarry was renovated. Thus, most of its decorations are made of coral and inspired by Mediterranean architecture.
The pool has a volume of 3100 m3, several waterfalls and caves, as well as a beach area and a restaurant. Don't miss the opportunity and go for a swim in this huge pool!
Wynwood Walls
Wynwood is, without a doubt, our favorite neighborhood in Miami. From being an area full of industrial buildings and an unattractive atmosphere, Wynwood has become one of the coolest districts in the United States. Now you can enjoy street art on almost any corner, as artists have decorated the neighborhood like an outdoor museum.
Wynwood Walls is the liveliest area, as it is a gallery that invites artists from all over the world to decorate it from time to time. You'll also find lots of restaurants, shops, art galleries and street food stalls in the American style.
Read more: Top 10 cities in the world to see street art.
Fairchild Tropical Botanical Garden
At the Fairchild Tropical Botanical Garden you'll find over 100 acres of gardens with all kinds of exotic plants and trees. This magnificent place was founded by one of the world's explorers and plant collectors, David Fairchild, in 1938. Some of the most impressive sites are at Palmetum Montgomery, the Alameda, the Pergola of the Vines and the Amphitheater. Walking and learning a little more about our flora in this botanical garden is one of the best things to do in Miami.
Cayo Vizcaino
A guide to Miami cannot fail to suggest a visit to Cayo Vizcaino or Key Biscayne, an island located south of Miami Beach, between the bay of the same name and the Atlantic Ocean. It's usually a very popular place for families in Miami during the weekends, since it has beautiful beaches and can be accessed by a bridge that was built in 1947.
Besides swimming in the calm waters of Miami, don't forget to take your mask and snorkel, because it has reefs to snorkel on. Pay a visit to its famous lighthouse, known as "El Farito" by its inhabitants, and to one of its two natural parks: Crandon Park and Bill Baggs Cape Florida State Park.
Coral Castle
One of the most curious places to visit in Miami is Coral Castle, a very strange stone structure created by Edward Leedskalnin from megalithic stones, mostly coral limestone. The park is filled with astronomy-related objects and is surrounded by a 10-foot coral wall made of 15-ton coral blocks.
The most surprising thing is that it was made by only one person during 28 years and that it is unknown how he moved such huge pieces of stone, since he did not use machinery, only rocks and sticks. Quite a mystery!
Art Deco District of Miami
Miami's Art Deco District is located in the South Beach area and consists of over 100 buildings designed in this beautiful architectural style. Highlighted by their color and geometric elements, most of them date back to the 1920s, but have been almost completely restored.
You can start your tour on Ocean Drive, between 6th and 7th streets, then walk down 15th Street and Collins Avenue. If you'd like to learn more, first head to the Art Deco Welcome Center, where you can hire a tour guide or rent an audio guide. Also, we recommend returning to the area at night, when the neon lights on Ocean Drive will leave you eclipsed.
HistoryMiami
Formerly known as the Historical Museum of Southern Florida, this is another place to visit in Miami. Founded in 1940, it's the largest history museum in Florida and you'll get a better understanding of the state's past through collections like Tropical Dreams: A People's History of South Florida, which studies the era of the Native Americans, Spanish exploration, World War II…
Gesu Church
The best known church in Miami (and the one where everyone wants to get married) is the Gesu Church. Located in the heart of the city, it was inaugurated in 1896, making it the oldest Catholic church in the city.
We recommend that you include it in the places to visit in Miami because it is one of the best examples of religious architecture in the city and because of its importance to the community, as it has served both religious and humanitarian purposes.
Read on if you are planning your next trip to the United States:
Orlando Travel Guide
America's 10 Most Amazing Car Trips
10 things you have to do if you do route 66
10 experiences to live in the United States
The 10 best cities to celebrate the 4th of July in the United States