Naxos was one of those bets you make blindly but something tells you it's going to be worth it, that you won't be wrong, and that's precisely what happened with this island. Far, figuratively, from the most common route in the Cyclades Islands, there is this huge island with many things to offer and also with several advantages.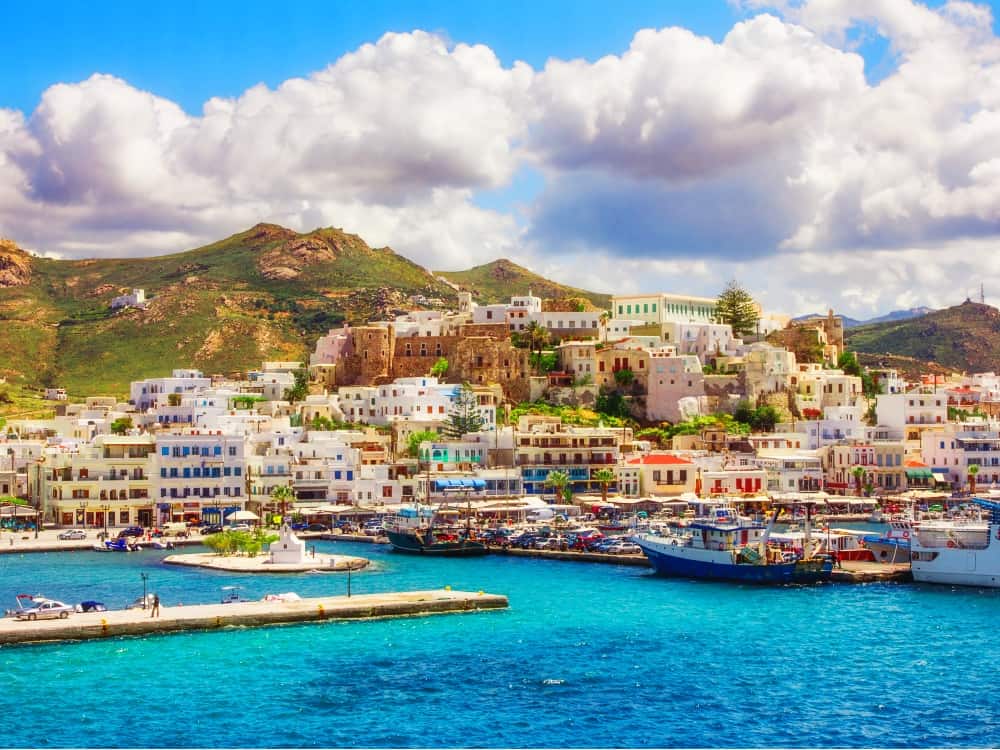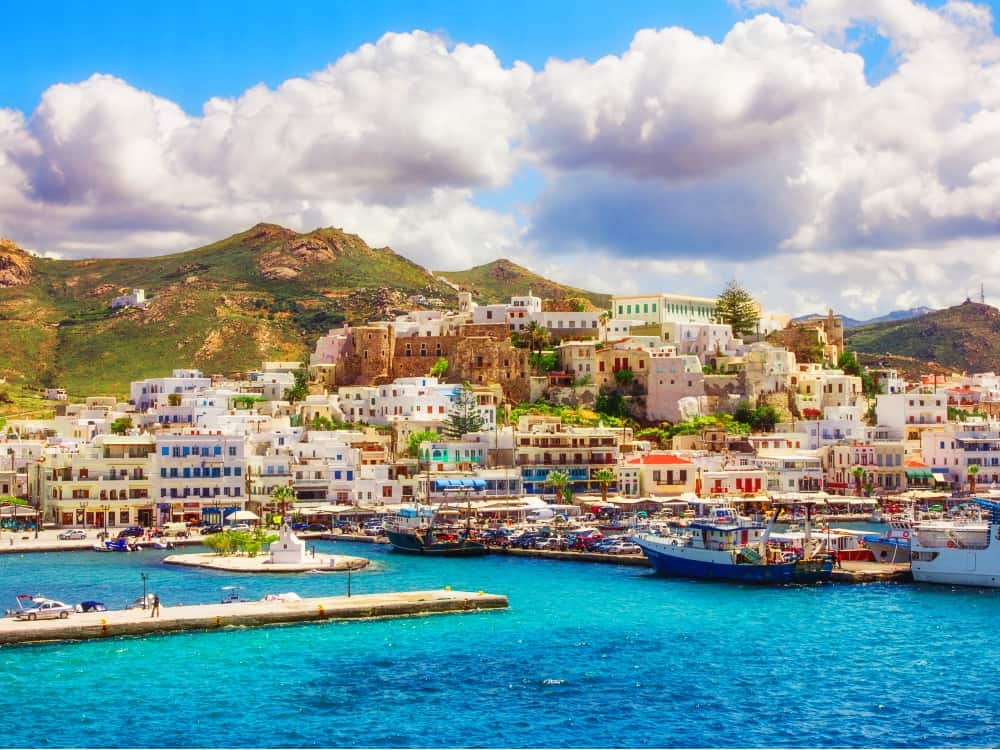 On the one hand, its size allows you to move around and feel far away from the mass tourism that both Mykonos and Santorini suffer. A rental car is the best option.
And on the other hand, the fact of not entering that vicious circuit of mass tourism, the prices of absolutely everything are much lower than in the other two mentioned islands of the Aegean.
Read more about Naxos:
Naxos Travel Guide
Best Hotels in Naxos
Where To Eat in Naxos
Kid-Friendly Hotels in Naxos
Chora
Chora is the largest town on the island, but it's not so big that you get lost, in fact, even if you feel you've gotten lost in its streets, it's simply a perception, not a reality. It is quite likely that you will find yourself on some familiar street in a few minutes.
Portara
The most recognized image of Chora is its Portara, the lintel of the temple of Apollo. Approaching it and looking at the sea at sunset leaves an image on your retina that is hard to forget.
Citadel or Kastro
This is the oldest part of Chora, and also the most labyrinthine. It has several neighborhoods and Venetian towers.
The labyrinth was the way to avoid pirate attacks, it reminded us of Camagüey in Cuba. And the Venetian towers showed us its past as part of this Italian city-state.
And at the top of it all, a castle, a fortification capable of withstanding any attack or invasion.
Churches
The churches in the Cyclades are protagonists themselves. Their white and blue exterior blends in with the rest of the buildings.
There are dozens that you can find almost every step of this city, and the rest of the places in the Aegean.
Chora Beach
A very long beach, Agios Georgios, accessible from the village itself, shows you a first view of the beaches you can find all over the island.
Seafront promenade
This is going to be your first contact with Chora, since that's where you get off the ferry. Full of restaurants offering fish or other local foods. Good place for lunch or dinner, but as always, if you go in and do some research, you will find other places that are cheaper but of even better quality.
Protodikeiou Square
A quiet square, far but close, so far from the Paseo Marítimo that you can enjoy a more local atmosphere, but so close that in just seven minutes you are on the Paseo Marítimo.
As in almost every corner of the Cyclades Islands, a white and blue-domed church can be seen in one corner of this square. The Scirocco Café restaurant is a very good option for dinner, high quality food at a good price.
After this tour of Chora, it was time to see the rest of the island by rental car.
Sanctuary of Dionysus
Our first stop is from Chora, a place where we can observe ancient vestiges of the temple dedicated to Dionysus.
Chalki
A quiet village surrounded by olive trees, a relaxing journey through the rural interior of the island of Naxos.
A Byzantine church is one of the most visited places in this picturesque place.
Filoti
It was another walk through a town where the color white predominates over any other color. And the best part, once again alone with the locals, not even a hint of tourism (except for us, of course). This way it is a pleasure to know and enjoy a country.
Apeiranthos
The village built of marble, or so they say. Here I have to say that the Greeks exaggerate a little. It is true that marble predominates in facades, floors, stairs, etc, but as much as the whole town is marble… well, it's not going to be. In any case, it's a beautiful place, very worthwhile to visit.
Mikri Vigla Beach
A beach like the ones you see on postcards from Greece. A water that makes you want to jump in right away. Of course a beautiful beach.
Agia Anna
This may be the busiest beach on the island. But I suppose, or want to believe, that crowded in this case is not going to be synonymous with crowded. At least not like your neighbor Santorini.
Prokopis
Another beach very close to Agia Anna, and also supposedly crowded. And also like Agia Anna, a really nice beach.
You can see more about our trip to this island in A trip to the island of Naxos.
Visit Koufonisia
A quite interesting option is to visit the small island of Koufonisia in the south of Naxos Island, there are day trips that take you to this small paradise of turquoise blue waters to enjoy its beaches. The perfect plan to disconnect.
Visit Paros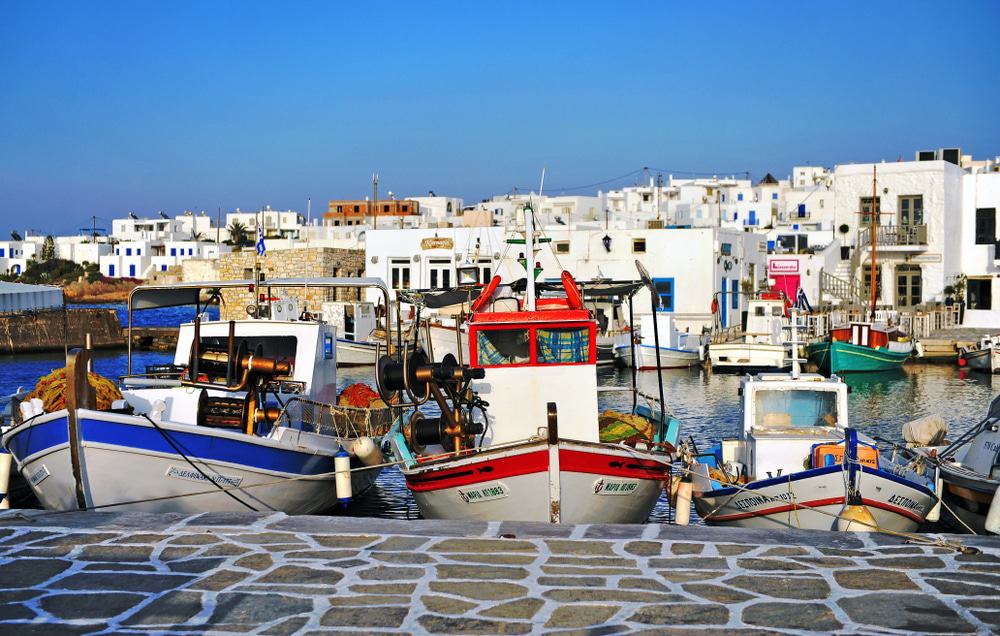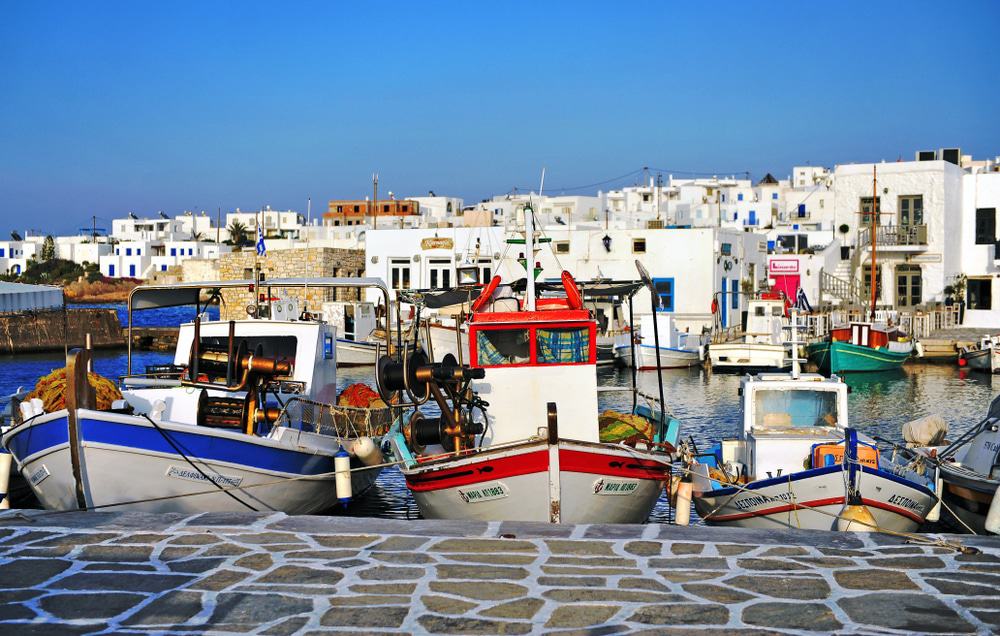 Paros is the "sister island" of Naxos, it is really close, and it is another example of the culture of the Cyclades Islands. It also has its main towns, Naousa and Piso Livadi, as well as some beautiful beaches where you can swim. It's another option to spend the day if you think you've seen it all in Naxos.