Paris! Its name alone makes us think of movie weekends and romantic getaways in the French capital. Walking around the Marais district, shopping in Place Vendôme and Rue de Rivoli, romantic sunsets on the Seine and dinners in a bistro on the left bank… Whatever your idea of a holiday the City of Light will make you dream. From the Louvre to the Eiffel Tower, from the Sacré-Coeur to the Moulin Rouge: the 10 things you have to see and do in Paris.
The aroma of a freshly baked croissant, a crispy macaron or the best baguette in the world. There is an endless number of things to do in Paris, which makes the French capital full of temptations, whatever your travel profile. Remember that if you want to visit some of its most popular places you can buy tickets in advance. Oh, and don't forget your camera! Paris is always a good idea.
Read more about Paris:
Where To Stay in Paris
Paris For Kids
Best Time To Visit France
Here is our recommendation with 10 things to do and see in Paris ,which includes attractions you should not miss (especially if it is your first visit to the French capital). Check out the flights, book a chic hotel in Paris and pack your bags – the Eiffel Tower is waiting for you!
The Eiffel Tower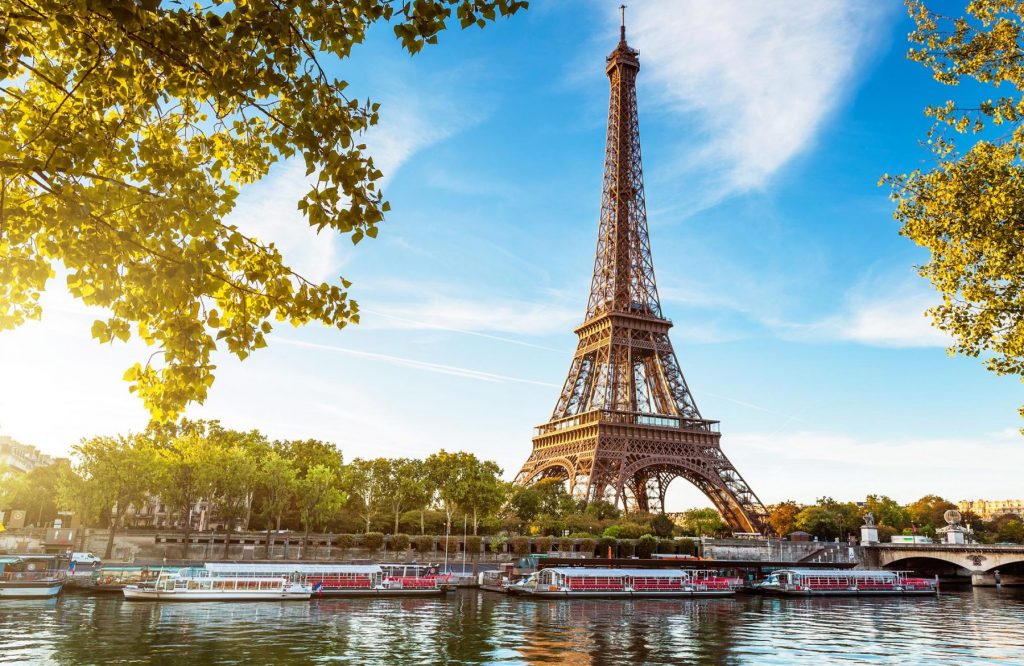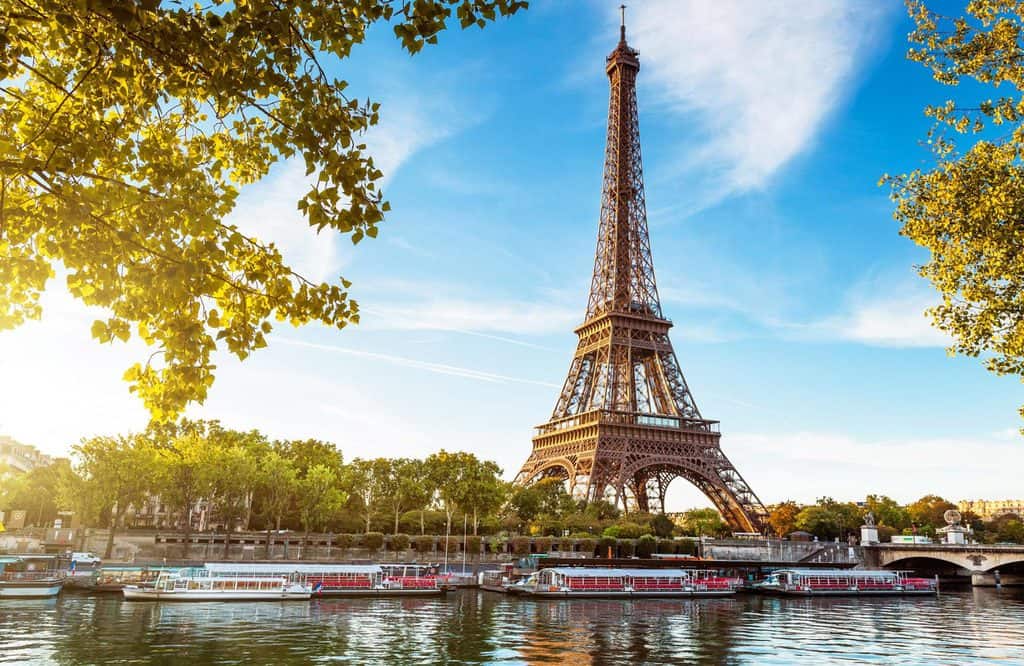 The most emblematic building to see in Paris. Once upon a time there was an iron tower that was built for the 1889 Universal Exhibition and that had to be dismantled… Fortunately it was not and today it is the most popular symbol of the City of Light and the most visited monument in the world, with more than six million visitors a year.
The 324 meters of the tallest building in the city, are illuminated after sunset with a play of bright lights. Take your partner to contemplate it during the night and you will always remember that you accomplished one of the most romantic things to do in Paris.
Open every day:
From 9 am to 00.45 am by stairs and elevator (from 15 June to 1 September)
From 9.30am to 6.30pm on the stairs and from 9.30am to 11.45pm in the lift (the rest of the year)
Entrance fee: 14.50 euros / 13 euros for children under 24 years old / 10 euros for children
The Musée d'Orsay
Would you like to admire Monet's poppies within the walls of a historic train station with a beautiful central clock? Well, at the Musée d'Orsay, it's possible. In the heart of Paris, its collection of Impressionist masterpieces will take your breath away.
Closed on Mondays
Tuesday to Sunday, 9.30am to 6pm, 9.30am to 9.45pm on Thursdays
Price of the ticket: 11 euros
Free on the first Sunday of each month and always for those under 26
Notre-Dame Cathedral
Imposing and mysterious, Notre Dame's gothic cathedral entered the collective imagination thanks to Victor Hugo's novel. Entrance to the cathedral is free, but you pay to climb its towers. From the top you can enjoy a beautiful view of several of the best places to see in Paris. Are you ready to be surrounded by monstrous stone gargoyles?
Open every day
From 8 to 18.45 and from 8 to 19.15 on Saturdays and Sundays
Free entrance
The Louvre Museum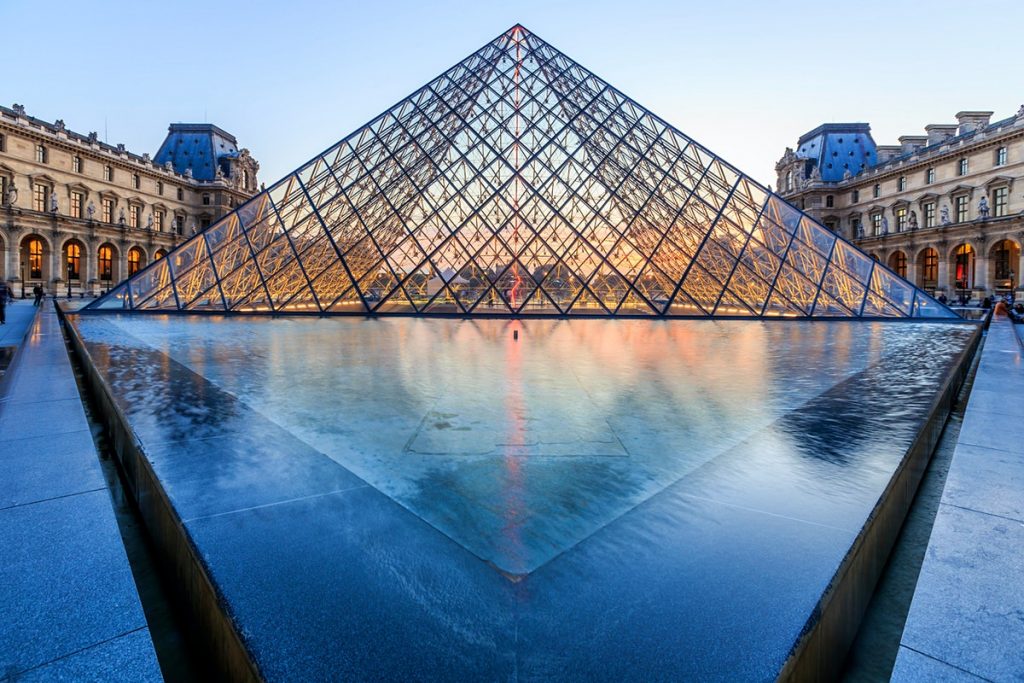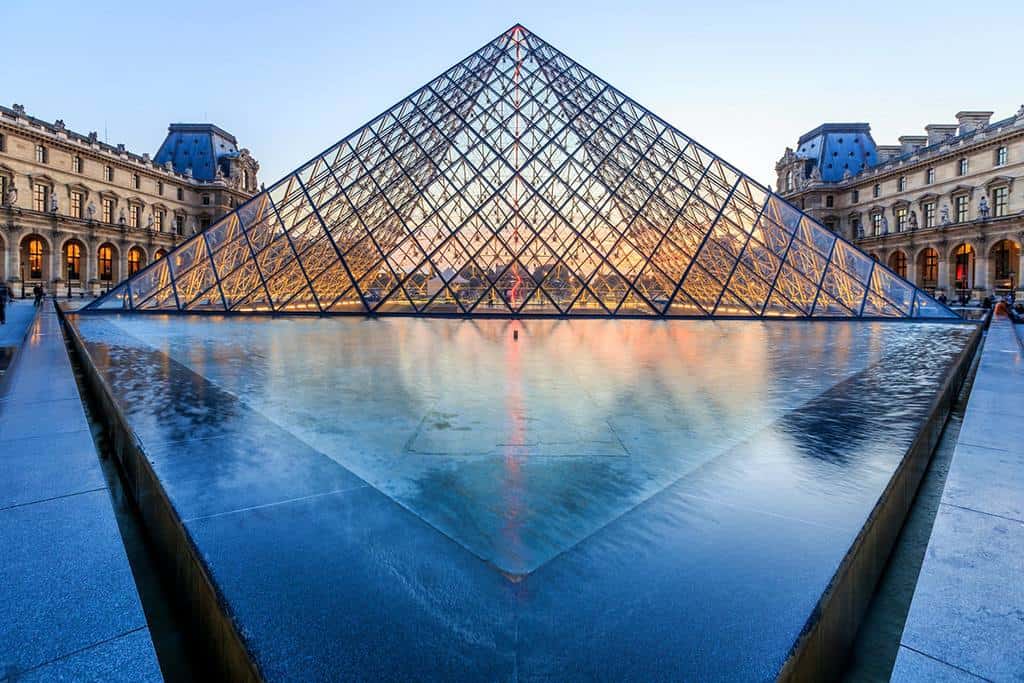 If you are an art lover, you should put a visit to the Louvre at the top of your list of things to do in Paris. The capital's museum offers an incredible collection of art and antiques from all eras. The Louvre is the most visited museum in the world, and it is impossible to list all of its masterpieces, including Leonardo de Vinci's smiling Mona Lisa. A word of advice: before entering, browse through one of the catalogues and choose what you are going to see. Even in a whole week you couldn't see everything.
Closed on Tuesdays
From Wednesday to Friday, from 9 to 18h; from 9 to 21.45 on Wednesday and Friday.
Price of the ticket: 12 euros
Free on the first Sunday of the month from October 1st to March 31st; and always for those under 26 years old.
The Basilica of the Sacred Heart
The Basilica of the Sacred Heart is on the hill of Montmartre, a stone's throw from the Place du Tertre, the square of artists, painters and bohemians. It is very white and has the best panoramic views to be seen in Paris. If the sky is clear you can feel that the city is at your feet, like an open book.
Open every day, from 6 am to 10.30 pm
Free entrance
La Sainte Chapelle
You want to be surprised? Go up to the second floor of the Sainte Chapelle gout. It was built to house the relics obtained by the famous King Saint Louis of France. Thanks to the light that filters through its huge windows you will feel like you have gone up to heaven.
Open every day
March 1st – October 31st 9.30 – 18h
From 1 November to 28 February 09 – 17h
Ticket price: 8,50 ? / 5,50 ? reduced
Free on the first Sunday of the month from 1 November to 31 March; always for those under 26.
The Centre Pompidou
In the heart of Beaubourg is one of the most curious buildings to see in Paris. It is the Centre Pompidou which shows off its skeleton made up of a tangle of coloured tubes and shiny glass. Designed by Renzo Piano and Richard Rogers, it is a museum of modern art, a research centre and a public library. It is a great building that you will love or hate with all your heart.
Closed on Tuesdays
From Wednesday to Friday, from 11 to 22h; until 21h the temporary exhibitions
Ticket price: 11 ? / 3 ? for the tour only
Free the first Sunday of each month; always for those under 26
The Moulin Rouge
At the foot of Montmartre there is a mill that since 1889 has embodied the myth of the most transgressive and libertine Paris: the legendary Moulin Rouge. Inside, you will find the glitter of cancan dancers, colorful leagues and lots of champagne. But it is also beautiful on the outside and posing for a photo in front of its red facade is almost a must among things to do in Paris.
Open every day
Entertainment plus dinner, from 7.30pm to 9pm
Only show from 11pm to 2am
Entrance fee: 150
The Opera Garnier
If going to the opera is for you one of the must-do things in Paris, you should choose Garnier's. Purple staircases, golden stuccos and crystal chandeliers: the Opéra Garnier is glamour in its purest form. See for yourself on a tour or enjoy a special evening with a concert or ballet. Wear your best clothes and feel like you're in a movie.
Open every day
From 10 am to 5 pm; until 1 pm if there is a show that day.
Ticket price: 10 ? / 6 ? reduced
Arc de Triomphe
Along with the Eiffel Tower, they are perhaps the two most iconic monuments to see in Paris. The Arc de Triomphe, built by Napoleon in 1806, will give you a different view of the grandeur of Paris. Climb the spiral staircase, reach the top and enjoy the Champs-Elysees, Place de la Concorde and the Tuileries Gardens like never before. Not bad, is it?
Open every day
From April 1st to September 30th: 10 – 23h
From 1 October to 31 March: 10 – 22.30h
Entrance fee: 8 ? / 5 ? reduced for students. Free for children under 18.
… and one more! Not all the best things to see in Paris are in the same city, but this place can be easily reached by an RER train. It's a must see. Seeing is believing.
The Royal Palace of Versailles
A visit to Paris would not be complete without a visit to the historic Palace of Versailles. King Louis XIV ordered to erect this grandiose palace of French baroque style and declared a World Heritage Site by UNESCO. Considered to be one of the most important monarchical architectural complexes in Europe, its appearance is fabulous, especially in spring, with its gardens in bloom. It is easy to feel like a king in a place like this.
Closed on Mondays
From 1 April to 31 October: from 9 a.m. to 6.30 p.m,
From 1st November to 31st March: from 9 a.m. to 5.30 p.m.
Entrance fee: 15 ?.
Free on the first Sunday of the month from 1 November to 31 March; and always for those under 26.
Read more:
Paris Travel Guide
Where To Stay in Paris
Paris For Kids
Things To Do in Paris
Relais Christine Hotel, Paris
Best Time To Visit France
Fly to Paris
If you liked this article, I'm sure you'll be interested in the following ones as well:
10 hotels near the Paris-Charles de Gaulle airport
10 amazing things to do in Paris outside the clichés.
10 best free things to do in Paris
Restaurants in Paris, good food and affordable prices
10+1 secret places in Paris
Nightlife in Paris: 10 places to party