Modernity, tradition, nature and racial diversity in the third richest country in the world, Singapore is a mixture of tradition, modernity and different cultures. In its limited surface area, you will find skyscrapers, museums, parks, more than 60 islands, a multitude of shopping centres and entertainment venues, a varied gastronomy – the product of the great racial mix of its just over 5 million inhabitants – and a strange mixture of Western urbanism with an Asian touch. To help you, here is our list of the best places to see in Singapore.
The city-state of Singapore is an example of economic success. Modern Singapore emerged in the 19th century from the Englishman Sir Stamford Raffles, who founded this trading post for the British East India Company. It became independent from England in 1963 and was part of Malaysia, from which it would secede in 1965.
Since the end of the 20th century, Singapore has experienced unprecedented wealth. It is the third largest financial centre in the world and the second largest port for trade in goods. All this has led to it having the third highest per capita income in the world. It is true that it is not a cheap city, but a few days are enough to explore it.
Bay Gardens
Calling this place in Singapore Bay gardens is like saying that it must have taken some effort to build the pyramids of Egypt. These are not simple gardens, but a work of art in which man uses modern technology to enhance the beauty of nature.
Some gardens show the history of Singapore through their flora, others have games for children, and some lakes are flown over by butterflies and kingfishers. A kind of modernist greenhouse hides the secrets of the typical vegetation found in the humid forests of the Asian mountains.
Scattered throughout the gardens you will find large sculptures, but nothing will attract your attention like a kind of large artificial trees that seem to have been taken from the film 'Avatar', with the only difference that an endless number of different kinds of plants climb up their trunks instead of blue beings with slender bodies. In addition, you will be able to walk among their canopies on a footbridge located more than 20 meters high. Without a doubt, it is the most special place to visit in Singapore.
The best hotels at the best price in Singapore.
Tiger Sky Tower
In the centre of Sentosa Island – a large leisure centre in itself – stands the tallest observation tower to be visited in Singapore. It was built in 2004, and is 130 metres high. The views from its air-conditioned cabin are the best to be seen in Singapore. Not only can you see its skyscrapers and islands, but you will also see parts of Malaysia and Indonesia.
Underwater World
If you're traveling with your family, a visit to Underwater World should be on your list of things to do in Singapore.
Here you can find more than 2,500 marine specimens of 250 different species, originating from different parts of Southeast Asia (Malaysia, China, Australia and the Maldives, among them). Sharks, manta rays, clownfish, dolphins and many more swim in a 3 million litre tank of filtered seawater.
The site is not just an exhibition centre, but its creators took their work in educating and protecting endangered species very seriously. Students of all ages frequently visit the site to learn, for example, how the nearly extinct pink humpback dolphin of the Indian-Pacific area lives.
Market of Lau Pa Sat
There are few more fun things to do in Singapore – and in any other Asian country – than stroll through one of its food markets.
The Lau Pa Sat Market – or Old Market – is located in the middle of Singapore's financial centre. Inside, under a Victorian-era metal structure, tourists and locals can choose their food from dozens of stalls offering a variety that showcases Singapore's racial diversity. The place fills up almost completely at breakfast and lunch time. Although you have hundreds of dishes to choose from, the most famous is the satay: small sticks of carved meat that you dip into different sauces.
Singapore Botanical Garden
Between the 'Symphony' and 'Swan' lakes lie the grasslands preferred by Singaporeans for lying down and relaxing (something much needed in a place recognised as the world's third largest financial centre).
The Singapore Botanical Garden was established in 1859 and covers an area of almost 64 hectares.
Although the walkways take you into amazing rainforests and mountain forests, what fascinates all visitors to the botanical garden is the National Orchid Garden, where you'll find more than 3,000 different species of this beautiful flower.
Formula 1 Singapore Grand Prix
One of the most spectacular races on the Formula 1 Grand Prix calendar takes place at the Marina Bay race circuit – the most modern office, shopping and entertainment area to visit in Singapore. The race – which was first held in 2008 – is held at night, and has a street layout of just over 5 kilometres.
If you want to be one of the 80,000 fans who can watch the race live, you'd better try to get your ticket well in advance. Otherwise, be prepared to pay astronomical amounts at the resale.
Sri Mariamman Temple
The oldest Hindu temple to be seen in Singapore is at 244 South Bridge Road, in the heart of Chinatown.
It was built in 1827 and given its religious importance has been listed as a national monument, becoming one of the most important tourist attractions to visit in Singapore.
The temple has been remodeled several times throughout its history, but always maintaining its striking colorful and elaborate decoration in the form of figures representing Hindu deities.
Besides being a beautiful and spiritual place, Sri Mariamman Temple served as a place of welcome for Indian and Tamil immigrants when they arrived in Singapore without work or a home. Its social work continues today and is complemented by educational activities.
Chinatown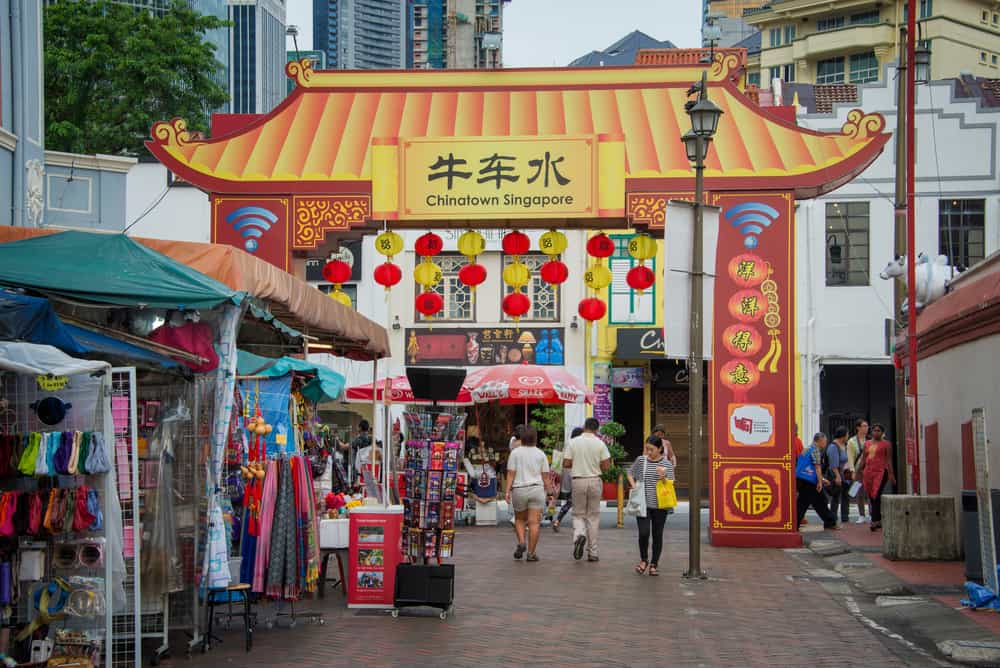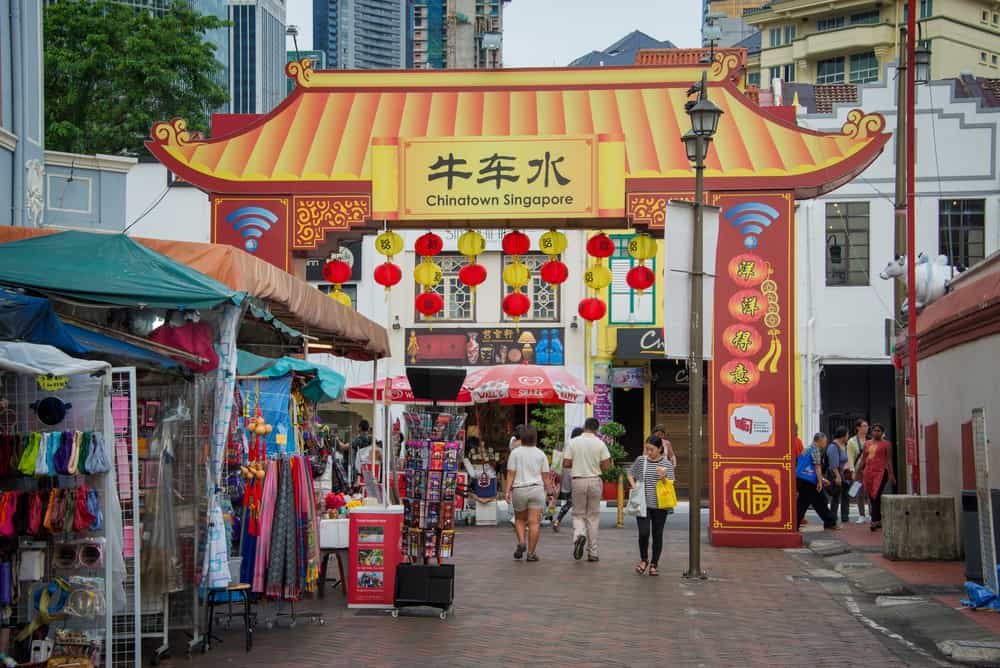 As is often the case in the capitals of Southeast Asian countries where large communities of Chinese origin live, Singapore's Chinatown is the liveliest and most colourful area of the city. It is also home to the city-state's most emblematic temples.
Old-style streets full of shops of all kinds, lit up every night by coloured lanterns. People seem to go up and down in constant activity, while Chinese restaurants are overflowing with local people.
Try to stop by during the Chinese New Year holidays. Nothing you can see in Singapore will top this.
Buddha Tooth Relic Temple and Museum
Although this temple, located in Singapore's Chinatown, was built in 2007, inside its richly designed interior you will find Buddhist art and history exhibitions that tell the story of this religion over the past centuries.
The temple takes its name from the canine tooth that was supposedly recovered from the pyre of the Buddha's body in Kushinagar (India). It is designed in the style of the Tang Dynasty and cost $75 million.
The Buddha's relic is stored in a giant stupa weighing 3,500 kilos and covered with 320 kilos of gold. You will have to be content with seeing the Buddha's tooth from a distance, as only monks are allowed to enter the chamber that holds the relic.
Other attractions of the most impressive temple to see in Singapore are the Sangha Museum, the roof garden and a theatre where you can watch cultural performances and films. Click on the image and follow us on a three-day tour of Angkor Wat
Cheap accommodation in Singapore.
Fort Canning Hill
Strolling through the gardens of Fort Canning Hill Park is one of the most relaxing things to do in Singapore.
This hill has witnessed many of Singapore's most important historical events. In the 14th century, it was here that the palaces of the kings were built. It also served as the site of the headquarters of the British troops during their occupation, known as the 'Battle Box' (its interior can be visited for a fee). It was here that Singapore's surrender to the Japanese troops was signed on February 15, 1942.
Today, Fort Canning is a place for celebrations. Its large expanse of green pastures is the setting for festivals – such as 'Shakespeare in the Park', 'Ballet under the Stars' and 'Movies at the Fort' – weddings, parties and talks between couples or groups of friends.
MacRitchie Nature Reserve
If you're a nature and outdoor enthusiast, walking the trails of MacRitchie Nature Reserve can't be off your list of things to do in Singapore.
This 12-hectare reserve has hiking trails, kayaks and canoes for rent and is the perfect place for other activities, both on land and on water.
As you walk the trails in MacRitchie Nature Reserve you will come across students from the many schools who bring their students here to learn about Singapore's flora. If you're looking for adrenaline, don't miss the canopy walk through some of the trees in the reserve.
Book the best hotel in Singapore.
Orchard Road
Orchard Road is the most important shopping street, not only to visit in Singapore, but in all of Asia.
In a 2.2 kilometre stretch you will feel like you are in a shopping paradise.
Looking at Orchard Road today it's hard to believe that some 150 years ago it was a simple alleyway guarded by fruit trees and surrounded by pepper farms. In 1850 all this changed and street food stalls, fresh produce markets, cemeteries, temples and other small businesses began to appear.
In the 20th century, the commercial race was unstoppable.
Today, Orchard Road features iconic shopping malls, restaurants, hotels, fashion shops, art galleries, jewelry stores and a multitude of entertainment offerings. You don't have to be rich to enjoy Orchard Road either, as you'll find leisure offerings and products to suit all budgets.
So you're here to discover Singapore?
If you liked this article, you will surely enjoy reading the following ones:
-10 best things to do in Kuala Lumpur
-10 things you should do in Malaysia
-15 countries in Asia you have to see once in a lifetime
-12 routes in Southeast Asia you can do
-10 tips for backpacking through Southeast Asia