Tulum has become one of the main destinations in the Riviera Maya, a place that receives almost two million tourists every year despite the fact that its population barely reaches 20,000 inhabitants. Unspoilt beaches, protected areas and sustainable tourism make it possible to discover the Caribbean far from the big hotels of Cancun.
Located on the Yucatan Peninsula, in the southeast of Mexico, Tulum offers multiple activities for all types of travelers: from luxury resorts to excursions and tours among mangroves and cenotes.
Within walking distance are other points of great tourist interest, such as Playa del Carmen, Cozumel, Chichén Itzá, Mahahual or the Bacalar Lagoon, which can be visited by public transport or with your own vehicle.
The 5 best reasons to visit Tulum
Beaches and lagoons
With no trace of large hotels, these beaches and lagoons are characterized by their almost virgin state. The Boca Paila lagoon, with its turquoise and crystalline waters, is a 15-minute drive from the city and is the best place to disconnect, sunbathe, enjoy a refreshing swim and even, if you dare… practice nudism.
Mayan ruins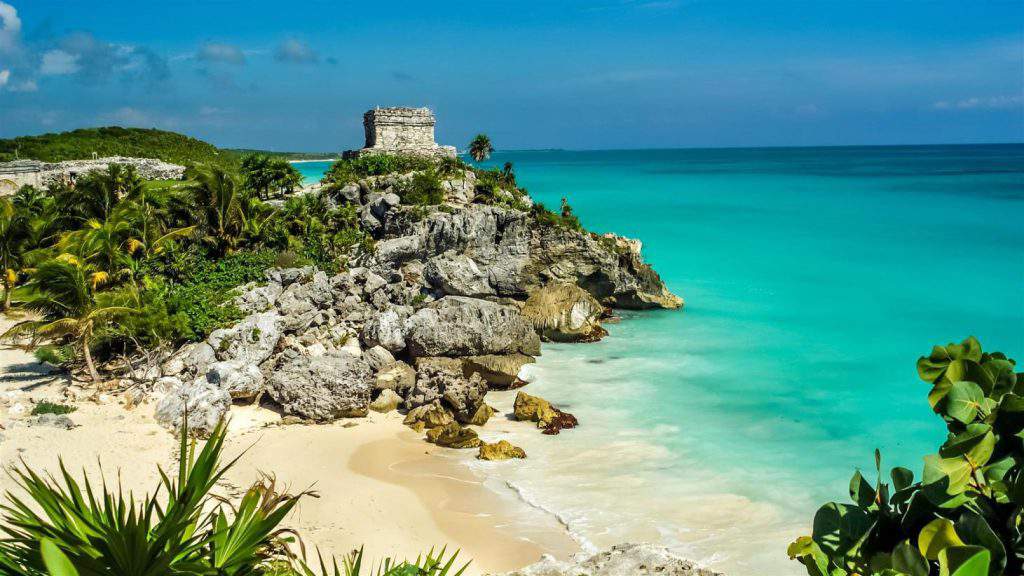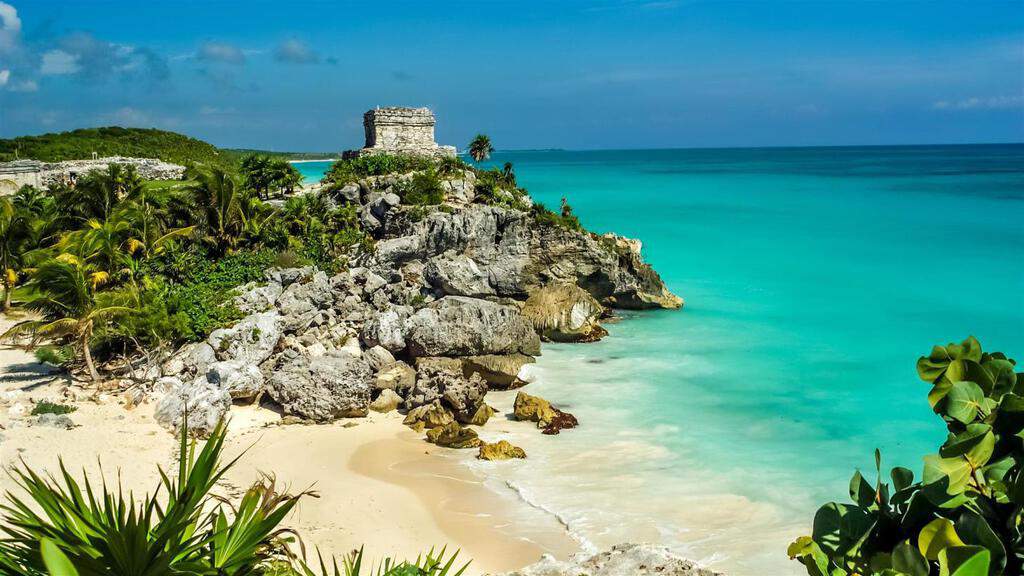 The ancient Mayan city of Tulum is one of the best preserved archaeological remains in the area. Most of the buildings date from 1200 – 1450 A.D. Coba and Chichen Itza, one of the seven wonders of the modern world, are other ruins not to be missed.
Cenotes and caves
In the Yucatan peninsula there are between 7000 and 8000 cenotes. Many are connected to each other through underground caves. Cenote Calavera, Gran Cenote or Cenote Dos Ojos are some of the most spectacular ones near Tulum.
Wild nature
In Tulum there is a great diversity of flora and fauna. To check it out you just have to visit the Sian Ka'an reserve, a protected natural area of 650,000 hectares, declared a World Heritage Site by UNESCO in 1985. The entrance fee is MXN$ 50.
Fun and party
Despite being one of the quietest towns in the Caribbean, Tulum is not lacking in nightlife venues, such as the Batey Mojito & Guarapo Bar. Delicious food, good music and a relaxed atmosphere will put the finishing touch to an intense day of activities.
What to do in Tulum
Explore the ancient Mayan city of Tulum
Located in a privileged environment and with buildings in a very good state of conservation, this archaeological space does not cease to surprise visitors. The castle and the temple of the frescoes are the most outstanding constructions. The general entrance costs MXN$ 70 and allows access to a small and beautiful cove.
Rest at Paraiso Beach
Next to the ruins of Tulum is this spectacular strip of white sand, bathed by a turquoise and crystalline sea. Here is the second largest barrier reef in the world. You can reach it by snorkeling or with some of the boat tours that leave from the beach itself.
Dive into the waters of the Gran Cenote
Surrounded by lush vegetation, the peculiarity of this cenote is that it is not completely open, entering a small cave. The entrance costs MXN$ 180 and snorkeling equipment can be rented inside, perfect for watching the spectacular formations created under the cold water, which is 10 meters deep.
Swimming with turtles in Akumal
30 kilometers from Tulum is this small town, famous for having a beach full of turtles and marine fauna. To enjoy the experience of swimming with these animals you only need a pair of glasses and a snorkel, although you can also hire a guide that will cost you approximately MXN$ 350).
Have fun at Xel-Ha's water park
Xel-Ha is much more than a tourist attraction. It is a giant aquarium where the fresh water of the springs meets the salt water of the sea, giving rise to a scenario in which more than 70 aquatic species live. On the tour you will find zip lines, rope games and viewpoints. Tickets from MXN$ 1538.
When to visit Tulum
The high season runs from December to April, because the weather is more stable in these months. September is the month with the least amount of tourists. In general, the average temperature throughout the year is quite pleasant: around 25 ºC. The rainy season runs from May to October, although rainfall is usually concentrated at certain times of the day, leaving a cool atmosphere and clear skies afterwards.
How to get to Tulum
By plane
The international airport of Cancun is the closest, located 130 kilometers from Tulum. To get between the two points, you can choose to hire a shuttle (from MXN$ 1374), a taxi (negotiate the fare before getting on) or go by bus with the ADO company for MXN$ 218.
By bus
The Tulum bus terminal is a small space, but from here there are connections to all major Mexican destinations. ADO offers routes to Cancun (MXN$ 148), Playa del Carmen (MXN$ 80), Chichen Itza (MXN$ 232), Mexico City. (MXN$ 1210), Merida (MXN$ 356) or San Cristobal de Las Casas (MXN$ 807), among others.
By car
Route 307 to the north connects Cancun with Tulum in approximately 90 minutes and there are no tolls. This same road leads south to Bacalar Lagoon in two and a quarter hours. To go to Chichen Itza, take QROO 109 and continue on Highway 180.
Airports near Tulum
CUN Cancun
CZM Cozumel
Where to stay in Tulum
Travellers arriving in Tulum will find a wide range of accommodation on offer. Among the different options there are hostels and backpacker hostels like the Kukulcan Hostal (from MXN$ 250 a night), but there are also luxury hotels like the Azulik (from MXN$ 11 000). Within the medium range you can book at the Casa Santiago hotel (MXN$ 1265). For a complete experience, the Luxury Eco Resort & Spa Central Park Tulum By Los Amigos (MXN$ 1800) is a great alternative.
Residential area and hotel zone in Tulum
City of Tulum. The city is located about 5 kilometers inland and there are numerous hotels and accommodations, as well as residential areas. The Dos Aguas park is the main meeting point. You will find numerous restaurants on both sides of the Mexico 307, the road that runs through the town.
Tulum National Park. It has an extension of 664 hectares. Luxury hotels, eco-resorts and cabins follow one another throughout its surface. It houses the archaeological zone and Playa Paraiso.
How to get around Tulum
Public Transport
If you want to explore the surrounding area, such as Playa del Carmen, you can take the ADO line or the small white buses that operate between the two locations. The latter leave every 10 minutes approximately and the ticket costs MXN$ 35, allowing you to get on and off at any point along the way.
Taxi
Taxis are the most comfortable option to reach the ruins of Tulum or visit other nearby beaches. The cost of a taxi is usually MXN$ 30, plus an additional fee per kilometer. All taxis have a table of prices, so it is advisable to agree on the fare before making the trip.
Car
Renting a car is a good option to move freely throughout the Riviera Maya, explore nearby cities and save time on excursions. Both at Cancun and Tulum airport you will find different car rental services, such as AVIS, Hertz or Europcar. The cheapest rates go from MXN$ 200 per day for a basic vehicle. The traffic is usually quite fluid and finding parking, both in the city and in the main tourist spots, is quite easy.
Cost of living in Tulum
Shopping
Along Mexico Highway 307 there are several souvenir shops and art galleries, as well as craft shops. If you're looking for shopping malls or a bigger offer to do your shopping, we recommend you go to Playa del Carmen or Cancun.
Food and other products
Chedraui is the only Mexican supermarket chain present in Tulum. There are also several OXXO, small convenience stores. On the other hand, there are two Walmart in Playa del Carmen, which are cheaper and have a wider range of products. As a guideline, a 280 gr. breakfast cereal package costs approximately MXN$ 30, a liter of vegetable oil about MXN$ 25 and a kilo of cheese about MXN$ 120.
Where to eat in Tulum
Mexican food is one of the most outstanding delicacies of world gastronomy. In Tulum you will find excellent restaurants where you can try different marinated meats, nachos, burritos, guacamole, etc. El Camello or Pollo Bronco are two good places to taste local cuisine.
In the wide range of culinary offerings in Tulum there are also Italian and Japanese restaurants, hamburger joints and fusion cuisine. You can have dinner in a fast food restaurant from only a few pesos, or go to a higher category place, like Rosa Negra, where a dinner for two can cost more than MXN$ 1000.
Other Central America Destinations:
Cancun Travel Guide
Cozumel Travel Guide
Guatemala Travel Guide
Isla Mujeres Travel Guide
Mexico City Travel Guide
Puerto Vallarta Travel Guide
Tijuana Travel Guide