Turin is a city located in the region of Piedmont, in the northwest of Italy, with about one million inhabitants. It was the first capital of Italy and the home of the country's former royal family. Today it is an exciting city with beautiful boulevards, parks and galleries.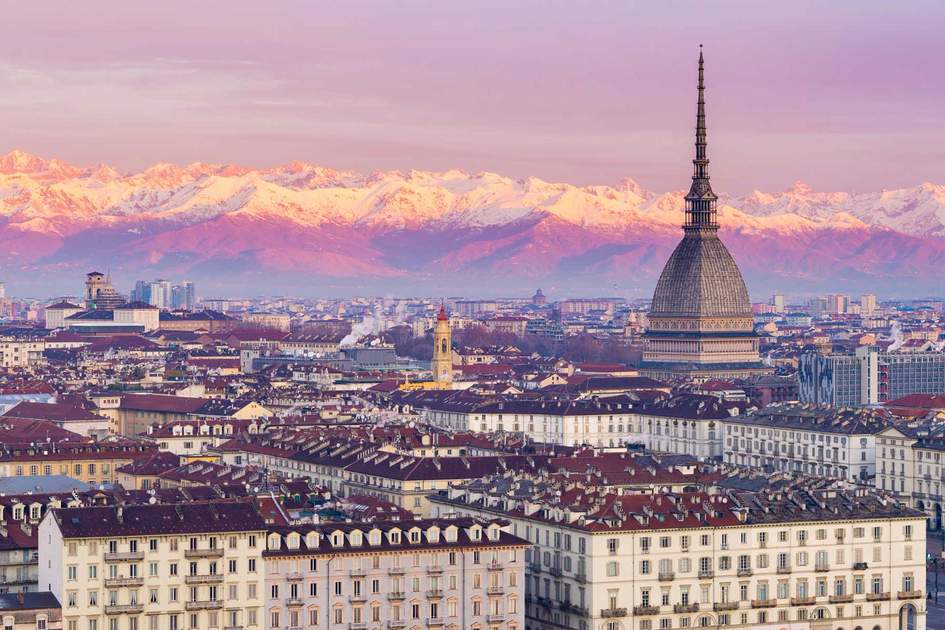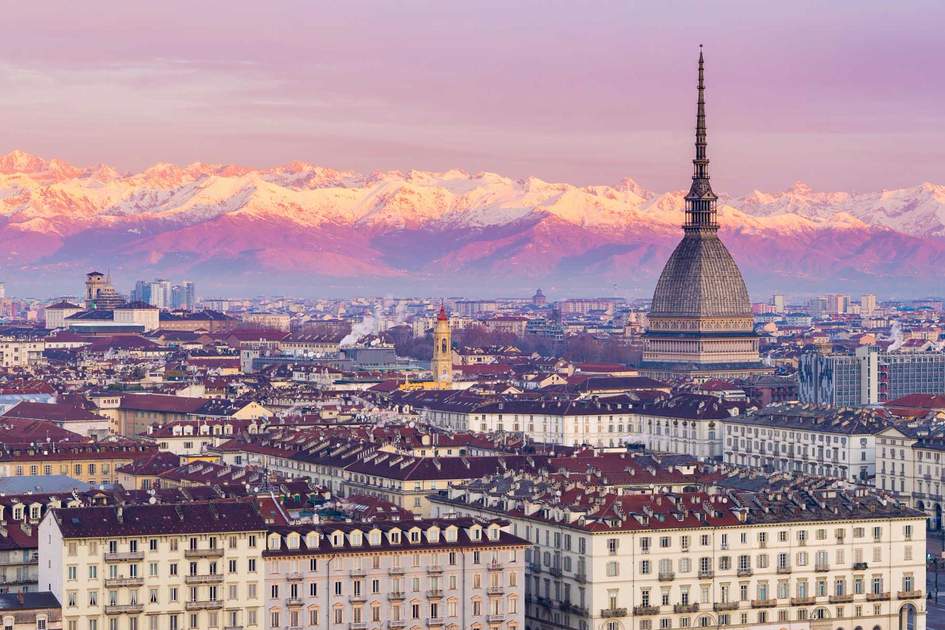 It is ideal for strolling through beautiful buildings, eating ice cream and tasting the famous Italian-style aperitif, which is close to but different from the Spanish custom of tapas. Vermouth is a Turinese invention and, for those with a sweet tooth, chocolate is an additional reason to visit the city.
Beyond its admirable historical component, this city has been the cradle of some of the most international Italian companies, such as Fiat, Lacia, Martini & Rossi, Kappa and the current Telecom.
Top 5 reasons to visit Turin
Chocolate and other flavors
Turin is the birthplace of delicious Italian chocolate and, according to the locals, the Swiss were inspired by it to make their own. In March the CioccolaTò is held, a spectacular fair where you can taste, for example, a chocolate beer. Other essential flavours associated with this town are vermouth and the popular Italian-style aperitifs.
Automobile Museum
Turin is famous for being the birthplace of Fiat, so the car is an important part of its history. You can learn more about it at the Automobile Museum.
Authentic Italian ice cream
The GROM ice cream parlour is one of the best in Turin. Created in 2003, it has branches in Milan, Rome, Venice, New York, Tokyo and Paris. Whether in this or another Turinese establishment, you cannot leave without tasting their ice creams.
The Egyptian Museum
The Egyptian Museum in Turin is known for having the most important collection of Egyptian exhibits outside Cairo.
Unforgettable walks
Walking from Via Roma to Piazza San Carlo allows you to enjoy the most elegant architecture of the city, in an illustrious and relaxing atmosphere.
What to do in Turin
Visit the Royal Palace of Turin
The imposing Royal Palace of Turin was built in the 16th century as one of the seats of the House of Savoy and later of the kings of Sardinia. This palace is located next to the Chapel of the Holy Shroud, which was built to house the Shroud of Turin, and includes the Palazzo Chiablese, a former royal residence that now houses a museum of Piedmont's history. UNESCO considers it a World Heritage Site.
Take a tour of history at Palazzo Madama
The current Madama Palace was built in the 15th century, although some parts of the building date back to Roman times. It housed the first Senate of the Kingdom of Italy and now houses the Museum of Ancient Art of Turin. If you enter you will travel through history, with four floors that allow you to explore from the Middle Ages in the basement to the 19th century works of art on the second floor. There is also a section dedicated to Piedmont and local crafts, which reflect the beauty of this area.
Admire the Mole Antonelliana
Completed in 1888, the Mole Antonelliana was first a synagogue and now houses the National Film Museum. It is the tallest masonry building in Europe, so if you use the panoramic lift, you can enjoy splendid views of the city. It is now the symbol of Turin.
Go to Serie A football
Turin's Olympic Stadium is one of the world's legendary football venues, where one of the city's teams plays: Torino. However, it is Juventus, who play their matches in the modern Allianz Stadium, which has always had some of the best players in the history of football, making it one of the top teams in the world.
Explore the home of the Shroud of Turin
The Cathedral of Turin, completed in 1498, is the seat of the Archbishopric of Turin. Dedicated to St. John the Baptist, it is known as the resting place of the Shroud of Turin, which is preserved in an adjacent chapel built in 1668 by the famous architect Guarino Guarini. It is also the burial place of many members of the Savoy royal family. Although the Shroud of Turin is only sporadically displayed, this religious site is dominated by its enveloping and mystical atmosphere.
When to visit Turin
Turin has a humid subtropical/continental climate, hot summers and cold dry winters. Most visitors choose to visit it in July and August, when temperatures range from 19 to 31 ºC, minimum and maximum, respectively.
How to get to Turin
By plane
Turin's airport (TRN) is located about 16 kilometers northwest of the city. It has good connections with all Europe and many Italian cities. The bus will take you to Porta Nuova train station and costs 6,50 EUR. The taxi ride is 35 EUR.
By train
Turin has three train stations that manage local, regional and international journeys. FR and Italo are the main operators and, although it is possible to travel from Rome to Turin in economy mode for 60 EUR, it is usual to find tickets from 86 EUR.
By car
Turin is well connected to Milan and Venice by the A4, to Genoa by the A21 and to France by the A32.
By bus
Many operators offer bus services to Turin from different Italian and European cities. A typical fare from Rome costs 25 EUR and operators such as Eurolines and FlixBus offer trips from Barcelona for 65 EUR.
Airports near Turin
NRT Turin-Caselle
GOA Genoa
Where to stay in Turin
A recommended place to stay in Turin is the Ostello Torino, located in Corso Eusebio Giambone, south of the centre, in the former Winter Olympics athlete's village. It has good public transport connections and offers excellent comfort. The Grand Hotel Sitea, in Via Carlo Alberto, offers luxury rooms near Piazza San Carlo. Prices for a double room in this city range from EUR 33 at Hotel Miramonti to EUR 126.70 at NH Collection Torino Piazza Carlina
Interesting neighborhoods in Turin
Il Quadrilatero Romano, located northwest of Piazza Castello, is one of the oldest areas in Turin. It is full of cafes and restaurants, such as Linopassamilvino Fast, Bunet, Caffè Mulassano, Arcadia and YUM buono da mangiare.
San Salvario has gone from being a marginal area to the main focus of the Turinese movement. Located near Porta Nuova station, it offers wonderful restaurants such as Scannabue and good accommodation, including the Best Western Hotel Executive Plus. Very close by, although already in the La Crocetta district, is the delicious Uva pastry shop, a must see not only for those with a sweet tooth.
Centro Città was the centre of the former Kingdom of Savoy and now has excellent shops, cafés and accommodation. Here you will find the main palaces: Real, Madama and Carignano, the Egyptian Museum and the cathedral. Among its historical cafes are Caffè Mulassano, Caffè Torino, Caffè Baratti & Milano, Caffè Fiorio, Gelateria Pepino and Ristorante Del Cambio.
How to get around Turin
Public Transport
The city's bus and tram network is modern and efficient. You can buy your tickets at the kiosks, before getting into the vehicles, at an affordable price: 1.50 EUR.
Taxi
Taxis are plentiful, but keep in mind that the custom is to call them, not to stop them in the street. The flag descent costs 4 EUR and, subsequently, their fares are 2.50 EUR every 1.6 kilometres.
Car
Driving in Turin, as elsewhere in Italy, is often frenetic. That's why you should think twice before doing it. You can rent a car from companies such as Sunnycars, Hertz and Europcar, starting at 40 EUR per day.
Cost of living in Turin
Shopping
Via Roma is ideal for buying luxury fashion and also offers chain stores. Via Po is a more alternative space, full of music shops and independent fashion stores.
Groceries and others
It is not at all difficult to find food in Turin, both in its many supermarkets and in local shops. The most popular chains include Carrefour Express, Lombardini Discount and Ipercoop. A half-litre bottle of domestic beer costs, on the market, EUR 1.24, and a 33-cl can of imported beer, EUR 1.66.
Where to eat in Turin
Fratelli Pummarò, in Via Principe Tommaso, serves some of the best pizzas in town from 5 EUR. If you are looking for a more sophisticated gastronomic experience, Ristorante Del Cambio in Piazza Carignano offers traditional Piedmontese dishes with menus from 100 EUR.