Best Sandals Resort in Jamaica: Unparalleled Luxury and Experiences
From the beautiful beaches of Negril to the breathtaking mountains of Ocho Rios, Jamaica has something for every traveler. As one of the premier destinations for an unforgettable vacation, Jamaica is also home to some of the world's best resorts, including the infamous Sandals resorts.
As a frequent traveler, I have experienced the luxury and top-notch customer service that Sandals is known for, from the breathtaking views of Montego Bay to the captivating sunsets of Ocho Rios.
With so much to offer, it can be difficult to decide which Sandals resort is the best for your trip to Jamaica.
To make your decision easier, I have put together a comprehensive review of the best Sandals resorts in Jamaica, taking into account factors such as location, amenities, dining options, accommodations, and customer service.
Read on to find out which Sandals resort is the perfect fit for your Caribbean getaway.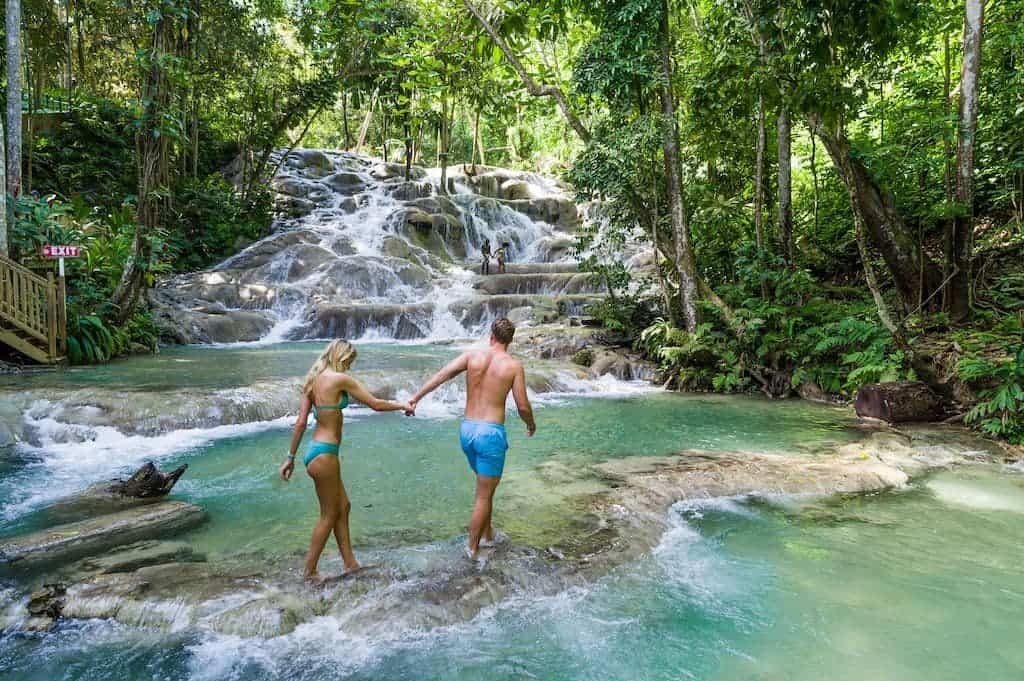 Quick Comparison of Sandals Resorts in Jamaica
Food at Sandals Resorts in Jamaica
Feature
Resort Name
Reason For Being The Best
Best Sandals Resort for Fine Dining
Sandals Royal Plantation
Smaller and more intimate resort
Offers a higher level of service and attention to detail
Features several gourmet restaurants, including Le Papillon (French cuisine) and The Terrace (Jamaican cuisine)
Le Papillon offers an exquisite dining experience with an extensive wine list and classic French cuisine
The Terrace serves Jamaican dishes made with locally sourced ingredients, with a romantic ambiance
24-hour room service available for gourmet meals in the comfort of your own room.
Best Sandals Resort for Casual Dining
Sandals Montego Bay
Sandals Montego Bay provides an experience of carefree luxury. Kick back and relax while you enjoy the variety of casual dining options, ranging from a beachside grill to authentic Jamaican jerk shack
Best Sandals Resort for International Cuisine
Sandals Royal Plantation
Le Papillon takes you on a culinary adventure all the way to France, Terrace tantalizes your taste buds with Caribbean flavors, and Cucina Romana brings Italy's best cuisine straight to your plate. Satisfy any craving at these three delicious destinations.
Best Sandals Resort for Local Cuisine
Sandals South Coast
Six unique restaurants with local Jamaican dishes, including jerk chicken, curried goat, ackee and saltfish, and oxtail.
Eleanor's is one of the signature restaurants that specializes in Caribbean cuisine, featuring seafood, spices, and tropical fruits.
Activities & Entertainment at Sandals Resorts in Jamaica
Feature
Resort Name
Reason For Being The Best
Best Sandals Resort for Water Sports
Sandals Negril Beach Resort & Spa
Location: Seven Mile Beach, Jamaica
Activities:Kayaking
Windsurfing
Paddleboarding
Snorkeling
Best Sandals Resort for Scuba Diving
Sandals South Coast
Location: Prime location on the southern coast of Jamaica
Scuba Diving: Access to some of the island's best scuba diving sites
PADI-Certified Dive Center: On-site
Scuba Diving Courses: Available for beginners and experienced divers
Diving Instructors: Knowledgeable and experienced
Personalized Attention: Offered to ensure a safe and enjoyable experience.
Best Sandals Resort for Golf
Sandals Ochi Beach Resort
Resort features an 18-hole championship golf course, Sandals Golf & Country Club
Located a short shuttle ride away from the resort
Golf course set in the rolling hills of Jamaica's countryside
Offers spectacular views of the Caribbean Sea
Challenging course designed for players of all skill levels
Multiple tee boxes to accommodate different abilities.
Best Sandals Resort for Land Sports
Sandals Ochi Beach Resort
Land sports activities: Basketball, Beach volleyball, Tennis, Pool volleyball , Shuffleboard, Lawn chess, Bocce ball, Billiards
Fitness and wellness: Multiple fitness classes, State-of-the-art fitness center, 18-hole golf course nearby
Best Sandals Resort for Nightlife and Entertainment
Sandals Montego Bay
Bars:Swim-up bar, Piano bar, Beach bar
Nightclub:Open until early morning
Regular theme nights and parties
Spa & Wellness at Sandals Resorts in Jamaica
Feature
Resort Name
Reason For Being The Best
Best Sandals Resort for Spa Services
Sandals Royal Caribbean Resort & Private Island
Sandals Royal Caribbean has one of the best spas among Sandals resorts.
The Red Lane Spa at Sandals Royal Caribbean offers luxurious treatments and services.
Services include massages, facials, body treatments, and more.
The spa features private treatment rooms, a steam room, and a sauna.
The relaxation area offers stunning views of the Caribbean Sea.
Best Sandals Resort for Fitness Facilities and Classes
Sandals Royal Caribbean Resort & Private Island
State-of-the-art fitness center
Range of cardio and weight training equipment
Yoga and Pilates classes available.
Best Sandals Resort for Wellness Programs and Activities
Sandals South Coast
50-acre nature reserve with beachfront
Wellness Activities: Yoga, Pilates, Meditation, Fitness classes
Best Sandals Resort for Couples, Groups & Families
Feature
Resort Name
Reason For Being The Best
Best Sandals Resort for Couples
Sandals Royal Caribbean
Location: Private island near Montego Bay
Architecture: British colonial-style
Accommodations: Overwater bungalows
Private offshore island
Multiple pools and hot tubs
Spa
Restaurants: Several options including a Thai restaurant on the private island.
Best Sandals Resort for Families
Beaches Negril Resort & Spa
Location: Negril's Seven Mile Beach
Activities for kids of all ages
Waterpark
Kids' club
Teen lounge
Variety of water sports
Other activities for families to enjoy together
Best Sandals Resort for Groups
Sandals Montego Bay
Location: Montego Bay
Accommodations: luxurious
Activities: array of options
Ideal for: groups
Activities: beach, water sports, and spa treatments
Restaurants: 12
Bars: 6
Private offshore island available for group events.
Best Sandals Resort for Weddings and Honeymoons
Sandals Royal Caribbean
Private island experiences
Over-the-water bungalows
Private offshore island with a Thai restaurant
Variety of wedding packages available
Customizable wedding package options
Best Sandals Resort For The Money
Feature
Resort Name
Reason For Being The Best
Best Sandals Resort for Luxury
Sandals Royal Caribbean Resort & Private Island
Private Island
Overwater Bungalows
All-Inclusive Luxury
Personalized Butler Service
Access to Other Sandals Resorts
Best Sandals Resort for Affordability
Sandals Ochi Beach Resort
Relax in a lush and tropical setting
Enjoy world-class amenities, including several pools and restaurants
Stay in a comfortable and affordable room
Get great value for your money
Best Sandals Resort for Value for Money
Sandals Montego Bay
Relax on a private white sand beach
Enjoy a variety of activities, including water sports and live entertainment
Have all your meals and drinks included in the price of your stay
Get great value for your money
Overview of Sandals Resorts in Jamaica
Jamaica is one of the most sought-after destinations for travelers looking to escape the everyday grind. With its lush tropical jungles, pristine white-sand beaches, and vibrant culture, Jamaica is an ideal destination for a romantic getaway or a family vacation.
As the leading all-inclusive adults-only resort chain in Jamaica, Sandals offers travelers the opportunity to experience luxury and five-star service in some of the most beautiful and exotic locations in the Caribbean.
From the vibrant nightlife of Montego Bay to the majestic mountains of Ocho Rios, each of Sandals' resorts offer something unique and unforgettable.
I recently had the pleasure of visiting one of the Sandals resorts in Jamaica, and it was an experience I will never forget.
The resort at Montego Bay offered a serene atmosphere with breathtaking views of the Caribbean Sea. From the moment I arrived, I was taken aback by the level of service and amenities that were offered.
The staff was incredibly friendly and attentive, and the accommodations were luxurious and comfortable.
The resort had twelve restaurants offering delicious local cuisine, and the beach bar was the perfect spot to relax with a cold drink.
With its five-star service and exceptional amenities, this Sandals resort was the perfect place to relax and create memories that will last a lifetime.
Cheap Flights to Jamaica
Ready to experience the best Sandals resorts in Jamaica? Don't forget to book your flights through Kayak for unbeatable deals and seamless travel planning. Click here to find your perfect flight and embark on your dream vacation to paradise!
History of Sandals Resorts in Jamaica
Founded in 1981, Sandals Resorts revolutionized the Caribbean vacation experience with Gordon "Butch" Stewart's vision of luxury all-inclusive resorts.
What started as one Montego Bay property has grown to become a well-known name across Jamaica and beyond, offering visitors exclusive experiences such as overwater bungalows at Sandals Royal Caribbean Resort or Sandals Grande Ocho Rios Beach & Villa for an unforgettable island staycation.
Sandals has built an impressive network of 15 luxurious, all-inclusive resorts across Jamaica—from the vibrant coastline in Montego Bay to Negril's laidback beachside vibes and Ocho Rios' lush greenery.
Providing a truly indulgent experience, guests at any of their hotels can savor gourmet courses crafted by world-renowned chefs before being lavished with topnotch service that puts them first.
With multiple awards highlighting its legendary amenities and unparalleled hospitality, there's no doubt why choosing from among these exclusive Jamaican retreats is something special.
Quick Overview of all the Jamaican Sandals Resorts
Quick Overview of Sandals Montego Bay
Make your romantic getaway a memorable one at this vibrant resort!
Boasting an idyllic location close to the airport, it offers couples everything they could want for their stay.
Dive into the crystal clear waters of its private beach or explore nearby nightlife and water activities -this destination has something special in store whatever you're looking for.
From stylish restaurants and bars to countless entertainment options, there's no end to ways you can enjoy yourselves here.
Click here to get the best prices.
Quick Overview of Sandals Royal Caribbean
Escape to the romantic, serene shores of Montego Bay and immerse yourself in an atmosphere reminiscent of a British colonial era. Enjoy stays at luxurious over-the-water villas or explore your own private island!
At this resort's exclusive Thai restaurant, you can experience culinary delights while spending quality time with that special someone. (Personally, I didn't like the food at the Thai restaurant).
Quick Overview of Sandals Negril
From the glittering waters of Seven Mile Beach to picturesque sunsets, this tropical paradise is perfect for couples seeking an unforgettable escape.
Relax poolside with a cool drink from the swim-up bar or enjoy delightful beachside dining – whatever you choose, it's sure to be an experience that will stay with you forever.
Click here to get the best prices.
Quick Overview of Sandals Ochi
Ocho Rios welcomes visitors with its luxury resort, packed to the brim with unparalleled amenities. Couples can expect a private beach and multiple pools in addition to a multitude of dining options that offer something for every palate.
With so much variety at your fingertips, this getaway is certain to make lasting memories.
Click here to get the best prices.
Quick Overview of Sandals South Coast
Nestled on the idyllic south coast of Jamaica, this resort offers couples an exclusive and tranquil escape.
Enjoy sun-soaked days spent lounging at its private beach or in one of its over-the-water bungalows – all accompanied by delicious dining options, refreshing cocktails and peace like no other.
Click here to get the best prices.
Quick Overview of Sandals Royal Plantation Ocho Rios
Escape into luxury at this all-butler, all-suite resort in Ocho Rios. With private balconies and spectacular ocean views, it's the perfect place to relax. Enjoy gourmet meals from three onsite restaurants or take advantage of 24 hour room service.
Plus with a stunning private beach nearby as well as access to golf courses and attractions – you'll have plenty of ways to treat yourself.
Click here to get the best prices.
Top Features of Sandals Resorts in Jamaica
Overwater Bungalows at Sandals Resorts
Unique and indulgent, Sandals Resorts' overwater bungalows in Jamaica provide the unforgettable experience of a lifetime!
Imagine spending your days lounging on your own private deck overlooking crystal-clear Caribbean waters with direct access to the ocean.
From perfect sunsets to close encounters with exotic marine life – all without leaving; luxury living at its best.
Private Beaches at Sandals Resorts
Spend your Caribbean getaway soaking up the sun and snorkeling in crystal clear waters – all without ever leaving a private beach.
Experience Jamaica's immaculate white sand beaches, some with additional protection from offshore reefs for extra tranquility.
With exclusive access at every Sandals Resort, you can savor this paradise hassle-free.
Unlimited Scuba Diving at Sandals Resorts
Sandals Resorts in Jamaica provides certified divers with an incredible opportunity to uncover the hidden gems of the Caribbean Sea.
From mysterious shipwrecks and colorful reefs to exotic marine life, their unlimited scuba diving package unleashes a world of boundless adventure.
Red Lane Spa at Sandals Resorts
Refresh and recharge in the luxurious serenity of Red Lane Spa.
Found within Sandals Resorts, Jamaica's premier spa offers a wide selection of treatments – from massages to facials, body wraps & more.
Ease your tension with this one-of-a kind getaway that promises an unforgettable escape from life's everyday stresses.
Gourmet Dining at Sandals Resorts
Escape to a world of culinary artistry in sunny Jamaica and explore the exquisite gourmet dishes Sandals has crafted.
From traditional island flavors, delectable Italian favorites, or far-reaching Asian delights – there's something for everyone.
Whether you're looking to indulge under a starry night sky on the beachfront terrace or relax with friends at an ocean view cafe; dining here is always guaranteed to be a pleasure.
Butler Service at Sandals Resorts
Make your Caribbean getaway extra special with the services of a personal butler at select room categories in Sandals Resorts Jamaica.
Your wishes will be catered for during your stay – from careful unpacking to dinner reservations and unforgettable excursions, every detail is attended to so you can simply relax and enjoy paradise.
All Inclusive Experience at Sandals Resorts
At Sandals Resorts in Jamaica, let your worries drift away as you bask in all-inclusive luxury.
Enjoy access to an unlimited selection of delicious food and drinks while taking part in activities like water sports, tennis or golf – with absolutely no add-on costs.
Detailed Information About Each Sandals Resort
Personal Review: My Incredible Getaway at Sandals Montego Bay
My husband and I had the pleasure of staying at Sandals Montego Bay and we were not disappointed. Located close to the airport, the resort has a vibrant atmosphere that is perfect for couples looking to explore nightlife and water activities.
The resort's private beach and multiple restaurants and bars offer plenty of entertainment options to keep us occupied and the staff was incredibly helpful and attentive.
We had the time of our lives and highly recommend it as a great choice for anyone looking for a memorable vacation in Jamaica.
Room Types and Features at Sandals Montego Bay
My husband and I have experienced first-hand the luxurious accommodations at Sandals Montego Bay.
From the Bay View Grande Luxe, with its stunning views of the resort's gardens and the ocean, to the Beachfront Grande Luxe, with its king-size bed and private balcony or patio, the rooms offer something for everyone.
For those looking for a romantic getaway, the Beachfront Honeymoon Club Level Room is a great option, with access to the Club Sandals Lounge.
For an extra special experience, the Oceanfront Swim-up Crystal Lagoon Suite provides direct access to the resort's crystal lagoon pool from the patio.
The Oceanfront One-Bedroom Butler Suite offers a separate living room and bedroom, a king-size bed, and a balcony or patio with a view of the ocean.
Resort Amenities at Sandals Montego Bay
From the luxurious rooms and suites with king-size beds and private balconies, to the 12 dining options offering everything from Italian to Asian to Caribbean cuisine, there is something for everyone.
The all-inclusive package includes unlimited premium drinks, with several bars and lounges located throughout the resort.
There are also three freshwater swimming pools, including the Caribbean's largest zero-entry pool, and a stunning stretch of private white-sand beach with crystal-clear water.
Guests can enjoy a range of non-motorized watersports such as kayaking, paddleboarding, and snorkeling, and scuba diving is available for certified divers.
The resort also features a well-equipped fitness center and a full-service spa offering a range of treatments such as massages, facials, and body wraps.
For entertainment, the resort provides nightly live entertainment, themed parties, and beach bonfires.
Plus, guests can enjoy complimentary green fees at the nearby Sandals Golf & Country Club, and take advantage of a variety of tours and excursions, including catamaran cruises, Dunn's River Falls, and zip-lining.
The resort's personal concierge service was incredibly helpful in making sure our stay was everything we wanted it to be.
We highly recommend Sandals Montego Bay for anyone looking for a truly unforgettable Caribbean getaway.
Dining Options at Sandals Montego Bay
Visiting Sandals Montego Bay, we were overwhelmed with the selection of restaurants and bars the resort had to offer.
From the elegant Bayside Restaurant, which serves international cuisine with a Caribbean flair, to the Mariner Seaside Grill, which offers grilled specialties like burgers and jerk chicken, there's something for everyone.
We also enjoyed the delicious Italian dishes at Cucina Romana, the sushi from Tokyo Jo's and the Soy Sushi Bar, and the coffee, pastries, and sandwiches from Cafe de Paris.
Butch's Steak and Seafood provided us with prime cuts of steak and seafood, while The Jerk Shack satisfied our cravings for authentic Jamaican jerk dishes.
We also enjoyed the fresh seafood dishes from Stew Fish, and the romantic dining experience with a stunning ocean view at Sky Terrace.
It was an amazing experience!
Water Activities at Sandals Montego Bay
Snorkelling: As I glided through the clear Caribbean waters, an array of vibrant tropical fish danced around me. With a guided snorkeling tour from Sandals Montego Bay, I was able to explore Jamaica's stunning underwater world and catch glimpses of dazzling coral reef formations filled with exotic sea life – something that will stay in my memory forever!
Scuba Diving: I recently had the chance to go on a scuba diving excursion off Jamaica's breathtaking shores and it was an unforgettable experience! If you're already certified, Sandals Montego Bay is your gateway for exploring depths of sea that are truly awe-inspiring. Even if this will be your first time under water, they have PADI certification courses which can help equip you with all the knowledge and tools needed for a successful dive.
Kayaking: Kayaking in Jamaica is a unique way to experience the beauty of its coastline. We rented our own kayaks from Sandals Montego Bay and set off on an unforgettable adventure. Gliding through crystal-clear waters gave me one of those rare moments to leave everything behind – all while taking in stunning views around every bend!
Paddleboarding: Enjoying a paddleboard adventure around Sandals Montego Bay was an absolute pleasure. From gliding along the tranquil waters to admiring the breathtaking scenery, it truly felt like paradise. Renting my own paddleboard made me feel free and independent – I would highly recommend anyone looking for a wonderful experience in Jamaica to give this activity at shot.
Sailing: I explored the Caribbean in a way that was far more relaxed than anything else–sailing around Sandals Montego Bay! It's such an incredible feeling to drift along on board a catamaran, soaking up all of the sun and breathtaking views. With guided excursions from experts at Sandals there is no need for us sailors-in-training to worry about getting lost amongst these waters.
Water Skiing: I'm always looking for a rush and there's nothing like the thrill of water skiing. Sandals Montego Bay has professional instructors who can show you how to hit those waves in style. Whether you've never tried it before or want to perfect your skills, this is definitely an experience worth checking out if adrenaline-filled fun on the open waters gives you thrills.
Tubing: As I nestled into the tube and grabbed hold of its handle, I felt an unexpected thrill ripple through me – was this really happening? The boat surged forward as it began to tow us behind it. Suddenly we were bouncing over waves in a thrilling mix of exhilaration and joy. Tubing is definitely one way everyone should experience summer fun on the water.
Land Activities at Sandals Montego Bay
Tennis: If you're a tennis enthusiast, Sandals Montego Bay is the perfect spot to dust off your racket. With six courts at your disposal and all the essential equipment provided for free, it's easy to stay active while on vacation. Plus they offer both group lessons or private training sessions – so no matter what kind of game level you are at there will be something fun waiting.
Golf: I had the amazing opportunity to golf at two championship courses – White Witch Golf Course and Cinnamon Hill Golf Course. Both of them were exquisite, with challenging curves that tested my skills as a golfer. Whether you're an experienced player or just starting out on your golfing journey, these courses will certainly give you an unforgettable experience.
Volleyball: I had the time of my life playing beach volleyball at Sandals Montego Bay! With a court right on their beautiful Caribbean shoreline, it was an incredible experience. The combination of perfect weather and amazing people made for an unforgettable day in the sand with friends old and new.
Billiards: I had a blast getting competitive with other couples over pool at the billiards table in Sandals Montego Bay. Challenging each other to bank shots was thrilling, and by the end of our game night we all got pretty decent!
Shuffleboard: I'm a huge fan of shuffleboard, and when I heard that Sandals Montego Bay had its own court – you can imagine my excitement. There's nothing quite like sitting back with an iced tea in hand to appreciate the tranquility while playing some rounds of this classic game. Plus, there are tournaments available for those who really want to prove themselves as masters of the board.
Bocce Ball: I'm always down for a game of bocce ball! This resort has the perfect court where I can play and find out who's king or queen of the alley.
Yoga and Pilates: Power up and stretch out your vacation with amazing yoga or Pilates classes offered at the resort – work on strengthening all those muscles while taking in stunning views of paradise. Start off your day centered and peaceful, breathing deeply as you practice mindful poses. For me personally, there's nothing like a good class to make sure I'm enjoying my time away from home to the fullest.
Board Games: I had a blast competing against my husband with one of the many available board games. It was such an enjoyable way to spend quality time together and experience something unique that everyday life doesn't offer.
Fitness Center: From weight lifting to treadmills, the resort's fitness center offers all of the latest equipment for guests who want to break a sweat.
Table Tennis: Table Tennis? Count me in! Playing some ping pong at Sandals Montego was lots of fun.
Croquet: I was delighted to discover the resort's lush green croquet lawn – perfect for a game or two!
Darts: I had the time of my life playing darts at Sandals Montego Bay! The dartboard was perfect for some friendly competition.
Lawn Chess: Although I don't play chess myself, it was so cool to watch people play lawn chess all while enjoying stunning views.
Water Aerobics: I'm sure you've heard the saying "Life's more fun in the water!" That's why I couldn't be happier to try out this great workout experience – their classes offer an amazing way to get fit while having so much fun splashing around in the pool. Water aerobics is definitely something special.
Horseshoes: Enjoy a game of horseshoes at Sandals Montego Bay. Whether you're an experienced player or just looking for some outdoor fun, it's the perfect way to spend time with friends and family.
Nightlife and Entertainment at Sandals Montego Bay
Nightly Entertainment: As the sun sets, a whole new kind of fun begins! Kick back and relax as you experience live music that stirs your soul while unique DJs spin up unforgettable beats. Or take it one step further with beach parties until sunrise – where dancing is encouraged but not required.
Theme Nights:  Experience the vibrant culture of Jamaica during one of Sandal's Montego Bay theme nights! Enjoy traditional music, tantalizing Caribbean cuisine and a festive atmosphere at events like Reggae Night or Jamaica Day. It's an unforgettable way to explore all that this tropical paradise has to offer.
Piano Bar: After a long day exploring the resort and its attractions, nothing beats winding down at our piano bar. Enjoying drinks while listening to live music in an intimate atmosphere helps me relax into my vacation vibes and savor every moment.
Sports Bar: At the resort's sports bar, I loved tuning in to all of my favorite sporting events while chatting with other guests and noshing on some delicious eats. It has a great lively atmosphere that really gets you ready for game time.
Beach Parties: Experiencing the resort's beach parties is a unique opportunity to mix live music, dancing and bonfire fun together in one place. The energy of these vibrant celebrations truly brings out the best vibes on vacation.
Off-Site Excursions: Exploring Jamaica with Sandals Montego Bay had my senses alive. From the amazing sunset cruises to dancing at local nightclubs and taking tours of must-see attractions, there was always something new around every corner.
Here is a complete list of excursions from Sandals Montego Bay:
ATV & Mini-Boat Adventure Sandy Bay
ATV Adventure in Montego Bay
ATV, Zipline & Bamboo River Rafting Experience
Bamboo River Rafting and Horseback Riding
Bamboo River Rafting and Zipline Experience
Bamboo River Rafting on the Martha Brae River
Bicycle Adventure in the Blue Mountain
Blue Mountain Biking, Hiking and Waterfall Tour from Montego Bay
Blue Mountain Highlights & Waterfall Experience from Montego Bay
Blue Mountain Hiking and Waterfall Tour from Montego Bay
Bob Marley Culture and Dunn's River Falls Experience
Bob Marley Reggae and Culture Tour
Cinnamon Hill Golf Course Experience (18 Holes)
Cinnamon Hill Golf Course Experience (9 Holes)
Dolphin Encounter & Dunns River Falls Experience
Dolphin Encounter-Ocho Rios
Dolphin Highlight and Dunn's River Falls Tour
Dolphin Highlight and Stingray Experience Lucea
Dolphin Highlight and Stingray Experience Ocho Rios
Dolphin Royal Swim and Beach Break Ocho Rios
Dolphin Royal Swim and Dunn's River Falls Experience
Dolphin Royal Swim Lucea
Dolphin Swim & Dunns River Falls Experience
Dolphin Swim-Ocho Rios
Dunn's River Catamaran Cruise for the Family
Dunn's Zip, ATV & Horseback Experience Ocho Rios from Montego Bay
Dunns River Falls Experience
Flavors of South Coast and Cultural Tour
Good Hope Estate Pass & Adventure Falls
Good Hope Ultimate Explorer
Good Hope Zipline and River Tubing Experience
Horseback Beach Ride Sandy Bay
Jamaica Swamp Safari Village Tour
Luminous Lagoon Experience
Main Street Jamaica Shopping Experience
Mini-Routes 'Drive Your Own' Adventure to Negril
Mini-Routes 'Drive Your Own' Adventure to Ocho Rios
Montego Bay Half Day Powerboat Adventure
Montego Bay Powerboat Sunset Experience
North Coast Ultimate Adventure
Platinum Blue Mountain Bicycle Experience from Montego Bay
Reggae Catamaran and Snorkeling Cruise Montego Bay
Reggae Catamaran Cruise And Snorkeling For The Family
River, Rum & Zipline Adventure Montego Bay
Rose Hall Great House Day Experience
Rose Hall Great House Night Experience
Secret River & Dolphin Encounter Ocho Rios
Shark Encounter Ocho Rios
Treetop Zipline and River Tubing Experience Montego Bay
Wonders of Negril Beach Break
YS Falls and Appleton Estate Rum Tour
Zipline & ATV Adventure Sandy Bay
Zipline and Horseback Beach Ride Sandy Bay
Zipline, Horseback Beach Ride & ATV Adventure Sandy Bay
Zipline, River Tubing at Great River and Horseback Beach Ride
Spa Services at Sandals Montego Bay
When I recently visited Sandals Montego Bay, the spa services were absolutely sublime!
From therapeutic massages – including Swedish and deep tissue treatments – to body wraps and scrubs, there are so many different ways you can relax.
For those looking for facial care options like anti-aging or hydrating facials; they have that too!
Oh yes…let's not forget about all of their nail salon needs either!
Manicures & Pedicure experts will ensure your hands and feet look as good as ever before leaving.
What made my experience even more special was being able to get a massage with my husband in one of their private rooms where we could both enjoy relaxation together while getting pampered at the same time.
Fitness Facilities and Classes at Sandals Montego Bay
I had the opportunity to jumpstart my workout routine on a recent stay at Sandals Montego Bay.
With its 24-hour, state-of-the art fitness center and diverse selection of classes led by certified instructors, it was easy for me to keep up with all my favorite activities – from energizing aerobics sessions or beachside aqua fit exercises -all triggered some much needed relaxation time after invigorating yoga poses and pilates moves.
To top it off there's even Zumba dancing as well as guided meditation close in case you're feeling extra zen!
Here is a list of all the instructor led fitness classes:
Aerobics
AquaFit
Yoga
Pilates
Zumba
Meditation
Wellness Programs and Activities at Sandals Montego Bay
During my vacation, I was welcomed with an array of wellness activities to choose from.
From yoga and meditation classes, to fitness sessions and spa treatments – this resort has it all!
Plus the healthy dining options meant that my meals were guilt-free indulgences.
To keep active during our stay we took full advantage of the impressive facilities like their well equipped gymnasium complete with group aerobics class, Zumba lessons and Pilates too – definitely something for everyone.
We also had a blast on the water sports equipment as well as those lush green tennis courts in such stunning surroundings.
Guest Satisfaction and Reviews of Sandals Montego Bay
Before I took my trip to Sandals Montego Bay, I did a bit of research. Thankfully, it was worth the effort!
What struck me is that while there were certainly lots of positives to enjoy, there's always another side which showed up in some potential cons as well.
After combing through various reviews and feedback from past visitors, here's what I discovered about the pros and cons of the Sandals Montego Bay:
TripAdvisor loves Sandals Montego Bay – and it's not hard to see why. This gem of a resort boasts stunning ocean views, delicious eateries, chic bars, plush accommodation options and so much more.
Boasting an impressive 4.5 rating from over 8 thousand satisfied guests – there's no doubt that this island haven is the perfect escape for those looking for some well-deserved luxury relaxation.
However, there are some cons too. Here are the most common complaints:
Room quality: Guests have expressed disappointment with the condition of their rooms, citing issues such as aged furniture and broken appliances. Cleanliness has also been called into question in some instances. 

Noise levels: Noise levels can be an issue at the Sandals Montego Bay, situated as they are so close to the airport. Although it's great for convenient access in and out of town, unfortunately this means you might hear a few planes passing overhead.

Crowded beaches and pools: Enjoying the sunshine on vacation is a top priority for many, but can become tricky during peak seasons when the resort experiences an influx of guests. Don't let crowds stop you from making memories – get out early to secure your favorite spot at the beach or pool.

Limited dining options: With many delightful dining options available, Sandals Montego Bay offers something to please every palette – however some guests have commented that finding a new flavor could be tricky and the quality of each meal may vary.

Staff service: Guests have been delighted with the resorts staff, commending them for their friendly and helpful service. Unfortunately though, some visitors experienced slow responses to requests or found communication lacking when dealing with employees; leaving much to be desired.
My Overall Experience at Sandals Montego Bay
I had an incredible time at Sandals Montego Bay!
From the luxurious accommodations to the vibrant nightlife, there is something for everyone. The resort's private beach, multiple restaurants and bars, and all-inclusive package made for an unforgettable experience.
I enjoyed a range of activities, from snorkeling and scuba diving to tennis, golf, volleyball, and more.
The resort also offers a variety of wellness activities, including yoga, meditation, and spa treatments.
I highly recommend Sandals Montego Bay for anyone looking for an unforgettable Caribbean getaway. For the best prices, check out Booking.com.
My Personal Review of Sandals Royal Caribbean Resort & Private Island
I felt like royalty when I visited the Sandals Royal Caribbean Resort & Private Island.
Nestled in the heart of Montego Bay, the resort is a true paradise, boasting a stunning British colonial theme and a host of luxurious amenities.
From the moment I arrived, I was awestruck by the breathtaking views of the Caribbean Sea and the lush greenery of the private island.
I had the pleasure of staying in one of the over-the-water villas, which was an absolute dream come true.
The resort also boasts an impressive selection of restaurants, from the traditional Caribbean fare to the exquisite Thai cuisine.
The experience of staying at this resort was truly magical, and I can't wait to return.
Room Types and Features at Sandals Royal Caribbean
Royal Beachfront Club Level Room: Enjoy a luxurious beachfront stay in our Club Level Room. Featuring the ultimate combination of relaxation and views, this room boasts a four-poster king size bed with luxe linens for optimal comfort, along with all your favorite amenities like flat screen TV's, minibars stocked to perfection, AND private balconies or patios overlooking the majestic ocean.
Crystal Lagoon Swim-up Club Level Suite: Enjoy complete relaxation and luxury in the stunning Crystal Lagoon Swim-up Club Level Suite. Unwind on your own private patio with direct access to the sparkling resort pool.
Indulge yourself with a plush king bed, cozy sitting area, and fully stocked minibar – perfect for an unforgettable getaway.
Over-the-Water Honeymoon Butler Bungalow: Escape the ordinary and indulge in an unforgettable over-water getaway. Imagine sunsets spent luxuriating on a private balcony, with your own butler to provide complete personal service. Dip into your outdoor shower or take a leisurely soak while admiring breathtaking views from every angle – only at the luxurious Over-the-Water Honeymoon Butler Bungalow.
Over-the-Water Honeymoon Butler Bungalow: I experienced a once-in-a lifetime honeymoon in an over water bungalow. It was truly magical!
Not only did we have our very own private balcony with the most breathtaking views, but there was also that awesome soaking tub and outdoor shower – perfect for late night stargazing sessions.
Oh, and let me not forget to mention…our personal butler who catered to our every whim while helping us make it extra special throughout our stay.
Kensington Cove Honeymoon Beachfront Walkout Club Level Room: Trip of a lifetime? Look no further than Kensington Cove's Honeymoon Beachfront Walkout Club Level Room.
Get the best of both worlds – direct beach access and membership to an exclusive Club Sandals lounge. Indulge in premium drinks, snacks, and romantic walks on the sand while enjoying views like none other.
Resort Amenities at Sandals Royal Caribbean
I had the pleasure of visiting this exclusive resort – and what a treat it was to escape to my own private island. The blue, crystal-clear waters led us right up to white sandy beaches that beckoned me closer.
There was plenty more fun in store when we made our way over towards the pool; with its swim-up bar there were endless opportunities for refreshment – not just physically but also as far as culinary experiences go.
As I strolled around the luxurious Sandals Royal Caribbean Resort grounds, one thing that really caught my eye were all of their amazing pools! From its main pool to a swim-up bar and even private suites with their very own oasis – it was truly incredible.
Exploring the culinary landscape of this fabulous resort was nothing short of a flavor-filled journey.
From Jamaican jerk to the French bistro, from succulent sushi rolls to classic British pub grub – there was something for everyone. I simply couldn't get enough!
I had my pick of six tantalizing bars on this property, making the choice between a swim-up bar and a beach one tough.
Then there was that piano lounge with ambient lighting; perfect for calming evenings in paradise.
And let's not forget about the charming British pub – just like at home without ever having to leave.
Bottom line, it truly felt impossible to make an incorrect decision when deciding where to grab drinks while vacationing here.
At this incredible resort, I had the opportunity to explore and enjoy some of the best watersports imaginable.
From adventure-filled kayaking trips to mesmerizing snorkeling expeditions in crystal clear water – there was something for everyone.
Plus, windsurfing and paddleboarding added an extra dose of adrenaline into our beach days.
I have spent many sunny days exploring the range of activities offered here. From friendly matches on the tennis court, to a game of beach volleyball with friends and family – there is no shortage fun.
If you are looking for something more relaxing, grab your favorite cue stick or settle down around the billiards table.
As a health-conscious guest, I was delighted to find that the resort offered an extensive fitness center with modern cardio and weight equipment.
Not only did it meet my needs for physical activity but there were also yoga and aerobics classes available – allowing me to maintain my workout routine even while away from home.
I experienced the tranquility of The Red Lane Spa, where they offer an impressive array of indulgent treatments – from a deeply relaxing massage to nourishing facials and soothing body wraps.
It was truly a peaceful oasis in which my tension could melt away.
Every night at Sandals Royal Caribbean is a party. Enjoy live music and performances while dancing the night away on one of their themed nights.
It's an incredible experience that will make your stay here unforgettable.
As a guest staying in the Over-the-Water Honeymoon Butler Bungalow, I was delighted to find my own personal butler on hand who made my stay even more enjoyable.
From helping me with unpacking and packing, making reservations for dinner or tours – they really took care of everything.
Exploring a new destination is always so much fun, but at the resort I stayed in they take that experience to another level.
Their concierge was an absolute lifesaver – helping me book all sorts of exciting activities and spa treatments. Not only did they sort out my reservations for dinner each night, but with their help it felt like every outing was tailor-made just for me.
Dining Options at Sandals Royal Caribbean
I was swept away by the most exquisite Thai dining experience at Royal Thai. From its tranquil outdoor setting to the incredibly flavorful dishes, my senses were tantalized with every bite.
At this restaurant, you'll find it impossible not to be enchanted by the bold flavors of traditional Thailand cuisine.
Great food and atmosphere combine to create an unforgettable experience at The Regency. I was delighted by the contemporary Caribbean cuisine with a French flair as soon as I walked into their elegant dining room.
From appetizers to desserts, each bite simply melted in my mouth for a truly remarkable culinary journey through the best of both worlds – France & The Caribbean Islands.
I also had the pleasure of dining at Le Jardinier, and it was nothing short of a culinary adventure.
Their garden-to-table concept is truly special – you can savor seasonally fresh ingredients in every dish prepared with care for an unforgettable French gastronomic experience.
I've had so much fun visiting The Cricketer's Pub. It felt like being transported to another place and time – the warm, laid-back atmosphere was ideal for catching up with old friends over a pint of ale.
Plus, their British pub fare is absolutely delicious – not one dish disappointed me. Highly recommend checking it out when you're at the Sandals Royal Caribbean Resort.
If you like pizza, you have to eat at Bella Napoli Pizzeria. Each pie is cooked in a traditional wood-fired oven and made to order, so you know it's gonna be delicious.
Visiting The Jerk Shack was like a breath of island air. I sampled their Jamaican-style jerk chicken, slow cooked over open fire pits and imbued with an unmistakable spice – incredible.
I was pleasantly surprised when I stumbled upon Royal Café – the outdoor vibes, light snacks, and delicious sandwiches made for a casual afternoon.
I had some fantastic beachside experiences at the Mariner Seaside Bar & Grill. Not only can you find refreshing, colorful cocktails, but also delicious grilled specialties – perfect for a casual evening out.
Trust me: it's an unforgettable experience crafting memories in paradise.
Water Activities at Sandals Royal Caribbean
I had the amazing experience of snorkeling off the private island with complimentary equipment provided by a friendly and knowledgeable guide.
The journey was unforgettable as we explored an array of colorful corals, fish, clams and other exotic sea creatures along this breathtaking reef.
I ventured into the deep blue waters on a scuba diving adventure during my stay at this amazing resort. With their certified divers and incredible dive sites, it was one of my most memorable experiences.
Taking a stand-up paddleboard out in the crystal clear waters of the resort was one of my favorite experiences.
Nothing beats getting to explore such breathtaking scenery while testing your balance skills at the same time.
I had the most incredible experience kayaking around the majestic lagoons and coves of the private island.
Surrounded by mangroves, there was something so peaceful yet exhilarating about gliding over these picture perfect waters.
I took a sailing lesson on the private island and felt like an old sea-dog by the end. The gentle rocking of the boat, light breeze against my face, and sound of lapping waves was truly peaceful.
After learning some tips from our instructor we had time to explore at our own pace – what better way is there to discover this hidden gem?
I had a blast trying out water skiing at the resort. The lessons and gear provided me with everything necessary to experience total thrill as I sped across the lake.
I was ready to give windsurfing a shot, so when I arrived at the resort and heard that they offered lessons and equipment for guests, my heart leapt. One lesson in this daring activity later—and now here's me zipping across the waves like an old pro.
There's nothing quite like the feeling of sailing in a catamaran around our private island. The gentle rocking motion, the warm breeze on my skin and crystal-clear waters that seem to stretch out forever set me up for an extraordinary experience I'll never forget.
I took a tour on a glass-bottom boat, and it felt like an adventure. Below the surface of the water was an amazing world full of exotic sea creatures swimming all around me.
Exploring the turquoise waters surrounding this private island by jet ski is an exhilarating adventure. Feel your adrenaline rush as you zoom across waves and enjoy spectacular views of nature's beauty.
Land Activities at Sandals Royal Caribbean
Tennis: From morning to night, the two tennis courts at Sandals Royal Caribbean offer guests a chance to get some great exercise while soaking up the sun and taking in gorgeous views. Here you can refine your skills or hone an already growing passion – all with friends by your side.
Beach Volleyball: I was lucky enough and got the opportunity to play some beach volleyball. The sun glistening off of the court made it feel like paradise as we spiked, bumped, set and served our way through each point.
Bocce Ball: As soon as I arrived at Sandals Royal Caribbean, one of the first things that caught my eye was their incredible bocce ball court. It seemed like a great way to relax and have some fun after a jam-packed day.
Shuffleboard: I've always wanted to try my luck at shuffleboard, so it was quite exciting when we arrived on the private island and discovered there were two courts for us to play. It's a great way of passing time with friends or family; plus who doesn't love taking part in friendly competitions?
Croquet: I absolutely love playing a game of croquet when visiting the resort. Nothing is more enjoyable – or competitive – than having friends join in on a round while soaking up some sun and fresh air.
Board Games: As a guest at the resort, I had tons of fun playing board games with other couples in their game room. From classic favorites to some new surprises, there's something for everyone – it was an awesome way to spend our free time.
Pools: With 6 sparkling pools, I was in aquatic heaven. Taking a dip provided the perfect opportunity to cool off while admiring our luxurious surroundings.
Fitness Center: Get your workout on at the amazing fitness center located in Sandals Royal Caribbean. Not only does it offer all of my favorites, like cardio and weight machines for a full-body routine but its cleanliness is top notch. It's an oasis that I look forward to visiting every day while staying here.
Yoga: I'm at a beachfront resort and looking to relax. What better way than by taking advantage of their yoga classes? With a gentle stretch and calming breath, I can take the time out for myself while enjoying my surroundings.
Billiards: I had so much fun playing billiards at the resort's game room. It was almost like a mini tournament with all of us trying to outplay each other, and it created hours of entertainment.
Golf: Although I'm not very good, playing golf on a tropical island paradise has long been one of my favorite pastimes. With complimentary greens fees at nearby courses, I can get out there for the perfect round. Nothing beats hitting the links in such gorgeous surroundings.
Outdoor Movies: I'm always up for a movie night, especially when it's on the beach. Nothing beats watching your favorite flick while being surrounded by sand and waves. The resort makes it even more special with their outdoor movie nights – now that's my kind of cinema experience.
Dance Lessons: Attempting the lively salsa and lovely merengue was a highlight of my vacation. Though I loved every minute, my husband preferred to watch from afar.
Cooking Classes: I took a cooking class and I'm now the top chef of Caribbean dishes in my realm. The instructor was so engaging as they walked us through all their recipes, teaching us new techniques along the way. From jerk chicken to island fruit pies, we learned it all – can't wait to get back into the kitchen and whip up masterpieces for everyone in my house.
Nightlife and Entertainment at Sandals Royal Caribbean
Beach Party: I had the time of my life at a beach party on Sandals Royal Caribbean Resort & Private Island. It was buzzing with fire dancers and great live music, plus there was plenty of yummy food to enjoy.
Live Shows: I was amazed by the incredible live shows at this resort. Everything from Broadway-style musicals to acrobatic feats and side-splitting comedies – it felt like a theater right in my backyard.
Nightclub: Late nights were made for the resort's dazzling nightclub. As I stepped onto the dance floor, my feet already moving to the groove of a current top-40 hit spun by an impressive DJ – with delicious drinks never too far away. The club kept me partying until sunrise and gave new meaning to having 'the time of your life'.
Theme Nights: I had an incredible time experiencing the vibrant and energetic theme nights at this resort. From Caribbean night with its tantalizing flavors to Jamaican night's upbeat tunes, every evening was a delight. There's nothing quite like dressing up in white for White Party Night – it felt as if we were living among the stars.
Casino: I had the chance to experience a unique kind of escapism at the resort's casino. Although I didn't partake in any gambling, it was exciting just being among all the action – slot machines ringing and people clinking glasses around blackjack tables.
Off-Site Excursions: I had an amazing experience exploring Jamaica's vibrant nightlife scene as part of the resort's off-site excursions. From reggae clubs playing some classic island tunes to beach bars that provided a great view, it was easy to find something for everyone.
Spa Services at Sandals Royal Caribbean
Experiencing the Sandals Royal Caribbean Resort & Private Island spa was an experience like no other.
My husband and I enjoyed a romantic Couples Massage in one of their private rooms, with dim lights, soft music playing, and aromatherapy candles to create the perfect atmosphere for relaxation.
We were both delighted by how soothing Swedish massage felt on our bodies as well.
After a couple of days, we indulged in Deep Tissue Massages which truly allowed us to feel lighter afterwards due to being able release all that chronic tension held up inside us each but more importantly together as a couple – what blissful bonding time it brought about!
Nothing can compare or even come close when you find yourself soaking away any ache through Aromatherpy Massage while surrounded by such heavenly scent from different essential oils they use.
Not sure if Hot Stone massages are my thing yet so i took my husband's word who tried this type out during his visit. But hey he said it's definitely worth trying at least once – guaranteed best sleep ever after!
The spa at Sandals Royal Caribbean Resort & Private Island was a true relaxation haven.
From soothing anti-aging treatments to deep cleansing facials, my skin felt incredibly refreshed after every session.
If that wasn't enough – they also offer body wraps and scrubs designed to hydrate your entire being from head to toe for an added boost of smoothness and glow.
Best vacation ever? Definitely!
Fitness Facilities and Classes at Sandals Royal Caribbean
I felt invigorated and energized when I discovered all the fitness facilities available.
From lifting weights in their fully equipped gym to running laps around the outdoor lap pool, there is something for everyone.
And if you prefer a more low-key exercise session, check out one of many unique classes from yoga & pilates to gentle aqua workouts or an intense spin class.
There's even professional personal training sessions tailored just for you (for an extra fee).
Wellness Programs and Activities at Sandals Royal Caribbean
While I was at the resort, I attended a wellness seminar and it changed my life.
The experts took us through valuable, actionable steps to better manage stress, nourish our bodies with simple lifestyle changes, and open up beautiful new perspectives on mindfulness.
It was truly transformational experience that has improved not only my overall wellbeing but also every aspect of my day-to-day living.
Guest Satisfaction and Reviews of Sandals Royal Caribbean
With its gorgeous Caribbean setting, excellent staff and delightful food, Sandals Royal Caribbean Resort & Private Island is no stranger to positive reviews.
Rated 4.5 out of 5 on TripAdvisor based on over 8500 glowing comments from visitors – it's hard not to love this paradise retreat.
And the overwater bungalows? Simply unforgettable according to guests (and me) who've experienced them – an experience that will dazzle you with delight each time.
Here are some of the complaints:
Room cleanliness: Upon check-in, guests have shared dissatisfaction with their guest room experience; citing everything from soiled linens to dusty furniture and bathrooms that didn't meet standards of cleanliness.
Service quality: Recent guests have encountered various issues with service quality – the restaurants and bars provided slow, unsatisfactory service; housekeeping was unresponsive to concerns; front desk staff were not as accommodating as expected.
Noise: Complaints of noise from outside activities, like blaring music and construction projects, have been received by guests staying at this property.
Food quality: Guests of the resort have expressed their dissatisfaction with what has been offered in terms of cuisine. Complaints ranged from dull flavors and undercooked or overcooked dishes to limited selections available for guests.
Reservations: Some visitors have encountered delays when attempting to book activities, restaurant appointments and spa sessions.
My Overall Experience
When I stepped into the Sandals Royal Caribbean Resort & Private Island, it was like entering an entirely new world.
With its striking British colonial theme and sweeping views of the sparkling Caribbean Sea, my stay felt luxurious from start to finish.
I especially loved staying in one of their incredible over-the-water villas—a truly unforgettable experience.
Not only that, but there's a vast array of delectable restaurants offering all sorts of cuisines – everything from traditional local dishes to exotic Thai flavors.
My visit here left me feeling as regal as a king or queen; it is no wonder why this resort remains so popular for those seeking out tropical paradise holidays.
My Time at The Sandals Ochi Beach Resort 
Coming soon ….