How To Get From Athens To Mykonos
If you're like me, you're probably feeling overwhelmed by all of the options for getting from Athens to Mykonos. Do I take a bus? A train? A ferry? How do I know which one is best for me?
Don't worry, because I've got you covered. In this article, I'll break down all of the different transportation options available and help you choose the one that's best for you.
So how to get from Athens to Mykonos? There are two ways to get from Athens to Mykonos – by ferry or by plane. If you choose to take the ferry, there are several options depending on your budget and timetable. If you choose to take the plane, the flight time is about 30 minutes. However, tickets can be quite expensive compared to the price of a ferry ticket.
If you're looking for a low-cost option, the slowest ferry will get you there in about six hours. If you're looking for a more comfortable journey with a shorter travel time, there are several faster ferries that make the trip in just over three hours.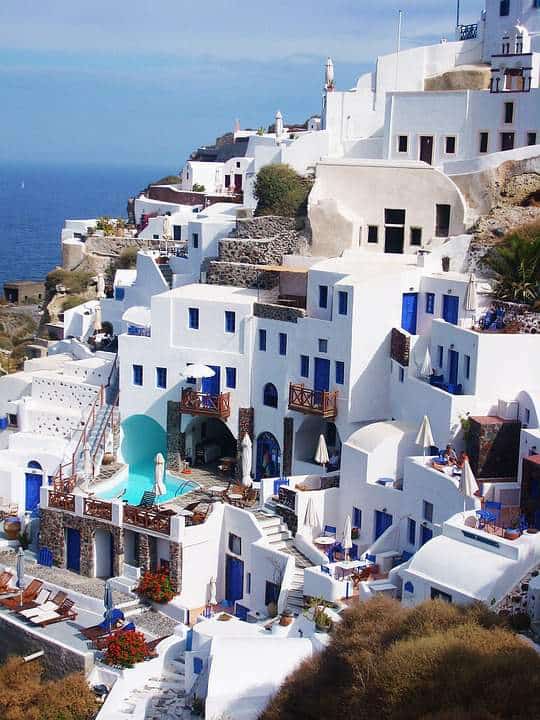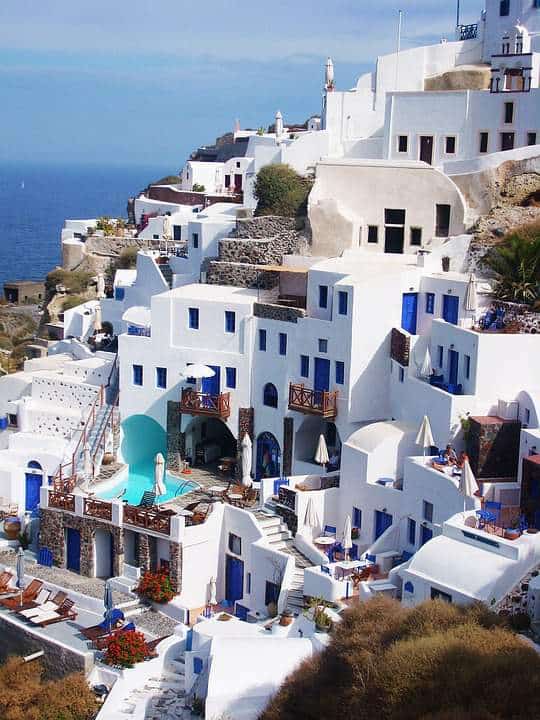 Athens to Mykonos By Flight
Mykonos is just 35 minutes away from Athens by plane. The earliest flight departs Athens International Airport (located 30 minutes from the Athens city center) at 5:35 am and every 3 hours thereafter. The last flight is at 10:05pm.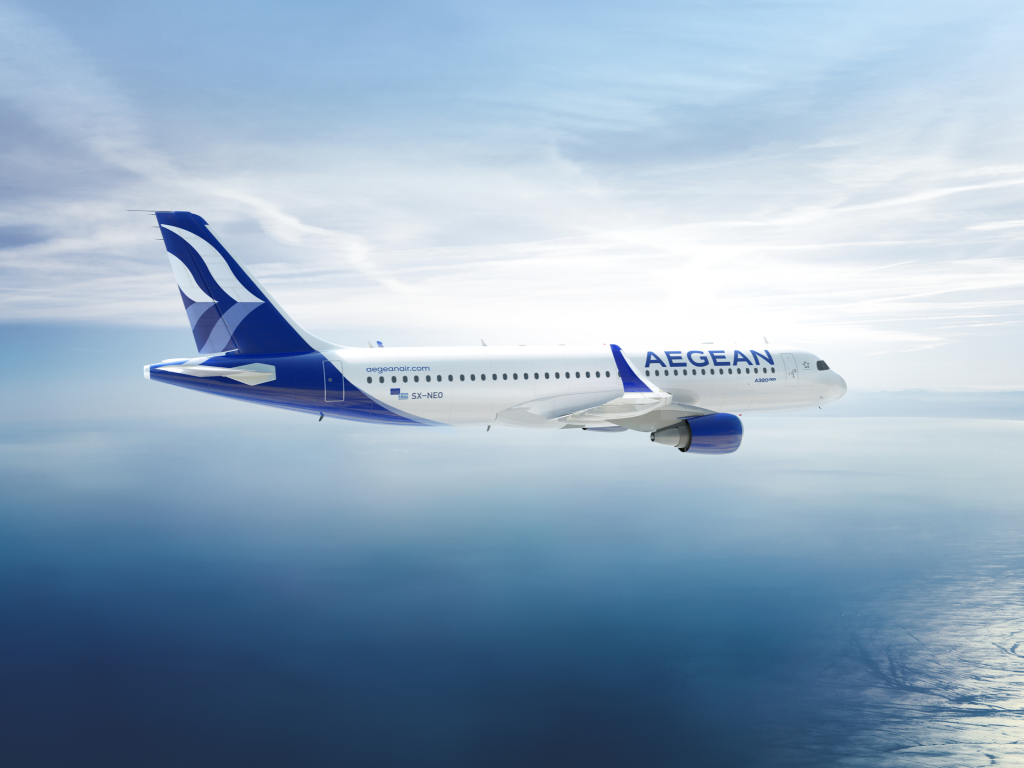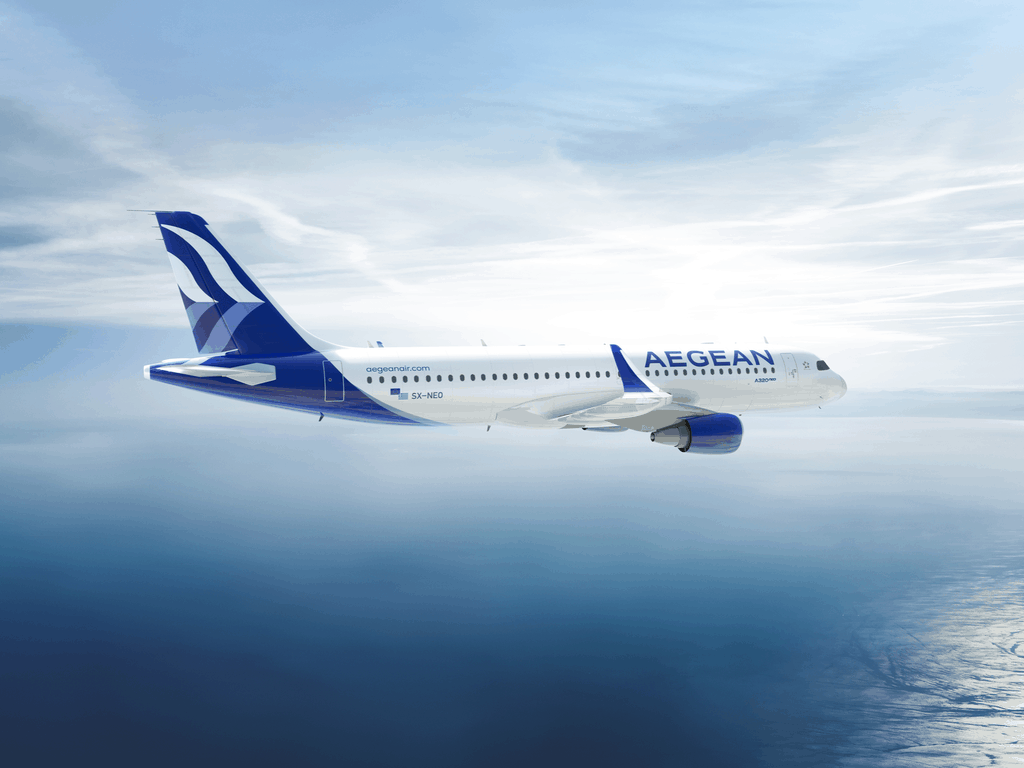 During the summer, the number of flights to Mykonos may reach to more than 15 flights a day. Airfares range from $33 to $170 each way. 
With the recent acquisition of Aegean Airlines by Olympic Air, both airlines fly the Athens to Mykonos route 7x a day during peak season.
You can use the website of either airlines to book flights from both companies and both cost the same. The difference lies in the types of aircrafts they use. 
For travelers with Aegean flight coded tickets, expect to be in an Airbus 320 that can accommodate up to 168 passengers. Those with Olympic code will be assigned in a Dash 8 propeller plane that can accommodate up to 70 passengers. 
Other airlines that have direct flights to Mykonos from Athens are Volotea and Ryanair. Sky Express will also start to offer flights from Athens to Mykonos in 2019. 
However, finding details about their flights can get a bit tricky as you need to use their website's search engine to find the schedule appropriate to your travel plans. 
Flights from Athens arriving to Mykonos International Airport (10 minutes to the town of Mykonos) will also be returning to Athens, taking off 45 minutes after landing. The earliest plane leaving from Mykonos to Athens is at 6:40 am. The last plane departs is at 11:10pm. 
European cities such as London, Paris, Rome, Frankfurt, Amsterdam and Dublin also have direct flights to Mykonos.  Ryan Air and EasyJet offer the cheapest airfares. Kayak.com is a good way to start searching online for available flights.
Athens to Mykonos By Ferry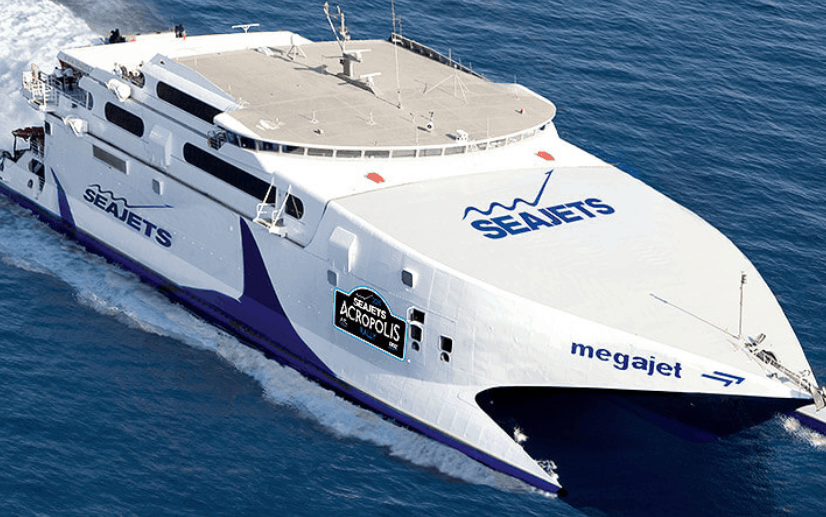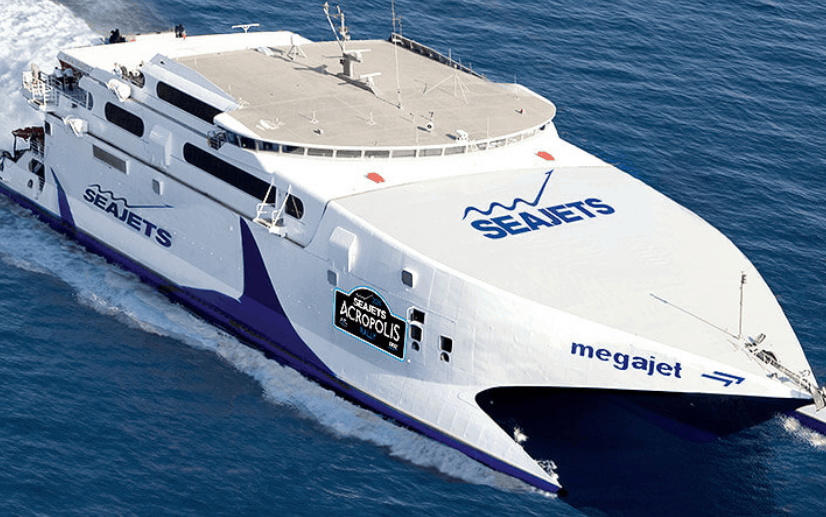 The journey to Mykonos from Athens by ferry takes 2 to 5 hours. During the summer, there are about 4 ferries a day that leave for Mykonos.
SeaJet is the fastest while Blue Star is the cheapest. Ferry tickets cost 20€ to 40€.  
Ferry Schedule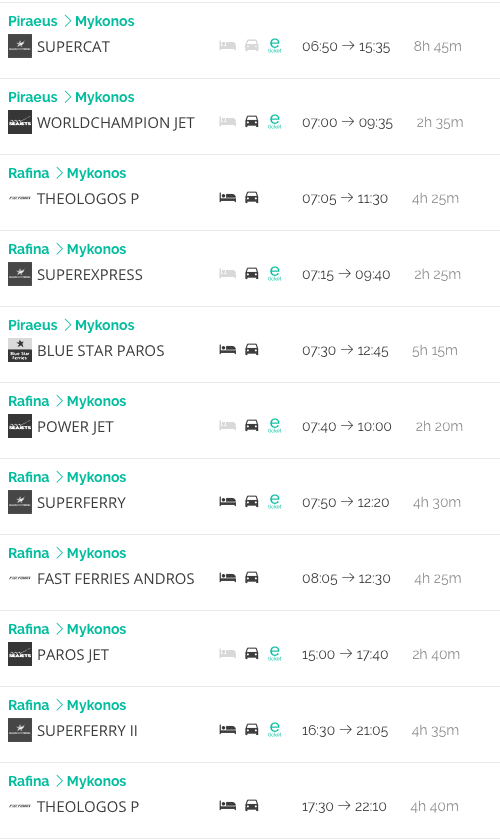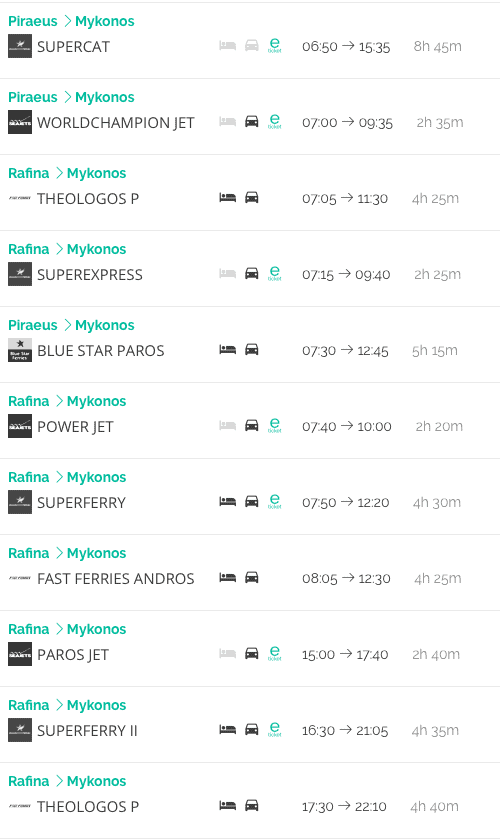 Schedules of trips are subject to change without prior notice, always check before every trip. 
Blue Star Ferry: Daily departure from Athens is at 7:30 in the morning with Tinos and Syros as stops. Travel time is about 5 hours and arrives at Mykonos by 12:45pm. The return trip departs Mykonos by 15:30, arriving in Athens about 18:30 to 19:45. These are available all year-round. During the summer, Blue Star also has ferries that leaves Rafina at 7:40 in the morning arriving in Mykonos at 10:55 in the morning. 
Rafina is situated outside of Athens and is more convenient for visitors traveling from the airport. FastFerries has an evening Rafina to Mykonos trip that leaves at 17:30 arriving 22:10 in Mykonos. Piraeus, on the other hand, is more accessible for those from Athens city center. 
Hellenic Seaways: This 2019, starting March 30 until September 2, there will be a highspeed ferry that carries both passengers and cars departing Piraeus 7:35 in the morning and arriving in Mykonos at 12:00 noon. From March 30 until September 30 there will be a highspeed ferry leaving the port in Rafina at about 7:15 in the morning and arriving in Mykonos at 9:25 in the morning.
SeaJet: This 2019, starting March 30 until October 31, there will be a catamaran leaving at 7:00 or 7:30am then coming to Mykonos at 9:30am. Its stops include Naxos and Santorini. 
SeaJet also departs from Rafina (more convenient for travelers coming from the airport)and arrives 3 hours later in Mykonos.  In some instances the smallest of the ferries, SeaJet 2, will be used. The ride can be the bumpiest with the seats cramped. But it is the fastest ferry from Athens to Mykonos. 
Although, it can most likely get cancelled during bad weather. A larger ferry is available in July and August that is a bit more spacious and the ride can be leas bumpy. The travel time to Mykonos is short and relatively fine for majority of travelers. However, I highly suggest to take the ferries of Blue Star or Hellenic Seaways instead. 
Which among the ferries is the top choice from Athens to Mykonos?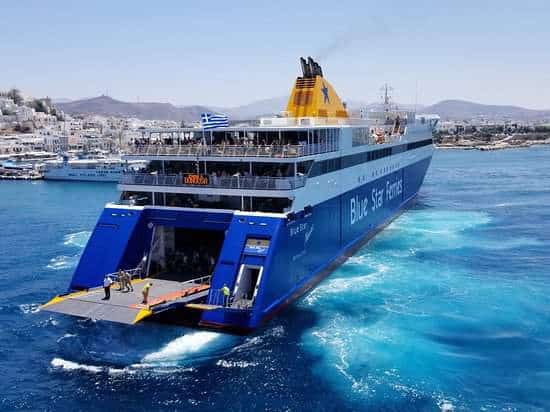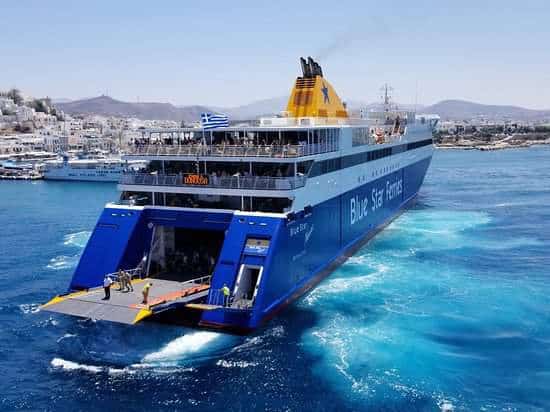 It is Blue Star. It has daily departure from Piraeus port at 7:30 in the morning. From downtown Athens you can ride the subway an hour earlier to get to the port on time. 
For summer months, Blue Star has a ferry that leaves port of Rafina at 7:40 in the morning then arrives 3 hours after in Mykonos. 
This is ideal for travelers coming from the airport because Rafina is nearer than Piraeus. Travel time between Rafina and Mykonos are also shorter compared to between Piraeus and Mykonos. 
Another tip when traveling in economy of Blue Star is to purchase reserved seats for a small additional fee. 
Travel time in Blue Star from Athens to Mykonos may take you at least 3 hours up to 6 hours but the ferry is spacious and has an open-air deck that offers a beautiful scenery and fresh sea air. Other ferries do not have these amenities. 
Your views will be blurred with windows stained with salt and seawater. You can only go outside when the ferry stops in a port. Ferries that are of highspeed and catamaran types are faster but larger ferries such as the Blue Star are more sturdy and safe, so it's worth the additional travel time. 
Advanced bookings are unnecessary for Blue Star but if you want to try pre-booking, purchase tickets directly from Blue Star. Tickets for highspeed ferries get sold out particularly for July and August thus it is ideal to book them in advance if your travel plans are set already. 
The Blue Star ferry carries both passengers and cars. It also has spacious open-air decks where you can walk around or take in the beautiful scenery. 
It's easy to buy ferry tickets when you are in Greece particularly in Athens. You can go to any tour agency days prior to your trip and check for the schedules and prices. You can purchase on the spot. No need to compare prices between travel agencies as there are no difference. 
Ferry costs are government-regulated. Tickets for large ferries like the Blue Star very seldom sells out so it is unnecessary to book in advance. However, pre-booking is needed in smaller highspeed ferries as seats are assigned and tickets get sold out easily during peak season. 
The cheapest transportation From Athens to Mykonos
Large ferries like the Blue Star is the cheapest option. Next is the highspeed ferries. The most costly way is to fly. But you can score cheap flights with prices close to that of high speed ferries if you book early. 
The fastest transportation to Mykonos from Athens
By plane is of course the fastest. But if you consider the time that it will take you to return in the airport from the city, pass through security and wait for boarding, riding a highspeed ferry takes just a little longer than flying.
If you're not going to visit the city, you might just transit in Athens and board a direct flight to Mykonos. This saves you the hassle to go to Piraeus to catch a ferry. 
Do I need to book in advance my ferry tickets to Mykonos?
Advanced bookings are most likely unnecessary as you can easily buy tickets from any tour companies once you come to Greece. But to be sure and your convenience, head on to FerryHopper.com for online bookings. 
You also have the option to directly purchase tickets from the company websites of the ferries for an additional fee. 
But if you're going to be in any of these 4 situations, booking your tickets in advance will be the best option.
If your travel dates fall on August 15, be aware that that is a major Greek holiday. The locals come back to their home islands and towns. Ferry tickets get sold out immediately so make sure to book your tickets some days before. (Disclaimer: I was able to secure tickets even if I've commuted through a ferry on this holiday in the past). Another peak season is Easter.
If you are going to bring a car, purchase your tickets in advance as vehicle compartments are limited and get sold out immediately. 
If you're going to be sleeping in a cabin, you might want to book tickets ahead of time to secure your spot. 
If you're going to travel on a weekend, Friday and Saturday nights are the busiest time of the week for ferries.
How does economy class differ from other classes such as cabin, business and VIP? 
For large ferries like the Blue Star: The open-air deck, outdoor seats, cafes and restaurants are accessible to passengers in the economy class. Tip: It is worth upgrading your seat into reserved airplane-style seat for an additional €4 to €5. Or else, you might have to find an available seat or stand up. If I'm traveling in the months of July and August, I would surely book the special airplane-style seats in economy.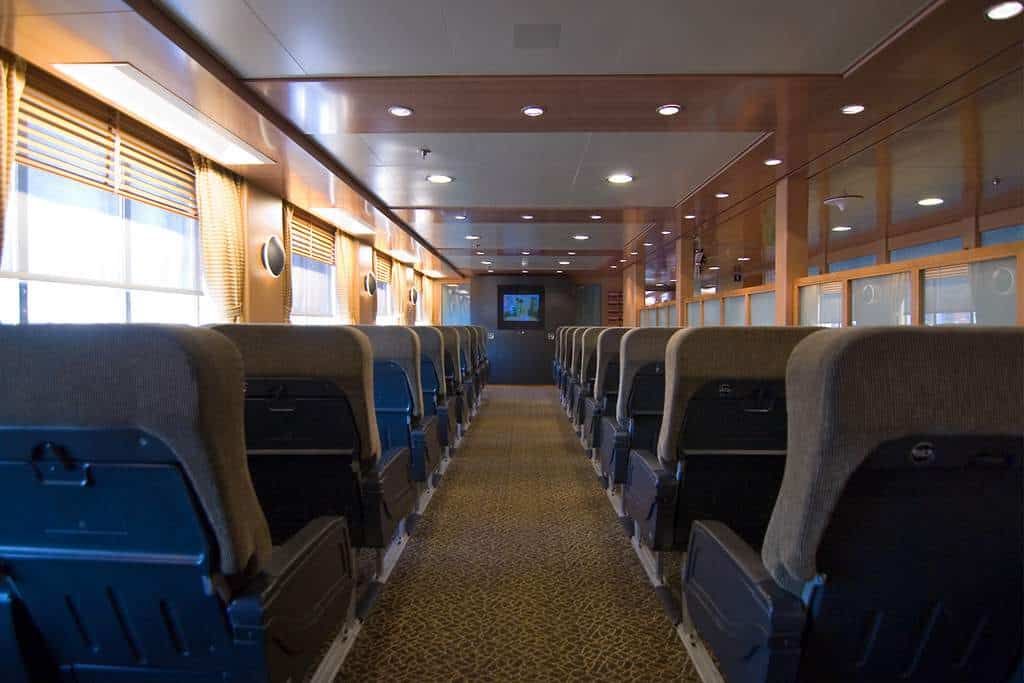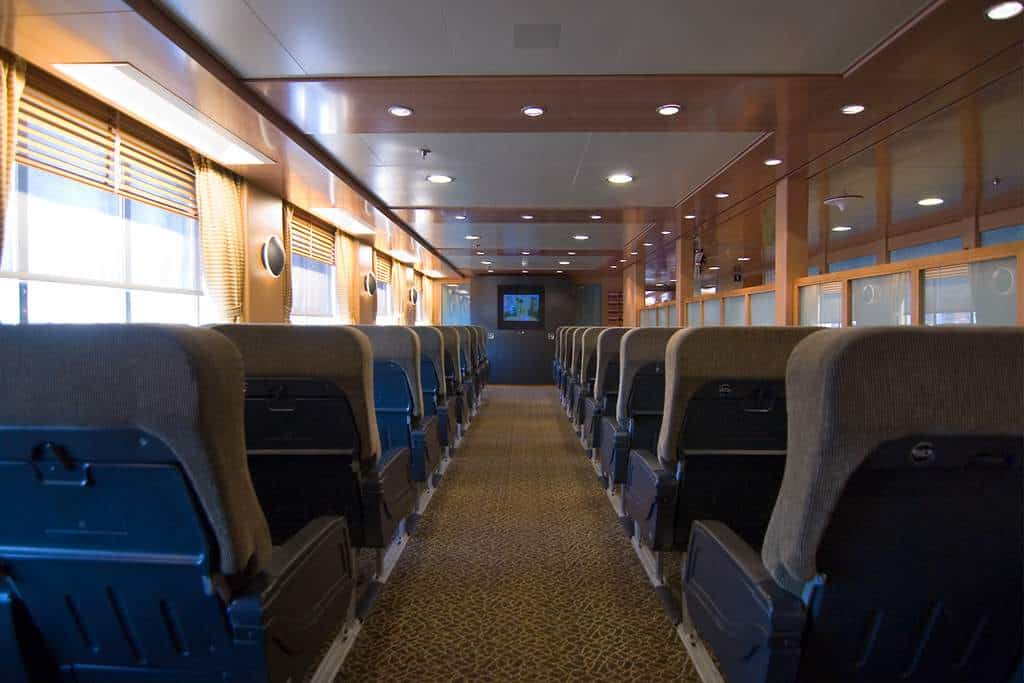 It's worth to pay additional 4€ for seats in airplane-style as you'll be able to comfortably dose off or read during the trip. You also have access to the outdoor amenities and shops.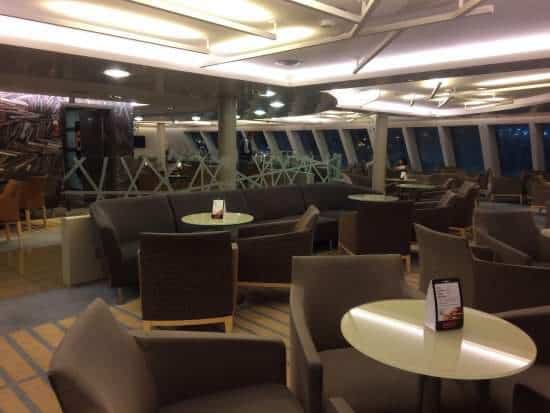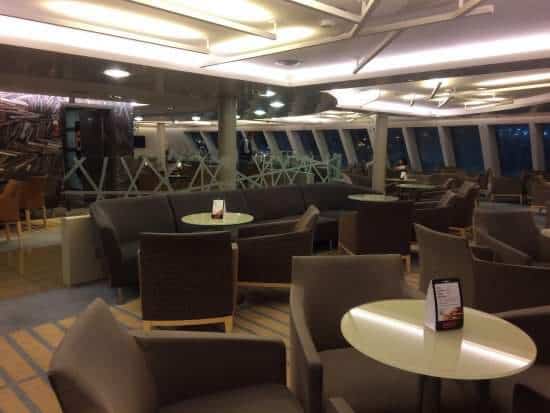 If you're in business class you have the perks of using the lounge that is peaceful with cozy seats and waiter service. Despite the convenience, I still like the airplane-style seats in economy better. 
The cabins include beds commonly arranged in 2-beth or 4-berth. There are two types. The inside cabins have no windows and located in the inner part of the ferry. Outside cabins have windows and situated in the outer part of the ferry. 
How to get from the Athens International Airport to the Ferry Port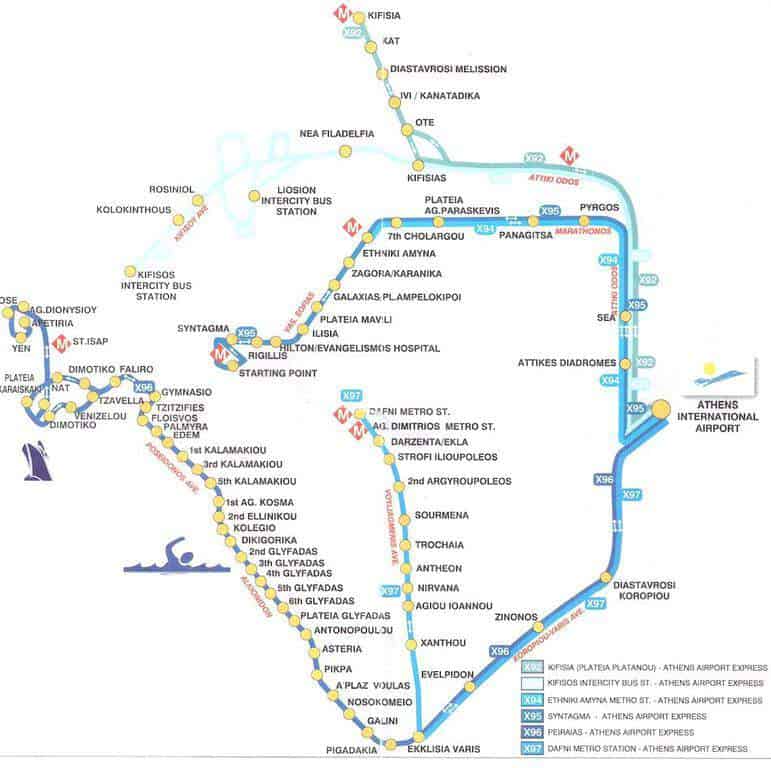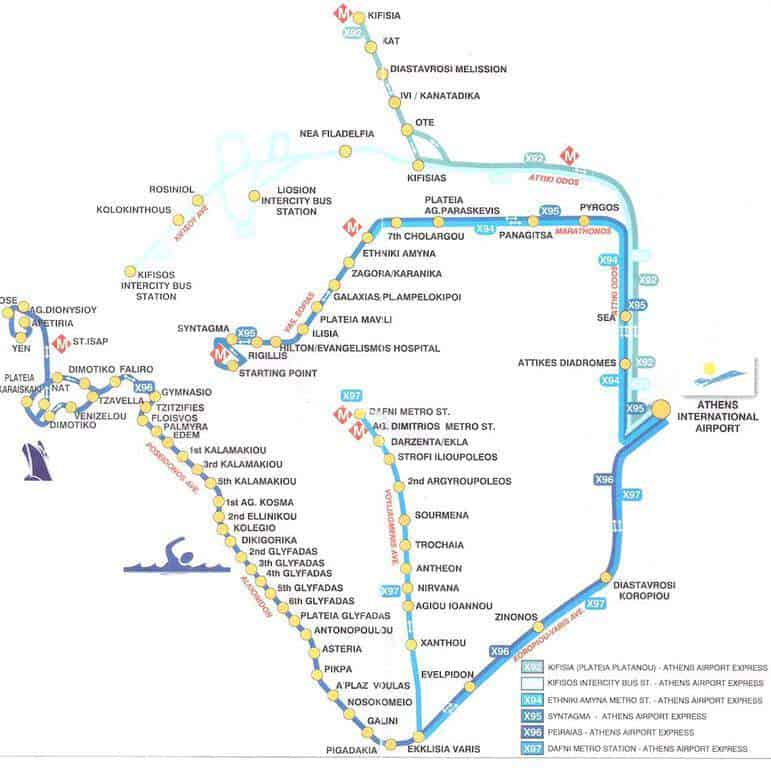 The most efficient way is to ride the x96 bus to the port. Travel time is at least 50 to 90 minutes. It is priced at €5 and available 24/7.
Taxis are faster for a few minutes but more expensive with a price range of €50 to €60. 
Going to Piraeus from the Airport
Follow the sign and the bus stop can be seen instantly beyond the Arrivals area. Purchase tickets from the booths located on the buses' right side. No buying of tickets inside the bus.
X96 bus from the airport is available 24/7 and leaves every half an hour. Travel time is about 50 to 90 minutes. 
Once in Piraeus, the bus stops in gate E7 for ferry of Blue Star, close to Piraeus subway station. 
Schedule of buses running from the airport to Athens city center and ferry port are posted around the terminal. 
X95 bus to Athens city center has the similar structure of luggage compartment as X96 bus. 
Airport buses' tickets: Blue-colored tickets are discounted fares for senior citizens and children requiring validation upon boarding. 
From Athens City Center to the Port
From Athens city center, the metro departing from Monastiraki or Omonia stations will bring you to Piraeus. It costs €1.20. Travel time is about 20 until 30 minutes. Earliest trip is at 5:30 am. The last trip is about midnight. Departing from Athens city center at 6:30 am gives you ample time to catch you 7:30 am ferry. 
Taxis from Monastiraki, Syntama, or Plaka costs €25 up to  €30. Travel time is 20 to 30 minutes.
Monastiraki and Omonia stations in Line 1 have trains directly going to the port of Pireaus.
If you're coming from Syntagma station use the Line 3 to Monastiraki to switch to Line 1 for an additional 5 minutes of travel time. 
To buy metro tickets. Press the upper left button of the screen. The ticket costs €1.20
Don't forget to validate the tickets you bought using the machine inside the bus as you run the risk of being fined 60 times the ticket cost. 
Validate the ticket upon riding the bus.
Ticket validation machines are available just before you get to the train platform.
The metro station is between E5 and E6 a.k.a the Electric Railway Line 1. E1: Ferries to the Dodecanese (e.g. Rhodes). E2: Ferries to Crete, Chios, Lesvos, Ikaria, Samos. E6 and E7: Cyclades (Santorini, Mykonos, Ios, Naxos, Paros, etc) and Retymno (Crete). E8: Argosaronic Islands (Aegina, Agkistri, Spetses, Hydra, Poros). 
Important Information about Ferries in Greece
Travel time from Athens to Mykonos: at least 2 hours to 6 hours in relation to the ferry type and route.
No walk-in passengers. Purchase tickets days before the date of your travel. Ticket booths are beside E7, a short distance from the train station and the X96 bus stop.
You can buy tickets from the Airport Travel Agency in Athens International Airport. An ideal option if you'll be touring Athens first for some days. This saves you time from purchasing tickets online and picking up the hard copy of your tickets. 
There are no roundtrip tickets and multi-trip tickets (e.g. Athens-Mykonos-Santorini), only one-way and point-to-point or two one-way tickets. You purchase the tickets separately. 
Ticket Costs Athens to Mykonos: 
Blue Star Ferry: Economy (€34), Business Class (€48) and Cabin Class (€65)
Highspeed Ferries: Economy (€55), Business (€58) and VIP (€71). For Friday and Saturday departures and Sunday and Monday arrivals in Piraeus, 10% more.
GTP. GR is the best online site to check for the current ferry timetables. However, booking directly to the ferry company is more convenient. 
Piraeus is the nearest port to Athens. Its 30 minutes from the city through the metro. The port for ferries going to Mykonos and other Cycladic islands are at gates E6 and E7, just in front of the metro station. The ferries are clearly visible. Just go with the group of people.
Rafina is the other port. It is more preferable for travelers from the airport. It has less ferry schedules than Piraeus but it is a better jump off point to Mykonos. From the airport, ride the bus across the Sofitel Hotel. No need to purchase tickets from the booths, just hand out the €3 in the bus. 
Large Ferries – Also known as car, conventional or slow ferries. They have the most common transportation to Mykonos with Blue Ferries having the consistent daily departures at 7:25 am year-round and at times have a late night ferry as well. The ferries carry both passengers and cars. They have open-air decks and can survive through choppy waters.  
Highspeed Ferries- Include Hellenic Highways' Highspeed 4, 5 and 6 and NEL Highspeed. These large enclosed catamarans are faster and more expensive than car ferries. The windows are wide but blurry. There's no deck. And the ride can be rough during bad weather.
SuperJets and SeaJets- Smaller in size and bumpier than highspeed ferries. Large and highspeed ferries are safer. 
Sea sickness- You'll be much better off in the bigger Blue Star ferry as it offers a smoother ride than the latter ferry types.
Cancellations due to bad weather- Trips can get canceled one or two consecutive days particularly during the windiest month, August. Here is when Blue Star gets reliable as it seldom gets cancelled even if sea is choppy. 
Meals while onboard- Cafes, restaurants and class lounges are available in all ferry types. There are 24/7 food stalls just in front of gate E7 where you can buy snacks before boarding the ferry.
Boarding gates for ferries in Piraeus port
Gate E6 is for ferry of Blue Star to Mykonos. The old walkway stairs serve as landmark for terminals of ferries to Mykonos and Santorini. Gate E7 is for Highspeed 6. The two gates are visible from the Piraeus metro station. 
Train station for port of Piraeus. After getting off the train, go towards the end of the metro station to the exits then turn to the left. The ferries docked at gates E6 and E7 to the islands of Cyclades are readily visible. Go with the majority of travelers heading to that direction. 
Upon arrival in Mykonos, the ferry is welcomed by a bus. This bus carry passengers to the town of Mykonos. Make sure that you picked up your bags as you wait for the ferry to dock as the ferry just spends a few minutes. 
SeaJet docks in the old port that is of walking distance to the Mykonos Town. While Blue Star and Hellenic Seaways docks in the new port that is far from the town.
Suggested Hotels near the Port
Piraeus is a 20-minute metro ride from Athens city center. As the ferry trips are 7:00 and 8:00 in the morning, it's tempting to sleep in Piraeus the night before. However it unnecessary as the metro opens at 5:30 am and is enough travel time. 
You might want to book in a hotel near the Monastiraki station as it has the direct train to Piraeus port. Its neighborhood is nice. Plaka and Acropolis are nearby.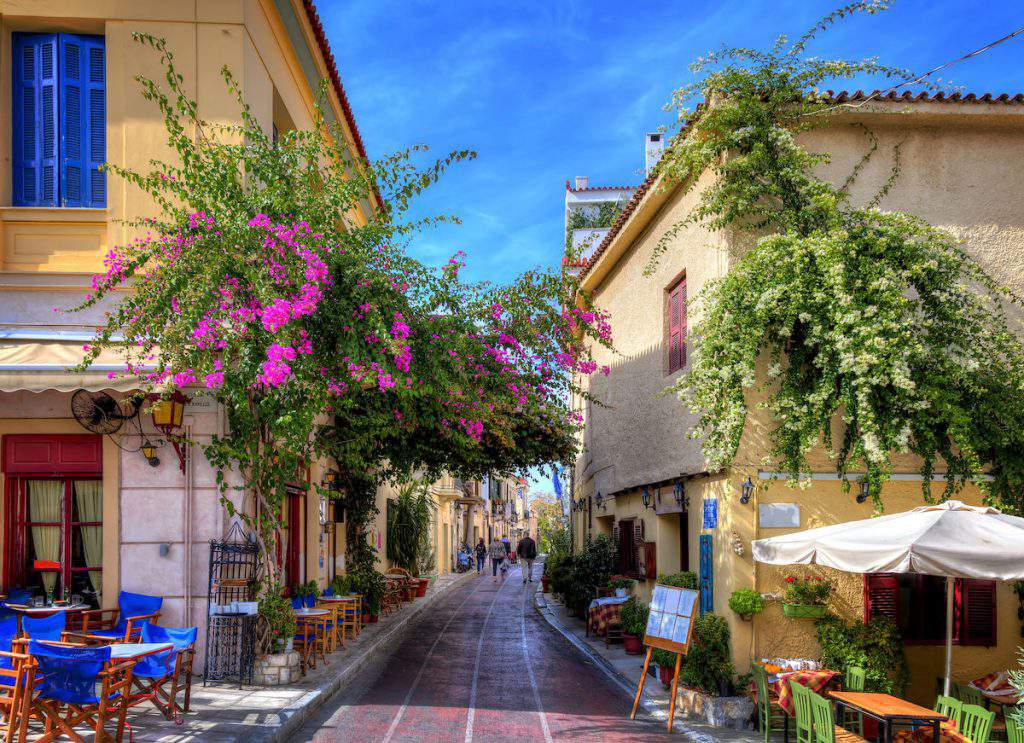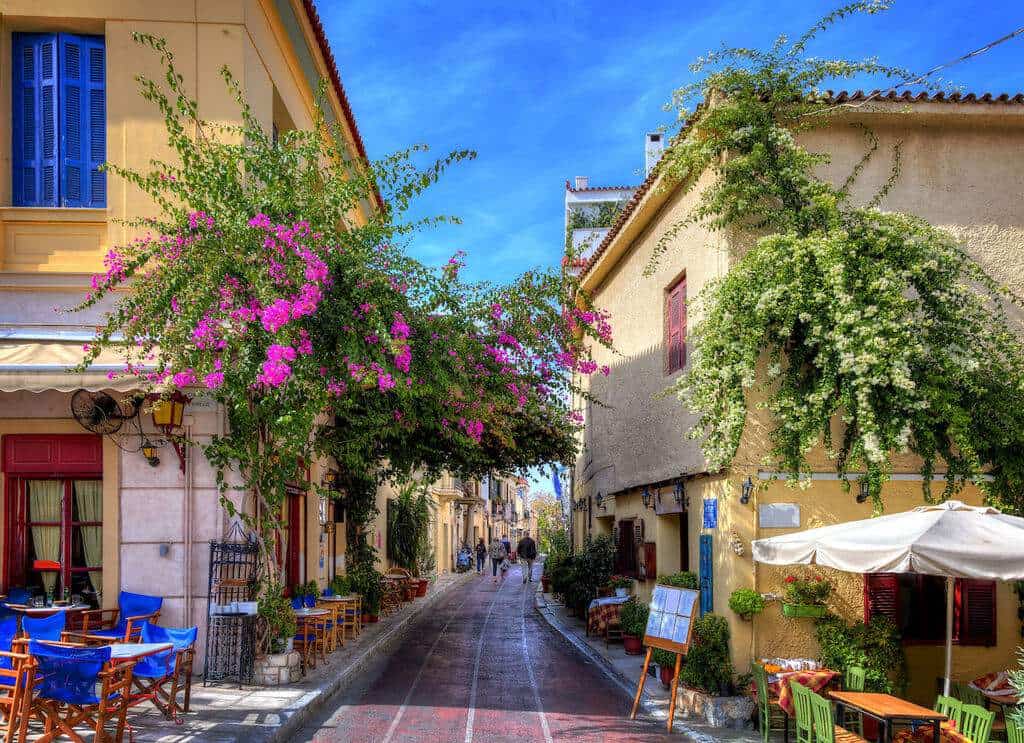 Open-air restaurants are plenty in Monastiraki Square during the evening. Piraeus in contrast is not ideal to stay the night in unless your flight arrived late and you wish to catch some sleep before the early morning ferry. Ride the X96 bus then. 
A for Athens Hotel(Level: Moderate; Location: Athens City Center)- Located across Monastiraki Sqaure and just a minute from Monastiraki metro station. 
Plaka Hotel(Level: Moderate; Location: Athens City Center)- Similar quality with A for Athens Hotel but has a more chic exterior and located in a less crowded street. It is 3 minutes Way from Monastiraki metro station.  A for Athens Hotel is nearer to the metro station. 
Triton Hotel(Level: Budget; Location: Piraeus)- It is 3 minutes away from the ferries to Mykonos. Expect that the bedroom and bathroom is small. Piraeus Theoxenia Hotel(Level: Moderate; Location: Piraeus ) – The port is a block away from the hotel but it is the best hotel in Piraeus. It is 5 minutes away from the ferries to Mykonos.
If you have any questions about getting to Mykonos from Athens, email us at [email protected]