Mykonos is undoubtedly the liveliest island in Greece. If you like to party, you'll find your paradise in this little piece of the Cyclades. And if you're looking for more peace and quiet, don't worry, there are plenty of places on the island to relax! Here are the best areas and hotels to stay on the island so you can rest in the part that suits you best.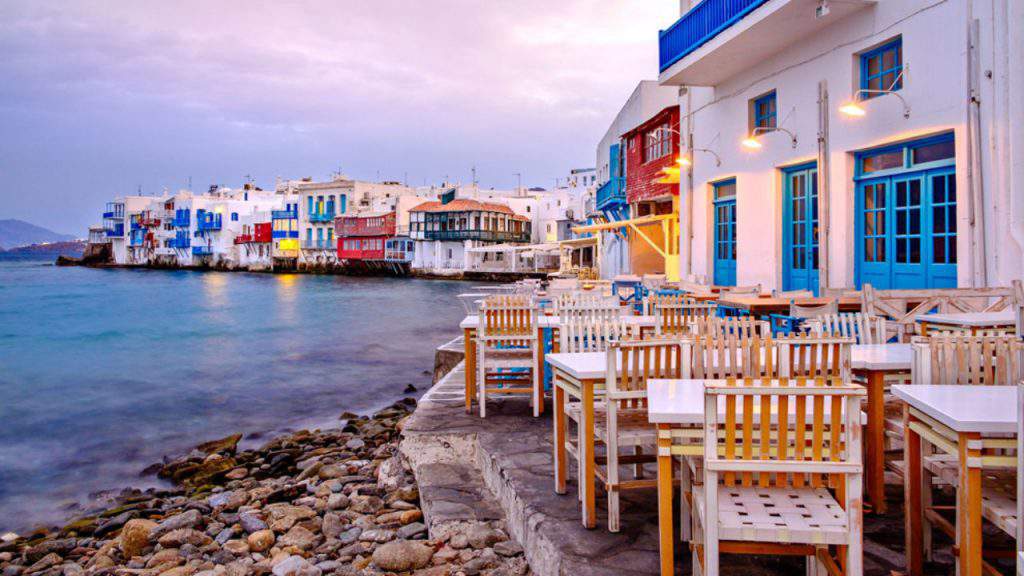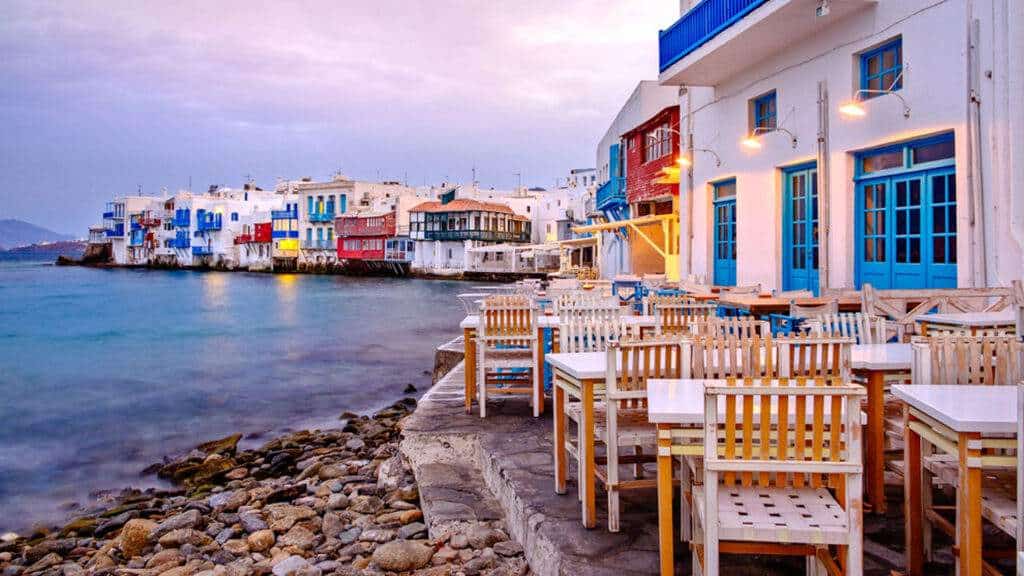 If you're in a hurry, here is the list of our top recommendations.
Best Mykonos "budget" hotel: Petinos Hotel located at Platys Gialos beach. It gives great value for your money. It has suites and apartments that are family-friendly and rooms that are just a quick walk away from the sandy beach. Guests at Petinos Hotel can use the pool of Petinos Beach Hotel for free.
Best Mykonos Town Hotel: Hotel Belvedere with its location of just 2 minutes away on foot from restaurants and bar. Belvedere also has a stunning pool.
Best Mykonos Luxury Hotel: Mykonos Blu with its location that can easily access two beautiful Mykonos beaches. Mykonos Blu is also a romantic hotel ideal for honeymooners. 
Best new hotel in Myknos : Branco Mykonos is a luxurious hotel located at the beach of Platys Gialos. It has a bar at the beachfront. Yoga classes are also available at Branco Mykonos.

How To Choose A Hotel in Mykonos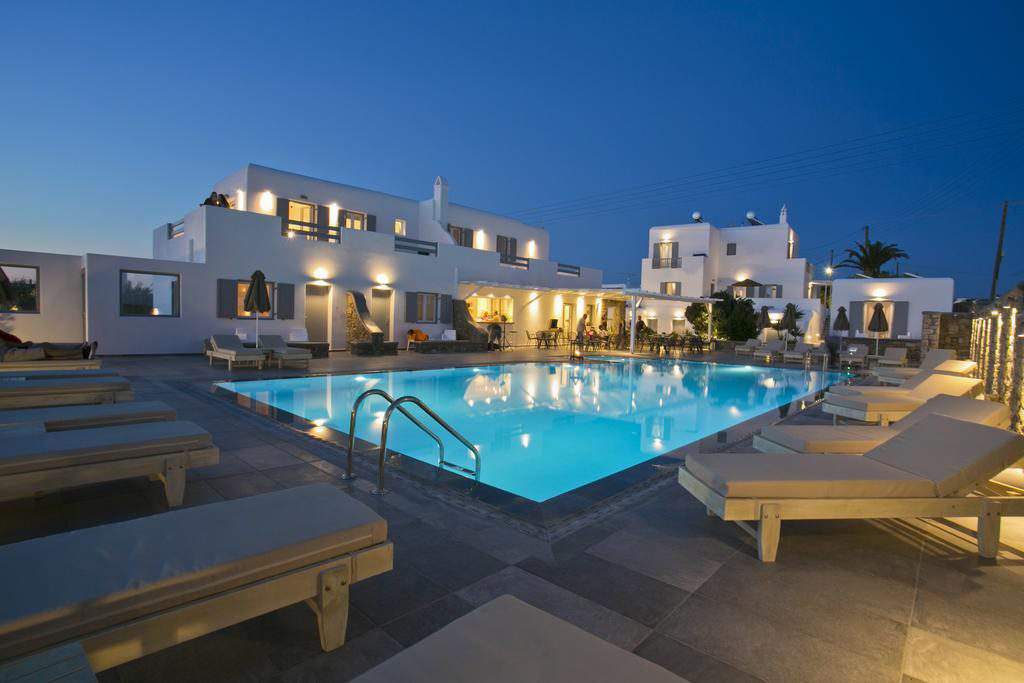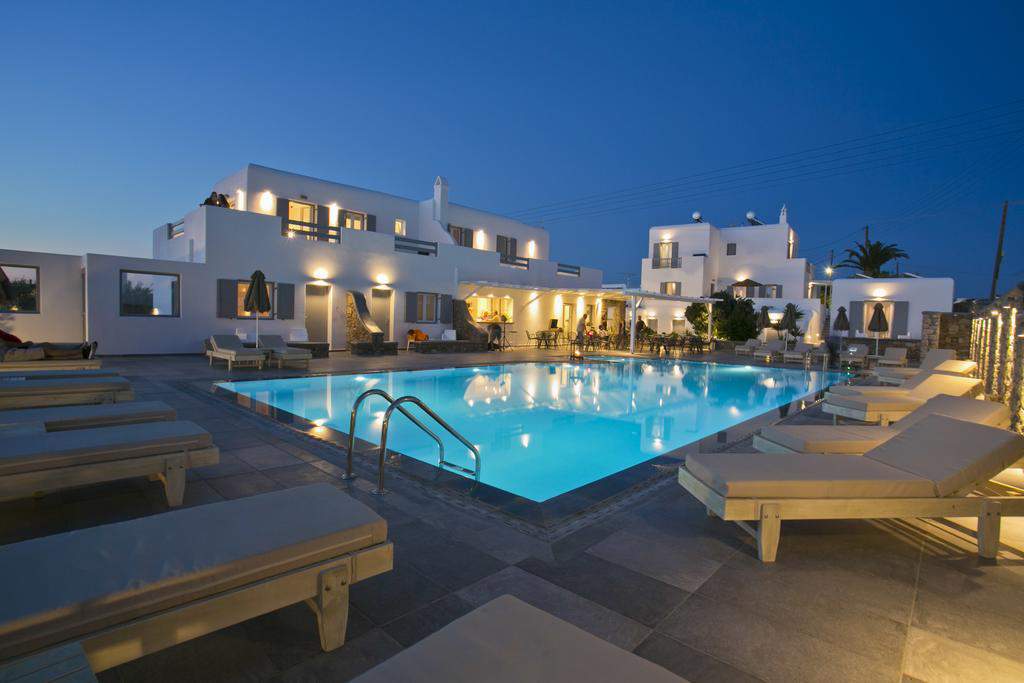 Most luxury hotels can be found in Mykonos Town, but some of the best hotels in Mykonos are found in the different parts of the island. Many of the hotels on the Mykonos beaches offer luxury services.
The heart or the center of the island is Mykonos Town, where you can find tons of shops, bars and restaurants.
If you're looking for the best cheap Mykonos hotels,you'll most likely find them back from Platys Gialos Beach, Ornos Beach and in Mykonos Town.
Best Areas To Stay in Mykonos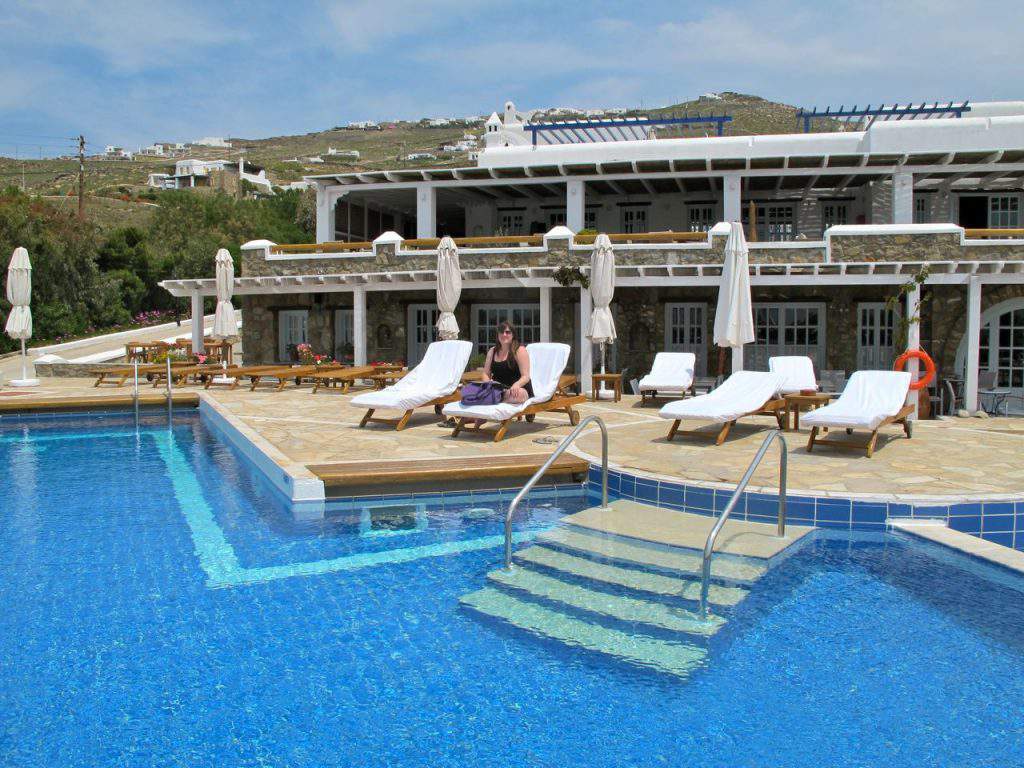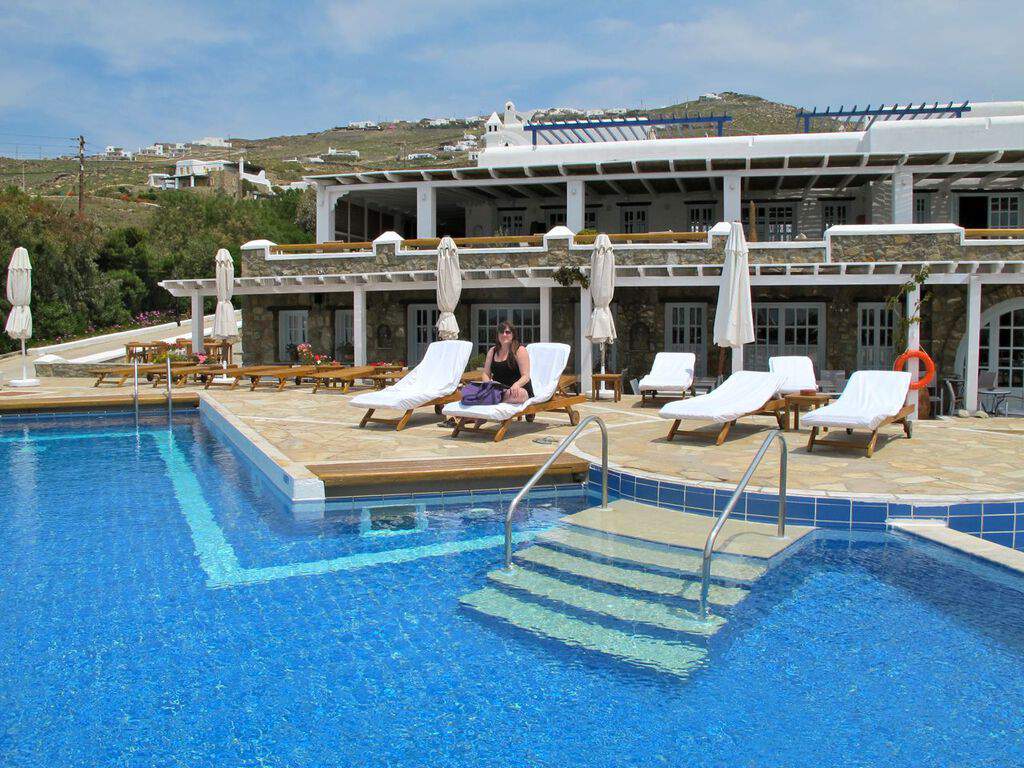 If you live for night life and parties, the best place for you is Mykonos Town. It is a hub of activities from shopping to dancing and partying. 
Families would enjoy best in Platys Gialos or Ornos. They have hotels with rooms large enough for families. They have kid-friendly beaches and it is not that far from Mykonos Town for day tours. 
Anywhere in the island is perfect for honeymoon but among the best hotels in Mykonos, the most romantic places to spend your honeymoon is in Psarou, Mykonos Town or Agios Ioannis. 
The Mykonos beaches are just 5 mins to 15 mins away from Mykonos Town and the island has a good bus connection so you can visit and enjoy all these different spots regardless of where you stay. 
Psarou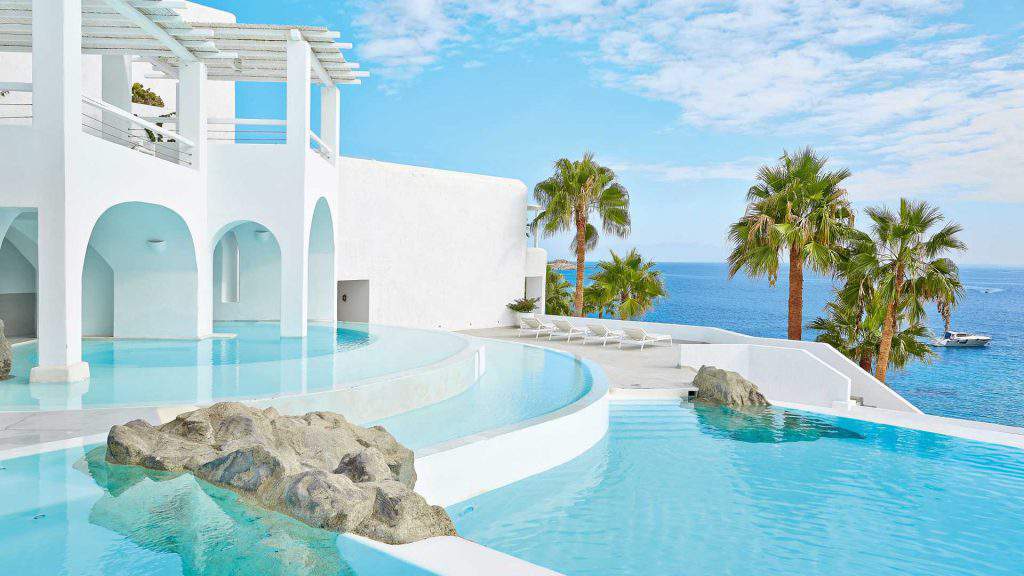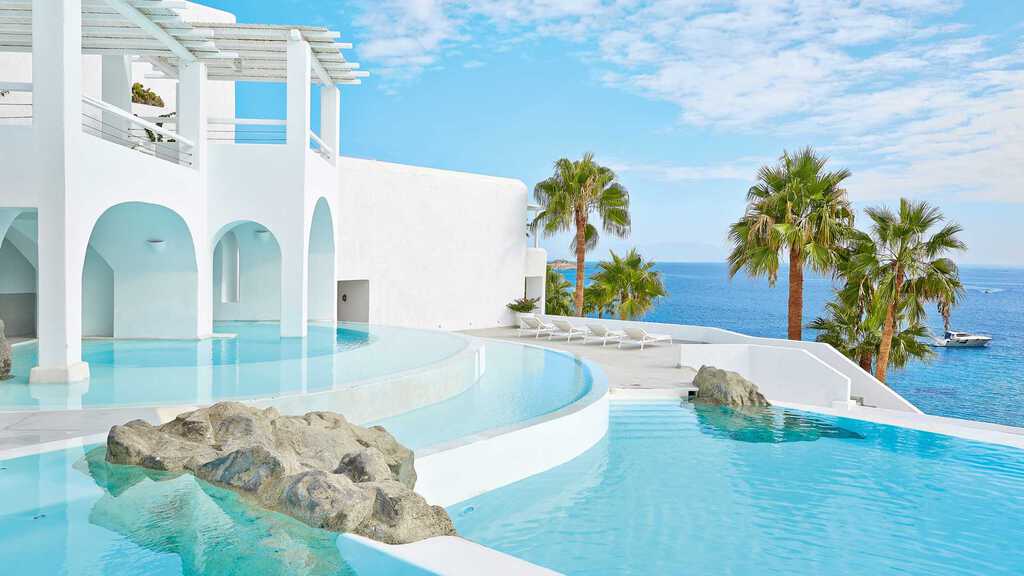 With its relaxing atmosphere, sunbeds neatly lined up on the smooth white sand and azure sea waters, Psarou beach is not just picture perfect but also an ideal place for honeymooners and families. 
It is a popular beach where you can engage in a few water sports like water skiing and wind surfing. 
There are few restaurants on the beach, but if you want more choices, you can easily pop into Mykonos Town as buses are available at regular intervals. 
Water taxis are also available if you want to explore the beaches at the opposite coast. 
Psarou Beach's Best Hotel 
· Mykonos Blu– (Hotel's phone number: +30 2289 027900)
Agios Ioannis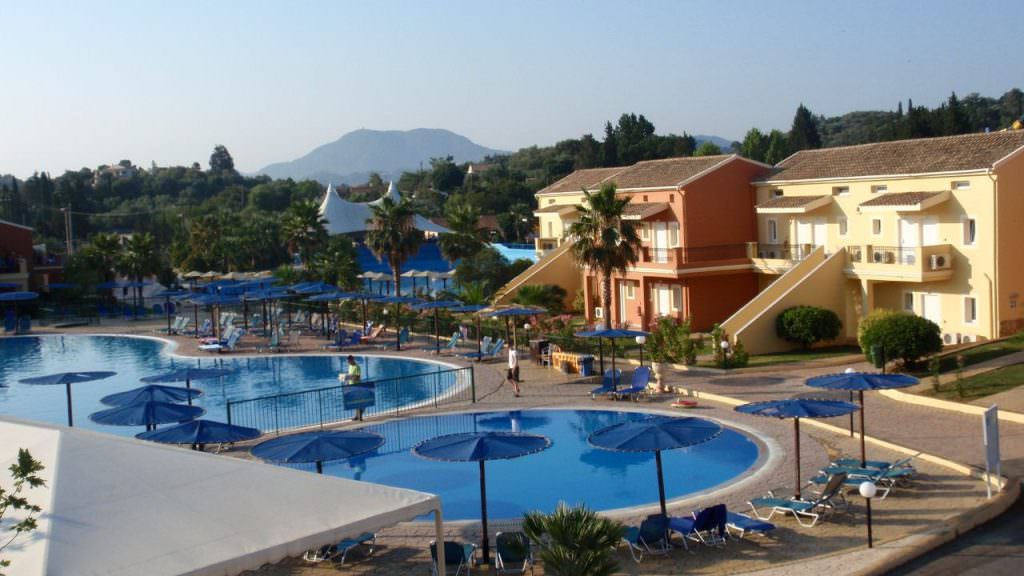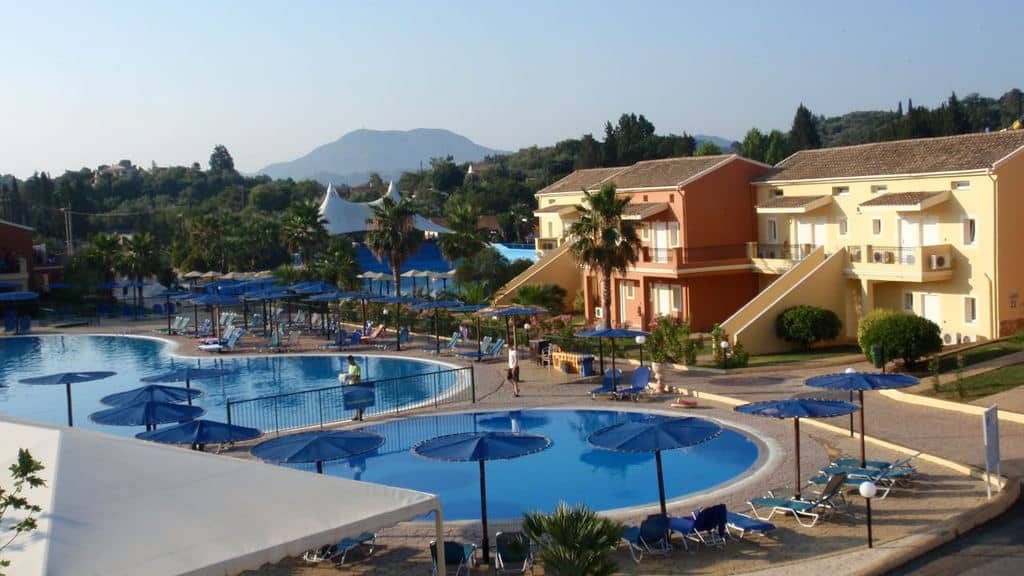 If you love sunsets, this is the Yperfect place. Agios Ioannis is a narrow, crescent-shaped beach with colourfull beach umbrellas on the West Coast of Mykonos. 
The popular Hippie Fish restaurant can be found here, and locals would proudly tell you that this was used as one of the locations of the Shirley Valentine movie. 
There are lovely boutique hotels situated on the side of the hills giving a stunning view of the Aegean. 
The bus connection to Mykonos Town is also great here. It passes near the Cycladic church, a beautiful church located by the water. 
Kapari beach, a small, quiet and sheltered cove can be reached just 10 minutes past the church on foot. 
Agios Ioannis' Best Hotels 
· Manoula's Mykonos Beach Resort – (Hotel's phone number: +30 2289 022900)
· Saint John Hotel Villas & Spa – (Hotel's phone number: +30 2289 028752)
· Mykonos Grand Hotel & Resort – (Hotel's phone number: +30 2289 025555)
Mykonos Town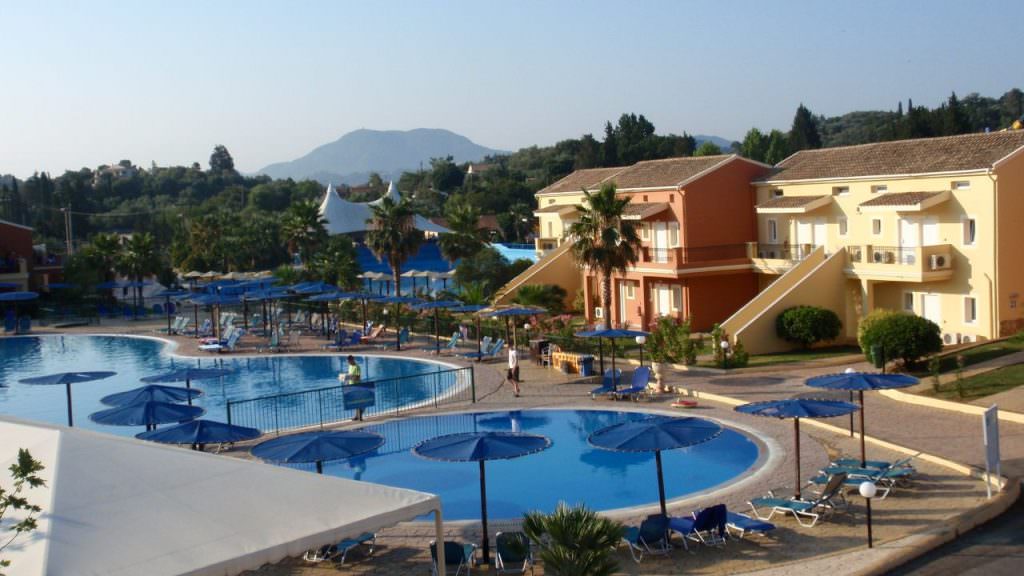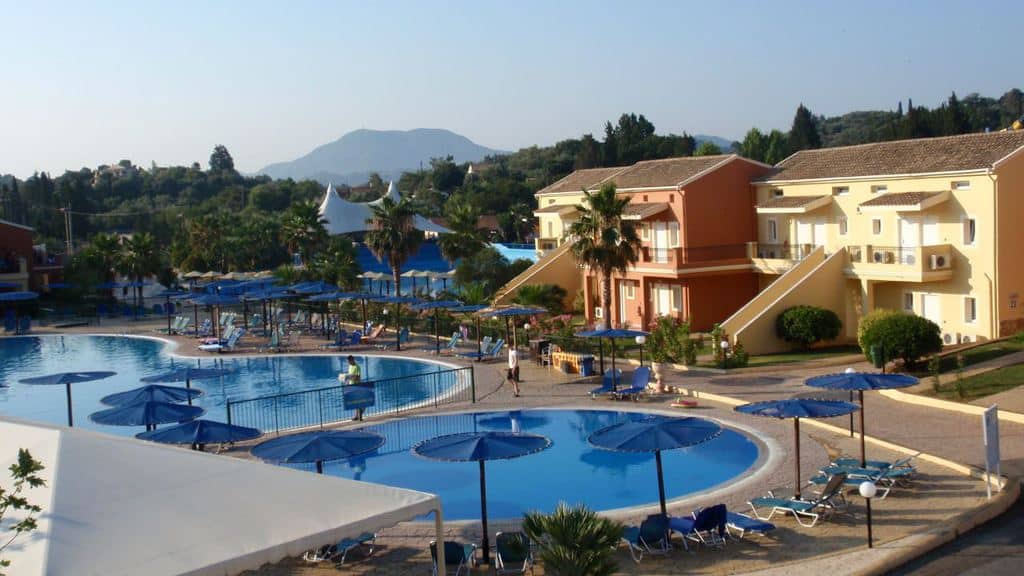 Mykonos Town is the island's capital. It has narrow roads and alleyways that are always teeming with people, no vehicles allowed.  
You'll find a lot of hotels, guesthouses, bar and restaurants all over the city, and the waterfront is full of tavernas. You'll see shops for tourists, art stores and boutiques of original Greek fashion on the shopping streets. At sunset, a lot of people gather at the waterside bars of Little Venice. 
The Cycladic Kato Mili windmills is a popular tourist attraction, including the town's open air cinema and museums. 
The town has an excellent bus service that gives accessibility to the other villages, the Mykonos beaches and the best hotels in Mykonos.  
 If you're looking for a hotel on budjet, you'll probably find the best cheap Mykonos hotel in Mykonos Town. 
Mykonos Town's Best Hotels 
Semeli Hotel Mykonos – (Hotel's phone number: +30 2289 027466)
Kouros Hotel and Suites – (Hotel's phone number: +30 2289 025381)
Belvedere Hotel– (Hotel's phone number: +30 2289 025122)
Theoxenia Luxury Boutique Hotel – (Hotel's phone number: +30 2289 022230)
Cavo Tagoo – (Hotel's phone number: +30 2289 020100)
Harmony Boutique Hotel – (Hotel's phone number: +30 2289 028980)
Platys Gialos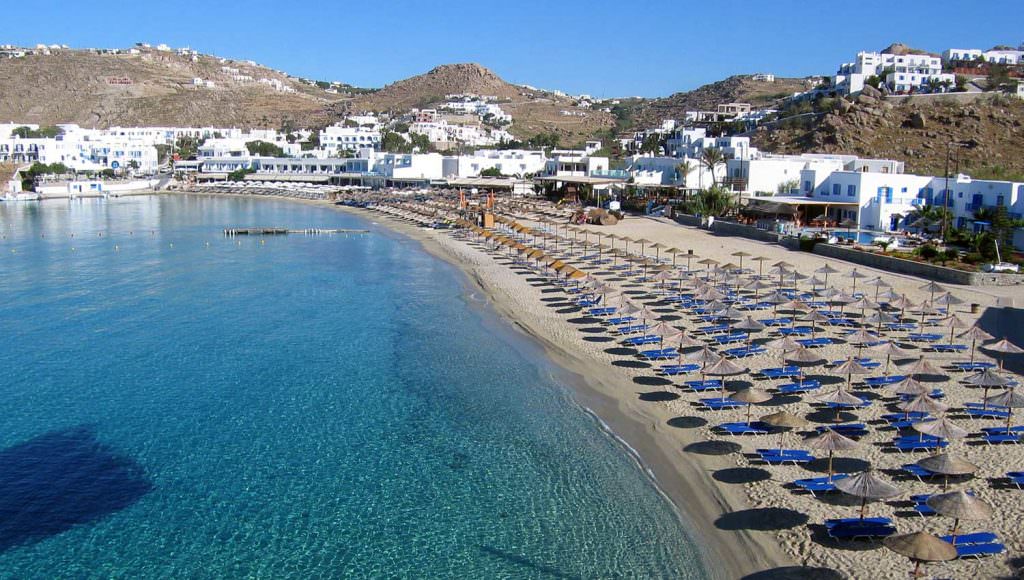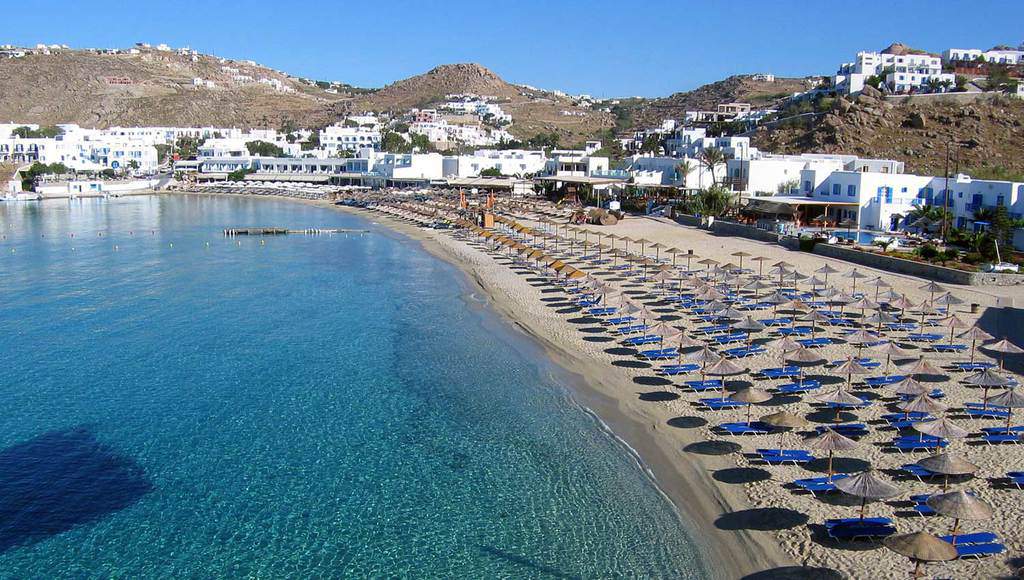 Probably the most popular beach with a lot of villas and hotels, including the new yet already known Branco Mykonos Hotel.  
You can also find some of the best cheap Mykonos hotels in Platys Gialos for a more affordable accommodation. 
It is just 4km away from the busy Mykonos Town and well connected by bus and even water taxis. 
Platys Gialos is an ideal for any age. With its white powdery sand and calm, crystal-clear water, it is a good spot for families. It has chic beach bars for a discreet nightlife for the young crowd. 
Restaurants abound in Platys Gialos offering a different mix of food from seafood to traditional Greek and even a fusion of different cultures. 
You can also participate in different water sports like flyboarding, standup paddleboarding, kayaking, and wakeboarding. 
Platys Gialos Best Hotels 
Petinos Beach Hotel – (Hotel's phone number: +30 22890 24310) ; sister hotel of Petinos Hotel
Nissaki Boutique Hotel – (Hotel's phone number: +30 2289 027666)
Petasos Beach Resort & Spa – (Hotel's phone number: +30 2289 023437)
Myconian Ambassador Hotel & Spa – (Hotel's phone number: +30 2289 024166)
Elia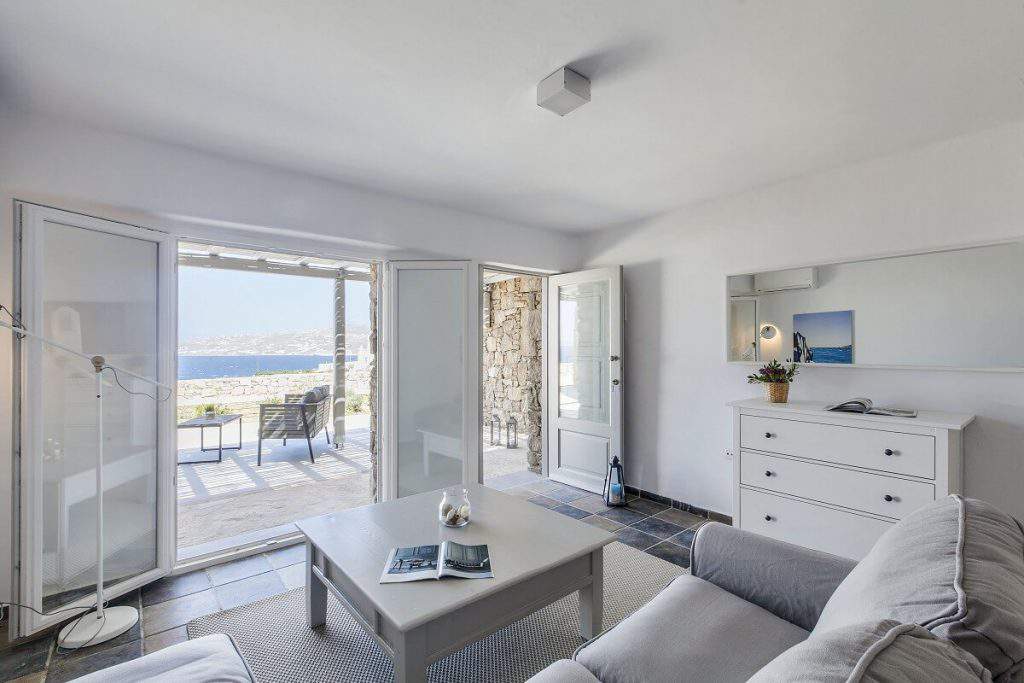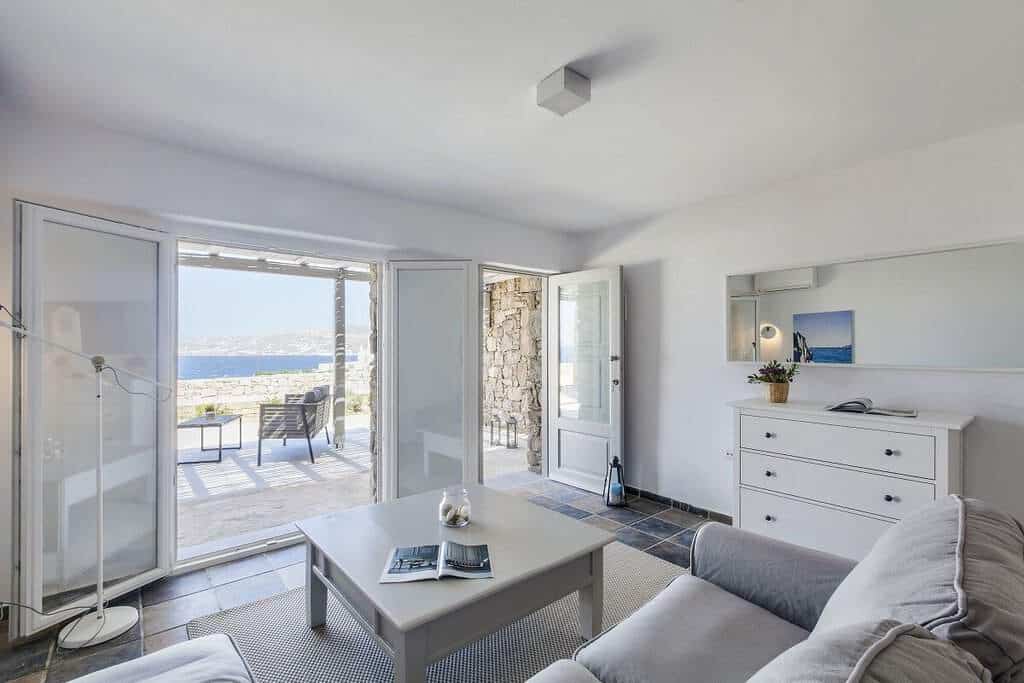 Ella Mykonos is the only restaurant on this beach, but it has fabulous food and a bar that serves good-quality drinks. 
A long beach with white sand, Elia is at Mykonos' south coast. Compared to other south coast beaches, this has a more relaxing atmosphere as it is a bit isolated.  
You have to pass by Ano Mera to get here although in the summer season, you can get here directly with boat taxis from the other more popular beaches are available. 
The sheltered bay and pretty beach of Agrari is just a 10-minute walk from the rocky western end of the beach of Elia.
Some of the best Mykonos beach hotels are on this beach. 
Elia Beach's Best Hotels 
Greco Philia Luxury Suites & Villas – (Hotel's phone number: +30 2289 072038)
Arte & Mare Luxury Suites & Spa – (Hotel's phone number: +30 2289 072002)
Myconian Imperial Resort & Villas – (Hotel's phone number: +30 2289 079500)
Ornos
Ornos is a busy beach. It has a lot of guesthouses and boutique hotels as well as restaurants on the beaches. This is also listed as a beach town where you are likely to find Mykonos best beach hotel.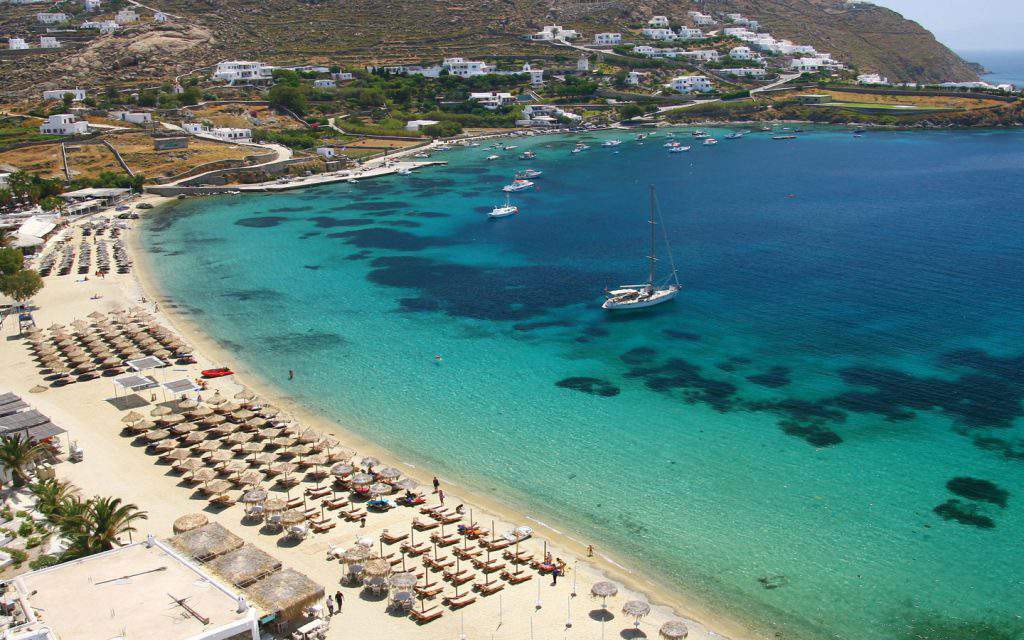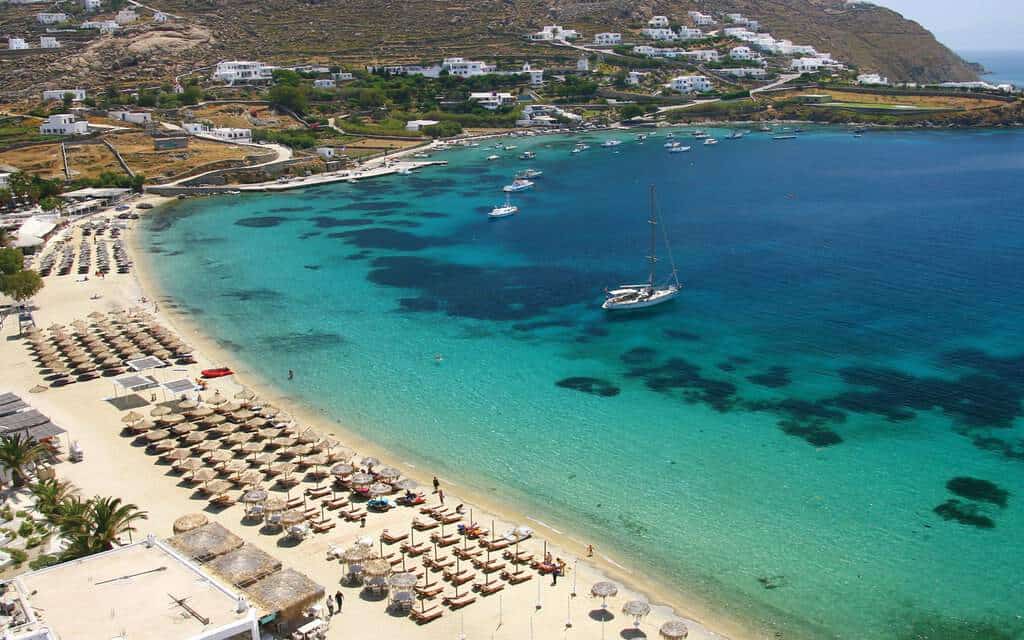 It is a popular destination for families with its tranquil waters, white sand with rows of sun recliners and a location that overlooks a cozy bay. 
On the east of the bay, just 5 minutes away on foot is the Appagio restaurant where you can see the fishing boats while eating. 
5 minutes away on foot on the north is the Korfos beach. It is a more open beach and can be breezy when the wind is strong, but it is a good place to escape from the busy crowd. 
This is on the south of Mykonos Town, just 3.4km away and easily reached by buses passing to and from Agios Ioannis beach. 
Ornos Best Hotels 
Mykonos Blanc – (Hotel's phone number: +30 2289 027618)
Ammos Hotel – (Hotel's phone number:: 30 2289 022600)
Santa Marina Resort & Villas – (Hotel's phone number: +30 2289 023220)
Kivotos Luxury Boutique Hotel – (Hotel's phone number: +30 2289 024094)
Agios Sostis Beach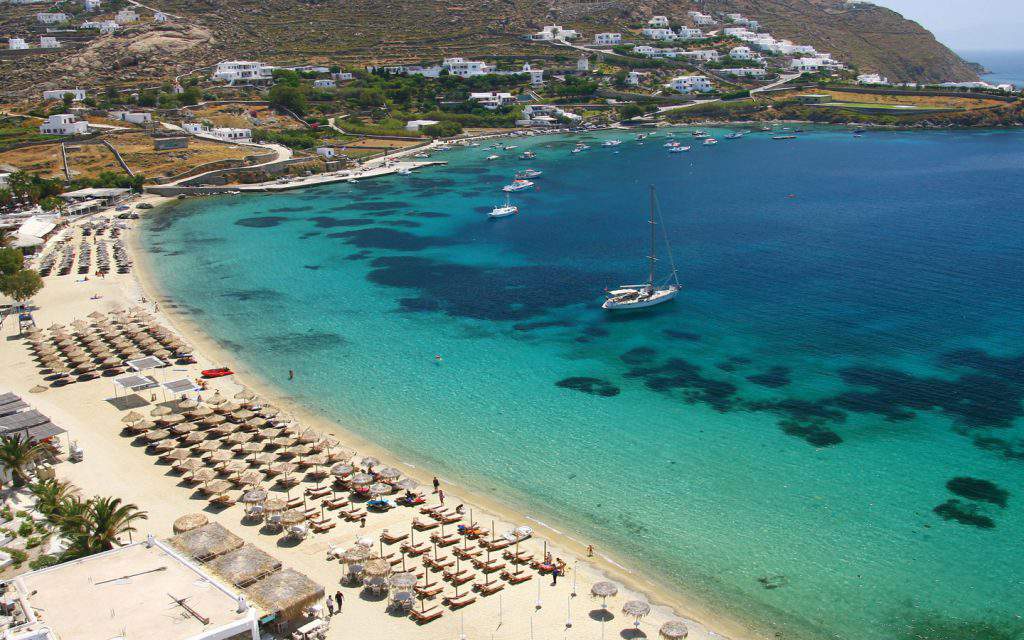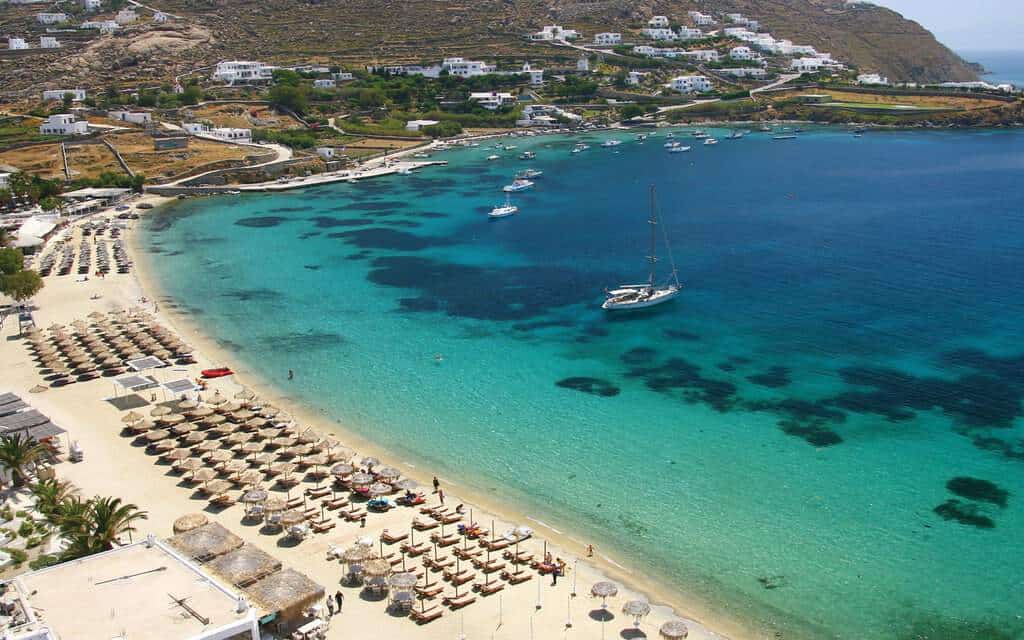 With tranquil blue waters and a long strip of pure white sand dotted with beach umbrellas, Agios Sostis Beach on the north coast of Mykonos is very pretty. 
It gets windy during the months of July to August but it is not as crowded as the beaches on the south coast. 
Kiki Taverna which is a legendary placed is situated high above this beach. With its incredible Cycladic dishes, you'll see lines of diners outside the tavern at noon. 
A sheltered small cove with a cute beach and clear waters is just below the taverna. 
Transportation is not easy so you would need an ATV or a scooter to get here.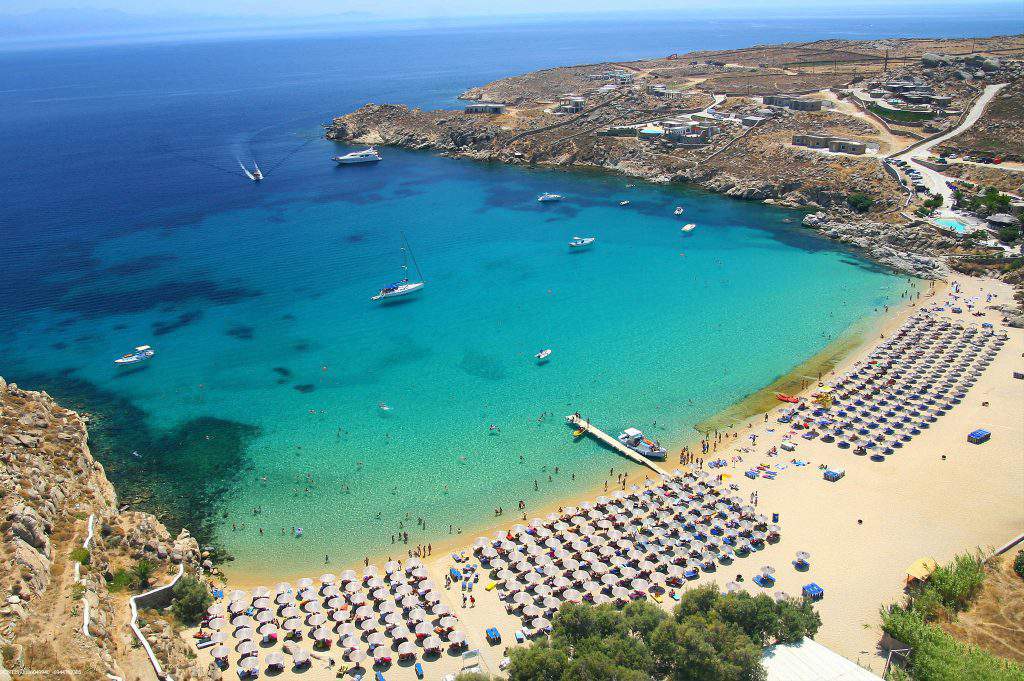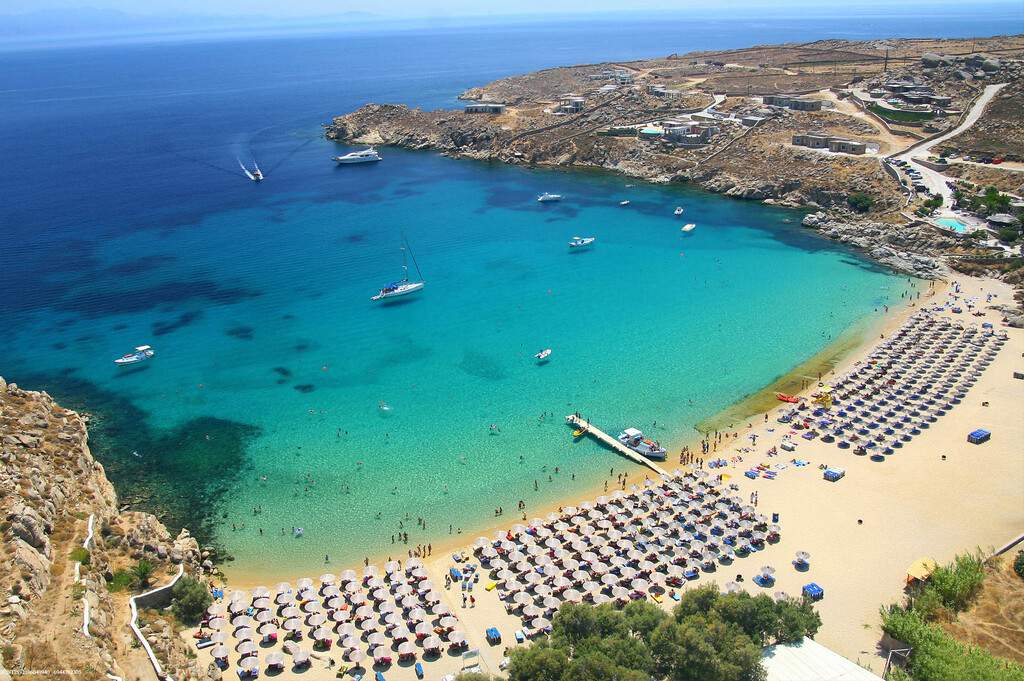 There are two popular beach clubs in Paradise Beach. First is the Cavo Paradiso. By walking on a cliff above the waves, you can reach the club in just 5 minutes. The second is Paradise Club. This club is surrounded by tons of empty bottles of Don Perignon. 
Both clubs have international DJs playing the music at parties that lasts till dawn. 
For conservative types, you would want to avoid going here during the peak season as the beach welcomes people sunbathing while topless or even nude. 
During the off peak season, you'll most likely see families having fun on the beach. 
If you love Indian food, Indian Palace Restaurant at Paradise Beach is serving authentic Indian Dishes. 
Water taxis are available as well as shuttle buses from and to Mykonos Town.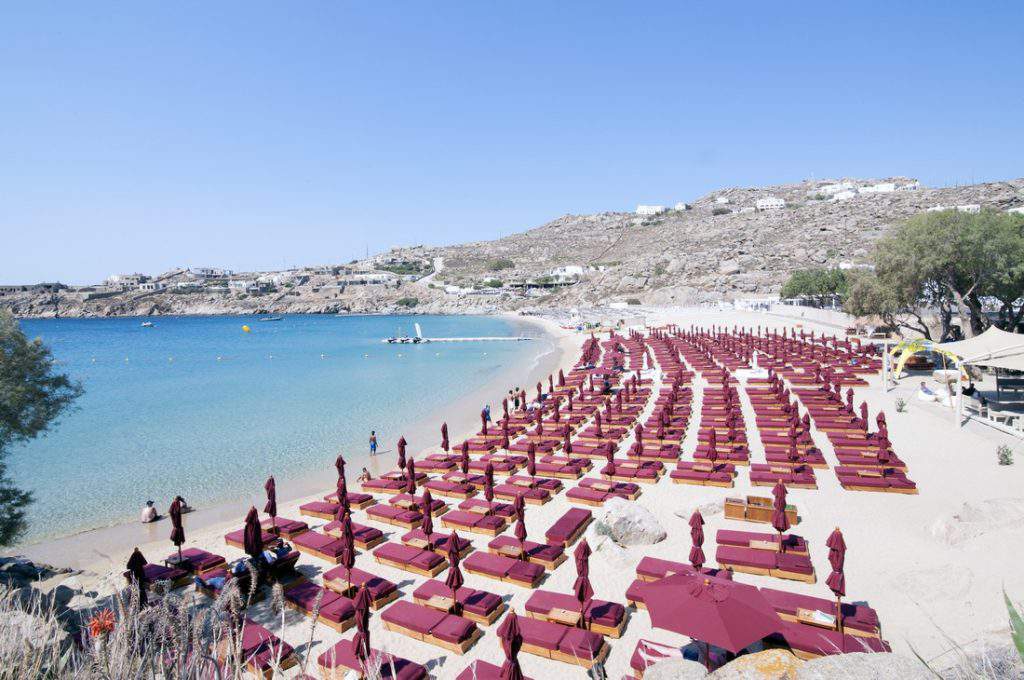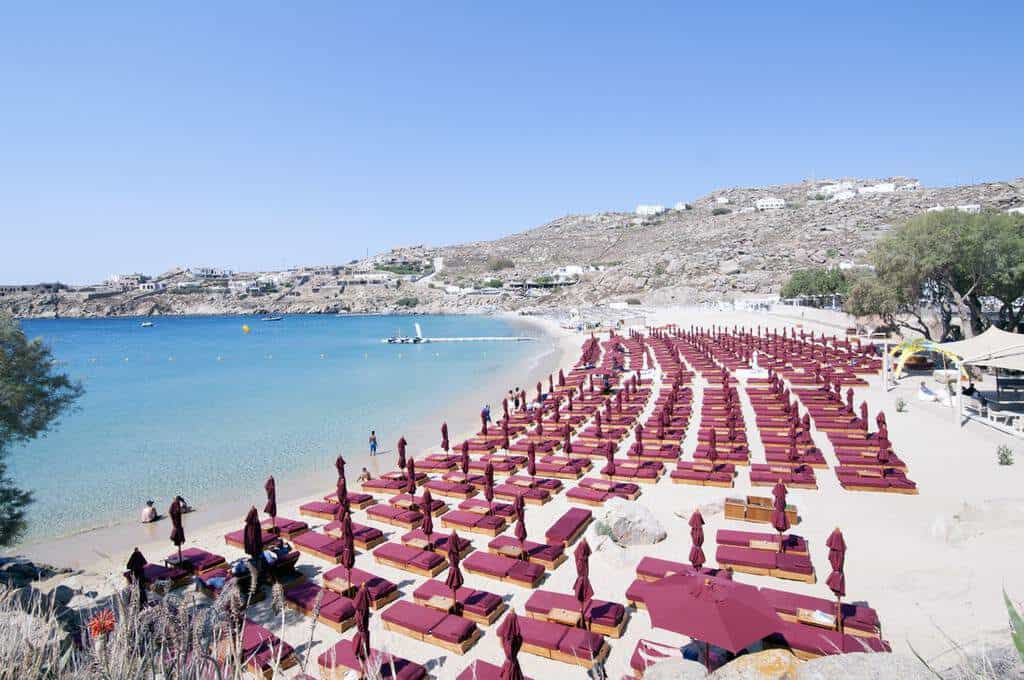 Super Paradise Beach is well known for the Super Paradise Beach Club. 
This is a very popular party beach, especially during the peak season of summer where parties starting the afternoons and last until morning. 
You'll get to party with celebrities and supermodels while international DJ's sets the beats for you. 
Exclusive villas that can be reached on narrow and steep a ccess roads, can be found on the hills idea bove the cozy cove of Super Paradise Beach. 
Buses to Mykonos Town is also available regularly and even last sun till at night during the peak season. Water taxis are available during the day. 
Kalo Livadi Beach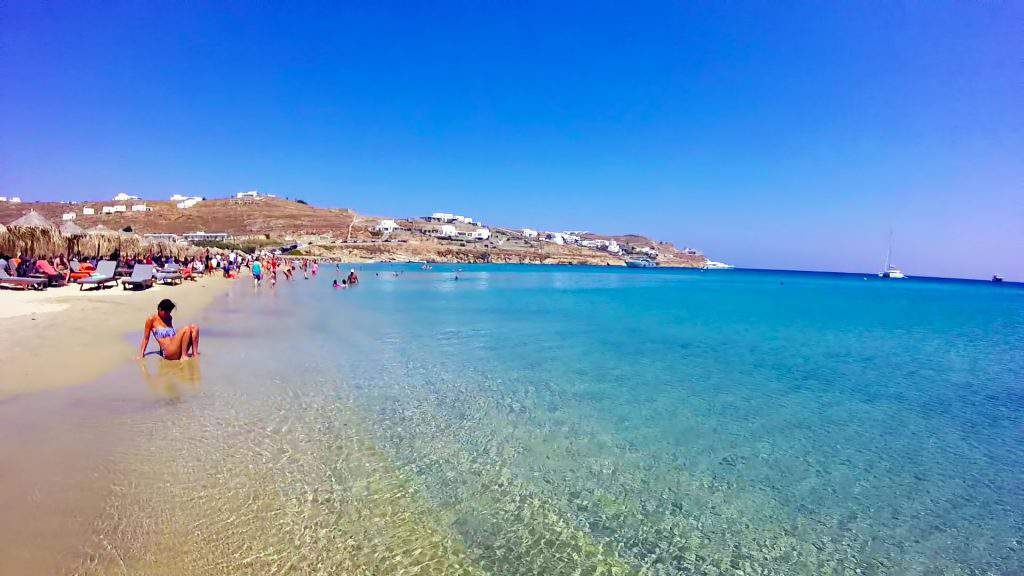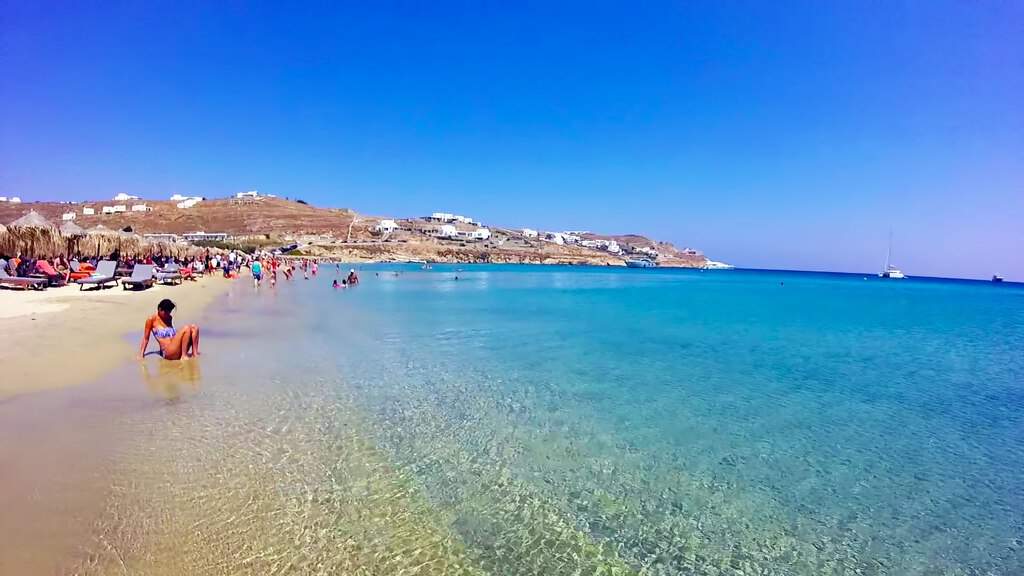 This is a wide and long beach on Mykono's south coast with pebbly sand and quite open to the wind. 
It is a bit isolated so you'll need to go through An oMera to ge there, but several buses are available during the peak season. 
This is a good beach to go to during the summer to avoid the huge crowd. It has tavernas by these a front that can serve standard Greek food and even has several sundecks. 
Ano Mera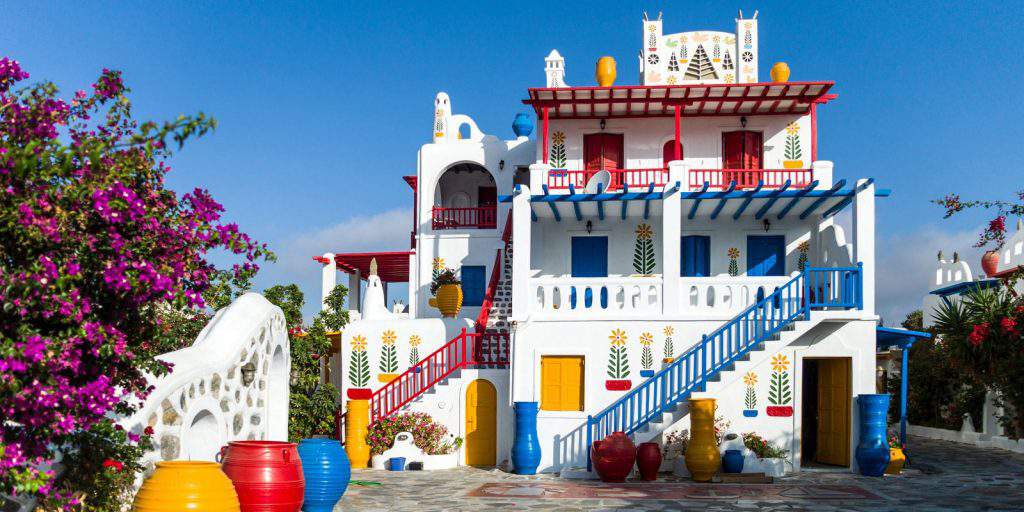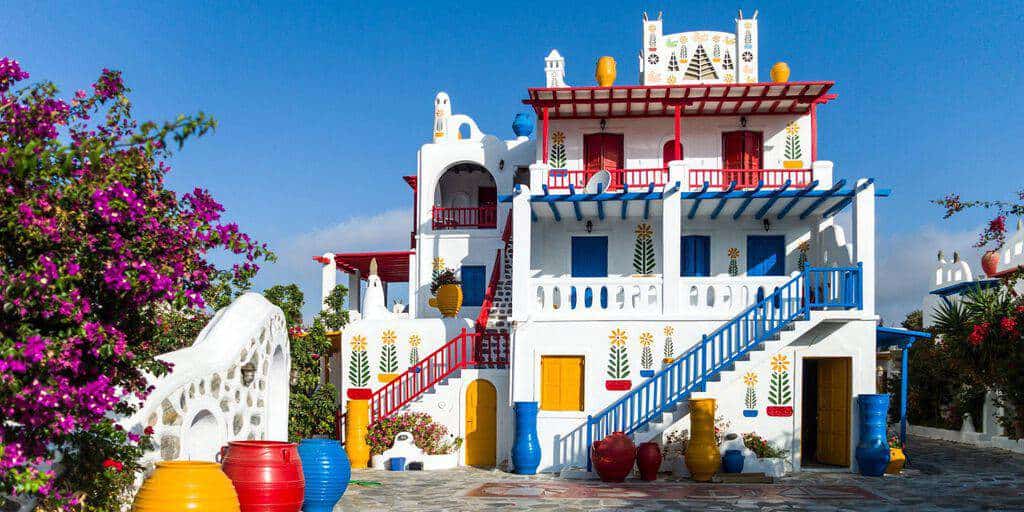 Ano Mera is another settlement in Mykonos that is 8k away. 
It is a charming village with lots of beautiful sites that you can visit. Its main square is very attractive with lots of cafes and tavernas. 
Its 16th century Tourlani Monastery is beautiful with whitewashed interiors that look like an ancient fortress. Inside the monastery is a chapel that is made of marble and full of medievalicons. 
On top of a hill, at the outskirts of Ano Mera, is the Paleo kastronunnery. From the nunnery, you'll see the stunning view of the village, including the monastery. 
Buses connect Mykonos Town and Ano Mera all through out the year but during the high summer peak, there are buses that can connect you with Kalafati and Kalo Livadi beaches. 
None of the Ano Mera hotels are luxurious, but the best on our list is Hotel Anatolia. 
Hotel Anatolia is a friendly, family-oriented hotel in Ano Mera. It is just 6km away from Mykonos Town
After enjoying a meal at one of the tavernas or restaurants at the main square of Ano Mera, you can have a relaxing drink at the lounge or bar of Hotel Anatolia. 
Parraga Beach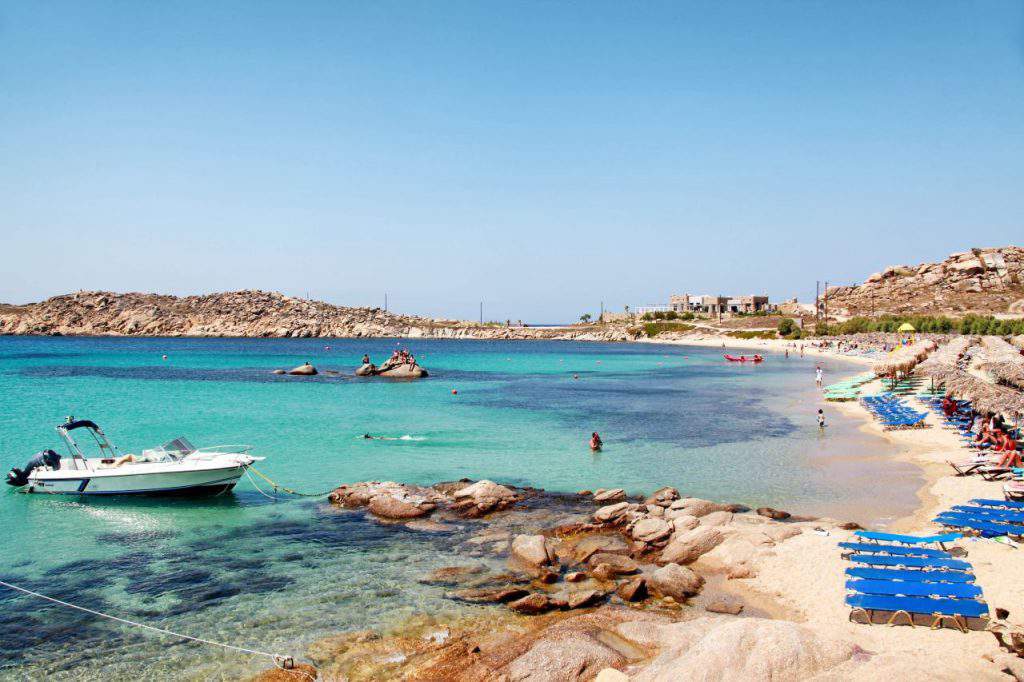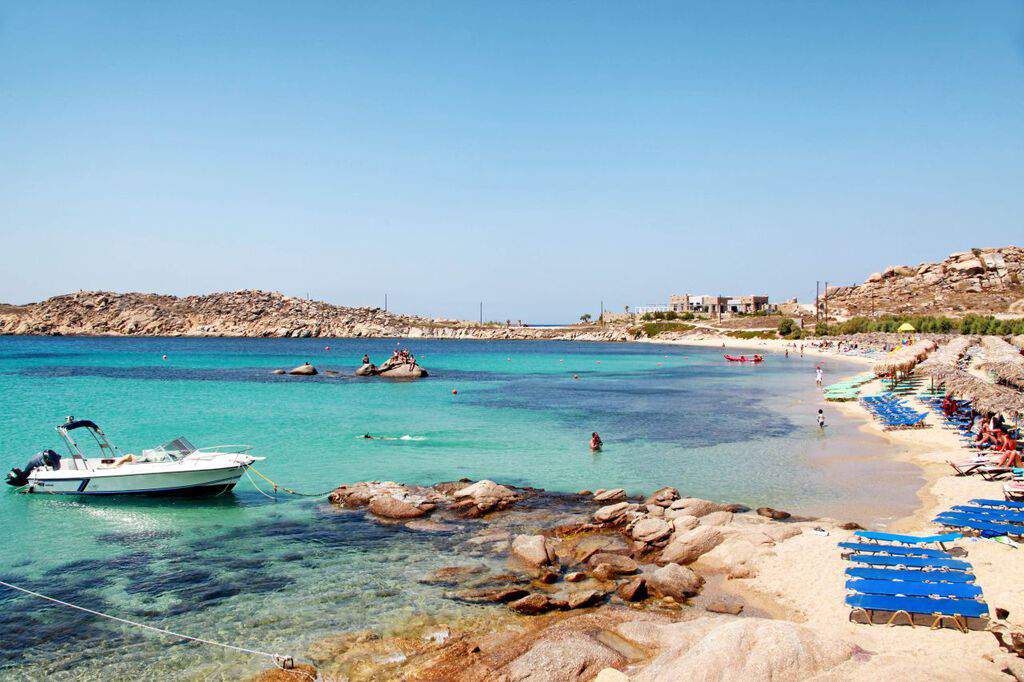 This is a crescent-shaped sandy beach with a lot of beach bars and a hostel for youths atone end and Scopios at the other end. 
Scorpios is a place on the beach's headland with a stunning view of the sea. It has a shady canopy during the day, which makes a good place for lunch. At night, It is a club-lounge and an amphitheater where you can watch the sunset. 
Read more about Mykonos: