What is the Cheapest Sandals Resort in Jamaica?
When it comes to finding the most affordable Sandals resort in Jamaica that is high on experience but will not break your budget, the choice is easy.
The cheapest Sandals resorts in Jamaica is Sandals Ochi Beach Resort. With rates starting at just $243 per person per night, Sandals Ochi Beach Resort offers a budget-friendly option for those seeking a Sandals experience in Jamaica.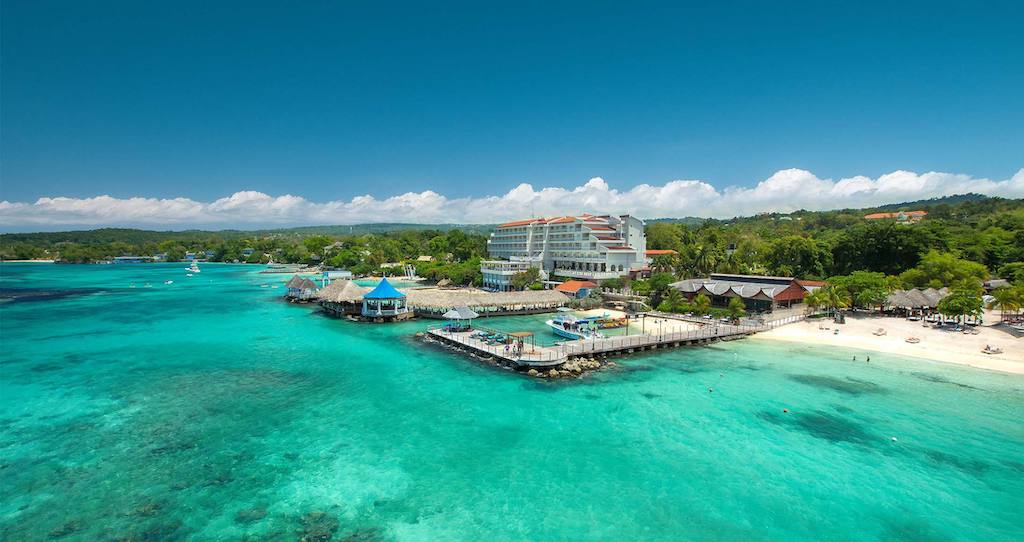 In this article, we will explore why Ochi Beach Resort, located in Jamacia, is not only affordable but also an amazing location for the perfect Sandals vacation.
Sandals Ochi Beach Resort – The Cheapest Sandals Resort in Jamaica
When it comes to Sandals resorts in Jamaica, there are seven different options to choose from, each with its own unique charm.
However, if you're specifically looking for the cheapest Sandals resort, Ochi Beach Resort is the best choice.
Sandals Ochi Beach Resort, located in Ocho Rios Jamaica, stands out as an affordable option starting at just $243 per person per night.
It offers a blend of modern chic and private exclusivity, with a diverse range of amenities and activities to cater to different preferences.
This Sandals resort is known for its luxurious accommodations, stunning white sand beaches, unlimited fine dining, and fantastic water sports.
Whether you are looking for a romantic getaway or an unforgettable family vacation, Ochi Beach Resort provides one of the best all inclusive vacations.
The resort spans over a vast area, giving guests a plethora of room options and things to do, allowing them to tailor their vacation to their liking.
Sandals Ochi Beach Resort features beachfront accommodations that will wow any visitor. And the fact that it is one of the more affordable Sandals resorts anywhere in the world is hard to believe.
The resort features amazing accommodations, 105 sparkling swimming pools, 22 whirlpools, fabulous tennis courts, 16 restaurants, and amazing water sports.
You can also choose to add on to your package butler service, a room with an oversized balcony, a veranda overlooking lush gardens, or for those seeking the best in a romantic resort, the Riviera Honeymoon Beachfront Penthouse Club Level. All rooms include room service, muted decor, and a stocked refrigerator.
One side of Sandals Ochi Beach Resort is the beachside Caribbean Riviera. This area is perfect for those seeking a lively and energetic atmosphere featuring:
a vibrant beach club
multiple bars
pools
a dive center
On the other side, you'll find a more serene setting featuring:
a 100-acre Garden of Eden filled with private escapes
the elite Butler Village- here, guests can enjoy suites with semi-private pools, ensuring ample privacy and tranquility
Dining Options at Sandals Ochi Beach Resort 
Sandals resorts are always known for their amazing restaurants, and this resort in Ochi Beach is no exception. Offering a remarkable selection of dining options with 16 trend-worthy eateries, including the Caribbean's first speakeasy, it might be surprising that one of the cheapest sandals resorts offers some of the best fine dining in the Caribbean. Whether you prefer casual beachside dining or fine dining experiences, the resort has something for every palate. 
Some of the dining options include:
Vista Sky, seafood
Valentino's, Italian
Soy Sushi Bar, Sushi
The Reef Terrace, Caribbean
The Southern Table, American Southern
Neptune's Mediterranean
Activities Available at Sandals Ochi Beach Resort?
Golf enthusiasts can take advantage of the nearby Sandals Golf & Country Club. This award-winning golf course is known for its stunning fairways and beautiful views. Private golfing lessons are also available for those looking to improve their skills.
At the resort, you can also find:
PADI® Certified Scuba Diving
Kayaks
Windsurfing
Snorkeling
Sailboats
Paddle Boarding
Glass Bottom Boat
Best Sandals Resorts in Jamaica
Whether you are a couple looking for some romance and relaxation, a family searching for a fun and exciting holiday or a group of friends looking for a unique and memorable experience, there is a Sandals Resort to fit your needs.
From luxury accommodation, exquisite dining and spa services, to water sports, land activities, and nights full of entertainment, there is something for everyone.
The best Sandals resorts in Jamaica are:
Sandals Royal Caribbean Resort & Private Island,
Sandals Ochi Beach Resort, and
Sandals Montego Bay.
Sandals Royal Caribbean Resort & Private Island offers a luxurious experience with all-inclusive luxury and personalized butler service.
Sandals Ochi Beach Resort provides a lush and tropical setting with an array of amenities. It is an affordable option with great value for money.
Sandals Montego Bay offers a private white sand beach with activities such as water sports and live entertainment.
All meals and drinks are included in the price of the stay at any Sandals resort, making it great value for money.
Conclusion
When it comes to finding the cheapest Sandals resort on the island of Jamaica, Sandals Ochi Beach Resort is the top choice.
This all inclusive resort has rates starting at just $243 per person per night. It offers budget-friendly options without compromising on the luxury and amenities that Sandals resorts are known for.
Embark on a remarkable journey to a tropical private island of paradise filled with relaxation, adventure, and unforgettable moments at Sandal's Ochi Beach Resort at a price you can afford.