Santorini Boutique Hotels
Santorini offers the perfect combination of archaeology, spectacular beaches, turquoise waters and incredible sunsets. Here's a list of the most charming hotels and apartments in one of the paradises of the Mediterranean. Walk through the convoluted streets of Fira, admire its many blue-domed chapels or sail to the ancient crater of a volcano while staying in a cozy beach hotel or enjoy a romantic getaway.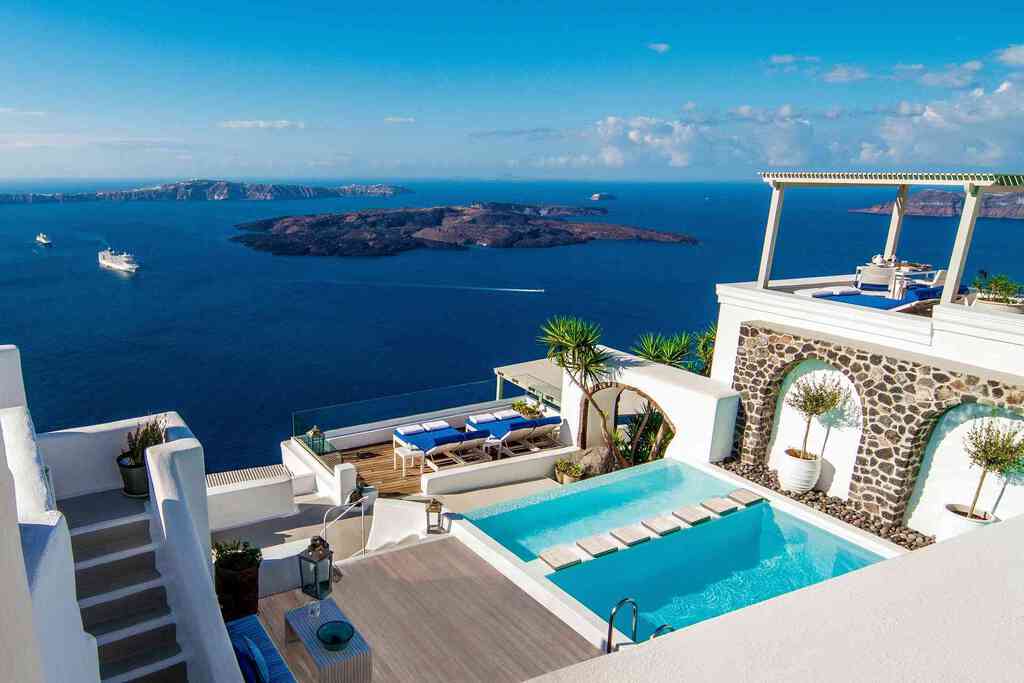 Tips
Booking.com – the only website to go to for any bookings for hotels in Santorini.
#1 Boutique Hotel in Firostefani: Tsitouras Collection
#1 Boutique Hotel in Imerovigli: Sophia Suites
#1 Boutique Hotel in Fira: Cosmopolitan Suites
#1 Boutique Hotel in Oia: Aspaki by Art Maisons
The best towns to book a stay in Santorini would be Firostefani, Oia, Imerovigli and Fira. Fira provides awesome night entertainment while Imerovigli has renowned restaurants. Oia is actually a combination of what Fira and Imerovigli have to offer while Firostefani is not that crowded but is a few meters away from Fira.
Here are some other hotel reviews you might like:
Best Hotels in Santorini
Cheap Hotels In Santorini
Best Places To Stay in Santorini
Top Kid Friendly and Family Hotels in Santorini
Santorini Villas
Staying at an Airbnb in Santorini
San Antonio Hotel, Santorini (Review)
Grace Hotel Santorini
Best Boutique Hotels in Santorini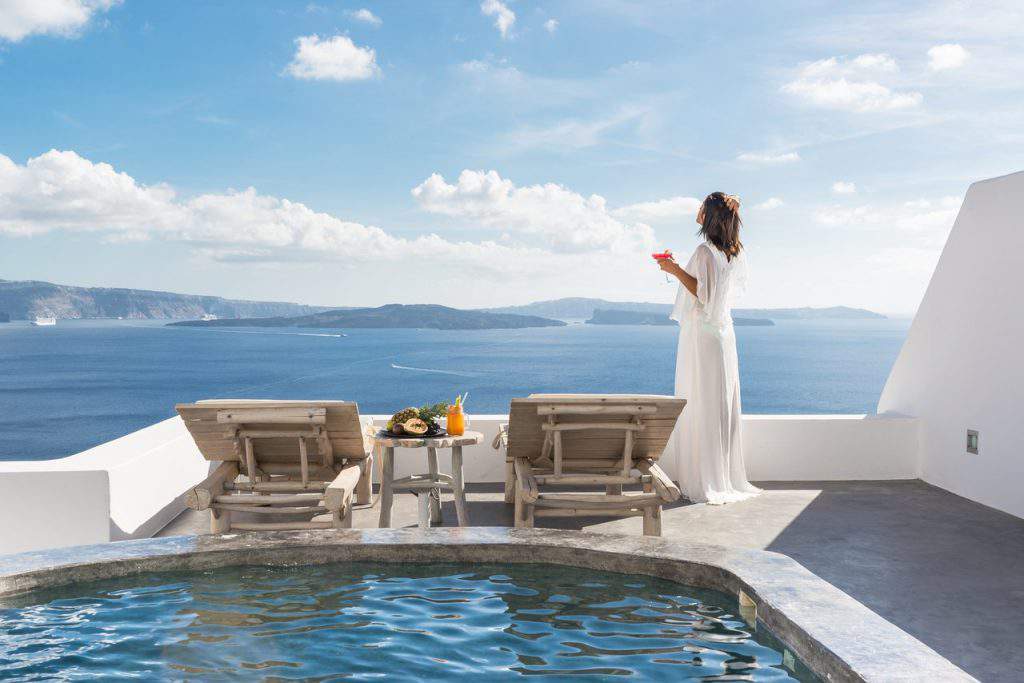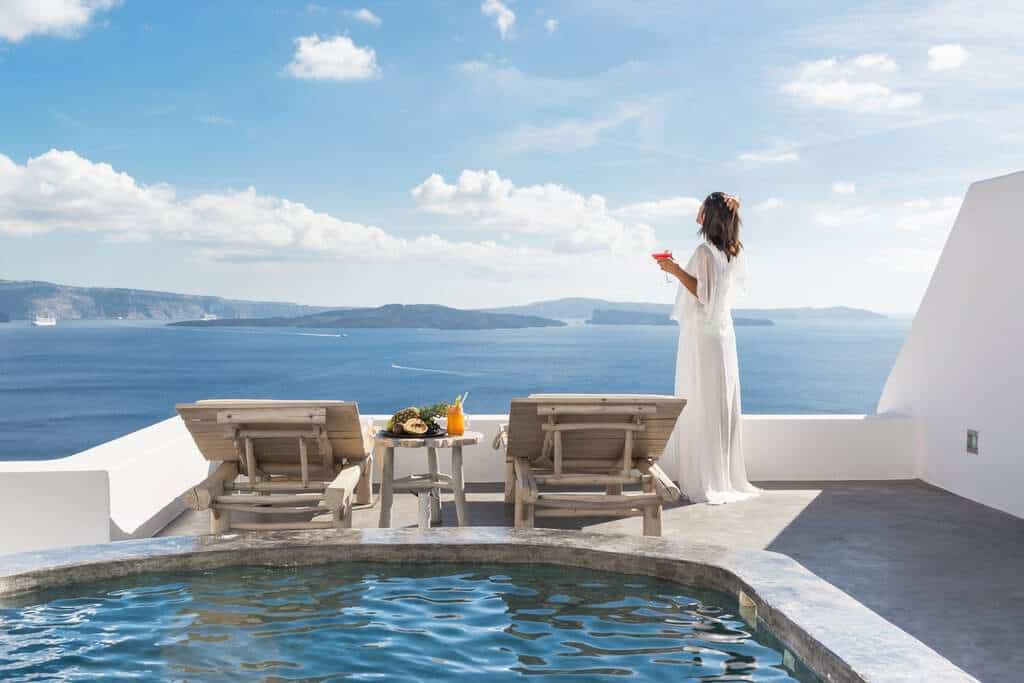 If there is any hotel that promotes relaxation, it is this one. There's an awesome pool, a wonderful vie and it's in a centralized location. Don't forget to take your date to their restaurant too as it has a romantic setting.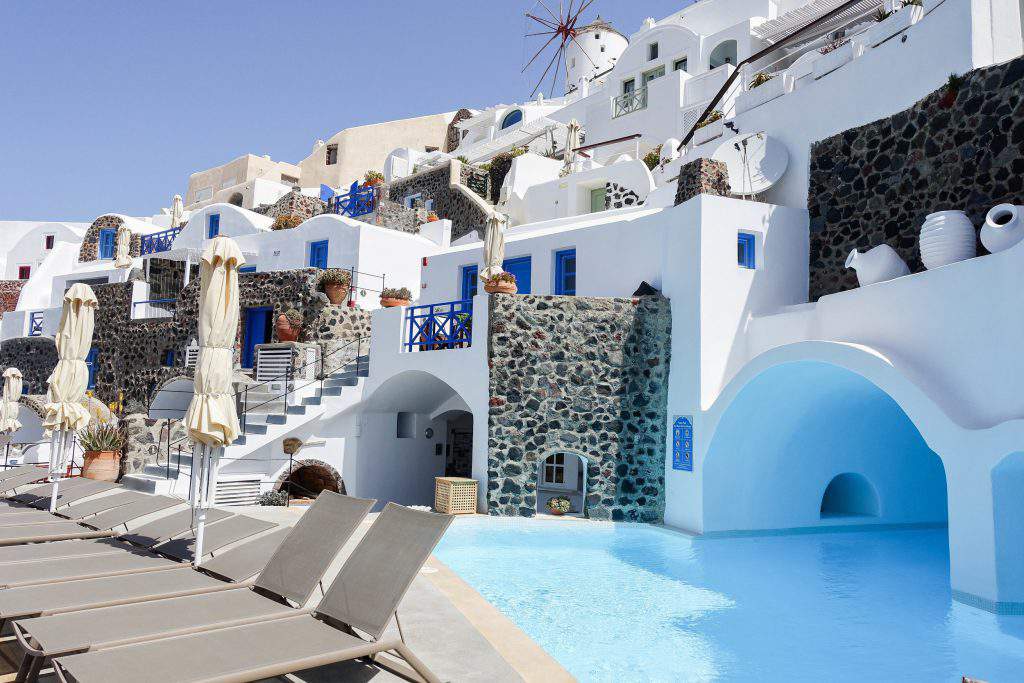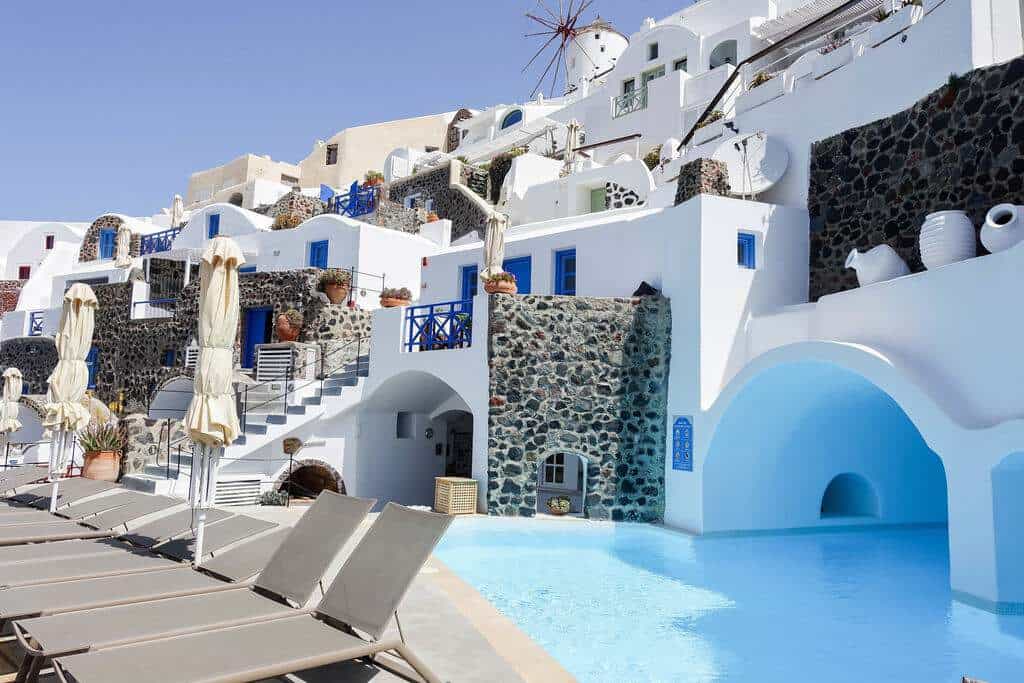 Don't forget to have dinner at their excellent restaurant as it also comes alive at night. Those who adore sunset views will be very pleased with the view here.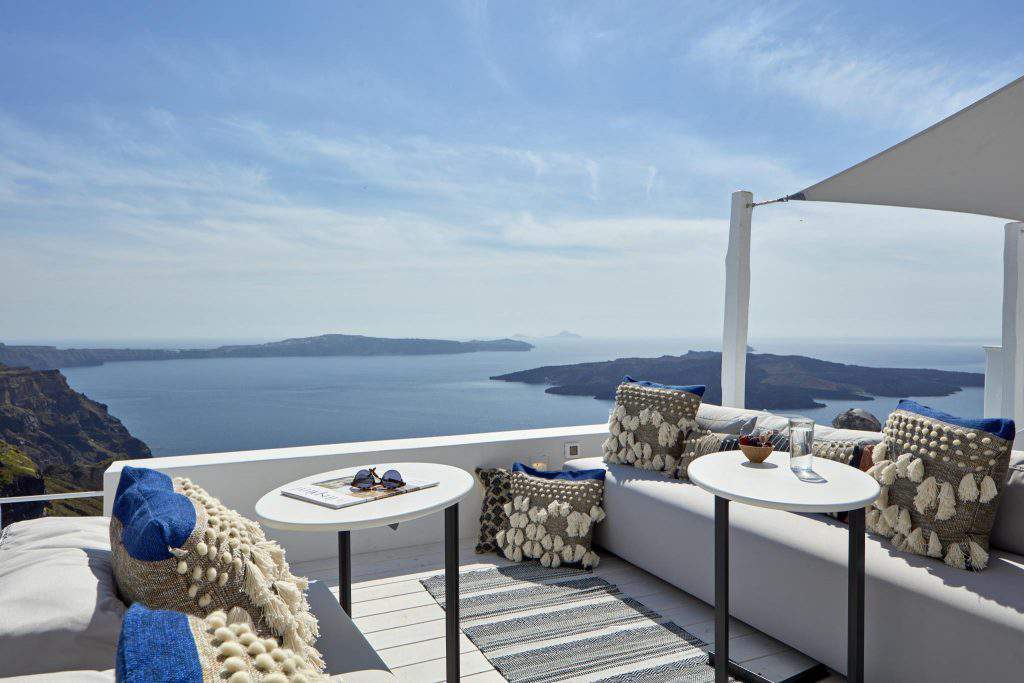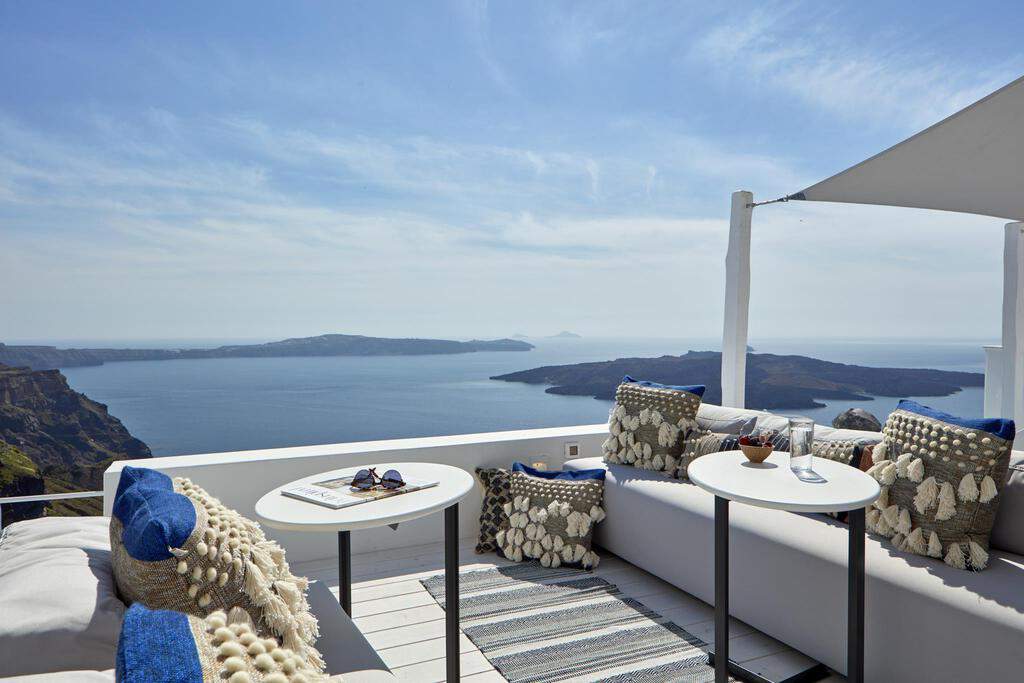 Those who like to party at night will find this hotel ideal because it's close to bars and clubs. In addition, the caldera views are magnificent and you can spend a whole afternoon chilling at the pool.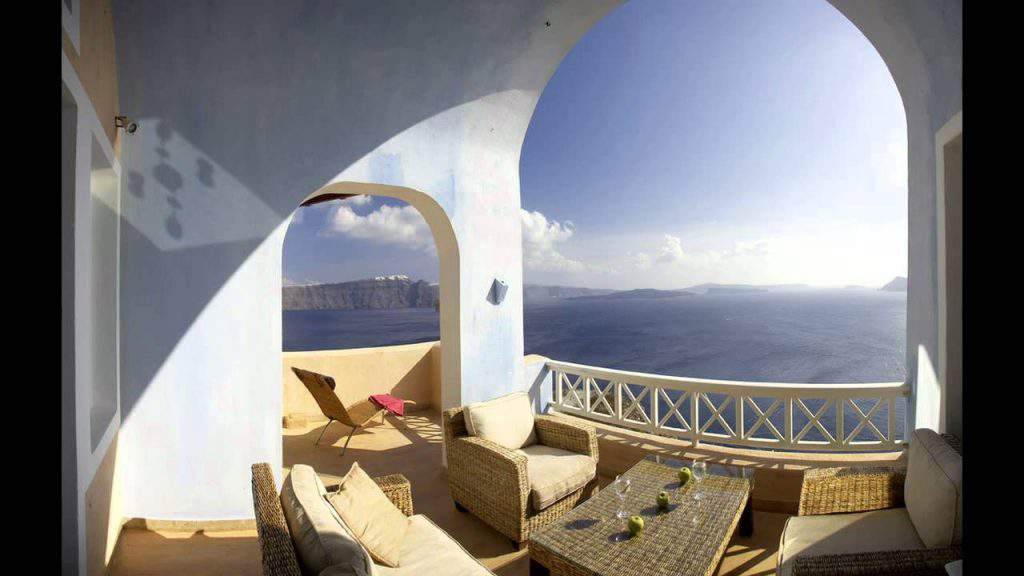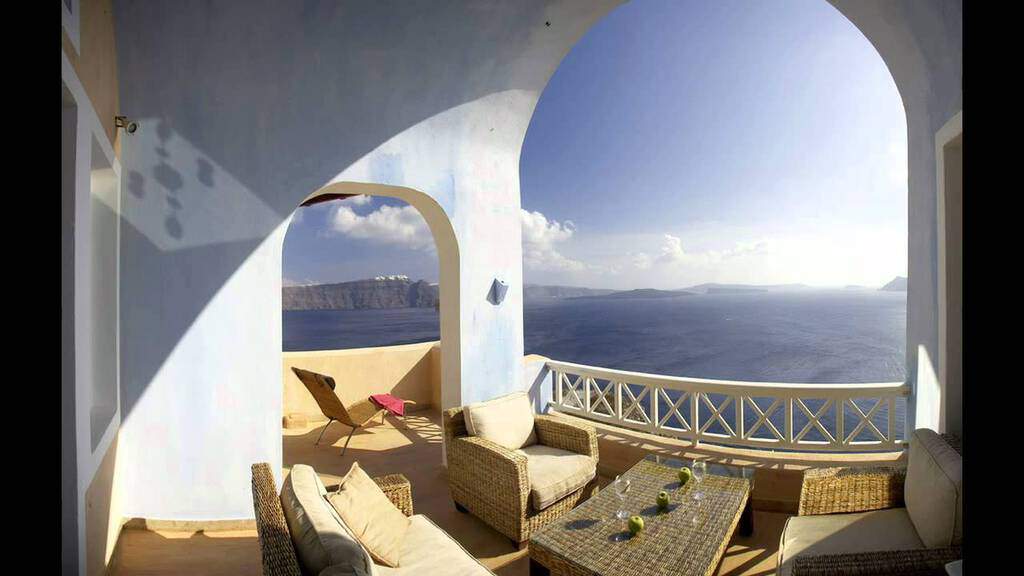 Its location is so great that it gives multiple caldera views and all of them are wonderful. Therefore, it would be best to book this hotel several weeks in advance. If you choose to book a suite, you'll be blessed with exquisite hot tubs. Also, remember to visit its partner hotel Oia Castle for magnificent sunset views.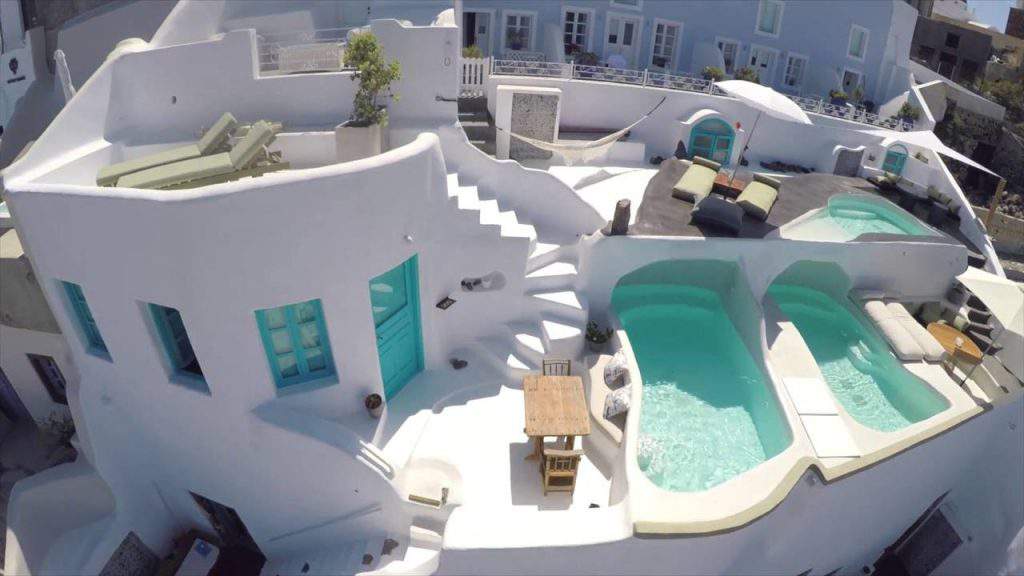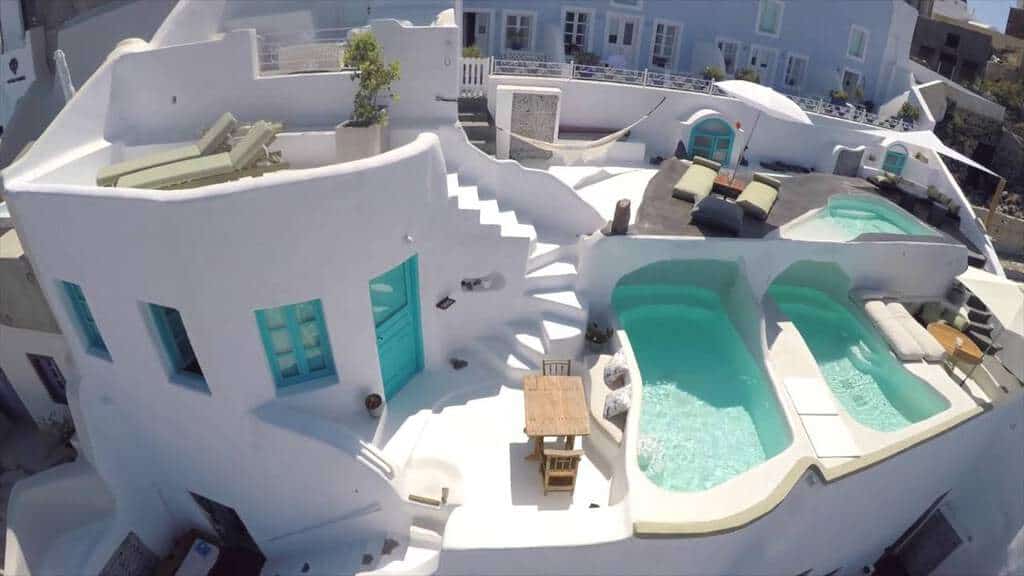 Words can't describe how awesome the suites here are as each has a private pool along with wonderful views. Since some of the top restaurants are nearby, you're going to be excited for lunch and dinner.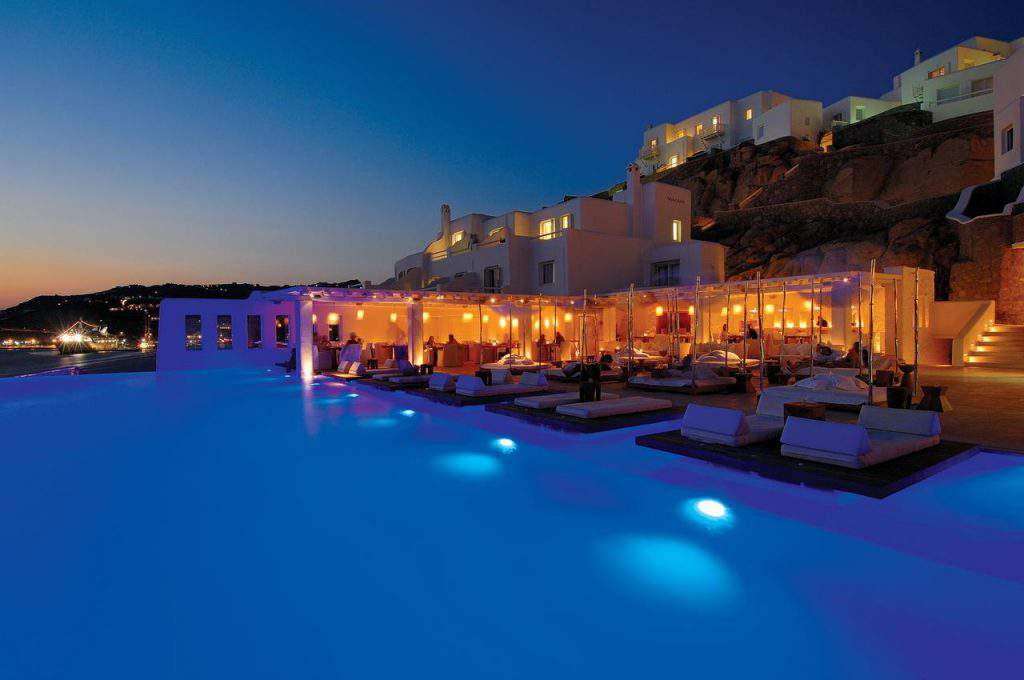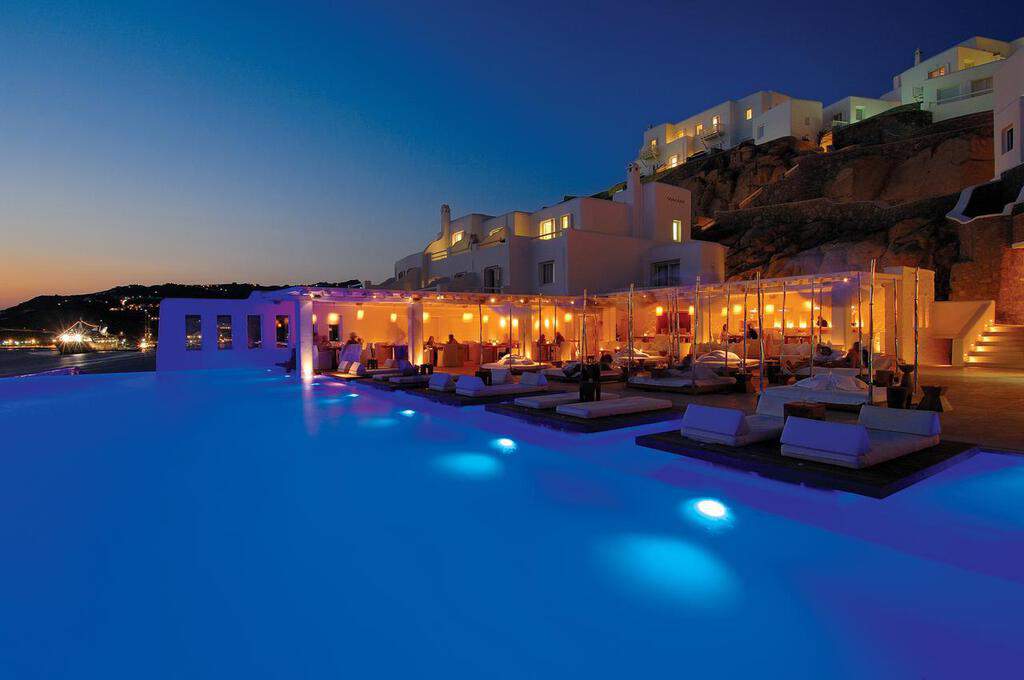 Out of all the hotels listed here, this one is the newest. Its location is not that busy so it's ideal for those who want a little peace and quiet. Also, a lot of reviewers raved about how nice the service here is. Go there and experience it yourself.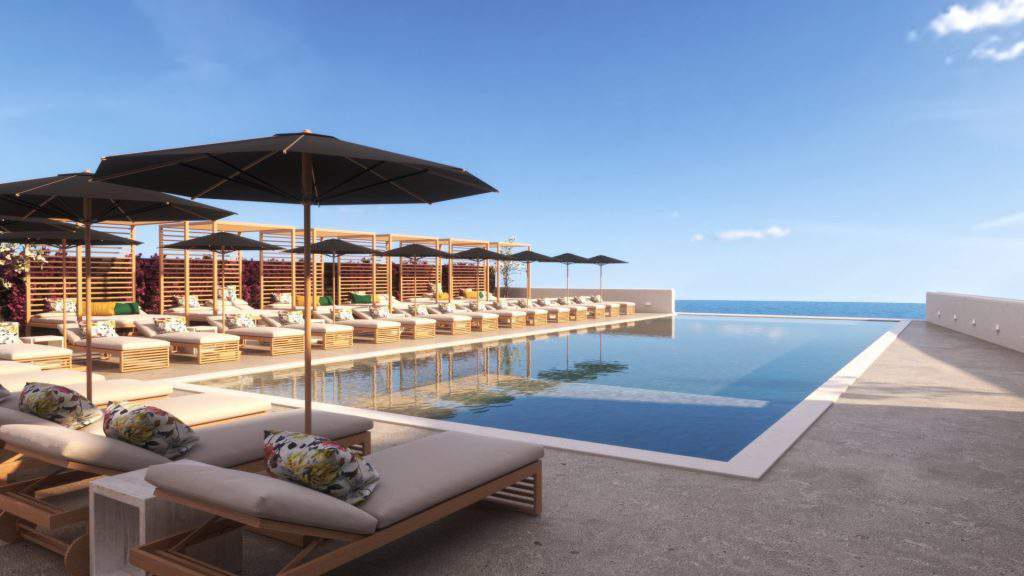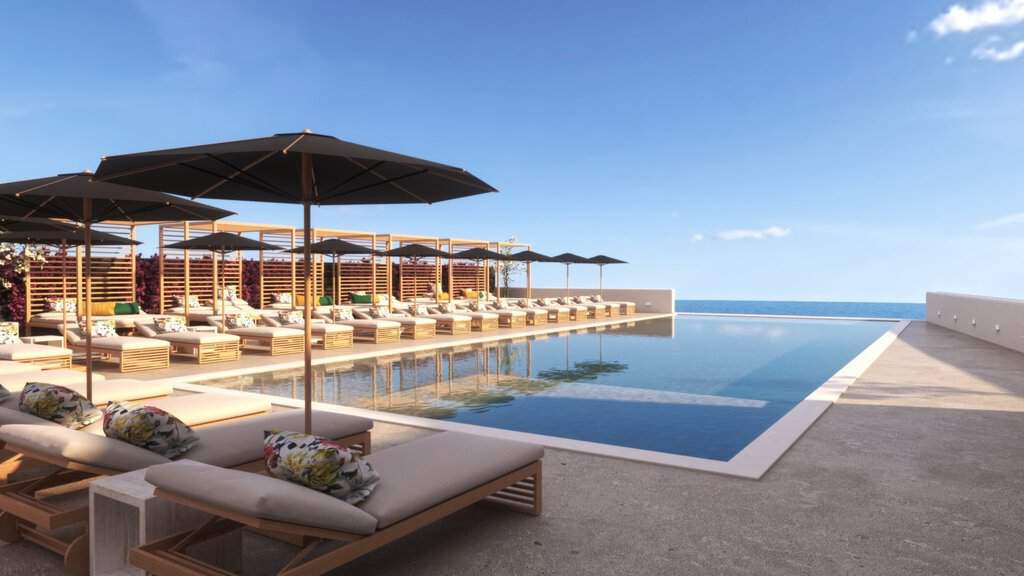 Not only are the pools wonderful here, the service is also top-notch. Everything here just screams first class and one of the city's best bars is just a few meters away.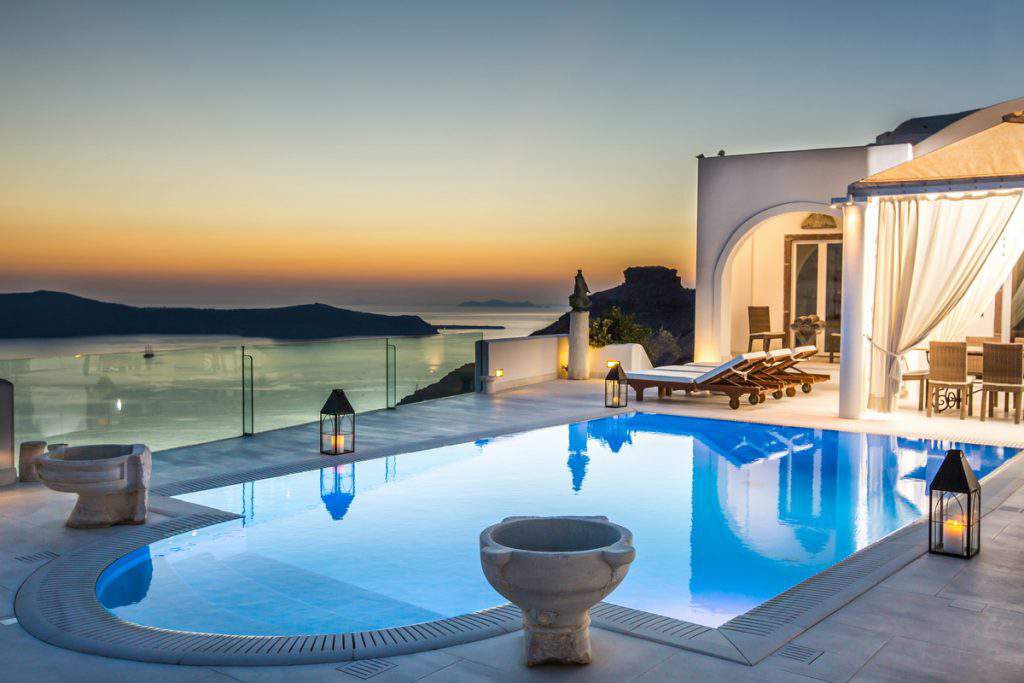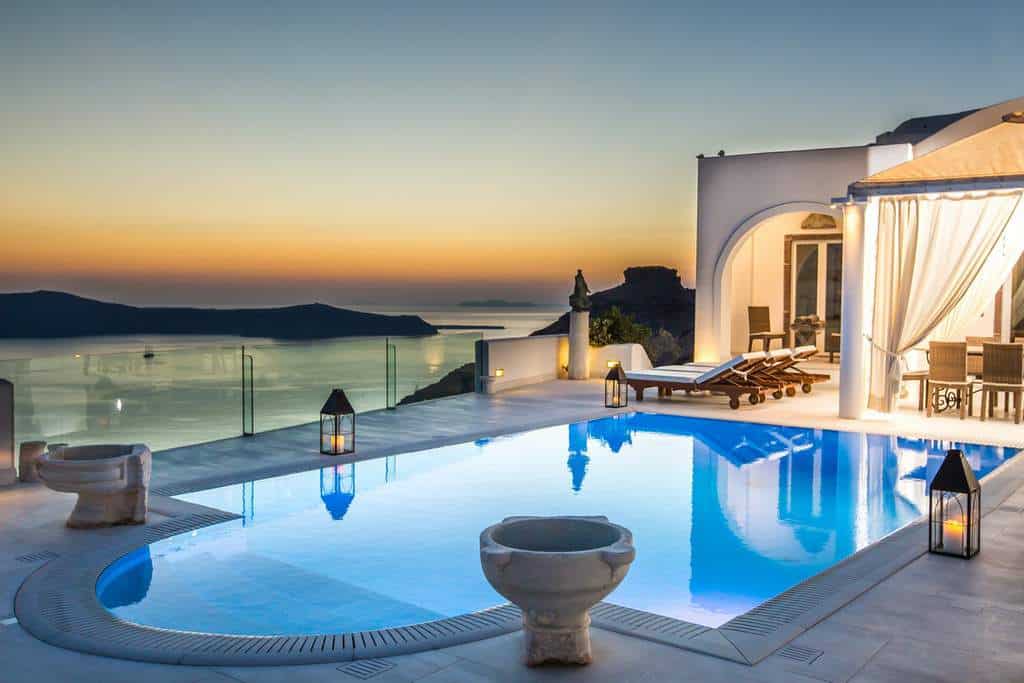 The staff here are so friendly that they will help you with anything you desire. In addition, it is in an ideal location.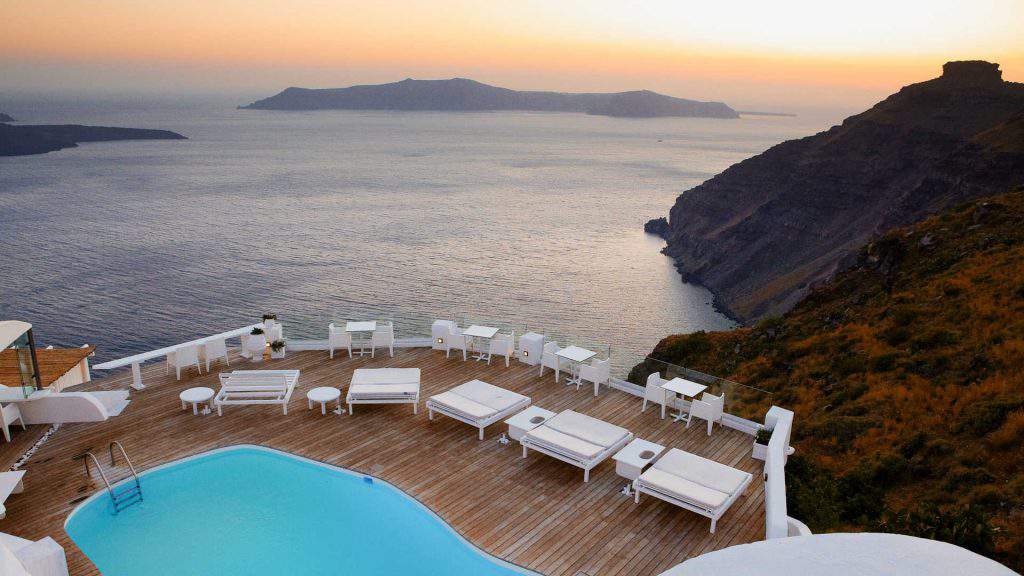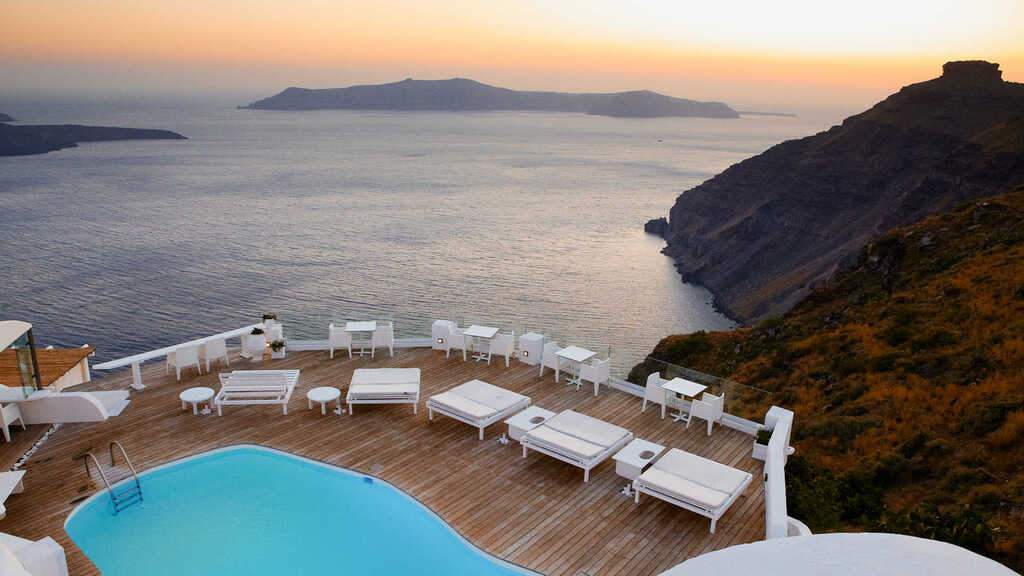 Children won't be allowed in this hotel as only adults will be. Furthermore, only good vibes are allowed here so prepare for some fun like you've never had in your life. The amenities are great too.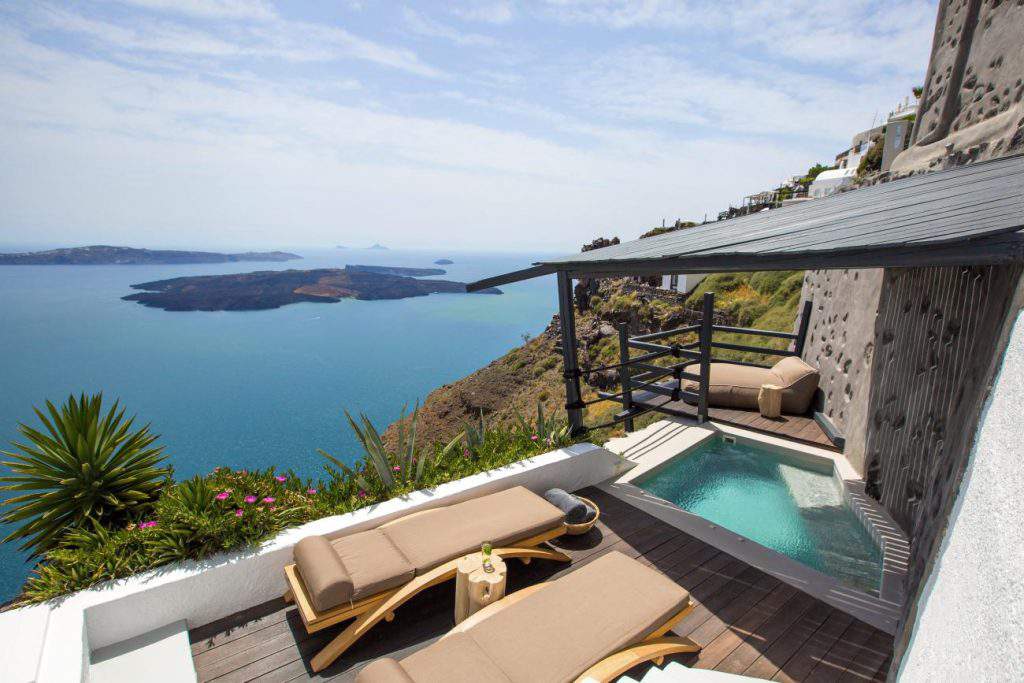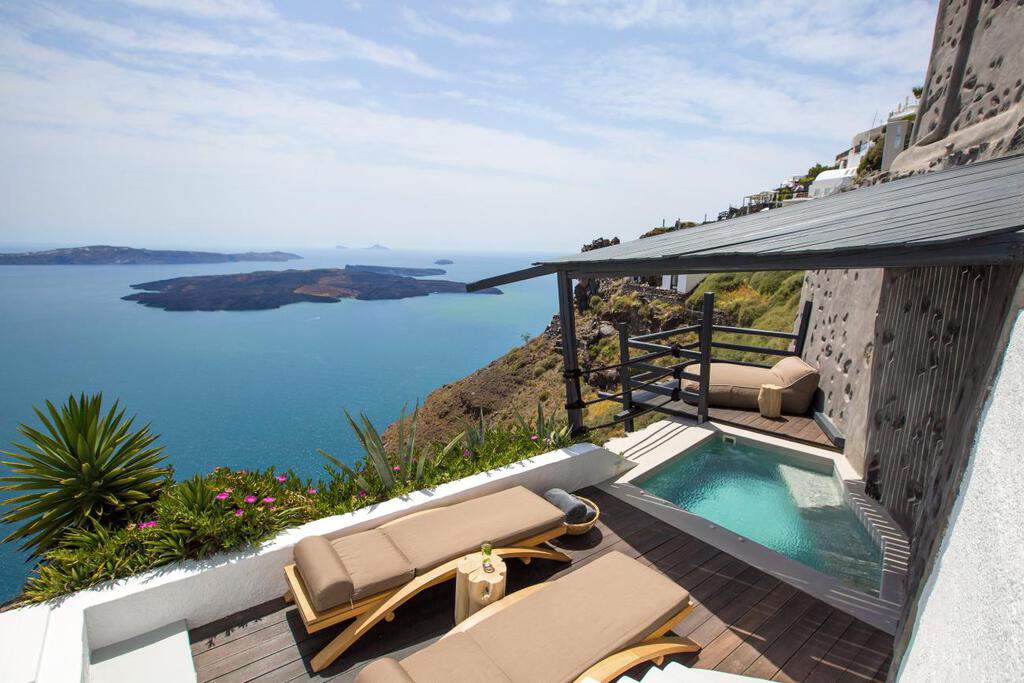 The hotel provides an awesome view of the volcano but this is not the place for those who look forward to the sunset as there is none of that there. Additionally, there is a wide selection of rooms so better choose the one you'll feel convenient with.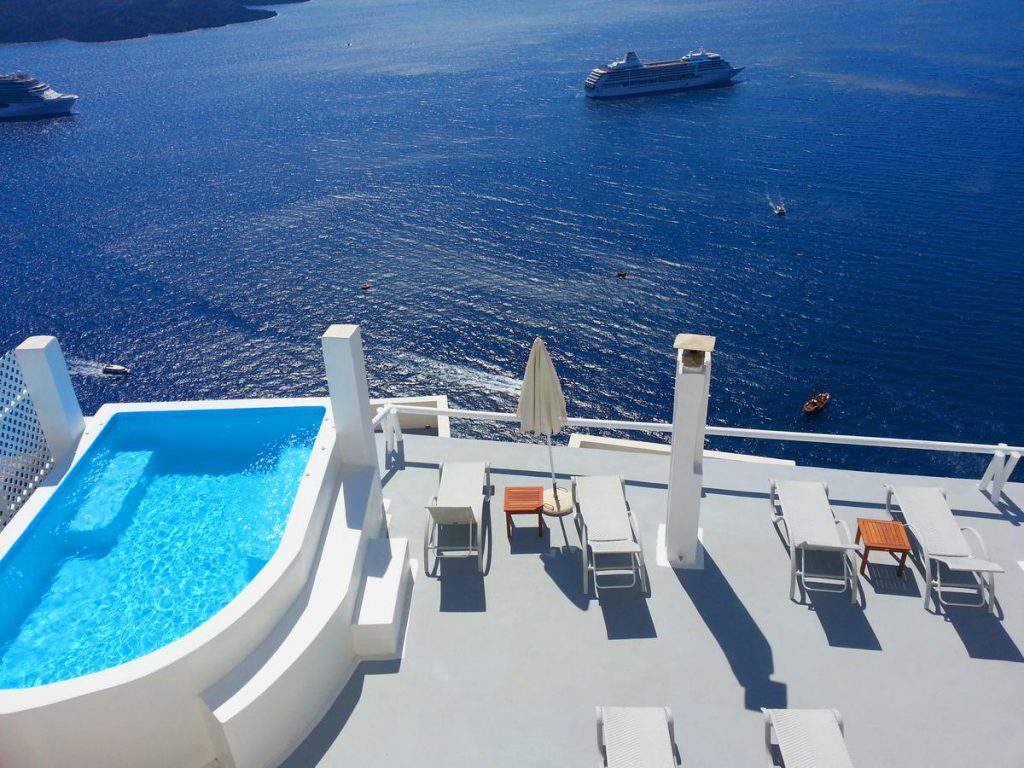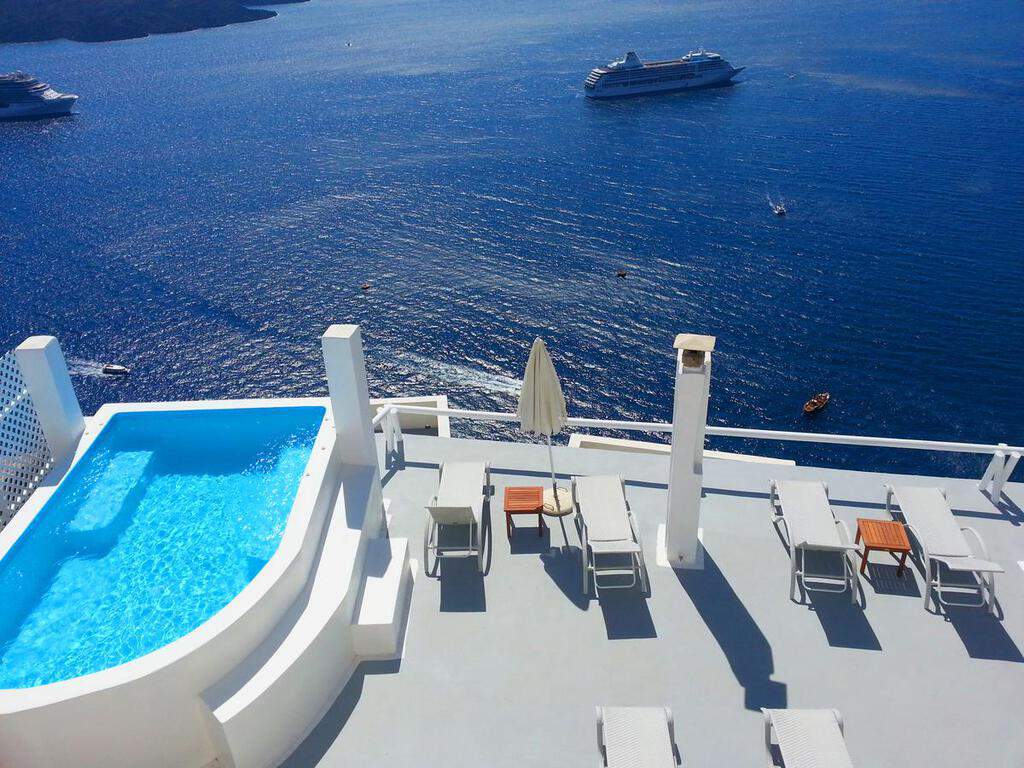 Once you get a load of the king suite, your jaw will certainly drop because of how amazing it is. There is no doubt this is one of the best deals you will ever come across. Those who want complete privacy will love this place. However, the breakfast is not something they should be proud of.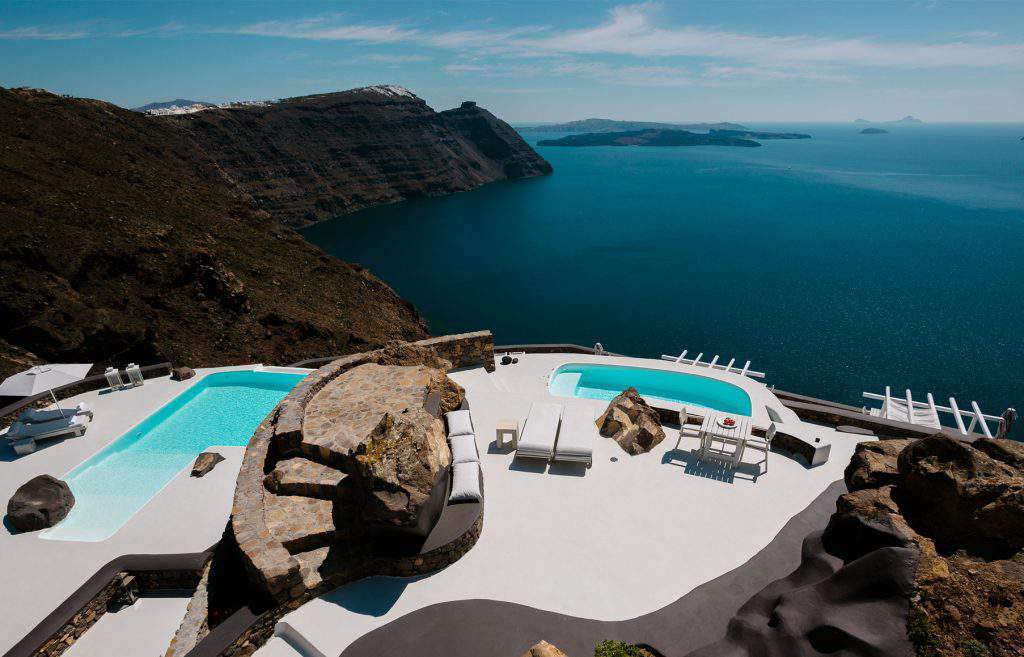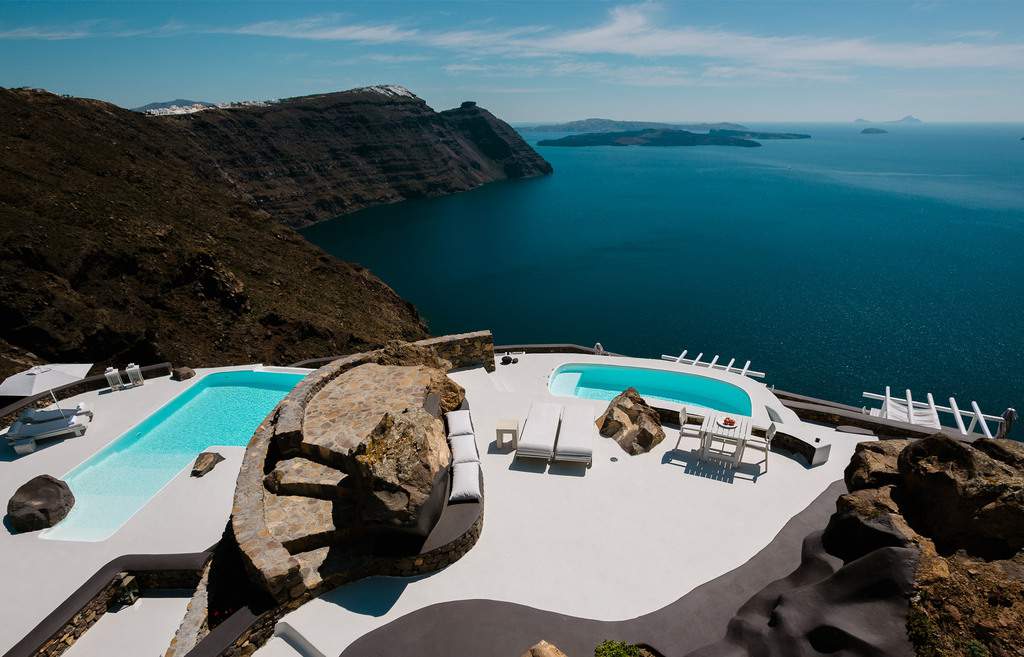 From the picture, there are two hotels and the one that is closer is San Antonio while the one that's farther is Aenaon. Both hotels are awesome but there is not much commercial places close to it. You're going to have to take a bus to the shops and restaurants as there's a bus stop near the hotels.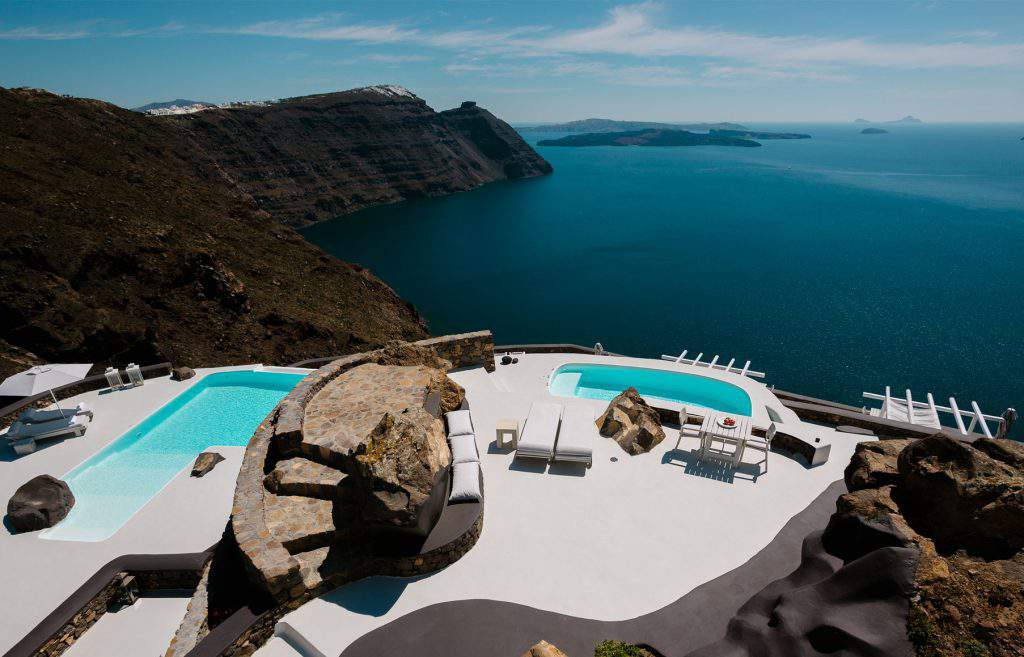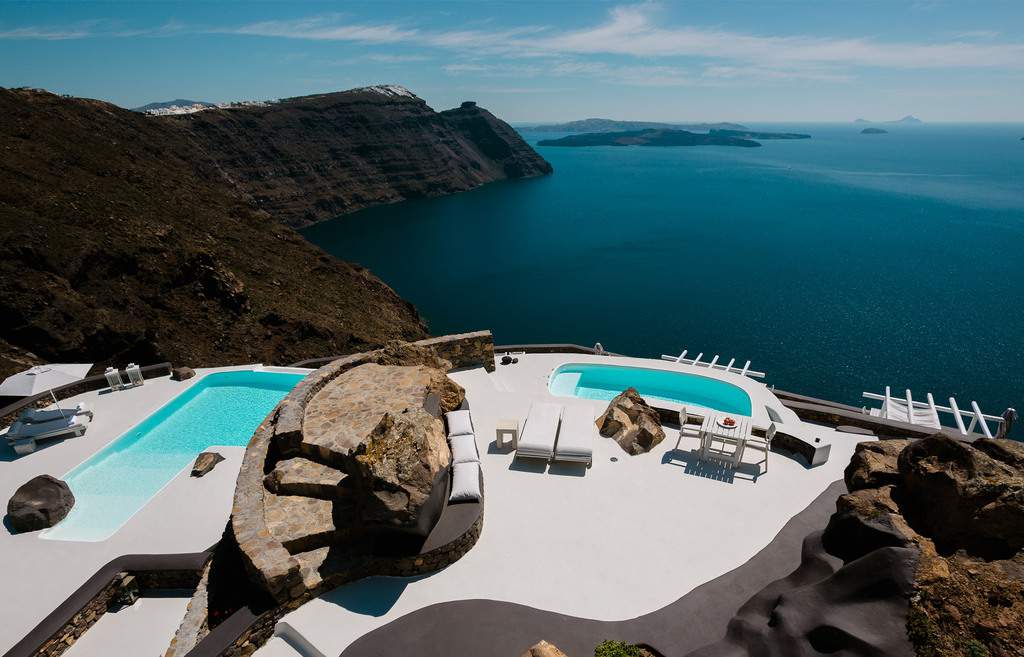 For a more relaxed vibe, this hotel is perfect but if your mood changes, the lively bars of Fira are just a few meters away. Not only are the views fantastic, the swimming pools are not to be missed too.
Read more:
When to visit Santorini
Where to eat in Santorini
How to get from Athens to Santorini
Santorini's Infinity Pools
Exploring Santorini's beaches
How to get from Crete to Santorini
How to get from Mykonos to Santorini