Top 10 most Luxurious Milos' Hotels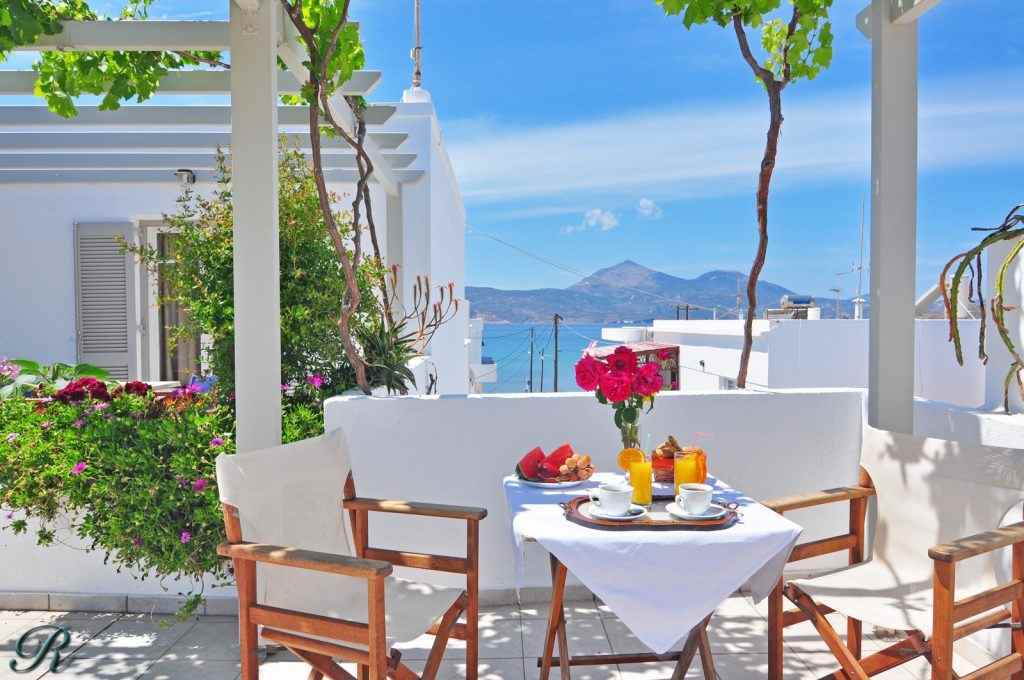 Hotel Rigas is a welcoming, guest friendly aparthotel. They offer comfortable, sleek, spotless apartments and rooms. The rooms also have state-of-the-art kitchenettes (with fridges and stoves); a double bed; and furnished clean balconies boasting a nice village/sea/garden views. And the hotel is only a short distance from restaurants, port, beach, and centers. Hotel's contact info: +30 22870 23450.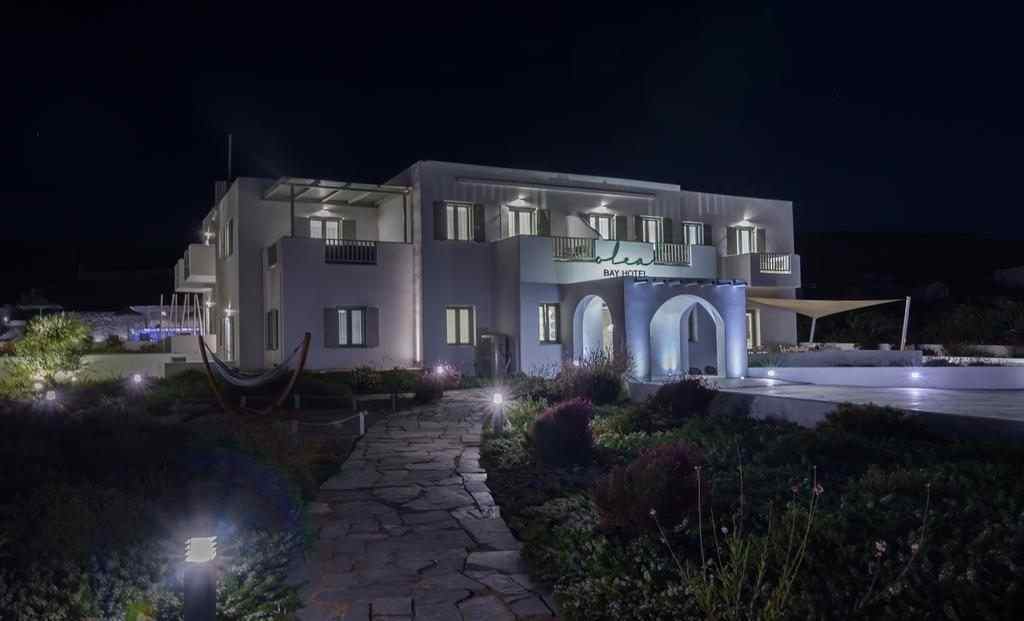 Olea Bay Hotel is a traditional, mint hotel boasting a fresh, pristine, modern touch in its suites and rooms. Furnished with little bars, a small refrigerator, a picturesque view from the verandas/balconies, and a tiled floor. If you want to take a dip, there is a nice beach across plus the hotel is only a few minutes away from the town. Hotel's contact info: +30 22870 31003.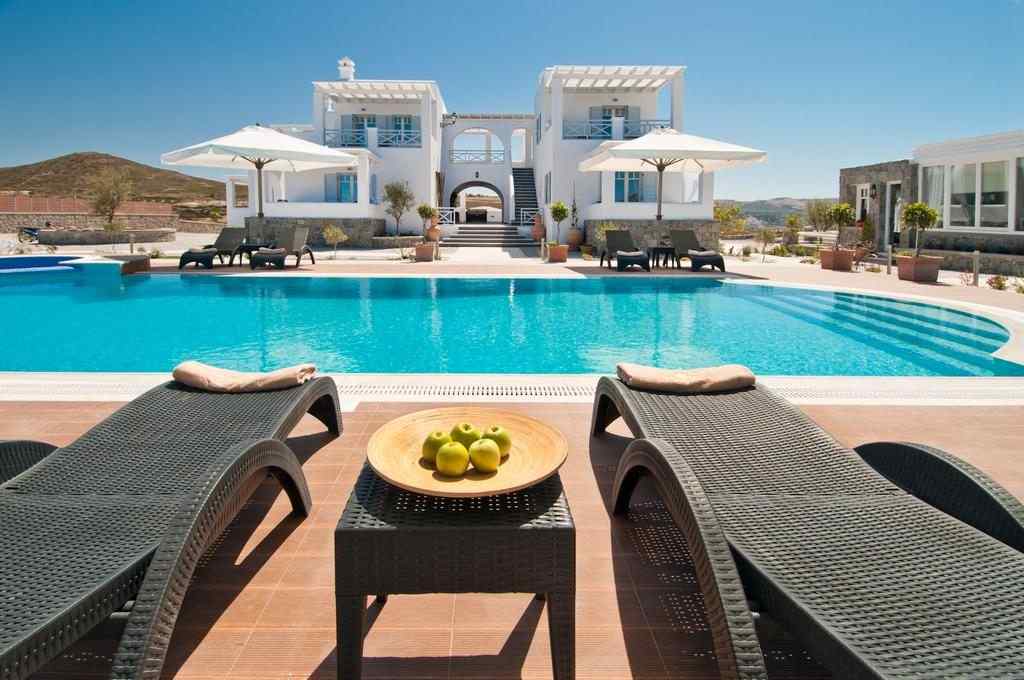 Located on top of a hill with a picturesque view of the shore, this hotel is only around 3 km away from the town in Adamas. It has 9 suites available with their own sets of a Nespresso machine. A state of the art kitchenette, a small bar, a high-quality bed, a balcony and a view of the beautiful mountains, the sea, and the pool. The place has a beautiful pool and terrace with great scenery. Hotel's contact info: +30 6947943468.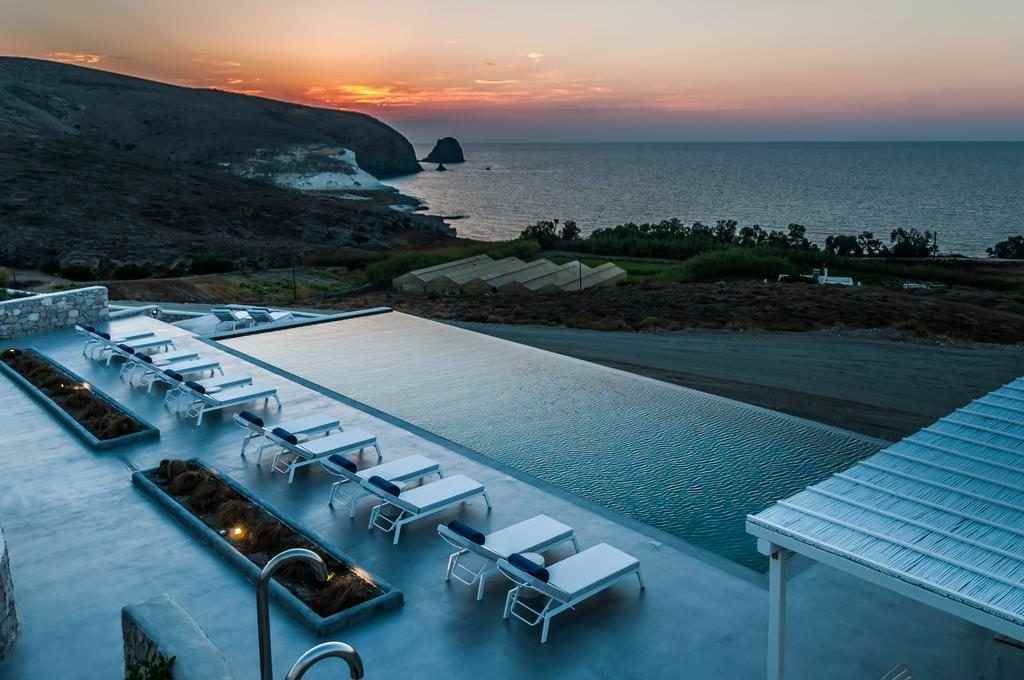 A fantastic boutique- styled hotel located on top of a cliff with exquisite Cycladic heritage architecture. With a touch of modern design, the hotel also offers peaceful and elegant suites and rooms. It has its own coffee machines, a small bar, and picture perfect view of the sea from the terrace/balcony. The luxurious suites offer vast terraces, a personal pool with a terrace. The upgraded beautiful suites have their own spa baths, a Jacuzzi and a personal pool with a lounge. The hotel also features a very elegant infinity styled pool with nice scenery. This hotel is only a few minutes away from the town. Hotel's contact info: +30 22870 41085.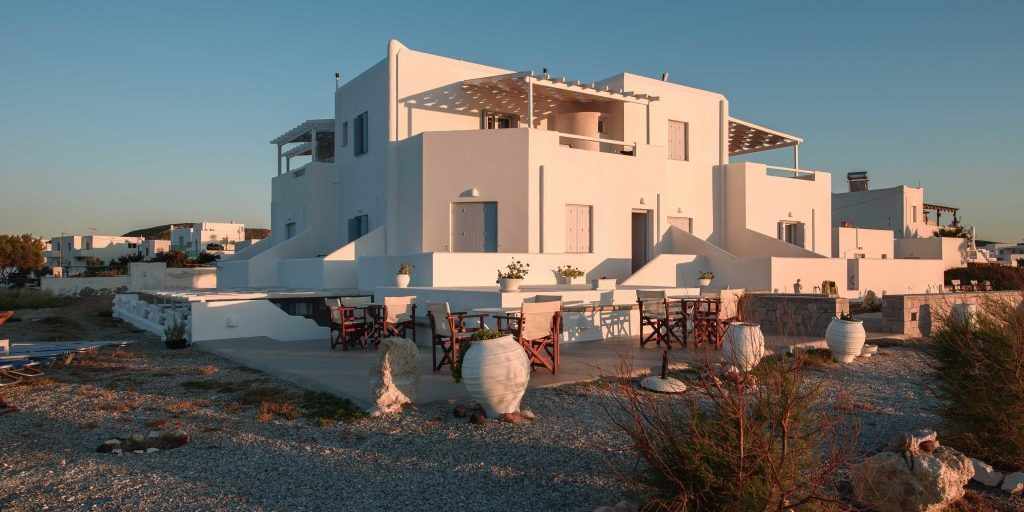 A picturesque location that is right in front of a protected, natural swimming hole. The beautiful boutique- style hotel has a variety of pristine suites and rooms. Each room having their own furniture, refrigerator and intimate verandas boasting calming scenery. The luxurious rooms have their own personal terraces in the corners. While the only suite in the hotel offers personal living space and has two balconies (with large sunbeds): and these two have a unique cave-style bath. The nearest town, Pollonia and the restaurants are only a few walks away. Contact info of the Hotel: + 30 22870 41062, (during winter) +30 210 6616719.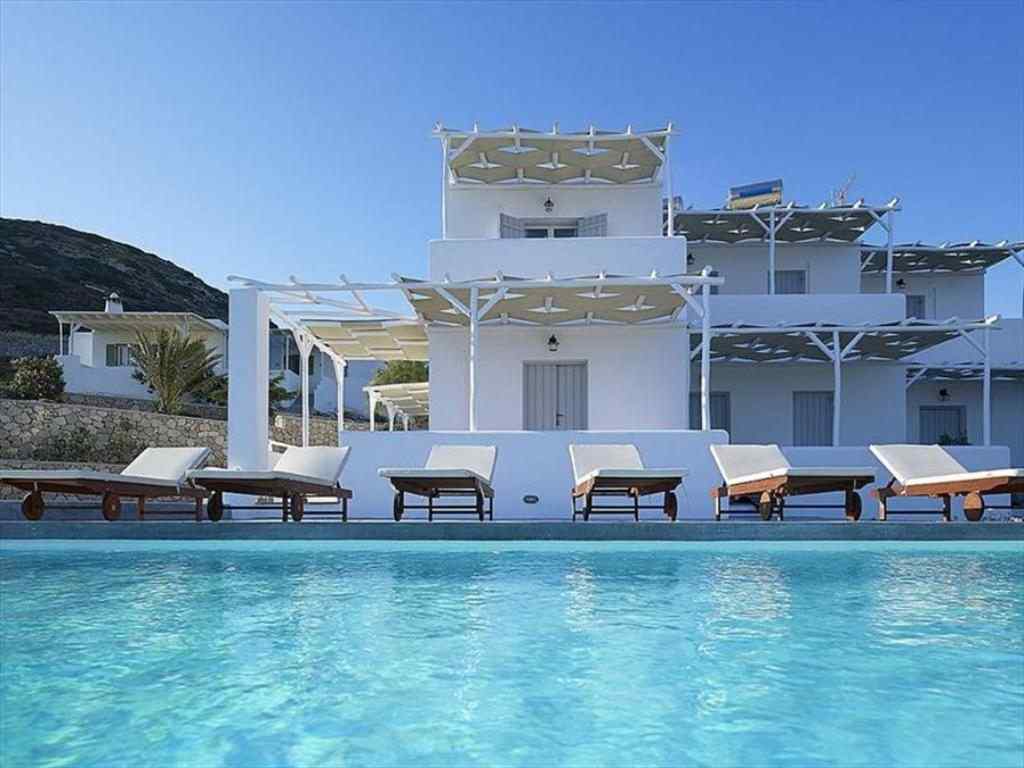 Located in the hillside, Villa Gallis is a nice, chic boutique styled hotel. With pristine, triple, Quadruple, and double rooms, complete with fridges, exposed ceilings, and a balcony that offers a nice view of the sea. Double beds can be availed through the upgrading of rooms. The hotel also has an enticing pool with a terrace and beautiful scenery plus only a few minutes from town. Hotel's contact info: (+30) 6906647835.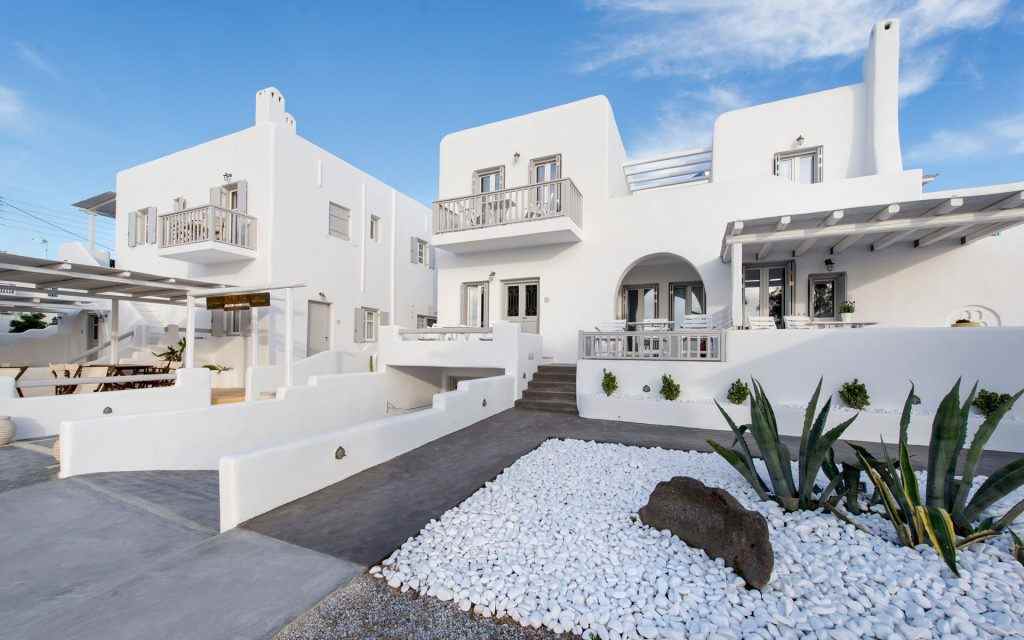 A modern, elegant hotel offering beautiful suites and studios. Featuring an exquisite design of mixed modern and natural style, state of the art kitchen ( with stoves and fridges), tea and coffee facilities, a vast veranda/balcony and a beautiful view of the sea. The suites also have an additional living space, veranda, and a Jacuzzi plus another bathroom. For the deluxe version of suites, the hotel offers a nice aesthetic, folding beds and a beautiful two bedroom suite, plus an additional veranda and Jacuzzi outdoors. Hotel's contact info: +30 22870 41466, (during winter: from November until March) – +30 210 2637140.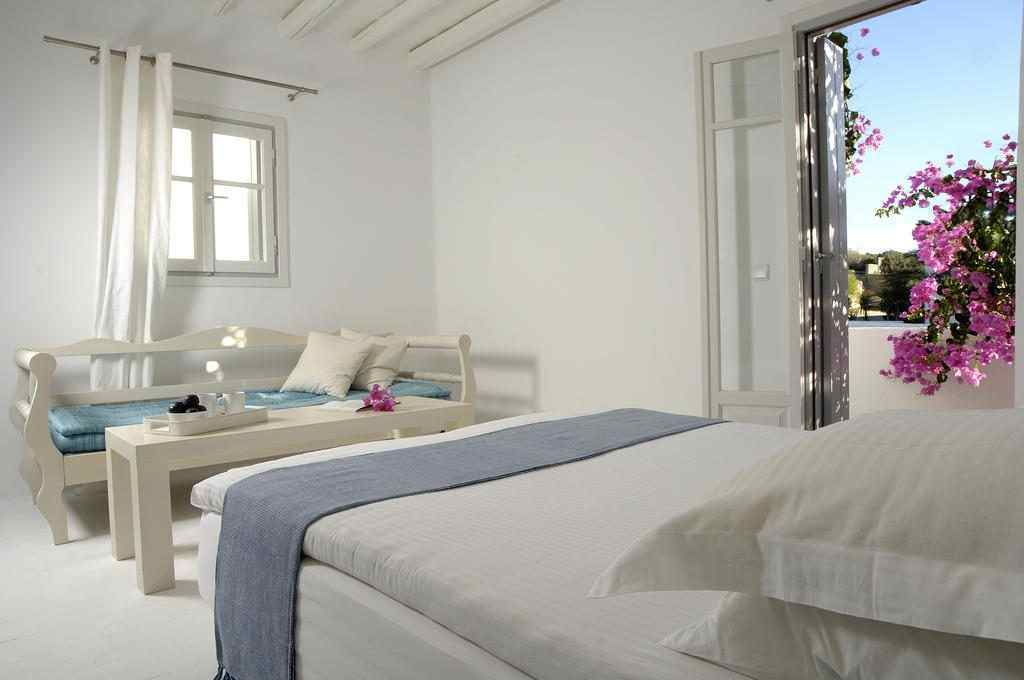 Pristine, fresh, hotel is composed of all suites, from chic single-room ones to a deluxe version with a picture perfect view. The single-roomed ones have their own state of the art kitchenettes (with hobs and fridges), tea, coffee and espresso facility, and verandas/patios. The suites also have a drawing area, a modern kitchen plus two charming verandas. The only deluxe suite has a total of three nice verandas and 2 comforting balconies coupled with a picture-perfect panorama of the village and the sea
The hotel is also a few walks away from town. Hotel's contact info: +30 22870 41287.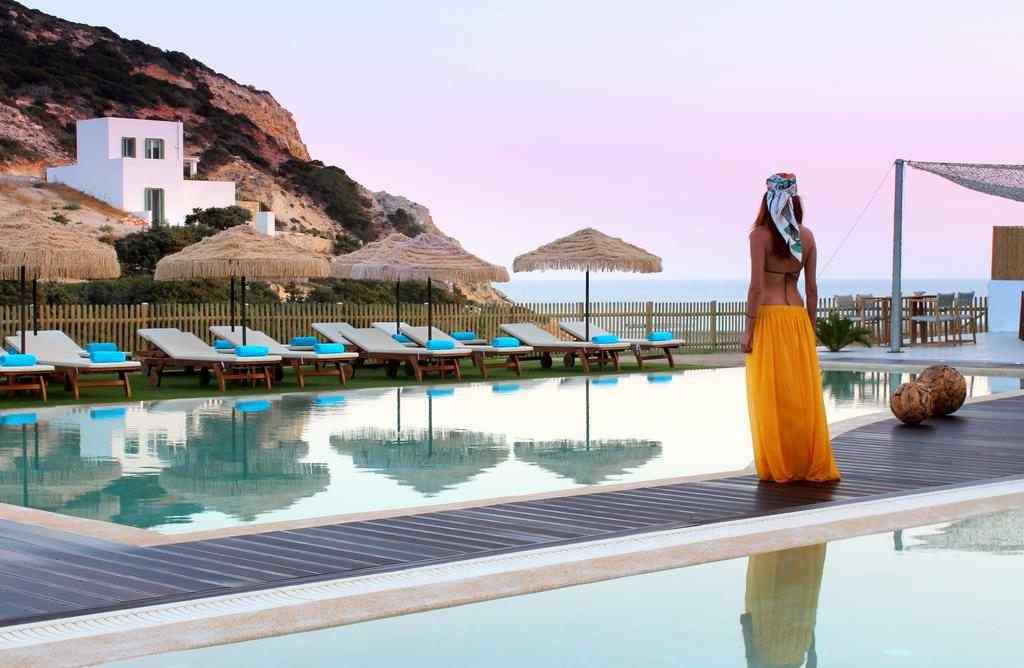 Spacious, charming rooms complete with tea/ coffee facilities. small bar, balconies/verandas and a calming view of the shore, the sea, and the gardens. This hotel is around 12.7 kilometers away from the town in Plaka so having a personal vehicle is advised as there's really nothing you can in the area. Hotel's contact info: +30 22870 31307-8 (from May until September), and +30 694 471 7289 (from October until April).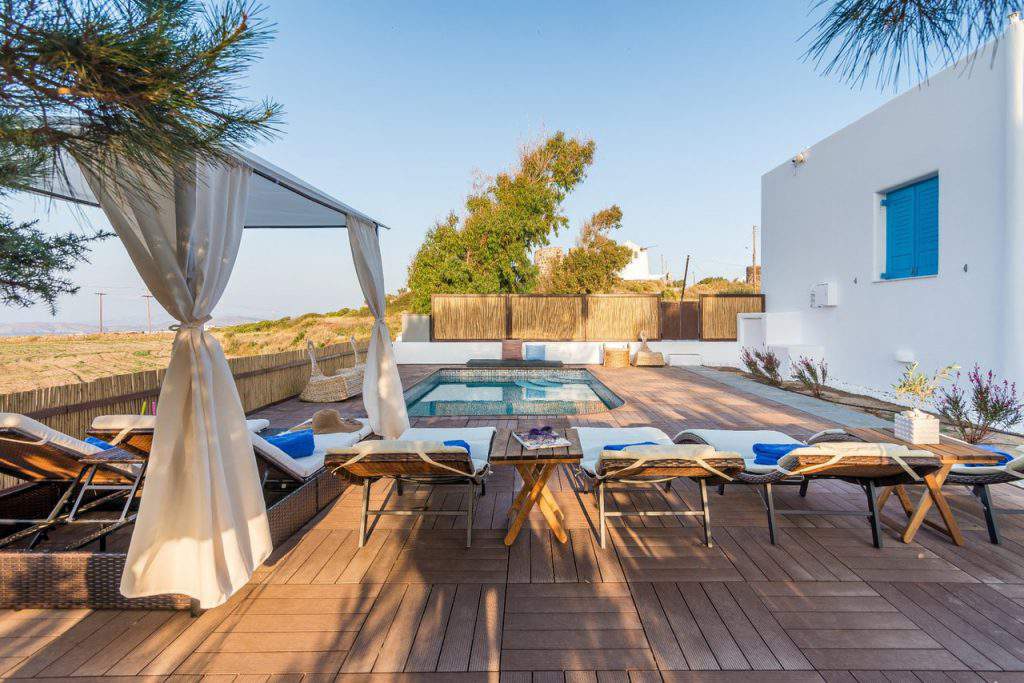 This all-suite boutique-styled hotel is located near windmills and has six sophisticated, Modern Greek-inspired suites. All rooms with espresso maker machine, docks for mp3s, small bars, tea/coffee facilities, room meals and intimate balconies with views of the beautiful bay and villages. Some of the suites, based in categories, have access to the pool, the garden, and the kitchen with a table for dining. Nice location, only a few walks from the town of Plaka. Hotel's contact info: +30 22870 22730

Highlights in Milos
The largest and biggest village and port are Adamas and very easy to access by boat in Milos and ferry for tours. There are many restaurants and hotels (there are other places to rest in Milos).
A village located in Milos' hills, a nice place to visit and stay (including the nearby village, Trpiti). And if you are looking for nice restaurants on the island of Milos, then Plaka has lots of it for you.
The Agios Fanourious in the village of Plaka
This is a one-of-a-kind view of Formations of Minerals in the island of Milos. Many wonders of the island can be seen near the coast and through a tour by boat.
You can hire small, private boats if you want to go explore the exquisite coastline.
In the south of Milos' coast is the bay of Provotas.
In the northern part of Plaka is the famous fishing community, the Firopotamos Village.
In the southern part of Plaka is the well-known fishing community, the Klima Village.
This is a rare view of the formation of rocks and the beach in Sarakiniko located in the island's northwest area. This is the perfect spot for swimming in Greece.
The cave in the sea that collapsed before, which created the sinkhole is called the Sykia Cave. It can be found in the west of Milos and can only be reached via boat.
In Milos' southern coastal area is the Tsigrado.

The formation of Keftiko rocks located in Milos' southwest area.