Best Hotels in Crete – Where To Stay In Crete?
If you're thinking of visiting Crete, one of the most important decisions you'll have to make is where to stay. There are a lot of great hotels in Crete, but it can be tough to decide which one is right for you.
This guide will help make your decision a little bit easier. We'll recommend some of the best hotels in Crete, based on different budgets and needs. So whatever your travel style, we've got you covered!
Where to stay in Crete? There are many places to stay in Crete, and the best place for you will depend on your budget and what kind of vacation you're looking for. If you're looking for a quiet, relaxing getaway, then a smaller town or village like Plakias or Agia Galini might be a better option than Heraklion or Hania.
If you're looking for something more action-packed, then Heraklion or Hania might be a better choice. They both have plenty of nightlife options, as well as great beaches and historical attractions. Prices will vary depending on the time of year, but generally speaking Heraklion is cheaper than Hania.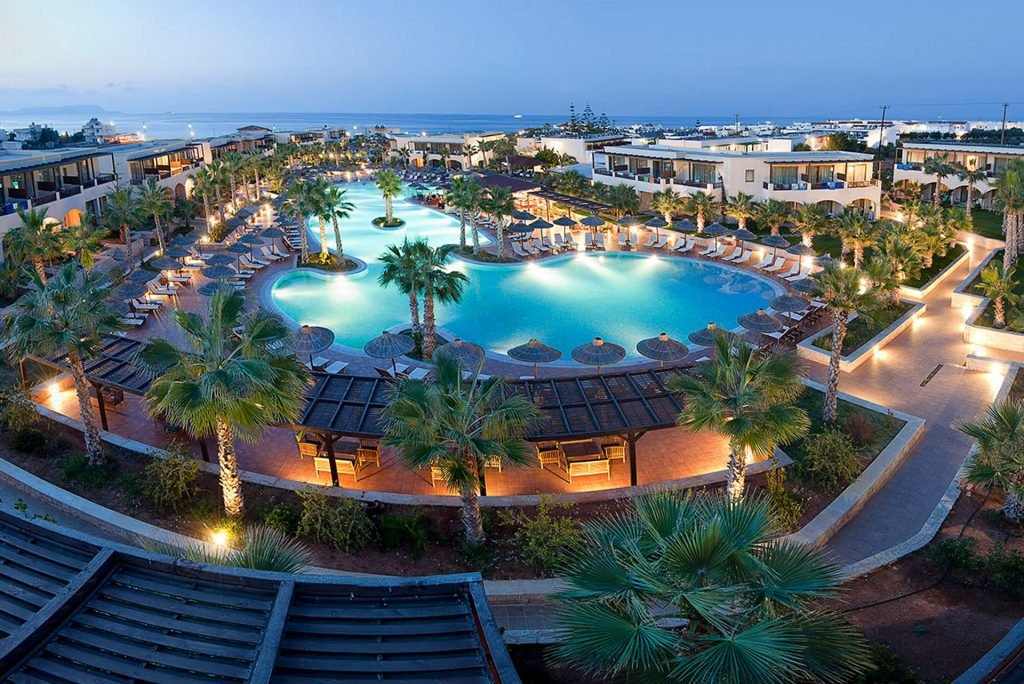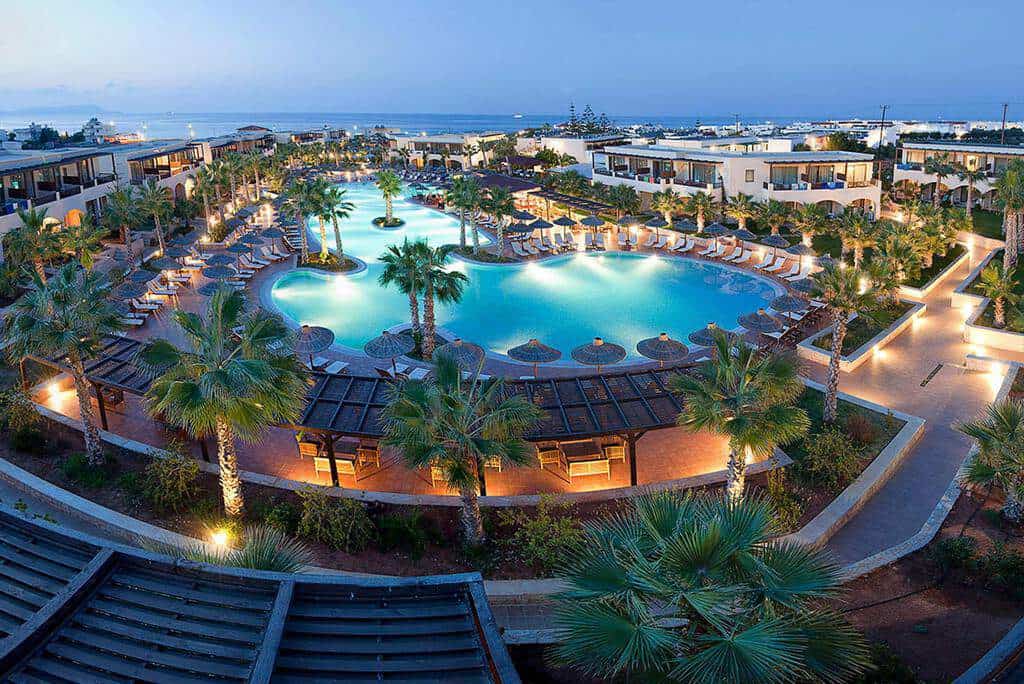 Crete is a beautiful island with something for everyone. Whether you're looking for a quiet getaway or an action-packed holiday, there's sure to be a hotel that suits your needs. In this guide, we'll take a look at some of the best hotels
If you're looking for the best hotels in Crete, the top towns to spend your holidays in Crete are the lovely Chania, chill Agios Nikolaos, unspoilt Rethymnon, classy Elounda, rough Heraklionis and historical Knossos. Elafonisi is the most favored beach in Crete with the best beach hotels. It is just a 1 ½ hours from Chania by car. 
Booking.com is the best site to grab the latest hotel deals and discounts on the best hotels in Crete.
Best hotels in Crete
Chania- Casa Delfino Hotel & Spa
Rethymnon- Caramel Grecotel Boutique Resort
Elounda- Elounda Beach Hotel
Heraklion- GDM Megaron Hotel
Budget and Family-friendly Hotel- Mantraki Hotel Apartments
Chania 
Chania is the grand city with a fascinating Old Town that often serves as a jump-off point to Samaria Gorge or to Balos or Elafonsi for the beaches. You can stay two or three days here to explore the Old Town including its restaurants and cafes. You can walk to the nearest beach or ride the bus to other nearby beaches. 
Top Hotel Choice: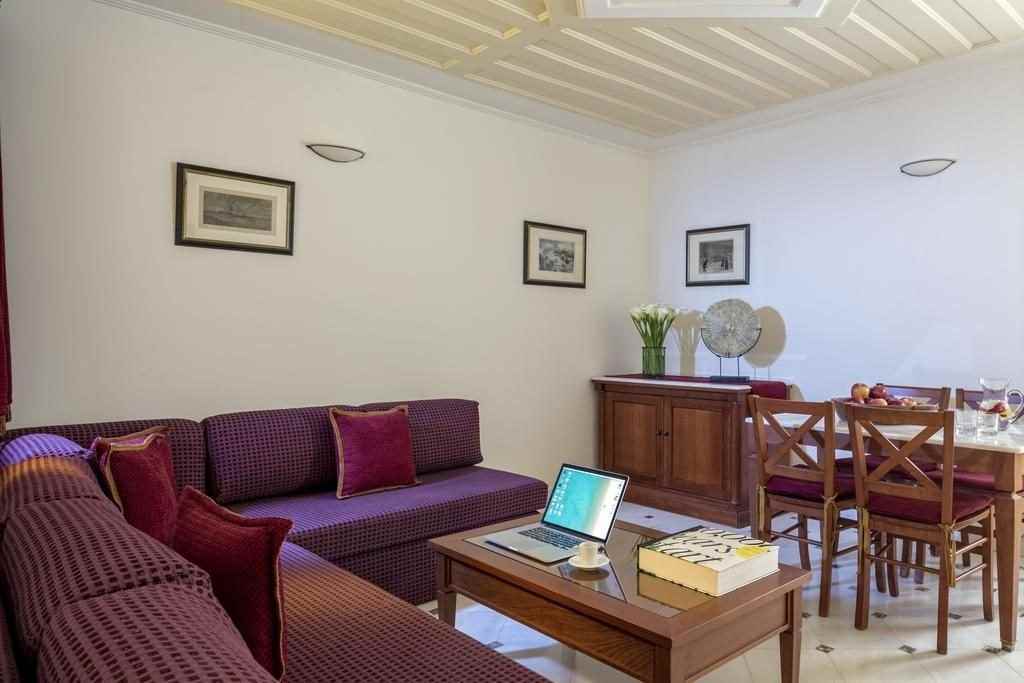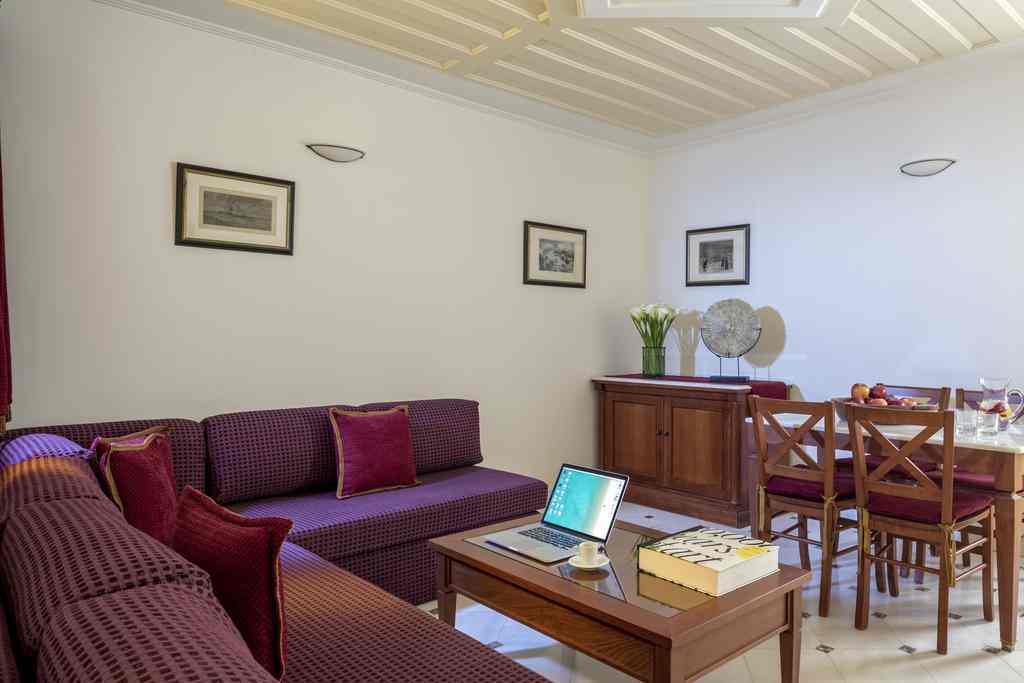 ☎️+30 28210 87400
This is actually a 17thcentury mansion that was restored into a boutique hotel. Each of the 24 rooms has a white marble bathroom, a mini-bar, a set of handmade furniture from Italy and iPod ports. The suites also have Jacuzzis, lounges, convertible sofa beds, and balcony with views of the old town and courtyard. The suites are also open for upgrade. In particular, the Ottoman Suite features a genuine hamam (Arab bath) made of marble and the scenery from the Presidential Suite's balcony is thestunning landscape of the sea.
Other Great Hotels to Stay in: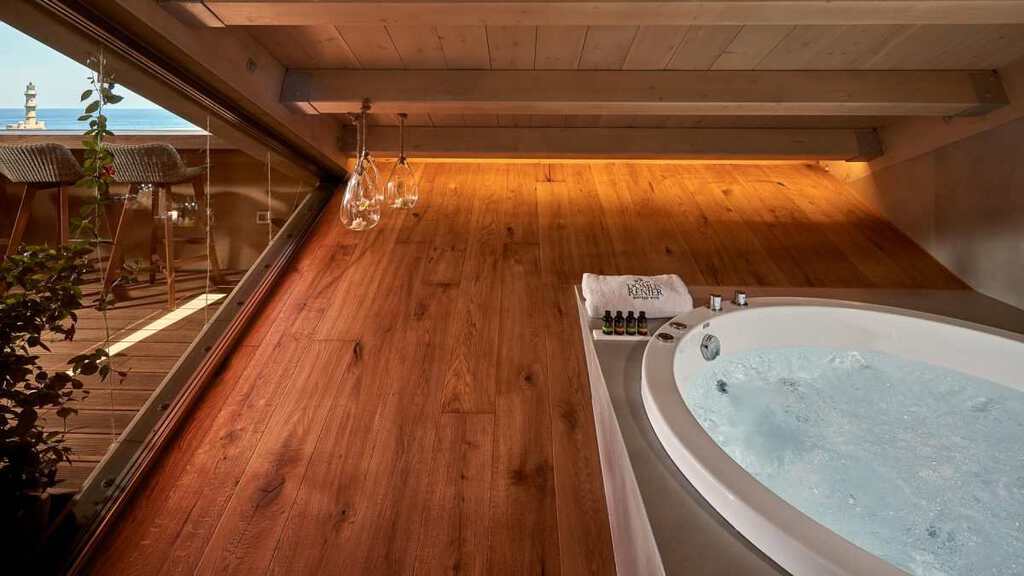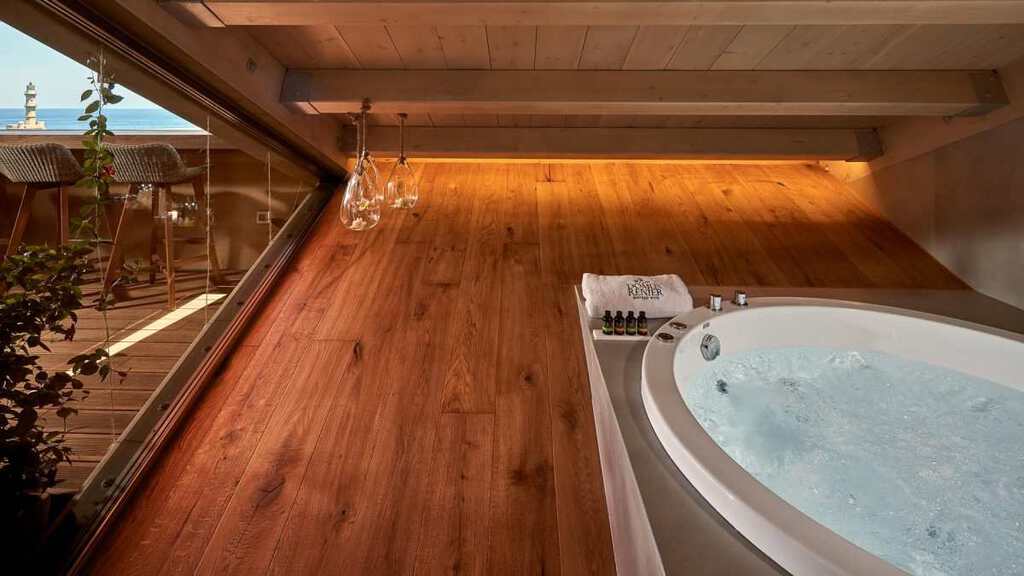 ☎️+30 2821088806
This townhouse-style hotel surrounded by bars and restaurants has a 9-room capacity. Each room has a set of branded furniture and features amenities such as mini bars, hydro-massage equipped showers, modern coffee machines, and sometimes a library. Upgrade to junior suites include furniture-laden balcony with exterior Jacuzzi. Executive suites include hydro-massage bathtub, chronotherapy shower and a loft sleeping area.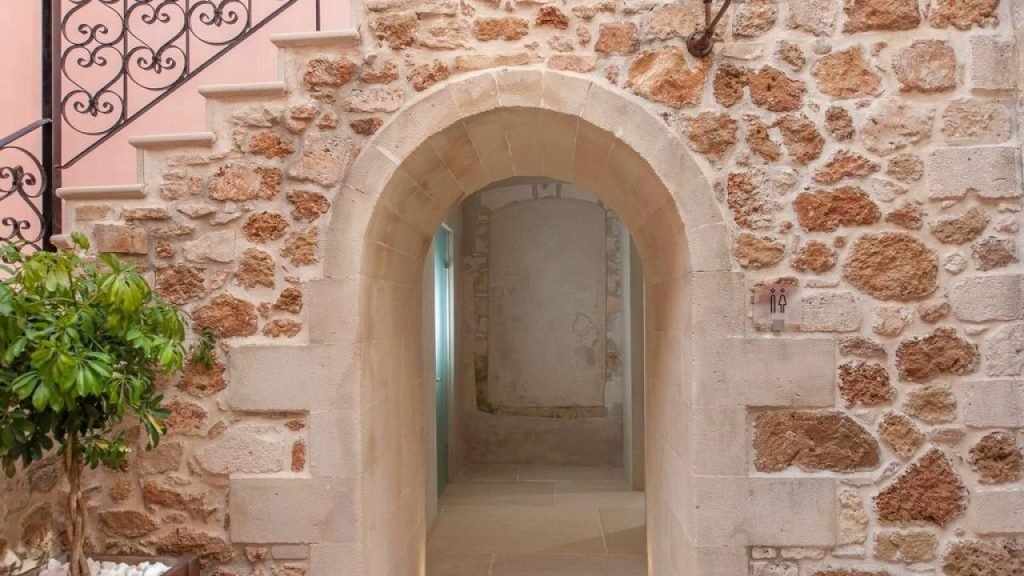 ☎️+30 2821086386
This hotel is a 16thcentury Venetian manor with seven rooms, a wine bar and restaurant. Each is brick-walled, has high wooden ceilings and mosaic-patterned floors. It is also equipped with a fridge and a mini-bar. Room service is also available. Additional coffee and tea machines are included if the room is upgraded. Suites can be upgraded to include sofa bed, a lounge, and furniture-laden terrace completed by the scenery of the mountains. Rethymnon
Rethymnoni s not as developed as Chania. However, its town center is just a walking distance to the nearest beach and a good jump-off point to Cyclades as you can ride a direct from here to Santorini during summer.  
Top Hotel Choice: Caramel Grecotel Boutique Resort
Other Great Hotels to Stay in: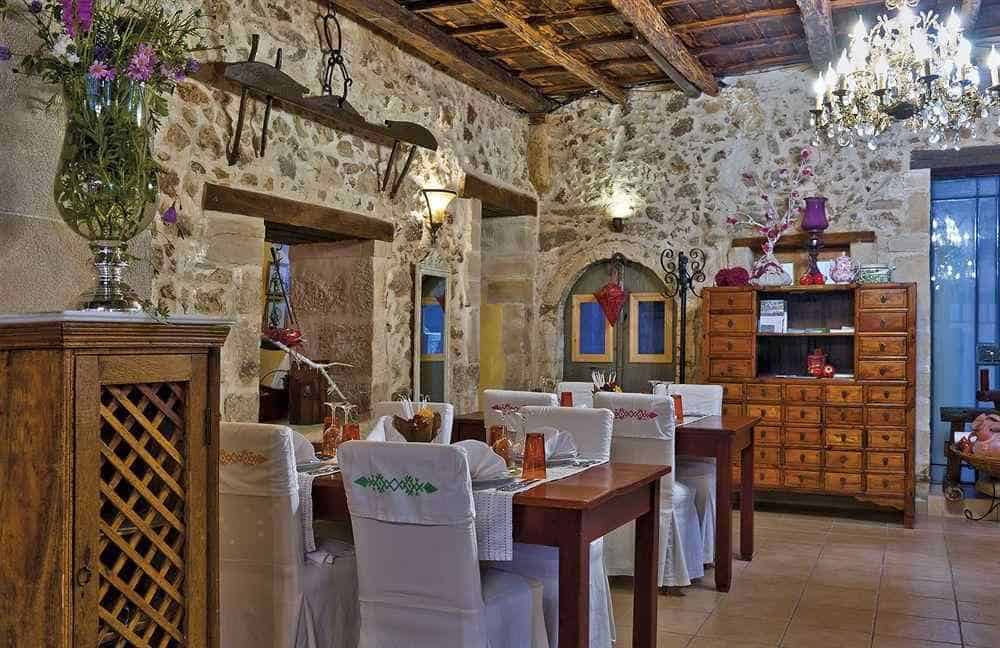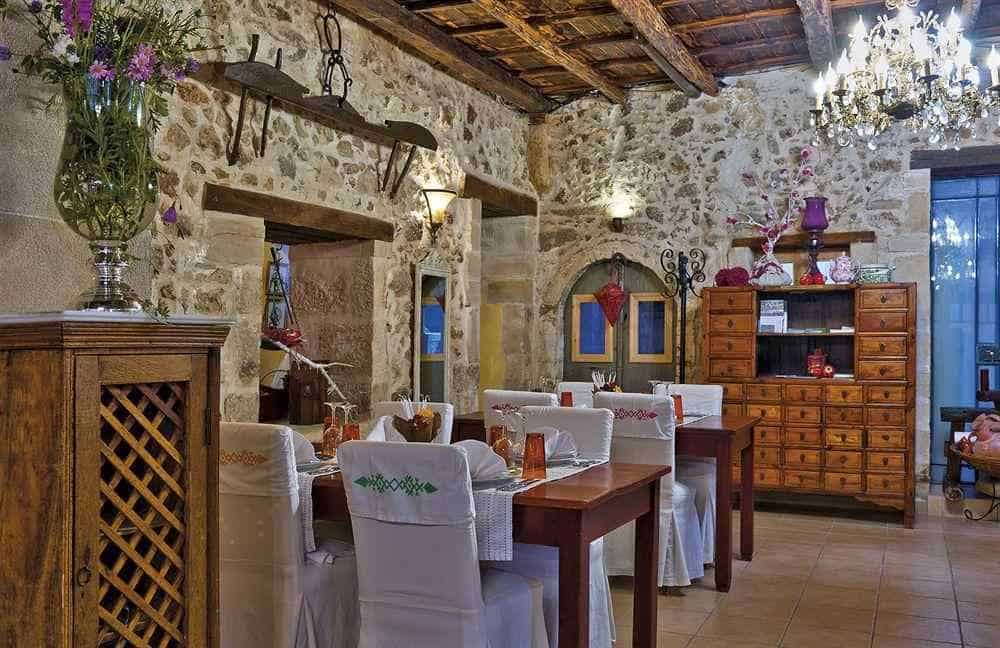 ☎️+30 2831058250/26213
This is an all-suite Venetian-styled apartment complex. The 12 suites have exquisite interiors that have antique, carved or hand-painted furniture. There are themed-suites as well (brownie, candy and jelly).  The upgraded suites also have balconies.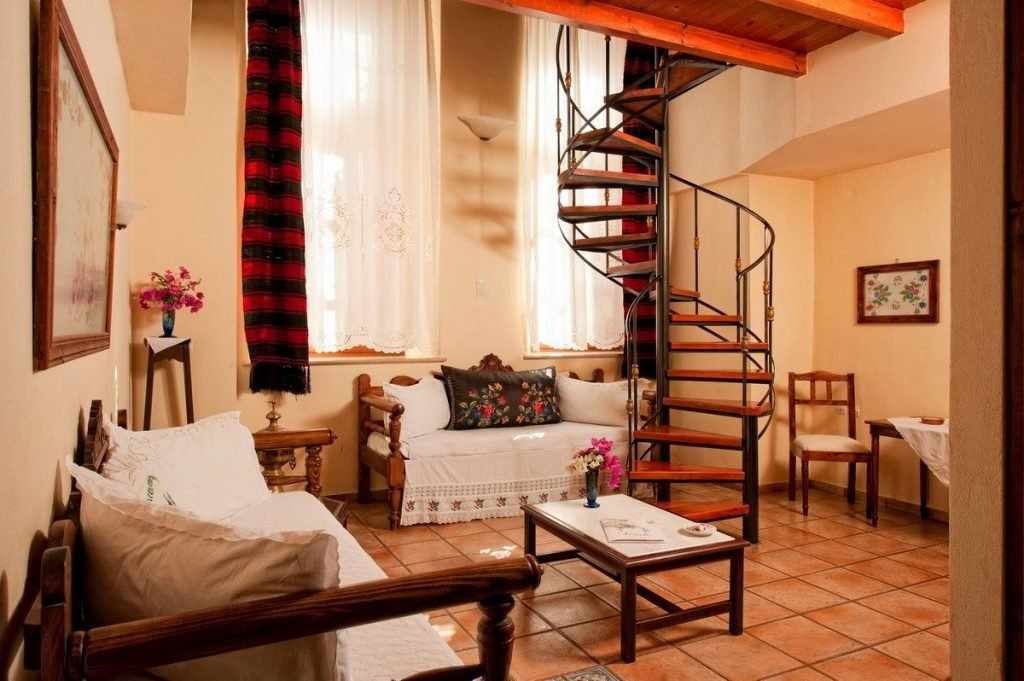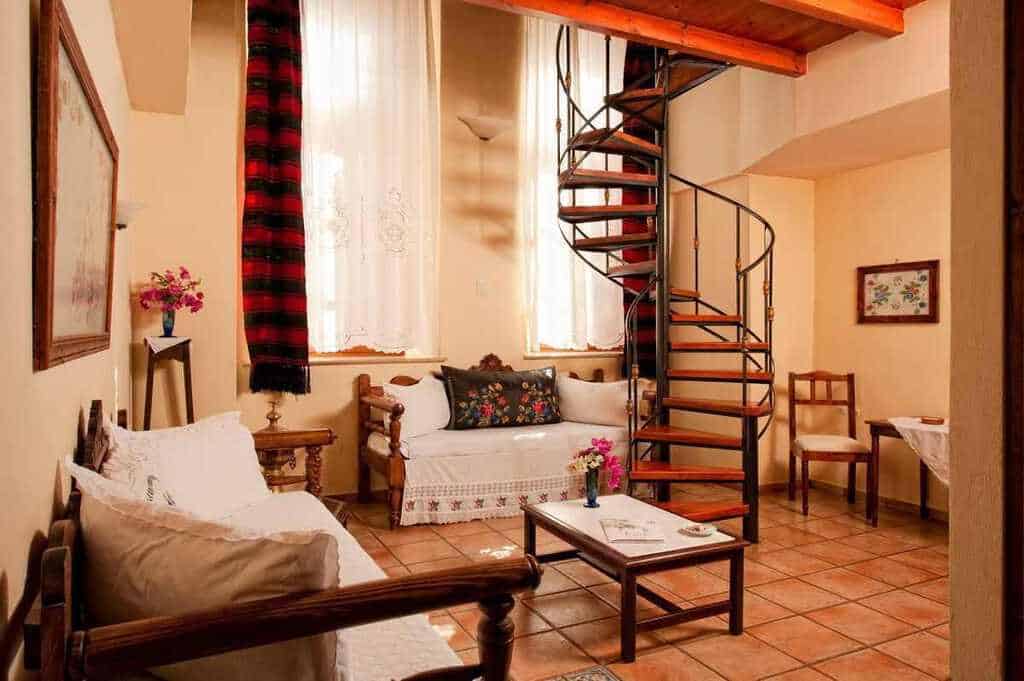 ☎️+30 28310 56634
Formerly a Benedictine monastery built in 14thcentury, this hotel is nestled along the historic center of Rethymnon. The suites have medieval tone with individual balconies, terracotta /wooden floors, beds supported by strong arches and sofa beds. The higher-end suites have orthopedic mattresses and their own verandah. To complete the vibe, Veneto has its own wine cellar and restaurant.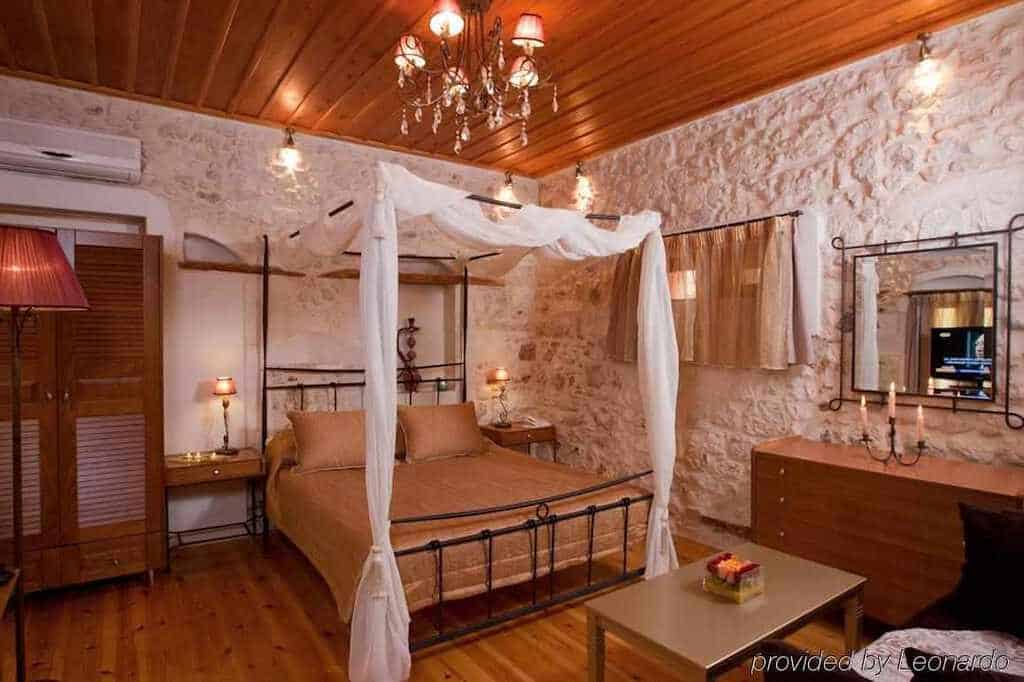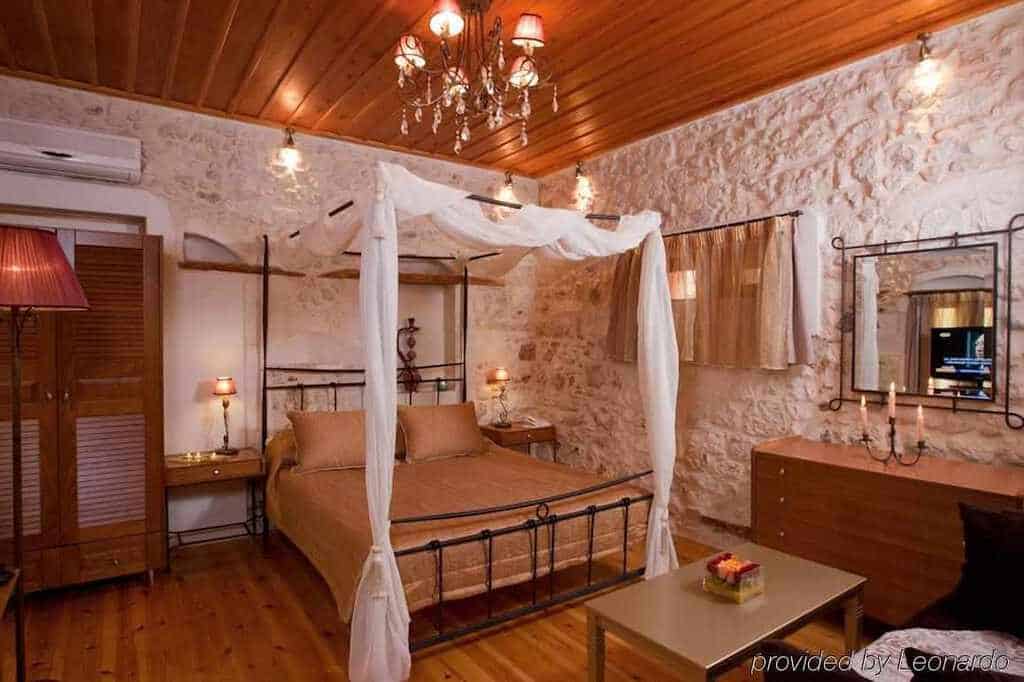 ☎️: + 30 2831035058.
Set in an ancient castle, this hotel is just a short distance from the old town. It has eight historic and luxurious rooms and suites. Each room or suite has a canopy bed, stone wall, a fridge and a mini-bar, a bathtub with Jacuzzi and a balcony.
Grecotel Creta Palace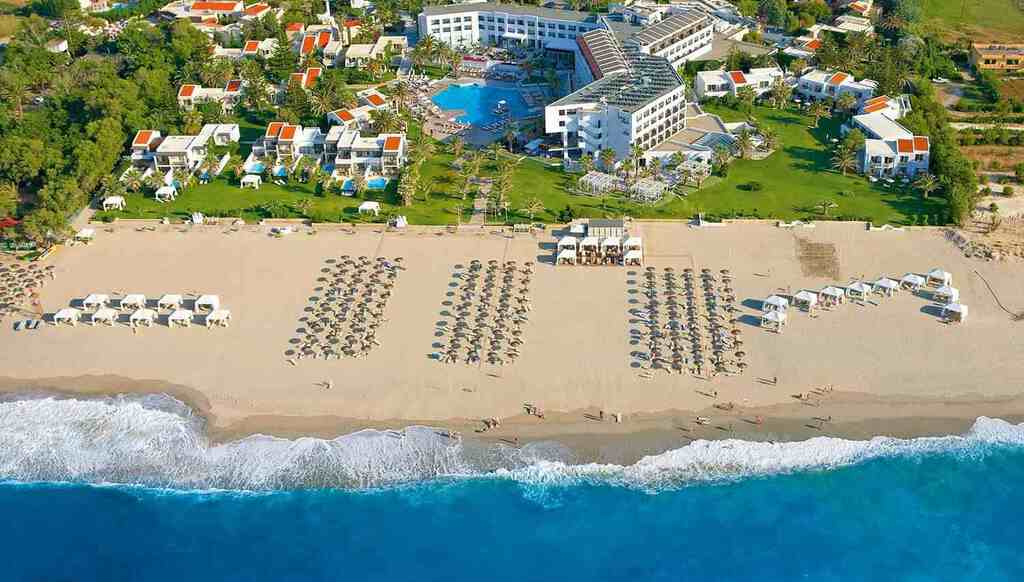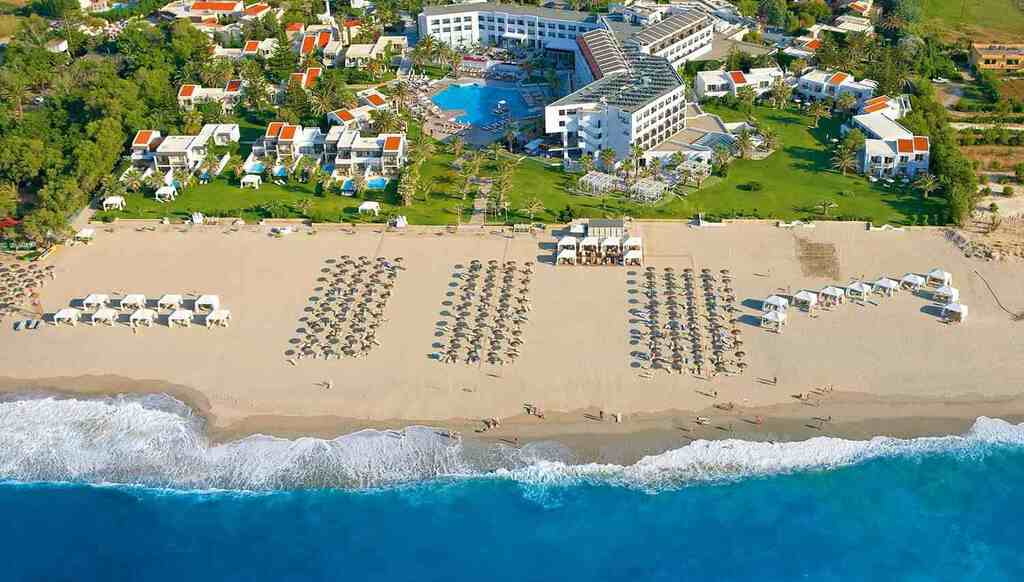 ☎️+30 2831055181
True to its name, it is a large beachfront resort. The whole complex include villas, bungalows, apartments, standard rooms and suites. Depending on the room, amenities may include a kid's room, a Jacuzzi, a garden and private pool. And the greatest perk of staying here is the in-house sky bar restaurant with a stunning view of the sea. 
Heraklion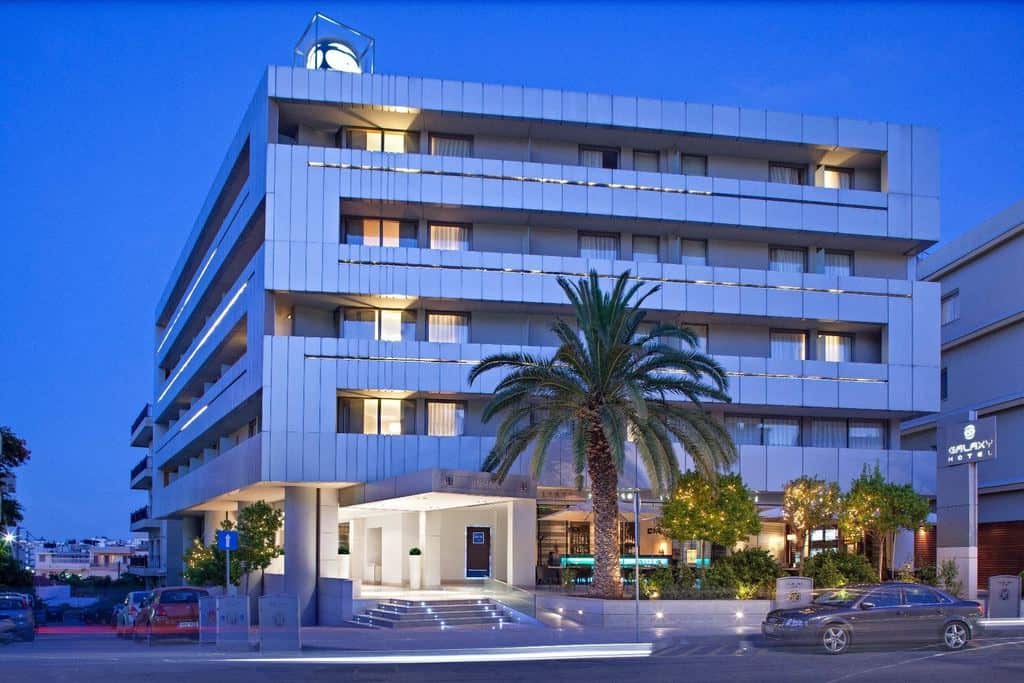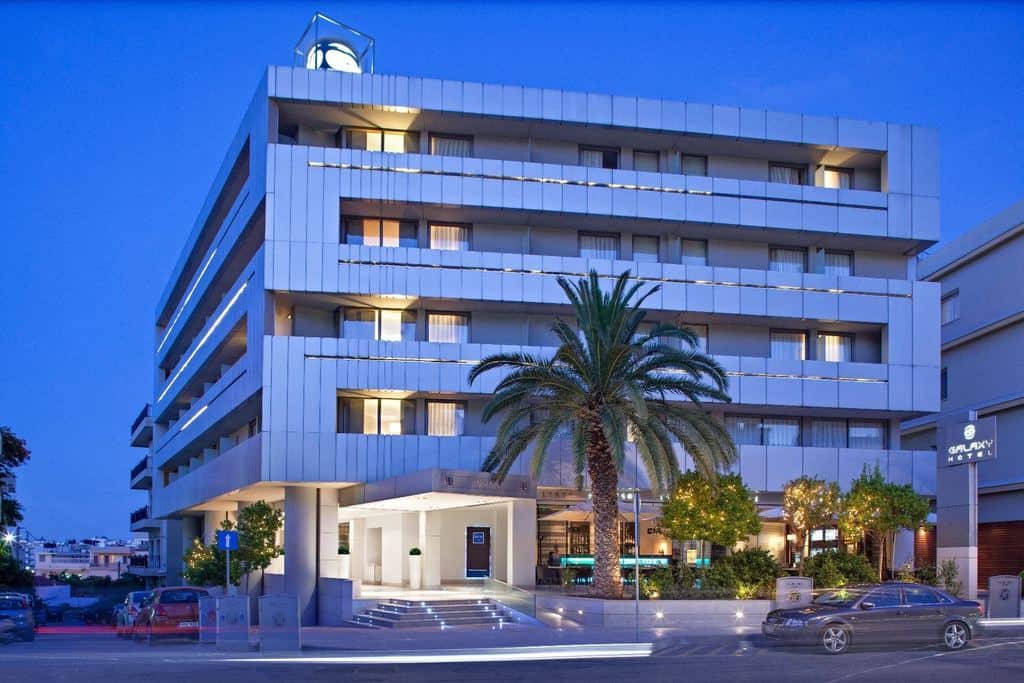 Heraklion may not be as scenic as Chania and Rethymnon but its Greek ambience and plebeian vibe make it stand out from other tourist places. Aside from having Crete's best museum, Heraklion is neighbors with historic site of Knossos. It is also a popular stop before Santorini. 
Top Hotel Choice: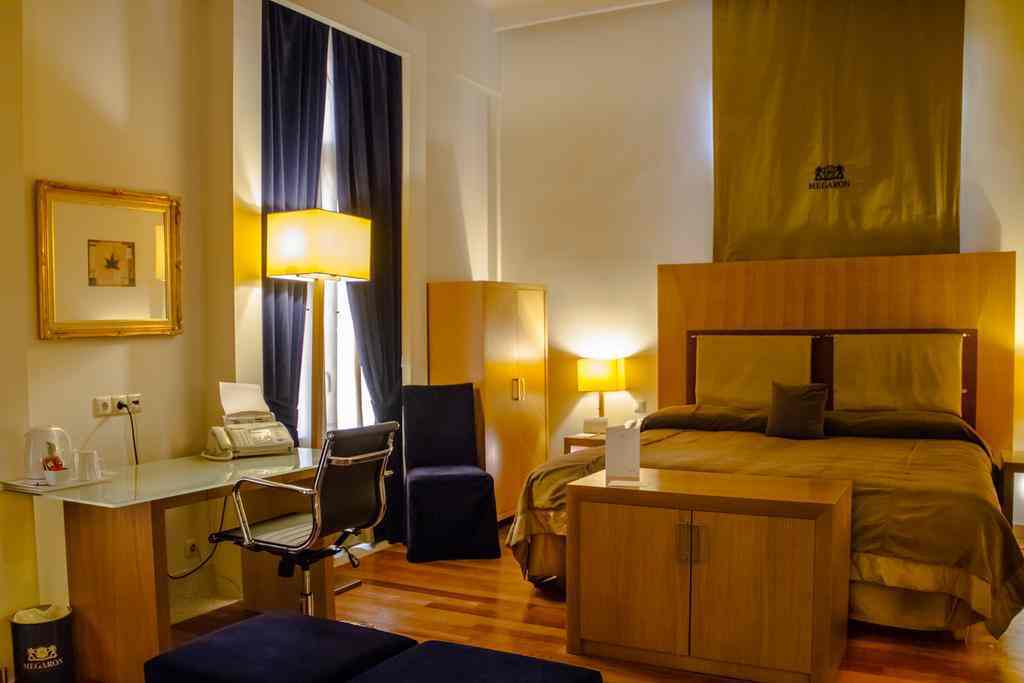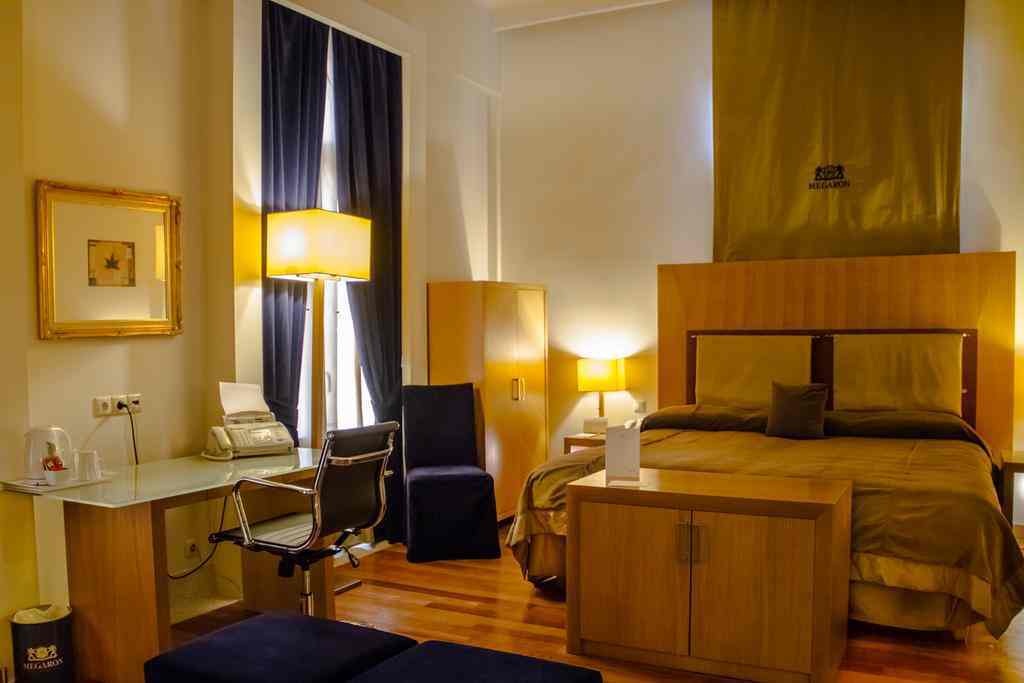 ☎️+30 2810305300
GDM is just a short distance from the ferry port, bus station and central Heraklion including the Archaeological and Historical Museum. The modern rooms have high ceilings, wooden floors, coffee or tea machines, mini-bars, and balconies with sceneries of the harbor, sea or city. Complimentary breakfast is served buffet style.
Other Great Hotels to Stay in: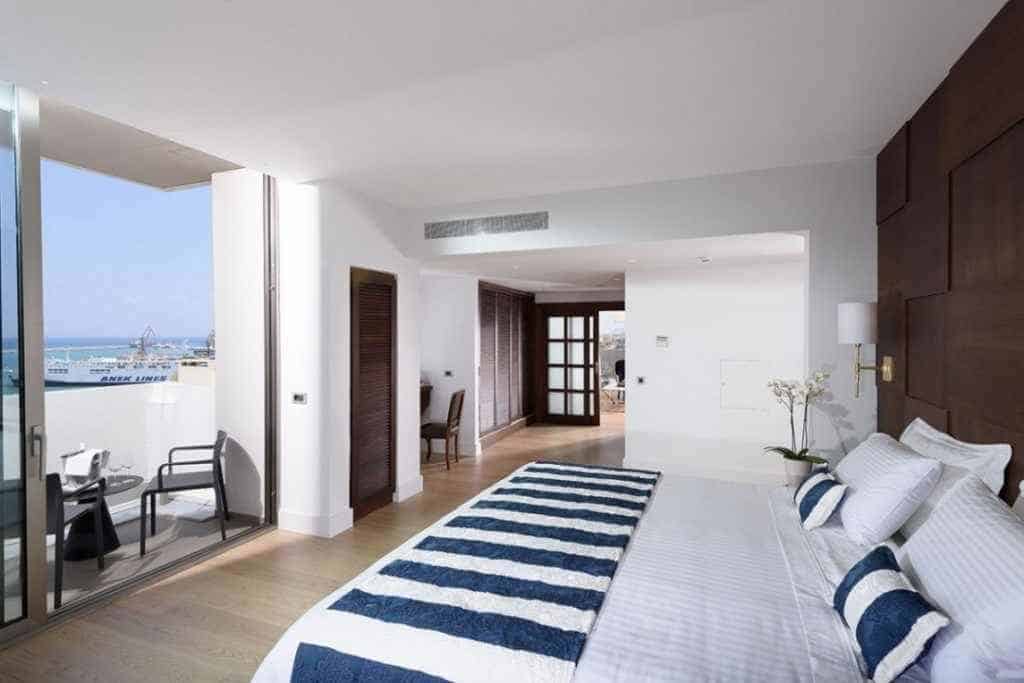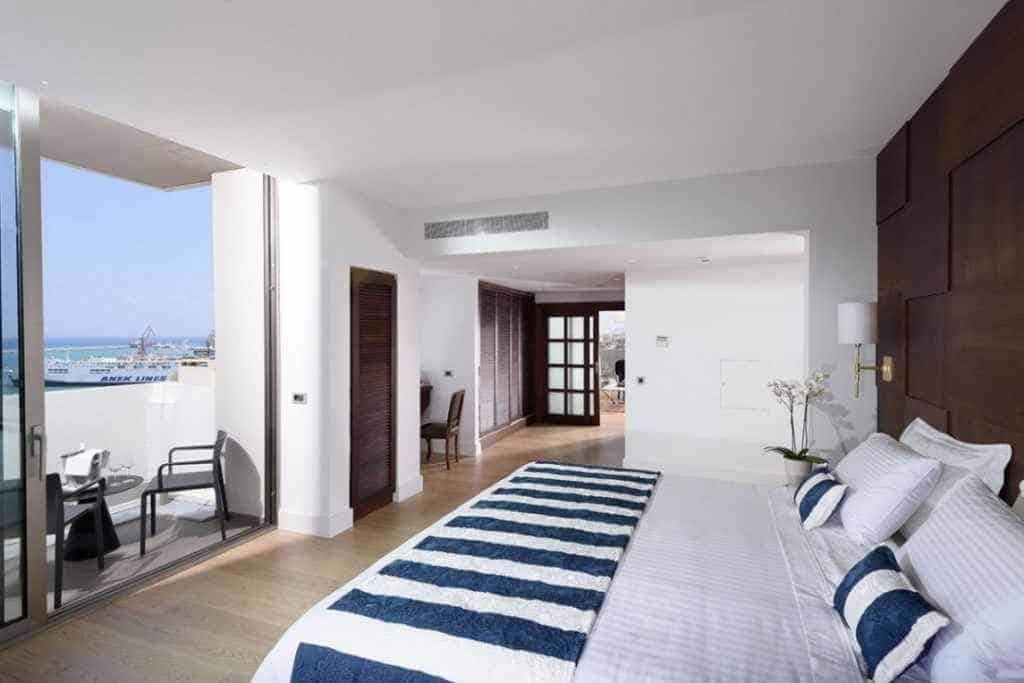 ☎️+30 2810229103
This modern hotel is just a short walk from the ferry port and bus station. It is also conveniently located near the city center. Aside from large rooms and suites, it also offer amenities such as coffee or tea machines, mini-bars, harbor view balconies, spa and two pools. The hotel also has its own restaurant and bar.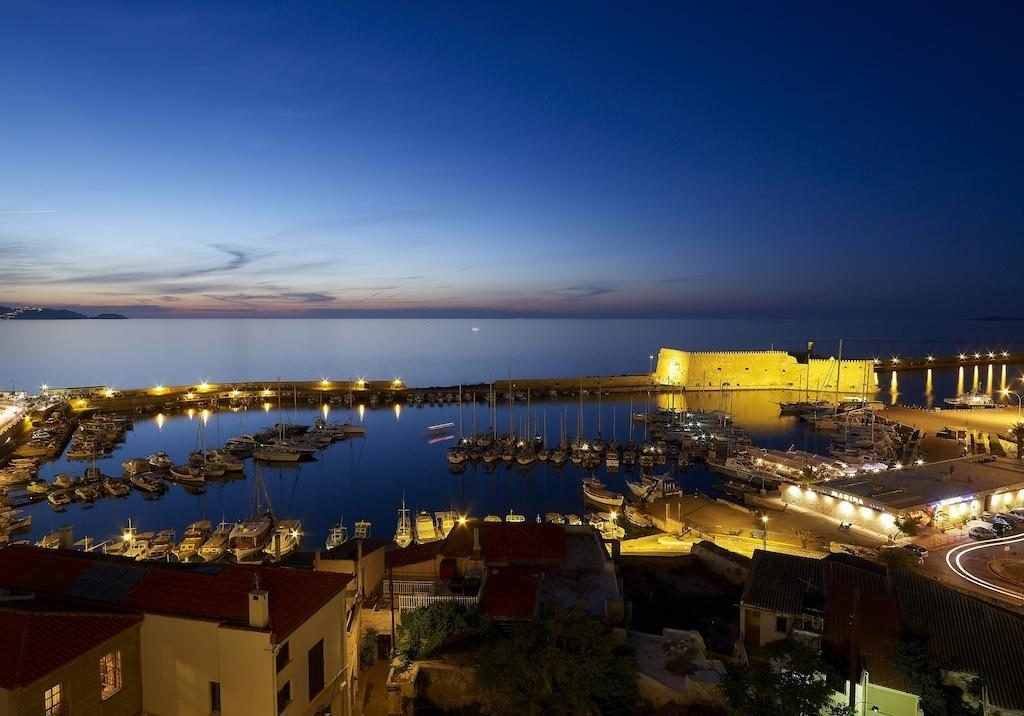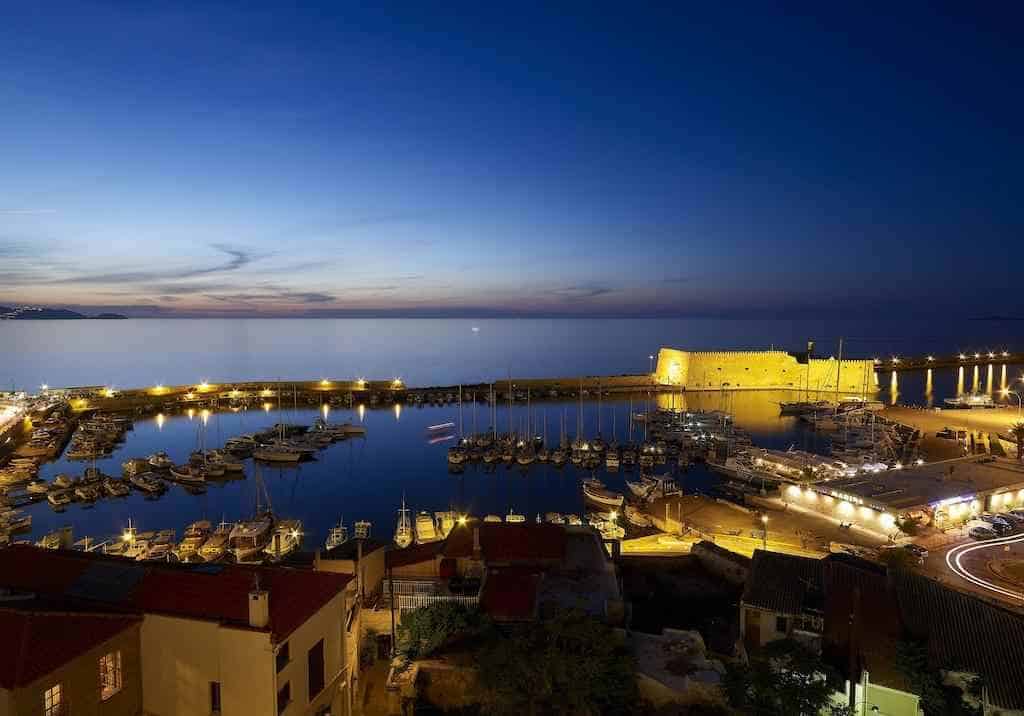 ☎️+30 2810228103
This contemporary hotel offers a view of the Koules fortress. It is also a walking distance from the bus station, ferry port, central Heraklion and the museums. Depending on the room, amenities may range from mini-bar, bathtub to furnished verandah overlooking the sea and the fortress.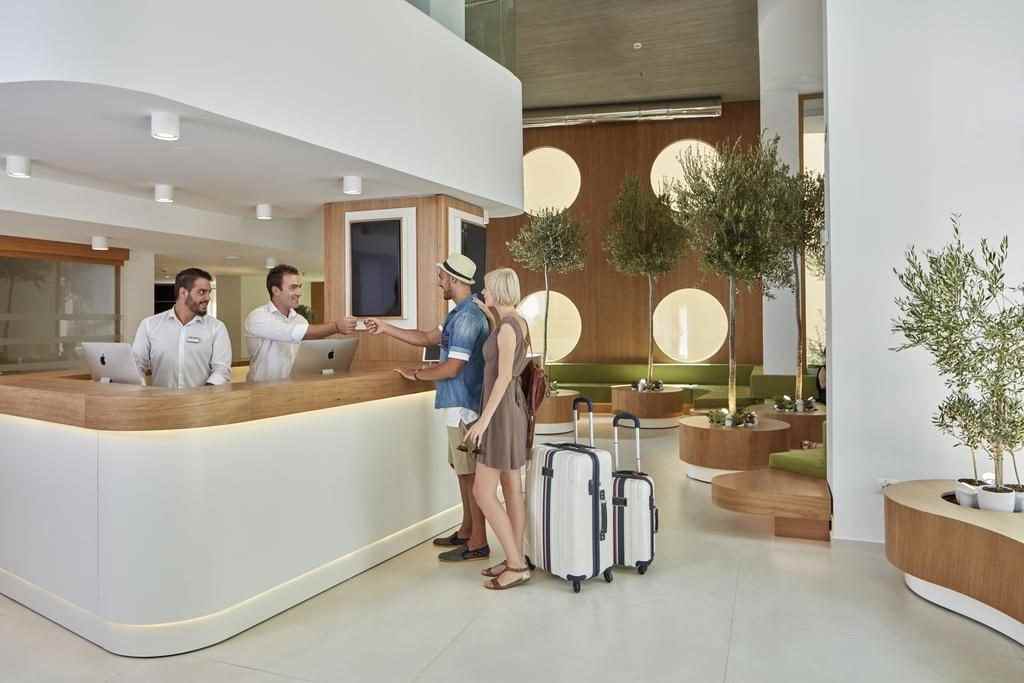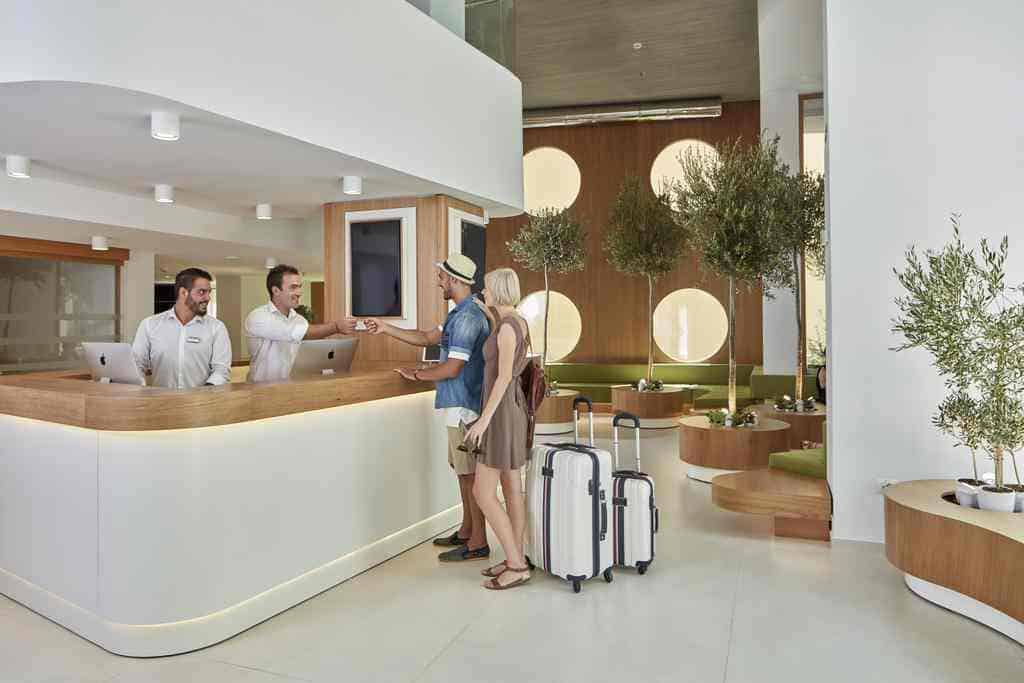 ☎️+30 2810302900This hotel prides itself for being environment-friendly but modern at the same time. The rooms exude minimalism with modern features such as a private guest tablet with apps, a safe and some have balconies or terraces with views of either the city or the park. It is also just a walking distance from the ferry port and to city center including the central market and museums. 
Elounda
Top Hotel Choice: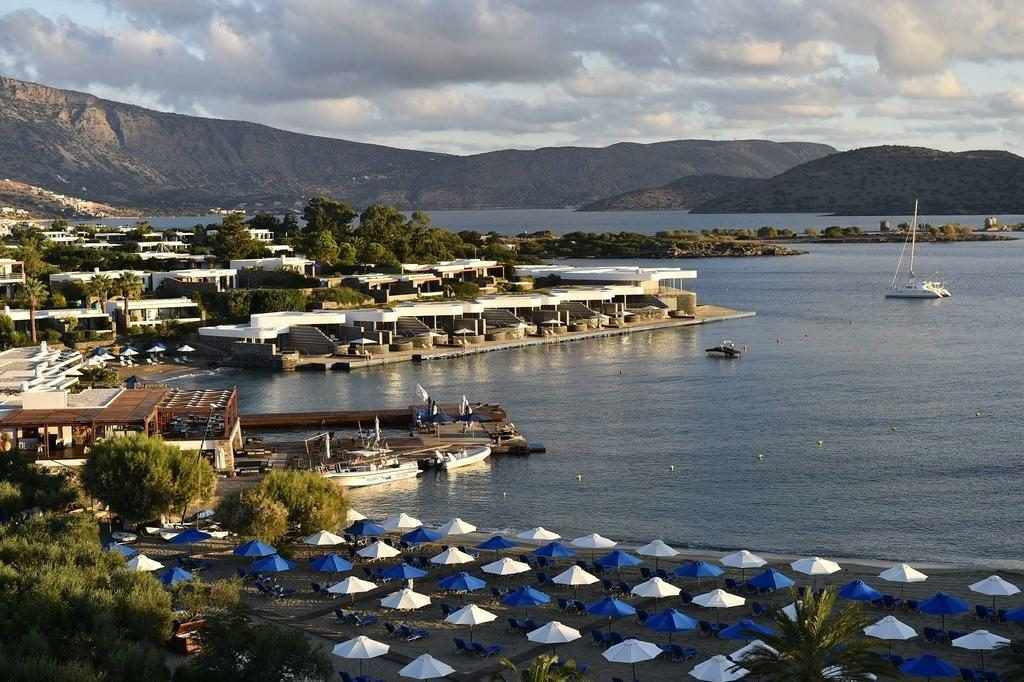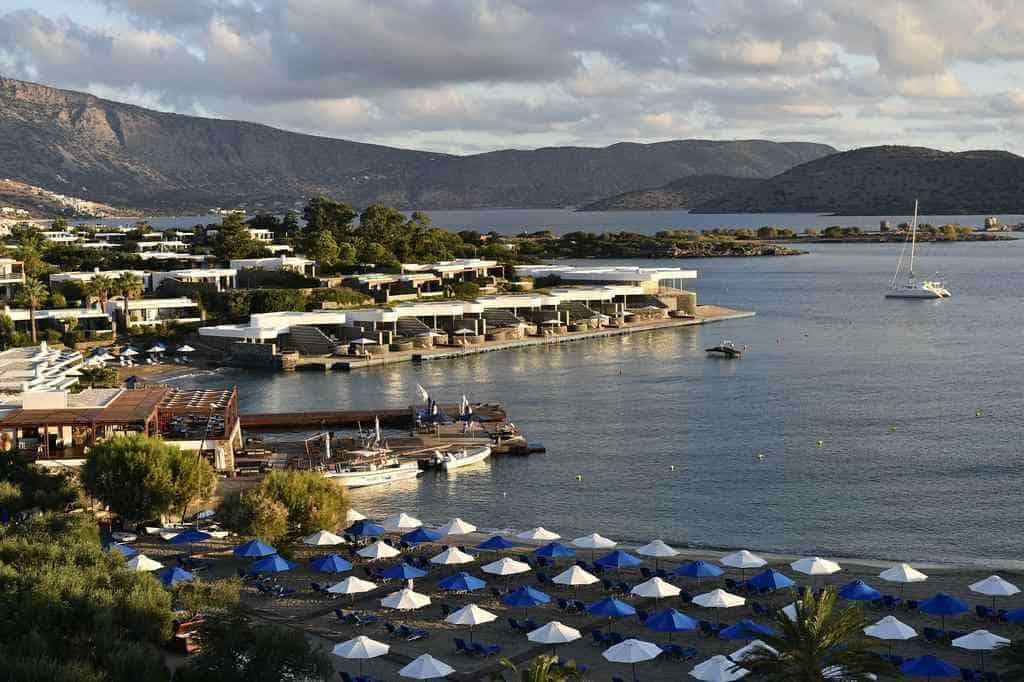 ☎️+30 2841063000
This opulent hotel has modern amenities that include remote-controlled bed, balconies with panoramic sea views, jacuzzi bathtubs, in-bathroom television and sound system, temperature-controlled pools and heated floors present available into their basic rooms, suites and bungalows. Their higher end yacht villas have additional high-tech features such as touch-screen room controls, hydro-massage private pools and plunge bathtubs. The ceilings are coated with leather and the furniture all designer brands. Private indoor and outdoor pools are present in their royal villas.
Other Great Hotels to Stay in: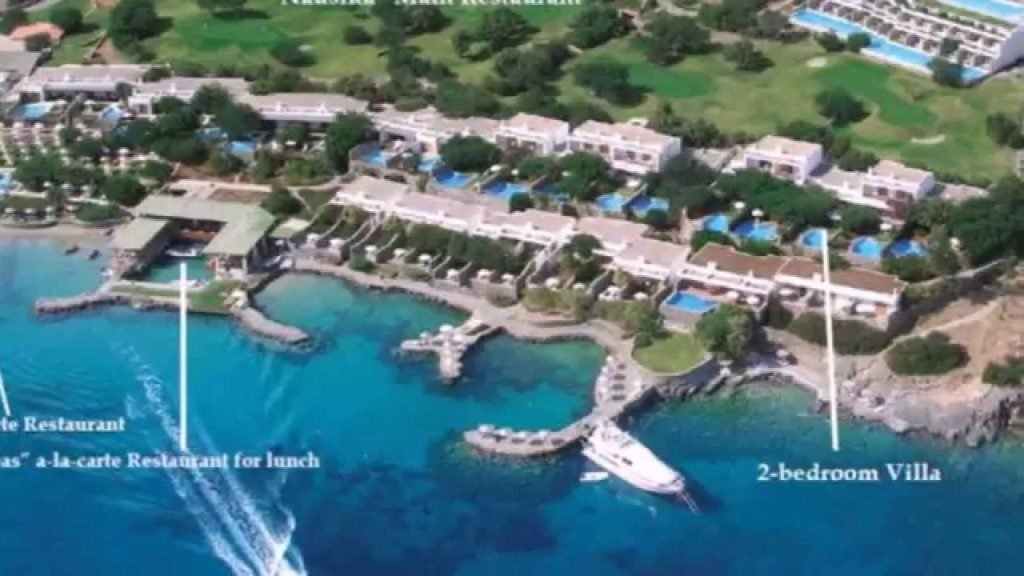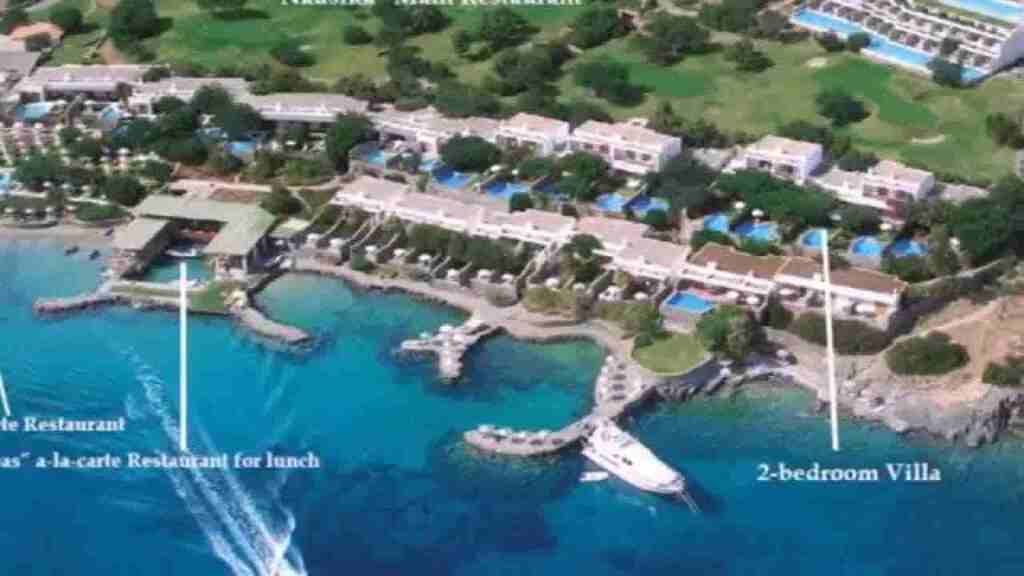 ☎️+30 2841068000
This is an all-in-one resort complex with accommodation divided into villas, suites and sea-viewrooms. It is ideal for families and adventure-seekers. The resort has its own 9-hole golf course and private beach. There are also pools filled with sea-water that are of shared or private access depending on the room type. There are soccer and tennis camps that the kids can enjoy. Activities such as water sports, scuba diving and yacht sailing can also be arranged. There are shopping centers and eight restaurants that are available for guests. There is also a church within the resort complex.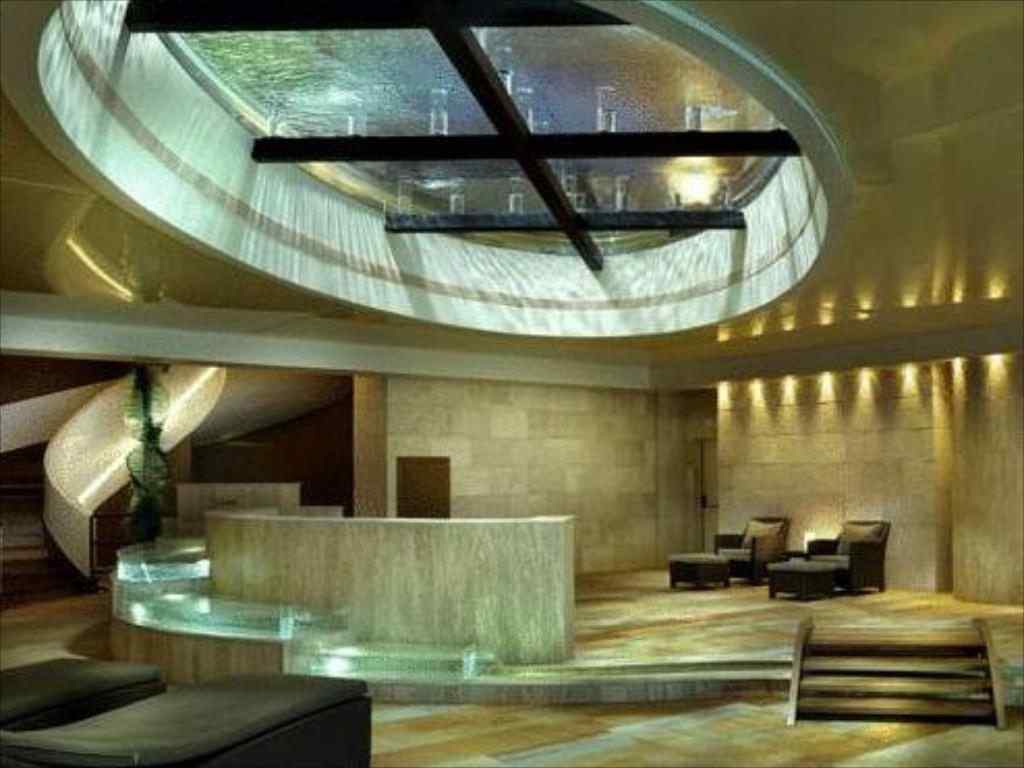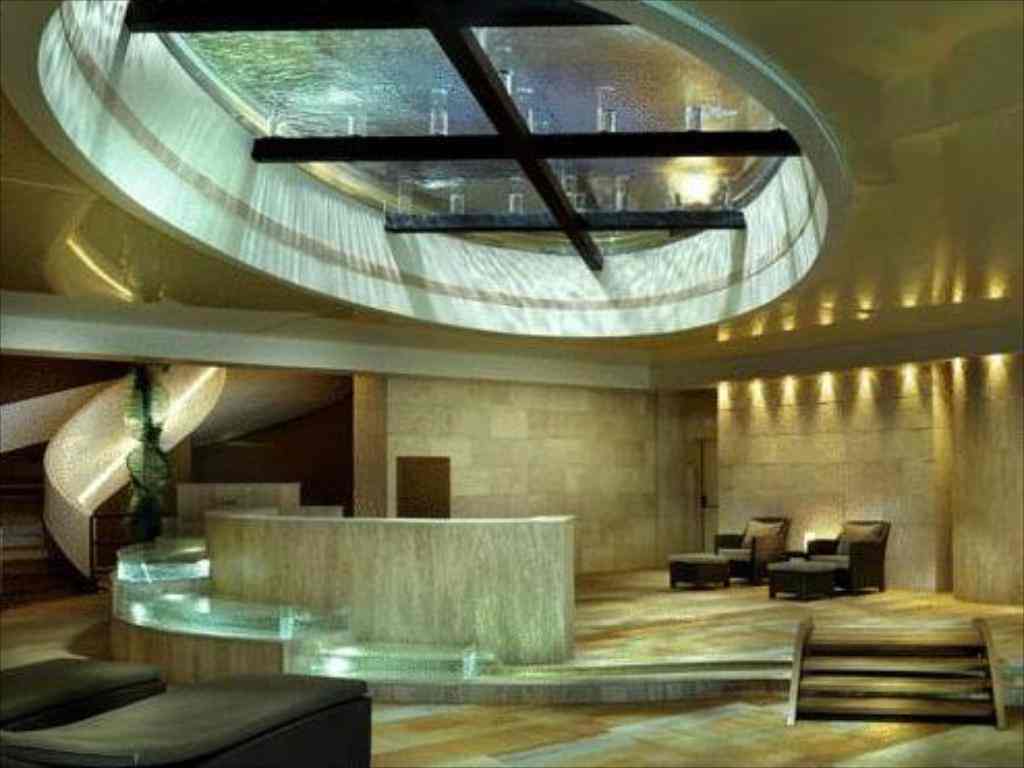 ☎️+30 2841068250
True to its name, this hotel have suites (regular seaside accommodation/beachfront) and villas (garden/presidential waterfronts). The amenities range from individual heated seawater pools, marble bathrooms, whirlpool bathtubs, massage rooms, sauna and private kitchens.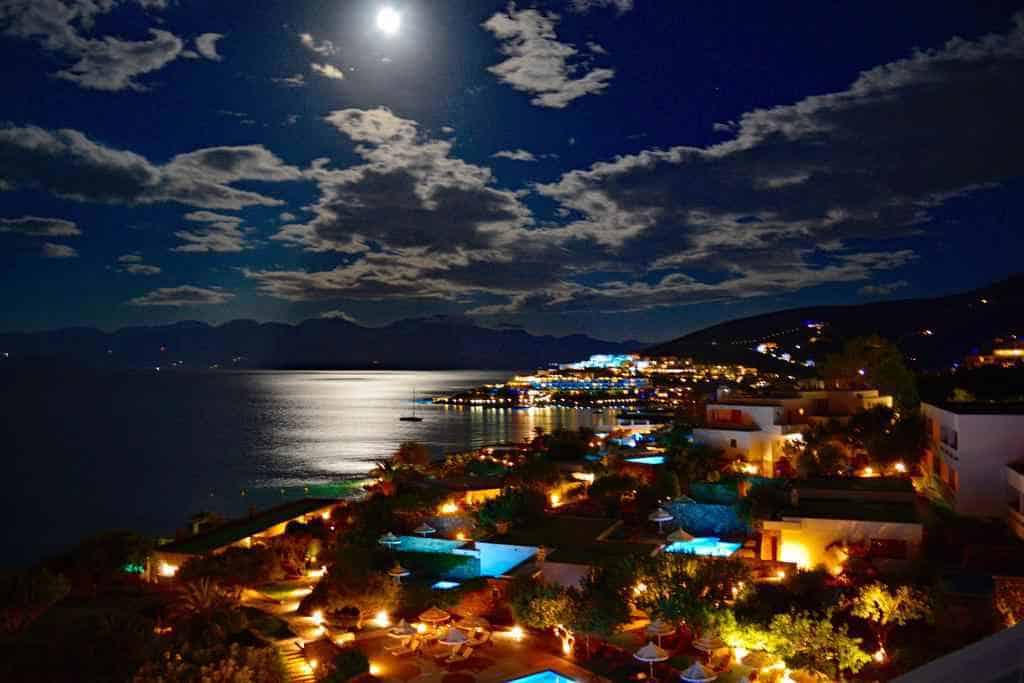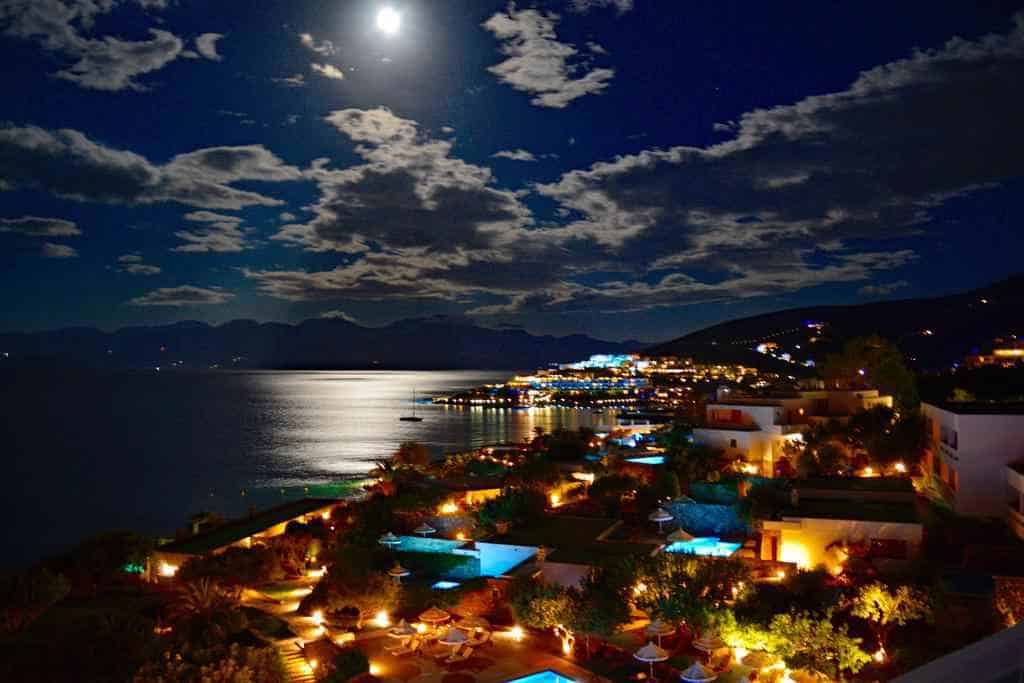 ☎️+30 2841068200
This fabulous hotel is divided into three property types- royalty suites, bungalows and seaside rooms and suites. The royalty suites have stone and wood crafts as interiors and wonderful views of the sea. The bungalows have antique furniture and individual garden. The rooms and suites have bathrooms with marble flooring and bathtubs as well as individual balconies.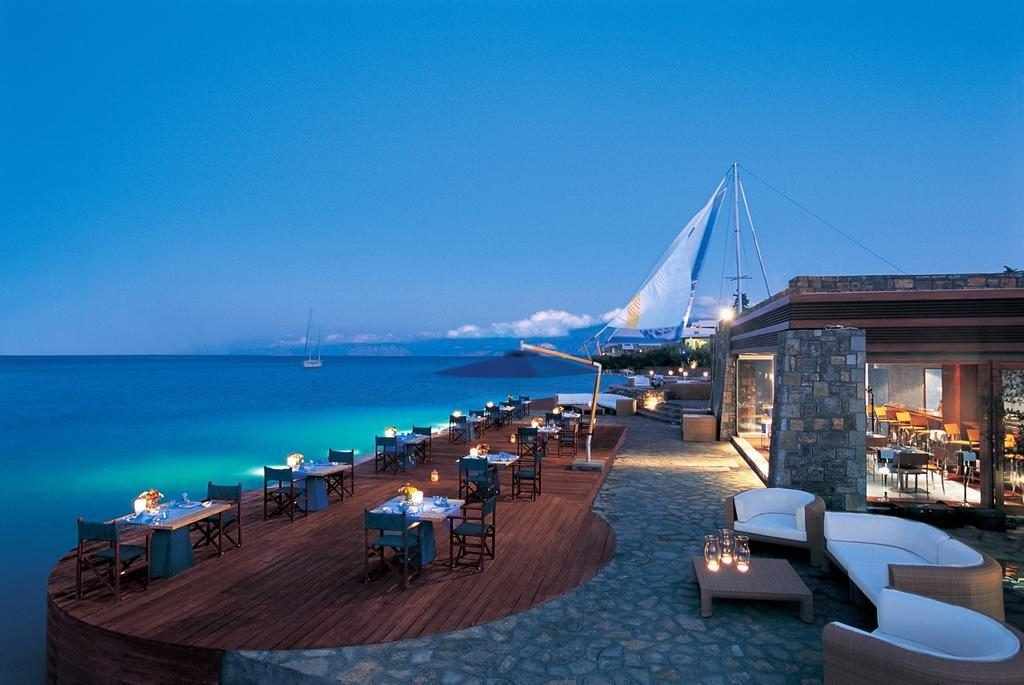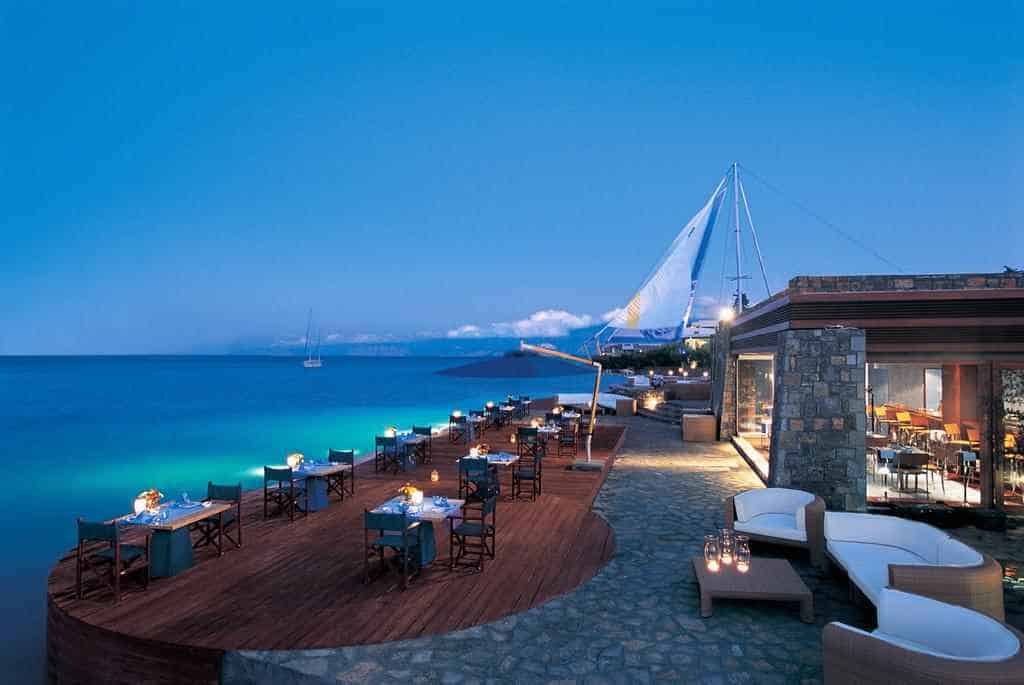 ☎️+30 2841067000
About 20 acres in size, this palatial hotel situated on the edge of a bay has a complex of rooms, suites, bungalows and villas. Many of its accommodations have individual or shared heated pools, balconies with scenic views and mini-bars. High-end suites have individual patios, bathtubs, in-bathroom television, and kitchenettes. Silver club perks include Jacuzzi bathtubs, bathrooms with fanlight and individual heated whirlpools. Exclusive club perks include individual gardens and fully-furnished dressing rooms and kitchens.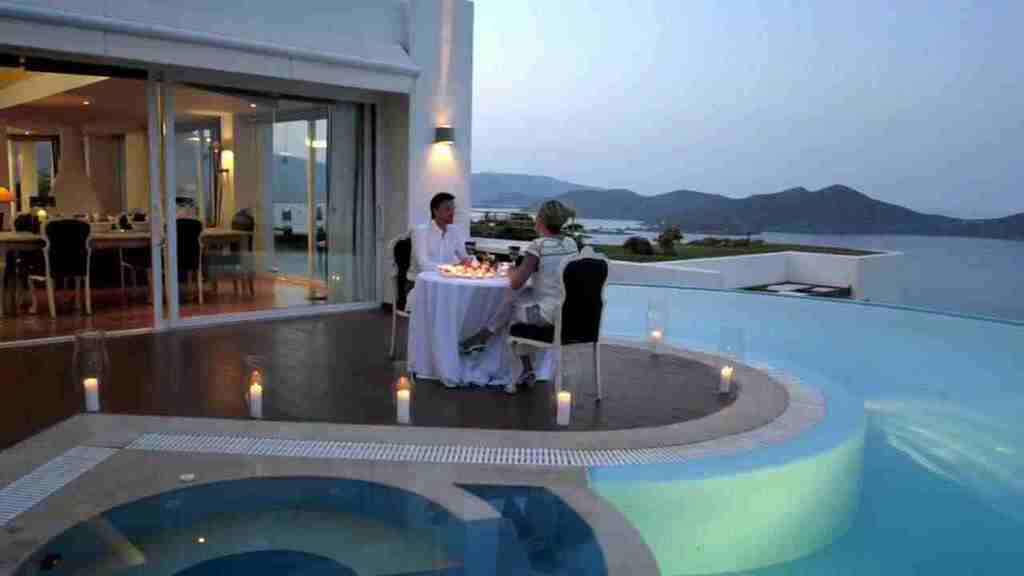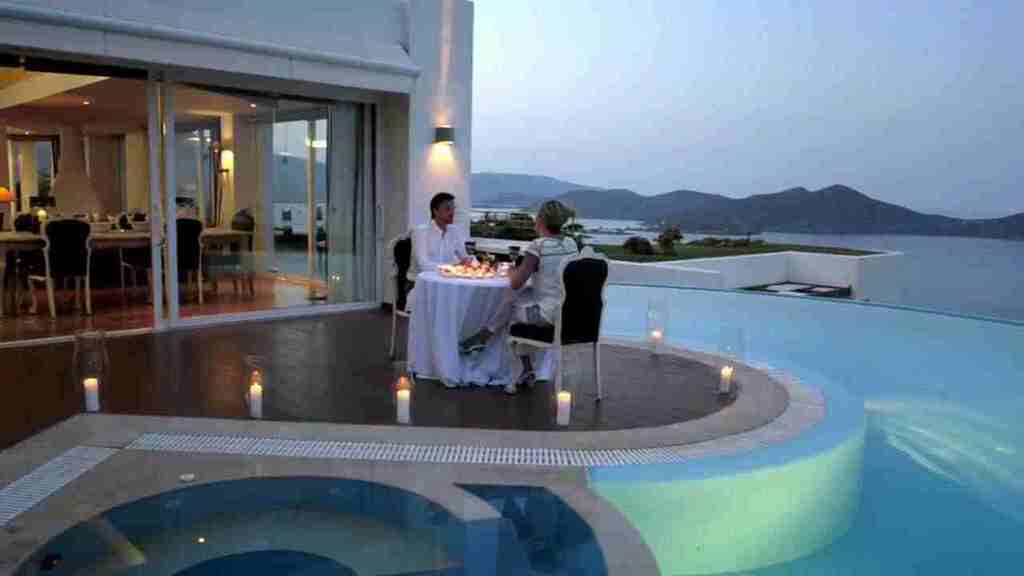 ☎️+30 2810227721
This chic hillside complex include suites, pool, pool spa and beachfront villas. All the accommodations are equipped with iPod docks, tea or coffee making facilities, and mini refrigerators. The suites have windows that are from floor to ceiling, bathrooms with ceilings that are hand-painted and individual seawater infinity pools when upgraded. Complete kitchens are available in pool villas. Individual saunas, heated infinity pools, jacuzzi tubs, and pool terraces are present in higher-end pool villas.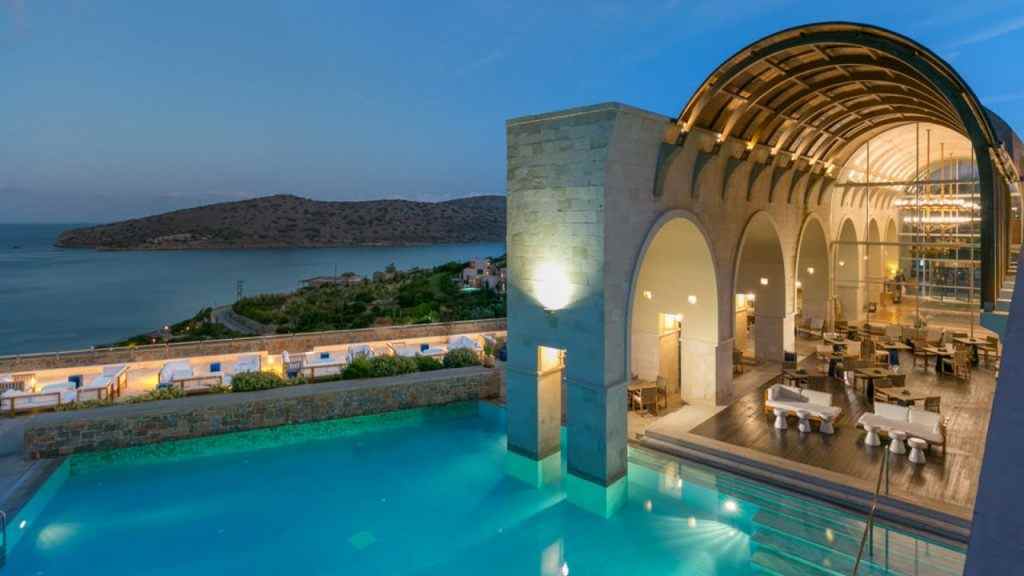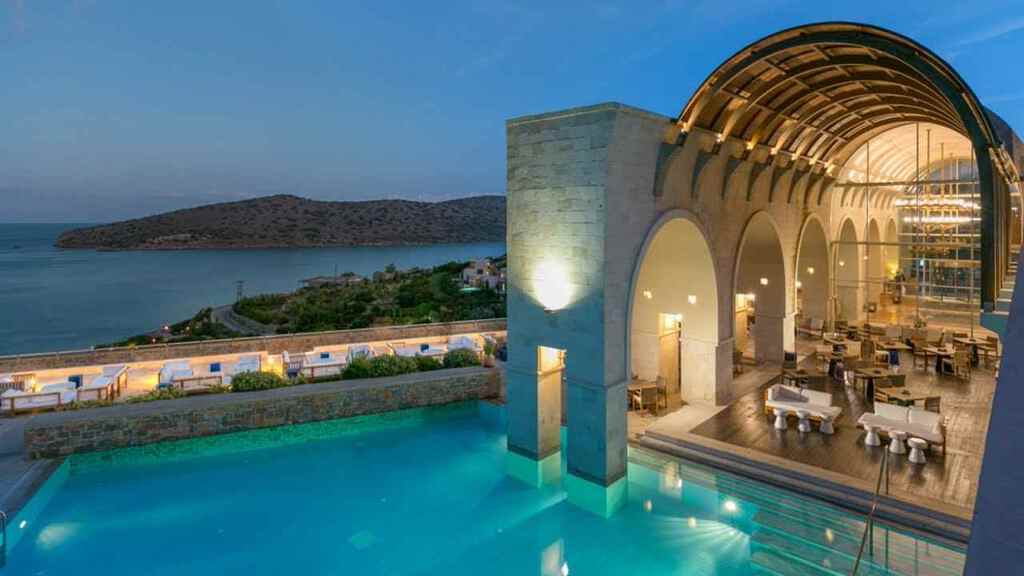 ☎️+30 2841065500
This luxurious resort has rooms, suites and villas with different amenities that range from complimentary breakfast, individual heated pools and individual infinity pools to Jacuzzi bathtubs, coffee machines, and large courtyard or verandah. Upon request, butler services can be availed for villas in addition to the saunas, indoor pools, hydrojet outdoor pools and sunbed-equipped terraces. Guests staying in higher-end villas can avail of the chef services and use the wooden oven and barbeque equipments by the pool. 
Agios Nikolaos 
Agios Nikolaos is more peaceful compared to Chania, Rethymnon, or Heraklion. It is a relaxing jump-off point when visiting the east of Crete. The town is a beauty in itself but is also close to nice beaches. You can also visit Agios Nikolaos' famous neighbor Elounda and its luxurious accommodations by bus.  . 
Top Hotel Choice: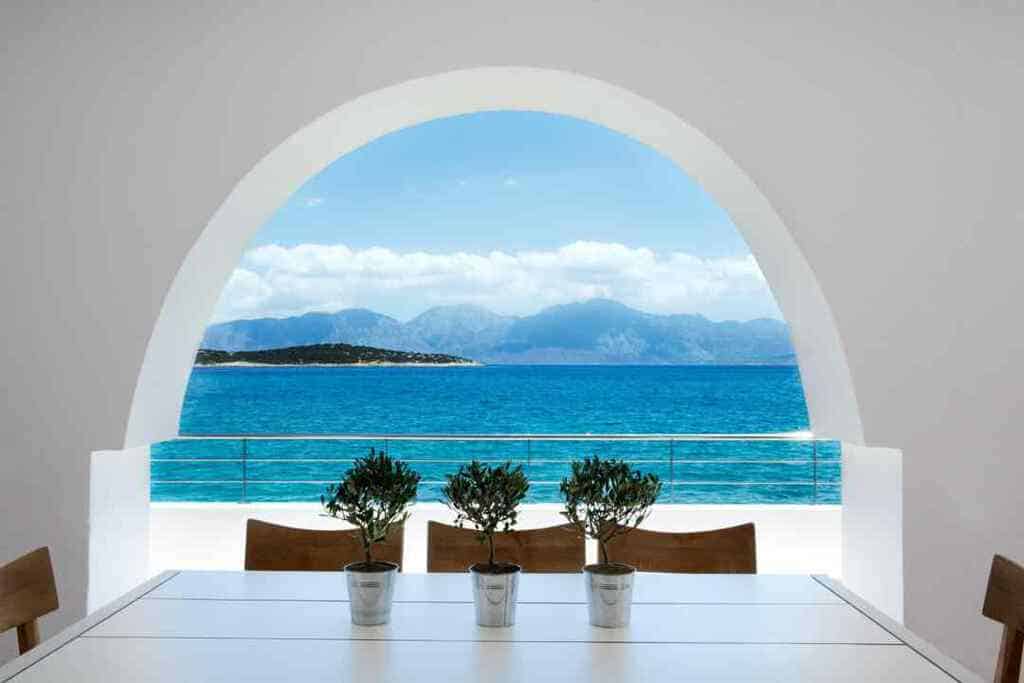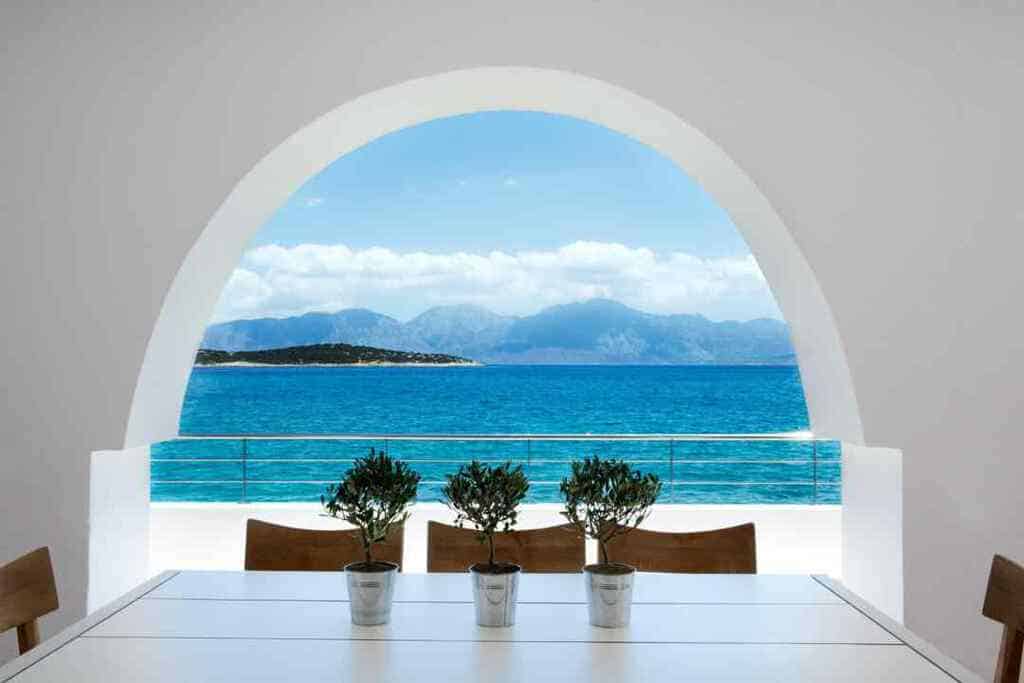 ☎️+30 2841022345
This relaxing hotel by the beach has rooms, suites and bungalows with private balconies offering the scenic views of the sea. The villas have home theatres and individual pools and whirlpools. Higher-end bungalows have Jacuzzis and private pools. Higher-end villas are furnished with Jacuzzi bathtubs, complete kitchenettes and dressing rooms. The Agios Nikolaos town is just a short walk from the hotel.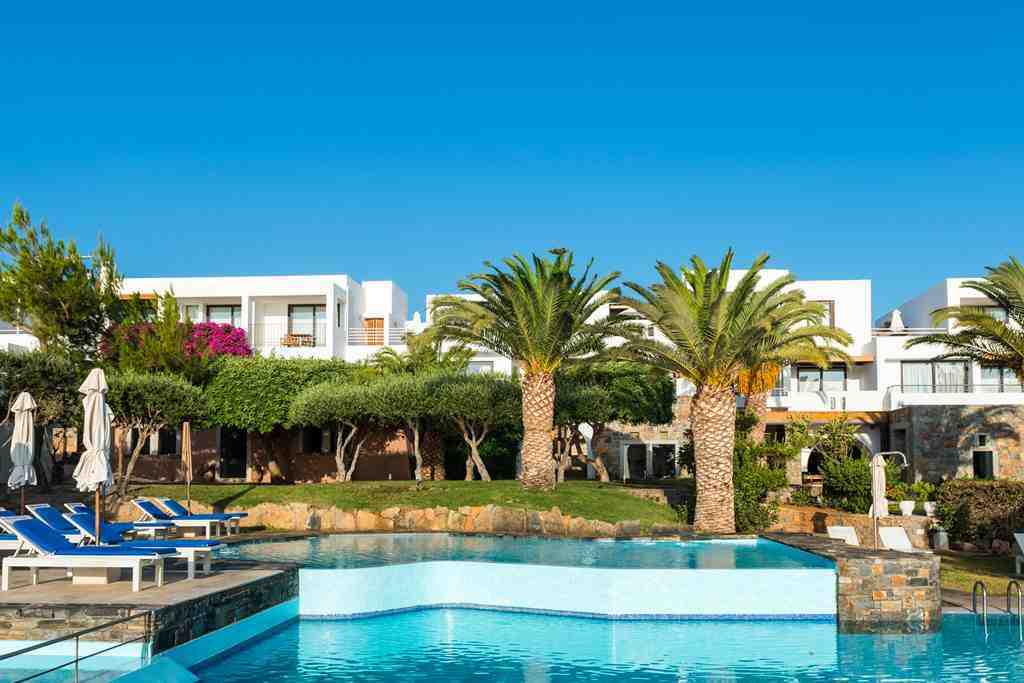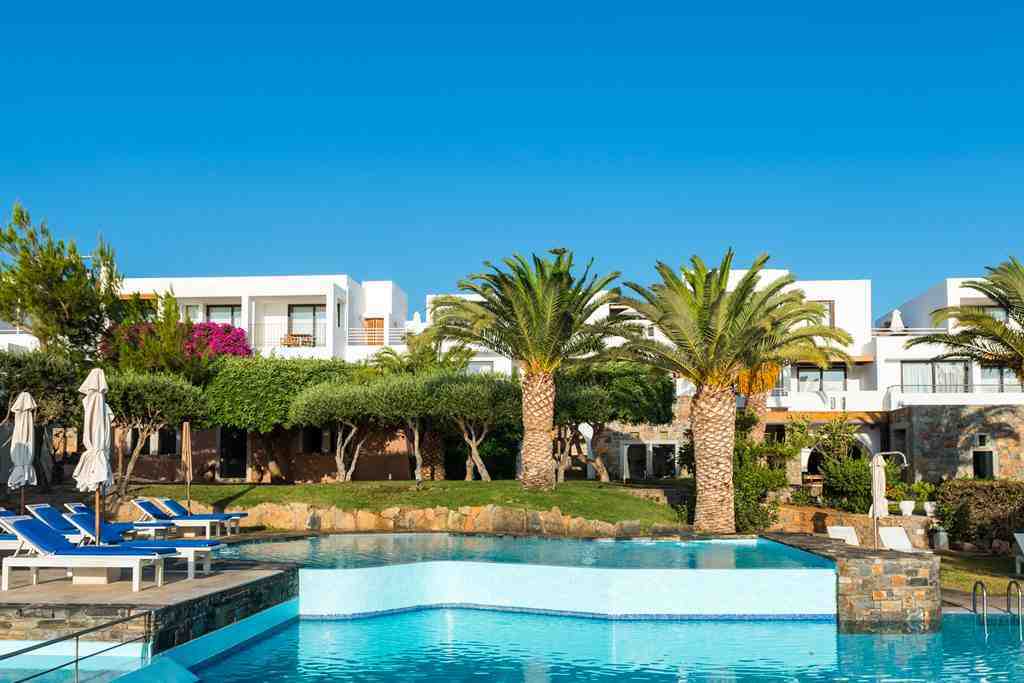 ☎️ +30 2841090200
This resort by the bay has varied rooms, suites and villas. Amenities include lounges, mini-bars, private balconies and pools. Higher-end suites include Jacuzzi bathtubs and  heated terrace pools. Kitchenettes are available in villas. 
Other Suggested Hotels to Stay in Crete:
Adelianos Kampos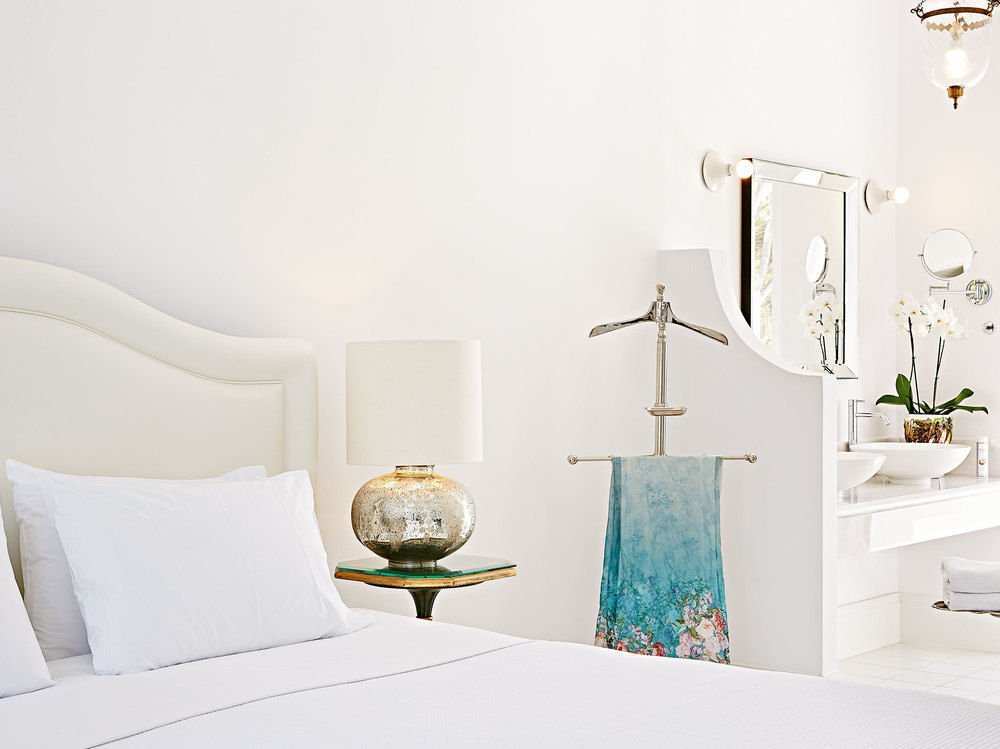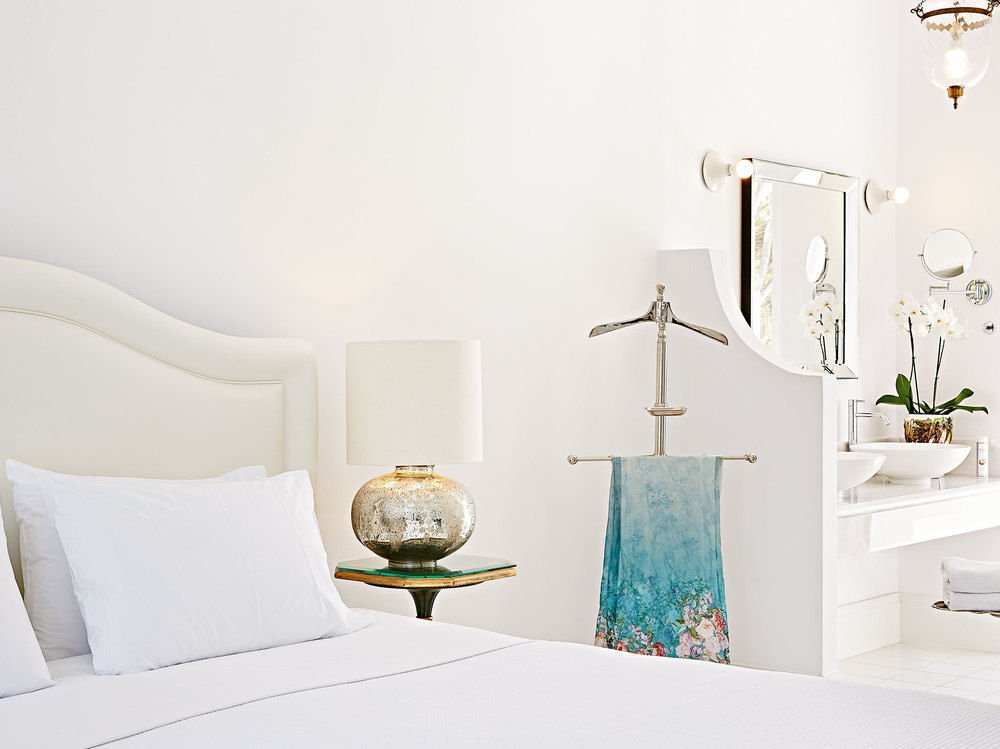 ☎️+30 2831071803
Probably the best in Crete, this fabulous hotel has family-friendly and exquisite suites, bungalows, and villas. Family suites include bedroom for the kids. Higher-end bungalows have spa-equipped bathrooms, furniture-laden verandahs and outdoor Jacuzzis. Villas have antique furniture. Level up of Jacuzzi types and availability of beach access depend on if you stay in the unique or in the ultimate properties. The hotel also a color-changing pool that adds to the relaxing stay it is already offering. 
 Gouves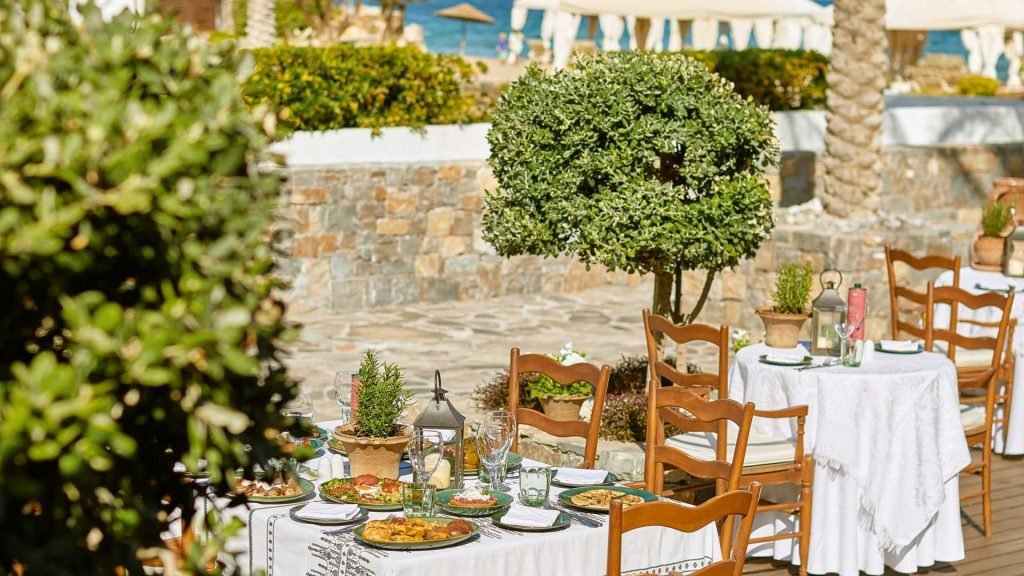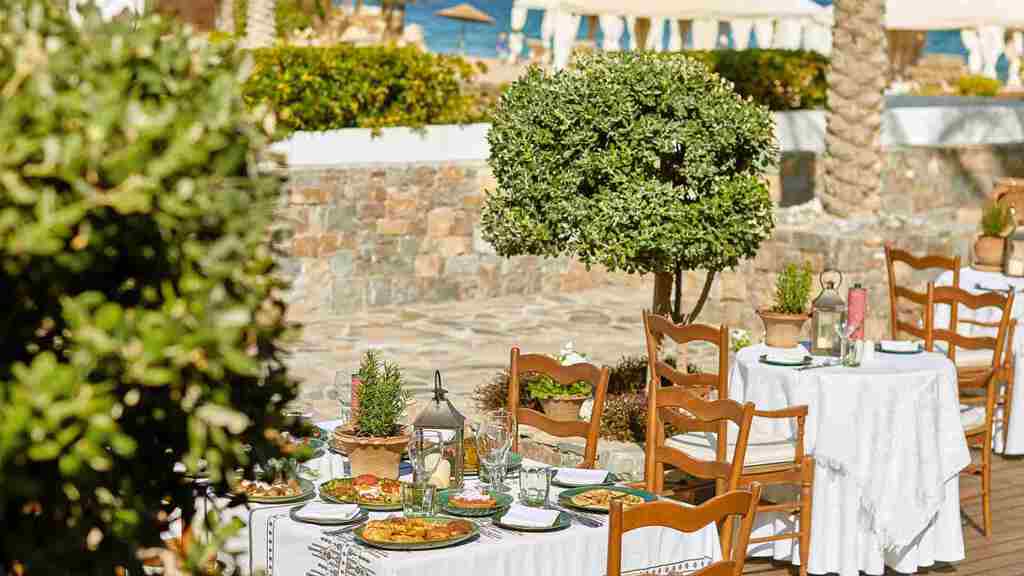 ☎️+30 2897041103
This resort enclosing a large lagoon offer a variety of rooms, suites, specialty suites, bungalows, villas and ultimate property accommodation. May differ based on the room category inclusions are mirrored walls, glass balconies, furnished terraces and individual pools. There are kids' room in family suites and bathtubs overlooking the sea in bungalows. The higher-end villas have direct pool access aside from being equipped with aromatherapy and color therapy Jacuzzi bathtubs. The ultimate property category have private entertainment stone caves, home theatre, Jacuzzi bathtubs, individual saunas, in-bathroom massage equipments, completely furnished kitchen, staff chambers  and billiard tables to name a few. The resort is near the airport in Heraklion and the Knossos Archaeological Site. 
Crete's Top Neighbourhoods
Agios Nikolaos
This is a gem conveniently located an hour away from Heraklion Airport by bus but distant enough from the usual holiday locations. It is an ideal jump-off point to Eastern Crete. Buses have regular trips to the other towns and rental cars are aplenty. It is a small town with the scenic view of the stunning Mirabello Bay. Nightlife in Agios Nikolaos is peaceful. You can also calmly dine and swim as Agios Nikolaos has a beach lined up with different type of hotels. Accommodation gets less expensive as you go north.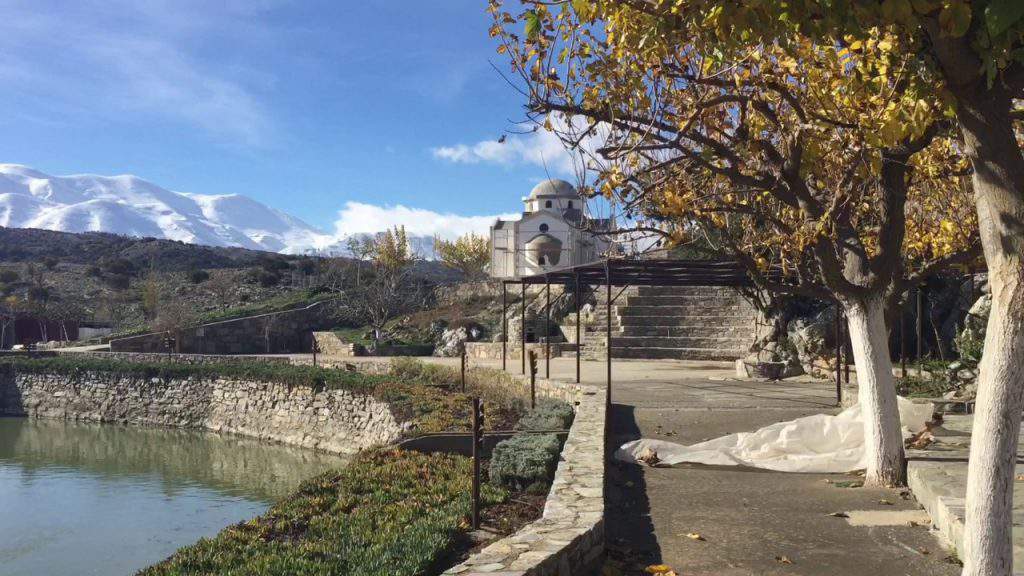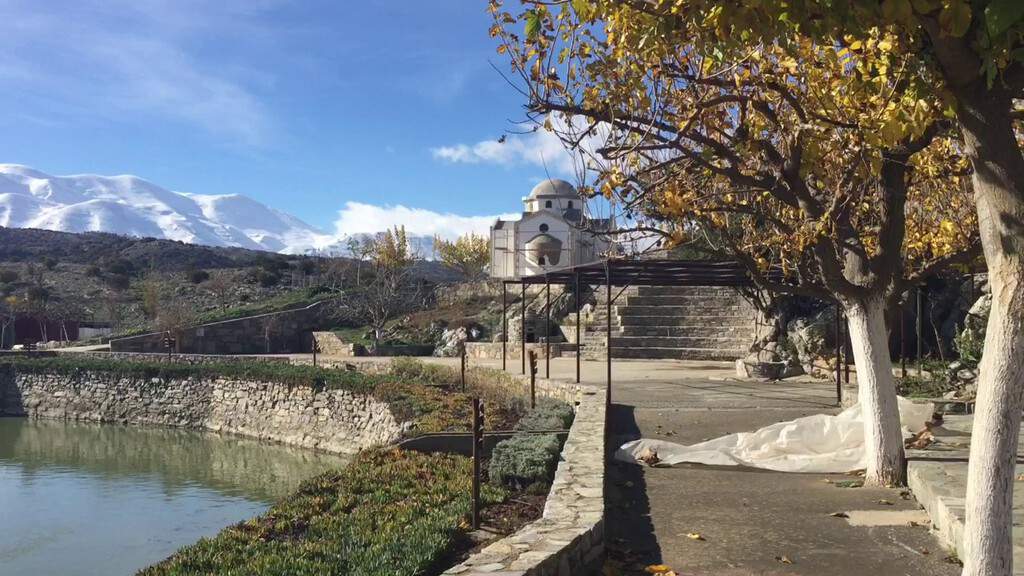 This mountain village is for the curious travellers on a day trip. It is situated 55 km east of Rethymnon, 37km west of Heraklion, and at the back of Mt. Psiloritis. Anogeia veers away from tourism. It has remained traditional with its people working as shopkeepers, shepherd or musicians. They commonly wear Cretan costumes composed of black headscarves and local pants. Feasts such as weddings or the yearly Yakinthia Cultural and Music Festival are a big deal and may last overnight.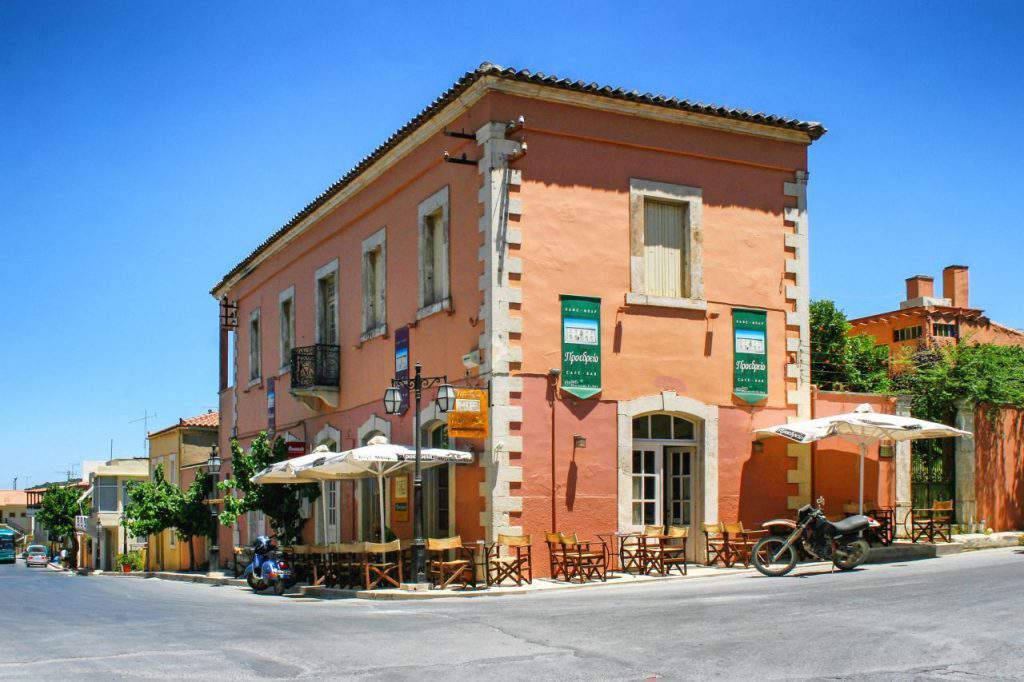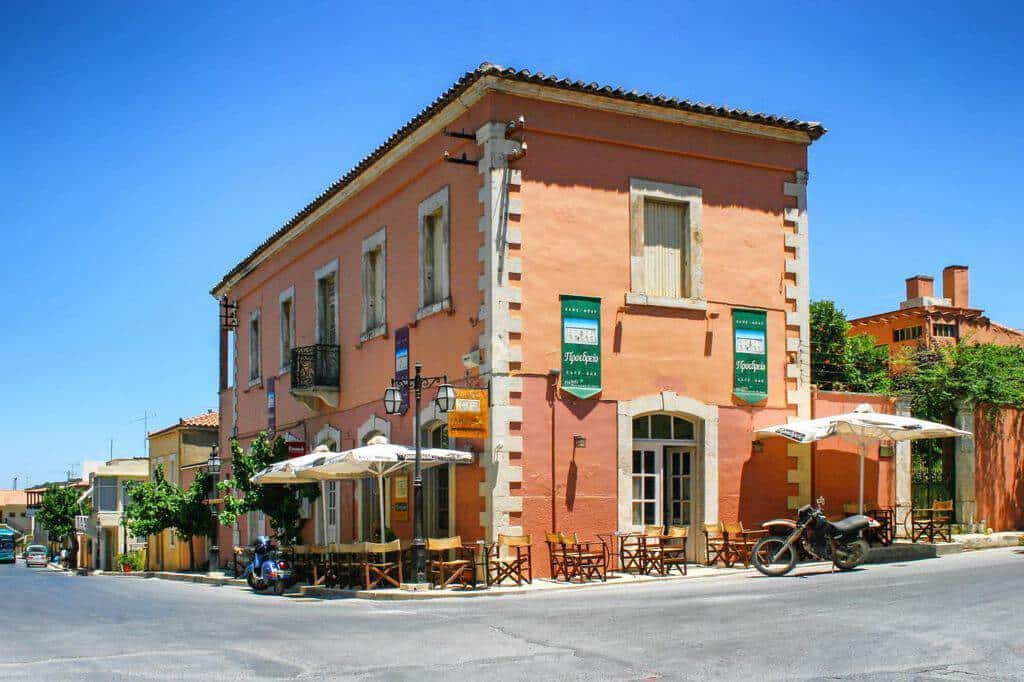 This inland farming village turned tourist attraction is located 16 km south of Heraklion. It is a famous day trip for locals and a good overnight excursion for tourists. But you can stay a few more nights to more deeply explore Arhanes. Restaurants and artisan shops reflect traditional and countryside Crete. Attractions display classic Greek architecture, 200+ heritage sites and Arhanes' roots in being the founding member of the Greek State. 
Bali
Bali is a coastal community in the north. It is located in the middle of Heraklion and Rethymnon. Attractions subtly hidden in this village are four fascinating beaches namely Karavostasi, Mythos, Bali and Livadi that travelers can visit one after another on different days. Greek pubs, cafe and shops are aplenty. You can easily hail buses passing along the northern coastal towns from the main highway, grab a taxi or ride the seasonal tourist train from the village's center.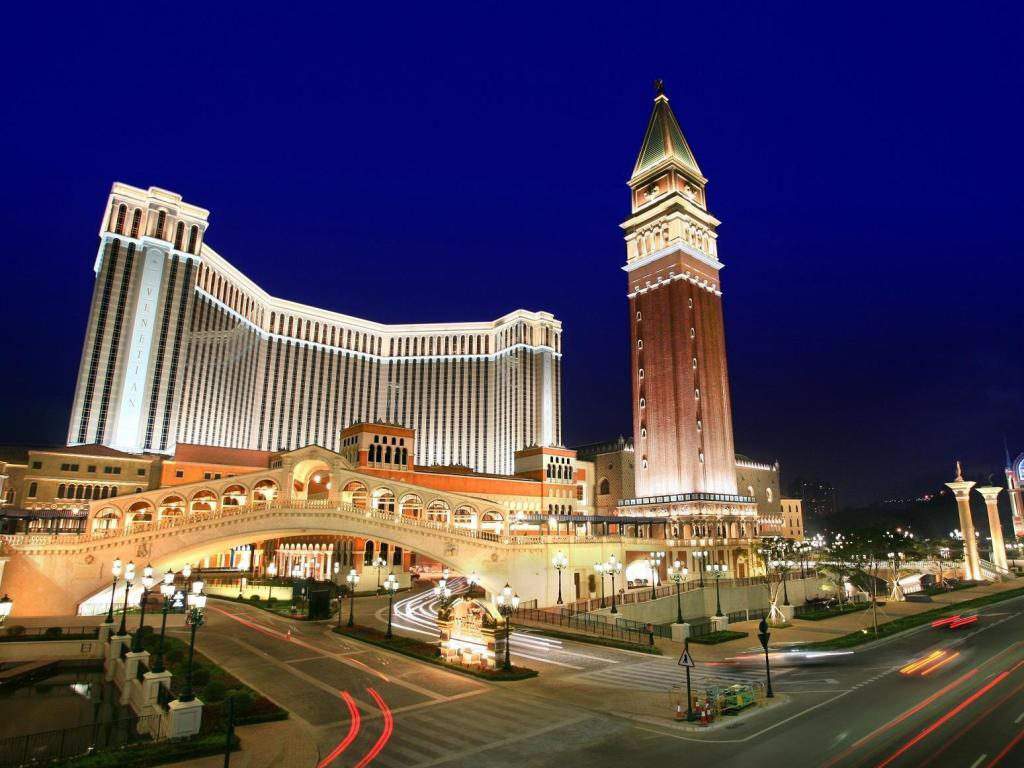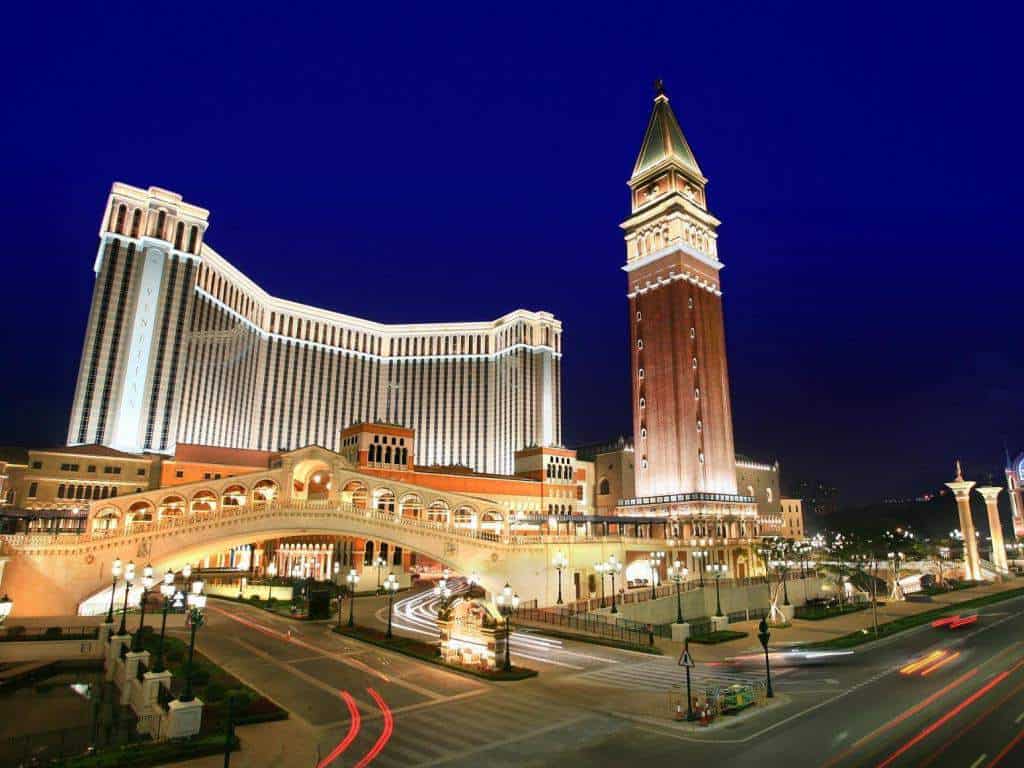 Chania is Crete's crown centrepiece. This grand bustling city is best known for its Old Town and Old Port dating back to 14thcentury.  There is also an ancient lighthouse of Egyptian, Venetian and Ottoman designs from the 16thcentury that must have been powered by Ley Lines. Another famous attraction is the Nautical and Archaeological Museums set in a previous monastery. It is also a melting pot of travellers from all over the world. The local beaches are also of walking distance.  You can grab a taxi or a bus for a 5km trip to ChrysiAkti or the 14 km away Platanias or Agia Marina.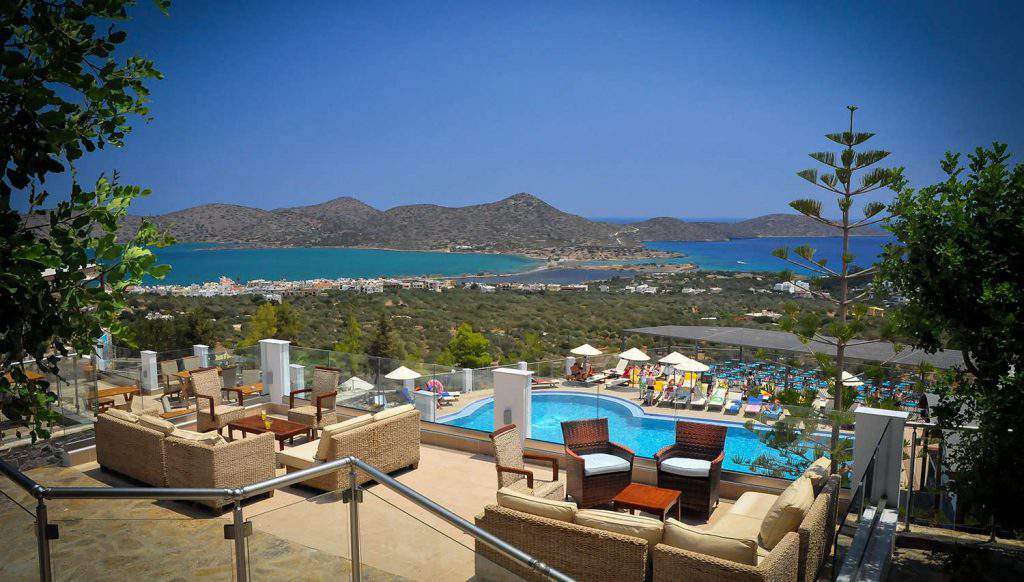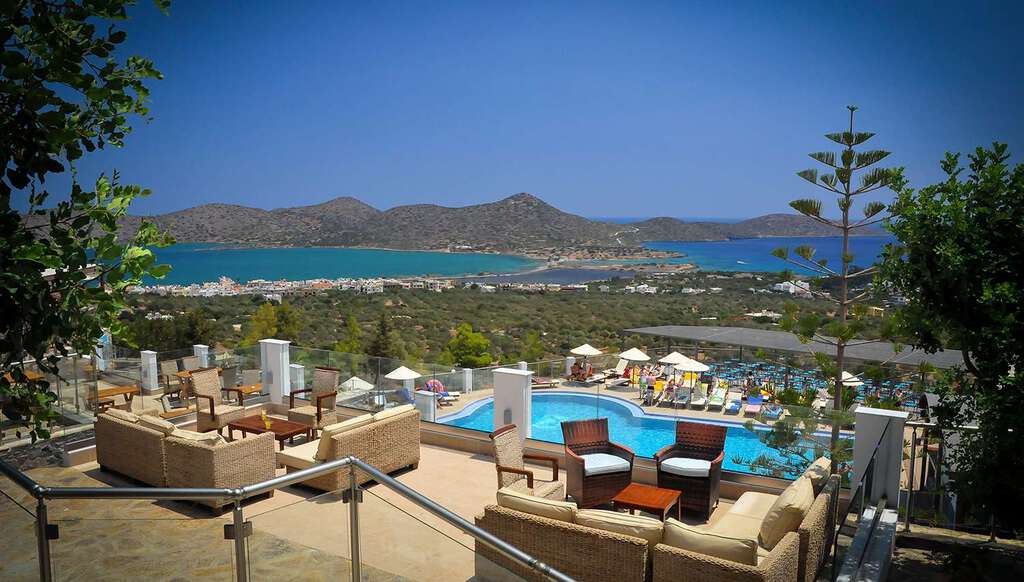 Previously a fishing village, Elounda has been known as the hub of Greece' rich and famous. Elounda has lavish hotel and resort complexes. Prices for these accommodations are highest during the peak season but great deals are also available in low season. Elounda is an all-in-one village abundant with food places, markets, shops and travel agencies. Island hopping is highly suggested particularly in Spinalonga, a leper colony in the past. Kolokytha peninsula offers a silent sanctuary for off-the-beaten path swimmers.  Plaka beach is also just 5.5 km away by car or scooter.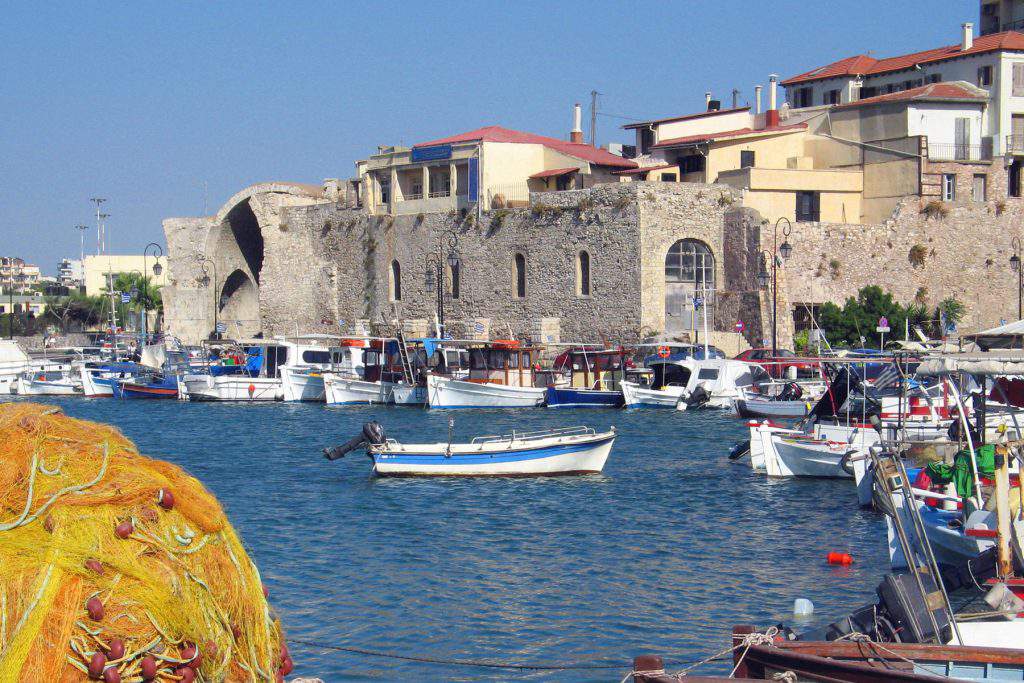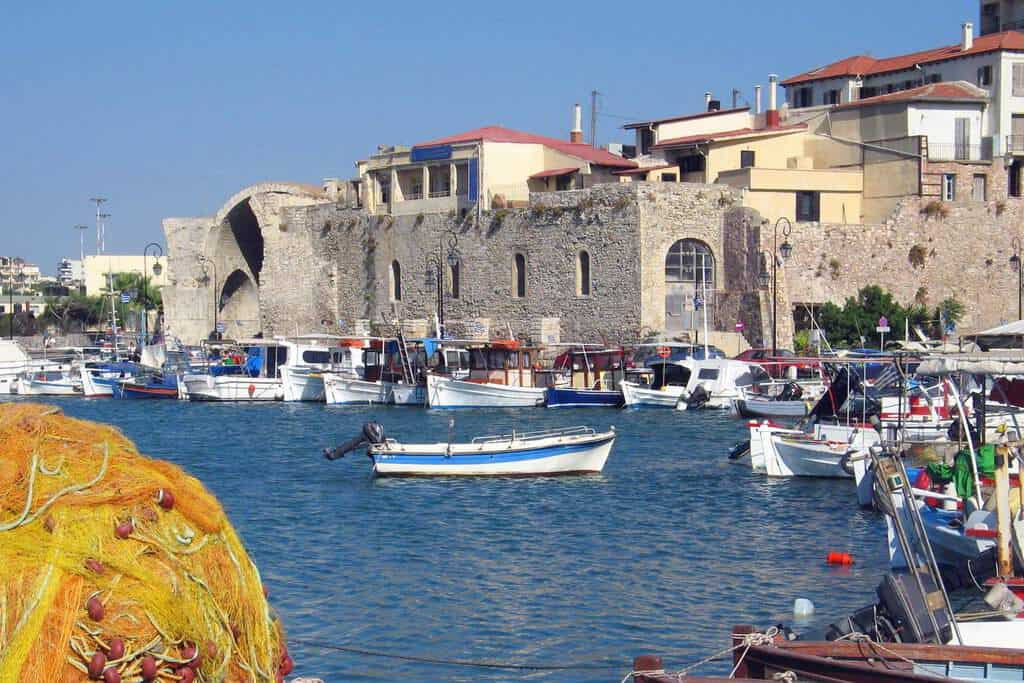 Heraklion, despite being Crete's capital, has been previously less known compared to the neighbouring towns. However, through the years it has transformed itself to be a destination in itself. Heraklion has the advantage of being the jump-off point to the other major tourist destinations particularly the Crete-Santorini-Mykonos route. The international airport is just 3 km from Heraklion's town center. It also houses the Archaeological Museum. Heraklion is also close to the historic Knossos. Heraklion serves as the melting pot of Cretans, Greeks and foreign visitors. It has become an ideal place for people from all over the world who want a vibrant urban nightlife and socialize over good food and drinks.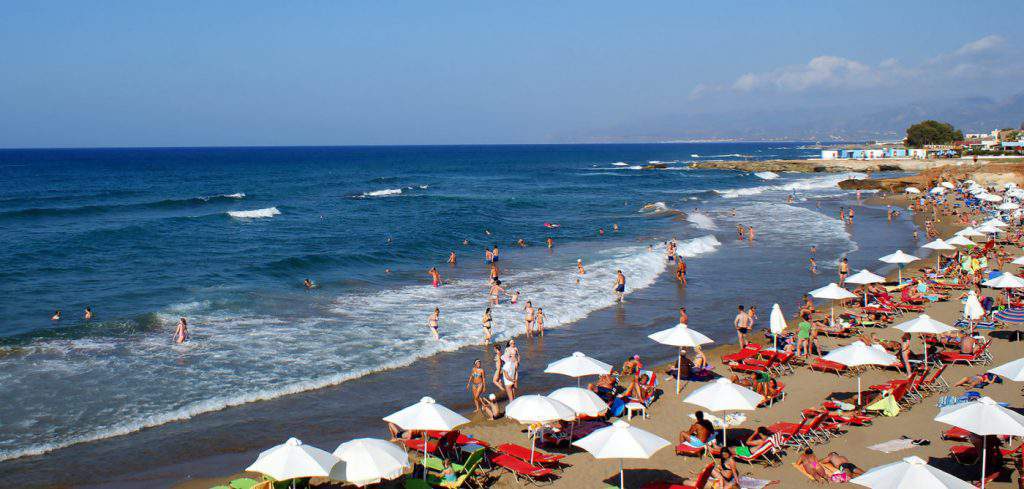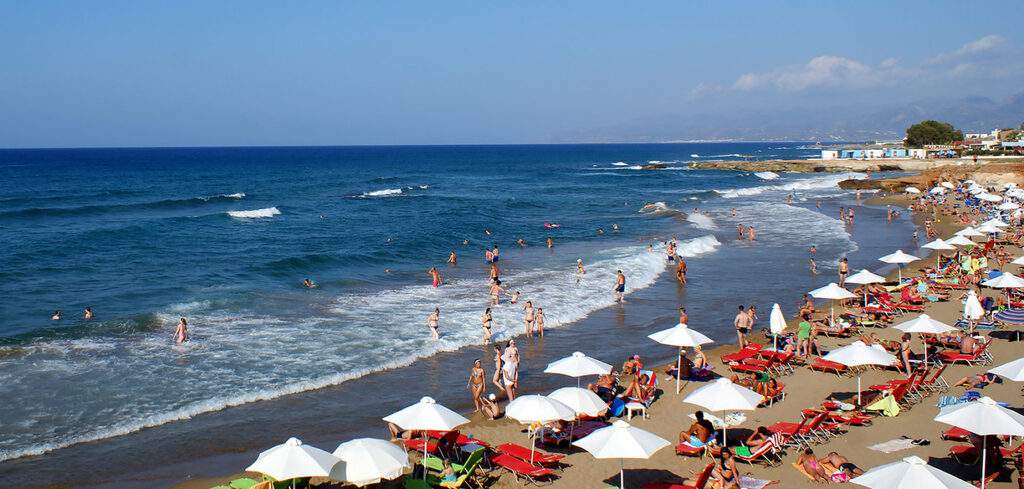 Hersonisos retained its charm of being a go-to place for beach lovers.  The international airport is conveniently located 21 minutes away by car.This makes it easier for tourists to enjoy the sea immediately after they land in Crete. Travel agencies, diners, stores and rental shops are abundant. It's beautiful chaos- a bustling resort town and calm sea. As July and August are peak season, the accommodations are most likely offered under vacation packages.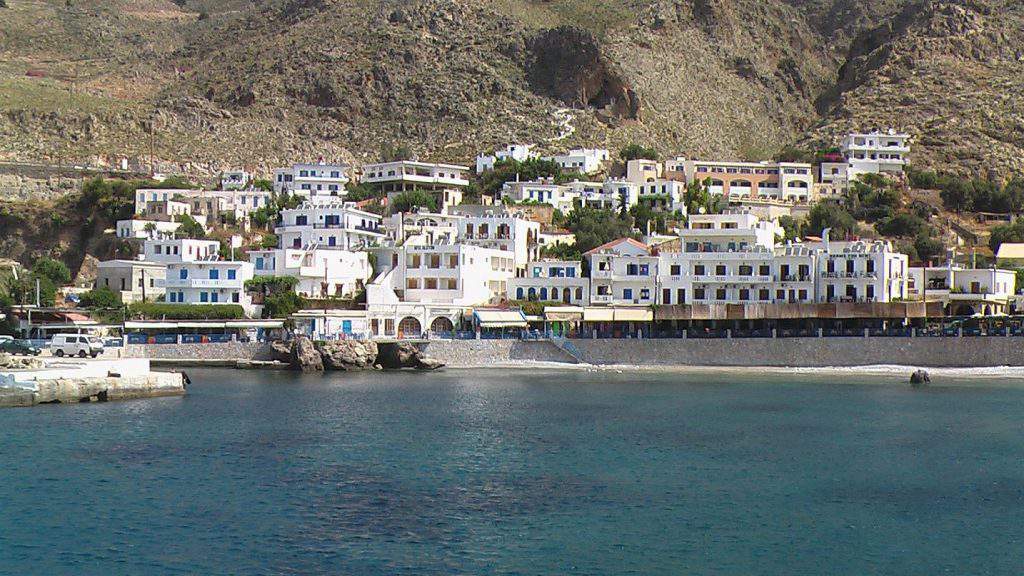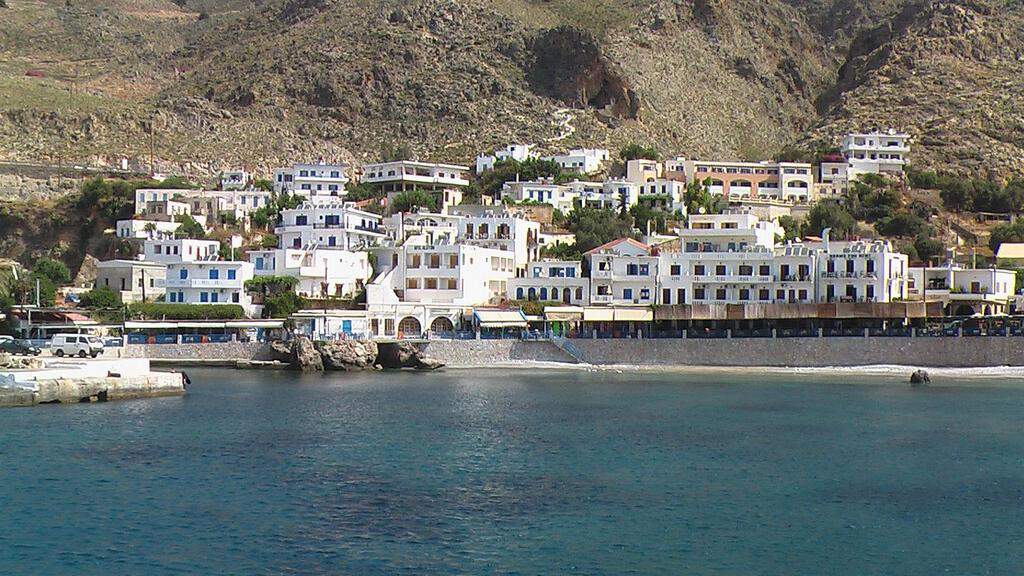 This small southern coastal village is not much into tourism except that it has become a common rest stop for visitors who walked the Samaria Gorge. The locals pride themselves that the Dorians, who conquered Crete in 1100 BC, are their ancestors. Their interests include knives, guns, sheep and the raki wine. There are coarse beaches nearby as well. Hora Sfakion is also connected by ferry to Palaiochora, Agia Roumeli, Loutro, and Sougia. There are also buses headed to Chania.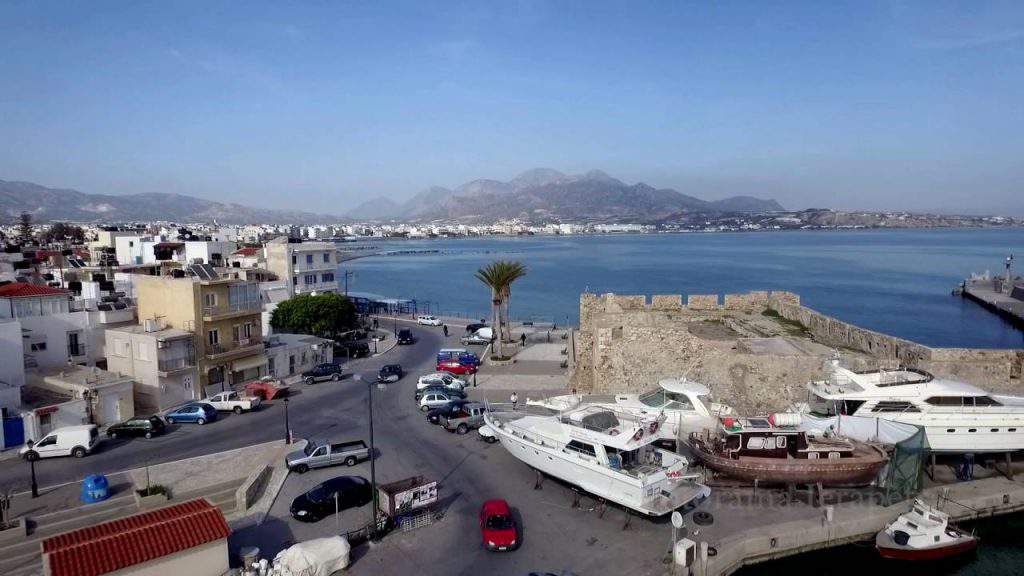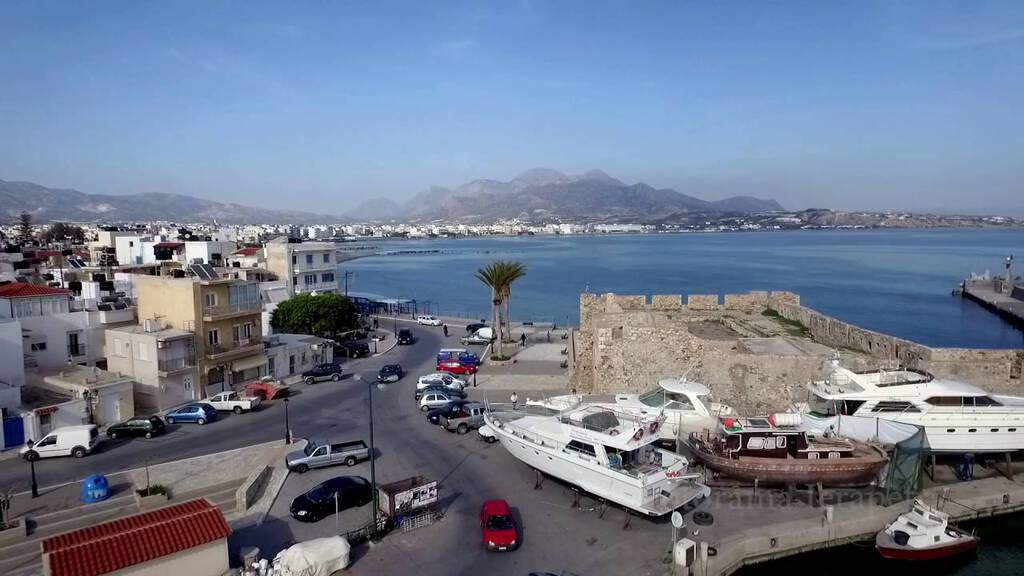 Very underrated, this little sustainable town is situated south of Agios Nikolaos. It does not rely on tourism as it is already independent through its agricultural and coastal roots. Visitors are welcome to experience the chill and slow-paced way of life in this town. It is a good stop-over. Apartments and hotels are family-friendly. And there's a decent beach nearby.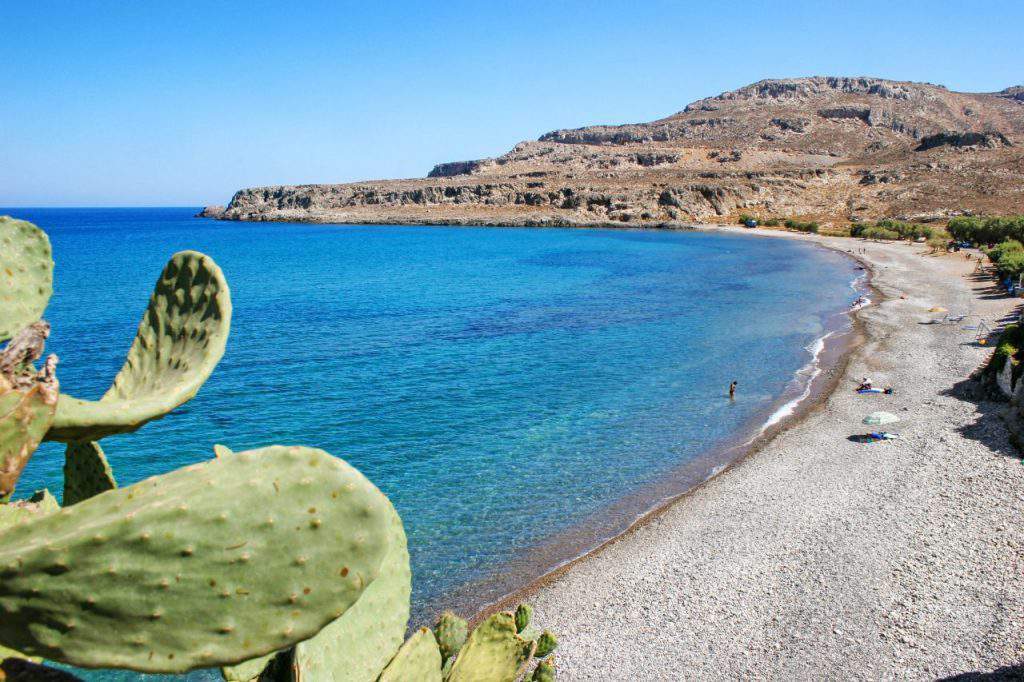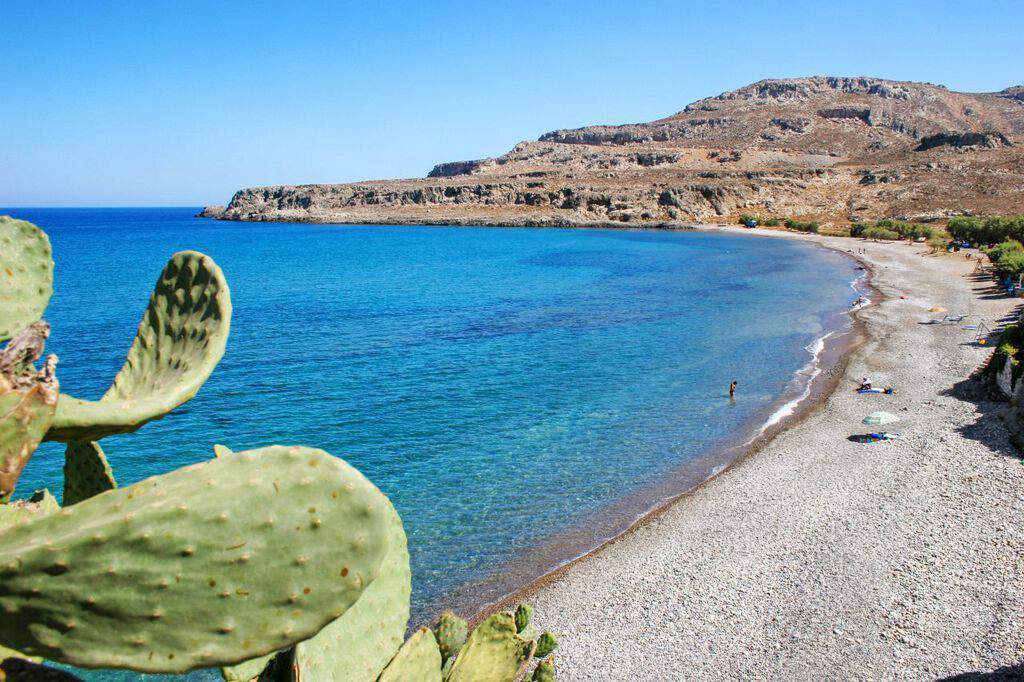 Its name means Lower Zakros. It is a little settlement that serves as an annex of Zakros, a bigger and more populous village. From Kato Zakros, you can walk to the Gorge of the Dead where you can see very old rock tombs. You can also just choose to relax and reflect by the sea. There are four pubs offering food and drinks enough for travellers to rejuvenate. The beach is coarse but the water is clean. It is a great alternative to the sounds and sights of other towns. However, lodging is few and needs to be arranged ahead of time.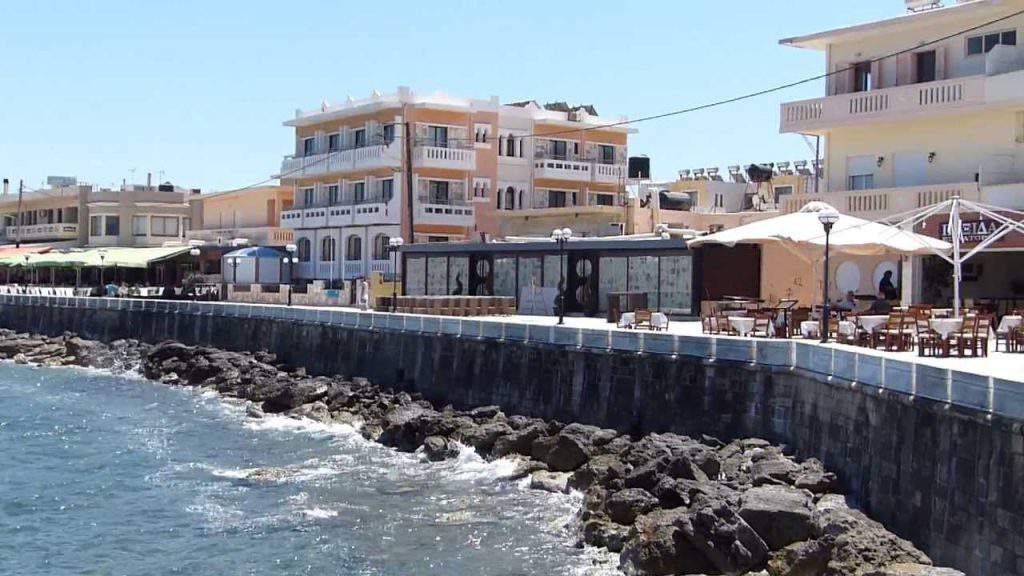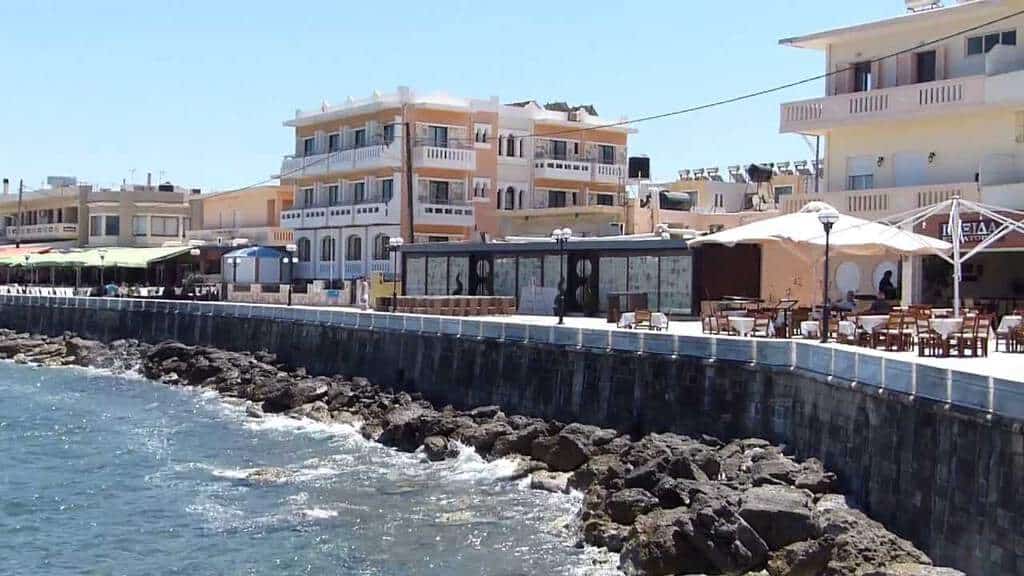 This unassuming but beautiful town is situated in the west of Crete, at the end of Kissamos Bay. It is along the road to the port which the jump-off point of the island cruises to Gramvousa Peninsula. The twin name town has a chill vibe. The lodging is simple and pretty much affordable, majority of which are apartments and studios. There are also some hotels along the main road.  The small pier is surrounded by cafes and restaurants where you can enjoy the fresh sea air. For just a short walk towards west, there is a nice beach welcoming the visitors. Towards the east, there is Nopigeia. It has a few more accommodations and a coarse beach.  It is an ideal side trip for travellers on cars who want to explore the other towns in the west side of Crete.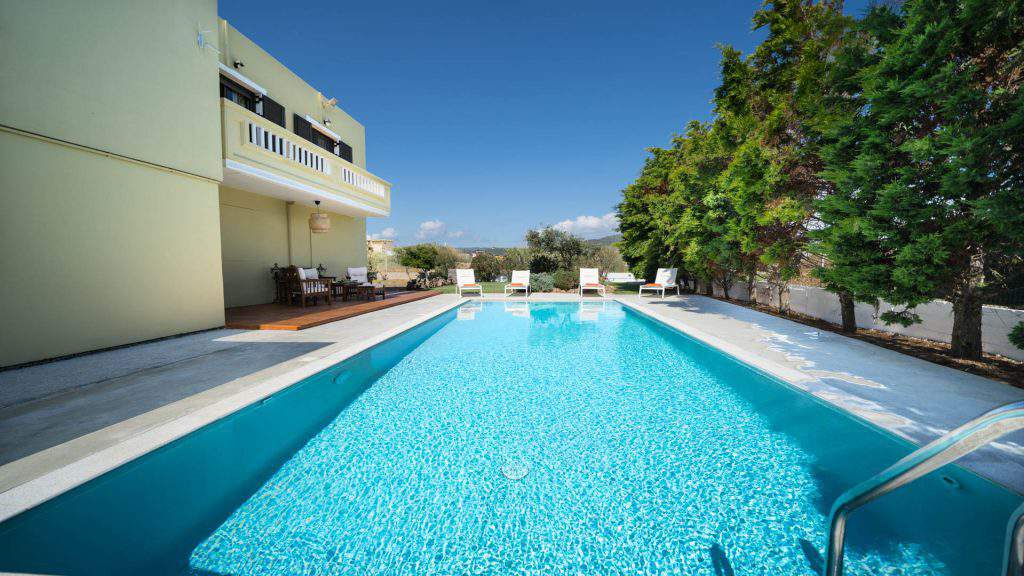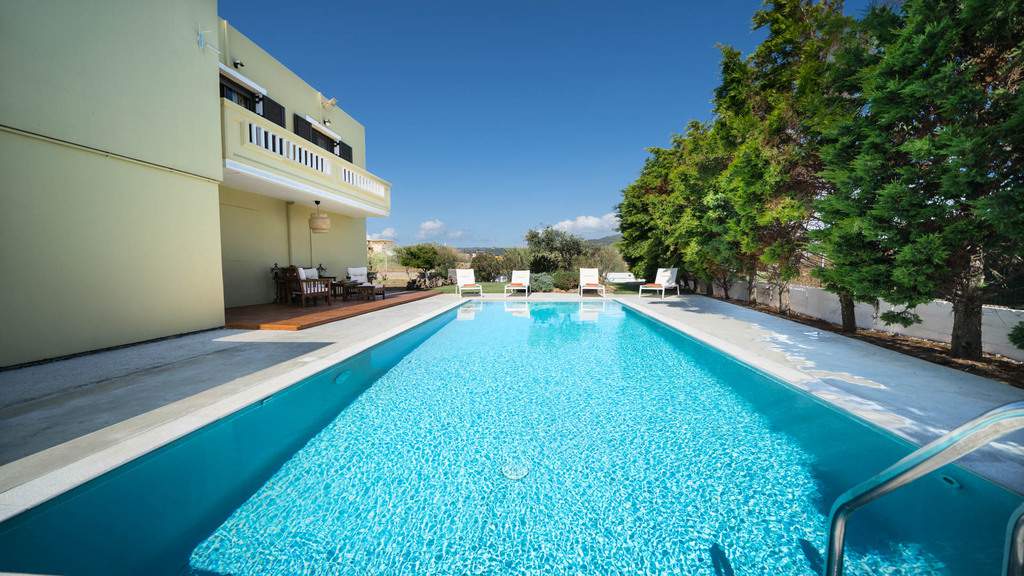 Kolymvari is an emerging tourist destination with a distance of 25km west of Chania.  In this village you can experience both the urban and rural Crete. Perks include easy access to Chania, a port and a considerable beach. There are nice and low-key pubs and restaurants that tourists can enjoy. Fabulous hotels with private and shared pools have sprung up and are ideal for families and luxurious travellers. There are also quality room and studio rentals for solo travellers. There are enough stores, ATM facilities, and rental shops to keep your holiday afloat.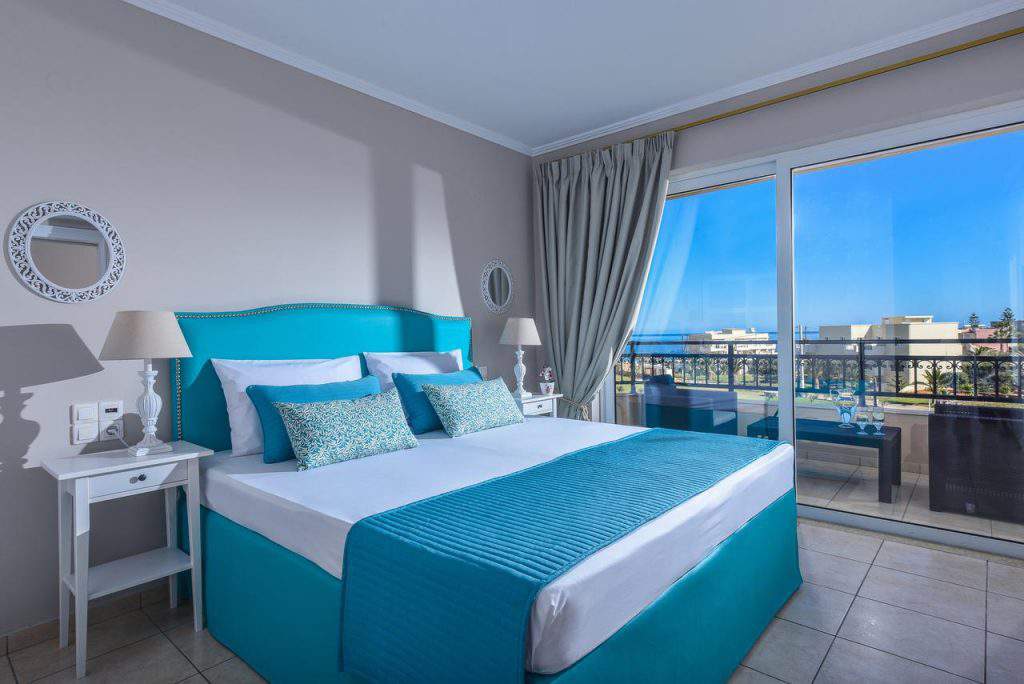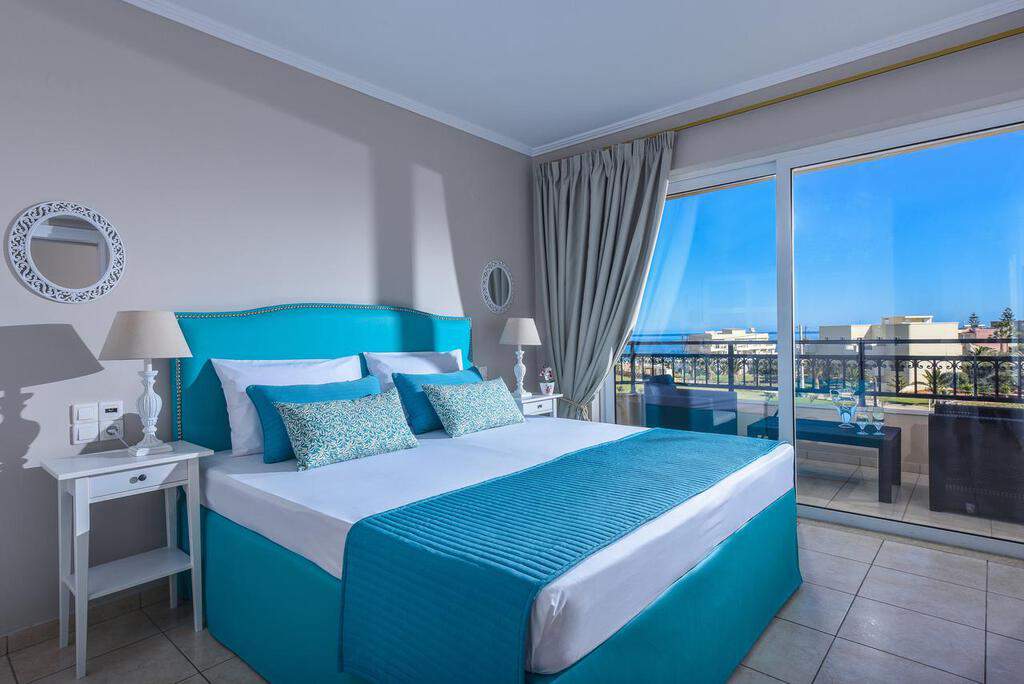 Malia is a rural agricultural town turned party haven. It is conveniently located 34 km from the airport of Heraklion.  Thus baggage to beer will be quick. The village is connected to the beach by a line of tattoo joints, cafes, bars, taverns, diners and shops. The beach is action-packed in itself especially during the summer with plenty of hotels and studios to stay. Lounge chairs, umbrellas and kayaks by the beach are abundant. You can explore Malia if you are into this beautiful chaos of partying like a youth in a beach town.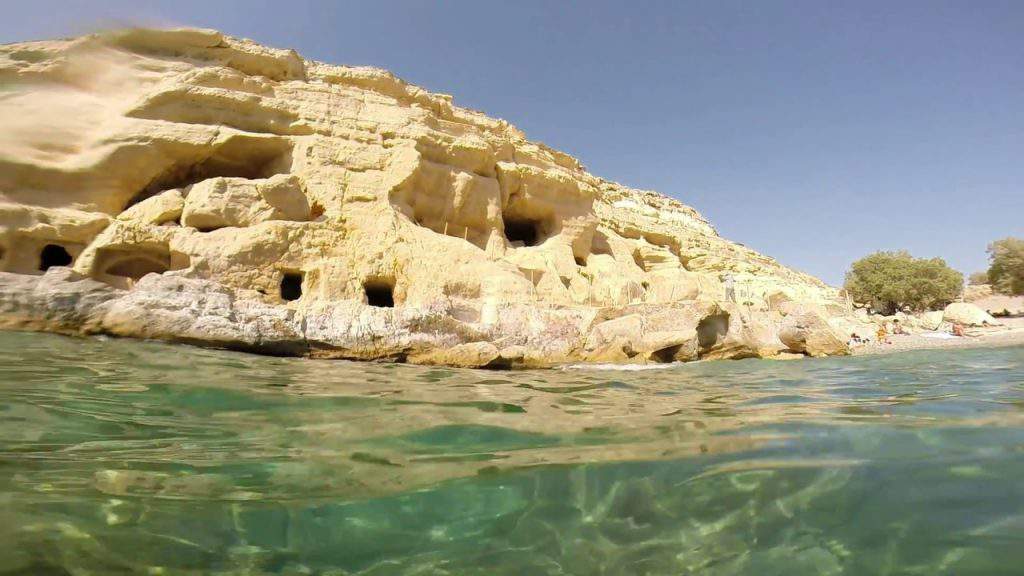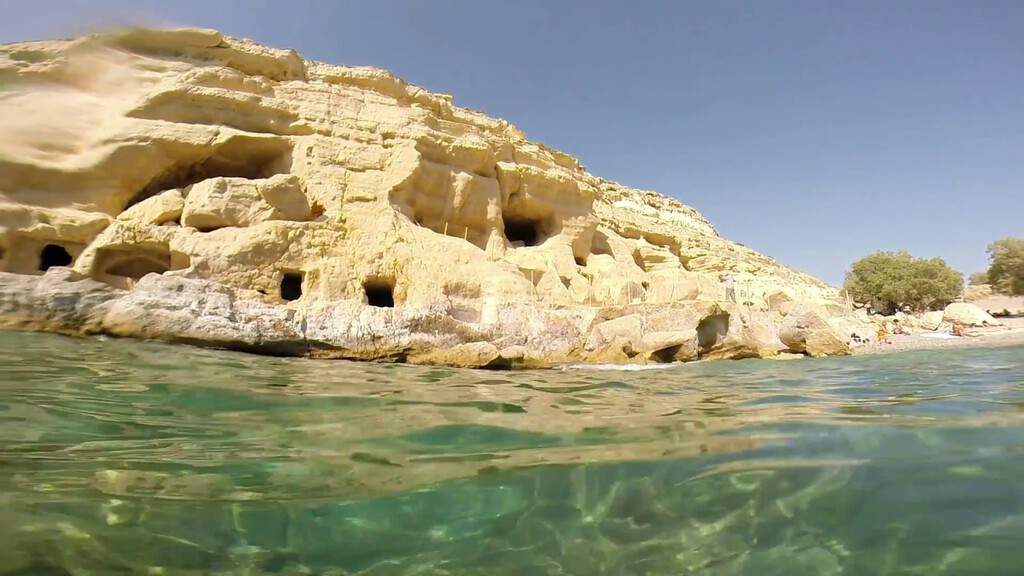 Previously, it was a famous hub for beach-lover hippies after Joni Mitchel, a Canadian singer, released the album 'Blue' about her island life in this village. But now it has has transformed into a resort village busy with welcoming throngs of tourists to its beach, rock caves, cafes, diners, stores and souvenir shops. One to three days are ideal to explore Matala. Lodging of different types are aplenty. But as it is a famous destination, expect that prices spike up during the summer. You can reach Matala via bus from Heraklion and Rethymnon, rental motorbike or car.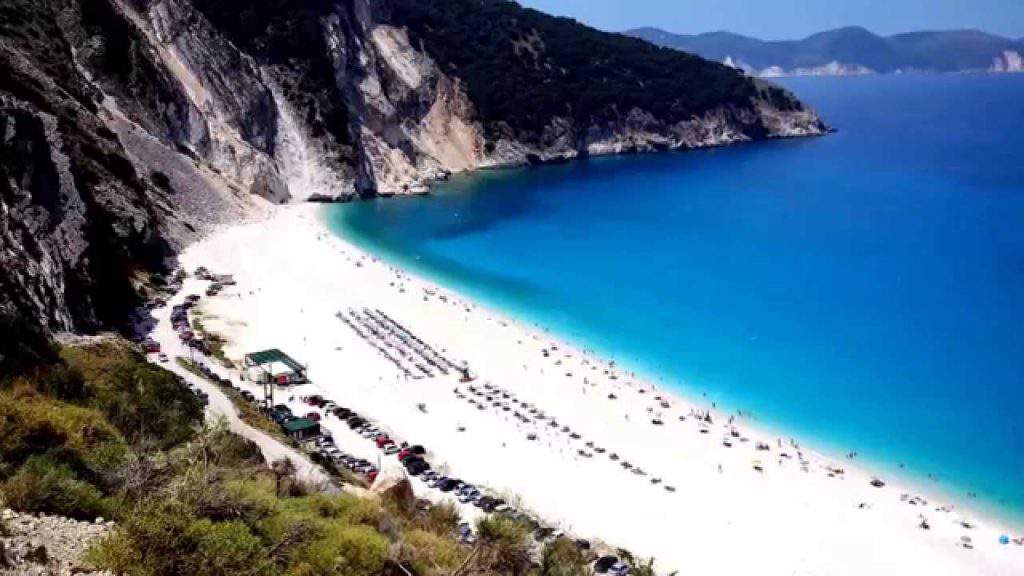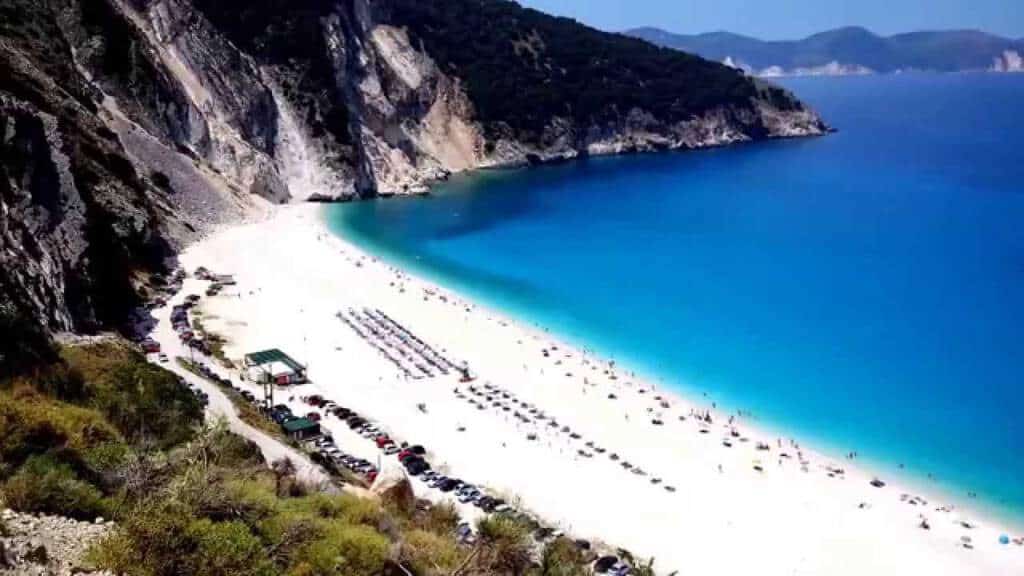 It is a hidden gem tucked in Ierapetra's west and Crete's southern coast. It is surrounded by fine grey sand and the stunning Libyan sea.  There is no direct pier or airport nearby. It is off the beaten path from the usual tourist route and often discovered accidentally. However, travelers still return to this sustainable agricultural community. The locals have impeccable hospitality that makes guests stay longer. The relaxing vibe coupled with exquisite seafood, keep the visitors hooked. As the village has become famous, lodging in terms of size and types has increased as well. And until now, many still find it difficult to leave Myrtos as it offers them simple yet wonderful memories.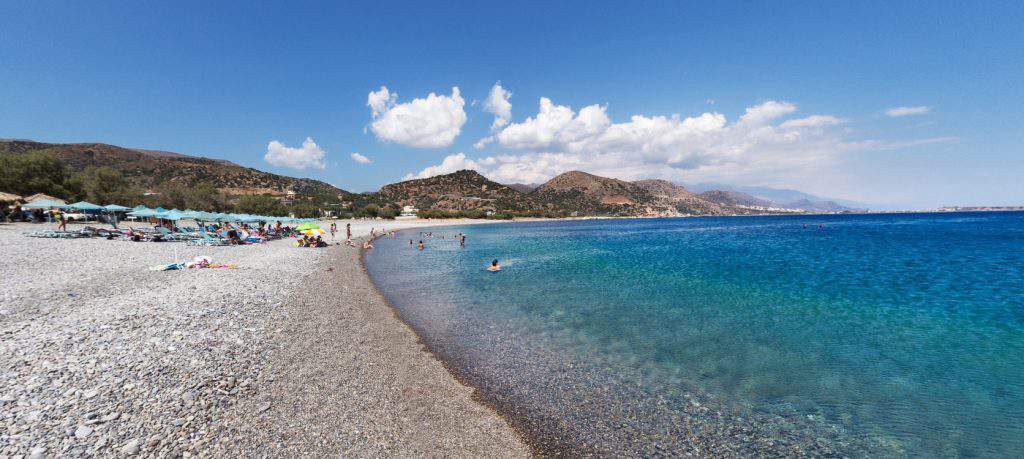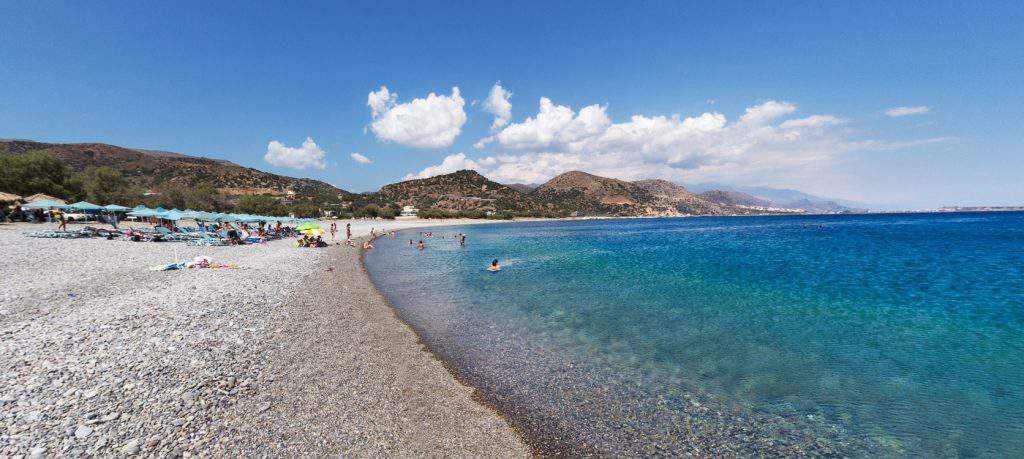 It is situated in Crete's southwest. It has 700-meter long and 400-meter wide peninsula with an old castle on top. This makes Palaiochora owner of two beaches- a rocky beach on the east and a sandy beach on the west. It is famous mid-range vacation spot but is not yet resort level. At least a week is recommended to fully explore Palaiochora. The village offers varied amenities. Lodging is of different types- rooms, apartments, studios and hotels. The ambience is chill and slow-paced ideal for families and solo travelers who want peace and tranquility. It is 77 km from Chania and there are direct buses available throughout the day.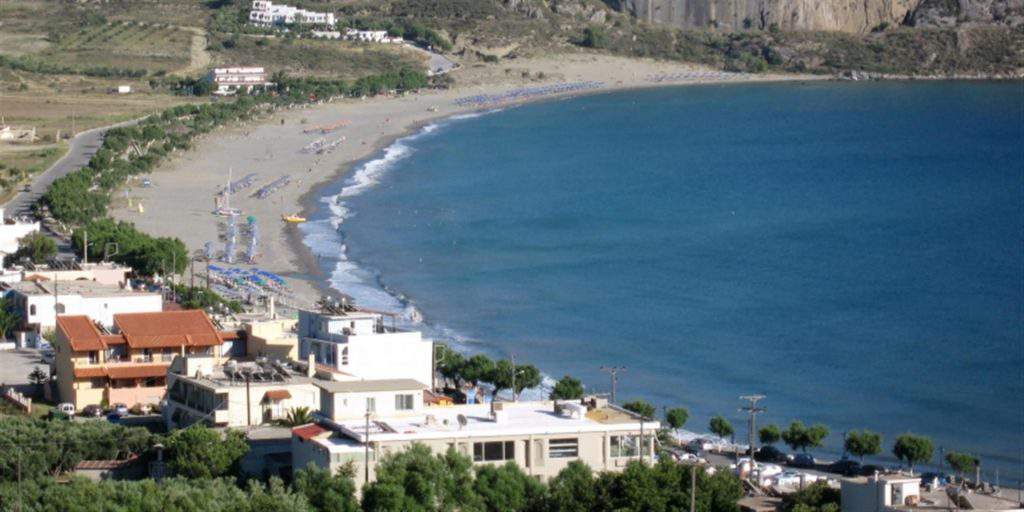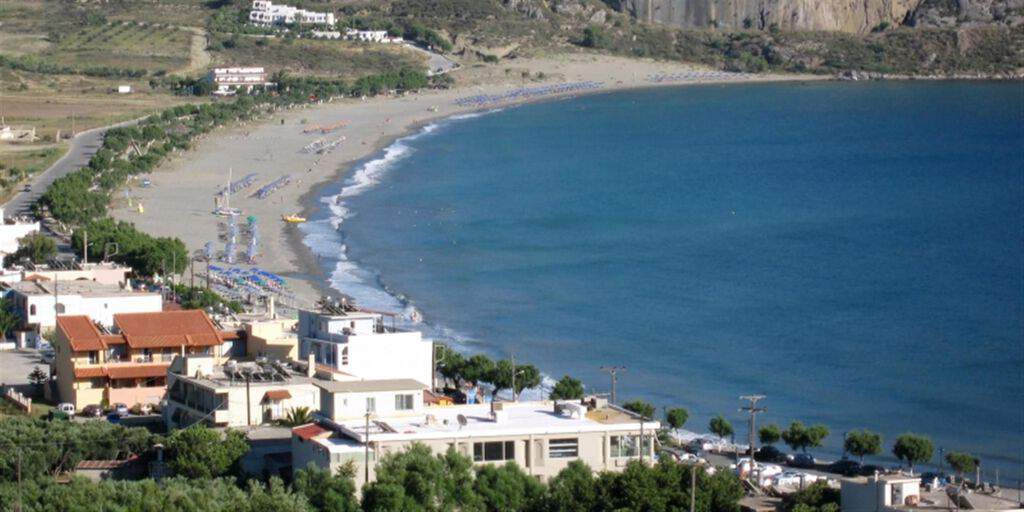 Accessible from Rethymnon by a bus or a rental car, Plakias is a resort village in the southern coast. Tourism is seasonal. An agricultural community for the rest of the year, it is a haven for backpacker and solo travellers during the summer. Greeks and Crete residents also pay a visit. The food is delicious. The nightlife is ideal for socializing over drinks and music. The public beach strip is 1.5 km long. There private beaches at Ammoudi, Damnoni, and Schinari are just an 8 minutes by car or 40 minutes by walking. No big hotels have set up here yet so the common lodging are apartments, studios and regular hotels.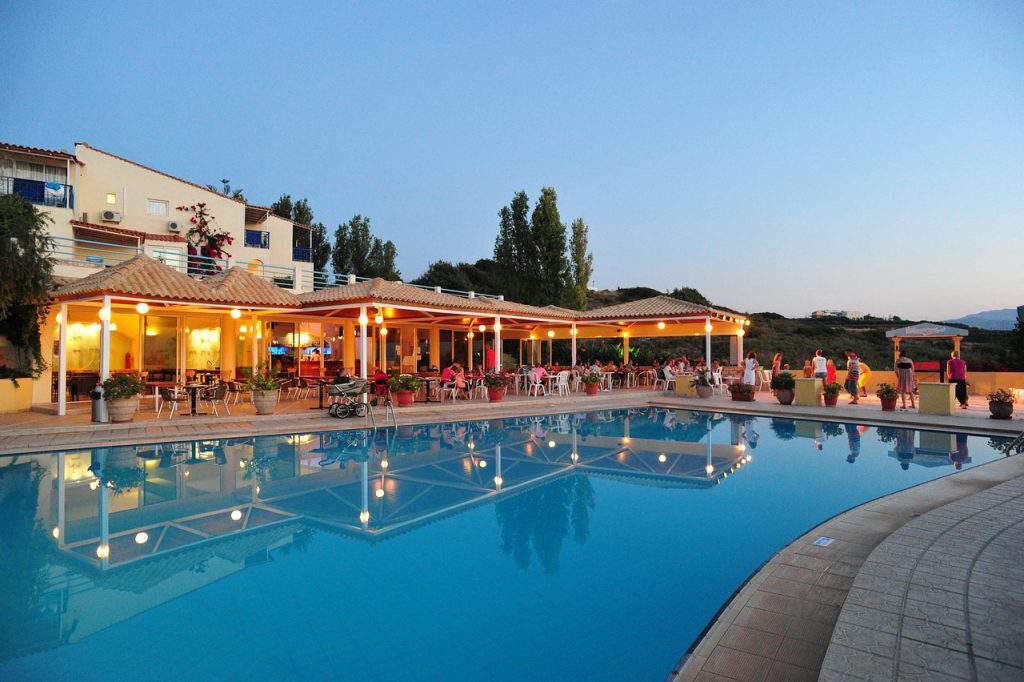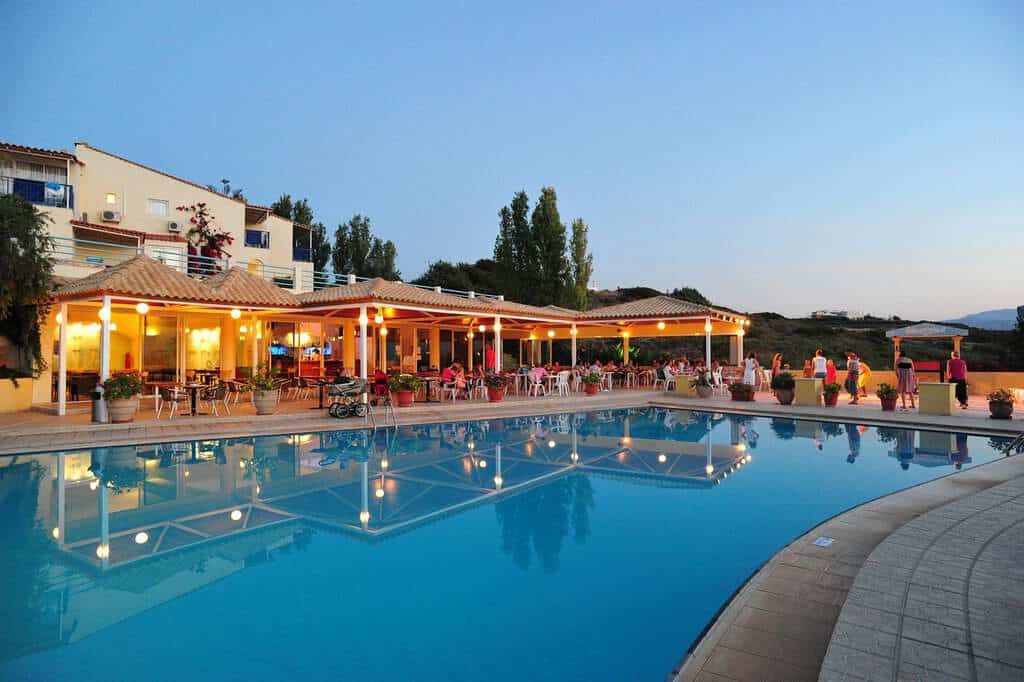 Rethymnon has been previously overlooked by travelers going to Chania. However it has established itself as a travel destination worthy to be explored.  It has evolved into a busy and beautiful town even at par with Chania. Travelling in Rethymnon is more tourist-friendly as it can be personalized and concise. It has the advantage of having a historic Old Town equipped with excellent pubs and restaurants.  This is where guests are suggested to stay although there are also beach resorts nearby. The beautiful old port is also an attraction. There are no direct ferries to Rethymnon but it is accessible from the two major airports as it is in the middle of Chania and Heraklion. It is ideal for people in a car and those who booked vacation packages.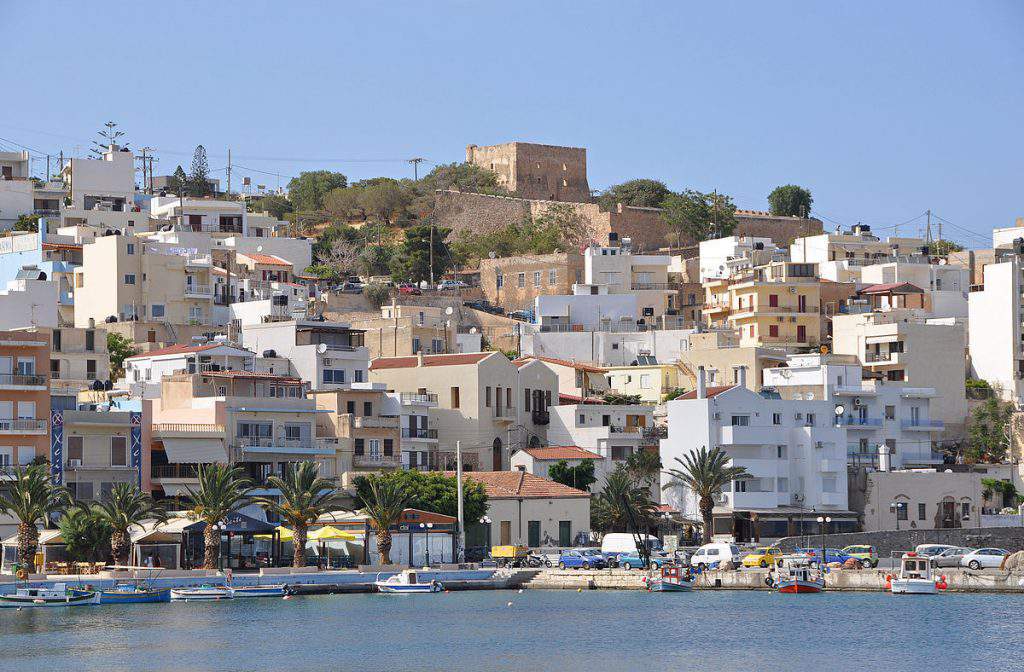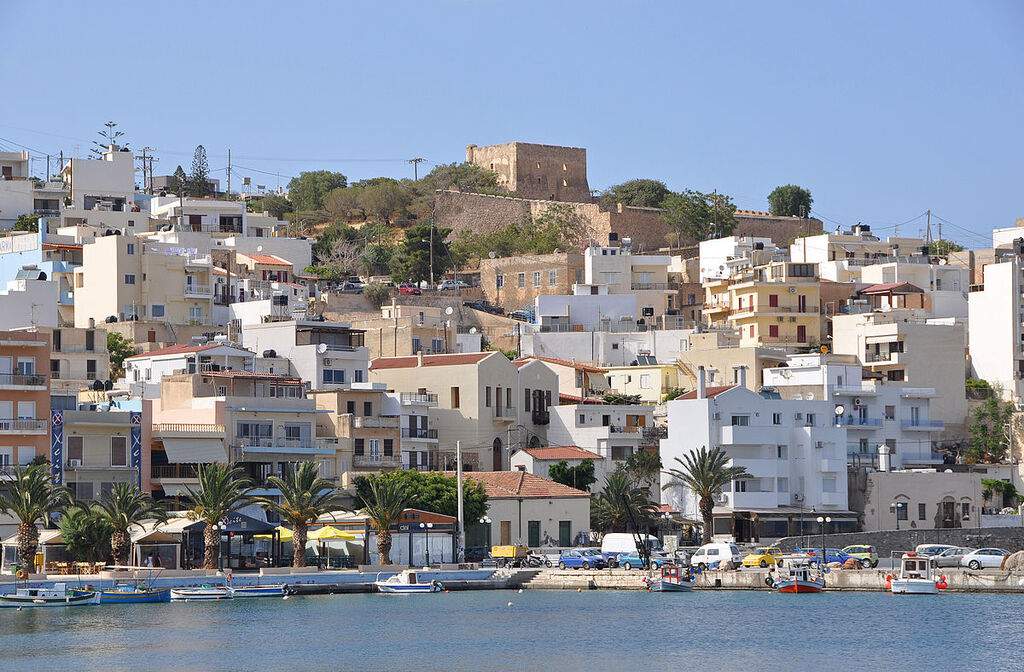 It is a jump-off point to eastern Crete and situated about 70km from the east of Agios Nikolaos.  Several buses from Agios Nikolaos go to Siteia. The Toplou Monastery is just 15 minutes by car while Vai Beach is just 30 minutes away. The port has trips to Rhodes and Karpathos. It also has an airport that handles occasional local and foreign flights. The town center is condensed and most attractions are of walking distance. You are assured of affordable but excellent meals as the diners serve the locals. There is a decent beach on the east side of the port with dining options surrounding the. Lodging is a variety of apartments, studios and basic hotels. 
Recommended Restaurants in Crete
Chania- Chrisostomos, Tamam
Agios Nikolaos- To Karnagio
Rethymnon- Avli
Heraklion- Kastella
MUST-DO TOURS IN CRETE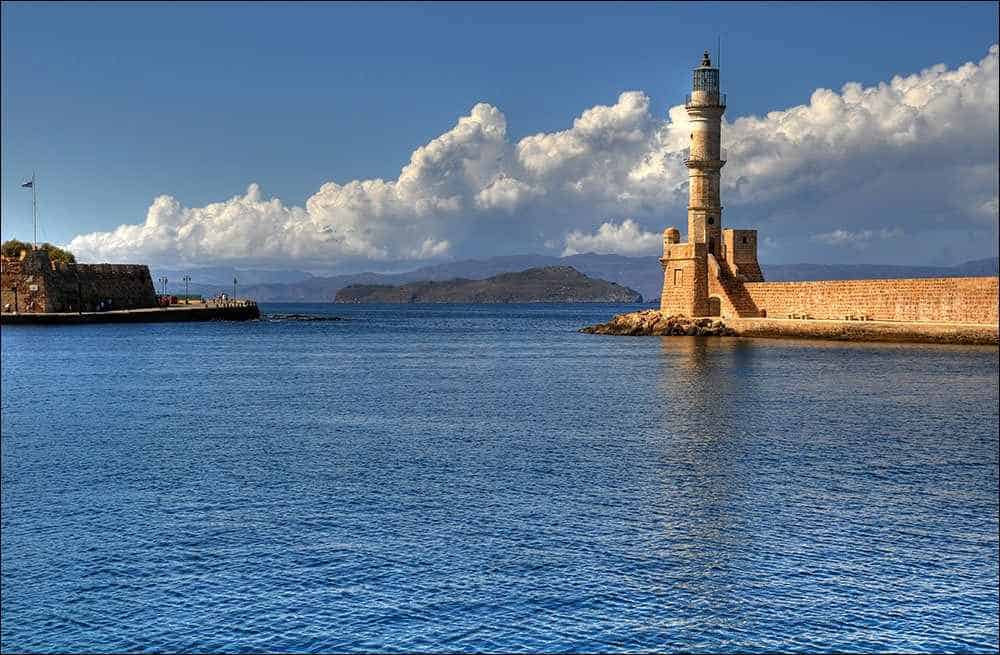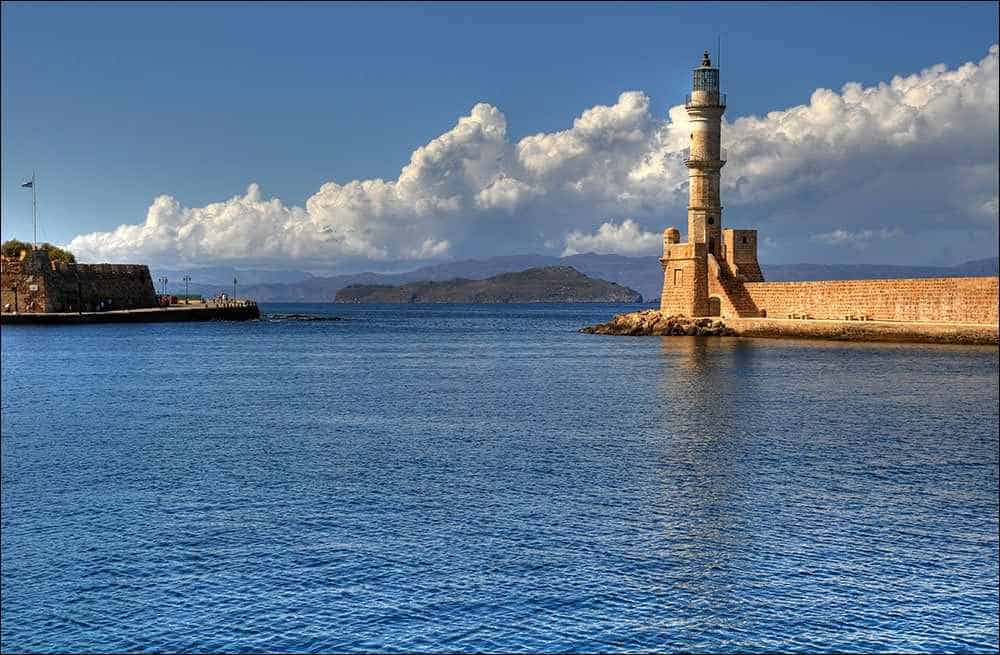 Hiking Tour of Samaria Gorge
Street Stories of Chania
Heraklion Bites and Sights Walking Tour
A well-spent week in Crete includes 3 days allotted for Chania, 3 days for either Elounda or Agios Nikolaos and 1 day for Heraklion with a tour of Knossos. 
This concludes our article about the best hotels in Crete. If you have any questions, feel free to email us at [email protected]
Read more about Crete:
Crete Travel Guide
Things To Do in Crete
Where To Eat in Crete
Crete – Best Hotels
Crete – Family Hotels
Crete – Best Time to Visit
Crete – Best Tours
Crete – Crete or Santorini
Crete – Santorini to Crete
Crete – Heraklion Car Rental