Mykonos Nightlife – Where To Stay In Mykonos For Nightlife?
Get ready to party your heart out because the vibrant streets of Mykonos hosts the wildest and the craziest parties you never thought you'd ever find yourself into.  Lohan Beach holds the spot for the best beach club in Mykonos The biggest parties with Djs occur during peak tourist season- June to September.
But where to stay in Mykonos for nightlife? If you're looking for a place to stay in Mykonos that will offer plenty of nightlife options, then staying in the town of Mykonos or in Platys Gialos is the best option. Both of these areas are known for their vibrant nightlife scenes, and you'll be able to find plenty of bars and clubs to enjoy yourself at.
There are a few different areas in Mykonos where you can find nightlife. The most popular area is called Little Venice, which is in the town of Mykonos. This area is home to lots of restaurants, bars, and nightclubs.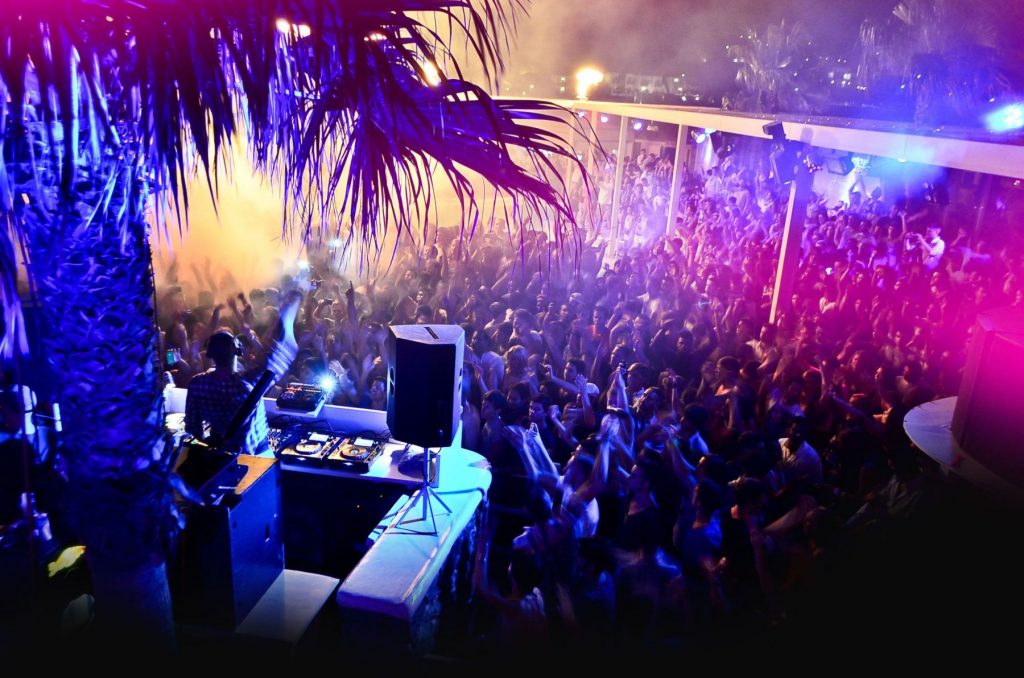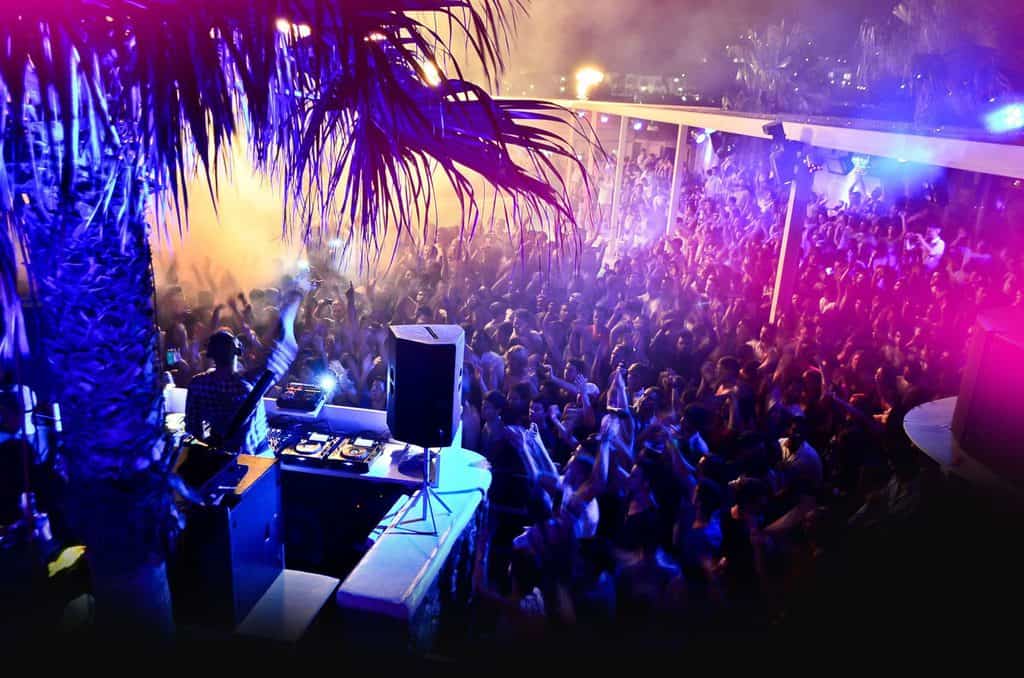 Another popular area for nightlife is Platys Gialos, which is a beach town located on the east side of the island. Here you'll find lots of bars and clubs that stay open late into the night.
Top Party Places in Mykonos
Lohan Beach house
Kalua Beach house
Scorpios
Astra holds the spot for the number one dance club in Mykonos Town
While Cavo Paradiso is the number one beach dance club
Super Paradise beach club hosts the grandest beach parties on the island
You can get the best view of the sunset at Katerina's bar in Mykonos Town
Galleraki in Mykonos Town makes the best cocktails on the island.
Here are articles that could help you prepare for your Mykonos Trip:
The Best Hotels in Mykonos
The best places to eat in Mykonos
Which beaches to visit while in Mykonos
Tours that could take you around Mykonos
Staying in Mykonos on a budget
Many of the best bars, clubs and restaurants in Mykonos are consolidated in the Little Venice area.  Here is a list of the best places to party in Mykonos.
Cavo Paradiso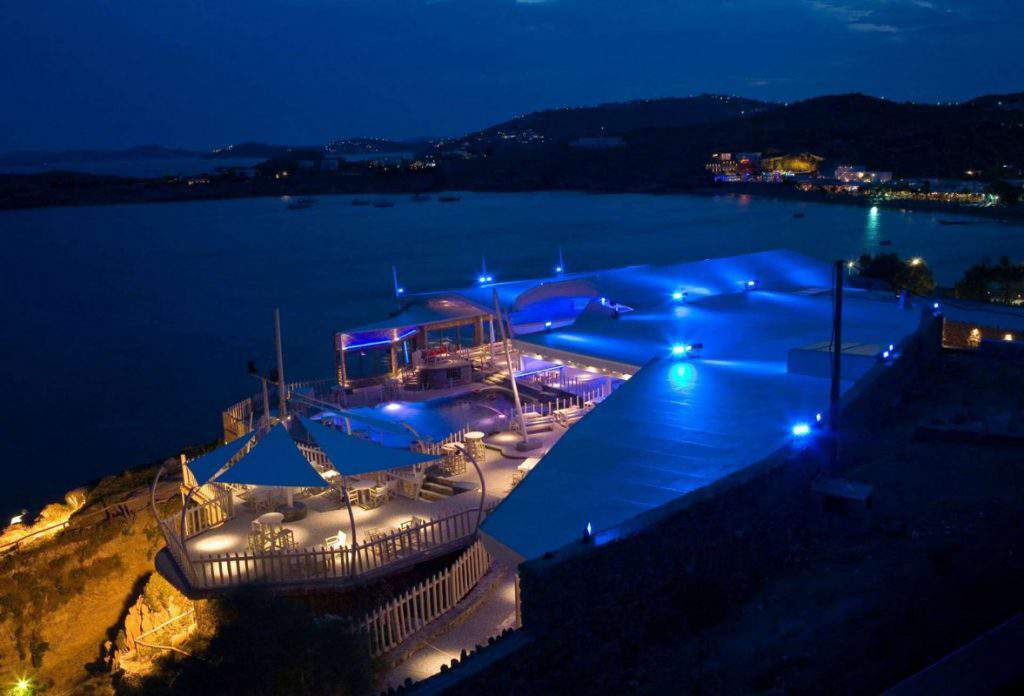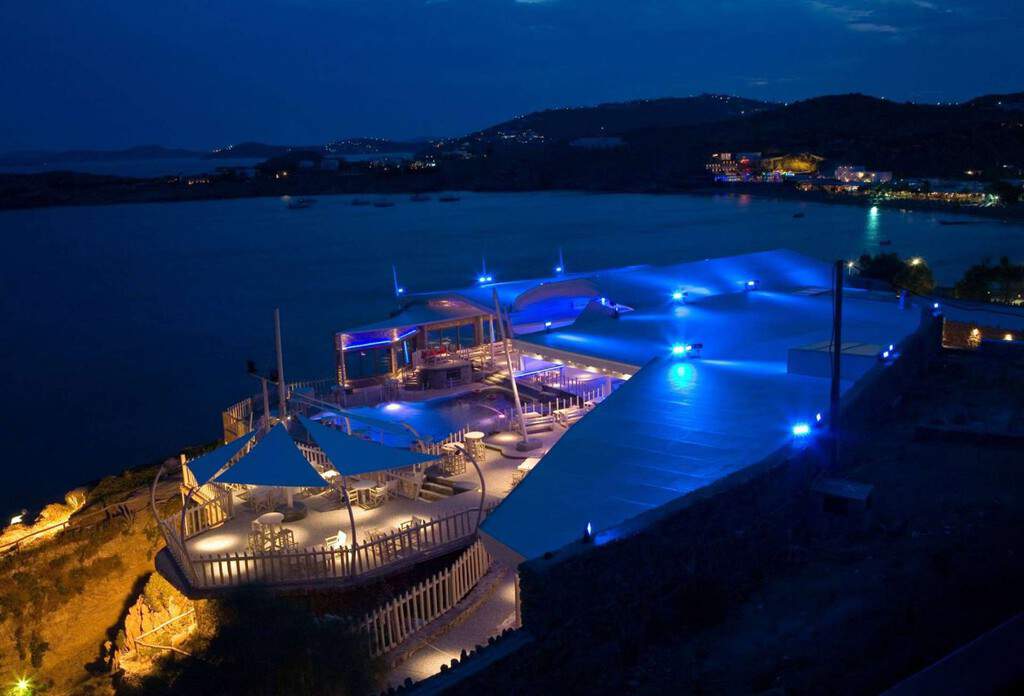 Location: Paradise Beach
Although a little far from Mykonos Town, this bar boasts a magnificent view of the sea from its tip-of-cliff location. It features top performers like Nicky Romero, Ingrosso and Oliver Heldens. It also provides a shuttle service that will pick you up and bring you back to Mykonos Town. Although don't show up spontaneously at the venue, get a booking in advance. Take a look at their list of events here.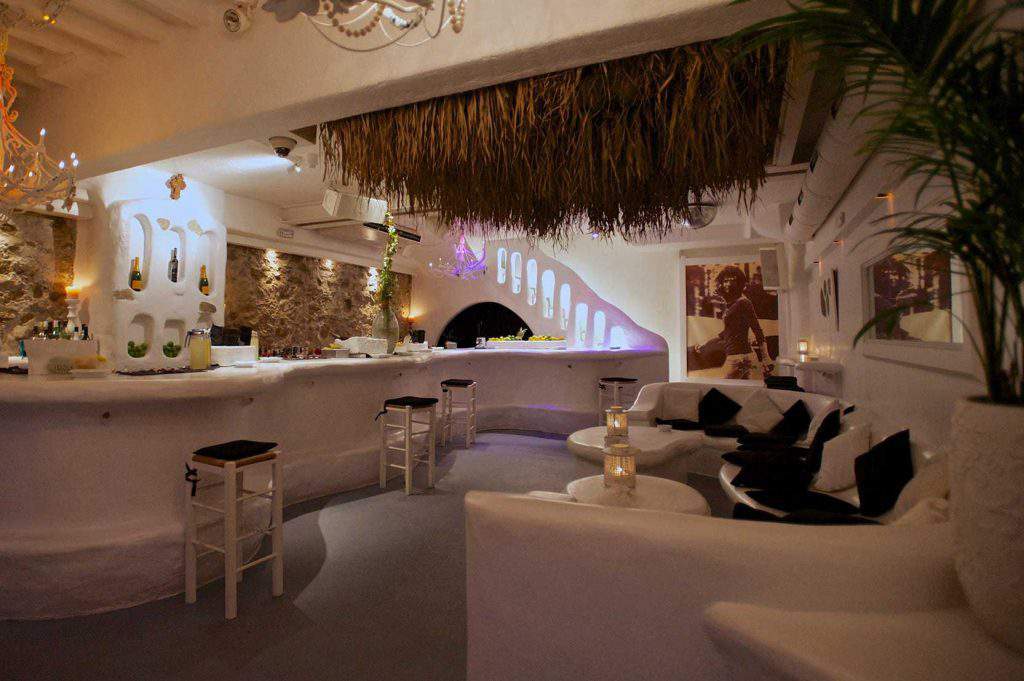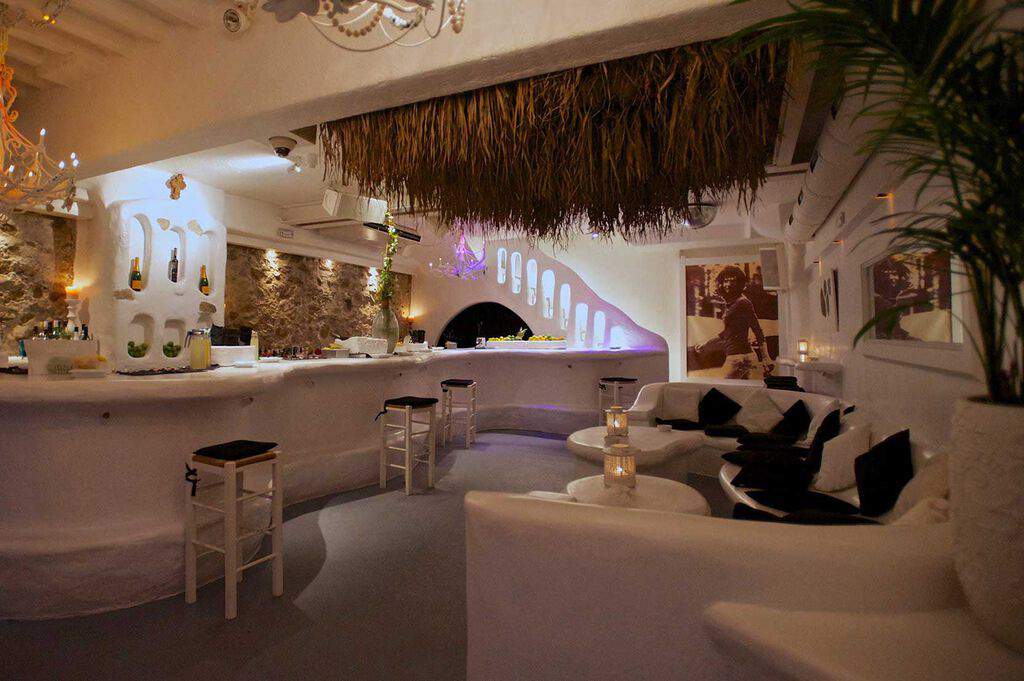 Location: Mykonos Town and Super Paradise Beach
Jackie O' is one of the most popular bars in the area. Its location at the beach makes it a great spot for catching sunsets. This bar holds drag shows every night along with parties that regularly feature great DJs and local talents.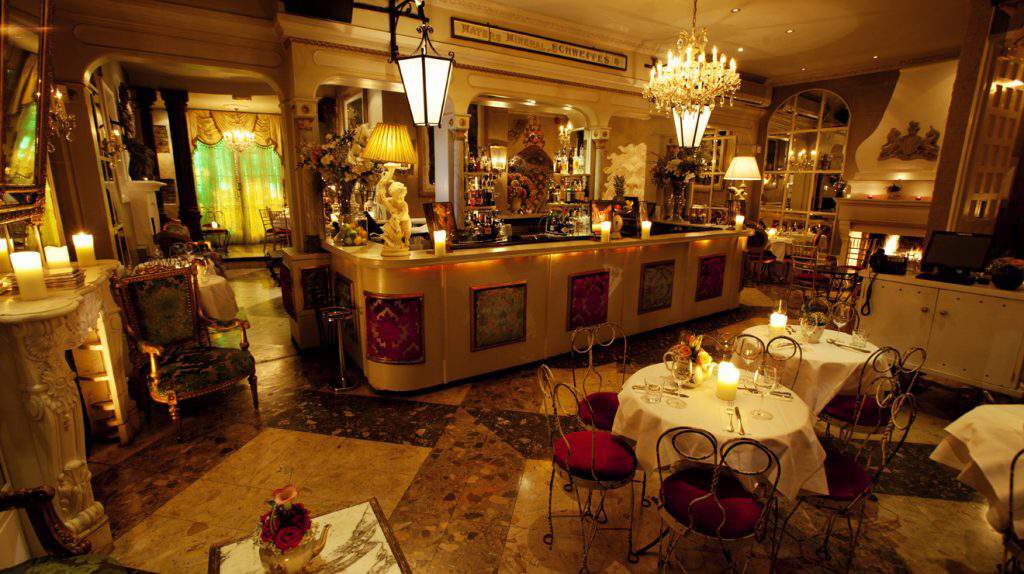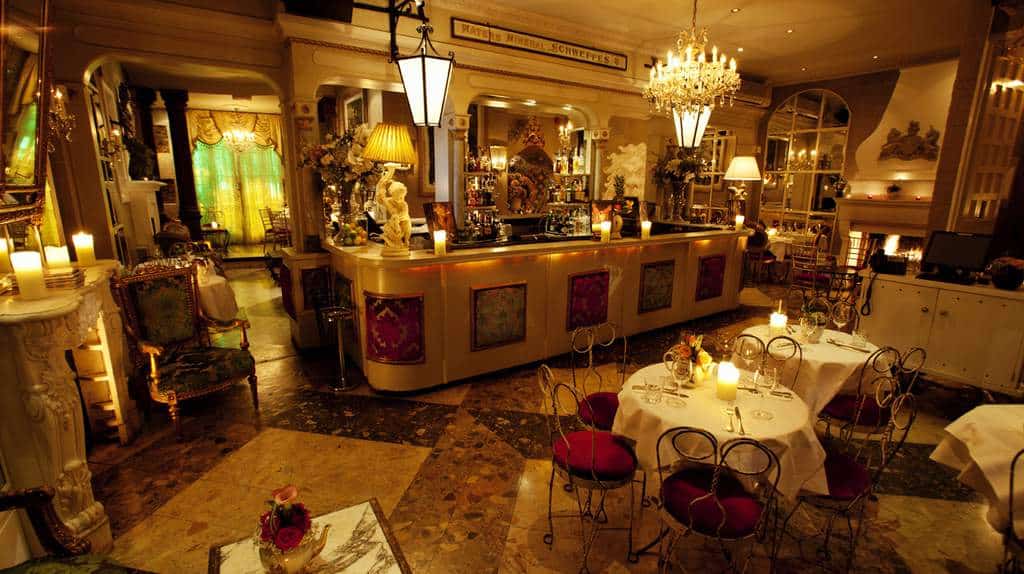 Location: Mykonos Town
A popular gay club that welcomes all genders. This bar is known for its drag shows and wild themed nights. It's a perfect place to hang out and relax or to go crazy and party. It has a relaxing view of the ocean from its location and wonderful cocktails.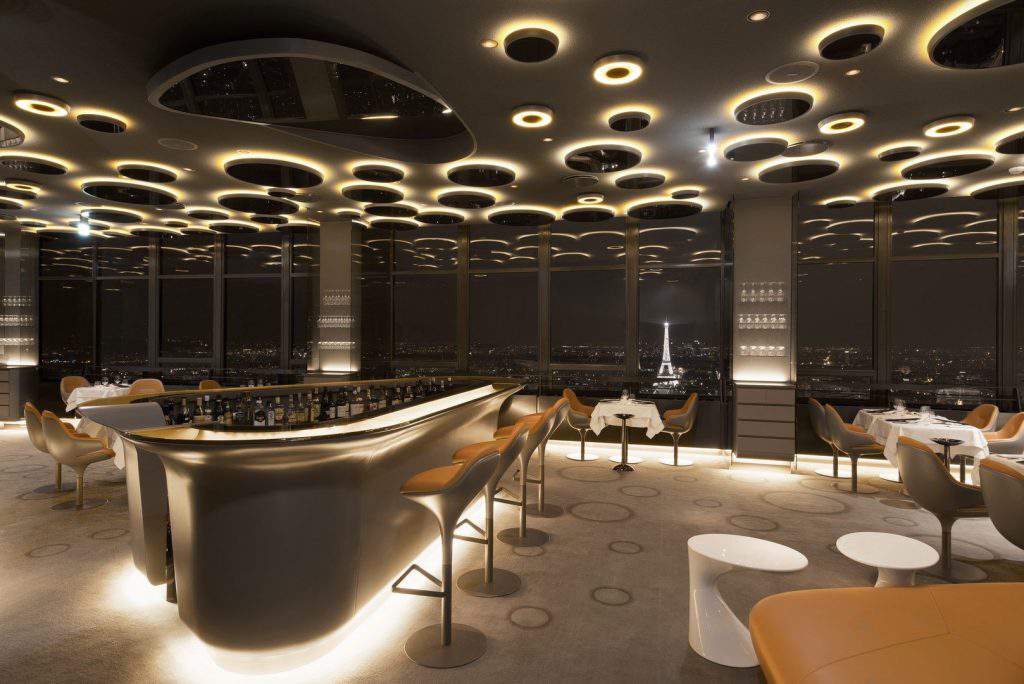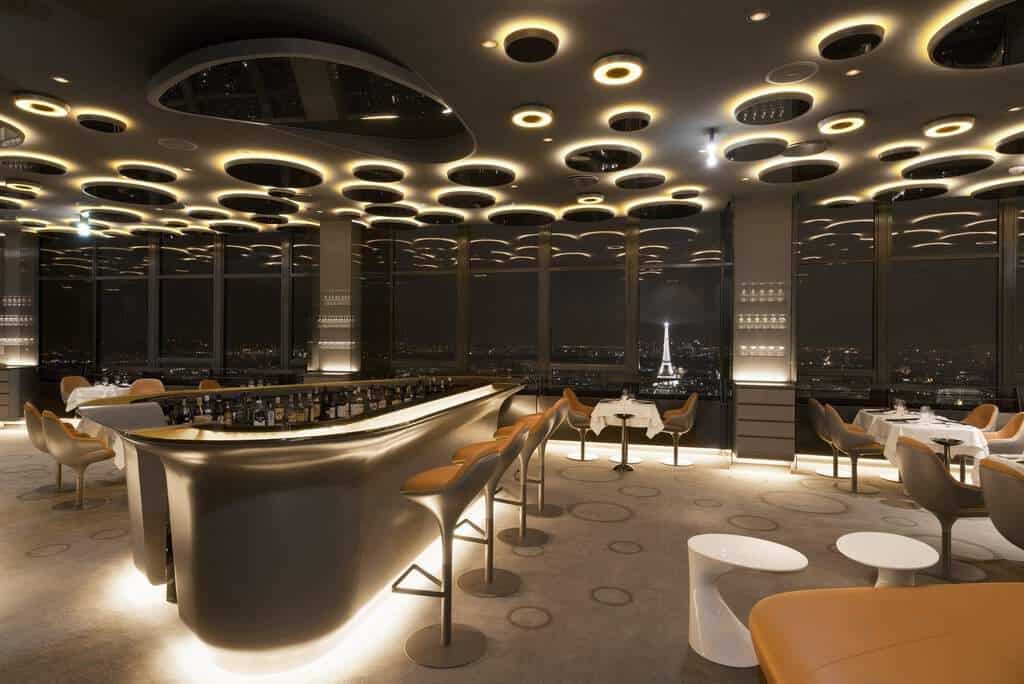 Location: Mykonos Town
Located in Little Venice, this bar in a perfect venue for a romantic date. It has an amazing view of the sea and a perfect  place to watch sunsets. This restaurant serves some of the island's best cocktails with live music playing on the background and singers like Kathy Robinson enhancing the mood. It's been standing for decades and is looking like it would stay for a couple for. 
Scandinavian Bar and Club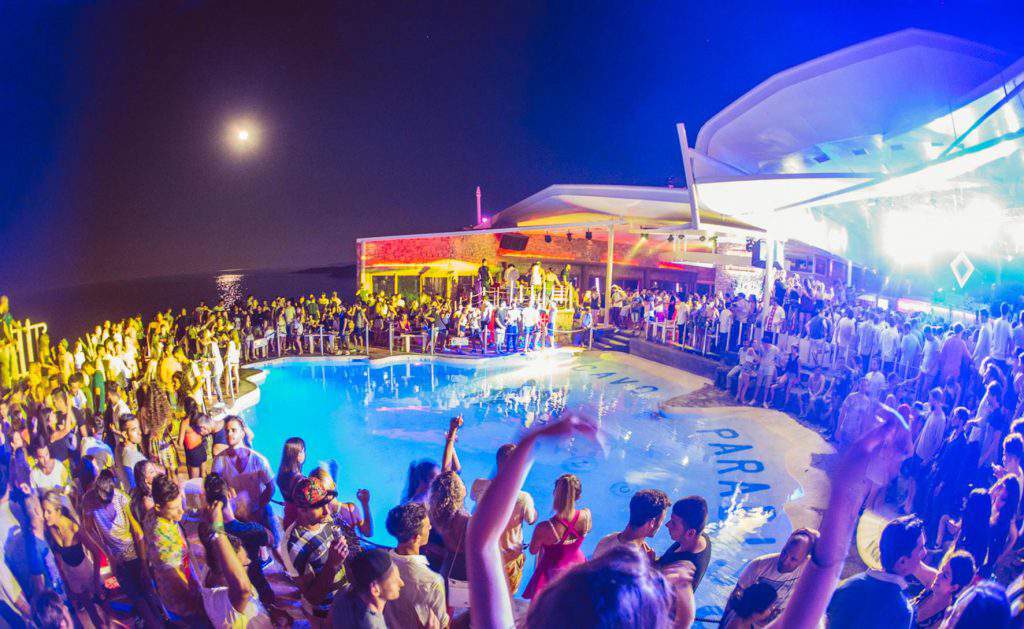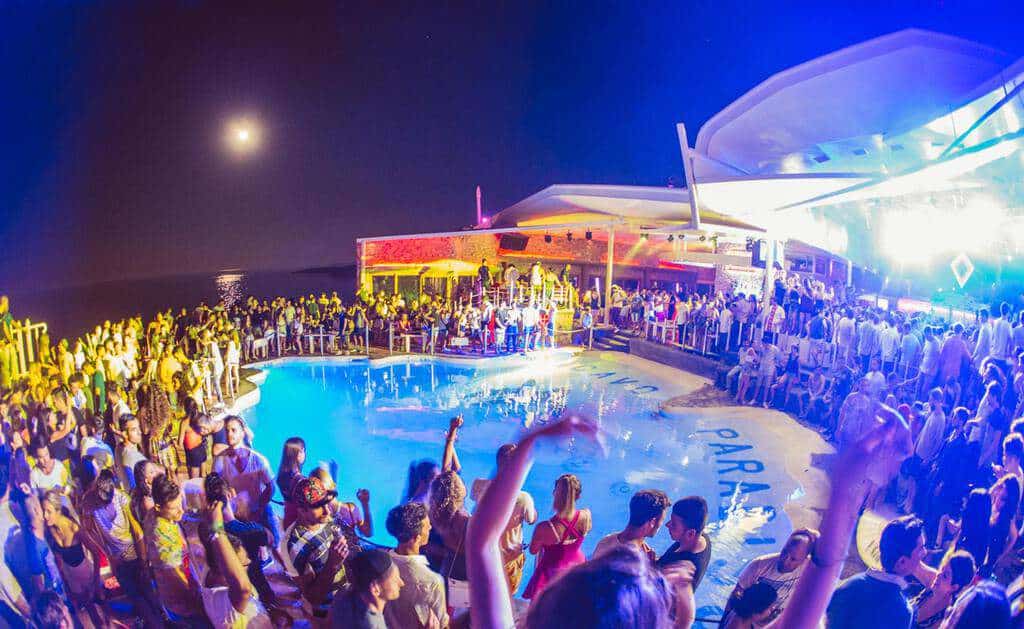 Location: Mykonos Town
A famous bar on the island that's been livening up Mykonos' night scene for more than four decades. This club has a wide dancefloor and a refreshing ambiance brought by strong blowing air from the open patio. It serves some of the best cocktails in town like the "Sperm" and the "slippery nipple" for a reasonable price. 
Astra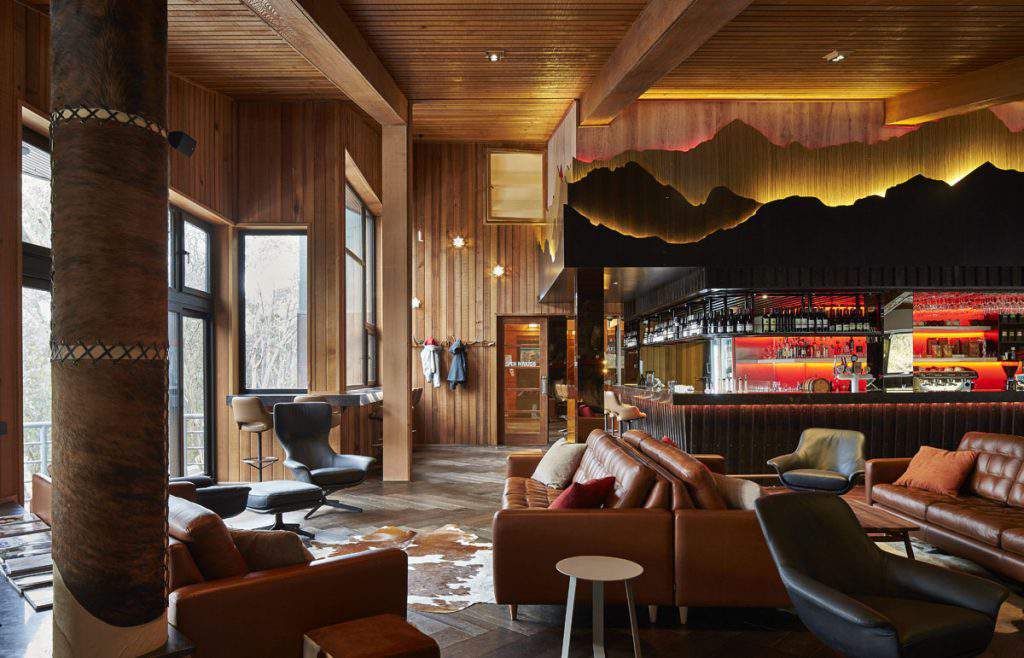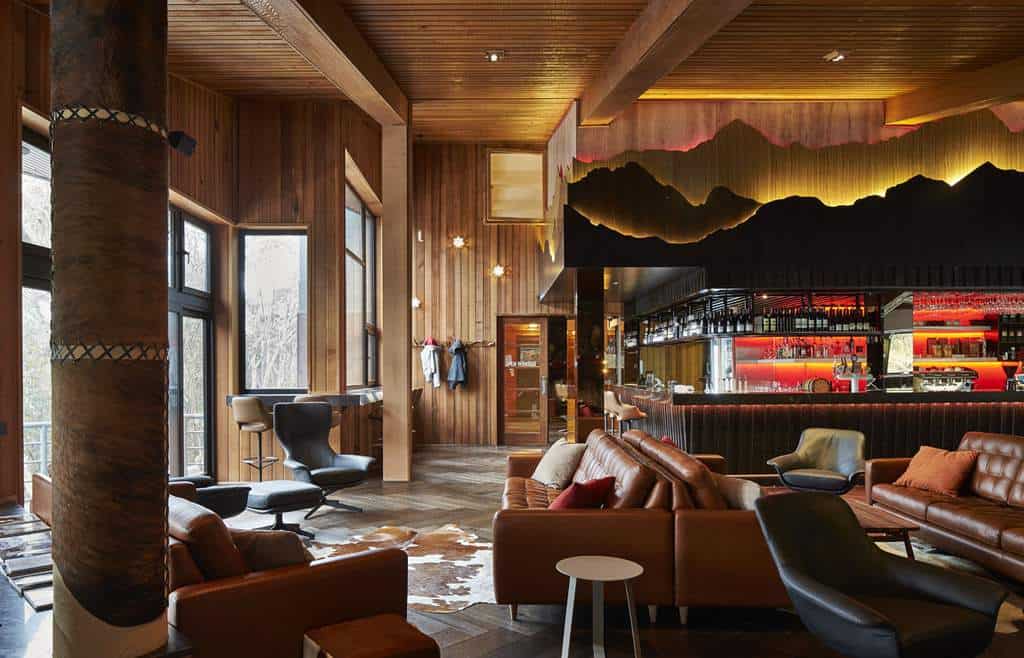 Location: Mykonos Town
A famous club where models, celebrities and even royalty can be spotted. The Astra is an old and established club in Mykonos Town. It's been around for more than three decades. It starts out as a quiet bar and blows up as a full-blown party club deep into the night. Remember to dress casually when trying to get into this club because they have a strict dress code and you don't want to waste your night just because you can't go in.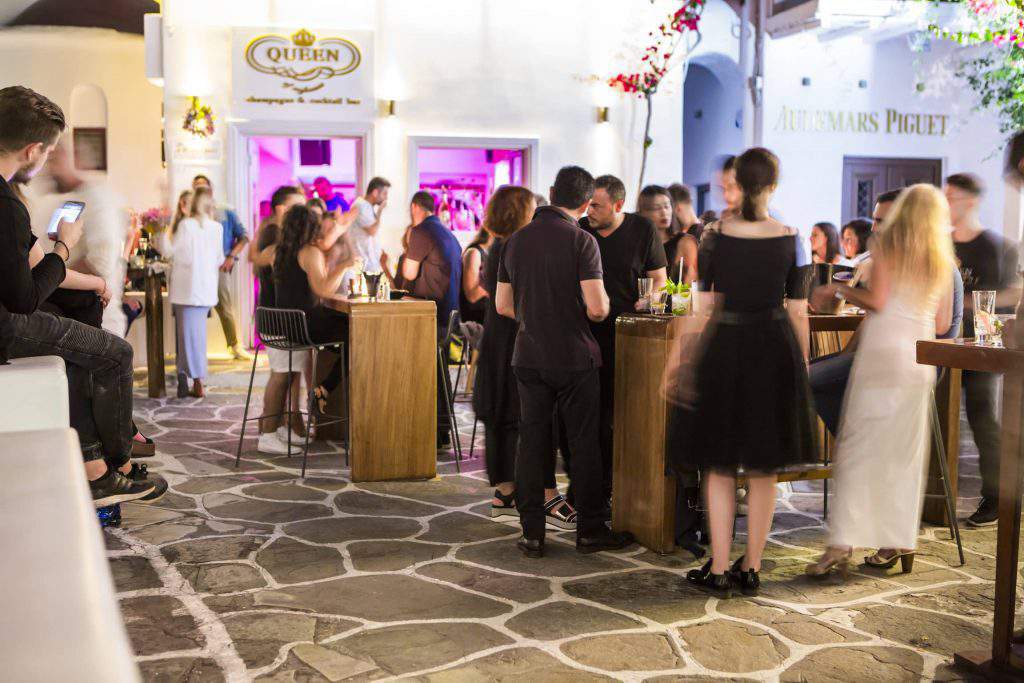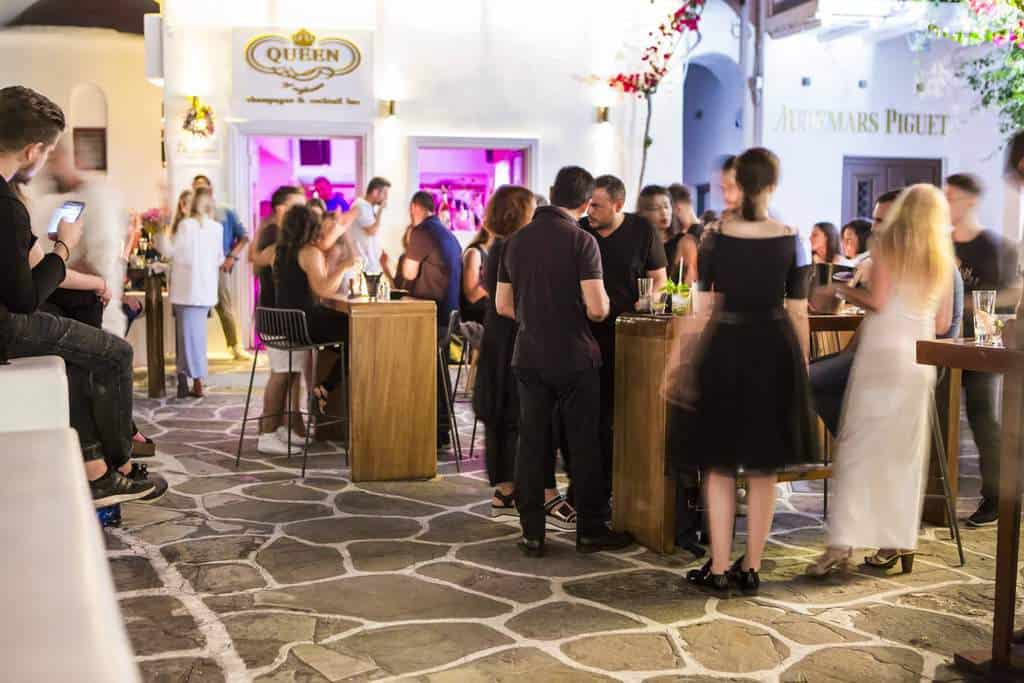 Location: Mykonos Town
Not exactly the main party venue, this bar serves as some sort of pre-party hangout place for party goers. It serves some really expensive but amazing handcrafted cocktails. It also has a DJ and party music at night but it doesn't the wild party reputation that some of the surrounding bars do.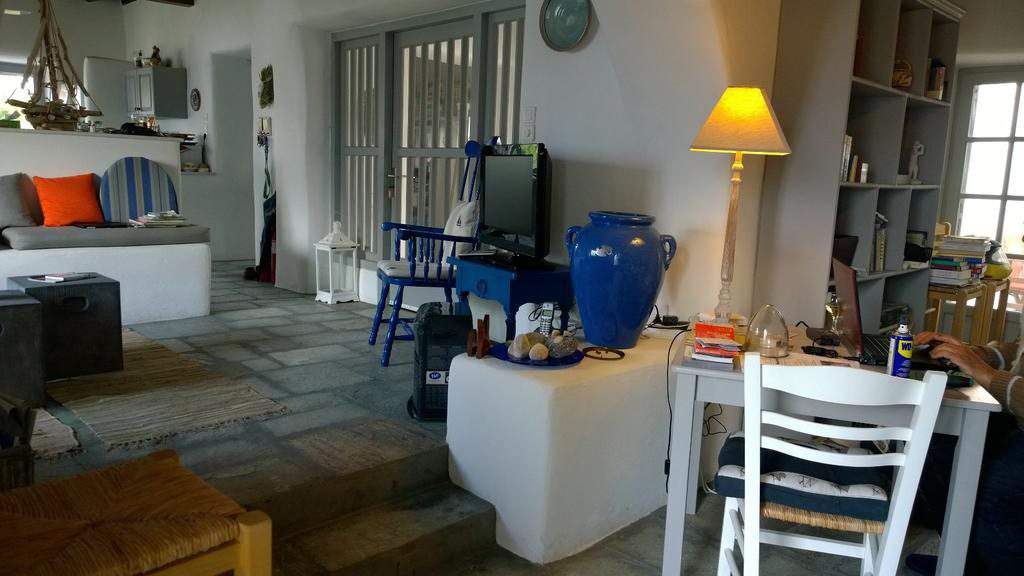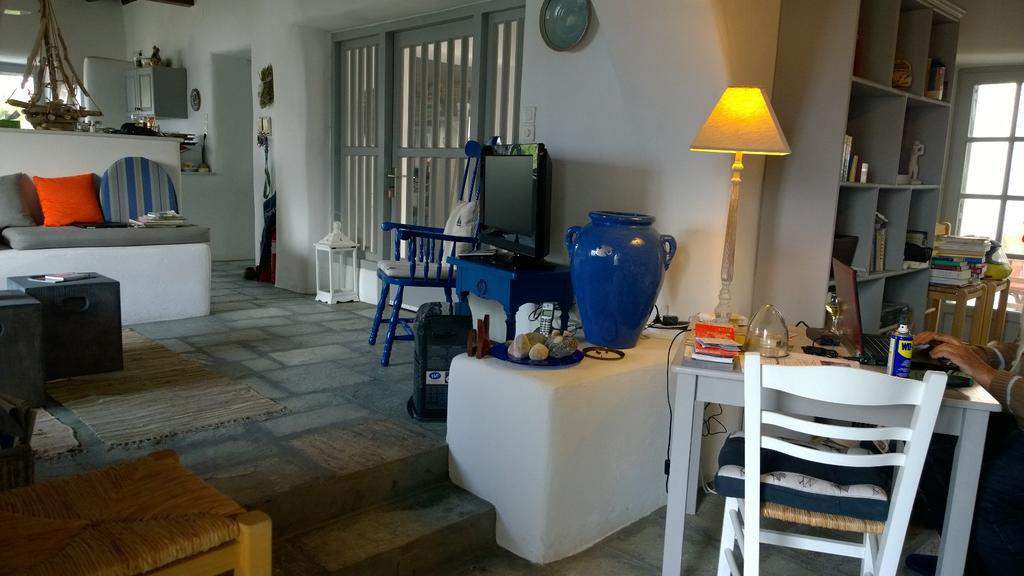 Location: Mykonos Town
This restaurant is owned by a female naval captain. It serves both amazing cocktails and great seafood. It's an ideal place to relax if you want to catch the sunset with a cocktail while having a heavy meal. Its location gives it a picturesque view of the sea from Little Venice. 
Galleraki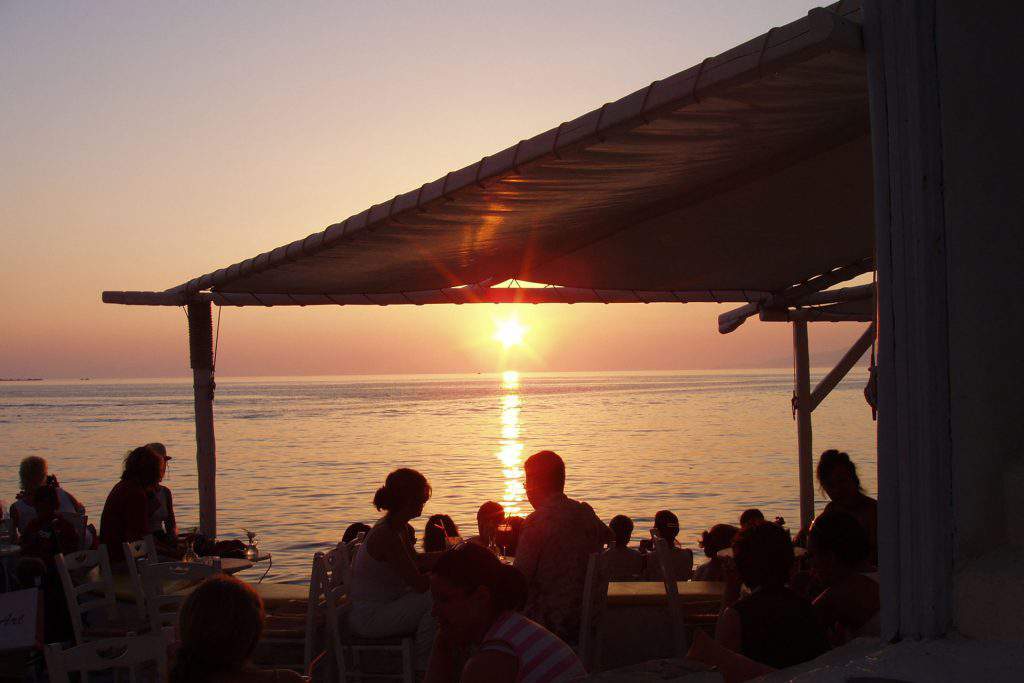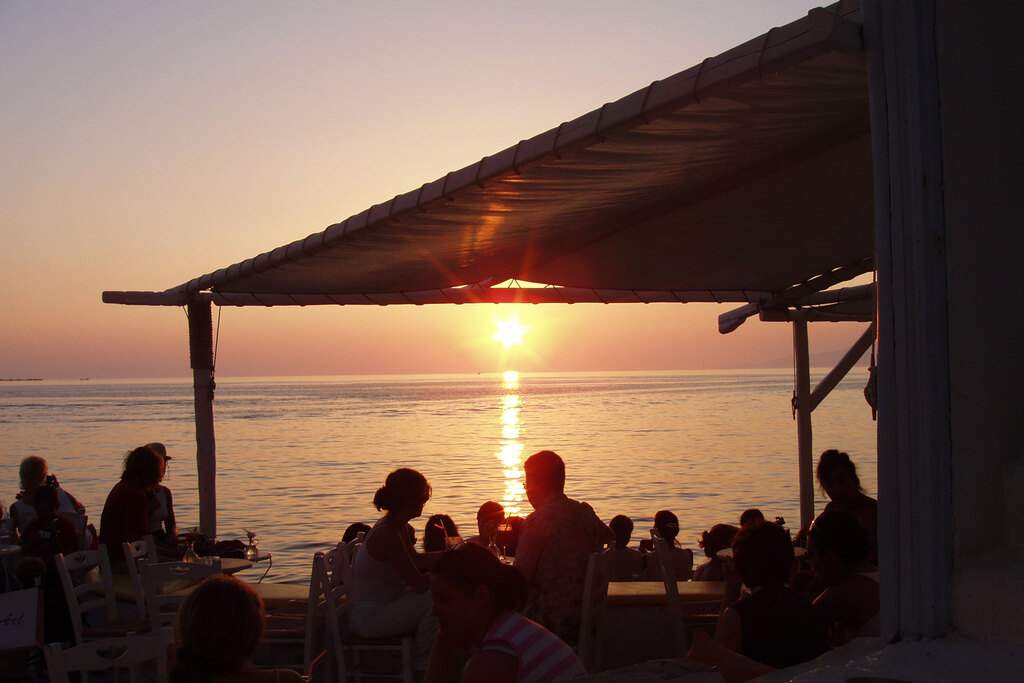 Location: Mykonos Town
Galleraki is not a party club like most on this list. It's a bar and restaurant that serves amazing cocktails like "katerinaki" that's made from melon and many other drinks that made with fresh fruits. Although the drinks are a little expensive, but they're definitely worth it given how good they are. It's a great place to take someone on a romantic date on.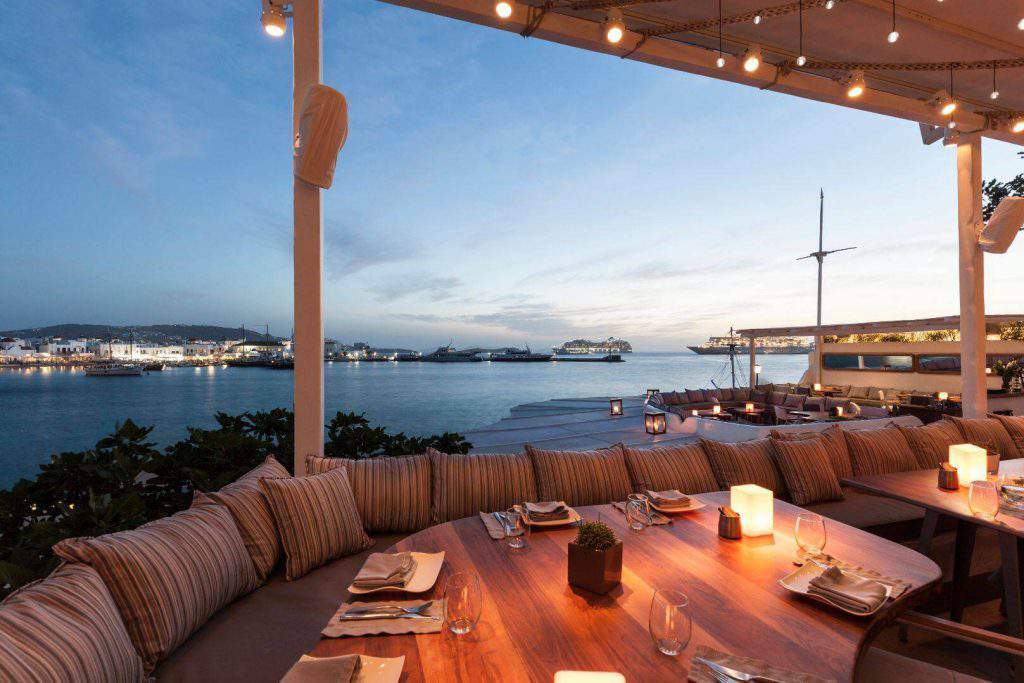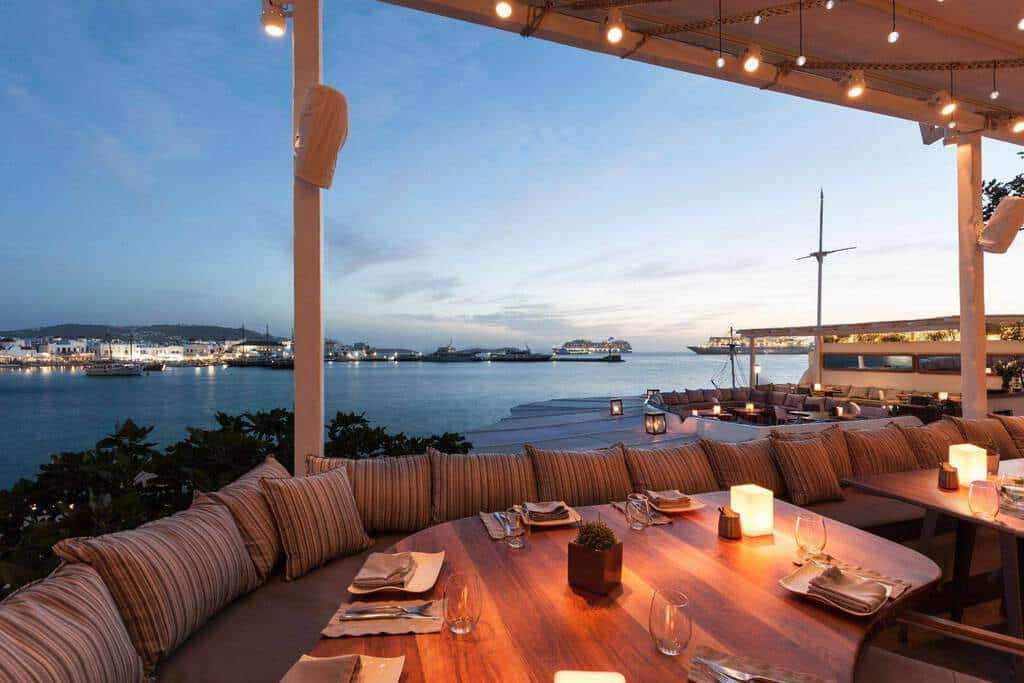 Location: Mykonos Town
One of the pioneering clubs in Mykonos. The Remezzo has established itself as the ultimate party scene and has set the standards for all the other clubs in the 5 decades of its existence. In an effort to prove more for their guests, they now offer heavy seafood meals with the luxurious restaurant built inside of it. They also acquired a cocktail bar and a water lounge to keep up with trends and changing times.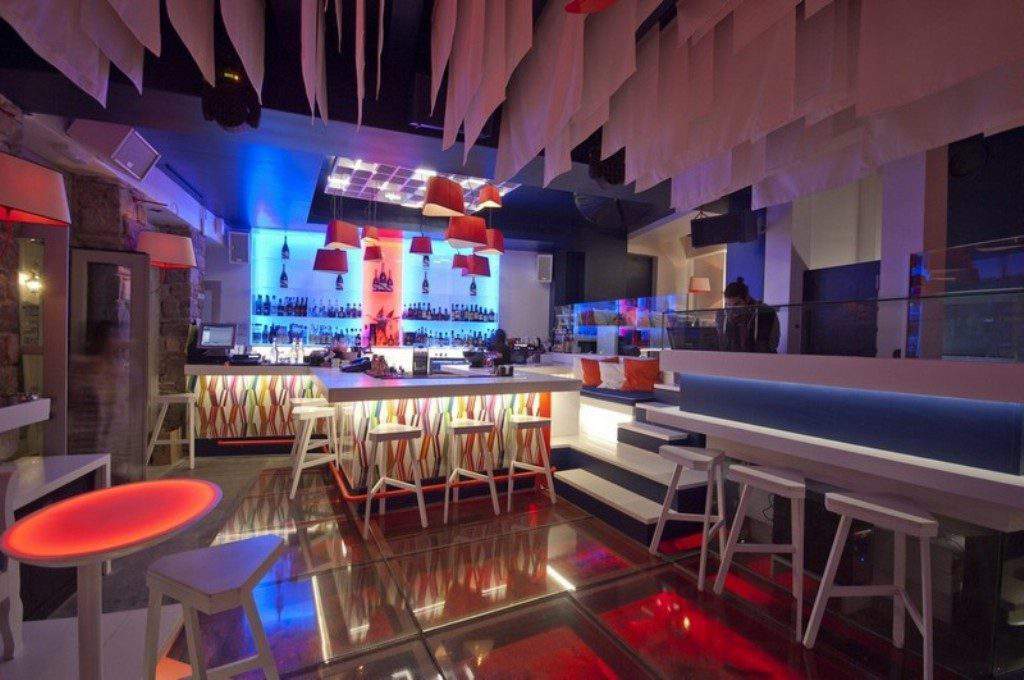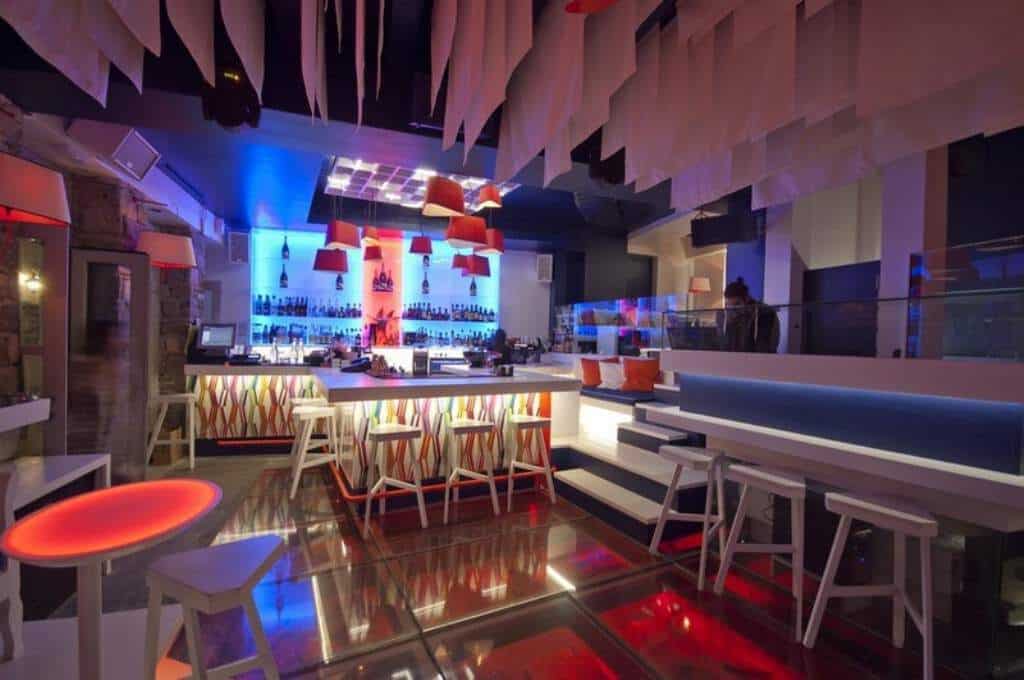 Location: Mykonos Town
Not the best place to party but it's decent enough. This bar serves many fairly priced cocktails. It also throws great parties and has a DJ to turn up the music. You won't be wasting a night of partying if you spend it here. The only drawback to this place is the lack of initiative from the staff. 
Cine Manto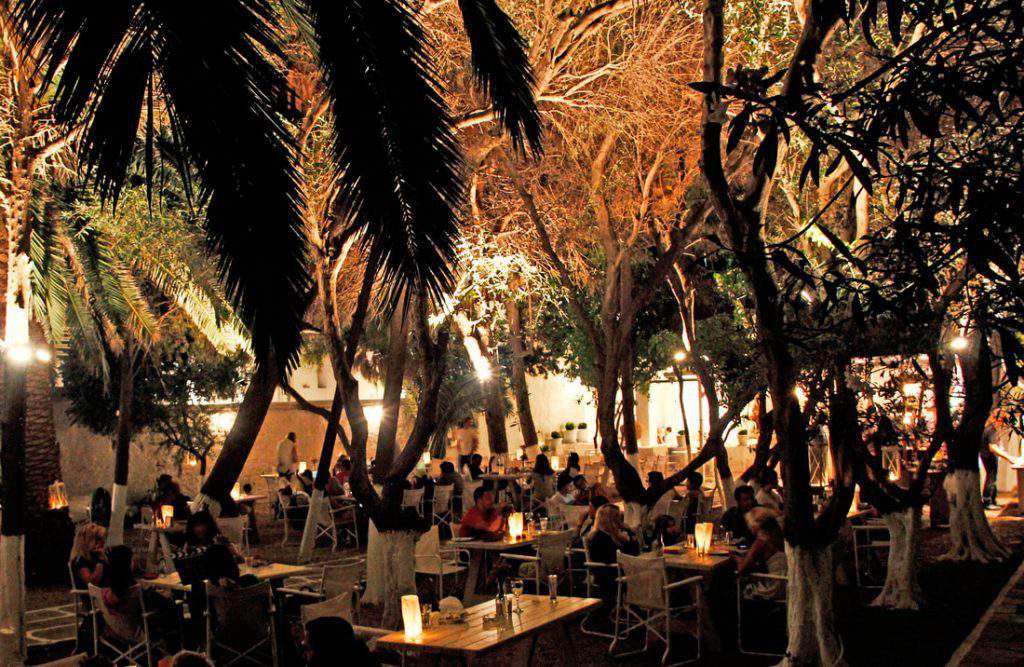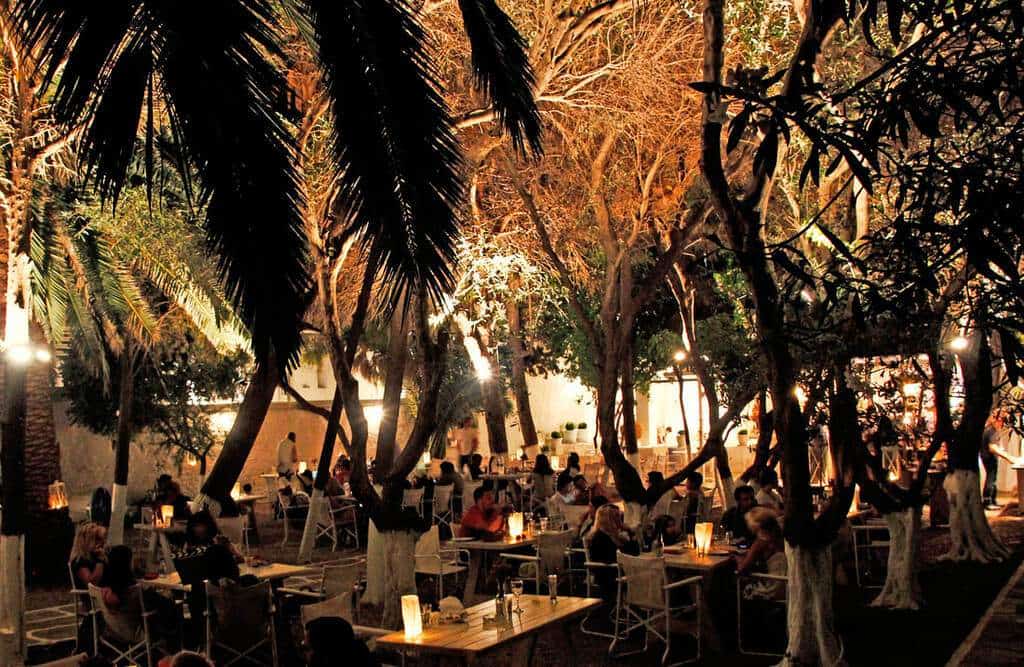 Location: Mykonos Town
If you're looking to take a small break from bouncing around bars in the area, Try Cine Manto. While it still serves alcoholic beverages, it also serves heavy meals. You can relax in its garden setting while enjoying different movies on a big screen. All subtitled and shown in their native languages. The ambiance in the area is so peaceful that by the time you head over to your next bar, it feels like you're just starting a new night.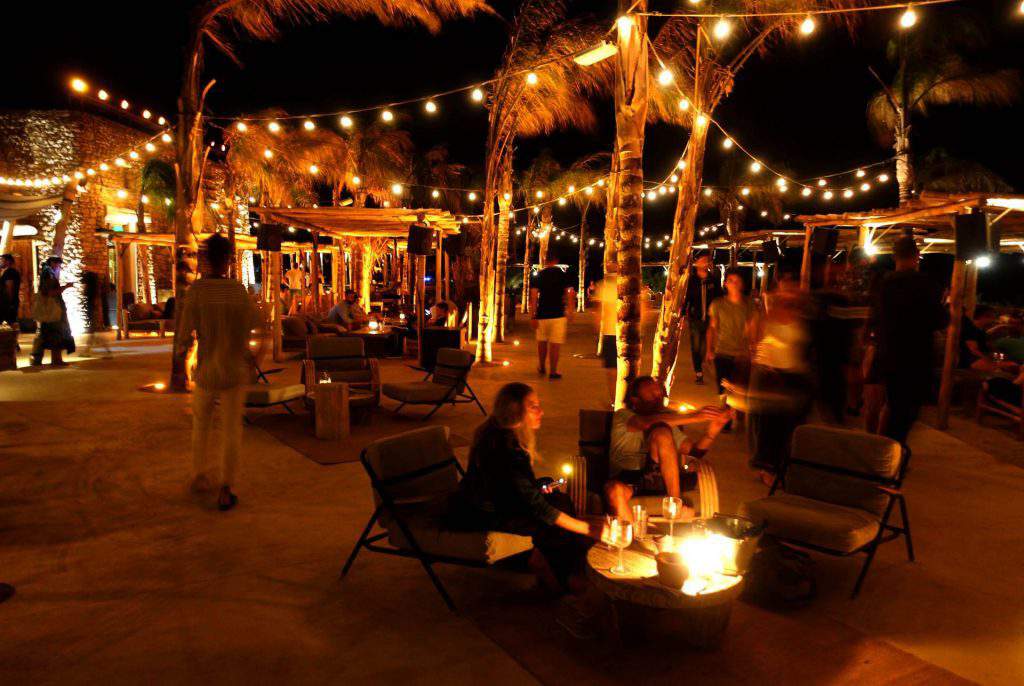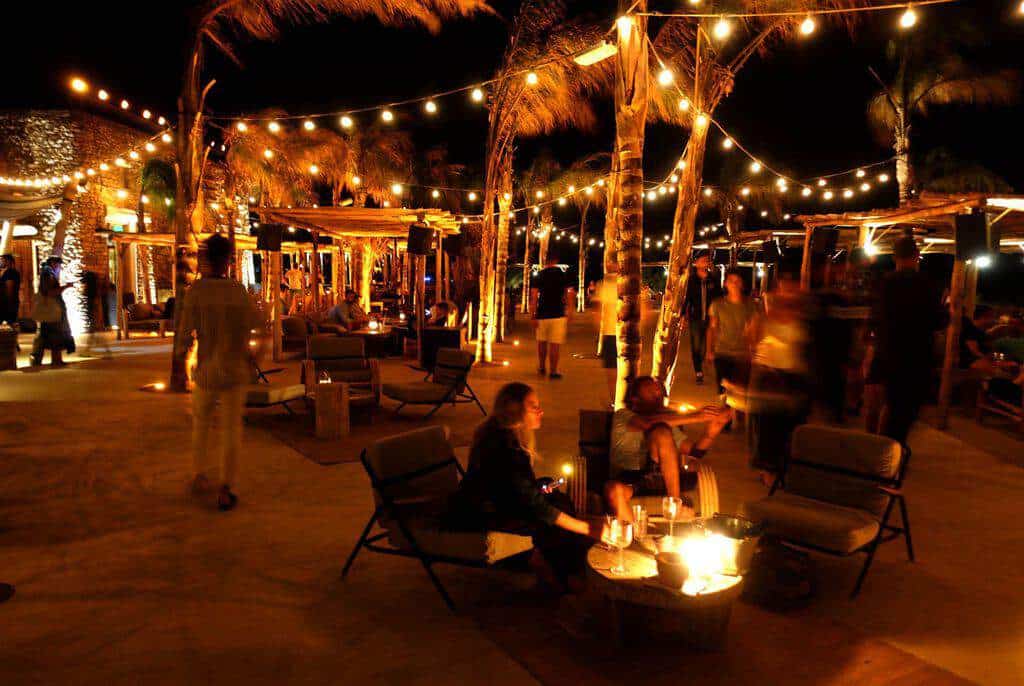 Location: Mykonos Town
Living a double life, it's a cafe by day and a club by night. Cosi is located on a street in Mykonos Town. It's doesn't have a strict dress code and you could go straight to breaking it down on the dance floor no matter what you're wearing.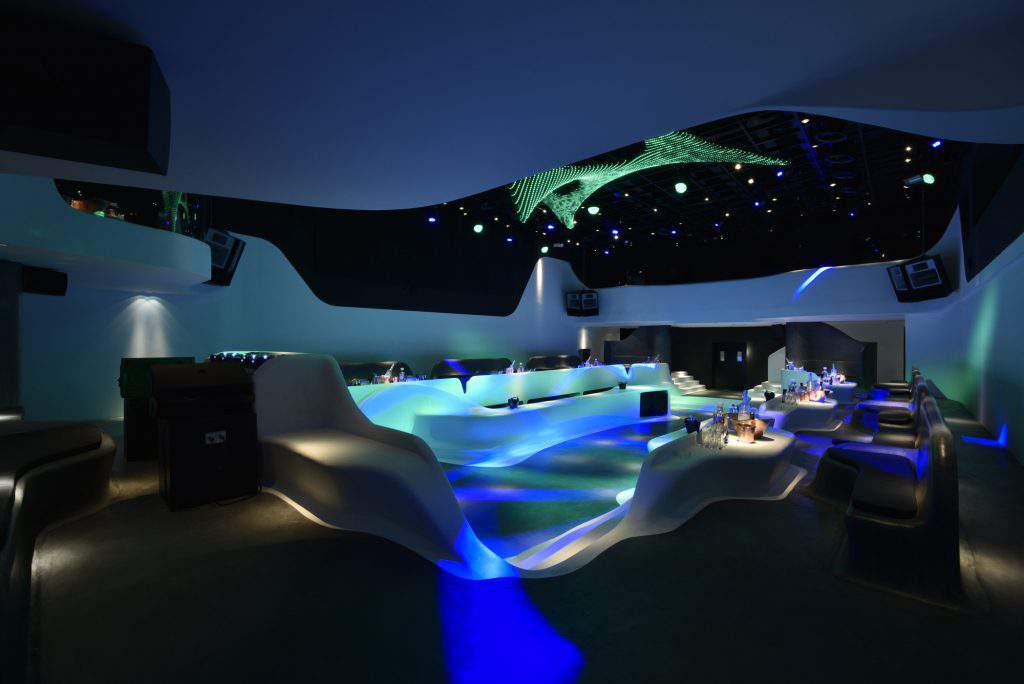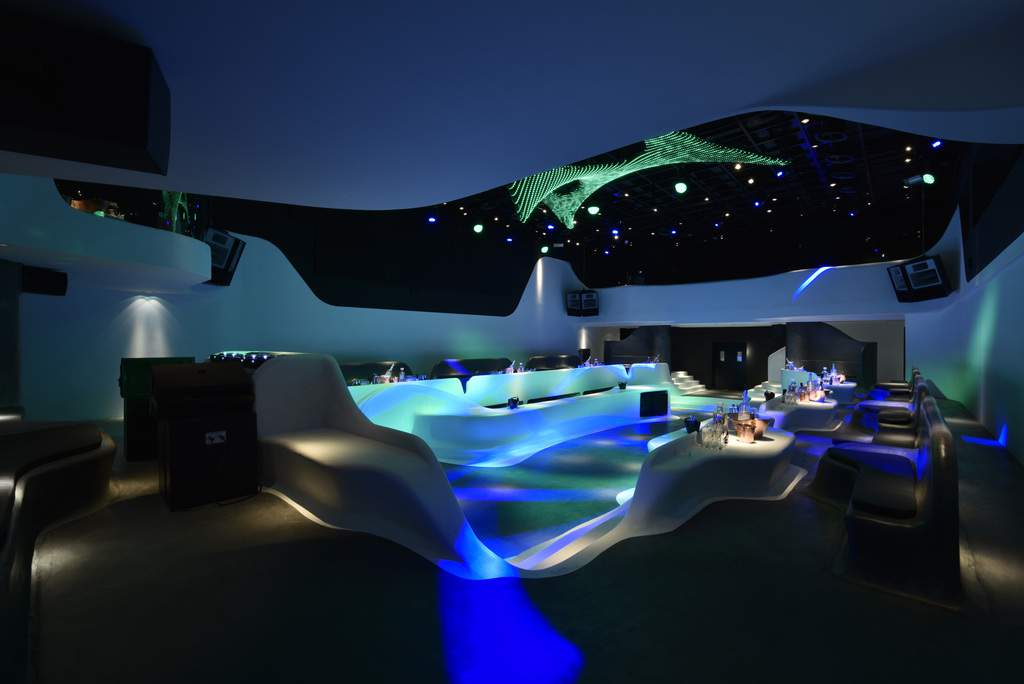 Location: Mykonos Town
This newcomer just opened in 2017. Perfectly located right in Mykonos town, it's getting famous really fast. It has since featured DJs like Damian Lazarus, Seth Troxler, and Jackmaster. It's overly modern interior really does wonders for its appeal. It has two bars, a wide dancefloor, lighting installation and a ceiling that's designed to look like the sky.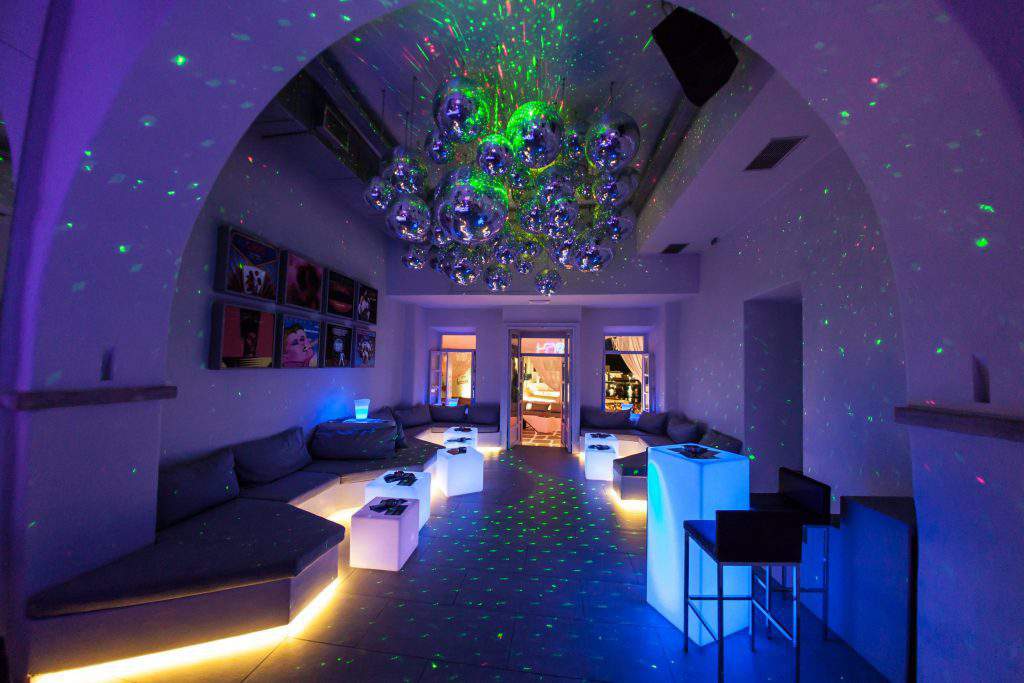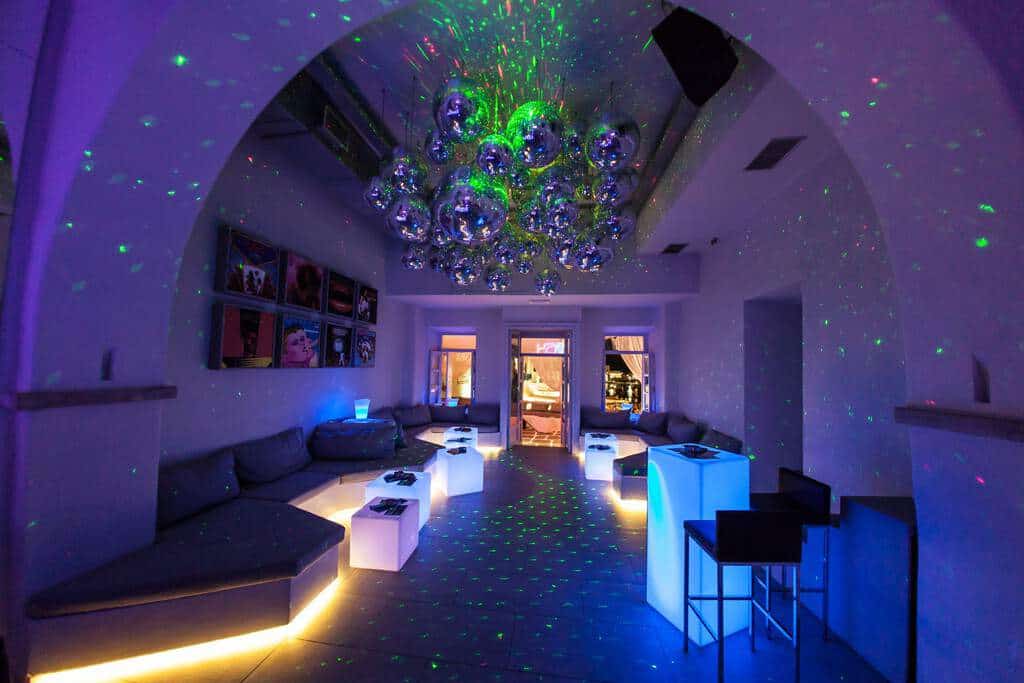 Location: Mykonos Town
@54 is a newly built gay bar in Mykonos Town. It doesn't deny entrance based on gender and anyone who has a happy bone in their body can enjoy their time here. This club doubles as a gym by day so you really have to wait at night before seeing it come to life. It has mirror balls all over the place and is designed to be modern. It also has a terrace where you can enjoy a great view of the sunset. 
Kalua Beach Bar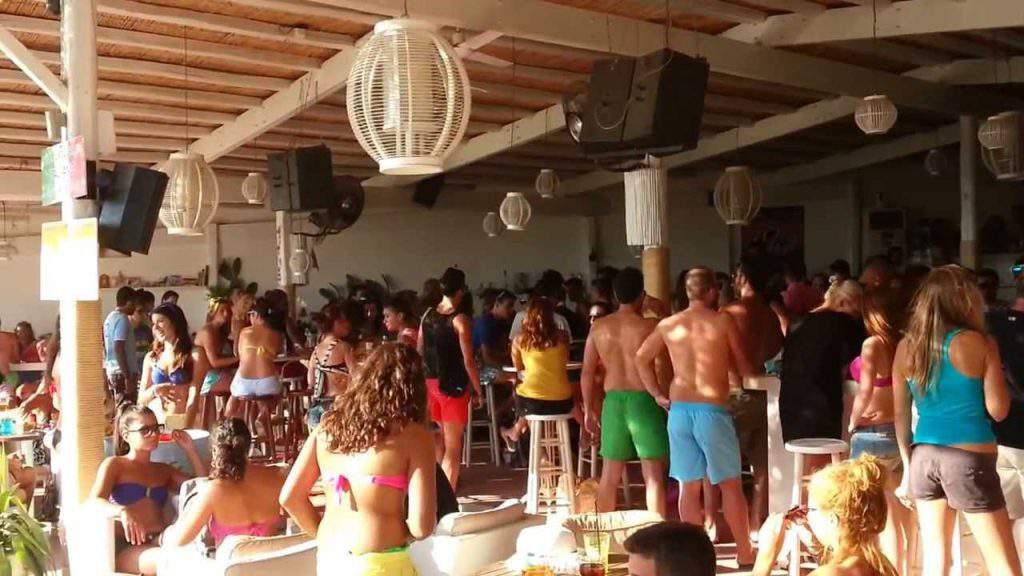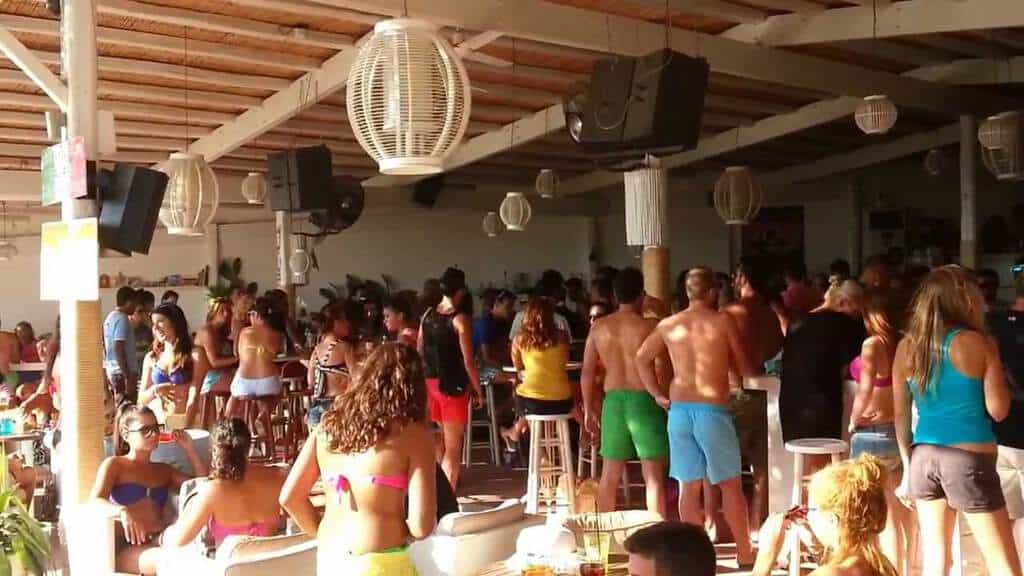 Location: Paraga Beach
Although it's opened even in the day, this club only officially comes alive at night. They cater mostly to younger generations and beach goers on the area. Parties at Kalua Beach Bar lasts until sunrise. They serve their signature watermelon cocktails on the beach in the morning.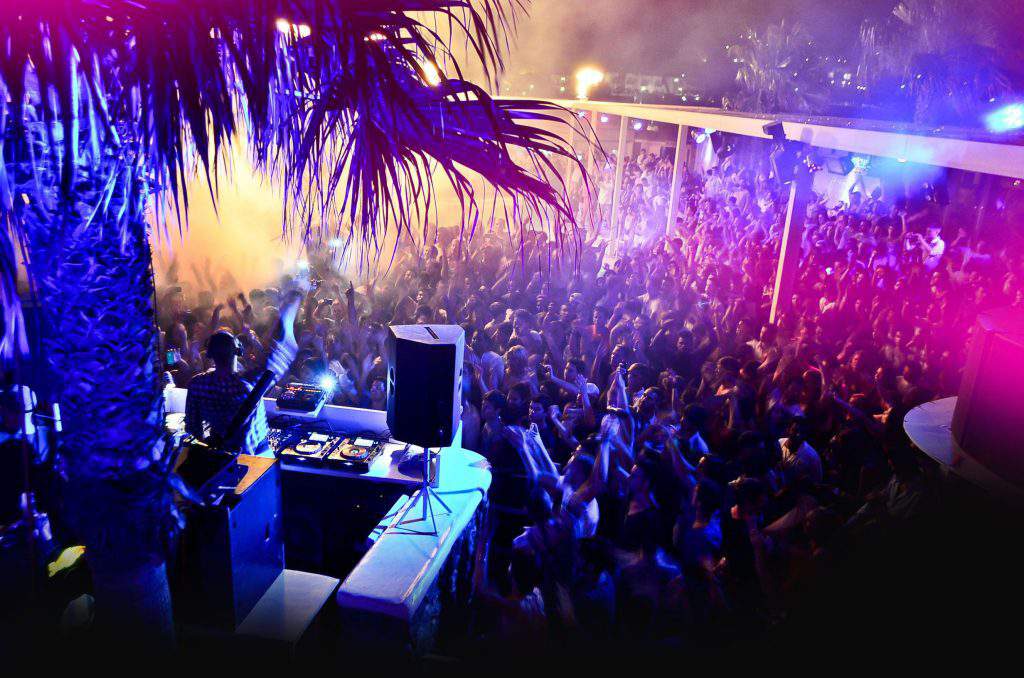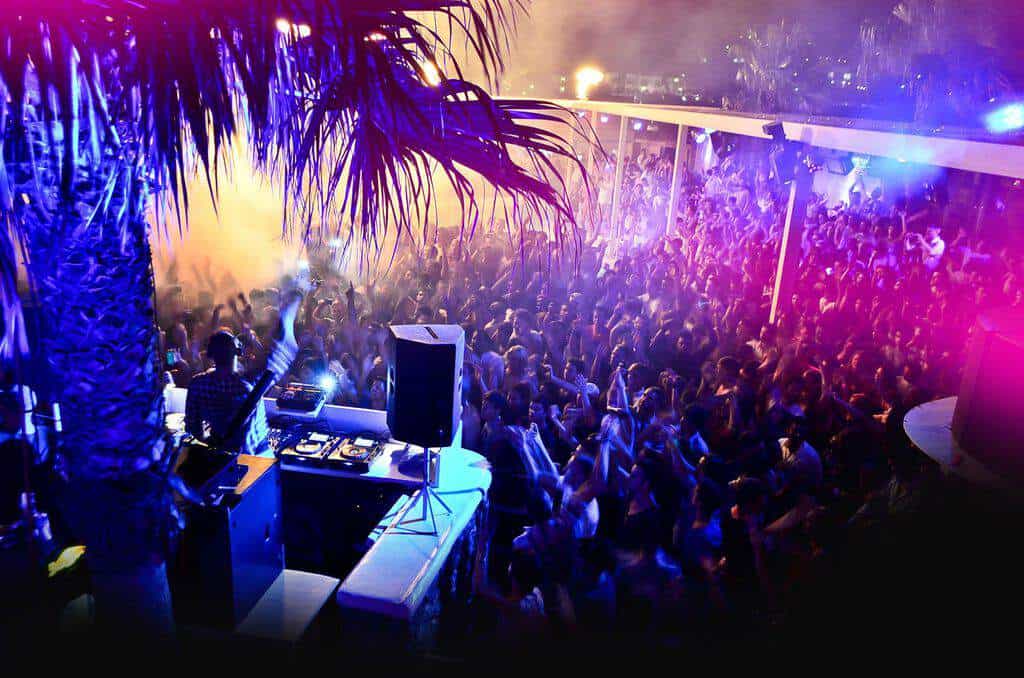 Location: Paradise beach
An internationally famous club, the paradise attracts clubber from all over the world with its legendary parties, DJs, and international performers like Tiesto and Nervo and Marlo and Helena Legend to Ministry of Sound. The party starts after midnight. Before that, it's a quiet place with a private peace of the beach where its visitors could sip cocktails and relax. Paradise also provides shuttles to pick you up and bring you back to Mykonos Town.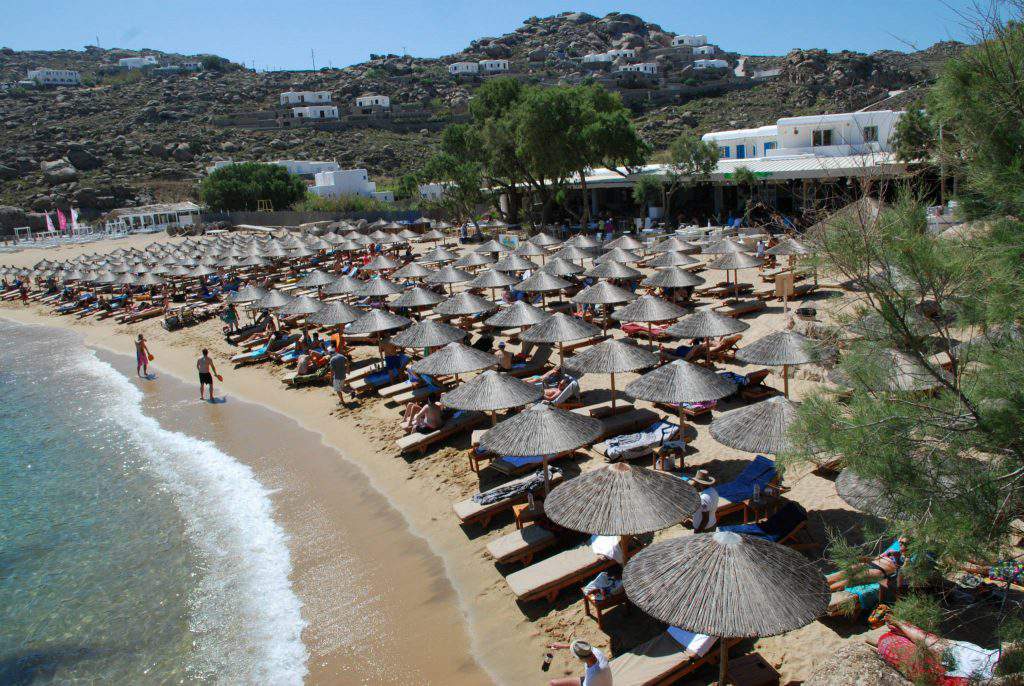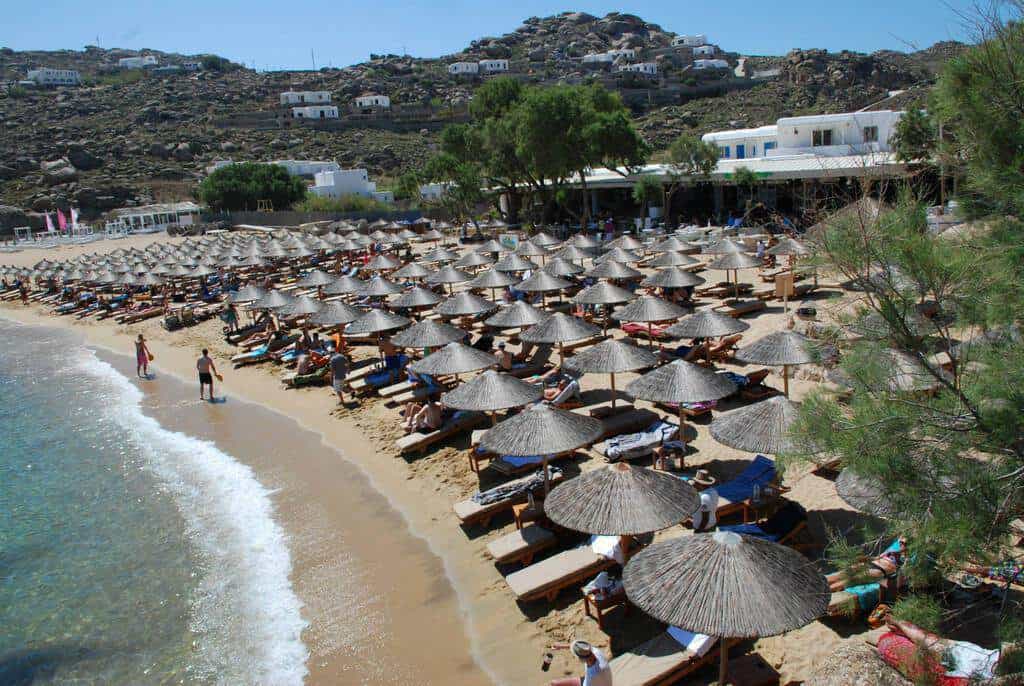 Location: Super Paradise Beach
This beach club will give you the best and craziest party you'll ever experience in your life. Its great reputation attracts tourists, models, celebrities and everyone who has even a single happy bone in their body. While it's best to go here at night, it's parties can start at any time and with its location extremely near the beach, you can enjoy the club's cocktails while relaxing near the sea.
Tropicana Beach Bar and Restaurant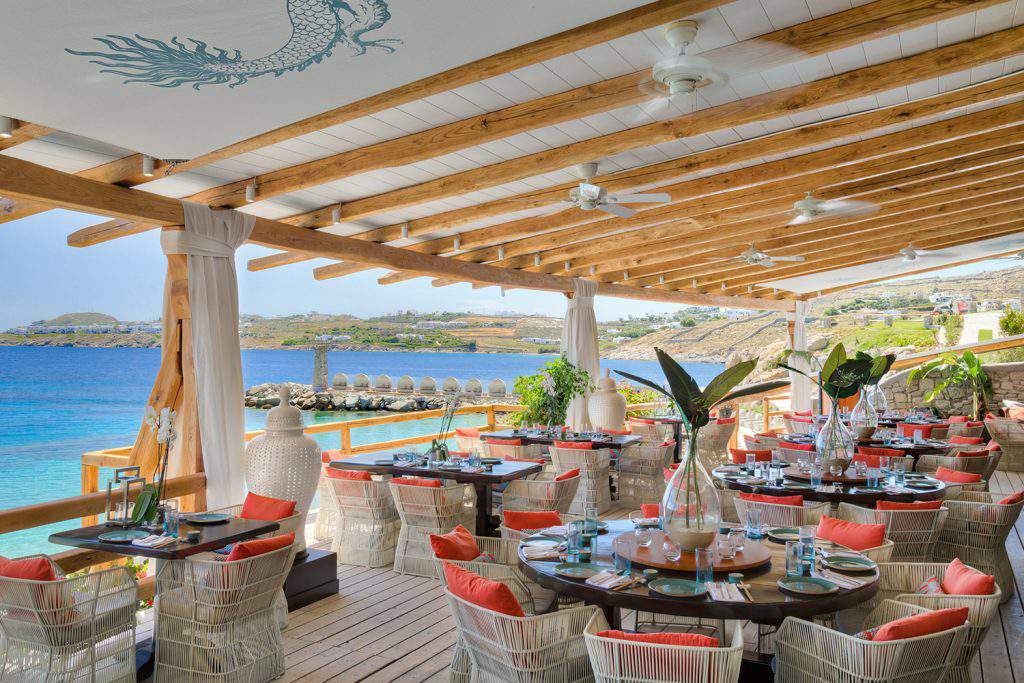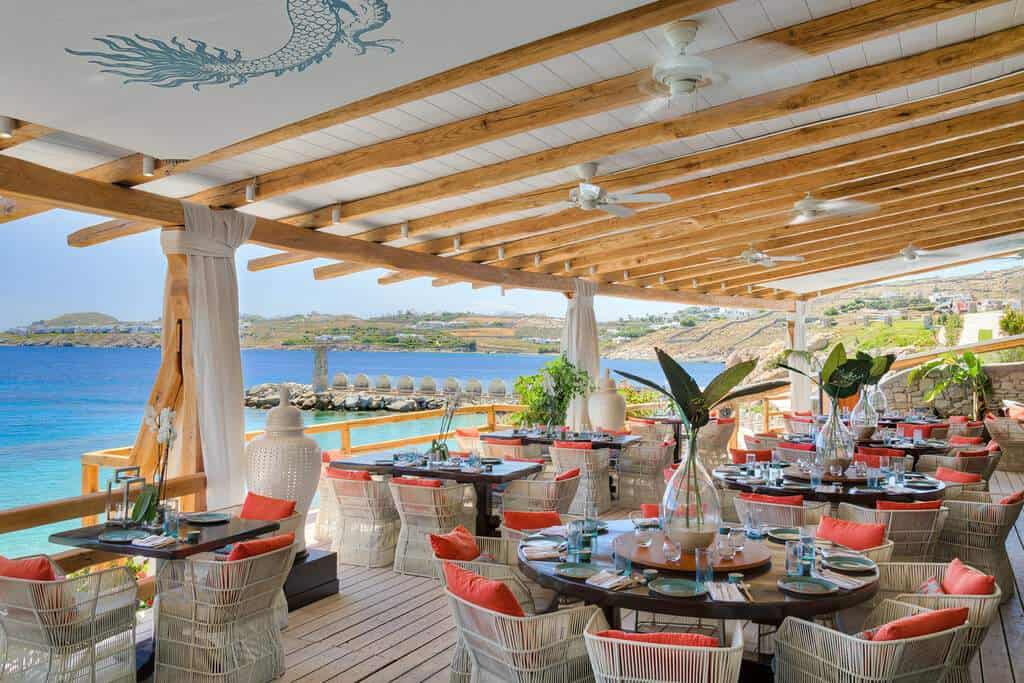 Location: Paradise Beach
Parties at this club start earlier than it does for others but it also ends earlier. The party starts at 4:30 pm and ends at 5 am. It mostly attracts beach goers and younger people. It won the award as the Sexiest Beach Bar on the Travel Channel last 2012.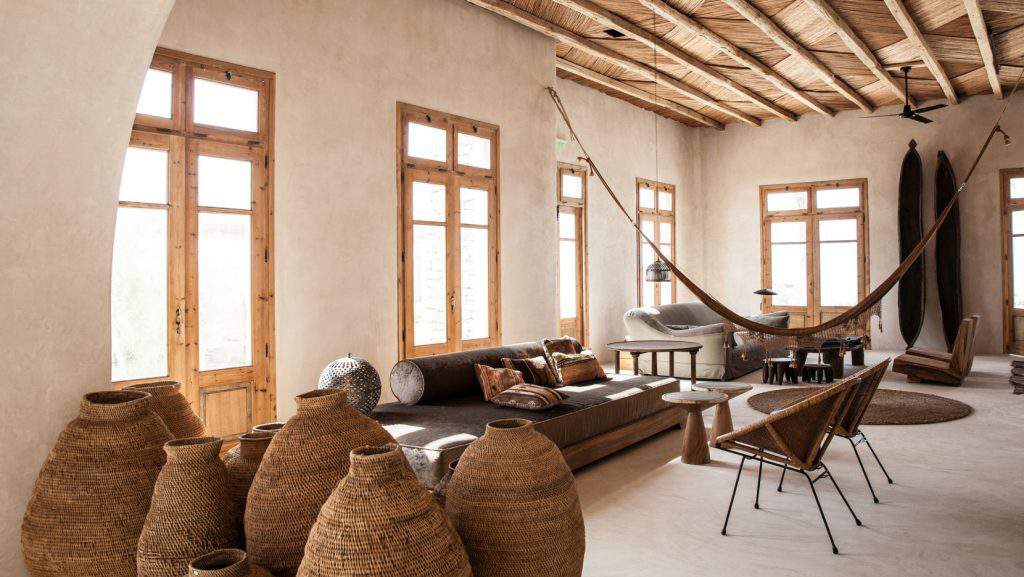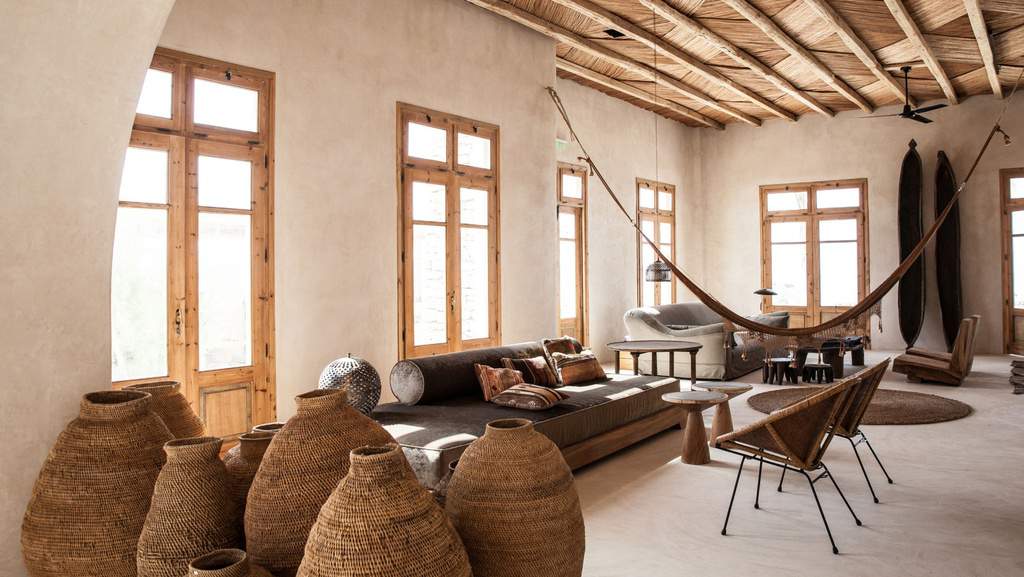 Location: Paraga Beach
Scorpios is a restaurant by dar and party club at night. It serves delicious seafood on the beach of Paraga when the sun is up but when night comes it hosts some of the craziest parties you would ever be in your entire life. 
Lohan Beach House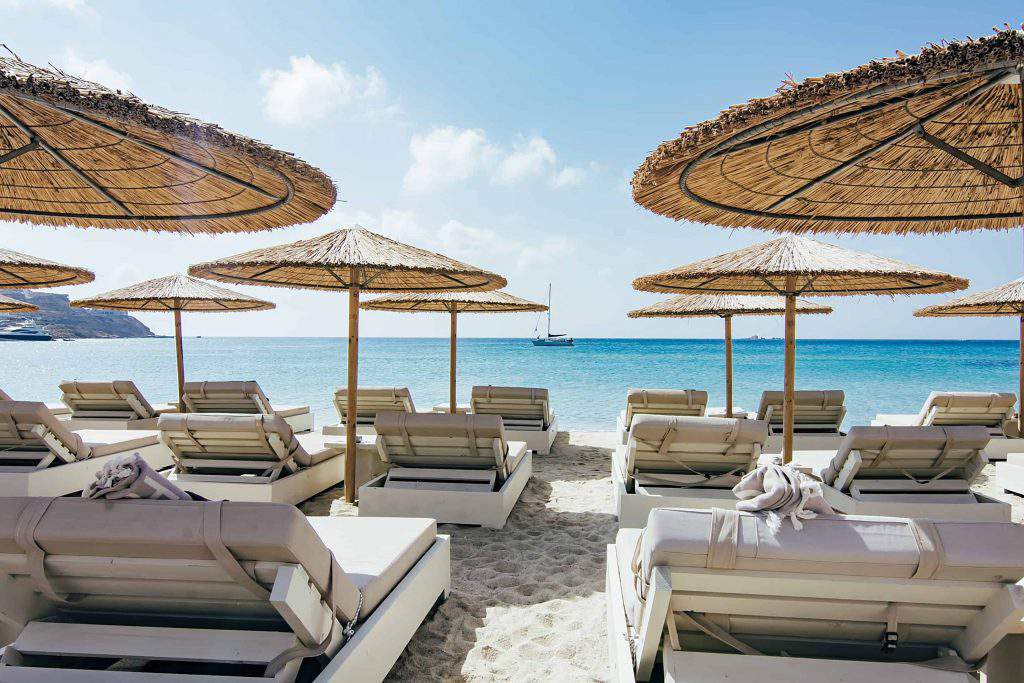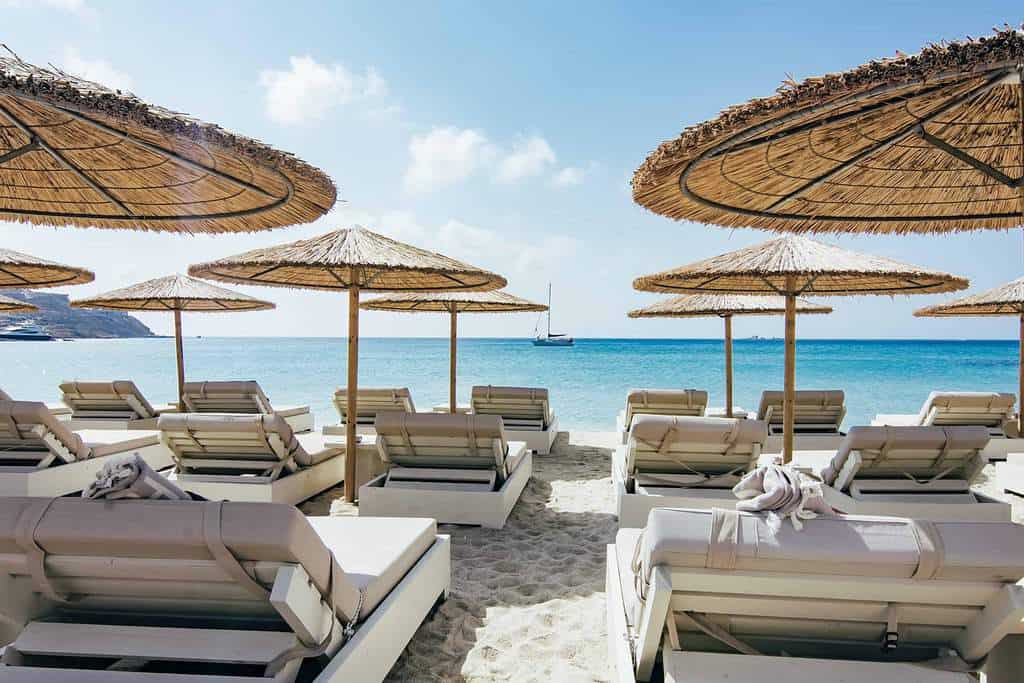 Location: Kalo Livadi
The Lohan is hailed as the best beach club in Mykonos. It's a little cut off from the main party area which is Mykonos Town. You need to take a 15-minute taxi ride costing about 30 euros to get to it. Buses don't travel here, but they do sometimes provide a shuttle service that could pick you up and drop you back to Mykonos town. The isolation means only means louder music and crazier parties without disturbing anybody. The Lohan charges reasonably for their sunbeds at about 15 euros for the regular ones and 25 euros for those at the front row. 
Read more:
Mykonos – Best Beach Hotels
Mykonos to Delos