Surrounded by lakes and forests, the city of Seattle offers many city attractions and outdoor activities. The center of the city is the financial district, located in front of the sea and the commercial area. The neighborhoods of Belltown, Denny and Pioneer Square are also part of the center, which is very well connected by public transportation and is a good area to stay.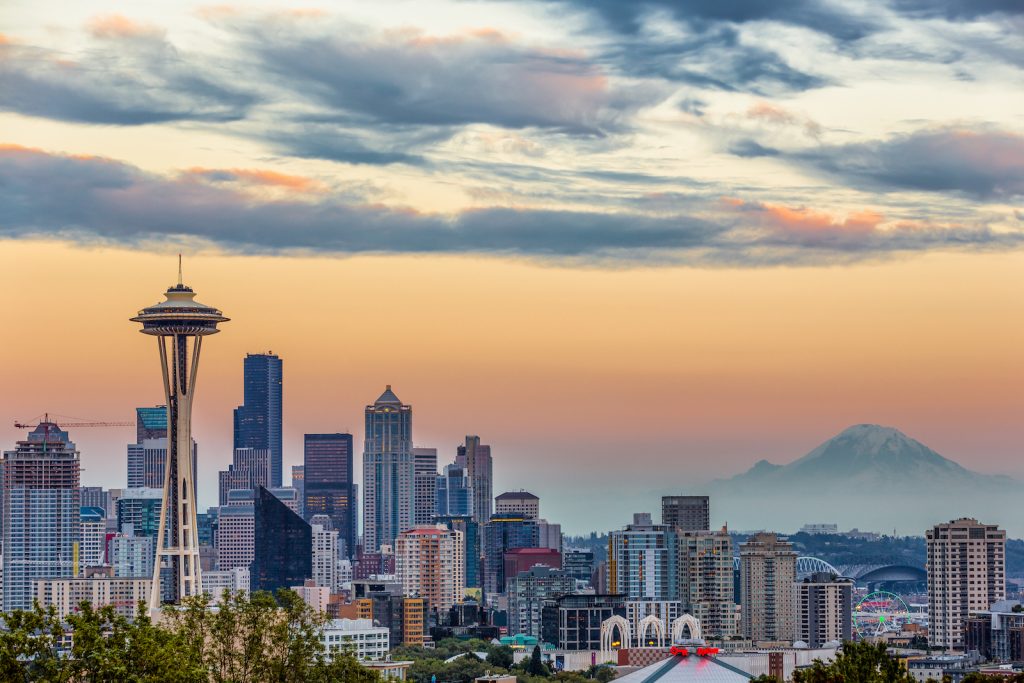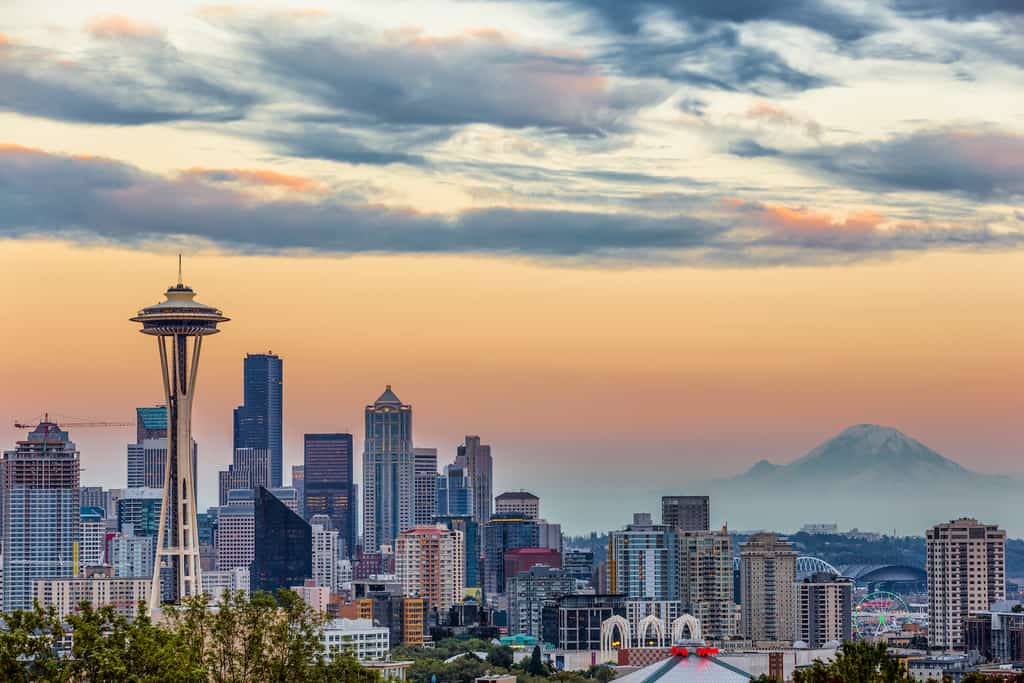 In the old town you'll find Smith Tower. Union Square and Nordstrom, a luxury chain of shoe, clothing and accessory stores. To make a good cultural visit is a must to visit the Central Library and the Art Museum. Among the many parks in this area you will find Westlake Park and Denny Park. In Seattle Center you will find many tourist attractions. An original proposal is to eat at an altitude of more than 150 meters. To do this you must visit the Sky City, a revolving restaurant located in the Space Needle.
Seattle is a city full of art and history museums, restaurants and outdoor activities: a stroll through Pike Place Market, a large farm products market and Pioneer Square, Seattle's original downtown. At this last point you will find art galleries, bars and bookstores. This neighborhood is the center of nightlife and therefore also one of the best areas to stay during your stay in Seattle.
Here are our detailed guides about Seattle:
Seattle Hotels
Best Restaurants in Seattle
Seattle Transportation
Seattle Music
Things To Do in Seattle
Here are the Top 20 Hotels in Seattle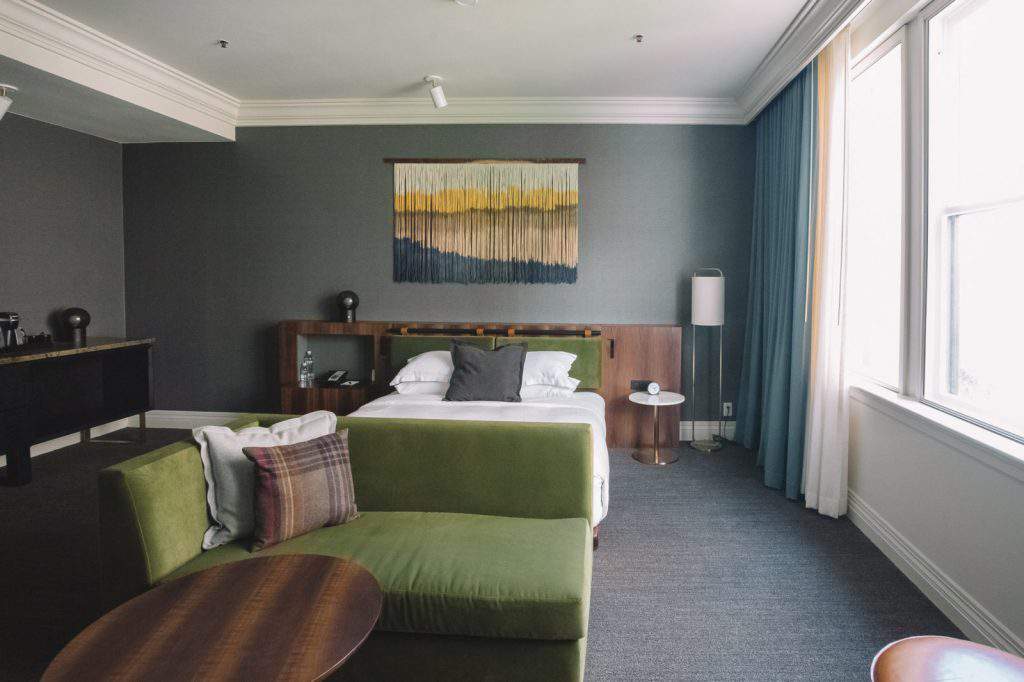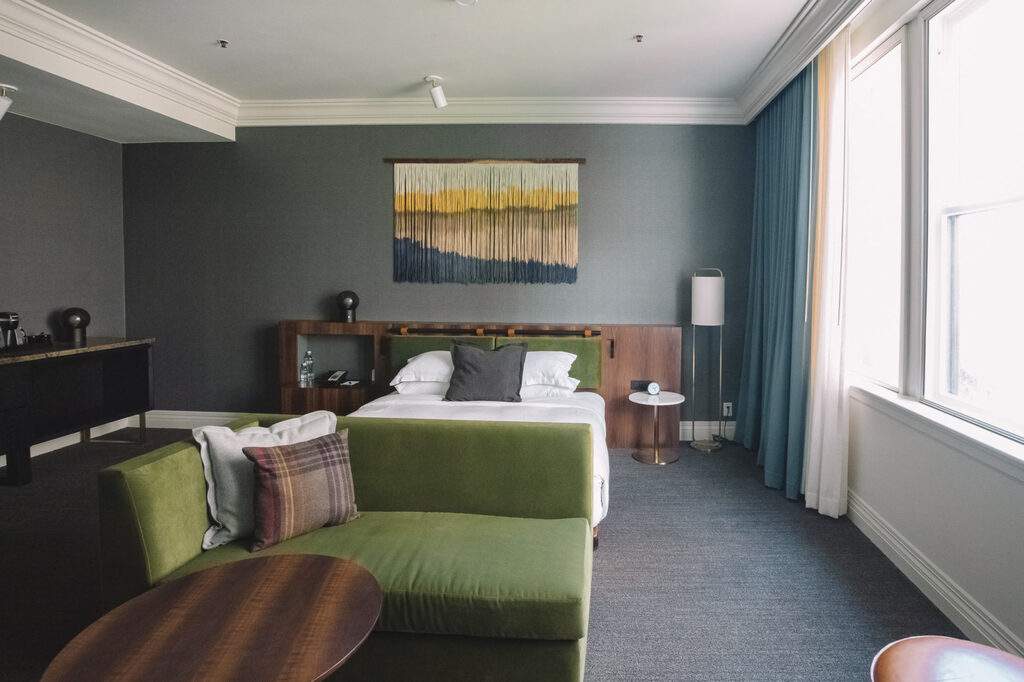 This is a simple yet luxuriously designed boutique hotel. The beautiful and accommodating rooms are simply top-notch. The location in downtown Seattle is great for easy access to all the best tourist destinations. If you want to rent a bike, the hotel has you covered with its own rental units. They also have a cafe and bar with a special wine hour every day.
Hotel Phone: 206-628-4844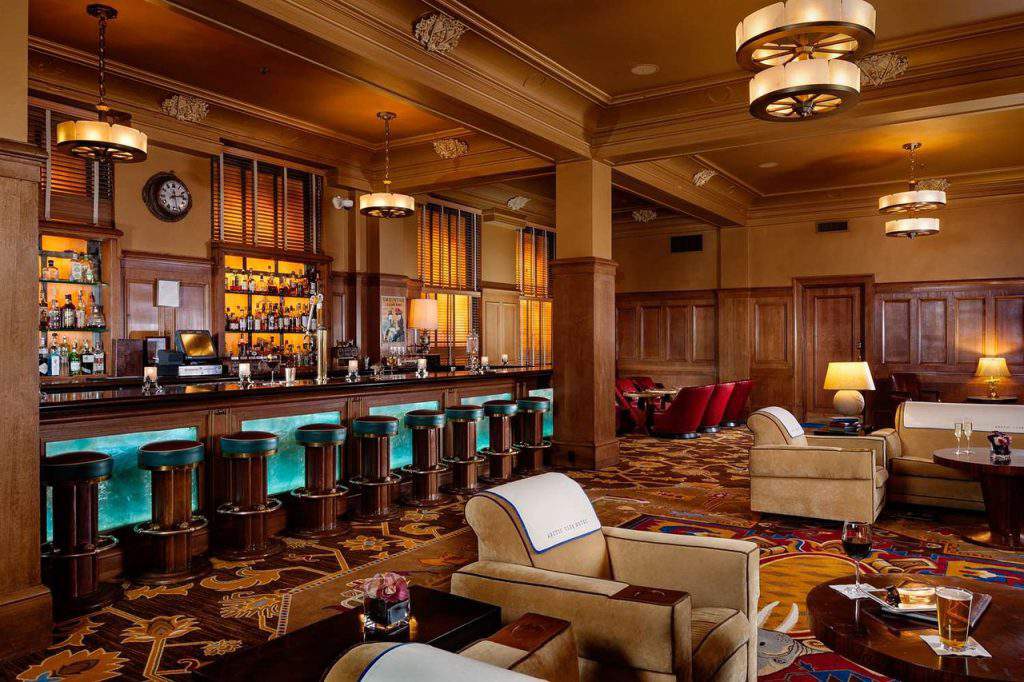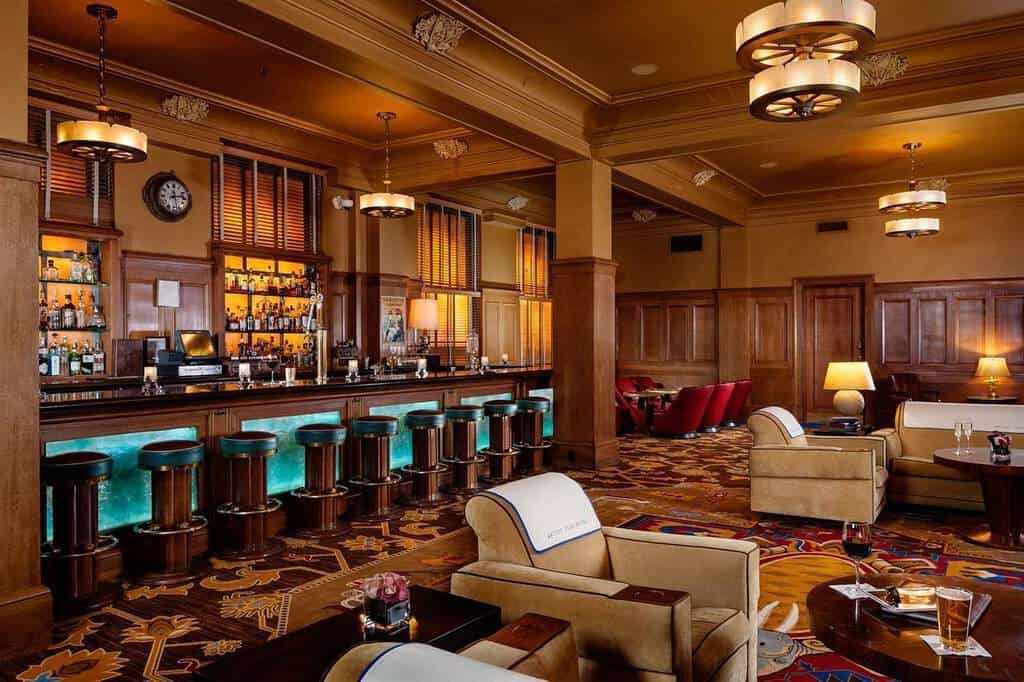 You'll be greeted with magnificent vintage-fashioned architecture and decorations in The Arctic since this is a restoration of a social club dating from the early 20th century. The rooms are quaint, well-furnished, and spacious. They get better if you take the ones with a jacuzzi and terrace. They even have a Northern Lights Dome room that you'll definitely have to see. Your cravings and entertainment are covered by their indoor restaurant and bar which both exude a classy feeling like those of "men's clubs". The Arctic is at the fringes of the financial zone in Seattle, so it's not as conveniently located as the other options. But most attractions in downtown Seattle are still quite accessible, and the rail station is just beside the hotel.
Hotel Phone: 206-340-0340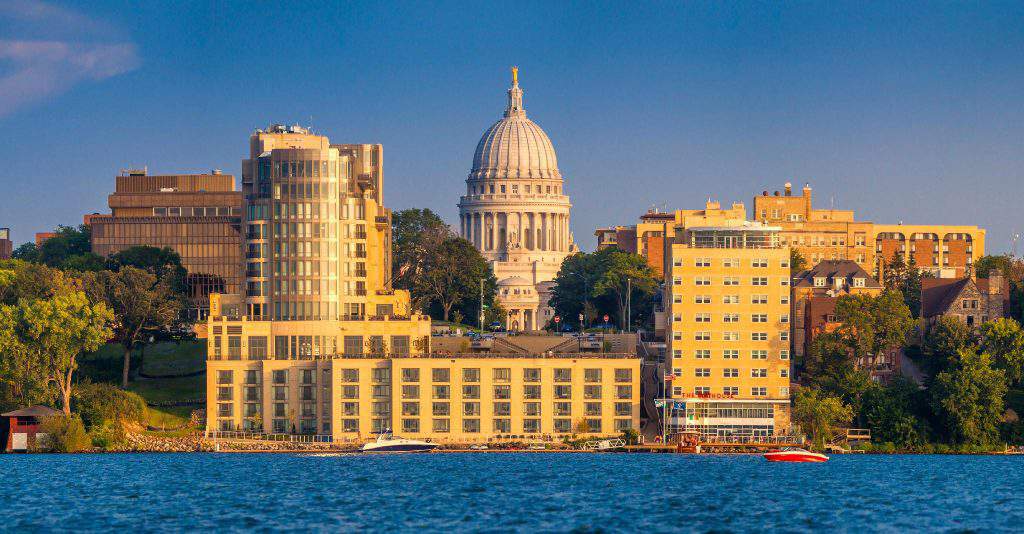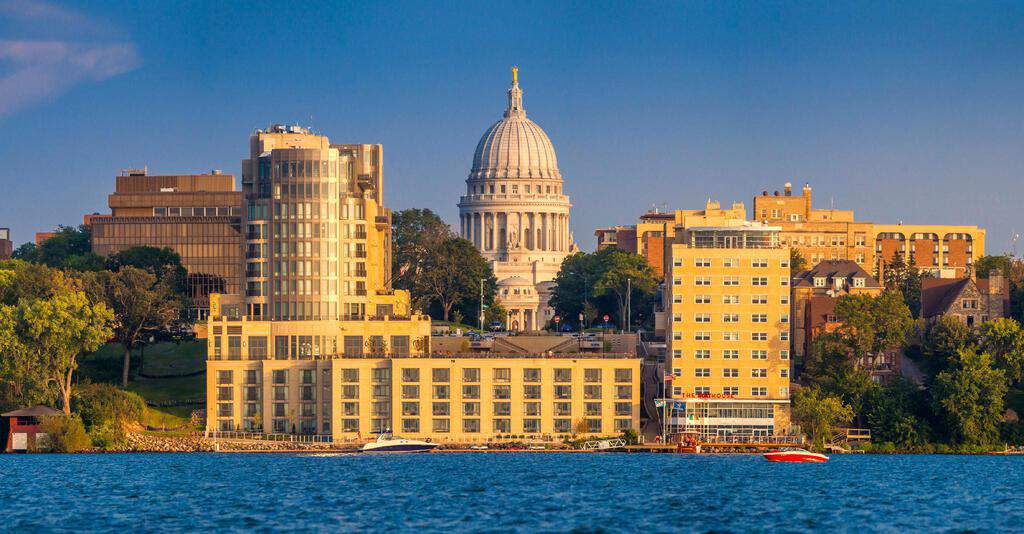 The cozy, lodge-themed Edgewater hotel is located on the waterfront of Seattle, so you can be sure that you're getting a unique view. Just make sure to get the rooms with waterfront views, you won't regret it. There are a comfy lounge area and great restaurant overlooking Elliott Bay. The waterfront attractions are in walking distance, including the Olympic Sculpture Park, Pike Place Market, and Center. Maybe you won't feel as immersed in downtown Seattle, but maybe that's your thing.
Hotel Phone: 206-728-7000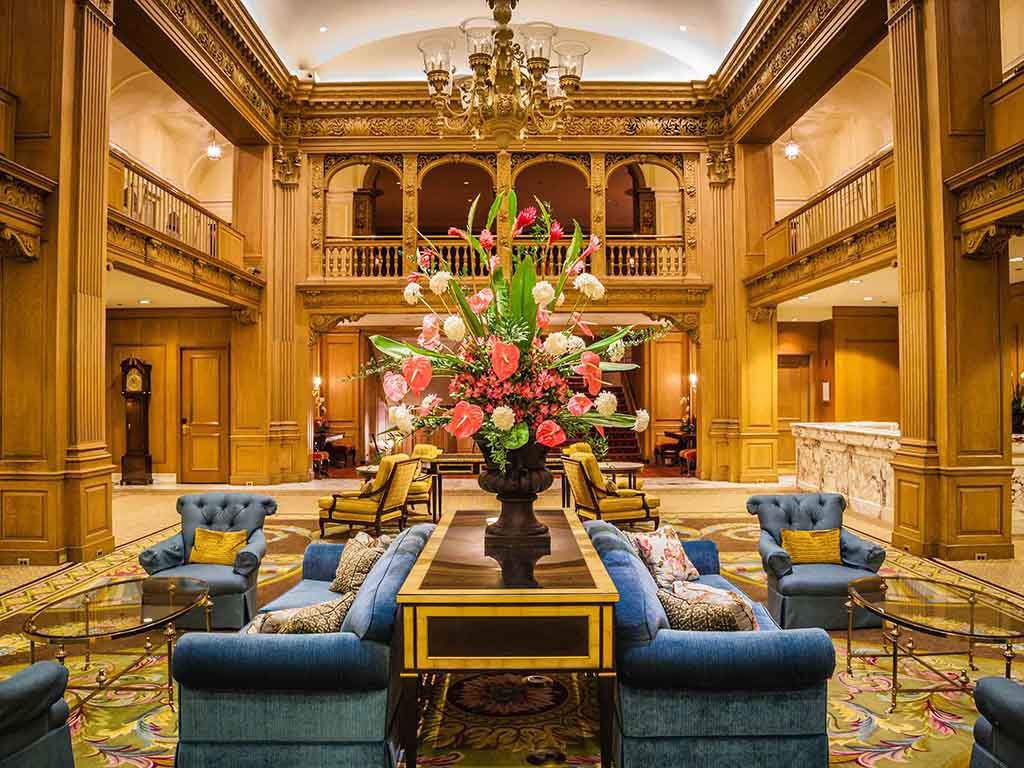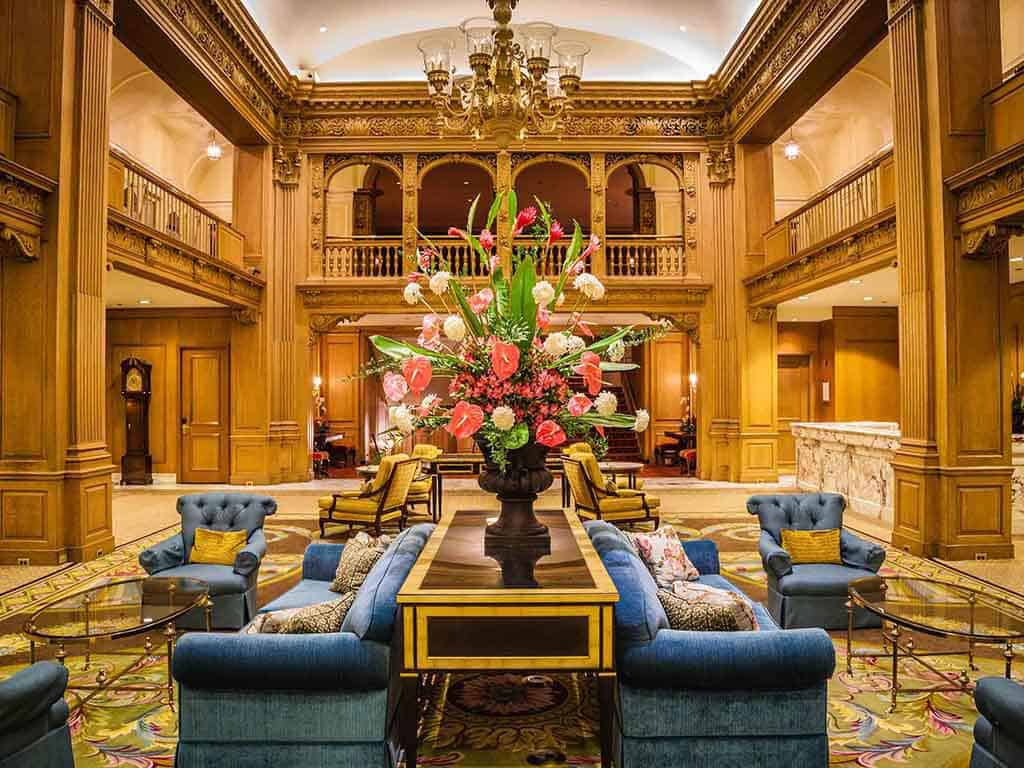 The Fairmont Olympic Hotel feels very traditional and deluxe. There are loads of luxury stores around the hotel to shop at your heart's delight. Just in walking distance are Pacific Place Mall, the biggest mall in downtown Seattle, and Pike Place Market. The Georgian and Shuckers, two of the most renowned restaurants in Seattle, are even right at the hotel ground floor. There are top quality indoor establishments you've come to expect, such as a pool enclosed in glass, a fitness center, and a terrace with a great outdoor view. The most unique feature of the hotel is its very own beehive located at the rooftop. The fresh honey produced there goes to most of the hotel's delicious offerings from drinks to dessert.
Hotel Phone: 206-621-7100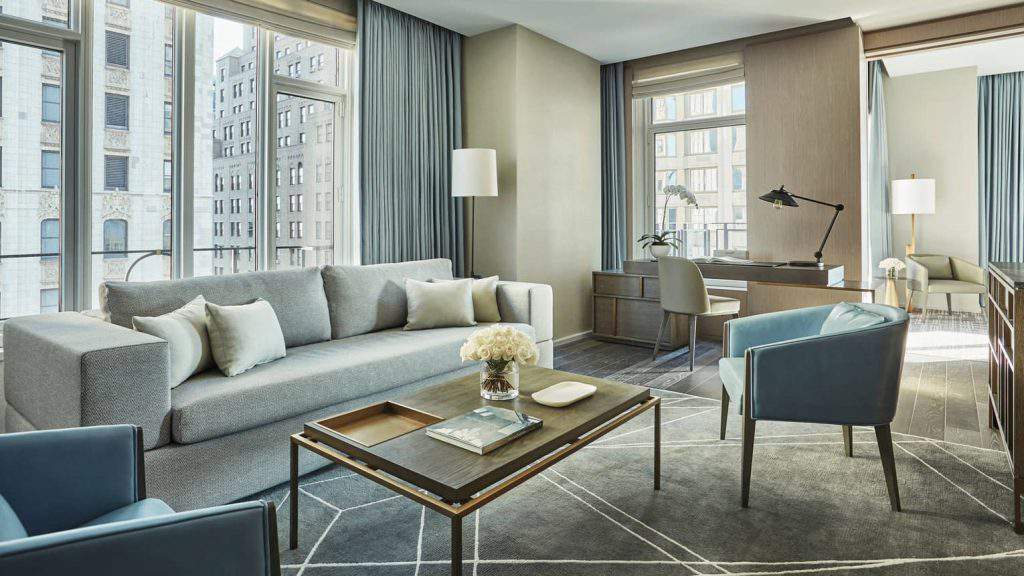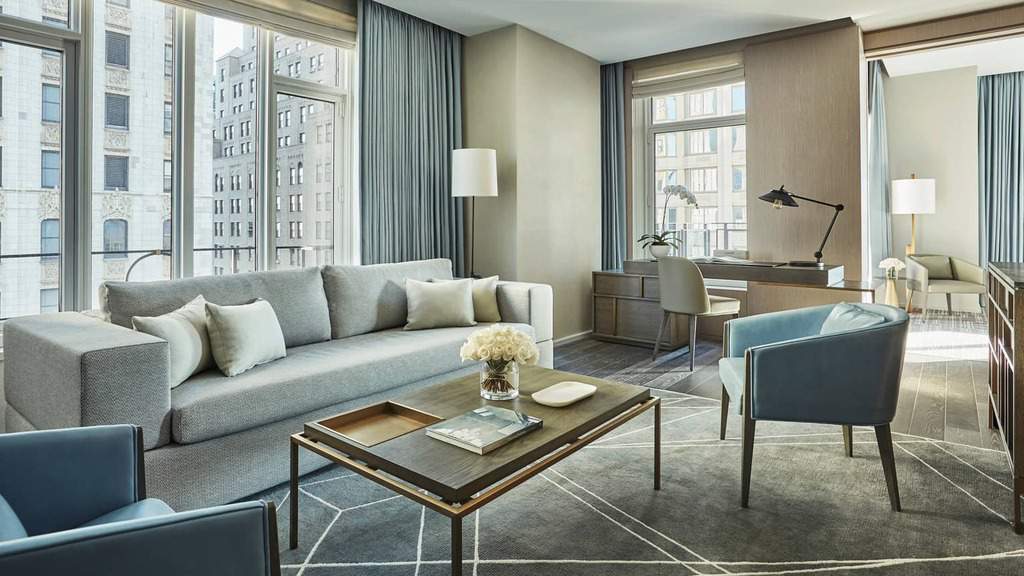 For the most luxurious hotel experience you can get in Seattle, The Four Seasons is perfect. The hotel provides a modern look, exquisite food and service, and comfortable suites that will leave you wanting nothing more. There's an all-day fitness center, a spa, and outdoor infinity pool, all of which offer a spectacular view of Elliott Bay. The hotel is also conveniently located near notable establishments like the Seattle Art Museum, Pike Place Market, and many restaurants.
Hotel Phone: 206-749-7000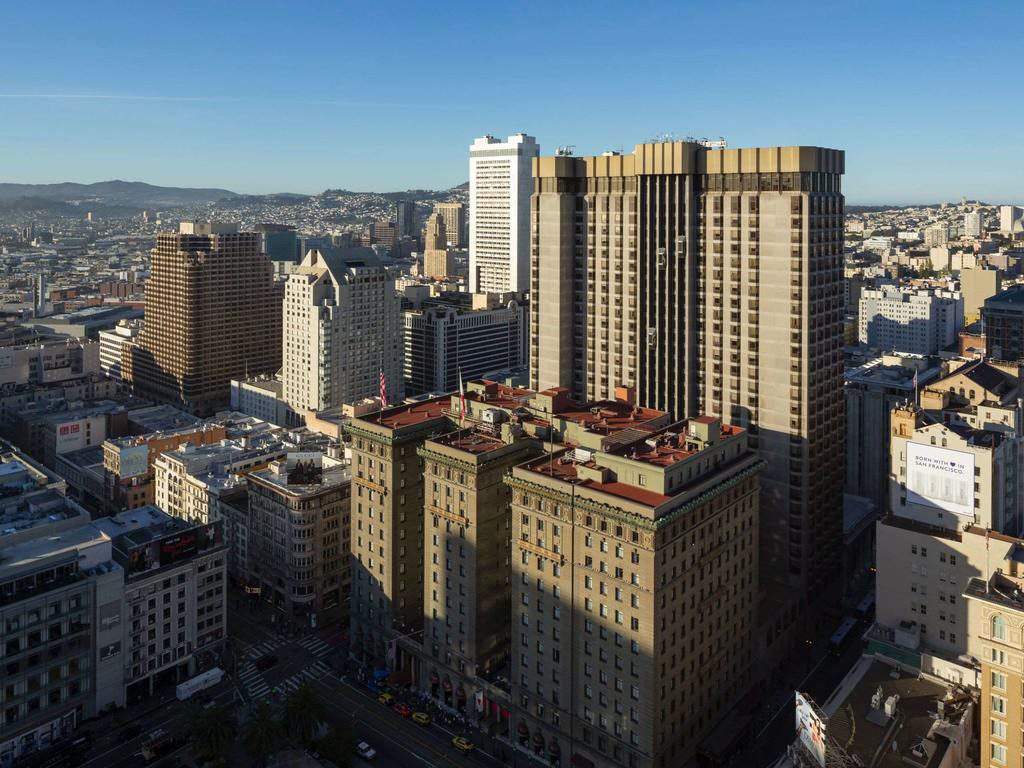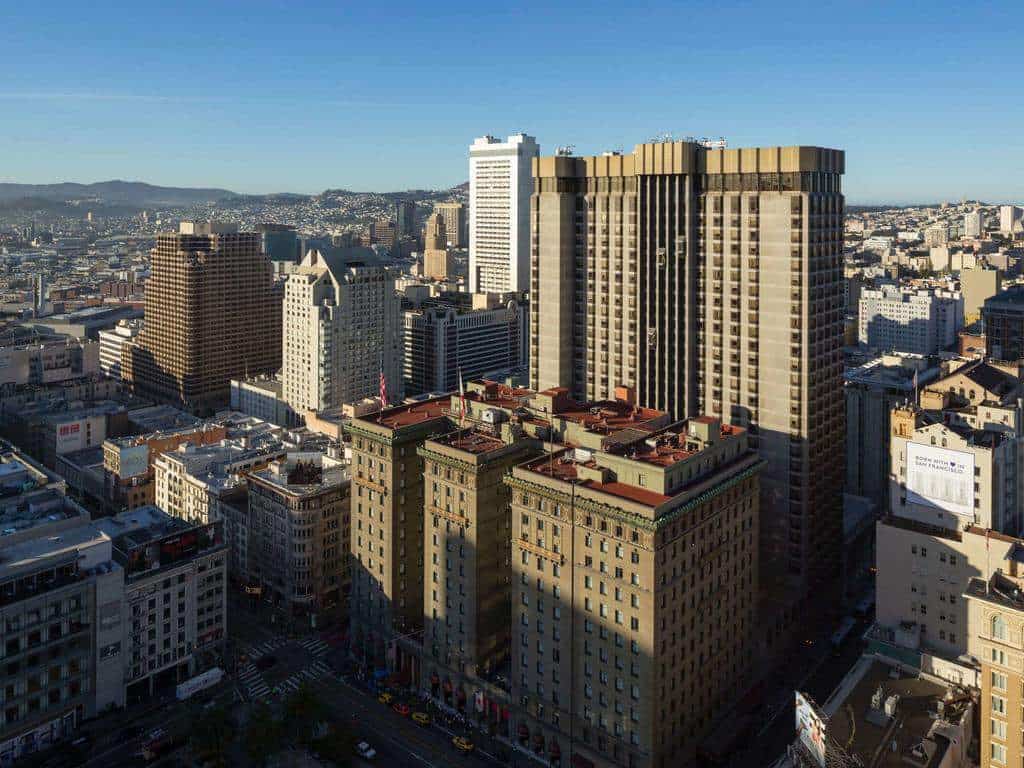 The Grand Hyatt is a contemporary hotel with an amazing view of Seattle, which gets better if you stay at the west rooms. They offer spacious and comfortable rooms with large tubs, automatic foyers, and black-out shades. Shopping and sightseeing locations are nearby, as well as the famous Seattle Convention Center.
Hotel Phone: 206-774-1234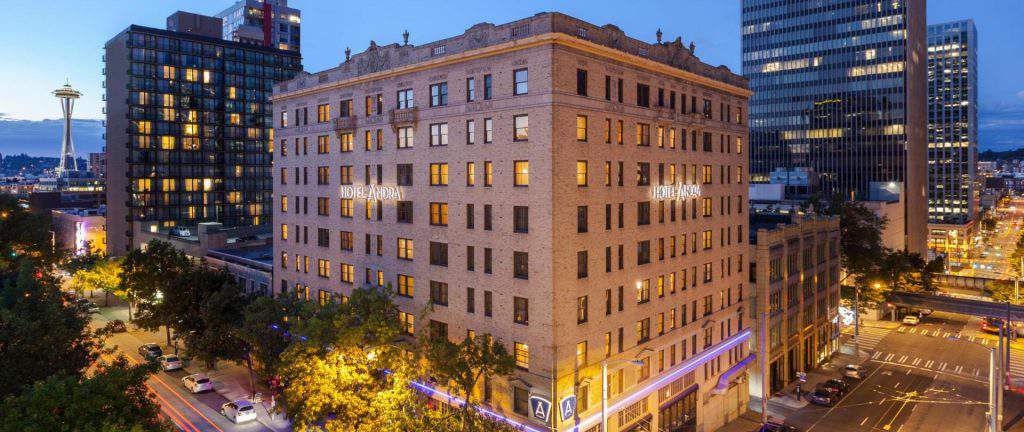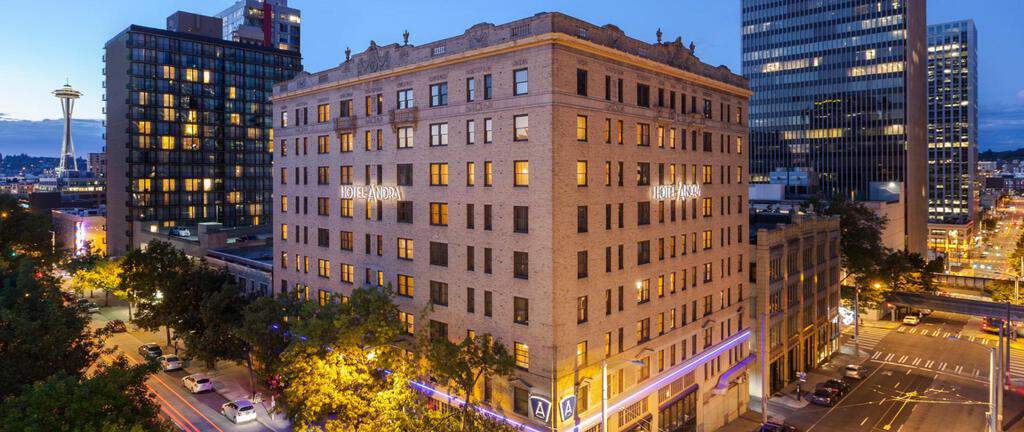 The Hotel Andra has a Scandinavian-themed aesthetic if you're looking for a uniquely designed and modern boutique hotel. You have a lot of room size options to choose from, so single travelers up to large families are covered here. Beside the hotel is a restaurant owned by Tom Douglas, a well-known celebrity chef, which is where your hotel room service comes from too. The restaurant also offers a cooking class, and if you book a class, you'll get a tempting 20% room discount. The hotel is conveniently located near shopping establishments like Pike Place Market, nightlife zones, and great restaurants.
Hotel Phone: 206-448-8600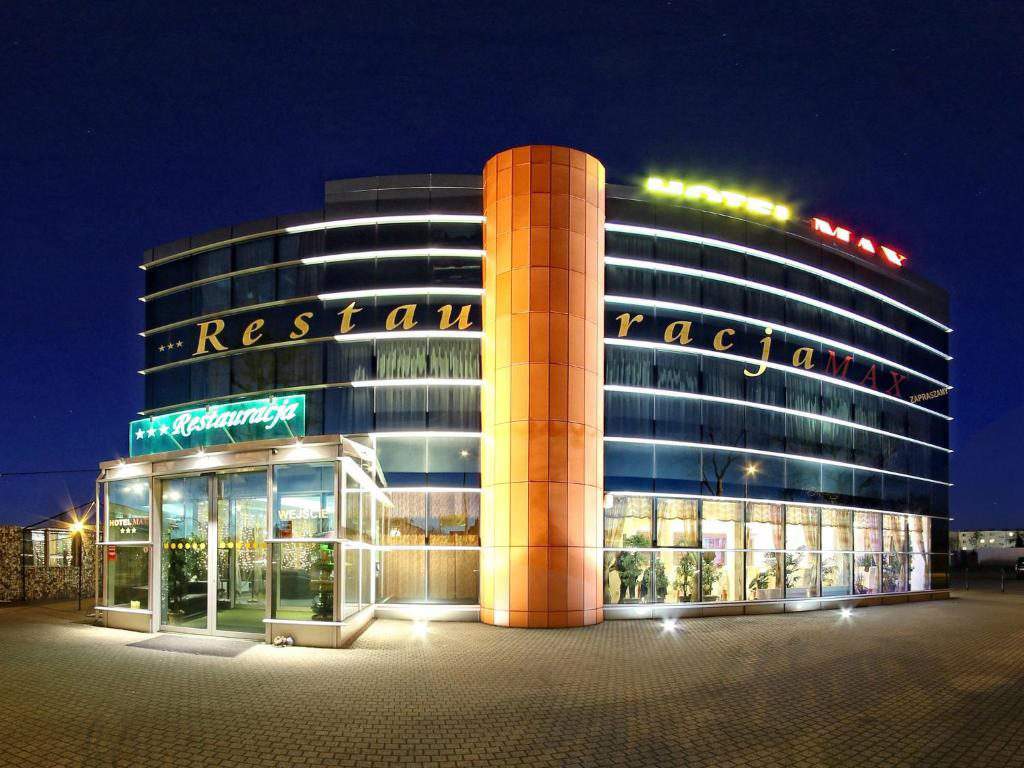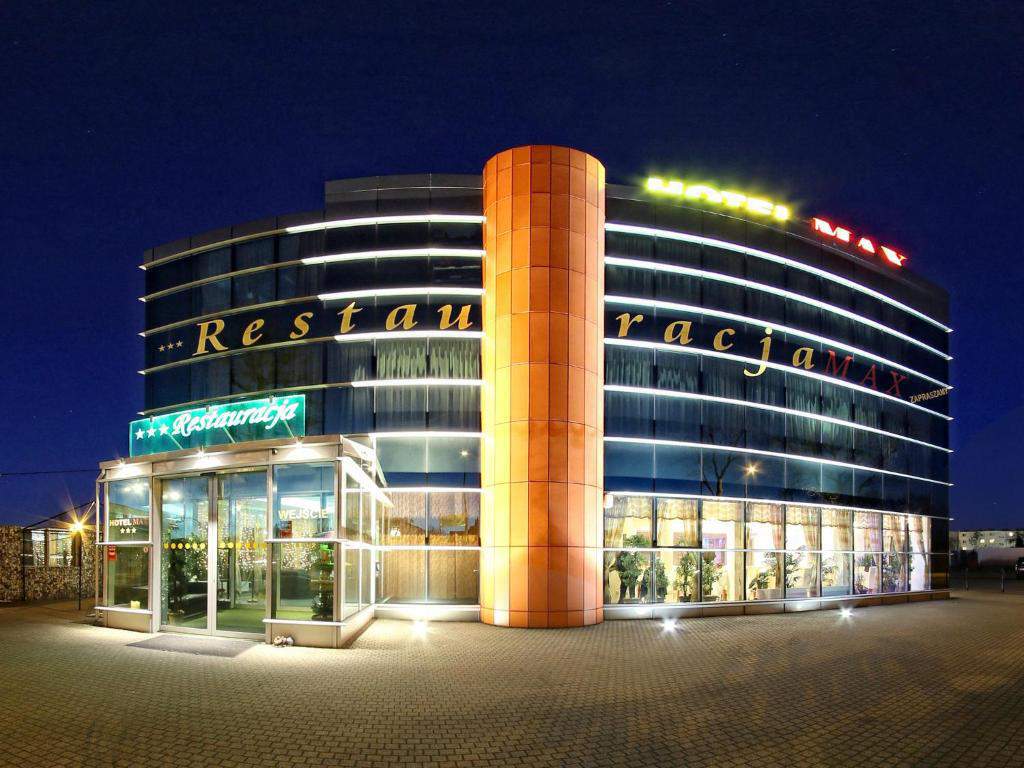 For a chic, urban boutique hotel, try out the Hotel Max. It's guest rooms may be smaller than other hotels, but they're just as cozy and well-furnished nonetheless with nice touches like art magazines and Tivoli clock radios. The lobby will make you relaxed with great art decorations and music, accompanied by a happy hour every day. The hotel has an area with record players and vinyl records, for music-loving residents. The staff are very accommodating, the food is great, and the hotel location provides easy access to downtown tourist attractions. Plus, the hotel will appeal to dog owners since it's very dog-friendly.
Hotel Phone: 206-728-6299
9. Hotel Monaco (Downtown)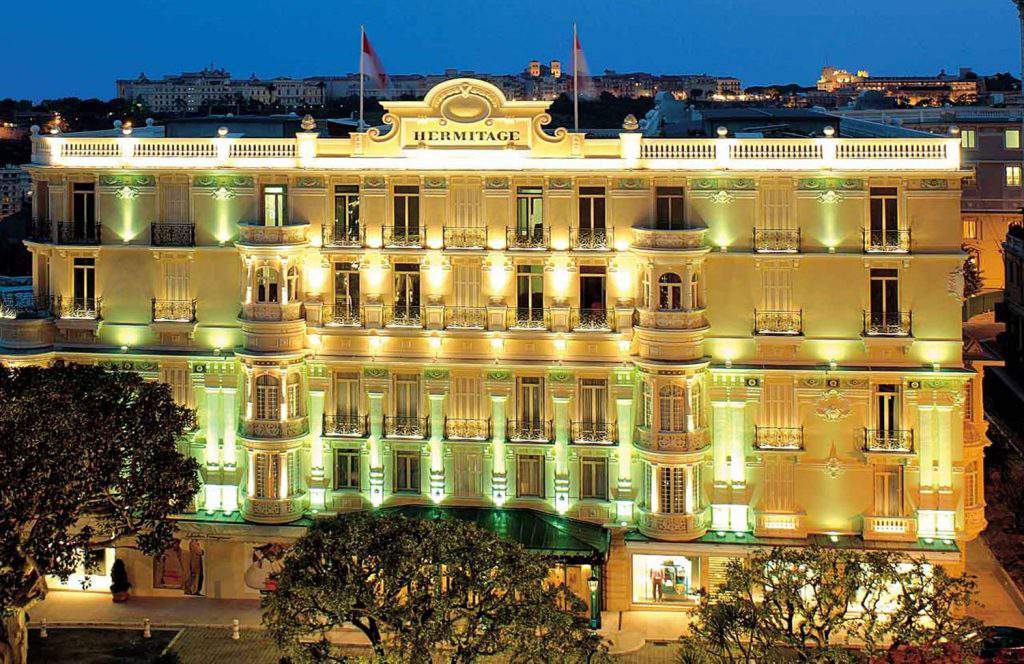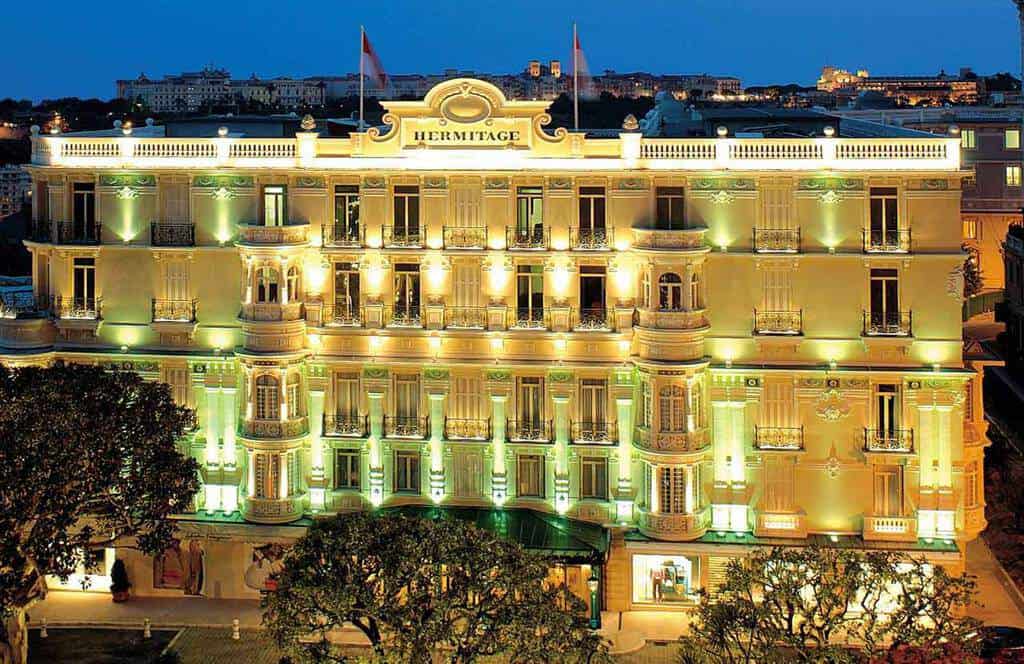 This chic and modern boutique hotel is located in the center of various commercial stores, attractions, and restaurants, all of which are just a quick walk away. You can also avail of their free bike rental. You'll get large and classy guest rooms and a cozy lobby with live performances during the weekends. There's a regular magic show held on Fridays for your kids to enjoy. Pets are welcome too, and if you don't have one, you can ask for a goldfish to be placed in your room.
Hotel Phone: 206-621-1770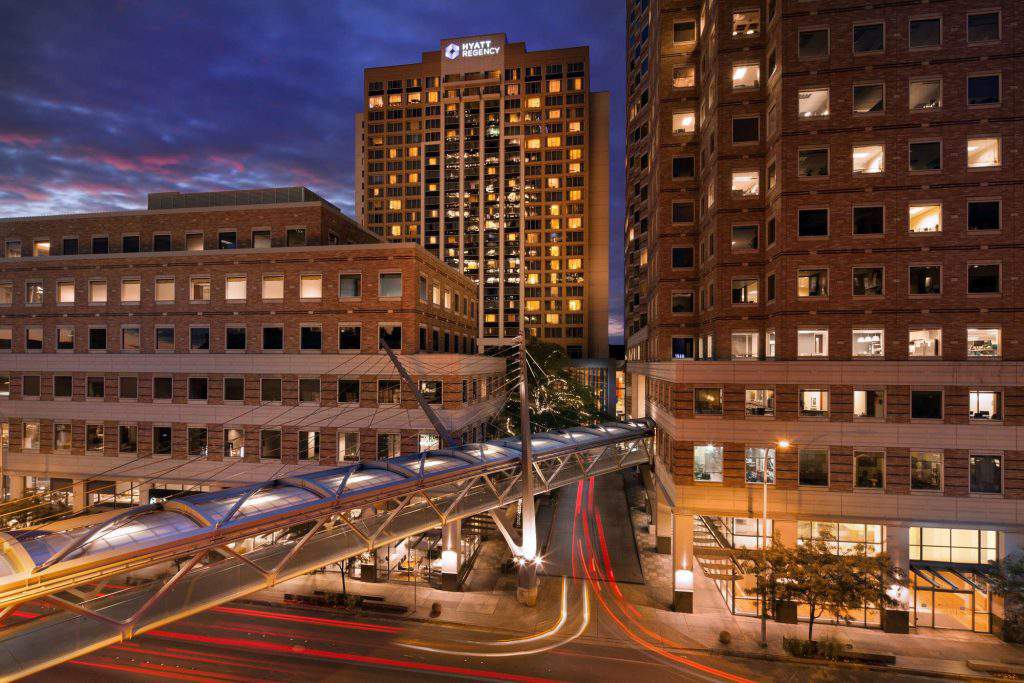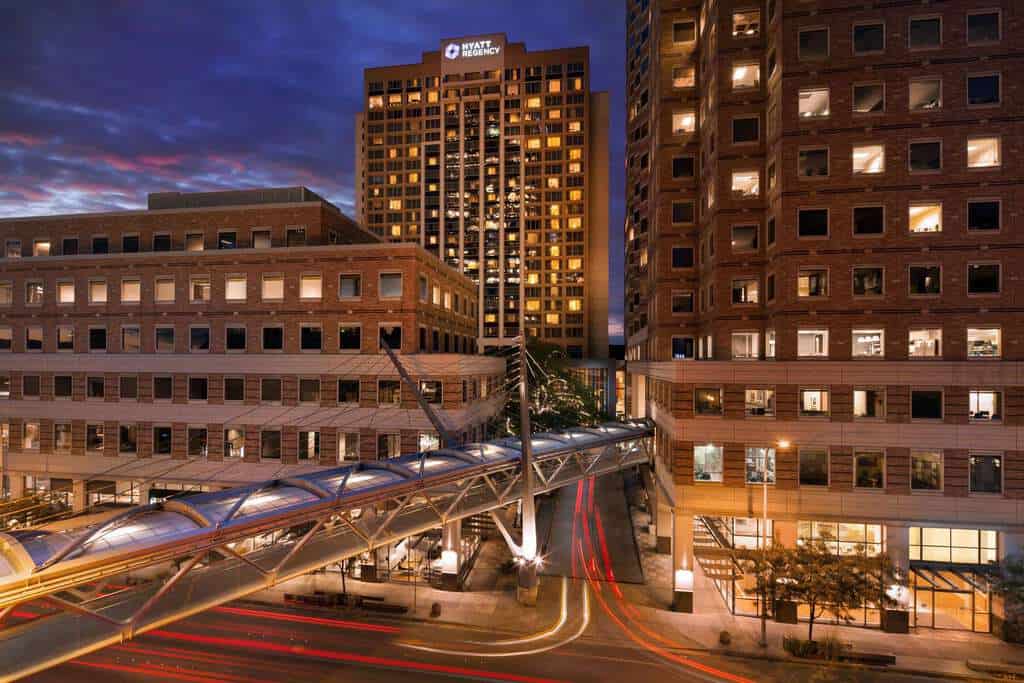 This is a modern and luxurious hotel that's also eco-friendly. Their food comes from directly from a farm, so you can be sure that it's prepared and served fresh. They offer various services such as a spa and fitness center, and a sauna and steam area by their saline pool. The Pike Place Market and shopping establishments are close by.
Hotel Phone: 206-695-1234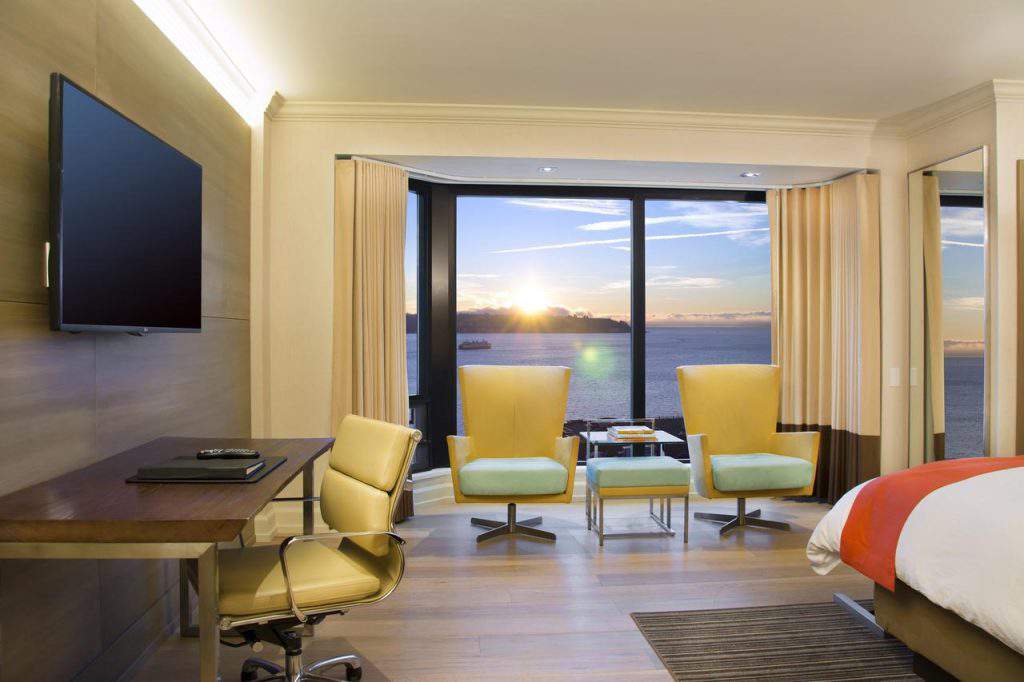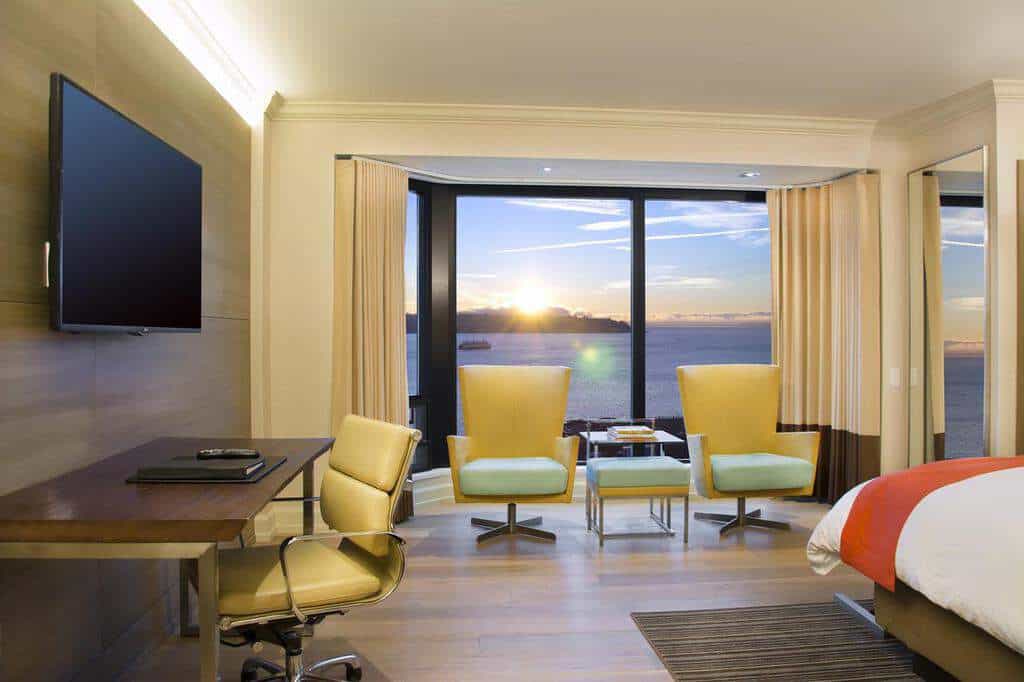 The best boutique hotel experience can be found here at the Inn At The Market. Don't let the unassuming exterior fool you — inside are pristine and spacious rooms with amazing views. If you want a panoramic view of Pike Place Market to Elliott Bay, then the rooftop patio is the perfect place to see it. It's an awesome choice for food lovers since only the best restaurants in Seattle are around the premises. The recommendation is for you to grab some take-out at a nearby restaurant, along with some beer and wine from the market, and just lounge on the rooftop with an impeccable view.
Hotel Phone: 206-443-3600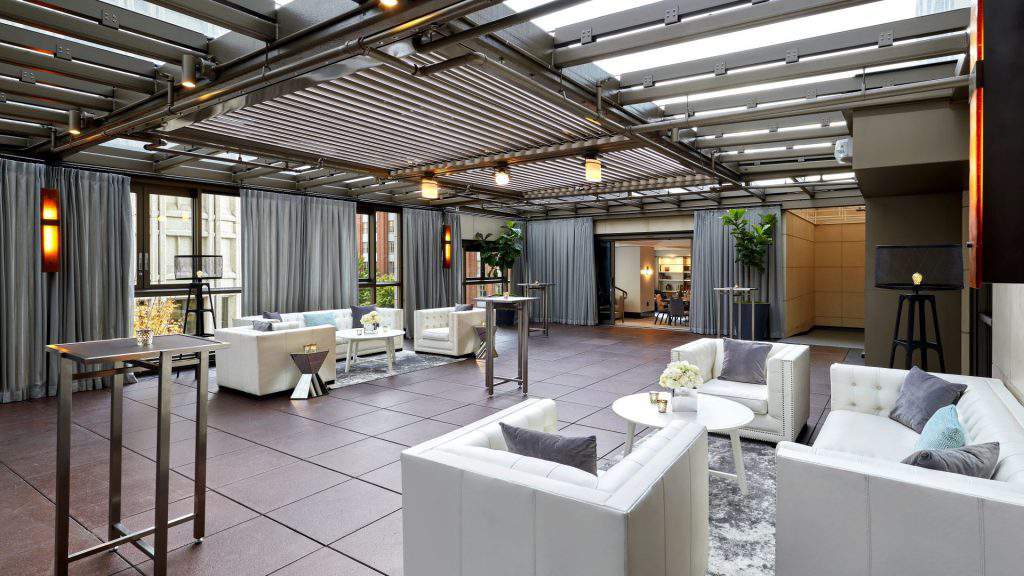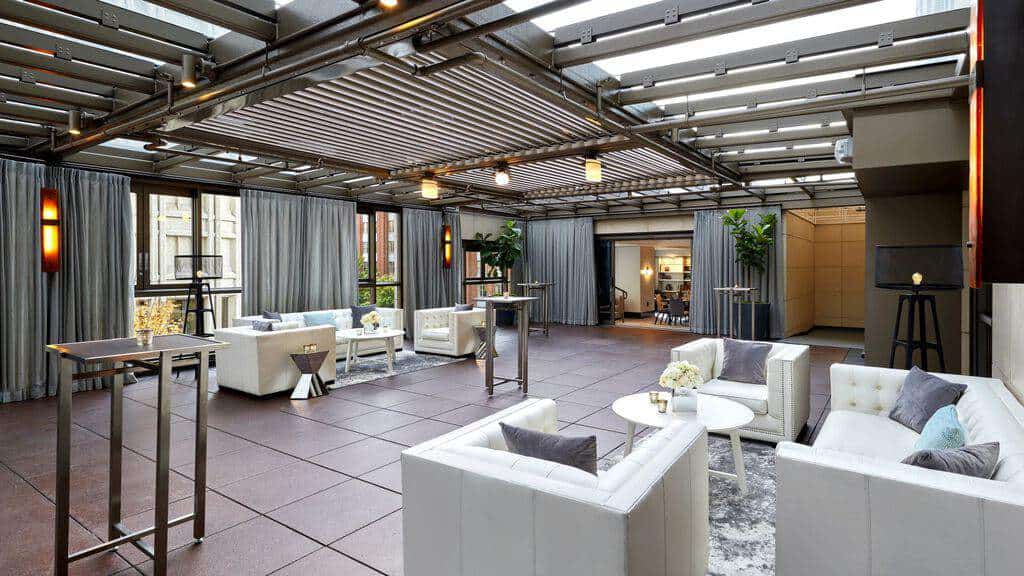 The Loews is located at the center of Seattle, so Pike Place Market, Pioneer Square, shops, restaurants, museums, and other establishments are easily accessible. The suites and rooms provide ample room with comfortable furnishings. You'll get two-people tubs and glass walls with adjusting privacy settings between the bedroom and bathroom. The hotel offers its own bar and restaurant, a virtual driving range, a relaxing spa area, and a complimentary car service. You can even bring your pets here since the hotel has a pet-friendly policy. There's also champagne upon check-in if you want to pop one open to celebrate your arrival in Seattle.
Hotel Phone: 206-957-1000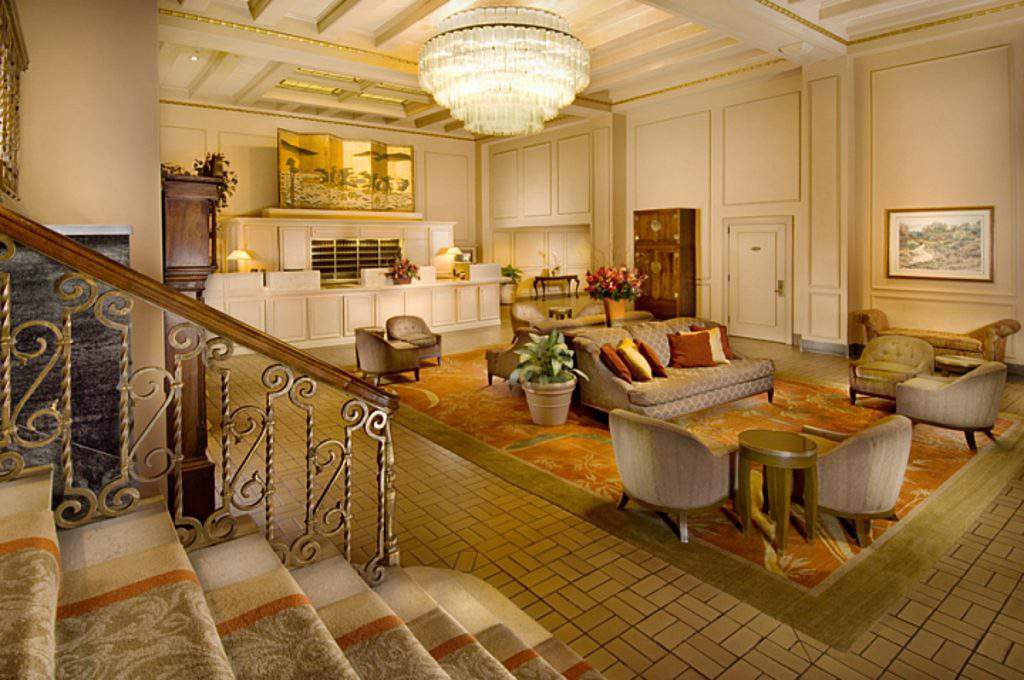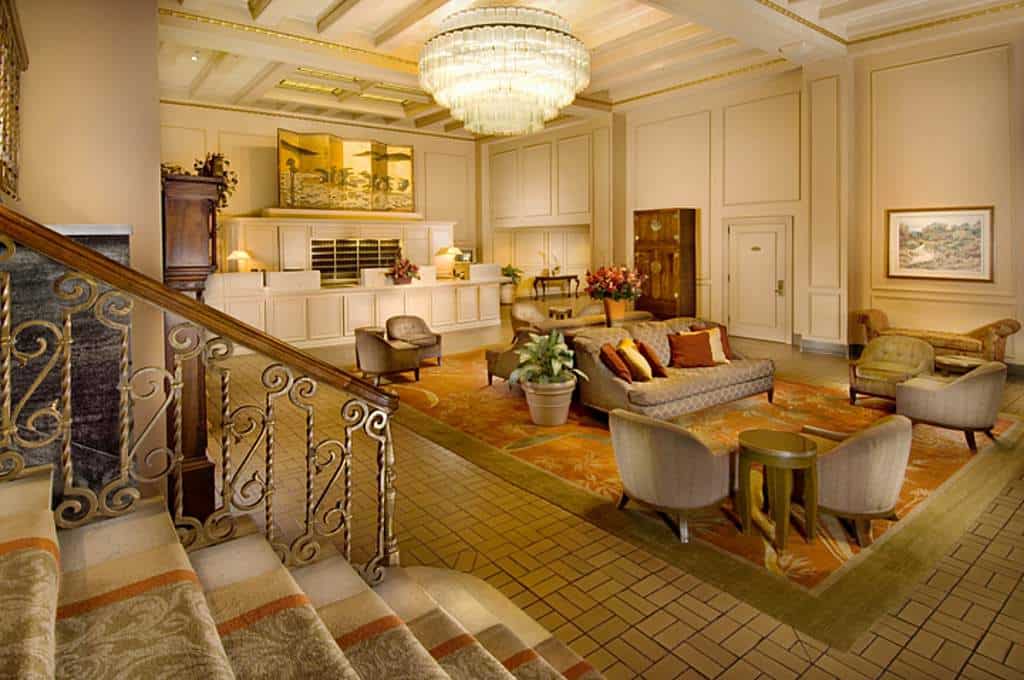 The old world boutique Mayflower is located right in the middle of downtown. It's quaint and picturesque with prices beating the Sorrento and Fairmont. They have old-fashioned decor and furniture, accommodating hotel service, and a fun lobby bar. Its guest rooms are immaculate with vintage design choices to set the atmosphere. The hotel is also conveniently located at nearby shopping areas and transit stations, like the light rail which offers direct access to the airport.
Hotel Phone: 206-623-8700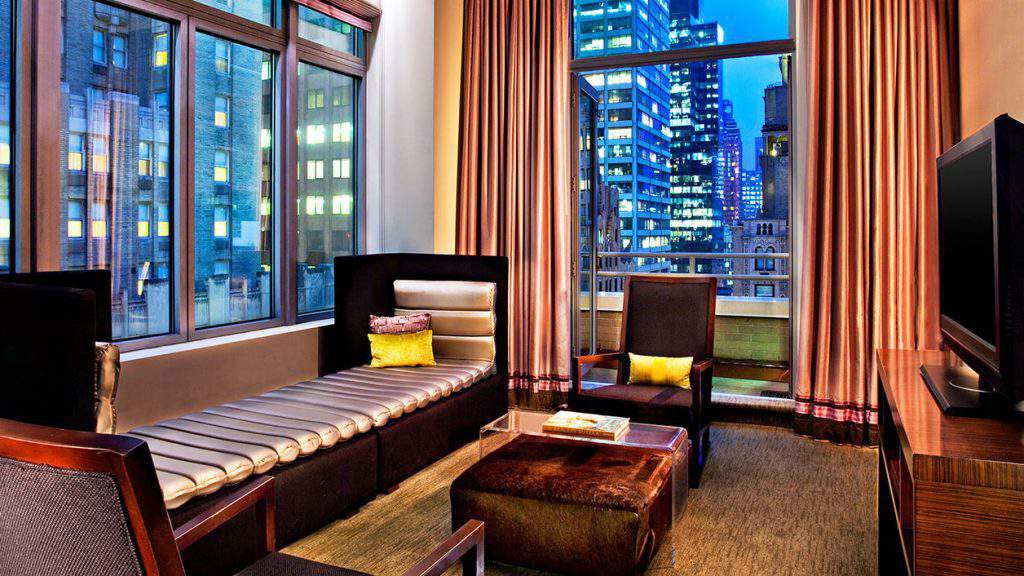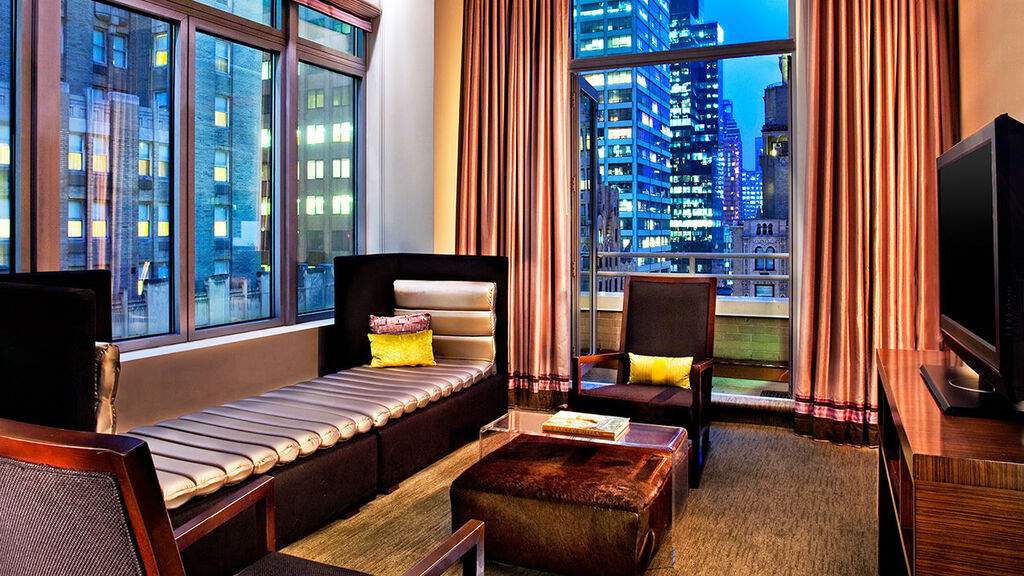 For a fun and kid-friendly hotel, The Maxwell is your best bet. The hotel's design is colorfully patterned there are cute cupcake offerings at the lobby every day, and there's a small kids pool indoors. Its guest rooms are inspired by European designs with cozy beds and clean duvets for everyone. The hotel offers free shuttles to family destinations in Seattle, like Woodland Park Zoo, and it's also within convenient reach of the Space Needle and Seattle Center Museum. There are great restaurant options all around, such as a nearby traditional pizza restaurant. The hotel is dog-friendly too, so feel free to have your kids want to bring the dogs.
Hotel phone: 206-286-0629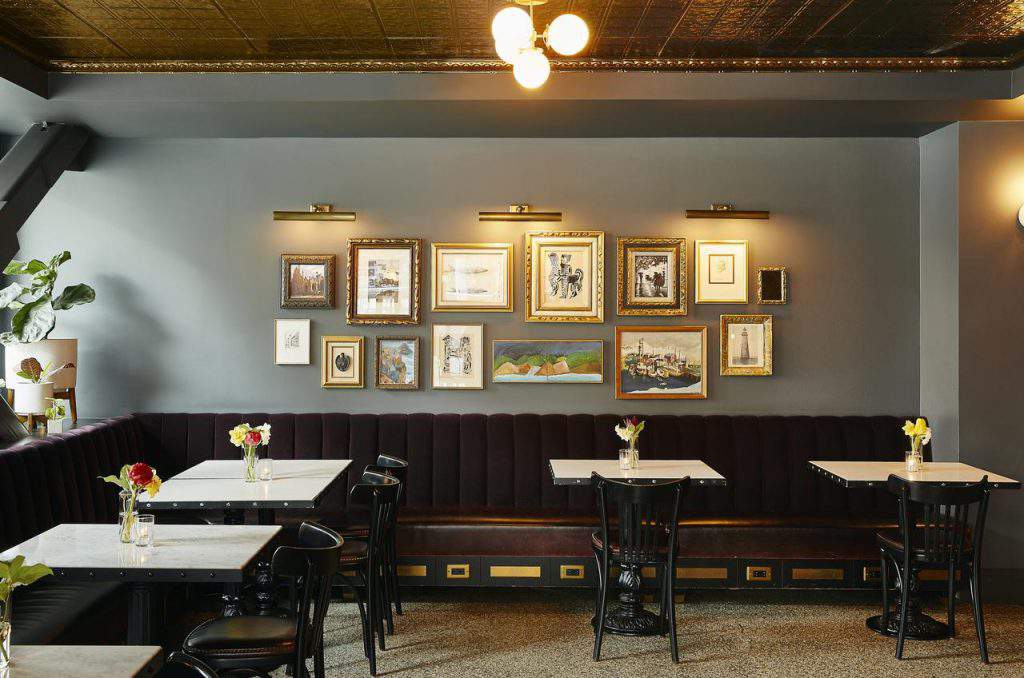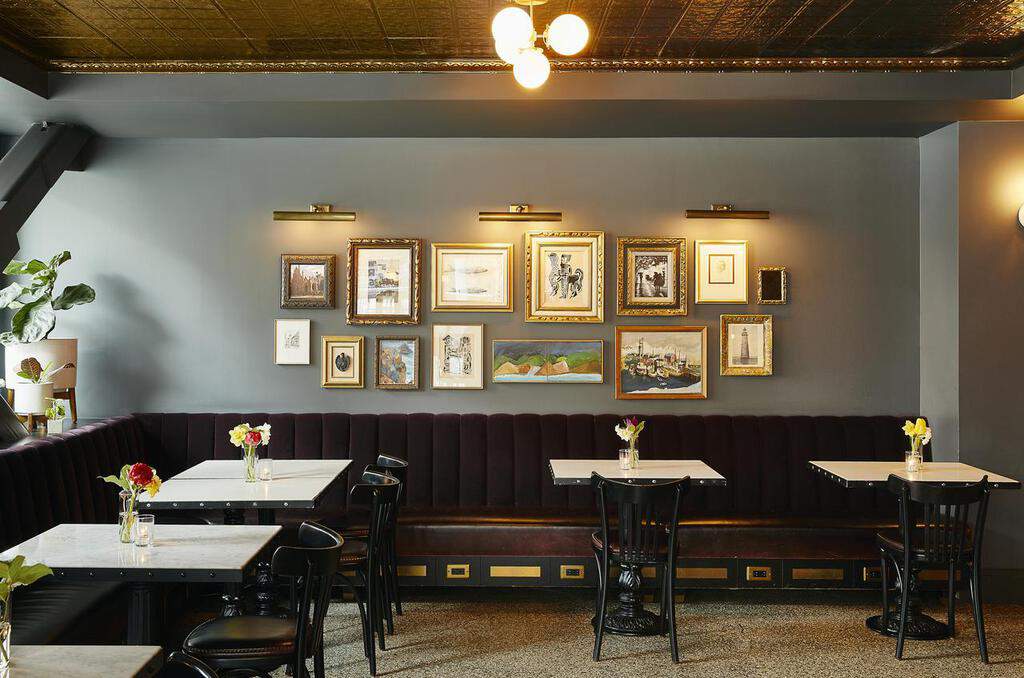 The Palladian is located at the highbrow neighborhood of Belltown. The guest rooms are very stylish and fun, with a vintage-inspired look that's timeless. They have a vintage bar as well in the lobby with a cocktail hour every day, along with a seafood restaurant. The hotel is a few blocks away from Pike Place Market, but they have a complimentary bike rental service to get you there quickly.
Hotel Phone: 206-448-1111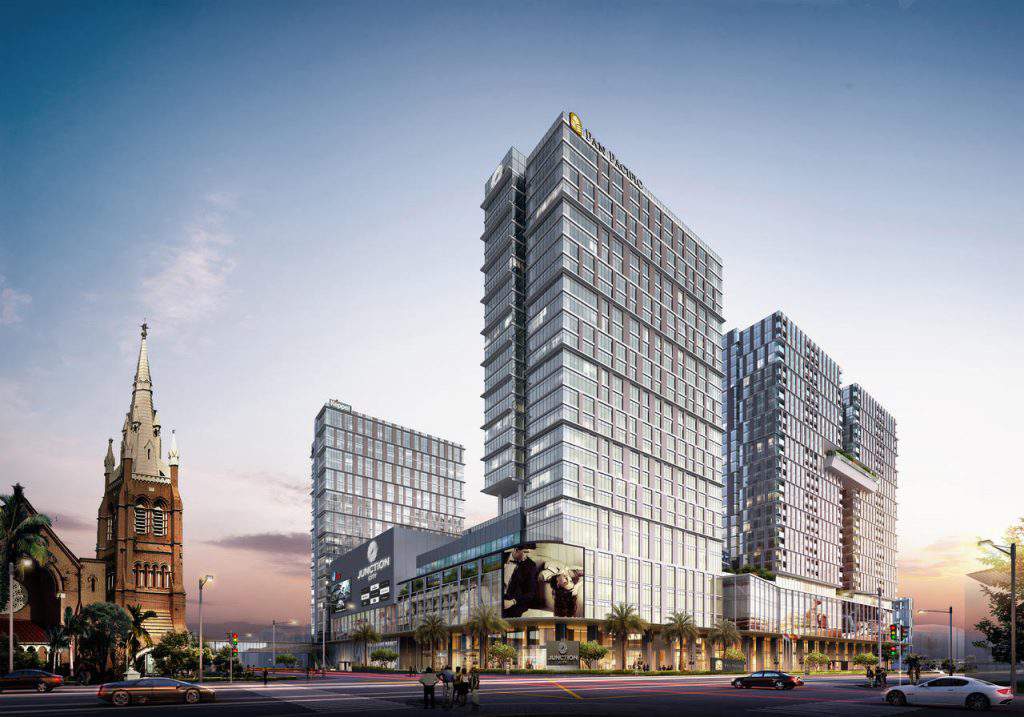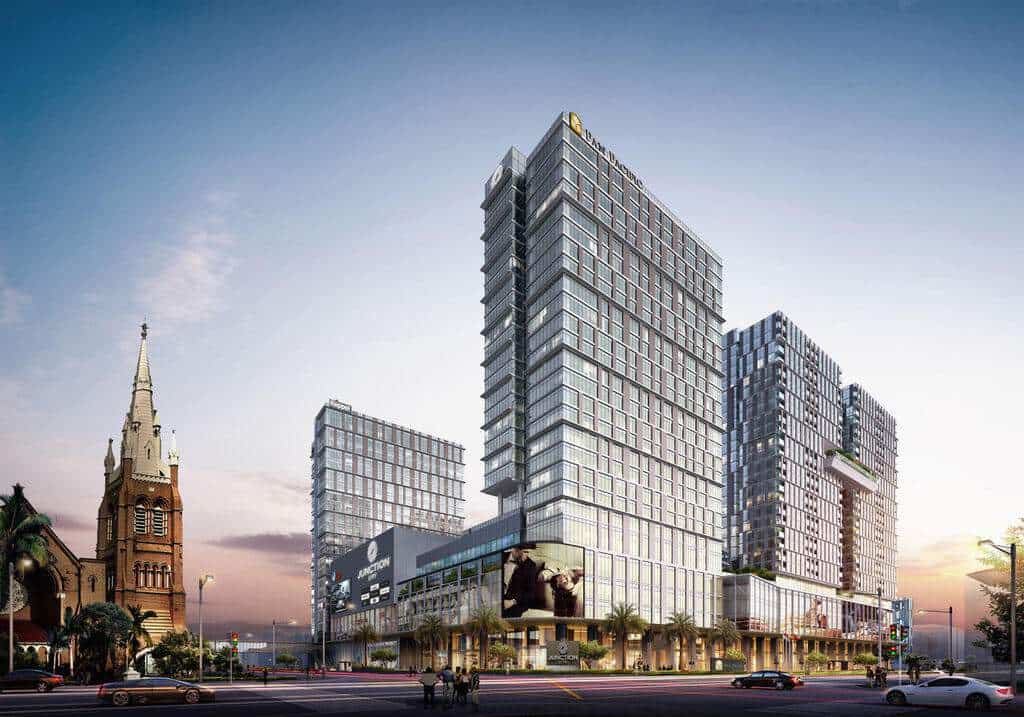 The Pan Pacific is subtly situated within the South Lake Union area outside of Downtown, offering cozy yet luxurious accommodations. The guest rooms are large and well-furnished with pristine bathrooms and a relaxing tub, and outside your windows is an awesome view of Lake Union. You'll have to walk a bit to get to the shopping areas and Pike Place Market, but the restaurants are shops remain easily accessible. If you'd rather take a ride, then car services are offered too. There are nearby restos like Starbucks and Tutta Bella Pizzeria, or you can just dine in the in-hotel bar and restaurant.
Hotel Phone: 206-624-8111
17. Sorrento Hotel (First Hill)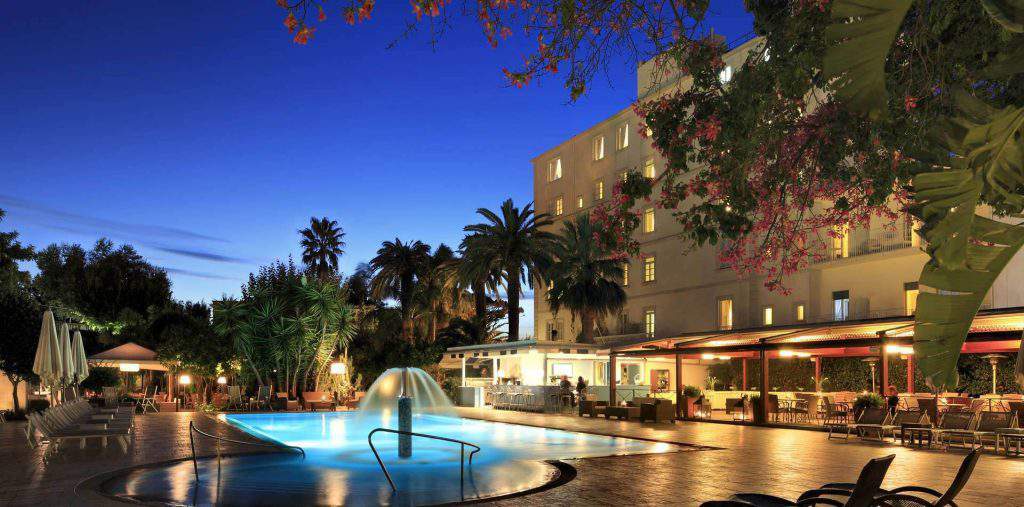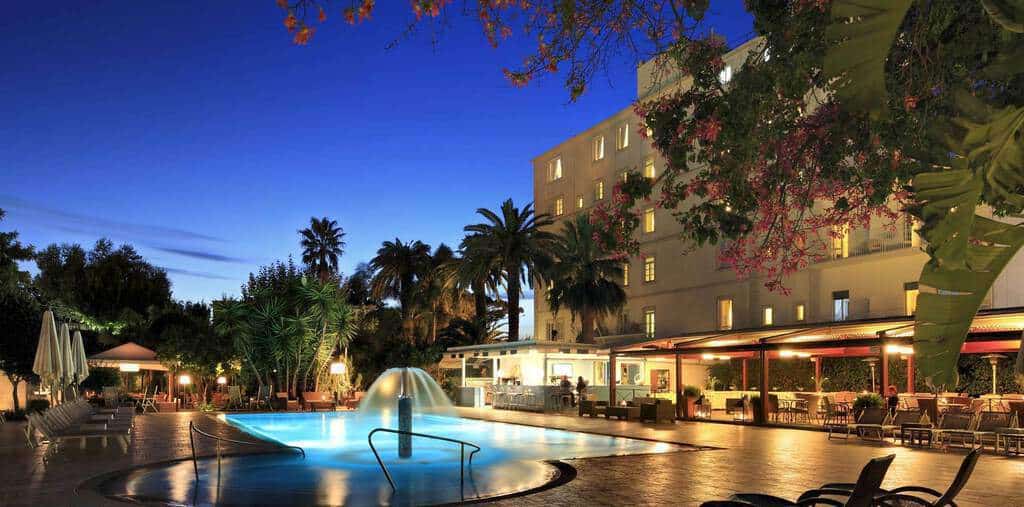 This quaint and pleasant vintage-inspired boutique hotel is located uphill of downtown, which is still easily accessible. They have a recently renovated lounge and restaurant for you to enjoy, and the lobby is wonderfully covered in wood panels. Their rooms and suites are filled with old-fashioned yet stylish design choices with pristine marble bathrooms.
Hotel Phone: 206-622-6400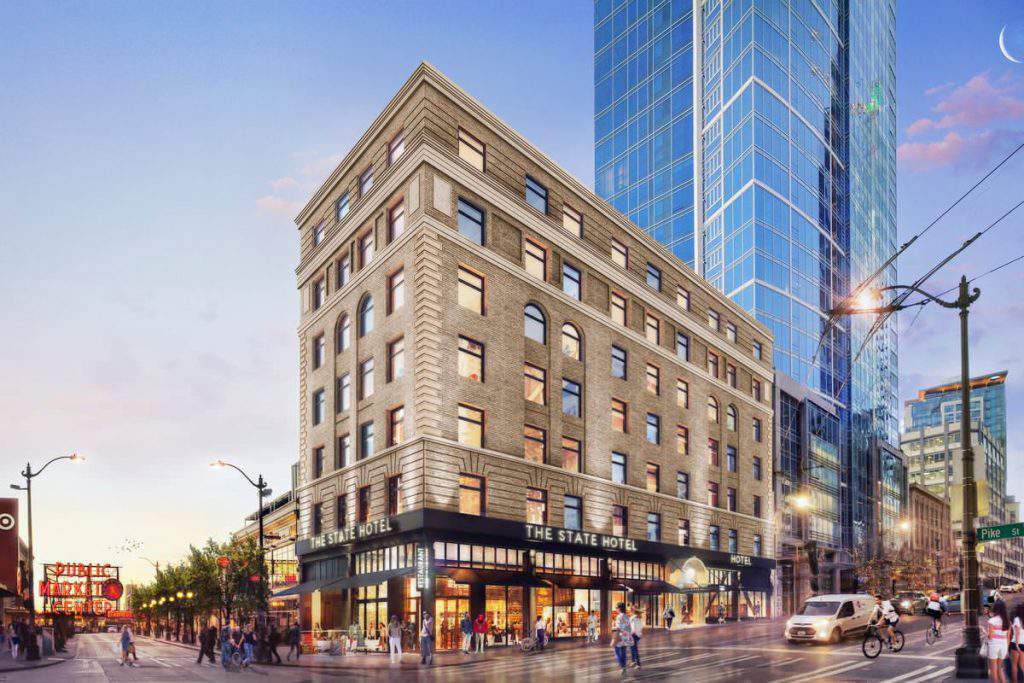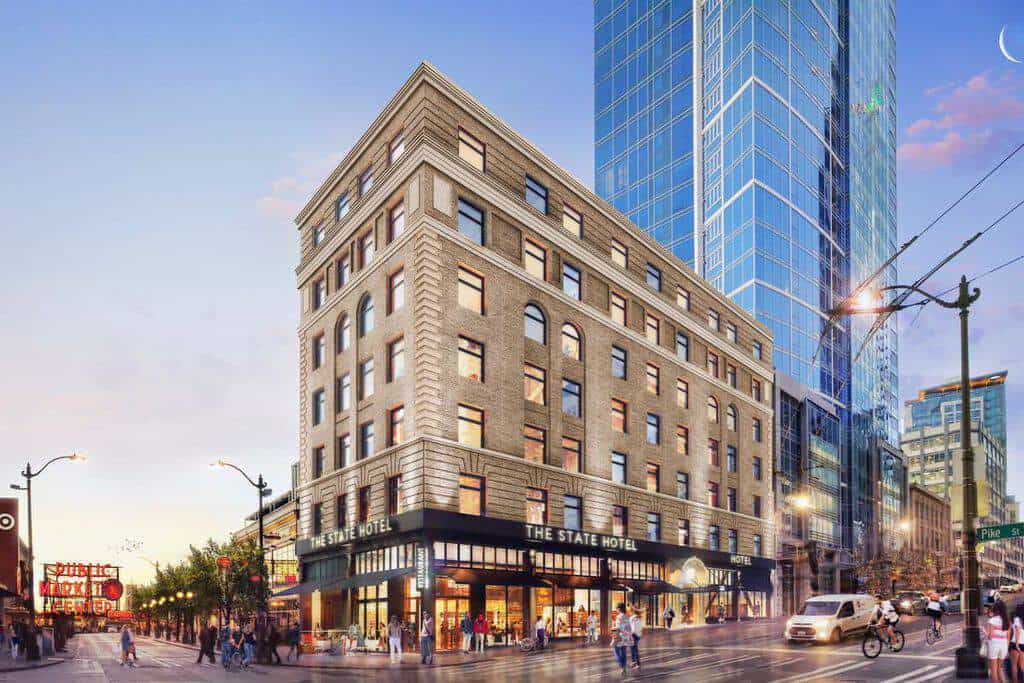 This boutique hotel was wonderfully restored from a 1902 building and will speak to art lovers out there. The hotel walls are strikingly covered with local artwork and the decorations have this mid-century style about them. Their restaurant, Ben Paris, offers exquisite food at reasonable prices with a unique cocktail menu and happy hour every day. The rooms on the 8th floor have terraces with great views, so try to get those ones. Everyone is encouraged to interact and enjoy the awesome views at the hotel rooftop where you can see the Pike Place Market and the Puget Sound. The hotel is in a prime location with shopping, attractions, and restaurants all around.
Hotel phone: 206-513-7300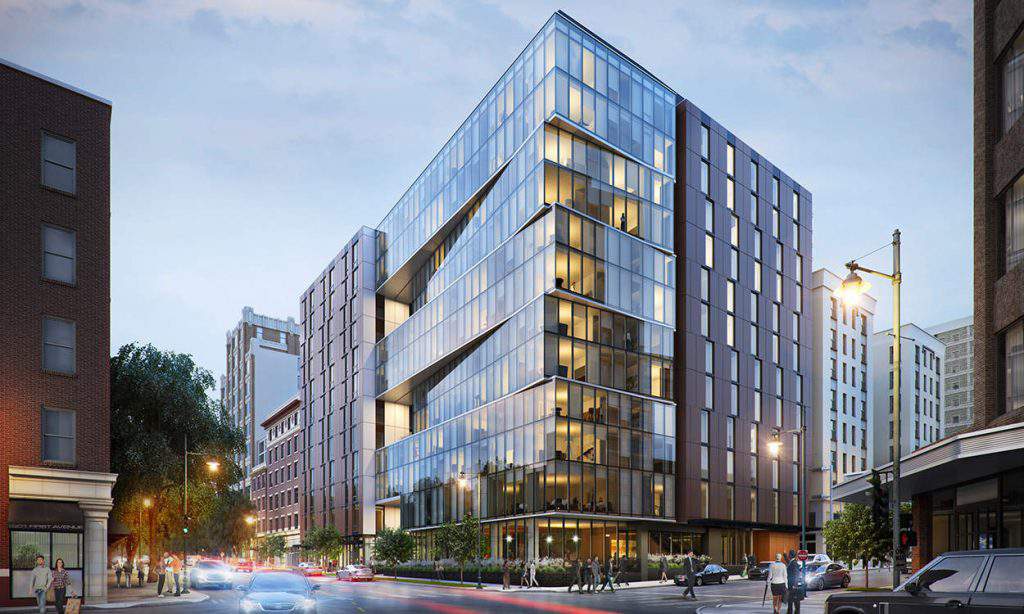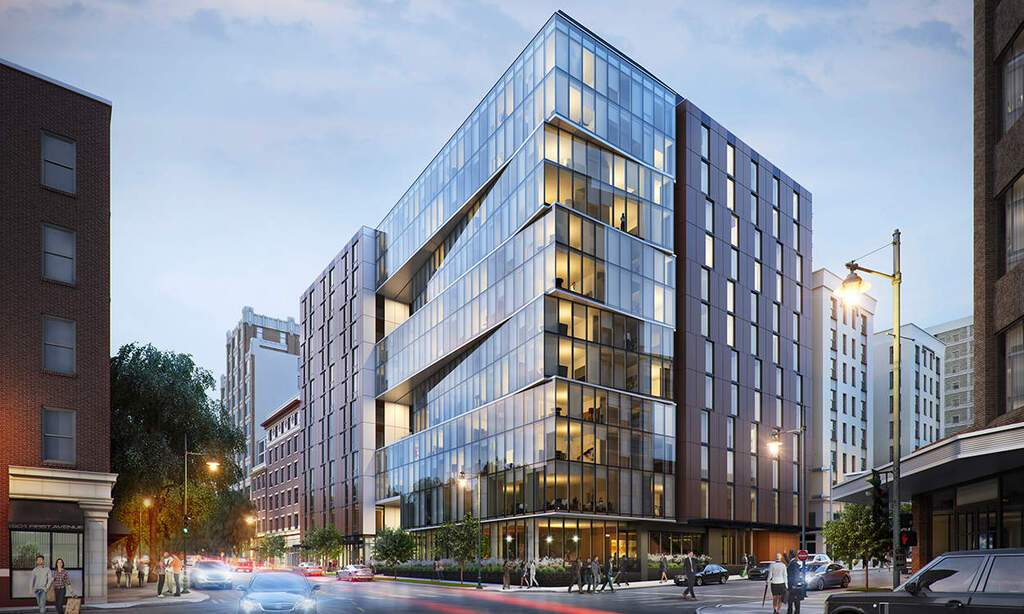 Thompson Seattle is both the newest and most modern-looking hotel of Seattle. This contemporary hotel features windows that reach from ceiling to floor, so you can have the complete, breathtaking view of the mountains to the west. There's even an oyster bar and cocktails at the rooftop, so you can drink and dine with a spectacular view. The Pike Place Market is a few minutes away outside, so you have easy access to all its restos and shops. However, the hotel has its own restaurant inside, Scout, which you'll want to try out.
Hotel Phone: 206-623-4600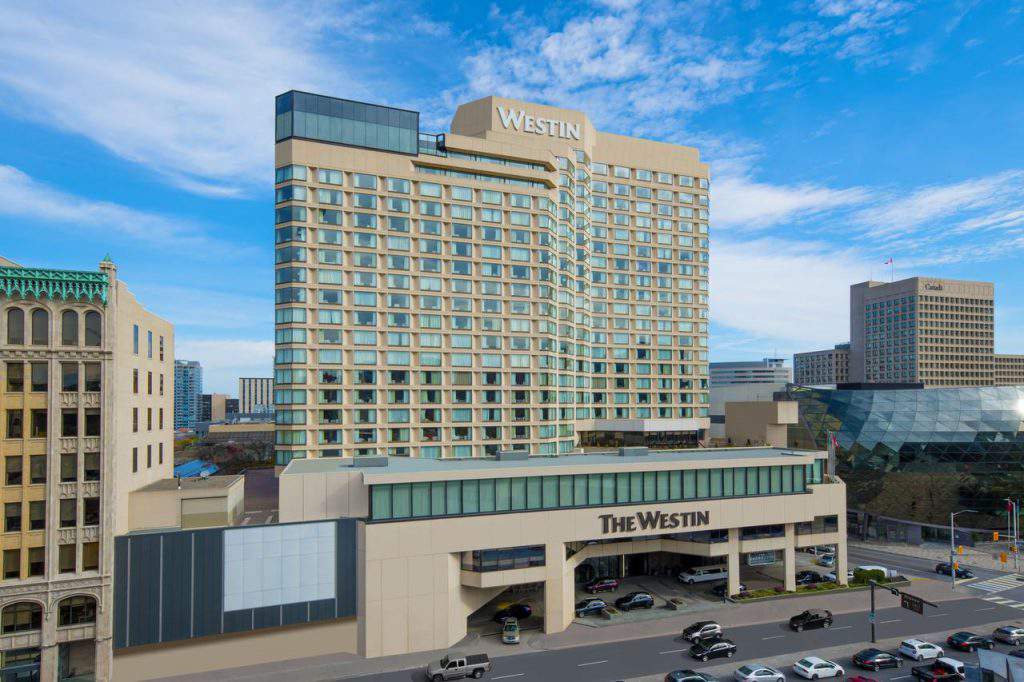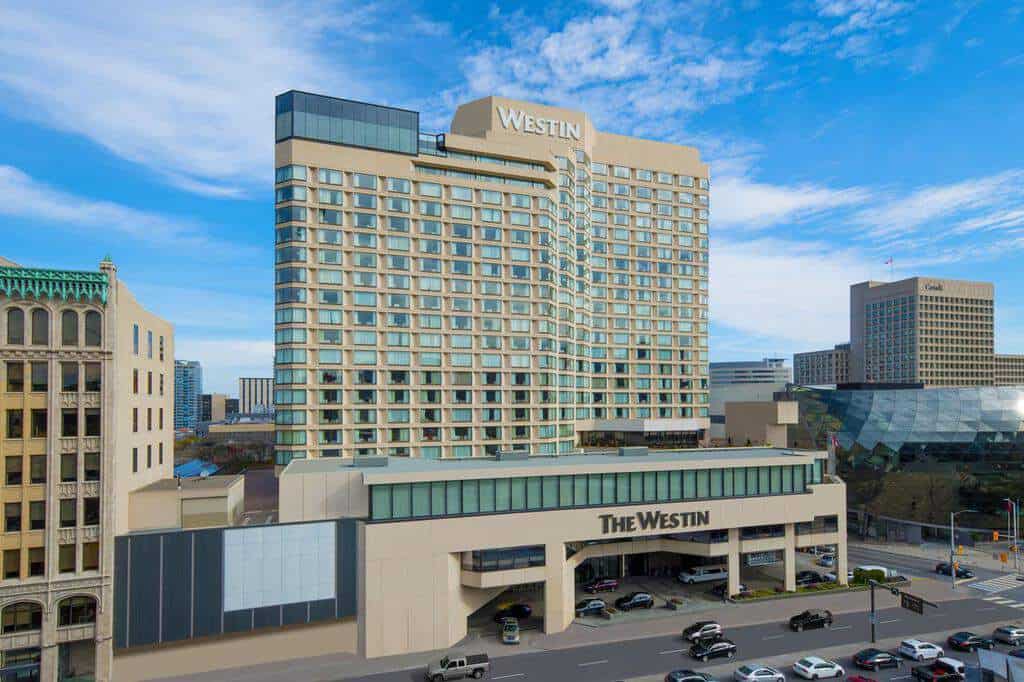 While not as exciting as other options, The Westin is still a solid choice for a good stay in central downtown Seattle. The hotel is famous for its "heavenly" beds and amenities with spacious rooms. There's a burger bistro inside, a hot indoor pool, and a top floor with a spectacular view of Seattle. It's a convenient location with many tourist attractions and restaurants nearby.
Hotel Phone: 206-728-1000
Seattle Neighborhoods for Tourists
Where should you stay in Seattle? You have Downtown, Pioneer Square, Belltown, South Lake Union, and the Waterfront as your best options. The buildings in center Seattle are packed close together so they're easily accessible, and visitors often choose to stay within the city's central neighborhoods. It's wise to get accommodations nearby where you plan to go, because of the hilly terrains and rainy weather of Seattle.
Near Pike Place Market
The Downtown, Pioneer Square, and Belltown areas all offer a convenient walking distance to Pike Place Market. You can also try the Waterfront, which isn't that far from the market — though there are a busy street and hill that you'll have to cross to get there.
Near the Space Needle
The Space Needle is found within Seattle Center, which is between the Denny and Queen Anne neighborhoods, so check out the hotels there. They're good options for those who don't want to be smack dab in the dense parts of the city and you'll still have easy access to transportation and museums.
Near shopping areas
There are many local boutiques in Pioneer Square and Belltown conveniently located near commercial malls. The luxurious Pacific Place mall, Westlake Center, and Nordstrom flagship store are at Downtown.
Near the Convention Center
The Washington State Convention Center is best accessible from downtown hotels. It's best to stay at hotels at the 6th, 7th, or 8th Ave.) Pioneer Square and Belltown hotels are around a 15-minute walk away too. The Waterfront hotels are farther away from the Convention.
Near the universities
Downtown, Capitol Hill, and Pioneer Square have light rail stations that connect directly to the University of Washington, which is located 5 miles from downtown Seattle. The University District or "U-District" houses many good hotels.
In the Capitol Hill area, you'll find Seattle University, which is a short walk away from good hotels. Capitol Hill also offers a convenient light rail connection to Pioneer Square, Downtown, and the U-District.
The Seattle Center and South Lake Union provide quick access to the Seattle Pacific University, which is a few miles away from downtown Seattle. The Queen Anne Hill lies between the city and the university.
Near cruise ports
For tourists who are taking the Oceania and Norwegian cruise lines on Bell Street Terminal, your best option is to stay at the walking distance Waterfront. Belltown and Downtown are also good options since they're a short ride away.
The Holland America Line, Princess Cruises, Royal Carribean International, Celebrity Cruises, and Carnival cruise lines are all on Smith Cove Terminal. There aren't any hotels nearby that you can easily walk to, but the Seattle Center and Downtown are just a short taxi or shuttle away.
Near sports stadiums
The Century Link Field and T-Mobile park are within convenient walking distance from Pioneer Square and Downtown hotels.
Best Views
The Waterfront hotels and Downtown hotels near Pike Place Market will offer you the best views of Elliott Bay. For the best Space Needle view, look for hotels at the Seattle Center. You can also try out the South Lake Union area which provides a relaxing view of the lake.
Best Restaurants
You'll find the best restaurants at the Downtown, Pioneer Square, Belltown, and Capitol Hill areas.
Best Nightlife
The nightlife scenes of Seattle come alive mainly in Capitol Hill, Belltown, and Pioneer Square. You can also check out Fremont, Wallingford, and Ballard.
Best for a Quiet Stay
If you want to be away from all the crowds and partying noises, but still be near the city, you should stay somewhere at the South Lake Union area. Seattle Center hotels are also an option — just make sure not to stay there during Memorial and Labor Day because of the many music festivals around the area.
Best for transit access
You'll have access to a light rail station, which is conveniently connected to the airport, if you stay at Pioneer Square, Capitol Hill, Downtown, and the University District. There's a streetcar line connecting Downtown, Capitol Hill, and South Lake Union, while the Seattle monorail system connects Downtown and Seattle Center.
Staying in Belltown
At north of Downtown, Belltown offers premium condominiums and a buzzing nightlife scene. The hip and modern restaurants, bars, and boutiques, some of which offer rock performances and jazz clubs, are constant attractions for the young crowd. You can easily walk to the main tourist destinations like the Seattle Center, which has the Chihuly Museum and Space Needle, Pike Place Market for your shopping needs, and the Olympic Sculpture Park at the waterfront. The acclaimed restaurant of Tom Douglas is in Belltown as well.
Compared to Downtown's, Belltown hotels normally have lower prices, but they're still above the general average. If less luxurious hotels are alright with you, then you can find tempting bargain prices here too. However, Belltown isn't the best option for those who want to stay somewhere calm and quiet, because of constant nightlife scenes, especially during weekends. But for those looking for fun and hip parties, Belltown is the perfect choice.
The Best Hotels in Belltown
Ace Hotel – Hotel phone: (206) 448 4721
Hotel Andra – Hotel phone: (206) 448 8600
Moore Hotel – Hotel phone: (206) 448 4851
Palladian Hotel – Hotel phone: (206) 448 1111
The Inn at El Gaucho – Hotel phone: (206) 728 1133
The Warwick – Hotel phone: (206) 443 4300
Staying in Capitol Hill
Capitol Hill is the neighborhood where the young and avant-garde come alive with its nightlife activities. The night is always young at Capitol Hill, where you can try out over 100 nightclubs and bars. The Seattle University can be found at the south, while up north, there are the Seattle Asian Art Museum and the Volunteer Park Conservatory, along with majestic houses from old times. Everything else in between is where the hip and trendy can be found chilling — at the numerous restaurants, taverns, coffee shops, and music venues that offer a great time. You can indulge your inner bookworm at the Elliot Bay Book Company, which is Seattle's famous bookstore. You can try all kinds of delicacies at the Melrose Market. You can get satisfy your caffeine-cravings and take a peek at the coffee-making process in the Starbucks Reserve Roastery and Tasting Room.
Because of all these establishments, Capitol Hill barely has any room for hotels. At the south end, there's only one hotel that's next to Seattle University. At the north side, you can try out one of Capitol Hill's delightful bed and breakfasts, which are easily walkable from Volunteer Park. Capitol Hill houses a light rail station as a convenient transit option and a streetcar route from Pioneer Square to the International District. You can also choose to walk into Downtown from south of Capitol Hill, but the steep walk back up may be more tiring, so it's better to just hail a cab.
The Best Hotels in Capitol Hill
Hotel Sorrento (First Hill) – Hotel phone: (206) 622-6400
Silver Cloud Hotel Broadway – Hotel phone: (206) 325 1400
Staying in Downtown Seattle
Downtown Seattle is where the most luxurious and expensive hotels in the city with awesome views can be found. It's tightly packed and there's much to do here. You'll have tons of great options for all your entertainment, dining, and shopping needs. The Pike Place Market stalls and Seattle Art Museum galleries in the morning are great for checking out. The Nordstrom flagship store at 6th and Pine will satisfy your fashion tastes. There are all kinds of theater, dance, and music shows for you to relax and enjoy. And you can be sure that your cravings will be satiated by the excellent restaurant options all around — they'll provide you with freshly cooked seafood dishes and an impeccable Northwest dining experience. Just be mindful that the hotel prices of Downtown are at a premium, especially during the summer season, but rest assured that the pay-off is well worth it. All attractions are easily within walking distance, and you can take the monorail, light rail, and streetcars for convenience as well.
The Best Hotels in Downtown Seattle
Alexis Hotel – Hotel phone: (206) 624 4844
Grand Hyatt – Hotel phone: (206) 774 1234
Hotel Max – Hotel phone: (206) 728 6299
Hotel Monaco – Hotel phone: (206) 621 1770
Hyatt at Olive 8 – Hotel phone: (206) 695 1234
Inn at the Market – Hotel phone: (206) 443 3600
Loews Hotel 1000 – Hotel phone: (206) 957 1000
The Fairmont Olympic – Hotel phone: (206) 621 1700
The Four Seasons Seattle – Hotel phone: (206) 749 7000
The Mayflower Park Hotel – Hotel phone: (206) 673 3165
The State Hotel – Hotel phone: (206) 513-7300
The Westin Seattle – Hotel phone: (206) 728 1000
Thompson Seattle – Hotel phone: (206) 623-4600
Staying in Pioneer Square
The Pioneer Square area is filled with historical landmarks. You can find a couple of Seattle City's oldest surviving buildings here, along with the Klondike Gold Rush Museum and the famous Underground Tour. Of course, there are newer attractions as well, owing to the increasing popularity of Pioneer Square. You have various modern restaurants, art galleries, and boutique stores to visit, which are housed in Romanesque Revival architecture from old Seattle. Because of the many recent developments, Pioneer Square is now a more lively and exciting part of the city. The CenturyLink stadium, Pike Place Market, and T-Mobile Park are all easily accessible, as well as the Colman Dock ferry terminal.
You'll find the Amtrak King Street Station and a light rail station in Pioneer Square to provide easy transit to other locations. There's also a streetcar line that connects it to Capitol Hill and International District. Expect some homeless people around the neighborhood, since Pioneer Square houses some social service offices that provide help to the poor. Take it as a chance to get to know more about Seattle from the people who have their ears on the ground.
The Best Hotels in Pioneer Square
Best Western Plus Pioneer Square Hotel – Hotel phone: (206) 340 1234
Courtyard Seattle Pioneer Square – Hotel phone: (206) 625 1111
Embassy Suites – Hotel phone: (206) 859 4400
The Arctic Club – Hotel phone: (206) 340 0340
Staying near Seattle Center
North of Belltown neighborhood, you'll find the Seattle Center, an entertainment hub that contains the famed Space Needle. The Seattle Center used to be part of the Seattle World's Fair in 1962 and was highlighted with futuristic space-age design. You won't run out of things to do at this activity-packed center. The Space Needle, Chihuly Garden and Glass, Museum of Pop Culture, Pacific Science Center, and Seattle Children's Museum and Theatre are all there to provide a fun and educational time for everyone. For entertainment, check out the theater companies that are housed in Seattle Center, along with the Seattle Opera and Pacific Northwest Ballet. You'll find the Olympic Sculpture Park and the Gates Foundation Visitor Center nearby as well. Lastly, you can party at the urban festivals outside of the center, like the Bite of Seattle, Folklife, PrideFest, and Bumbershoot.
If you're planning to stay at the hotels around Seattle Center, you'll have the advantage of choosing between more budget-friendly options compared to Downtown hotels. The monorail station is also there to give you access to Pike Place Market and Downtown. If you brought a car, then parking spaces will also be more readily available. The Seattle Center is mostly calm and less party-filled, so those who want to relax at night can rest easy. You'll still have access to famous tourist attractions, so don't worry about missing out. Just be cautious if you're planning to visit on a packed festival weekend such as Memorial Day or Labor Day — you'll encounter heavier traffic, less parking space, and higher hotel rates.
The Best Hotels near Seattle Center
Four Points by Sheraton – Hotel phone: (206) 282 2600
Hampton Inn and Suites – Hotel Phone: (206) 282 7700
Holiday Inn Express and Suites – Hotel phone: (206) 441 7222
Holiday Inn – Hotel phone: (206) 728 8123
Hyatt House – Hotel phone: (206) 727 1234
Hyatt Place – Hotel phone: (206) 441 6041
The MarQueen – Hotel phone: (206) 282 7407
The Maxwell – Hotel phone: (206) 286 0629
The Mediterranean Inn – Hotel phone: (206) 428 4700
Staying on the Seattle Waterfront
Elliott Bay is often the reason why tourists choose to stay in the waterfront neighborhood in downtown Seattle. The Puget Sound Seaboard has a lot to offer admirers of marine areas — from the harbor with all the busy workers to the beaches of Myrtle Edwards Park. You can get friendly with the seals at the Seattle Aquarium, enjoy the Great Wheel's seaside, dine in restaurants that offer only fresh seafood straight into your plate, and relax with a view of the sunset at the Olympic Sculpture Park. If you want to explore Seattle on the water as well, you can avail the services of the West Seattle Water Taxi, Victoria Clipper, Argosy Harbor Cruises, or a ferry at Colman Dock, to take you out into the open seas.
Compared to other neighborhoods, there are fewer hotels located on the waterfront. They can also get more expensive, particularly if you get a room that has a direct view of the bay. The waterfront district is separated from Downtown with a steep hill and busy roadways, so be prepared. While you can get to Downtown and the Pike Place Market just by walking, but it won't be that easy. There's also an ongoing construction site that aims to connect the waterfront area to central Downtown, so you'll have to forgive the mess and noise.
The Best Hotels on the Waterfront
Marriott Seattle Waterfront – Hotel phone: (206) 443 5000
The Edgewater – Hotel phone: (206) 728 7000
Staying in South Lake Union
What was once an industrial zone is now an advanced hub and a growing neighborhood of Seattle. The South Lake Union is at the forefront of scientific progress since it houses companies that focus on biomedicine and technology development. There's a streetcar that connects the South Lake Union into the Downtown neighborhood, so getting into the commercial center of Downtown will be convenient. Many hotels provide free shuttles into Seattle Center and Downtown as well. Because of the area's renewed progress, the wonderful Lake Union Park was constructed to attract more visitors, and more prominent restaurants are now setting up shop. The waterfront expanse has different activities to keep you occupied: you can go to Kenmore Air to try out their floatplanes, the Center for Wooden Boats to rent and admire their vessels, or the Museum of History and Industry to learn more about the Union's past.
You'll save up a bit more on South Lake Union's hotel prices compared to Downtown, and the hotels offer great views of the Space Needle or the lake. There aren't that many parties or crowds, so the neighborhood will be quieter as well, so your nights will surely be more relaxing than staying Downtown.
The Best Hotels in South Lake Union (near Amazon)
Courtyard Seattle Downtown/Lake Union – Hotel phone: (206) 213 0100
Pan Pacific Seattle – Hotel phone: (206) 264 8111
Residence Inn Lake Union – Hotel phone: (206) 624 6000
Silver Cloud Inn Lake Union – Hotel phone: (206) 447 9500
Staying in the University District
The University District, or "U-District" as the locals call it, resides at the north and east parts of downtown Seattle. It houses the University of Washington, Burke Museum of Natural History, and Henry Art Gallery. Around them, you can admire the U-District's famous cherry trees that blossom in spring, breathtaking views of the mountains, and old, gothic architecture. There's a famous farmer's market you can check out on Saturdays, and a pleasant biking route at the Burke-Gilman Trail. There are also loads of nearby restaurants, indie boutiques, and bars that students frequent. If college life is getting a bit tiring, head on over east to the 45th St. viaduct. You'll land in the shopping area of University Village where you can check out their small restos and trendy shops.
Compared to Downtown hotels, the U-District's are generally cheaper, unless you plan on visiting on graduation weekend in mid-June or during the September move-in weekend. You can bring a car since parking is cheap, but you won't really have to. The city's attractions are easily accessible anyway, courtesy of the University of Washington's light rail station.
The Best Hotels in the University District
Hotel Deca – Hotel phone: (206) 634 2000
Residence Inn University District – Hotel phone: (206) 332 8887
University Inn – Hotel phone: (206) 632 5055
Watertown Hotel – Hotel phone: (206) 826 4242