Rental Cars in Mykonos are usually in very good quality. If you want to check out what models are on the table and how they would cost, go to the website RentalCars.com and browse through all the rentals on the island. You could choose between Mykonos' airport or Mykonos' town to pick up your car. Just remember to specify it on the website before your trip to the island.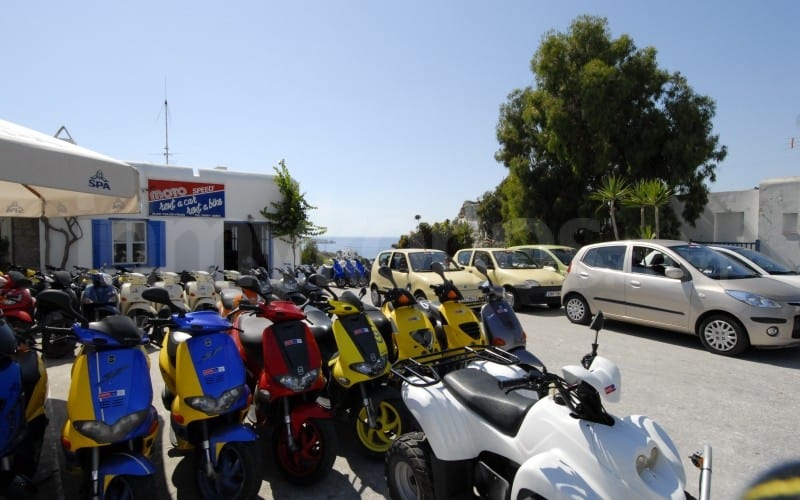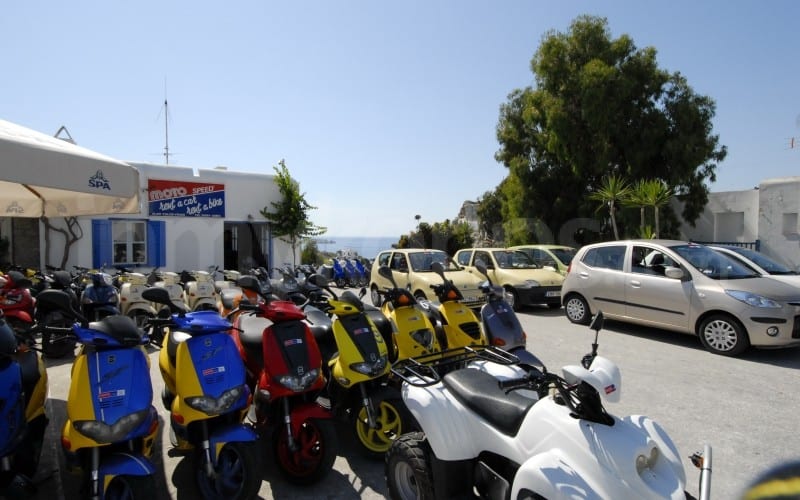 Tips
When you're in Mykonos you may find the little number of taxis, irritating. The bus doesn't reach the entire island so you'd sometimes find yourself walking to get to where you want to go. One of the solutions to that problem is to book the best Mykonos Tours,and they'll take care of everything.
For convenience, you can just visit the website RentalCars.com and reserve a car in Mykonos. Cars in Mykonos are often manual so to get an automatic one means you have to get it earlier than other tourists. Make sure to book in advance especially if your vacation is on Peak tourist Season. 
You can pick up your rental car in Mykonos airport when you arrive. So you don't have to wrestle for a taxi to your accommodation. 
If you took a ferry instead of a plane to Mykonos, then you can pick up your ride in Mykonos town. If you want a quieter and less crowded place to pick up the car in, you can go to the airport and pick it up from there. 
Don't forget to take pictures of the car while you're still in the rental place. 
Hotels sometimes provide shuttle service from the airport.
Scooters & Quads
If you want to rent small rides like scooters or ATVs, go to a local rental company ask if they have one. 
Mykonos Airport Pick up point
If you book your car to RentalCars.com, you can choose to pick up the car at the airport. This is very convenient especially if you're arriving at Mykonos via plane. After getting your car, just drive to your accommodation and explore the island. You'll have an easier time going from one place to another without needing to wait in line for buses.
Given the noise and the crowd at the ferry port, it's not a good place to pick up your rental car. Just go for the airport or the Mykonos town even if you have to travel to get to them.
Here is a list of car rental companies that gives the option to pick up the car at the airport:
Budget
Enterprise
Sixt
National
Alamo
Hertz
Avis
Book a car in advance
It's better to book a car in advance especially if you're going to Mykonos during peak season. Many cars in Mykonos are manual so you need to be extra early to get an automatic. 
Renting a car versus commuting via Taxi
There are only a number of taxis available in Mykonos. That makes it really hard to get one. 
Taxis at Mykonos Airport
Given the number of taxis on the island, it's no surprise that you have to wrestle to get one. This is especially hard when you just arrived at the island and you want to get to your accommodations and rest. Taxis are a very unreliable mode of transportation when going around Mykonos.
The Mykonos Town Advantage
If you happen to get accommodations right at Mykonos town, you don't need to worry about commuting anymore. All the buses come from Mykonos town so commuting to anywhere from there is very easy. Plus it's walking distance from Mykonos' old port. 
Going around Mykonos on bikes and ATVs
Another way to explore the island is to rent an ATV and drive around it yourself. 
Just be careful when riding around the island. You don't want to cut your trip short with an accident. If you haven't tried riding an ATV or a bike before, then just go with a car rental-to be safe. 
Renting an ATV in Mykonos
ATVs don't rent out like hotcakes. You don't have to book in advance for an ATV, just look for a local rental that offers it. 
Hotel provided airport shuttle service
Given the hard commute on the island, many hotels usually provide a shuttle service that would pick up their customers from the airport. This is very unreliable especially with the number of people arriving at the airport at the same time as you. The car rental is still the option you have. You can pick it up as soon as you arrive at the airport and return it at the same place before you leave. 
Mykonos Town buses
During peak tourist season, buses in Mykonos Town are jam-packed and uncomfortable. But they are reliable and is the second best way to go around Mykonos.
Commuting back from beaches
If you're already on a small beach and you're trying to go back to Mykonos' Town, you have to extend your patience a little. Buses from there can be a little hard to come by. 
Getting to Mykonos' beaches
Take a bus from Mykonos Town to Psarou beach and the travel by foot to paradise beach before taking a bus from there back to the town. It's a fun little trip that you won't regret taking. 
Having a rental car can take you farther
There are some parts of Mykonos that can't be reached by bus. Having a car can take you places that most tourists won't be able to go to.
See more with a rental car
Driving your own car can take you to hard to reach places on the island.
A car can bring you to less crowded places
Having your own ride means getting to places that won't be easily accessible to other people. You get to enjoy a view like this quiet taverna in Ftelia Beach. 
A side trip while on MykonosOf course a rental car isn't mandatory to enjoy your Mykonos vacation. Enjoy spot like the Rhenia island near Mykonos even without a car. They offer shuttle service to pick you up and take you back when you take one of their tours.
Read more about Mykonos:
Mykonos – The 2020 Travel Guide
Mykonos – Best Hotels
Mykonos – Family Hotels
Mykonos – Budget Hotels
Mykonos – Honeymoon Hotels
Mykonos – Where to Stay
Mykonos – Best Things to Do
Mykonos – Best Time to Visit
Mykonos – Best Restaurants
Mykonos – Best Bars & Clubs
Mykonos – Car Rental
Santorini or Mykonos?
Athens to Mykonos
Santorini to Mykonos