In this post we present you the best areas to stay in Bali, so you can choose the one that suits you best depending on the trip you want to make. Staying in Bali is very cheap. Although it is the most expensive island in Indonesia, in general it is a very affordable country for western pockets. However, it is very important to be clear about where to stay in Bali: although the island is not very big, the attractions are very dispersed and traffic is a big problem.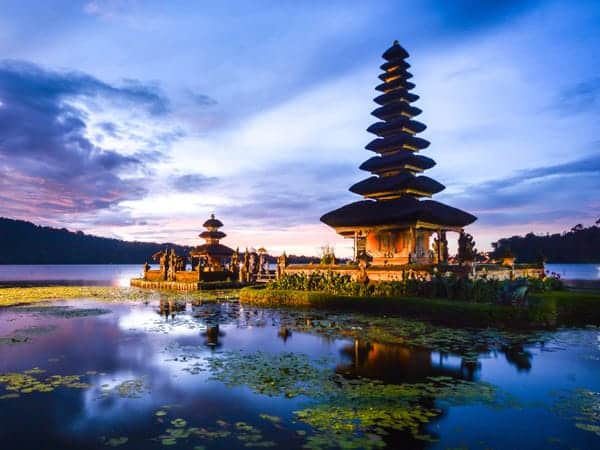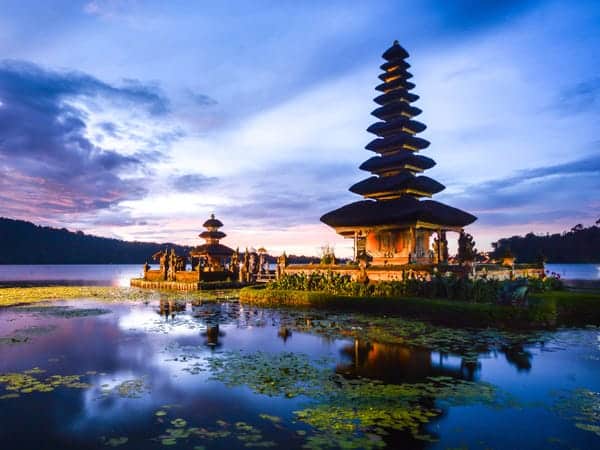 Read more about Bali:
Bali Travel Guide
Best Time To Visit Bali
If you want to see the whole island, our advice is to divide your stay in at least two zones: one in the central part, for example Ubud, and the other in the southern part, like Kuta and its surroundings. This way you can make better use of your time and avoid long journeys.
Where To Stay In Bali: Best Areas And Hotels
Ubud, the most practical area to stay in Bali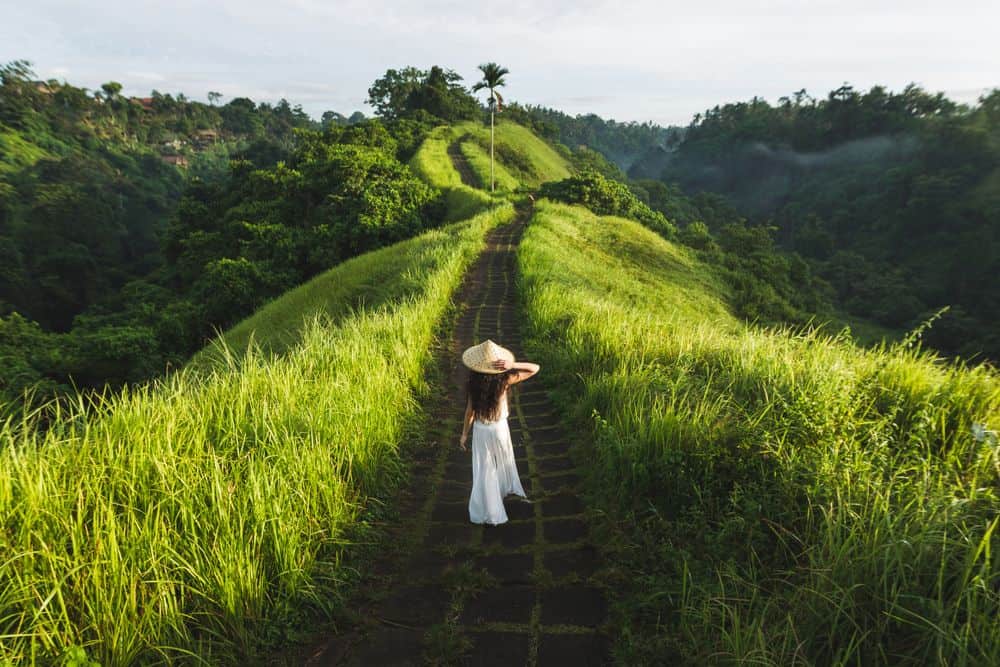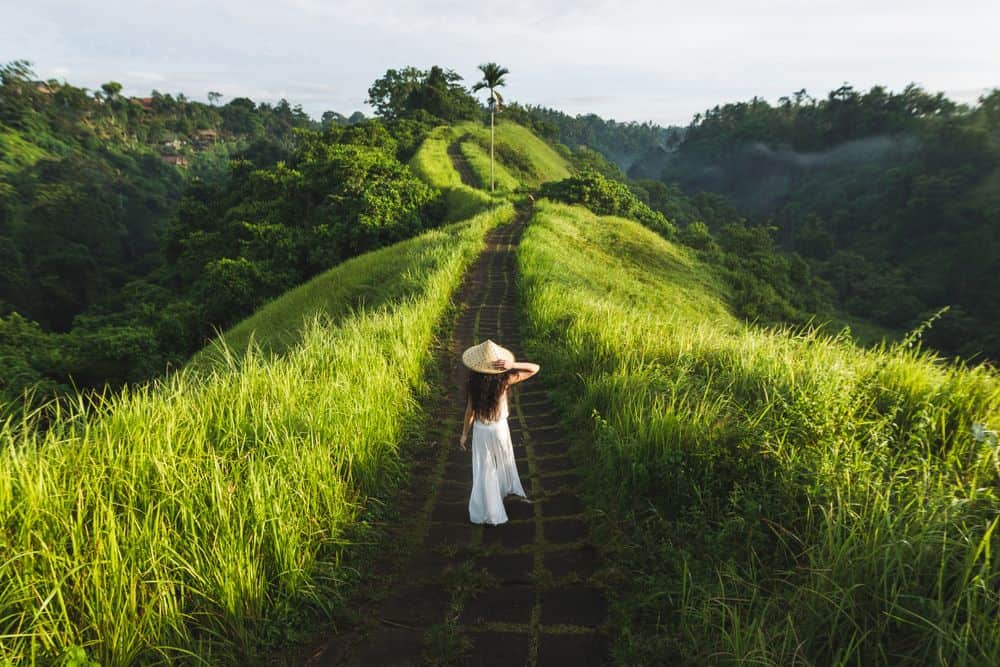 We believe that Ubud is a must-see place to stay in Bali. It is the most practical city to know the temples and nature jewels that are concentrated in the center and north of the island. If you choose to stay in the southern part of the island, the most lively part, you will spend a lot of time in traffic jams to get to the north. To give you an idea, to do the 30 kilometers between Kuta and Ubud you can perfectly throw yourself an hour and a half.
In addition, Ubud has some attractions that you can't miss: the Saraswati temple, its chaotic market, a sacred forest full of monkeys, a beautiful walk among rice fields and even several museums and art galleries. The only thing missing is the beach and being a little closer to the airport.
There is a wide variety of accommodations: from very affordable guesthouses to luxurious private villas. There are also many restaurants for all tastes. Although the streets of downtown Ubud don't have as many shops as those of the more lively cities in the south, you'll have no problem finding anything you need. The nightlife is quite peaceful, keep that in mind if you expect to have a thousand places to go out every night.
If you don't have your own vehicle to move around the island it's best to book accommodation in the centre of Ubud. There are some very cool hotels and some cheaper ones in the outskirts, but you'll need to take a taxi for everything. Although walking around the city is not an easy mission with so many cars and motorbikes eating up the sidewalks, it's much more practical to be able to go for dinner on foot.
Where to stay in Ubud?
The Udaya Resorts and Spa. If you are looking for a special stay. It is one of the best hotels to stay in Bali, although it is a little far from Ubud.
Goya Boutique Resort. Paradise in the form of a hotel. Its infinity pool is a blast and it's very close to downtown.
Umala at Bisma. If you want something simple, without luxuries but with a pool. Rooms from 15 euros. Ideal to stay in Bali cheap.
Kuta, the ideal place to stay in Bali for the party people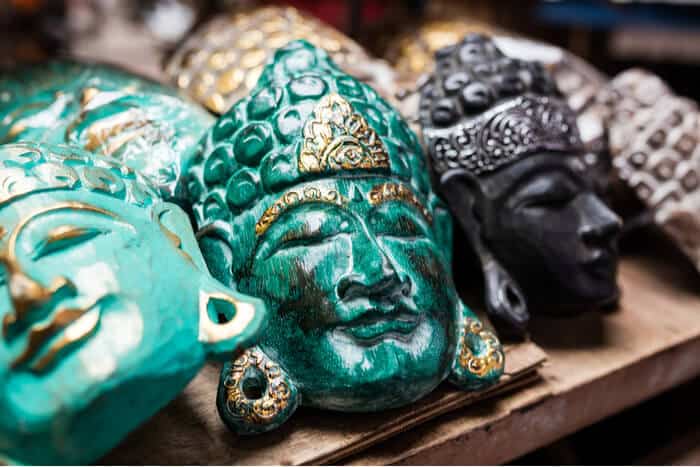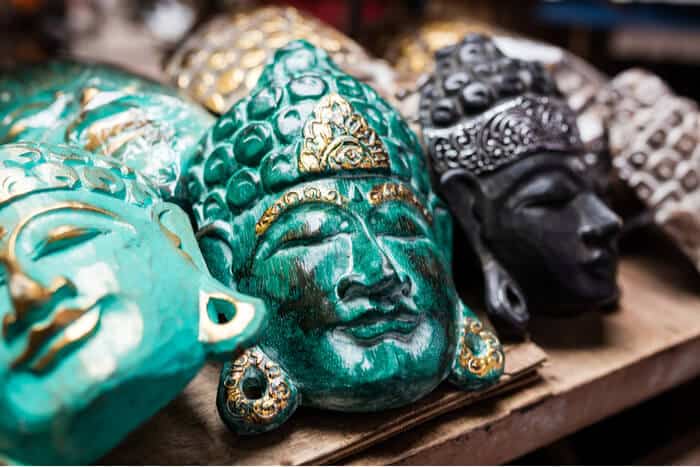 Kuta is the most popular area to stay in Bali among young people and surfers. It was once a fishing village, but today it is known for its lively 24-hour atmosphere. During the day, you can sunbathe while watching the huge waves on the beach, go to the biggest water park in Southeast Asia or get lost in the hundreds of souvenir shops, shopping malls or outlets of big brands.
At night, if you feel like partying, the hard part will be choosing which bar or club to stay in.
If you want to sleep in Kuta, keep in mind that the nightly noise can be a problem if the hotel is very central. Another drawback is that there is always a lot of traffic, so getting in and out of town will consume your patience.
Don't stay in Kuta either if you're expecting a paradise beach, it's only for surfers! There are many waves, so you won't be able to swim and it's always crowded. But it is an ideal place to watch the sunset taking a Bintang at the seashore. In this post we tell you the 10 best beaches in Bali.
Kuta is the area with more options to stay in Bali, so prices are somewhat lower than in other parts of the island. Another very positive point is that it is only 4 kilometers from the airport. It takes about 20 minutes to get there, because there is always a lot of traffic.
Where to stay in Kuta Beach?
Kuta Beach Bali City. One of the most popular hotels to stay in Bali. Right in front of the beach and very close to restaurants. Rooms from 50 euros per night.
Amnaya Resort Kuta. A piece of resort very close to the airport and the beach. Highly recommended for its good value for money. You will not want for anything!
The Bene Kuta. Very good hotel in the heart of Kuta Beach. Close to everything and very cool rooms for 40 euros.
Seminyak, a quieter area than Kuta to stay in Bali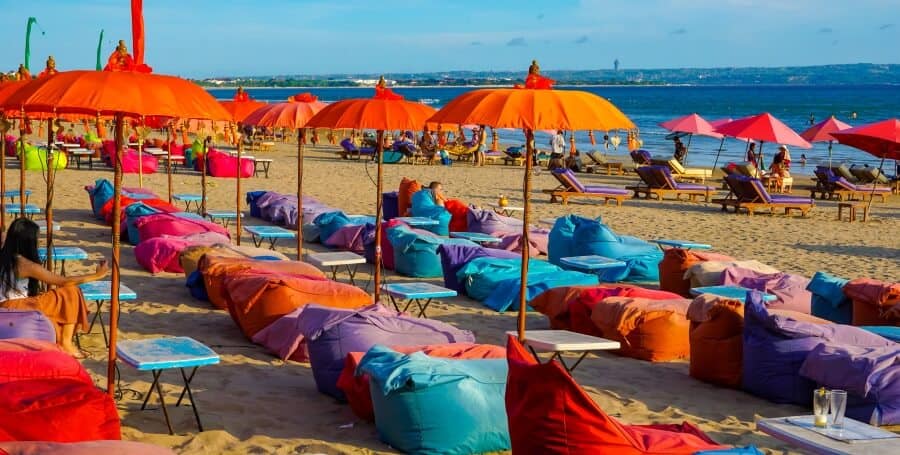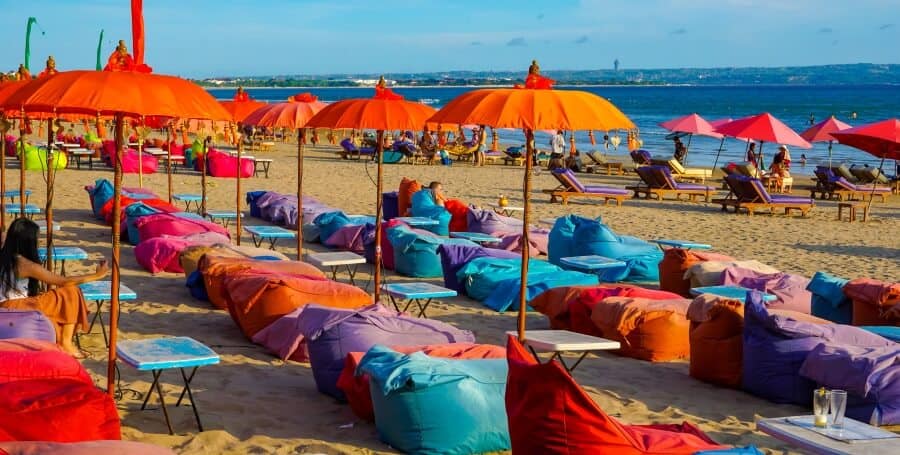 Seminyak is Kuta's first cousin, but it's a much quieter area. In fact, you can walk from one to the other. There are a couple of main streets full of shops and beaches less frequented than Kuta's. Seminyak is known for its boutiques and international brand stores, as well as the beautiful sunsets that can be seen from its beach.
We chose Seminyak because we felt that Kuta would be too much of a party animal. But, having seen both, Kuta is no big deal and we recommend you to stay there, as the hotels are somewhat cheaper.
Our recommendations for staying in Seminyak
Tijili Seminyak. Very good hotel near everything.
Amadea Resort & Villas Seminyak. A good resort in the heart of Seminyak. Rooms for 60 euros.
Grandmas Plus Hotel Seminyak. A cheap but successful hotel. Just over 20 euros per night.
Uluwatu, if you want a luxury vacation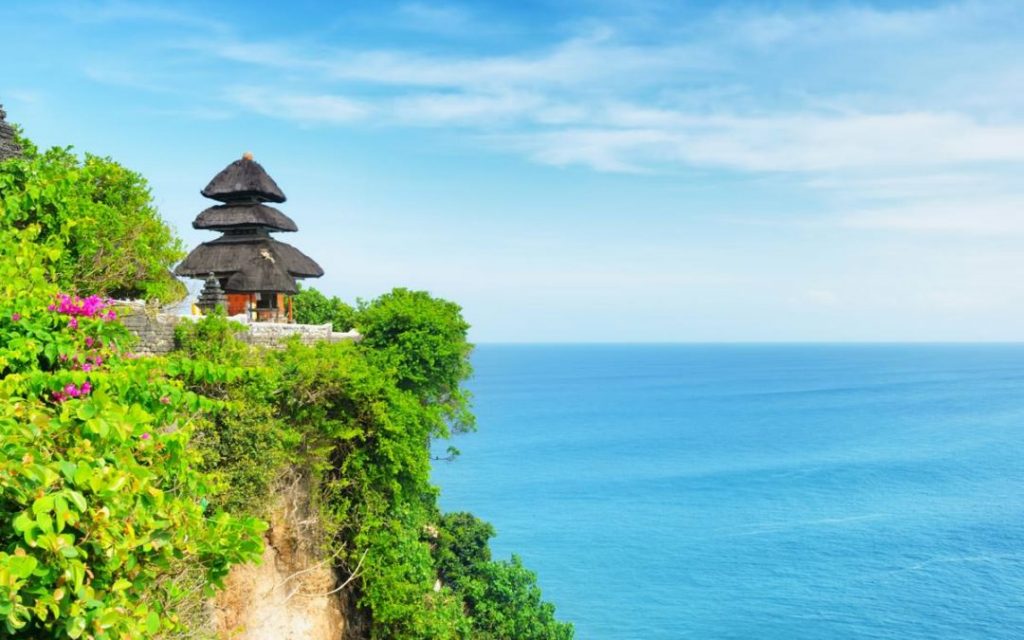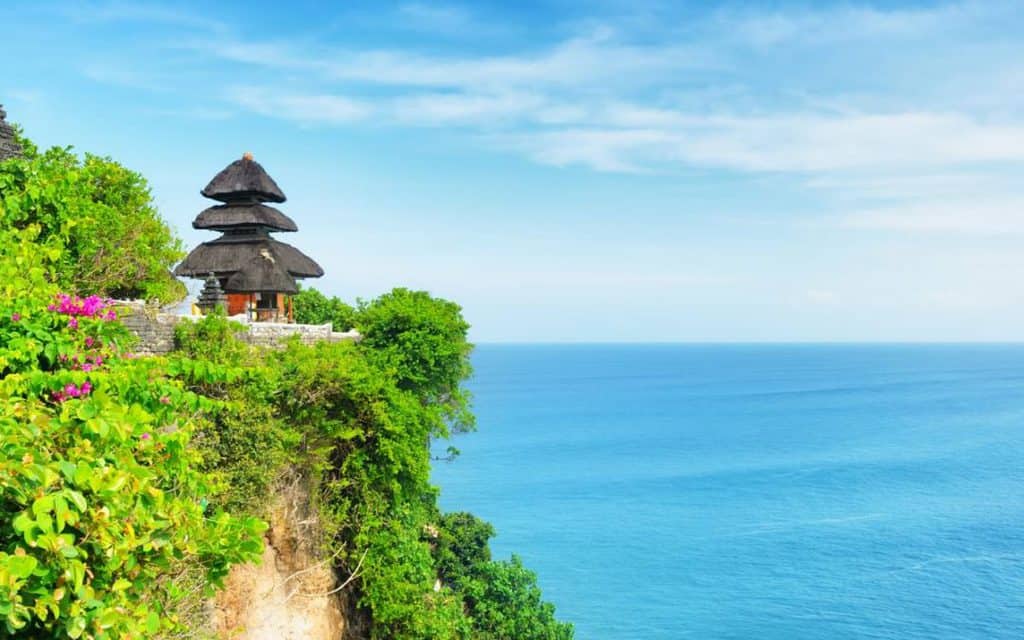 If you want to make the choice of beach or pool your main concern in Bali, the luxury resorts of Uluwatu are for you. It's the number one destination for a honeymoon.
There are spectacular villas with movie pools to enjoy the best sunsets on the island. In addition, there are some of the best beaches in Bali, such as Padang Padang or Dreamland.
Of course, exclusivity is paid for, as most accommodations cost around 200 euros per night. You can also find less luxurious hotels from 50 euros a night.
We recommend that you choose a hotel that will convince you, since in Uluwatu there is little else to do besides relax and visit its famous temple suspended on a cliff dominated by monkeys. It is a remote area and poorly communicated to visit the other attractions of Bali.
Dream hotels in Uluwatu:
The Edge Bali. One of the most exclusive accommodations to stay in Bali. Its swimming pool with a transparent floor over the cliff will leave you speechless.
Anantara Uluwatu Resort. Ideal for a honeymoon and with a beautiful infinity pool.
Renaissance Bali Uluwatu Resort & Spa. One of the cheapest and most spectacular resorts in the area. A good bargain for those who seek luxury in Bali.
stay in Bali
Sleeping in Nusa Dua, perfect if you like big resorts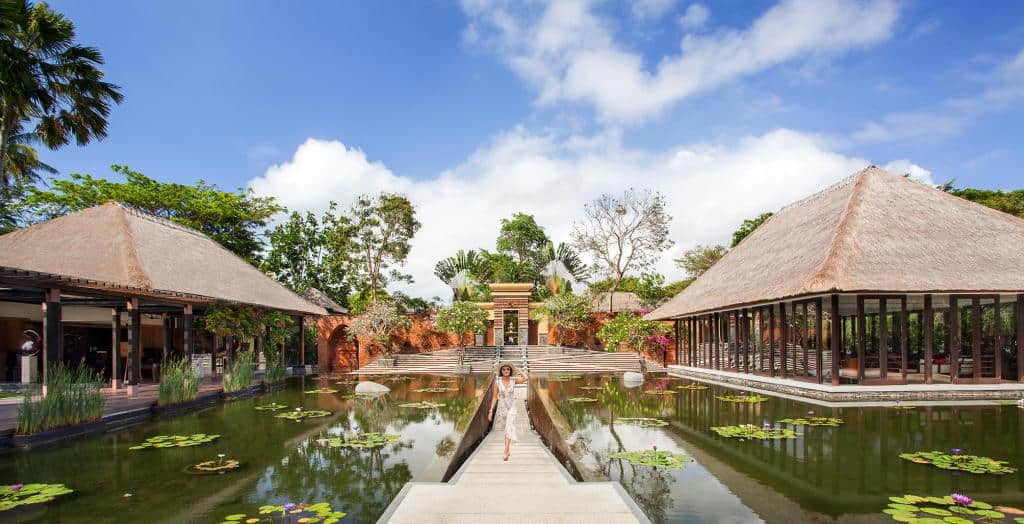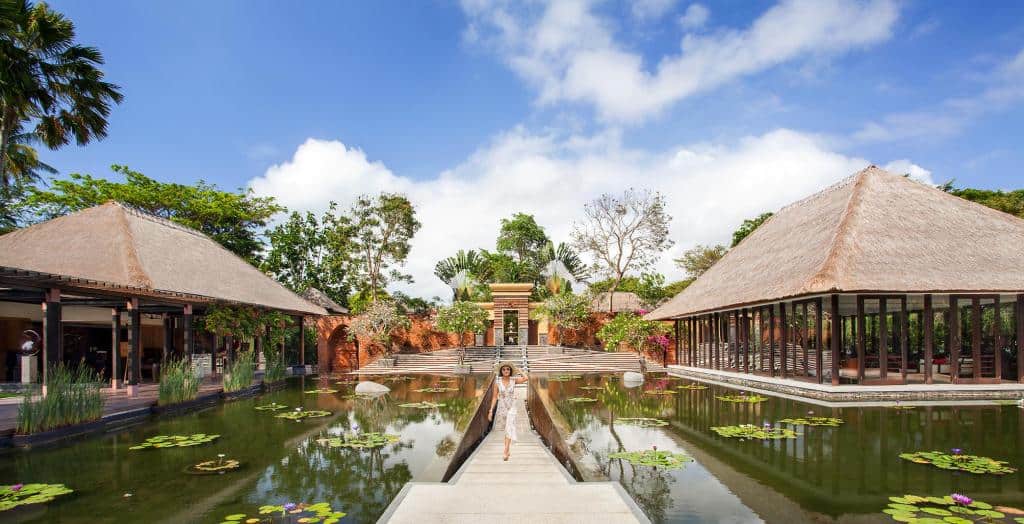 Nusa Dua is another of the most exclusive areas to stay in Bali. Most of the large chain resorts are located there. It is a good place to spend the day at the beach and pool for a more affordable price than in Uluwatu. The sand is white and fine and the water is crystal clear. In addition, you can do a lot of water sports.
The downside is that the choice of restaurants and shops is limited to the interior of the hotels. You will also be in a bubble, isolated from the local culture, although in the same resorts they organize excursions to visit the main points of interest in Bali.
Our favorite resorts in Nusa Dua:
INAYA Putri Bali. The most popular resort to sleep in Nusa Dua.
La Berceuse Resort and Villa. Good hotel with free shuttle to the center and the beach.
Tijili Benoa. A good resort for 60 Euro per night.
stay in Bali
Sanur, a quiet beach area to stay in Bali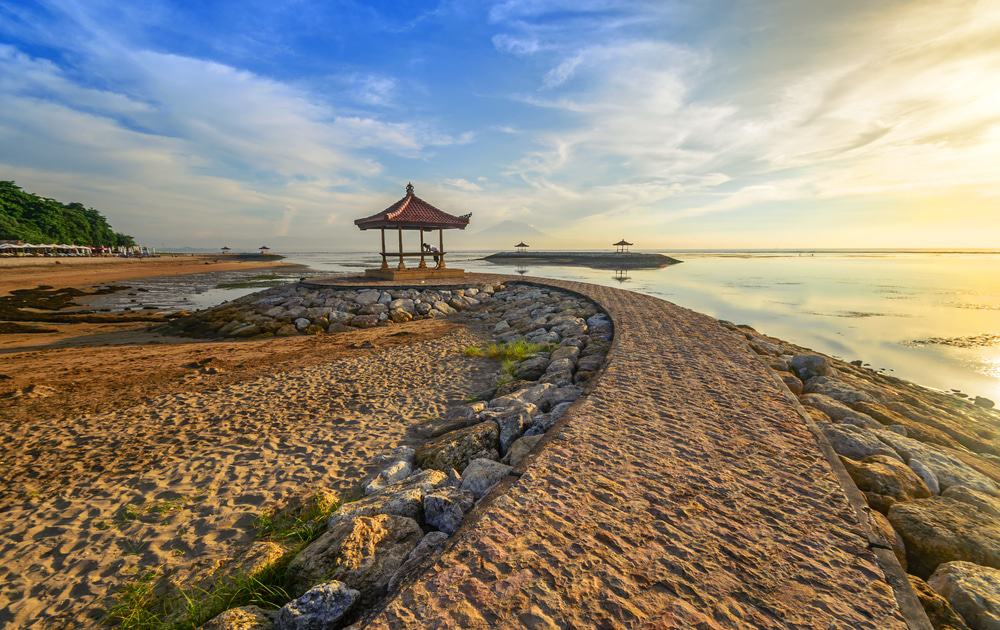 If you want good beaches without crowds and to be part of the local culture, you will enjoy Sanur very much. It is one of the most peaceful areas to stay in Bali, the antithesis of Kuta. In Sanur you will find hotels of all categories. You will not be dependent on the hotel restaurant, as it is a couple of streets with many shops and restaurants. Also, there are some small but beautiful temples to visit.
If you plan to go to the Gili Islands, staying in Sanur is a very smart option to save on transfers. It has a port from where fast boats leave to the three paradisiacal islands.
Good accommodations to relax in Sanur
Katala Villas
Artotel Sanur Bali
Astana Pengembak Suite & Villa
Stay in Bedugul, lost in the tranquility of the mountains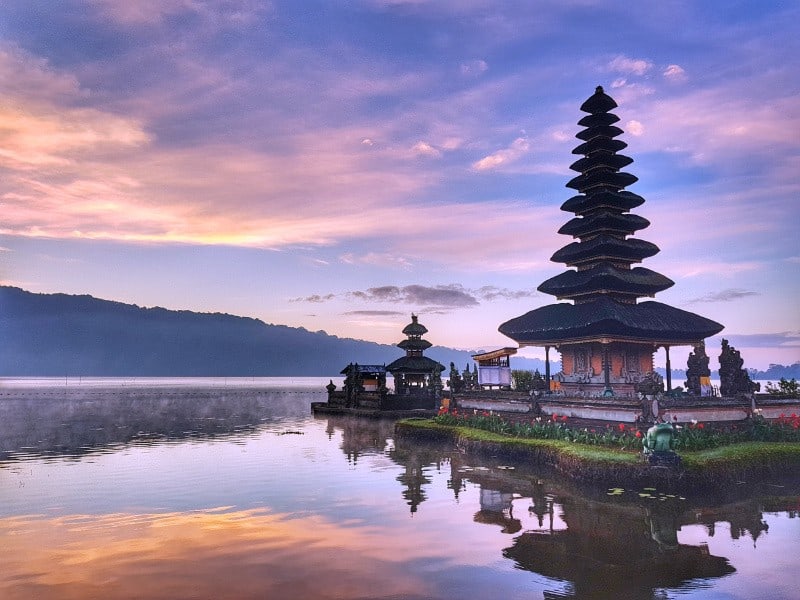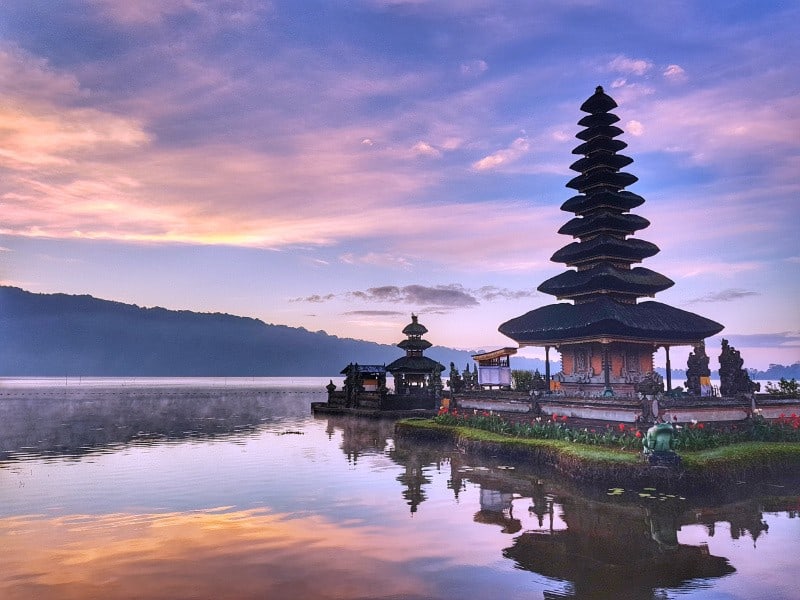 If you want to relax a few days away from the beach, the mountains and lake surrounding Bedugul are a good refuge. There is the spectacular Ulun Dana Bratan temple, as well as several cool hiking trails.
Keep in mind that the climate is much cooler than in other parts of Bali, so bring some warm clothes. It's a totally different area, ideal for disconnecting. You can also visit the beautiful village of Munduk or the famous Lovina beach from there. Without a doubt, a different area to stay in Bali.
The best hotels in Bedugul:
Handara Golf & Resort Bali
CLV Hotel & Villa Bali