Do You Need To Rent A Car In Santorini?
If you're like most people, you're probably wondering if you need to rent a car in Santorini.
With all the beautiful scenery and attractions, it's no wonder that so many people want to visit Santorini. But with limited public transportation and taxis being so expensive, renting a car may seem like the only way to go.
So do you need to rent a car in Santorini? Yes, you need a rental car to get around Santorini. Although there are a few buses that run around the island, they're not very frequent and they don't go to all the places you'll want to visit. The best way to see everything Santorini has to offer is by renting a car.
There are plenty of reputable companies renting cars on the island, so you'll have no trouble finding one that fits your needs and budget. Just be sure to reserve your car in advance, especially if you're visiting during peak season.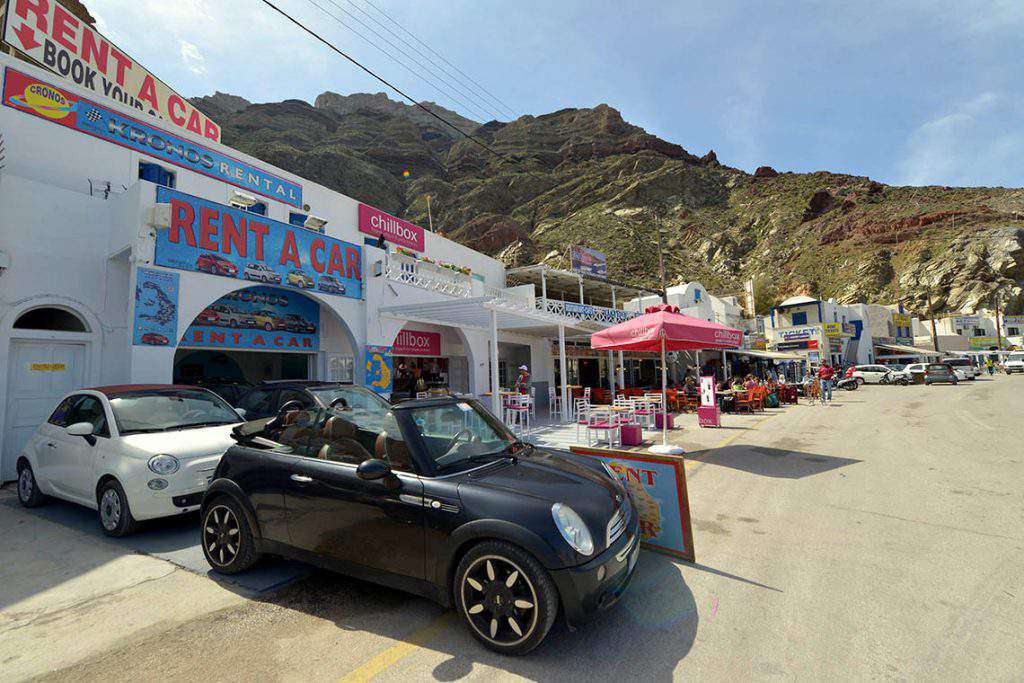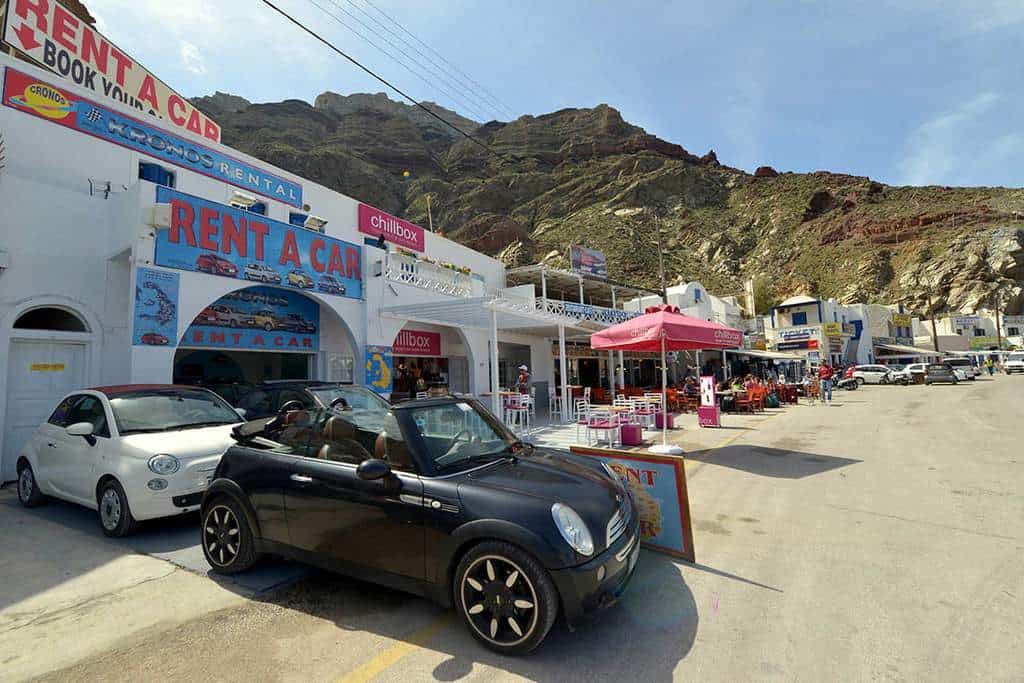 Renting a car while on vacation in Santorini, can help you accomplish some of the best activities on the island.
Since there's always a shortage of taxis and buses don't fully reach the entire island, renting a car is a good idea. 
Tips for renting a car in Santorini
If you're coming during the peak tourist season, reserve your car early. For easy and convenient renting, visit RentalCars.com.
Most rentals in Santorini are manual so if you want an automatic transmission, reserve a car really early. 
The airport is one of the best places to pick up your rental car in Santorini, especially if you're arriving on the island by plane. It can save you from trying to catch the bus or waiting for a taxi. An airport pickup is also easier than trying to find the actual rental company in towns.
Even if you're arriving through the ferry port, it's still better to travel to the airport to pick up your rental than getting it there. 
For the sake of insurance, inspect the entire vehicle and take a picture of every part of it before driving away with it. 
How can i get a rental car in Santorini?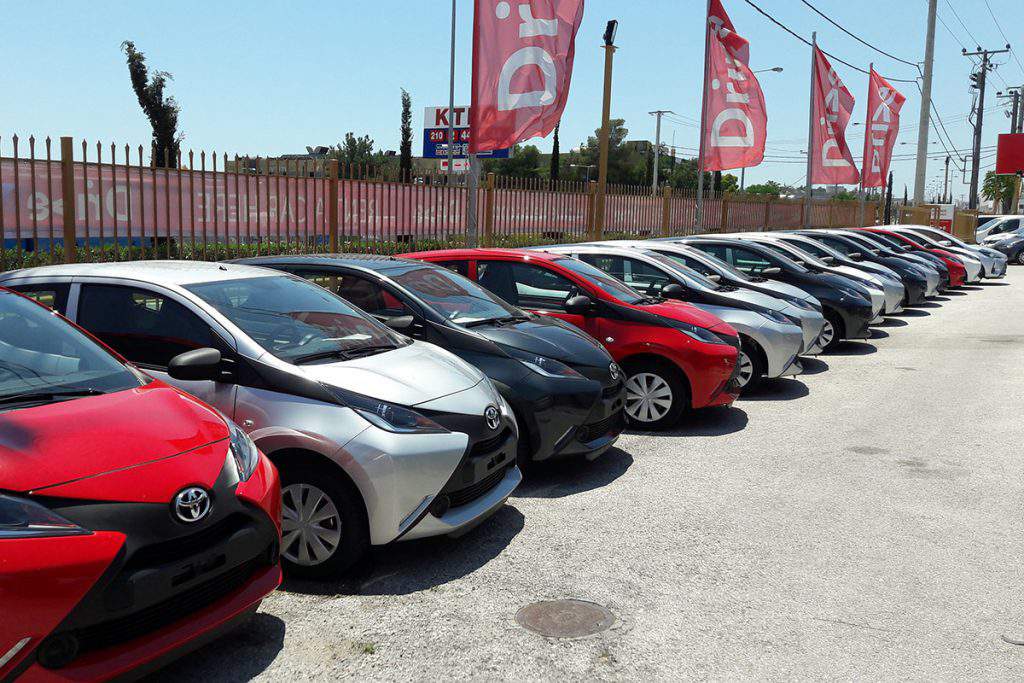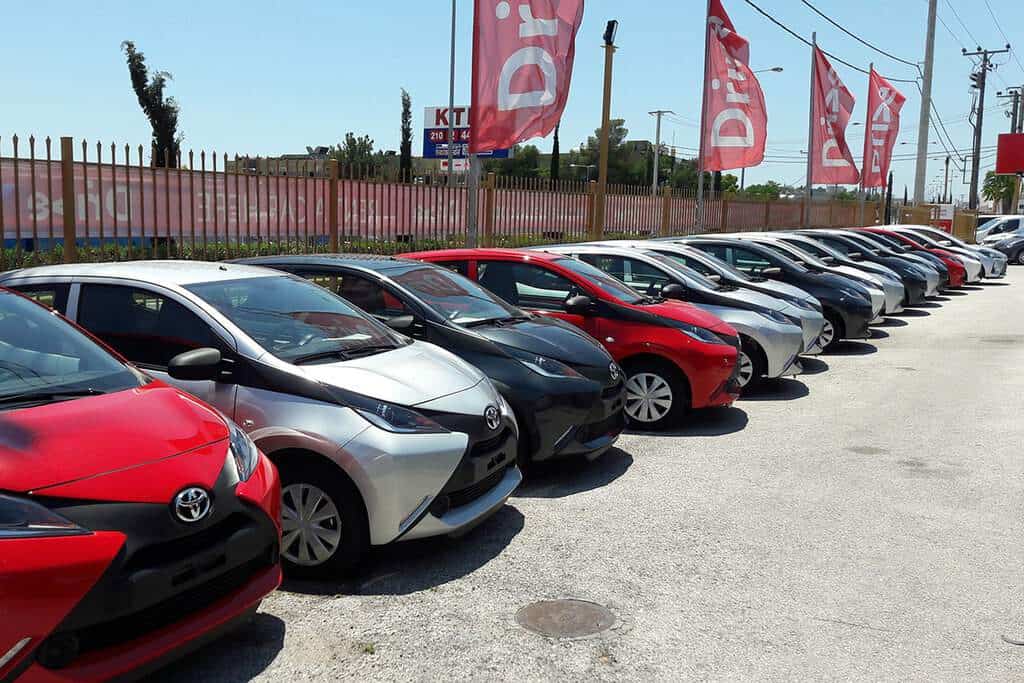 Go to RentalCars.com and look for the car model that you want to rent. The website shows you the best deals from all the major rental companies in Santorini. Get the best car for the right price with the help of this site. You can even choose where to pick up the rental. The airport is the best place to get your car, but the town of Fira isn't so bad either. 
The airport in Santorini is the most common pick up point for cars. Most, if not all, rental companies have a designated pick up desk on the area. They also have the cars parked in a parking lot nearby. Unlike if you pick the town of Fira or the ferry port as your pick up location. Those places can be really busy, especially the port during arrivals. 
If you're looking to renting small vehicles like ATVs or scooters, ask a local rental company if they have them. International companies don't rent out vehicles like these. If you've heard terrible things about renting cars in local companies in Santorini, then go for either Spirikakos or Vazeos. These are very reputable rental companies that have been recommended by many of their previous customers. 
Picking up a rental at the Airport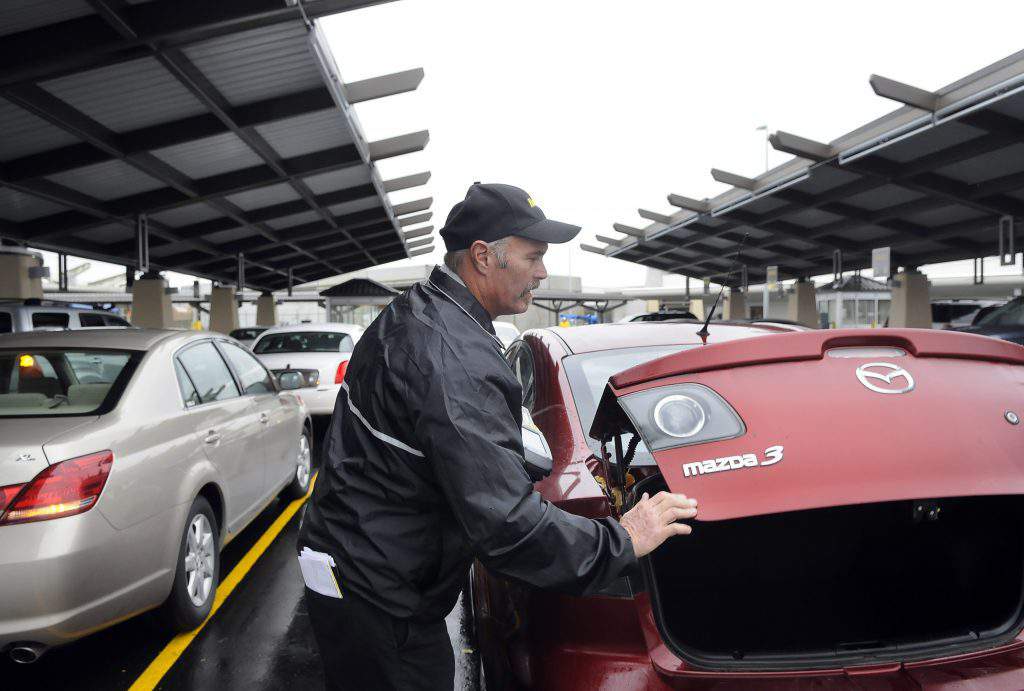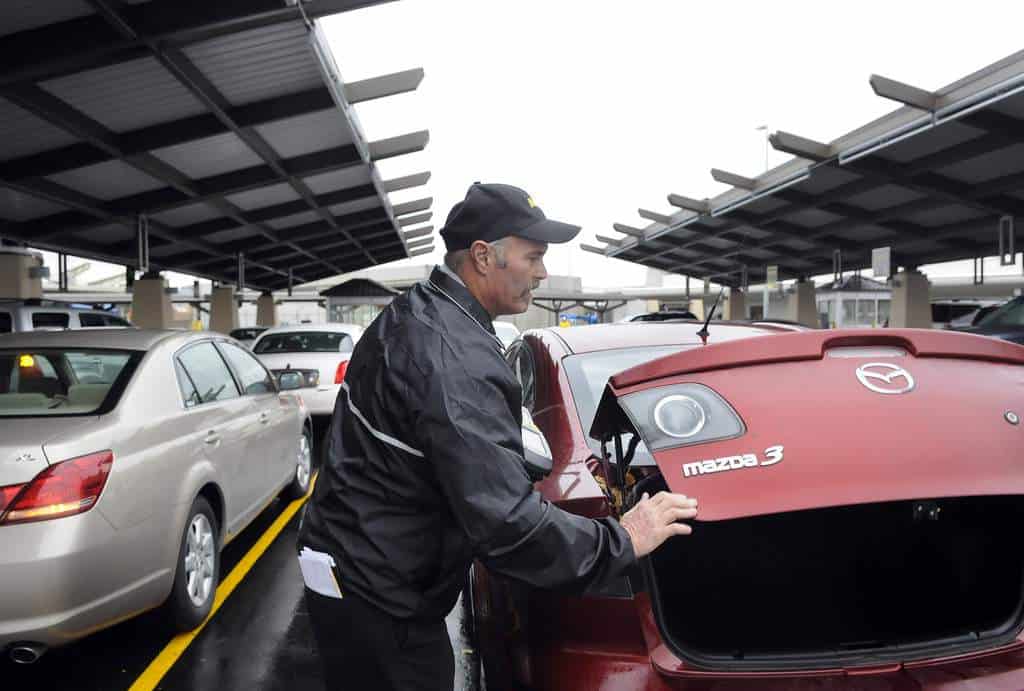 Rental cars are parked in the area right beside the airport terminal. It won't take you a minute of walking to get to their location. 
To get a rental car upon arriving at the airport in Santorini, go to Rentalcars.com and reserve a car, days or months before your arrival. Choose the airport as the pickup location for the car. Santorini's airport is small and less chaotic than many airports around the world. You'll find it really easy to transact with car dealers there than in any other location. Plus, you can drive away with it right after inspecting it. So there's no need for you to get a taxi or hope for a space on the bus just to get to your accommodation. 
The airport is located at the center of the island. It takes 10 minutes to reach it from Fira, 25 from Oia and 15 minutes from Imerovigli. It's an easy commute and a perfect pick up location for your car. 
Here are the rental companies that offer airport pick up:
Avis
Enterprise
Thrifty
Budget,
Sixt
Alamo
Goldcar
Surprice
They all have information desks located side by side at the arrival area inside the airport. They are all very accommodating and there never seem to be a line for any of them at any time. 
Choosing the Port as the pick up location
There are also car rental representatives at the Ferry port.
The airport remains to be the best location to pick up your rental car in, even if you arrive via ferry. The port can be really busy, especially during arrivals. It's much more efficient to travel to the airport to get your car rather than the ferry port. 
Remember that you won't just naturally pick up your car once you get there. You will still need to find your contact person and inspect the car for damages. Given how messy the ferry port could be, finding your contact person could be really hard. Plus, imagine having a conversation and transacting while having the loud noise of the ferries in the background.
Doing it at the airport can make the entire thing so much easier. For one thing, rental companies have information desks there. You don't need to look around for a person. Just walk up to the company's desk in the arrival hall and ask for the car. The cars are parked in the parking lot near the area. You can calmly inspect the car and take insurance pictures peacefully and without distractions. If you fail to secure a reservation, just reserve one right on the airport in Santorini.
Plus the airport is located at the center of the island. Driving from there to everywhere else, is easy. The Ferry port is located near the sea, at the bottom of a cliff. You need to drive your car up a cliff while dodging motorcycles, buses, and taxis on your way up. You don't want anything bad to happen to that car. Take a much easier and safer option. Just go with the airport pick up. 

Why would I want a rental car in Santorini?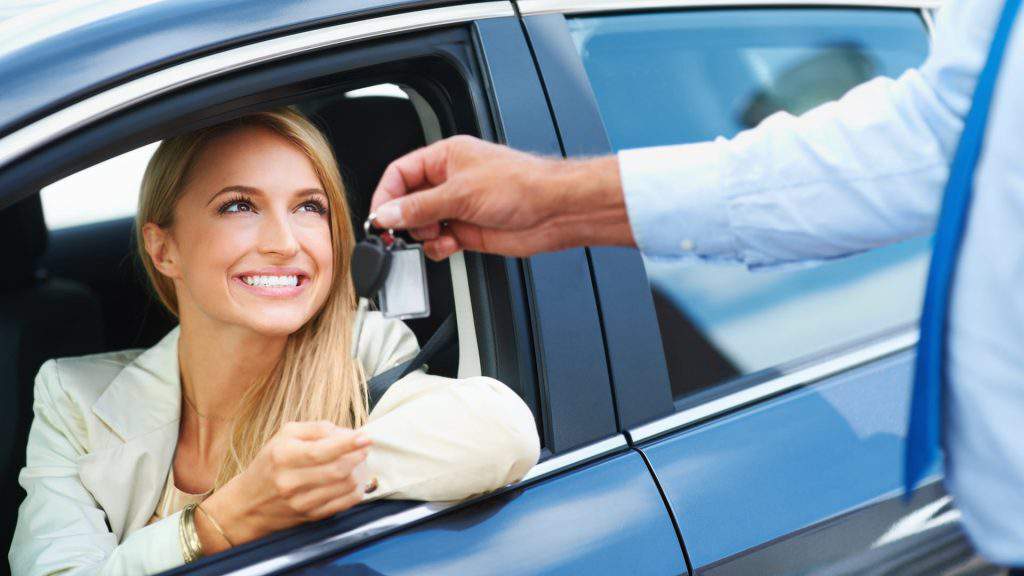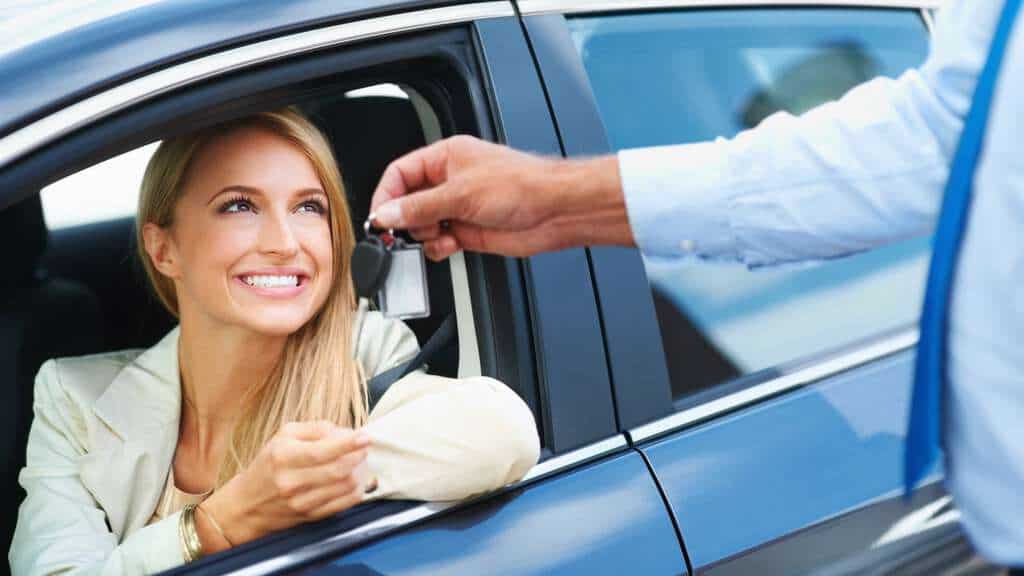 It really depends on how do you want to spend your time in Santorini. If you fully plan on enjoying the view from your hotel and just occasionally going out to eat and walk a little, then renting a car won't be necessary. However, if you want to maximize your time on the island, then it's best to get a rental car.
Unless you live in the bus hub, Fira, it's really hard to travel around the island. Every bus goes to one place only, and they go back to Fira after that. So if you're trying to seize your day, and you plan on hopping from one place to another, expect to find yourself spending more time on buses than on your targeted locations. This is why renting a car while you're in Santorini, is practical. It would get you around much faster and way easier. 
Disadvantages of renting a car in Santorini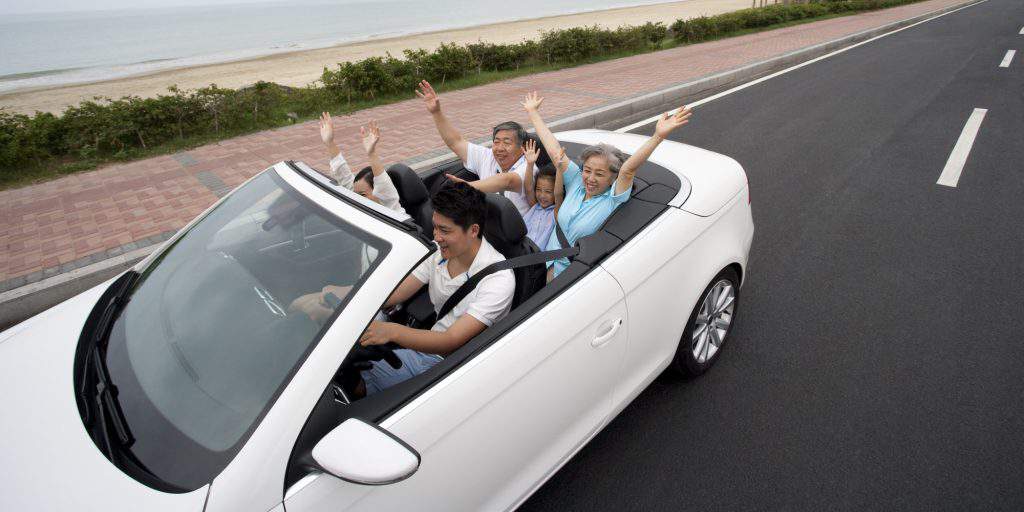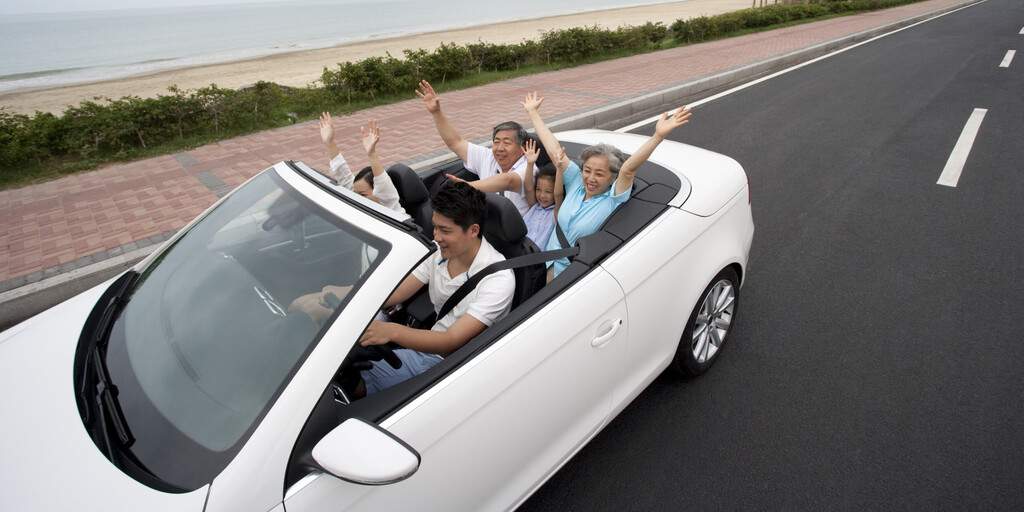 The caldera and the volcano are the major spotlights of Santorini. If that's the main thing you came to Santorini for, then you won't need to travel around so much. A rental car will be a waste of money. If it's the adventure you're after, you don't need a car to travel through the Fira-Oia footpath. Just walk and enjoy the view. 
Find the best sights on the island without a car
If you plan on staying in your hotel and admiring the great caldera view from there, then you certainly don't need to rent a car. 
What activities could I enjoy even if I don't have a car?
Most tours offer free shuttle service so you definitely don't need a car to join any of those. Go for a boat tour and see the views you'd been admiring, up close and personal. 
Enjoy the island's night scene even without a car
Drinking and driving doesn't go well together. Enjoy Santorini's crazy night scene even without a ride. Try the Kira Thira Jazz Bar. It's one of the best bars in Fira.
Here are the advantages of driving your own car in Santorini
See more of the island with your own car. 
Buses don't reach the whole island, and taxis are hard to come by. Driving your own car can take you places that you reach just by commuting.
Do more with a car in Santorini
One of the greatest perks of having a car is reaching the restaurant Cava Alta. It's one of the best restaurants on the island, but it's almost impossible to commute to. 
Find yourself in quiet places with a car.
Explore the historical Emborio and get lost in its footpaths and alleys. The village is far from busy towns that commuting to it is impossible. 
Bus vs Car? Which can take you around Santorini better?
Aside from taxis, buses are the only other way to commute around the island. Of course, there will always be a line for them. Plus, they're not exactly the luxury buses that some countries have. They're just regular-sized buses. 
Making the most out of your time on the island
Buses in Santorini are never on schedule. If you're in one of the four core towns, then this shouldn't be a problem since they just come and leave all the time. However, if you're in a less touristy place, and you want to go back to the main towns, then you're in trouble. 
You can't reach many of Santorini's eastern coasts by commuting. You can only get to them if you have your own car. 
Eating out with a car
Metaxy Mas is one of Santorini's best restaurants. The best way to get here is via taxi. Buses also stop by the area but there will be very few of them at night. Taxis will also be hard to come by at that time. Either get your own car so you can eat there comfortably or don't eat dinner there because you'll have a hard time getting back to your hotel. 
Reach less popular beaches with a rental car
The best thing about driving your own car is getting to places that are normally hard commute to. Take Perissa beach for example, It would take two buses to get you to that beach. The travel time is about an hour and since very few buses drive to the area, it's a little hard to go back to the main towns from there. Renting a car can make this trip a lot easier for you. 
Explore Santorini Wineries and their famous wines
Having your own car means that you can reach places that most people can't. Find little hidden gems in Santorini, like this roadside wine store.
What's a great trip to take with a car?
It's definitely to go watch a movie in Kamari's cinema. It's open air so you can watch that movie from inside the car. It is also possible to reach the place without a car, but it's extremely stressful and you have to worry about how you're going to get back to your hotel after the movie. 
Shopping made easy with a car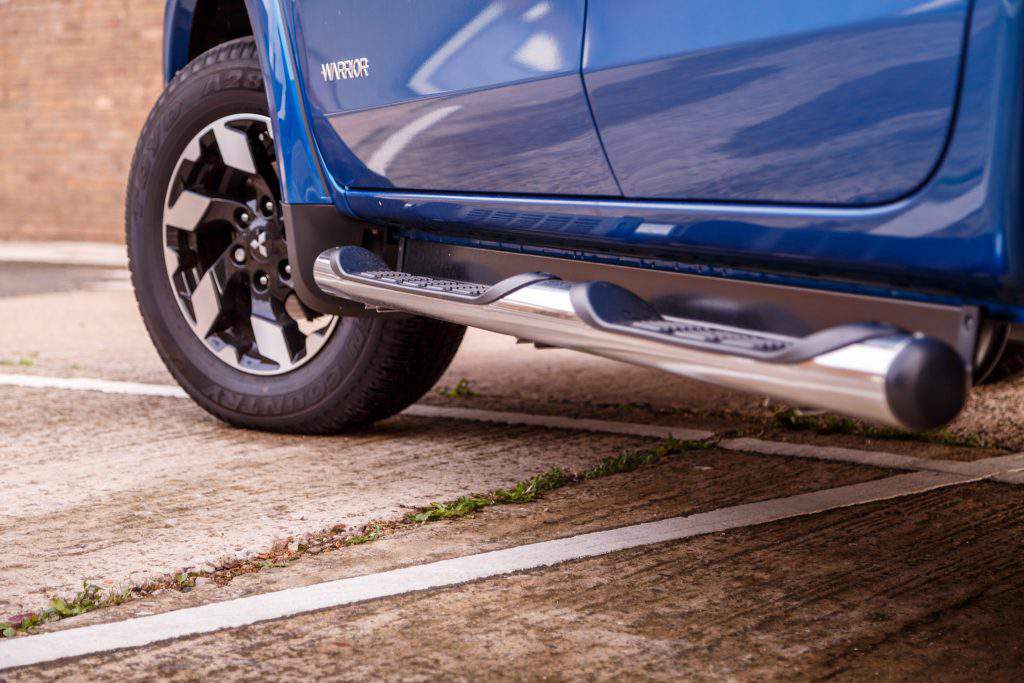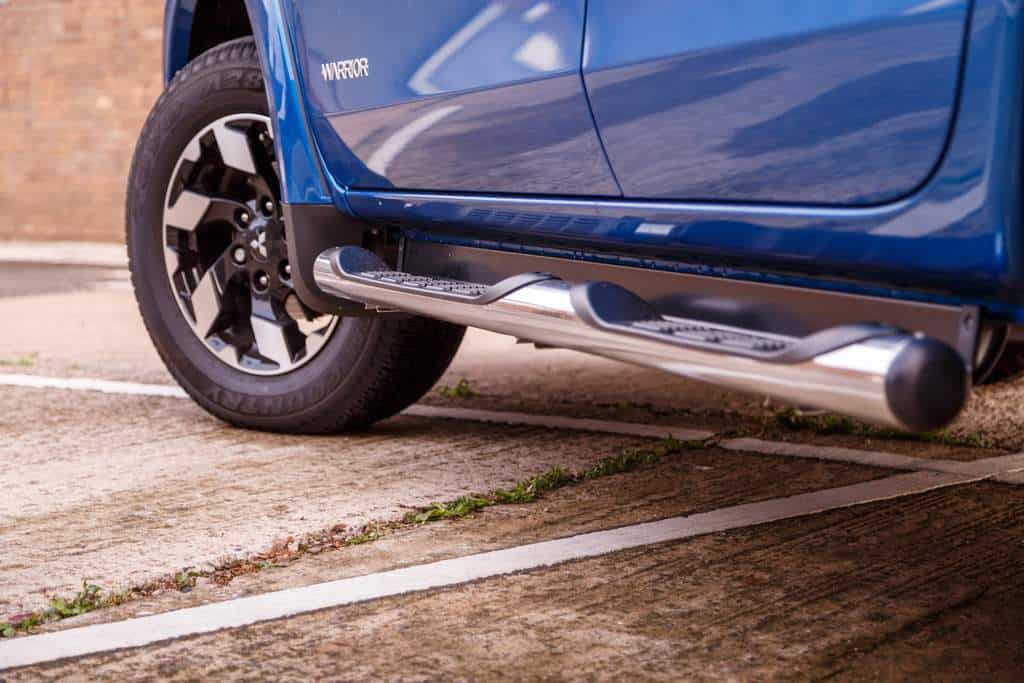 You can't easily transport raw meat if you commute. Having a car makes going to the market much easier.
Here are some things you should know before renting a car in Santorini
Most of the big rental companies have a desk at the airport. You can pick up their rentals from there. 
Renting a car can help you avoid the hassle of waiting for a taxi at the airport. Just make sure you booked days, or even months, in advance before your trip to the island. 
You can still try and get a rental car even if you didn't book in advance. Just go to the airport and transact from there.
Reserving your car in advance can save you money. It will also give you more options. Most cars in Santorini are manual so if you only drive automatic, you have to be earlier than all the other tourists in booking it. Especially, if your trip is right into the peak tourist season.  
If you're only used to the automatic transmission, remember to specify it when booking a car at the website, RentalCars.com.
Unless you're really used to riding them, stay away from ATVs, scooters, and motorbikes. They cause a number of accidents on the island. Plus, they can't even get you far, especially ATVs. They're so slow that getting from one side of the island to the other will take you a really long time. You might as well take just take the bus. 
Although the rental companies do rent out car seats for children, they're often too small for American or british taste. Of course, you don't have a choice but to make it work or you can plan in advance and bring your own. 
Cars large enough for groups or families are always in demand. If you're going for one of those, book really early for them.
Legally, you should have an international license before driving in any other country or at least a European driver's license, if you're European. If you can, try acquiring either before you leave your home country. But if you can't, Don't fret. The island seems pretty loose on driver's licenses. Even if you're not from the area and don't have an international license, rental companies will still allow you to rent a car.
For future purposes, take pictures of every inch of the car before driving it away from the rental company. 

Is driving easy or hard in Santorini?
Whenever you hit the road on the island, pack a little extra patience. The pathways can sometimes be extremely narrow and hard to drive through.
Choosing the ferry port as your pick up location
It's not a good idea to pick up your rental in the port. No matter how taxing it is, choose the airport as your pick up location even if you're arriving by ferry. It would make the rental transaction much easier. 
Getting the car from the port to towns
The only way to the towns from the ferry port is up. The view from the cliffs is amazing but given that the car you're driving is a rental, it's best to just get the car from the airport. 
Hailing a taxi from the airport
There is an evident shortage of taxis on the island. If you just landed in Santorini, and you're thinking of taking a taxi to your hotel, think again. There's going to be a line for them, and you'll probably wait about an hour or more just to get one. This is one of the biggest perks of renting a car. Taxis in Santorini can be pretty unreliable, especially at night, when they only travel as far as the town of Fira. 
Finding parking in Santorini
It's always hard to find a parking space in Santorini, especially if you're in one of the four core towns. Just pack a little extra patience, and you'll find a decent spot to park your car on. 
How safe are Greek roads for driving?
The roads are fine. It's the Greeks that you need to worry about. They're not exactly known for their driving skills so practice extreme caution when driving on the island. 
The price for renting the vehicle
When renting vehicles in Santorini, prepare extra money for taxes and or insurances. These fees are usually not included on the original price that the vehicle was rented out to you. 
Parking your rental car in Santorini
Fira is the most crowded part of the island. Finding parking here is like looking for a needle in a haystack. If you're out of option try looking for the Nemesis Hotel. It has a huge parking lot right beside it that always has one or two empty spaces. 
A great little parking spot in Oia
If you're out of options, try looking for the church of Agios Georgios. It's 200 meters away from the Anemomilos Hotel, and it has a couple of great parking spots right across it. 
There are many parking spots in Oia, but you have to do a little wandering to find them. There's one located near the town's Post Office. Just ask around for directions. 
Read more:
Crete Or Santorini
Cavo Tagoo Santorini
Santorini With Kids
Best Places To Stay in Santorini
Best Time To Visit Santorini
Santorini Day Trip
Reviews of Hotels in Santorini
Greek Island Hopping
Santorini Cruises
Where Is Santorini?
Santorini Travel Agency
Atlantis Bookstore, Santorini