Santorini is located in the Cyclades archipelago in the middle of the southern Aegean Sea. The island is guarded by volcanic rocks in contrast to the fabulous black and red beaches, the clear blue sky, and the olive trees in the interior… an explosion of color!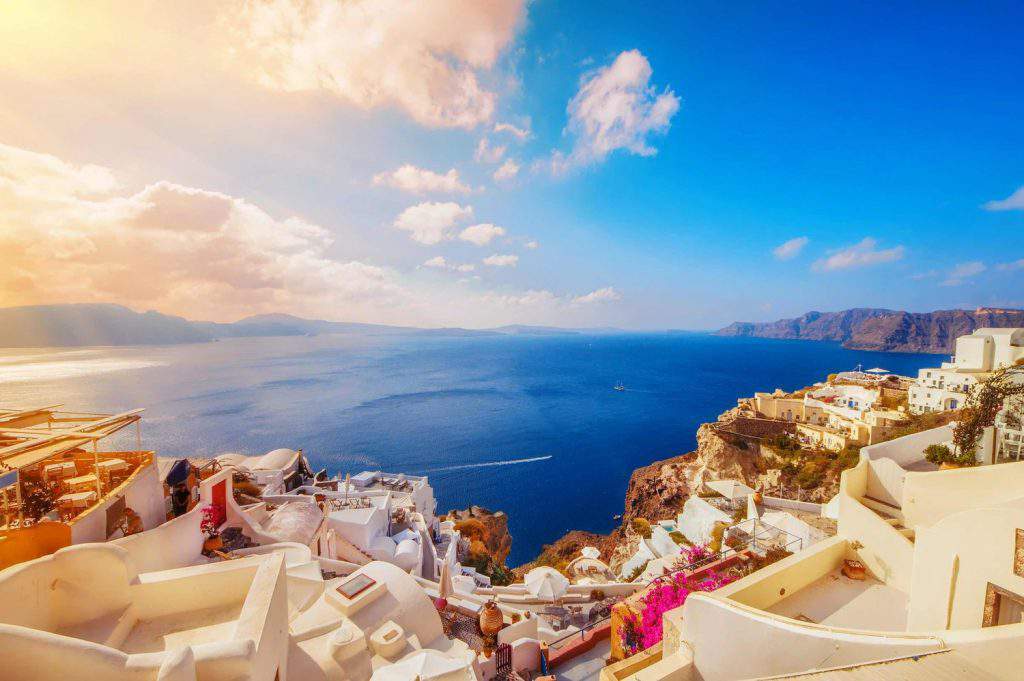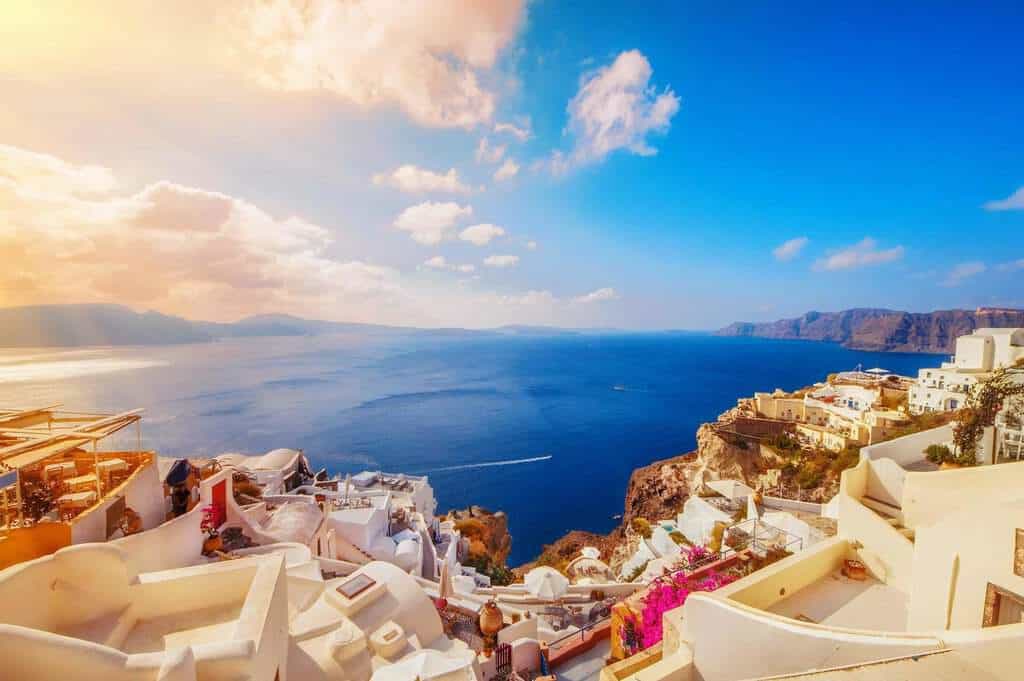 The slopes and hills are dotted with picturesque villages with their typical white houses – Santorini is a unique island! It is one of those destinations you have to visit once in your life, and for that reason I have made a selection of the best hotels in Santorini. Be inspired! Look at the sea and Volcano from Fira the capital of Santorini island in Greece.
Also check:
Family Friendly Hotels in Santorini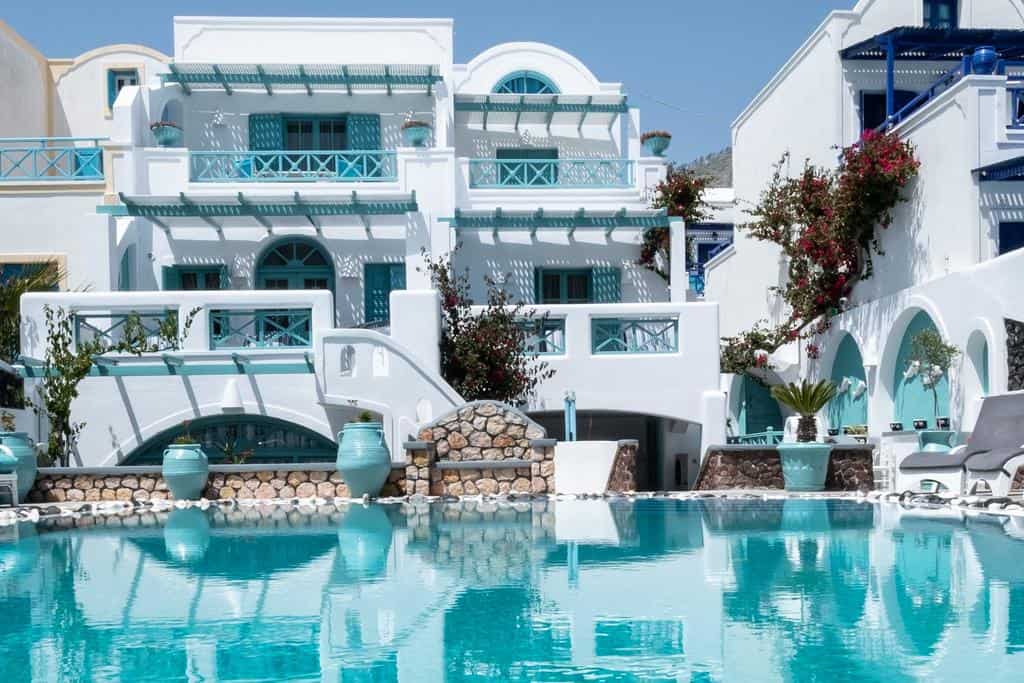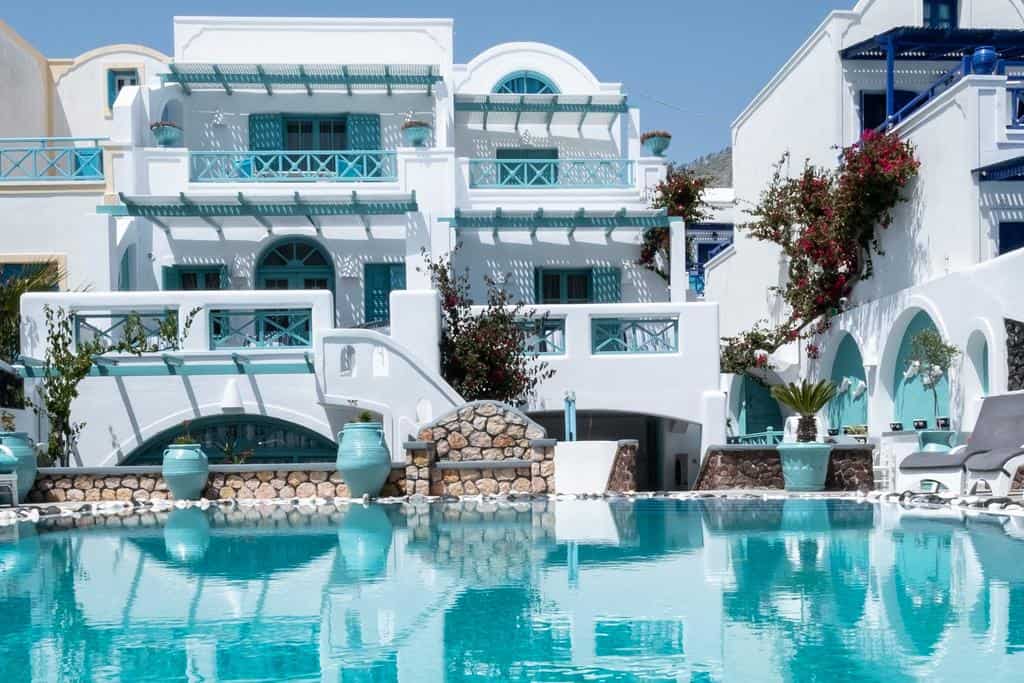 Anastasia Princess Apartments is presented as a luxury hotel with radiant white walls built on the rocky coast of the traditional town of Oia. The hotel extends over several stories and offers magnificent views of the volcanic crater of Oia. It is the perfect starting point to explore the picturesque surroundings. You will be amazed when you see the impressive nature and panoramic views at sunset.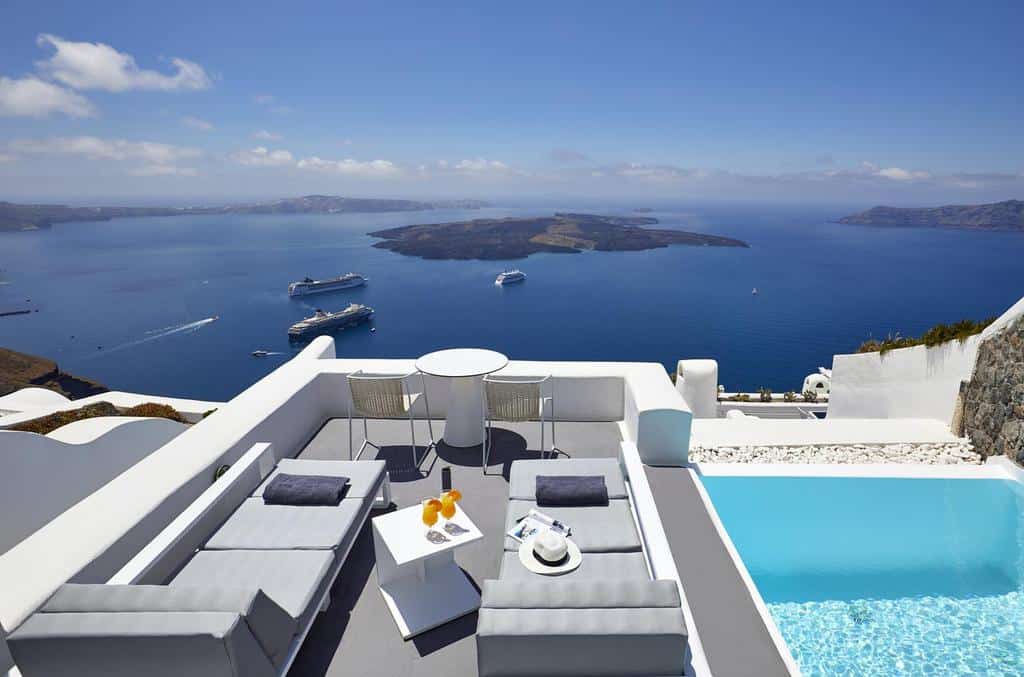 Are you a fan of breathtaking sunsets? Then Santorini is the perfect place for you, because the island is known all over the world for its amazing sunsets. In the small and romantic Dream Luxury Suites you can relax in the jacuzzi at the top of a crater in Imerovigli. What do you think – this panorama is simply indescribable, isn't it?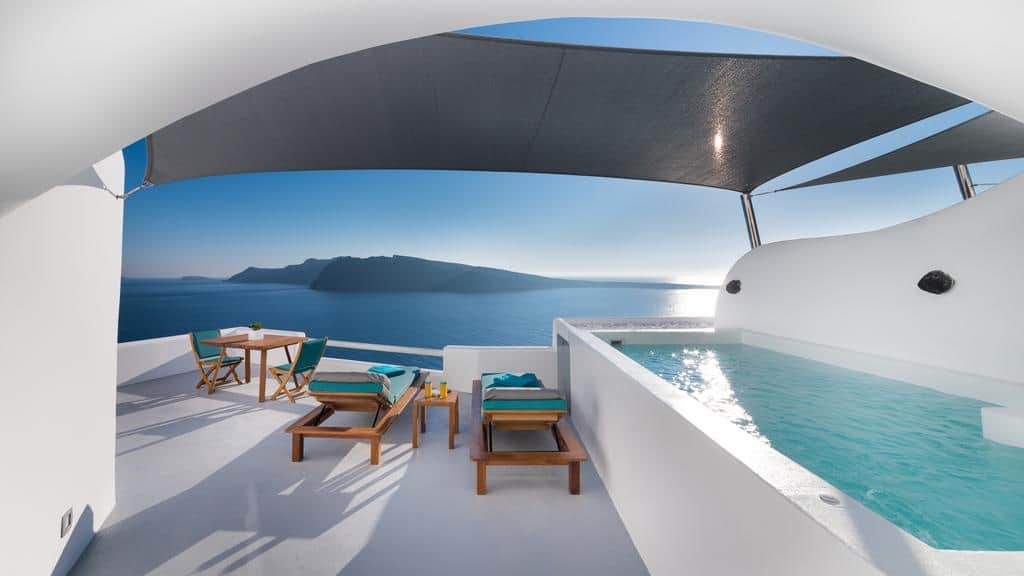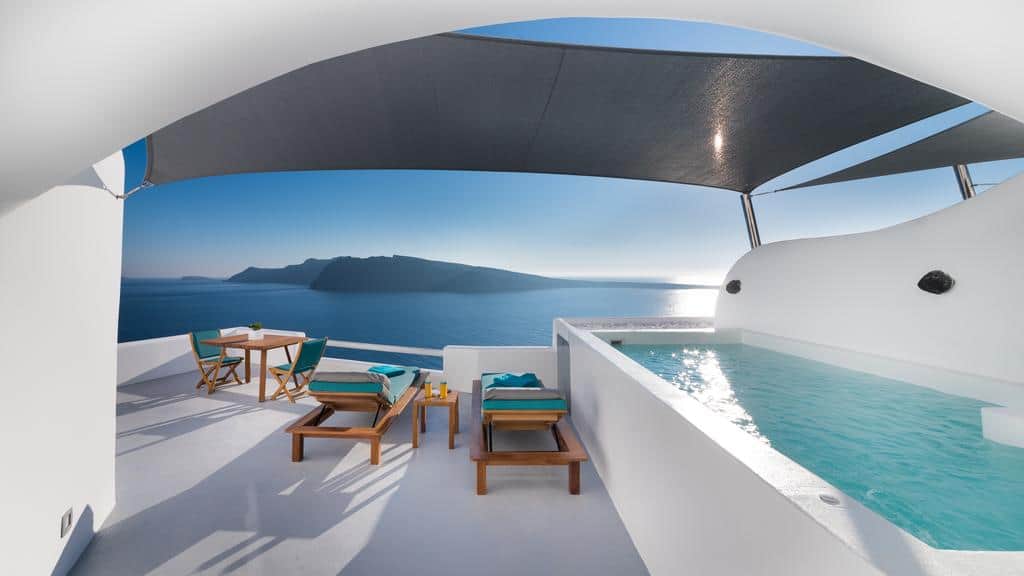 Finding a hotel where everything is up to scratch is not easy, but you will soon realize that you have found the perfect place when you spend a vacation at the Cosmopolitan Suites. This small but wonderful hotel is located in the centre of Fira, just a few minutes walk from the cable car, restaurants and nightlife. If the pictures are impressive, just think what it would be like to stay here and see it for yourself! If only I could have breakfast here tomorrow morning… Wonderful!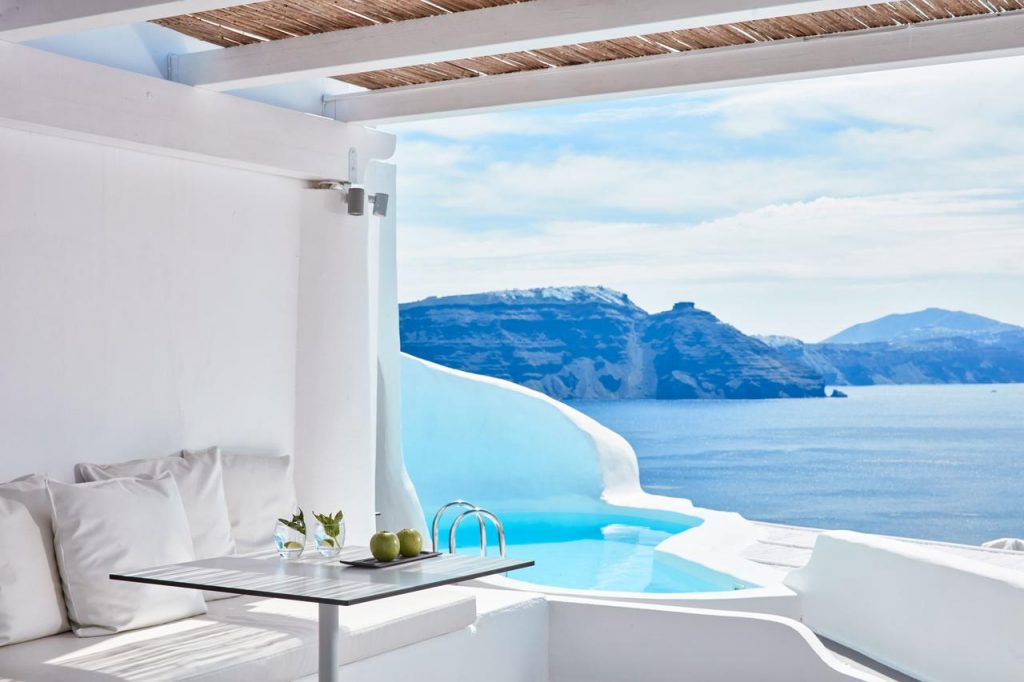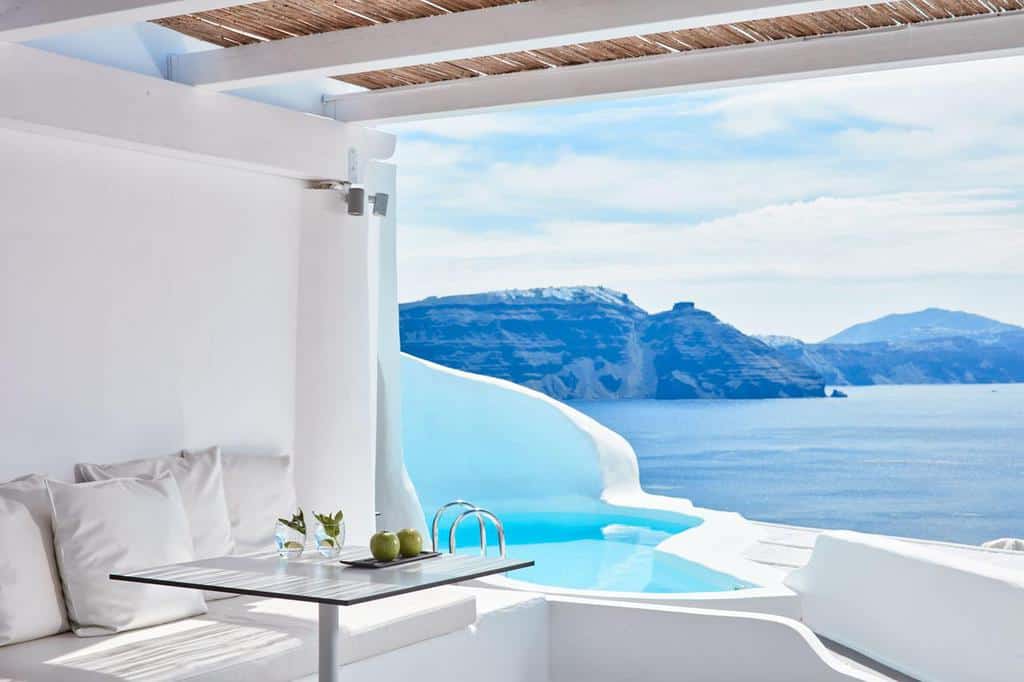 Katikies hotel is an elegant hotel with a typical Greek design located on the outskirts of Oia. This establishment is simply spectacular with a stunning infinity pool and an outdoor jacuzzi! Imagine lying in the jacuzzi or swimming in the pool with these views – what more could you ask for?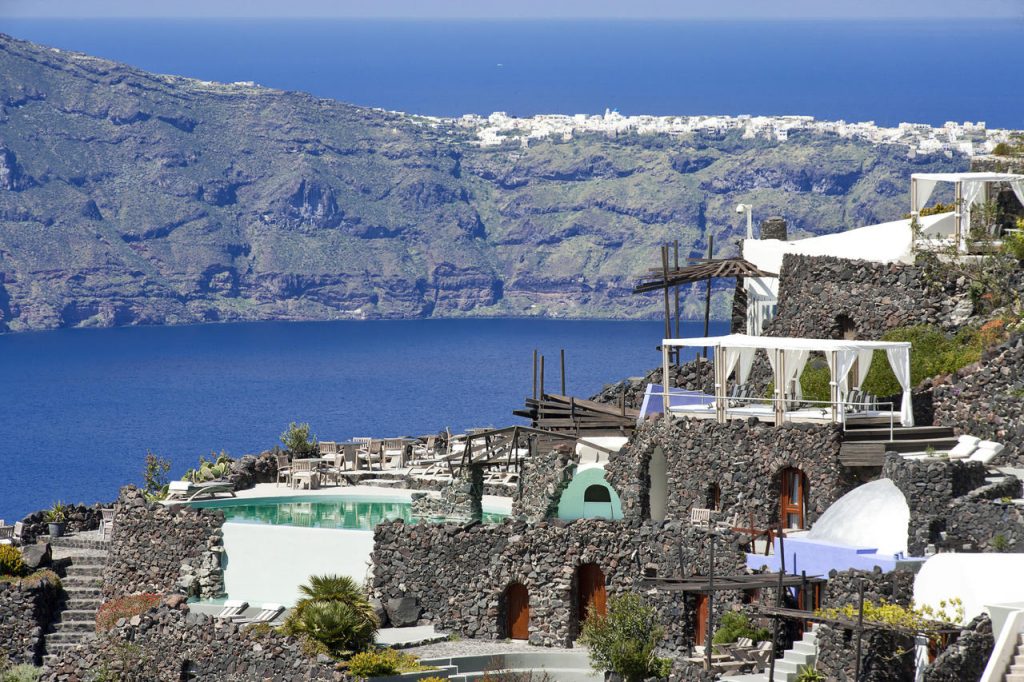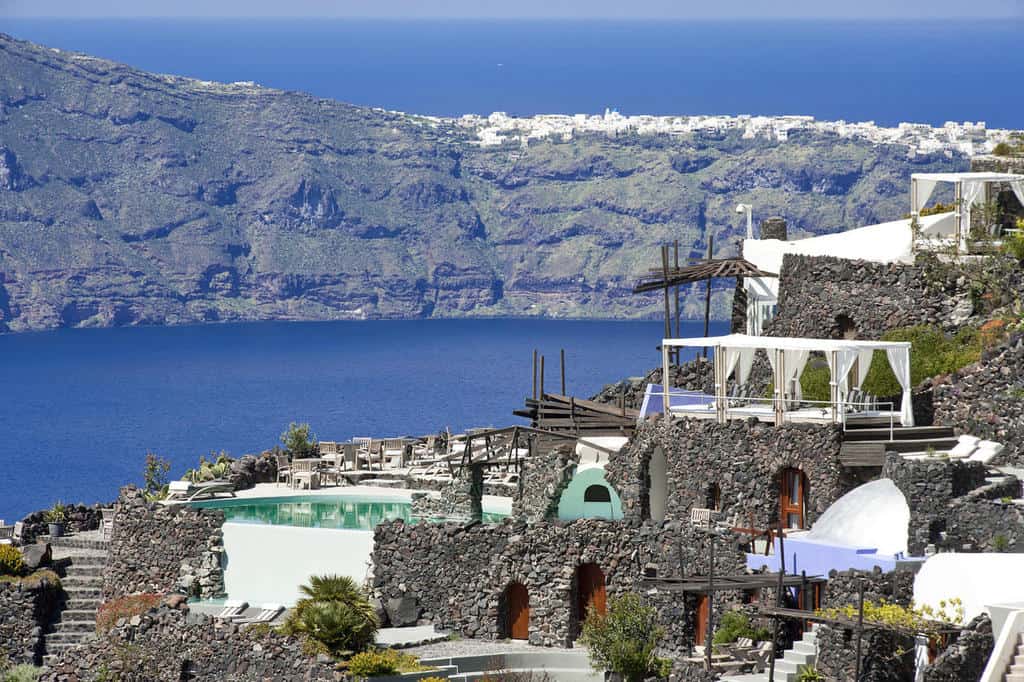 The whitewashed, traditional and extraordinarily beautiful Hotel Honeymoon Petra Villas is hidden in the rocks in Imerovigli. Who would like to spend their honeymoon here? Or should I be asking? Who wouldn't? Then I guess I wouldn't get any answers that way…
I'm sure that after reading this article you're already idealizing a vacation on the island. The beautiful Santorini has everything from endless beaches to dreamy sunsets. The spectacular island is chosen every year by thousands of tourists, will you have the privilege of being the next one?
Read more:
When to visit Santorini
Where to eat in Santorini
How to get from Athens to Santorini
Santorini's Infinity Pools
Exploring Santorini's beaches
How to get from Crete to Santorini
How to get from Mykonos to Santorini