Although there are hundreds of hotels in Santorini, everyone always wonders which area they should stay in.
So which is the best area to stay in Santorini? The best areas to stay in Santorini are Fira, Firostefani, Oia, and Imerovigli. These four areas also have the best luxury accommodations in Santorini, the most shops and the best restaurants.
It's best to reserve a room 6-10 months before your trip.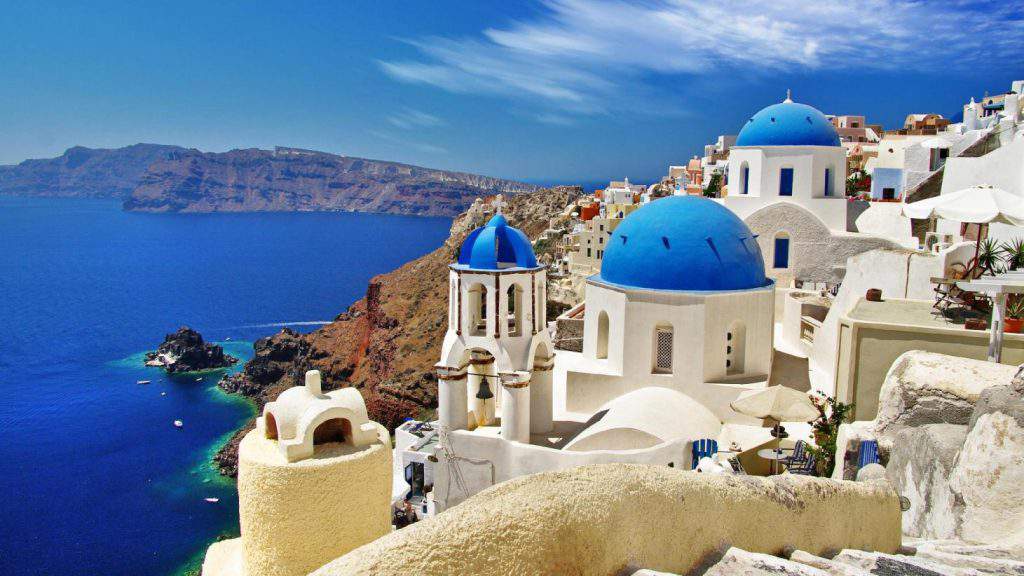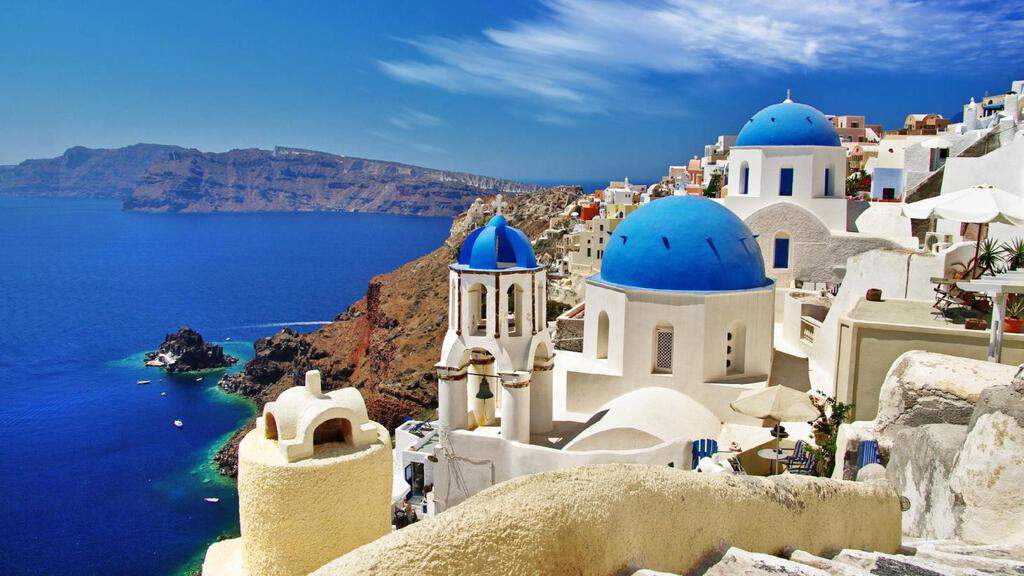 There are no gigantic resorts in Santorini. There aren't even many chain hotels. The best place to stay while on the island are boutique hotels. Their small, stylish establishments offer good and quality rooms. 
If you're in a rush, here are our favorite hotels in Santorini:
Grace Santorini and the Katikies are the best reviewed hotels in Santorini.
Boutique Hotels
The most stylish boutique style hotels on the island are:
Sophia Suites
Tsitouras Collection
Aspaki by Art Maisons
Cosmopolitan Suites
Honeymoon Hotels
Best places to stay during a honeymoon are:
Katikies
Oia Castle by Art Maisons
Cavo Tagoo
Sophia Suites
Cosmopolitan Suites
Best Hotels in Fira
Best Hotels in Firostefani
Tsitouras Collection 
Belvedere
Homeric Poems
Best Hotels in Imerovigli
Astra Suites
Cavo Tagoo
Grace Santorini
Best Hotels in Oia
Canaves Suites
Katikies
Perivolas
Grace, Katikies and Esperas Traditional boasts the best view of the sunset on the island. 
Budget Hotels
Those with Caldera view
Fira- Kavalari
Oia- Strogili
Imerovigli- Kasimatis Studios
Firostefani-Agali Houses
Those without the Caldera View(Much Cheaper)
Oia- Anemomilos
Imerovigli- Merovigliosso
Firostefani- Hotel Sofia
Fira- San Giorgio Villas
Cavo Tagoo is a new hotel located near Imerovigli. It's secluded, quiet and perfect for a honeymoon. 
Tips For Booking Hotels
Visit Booking.com to find the best hotel deals on the island. 
It's best to reserve rooms early because Santorini's hotels full up fast. Aim to secure a spot 6-10 months in advance if you want to get a good room. Book on Booking.com if you're unsure about your trip. They don't charge for cancellation so you don't have to worry about changing your mind.
Expedia and travel agencies usually have back door deals with certain hotels to push tourists to book their rooms. It's best to just find accommodations on your own. 
Top Hotels in Santorini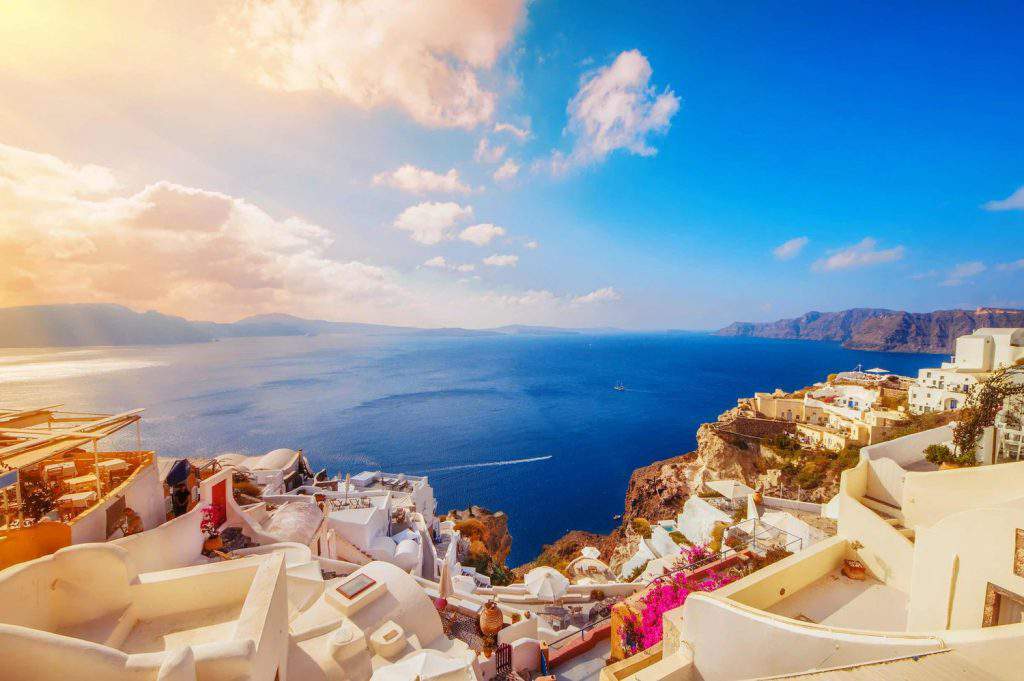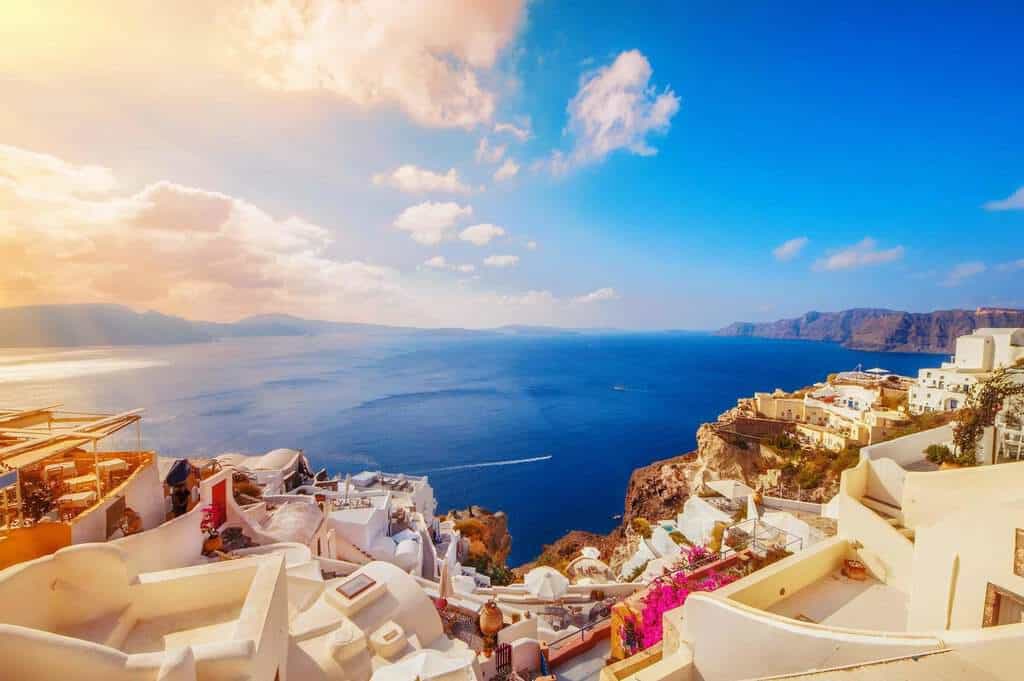 The towns of Fira, Imerovigli, and Firostefani are right next to each other. You can explore them all by foot. Oia, on the other hand, is two hours away. It's like a little detached parts of the island. Located on these four towns are the best luxury accommodations in Santorini. They also have the most shops and the best restaurants. 
You're not going to regret spending on your hotel in Santorini. The view alone is a reward for making the trip. Aim to get a good room on island so you can make the most out of your vacation there. Take time to stop and stare at the beauty of the cliffs and the caldera of Santorini. 
Here are a list of the good hotels in Santorini. Click their names to see their prices on Booking.com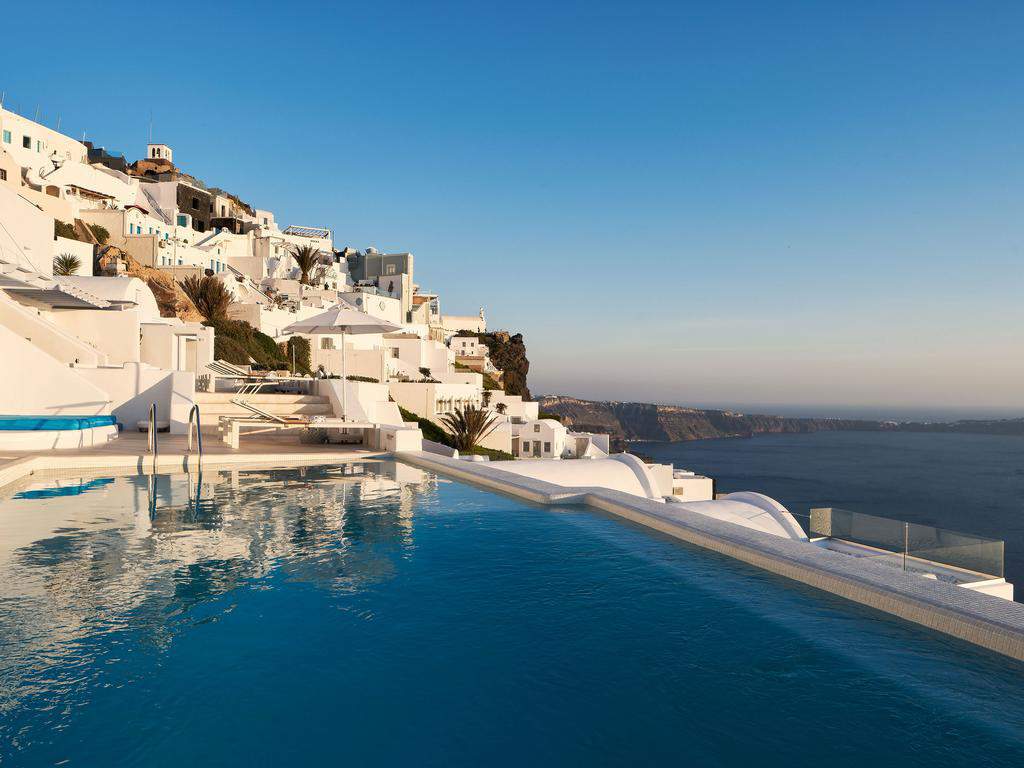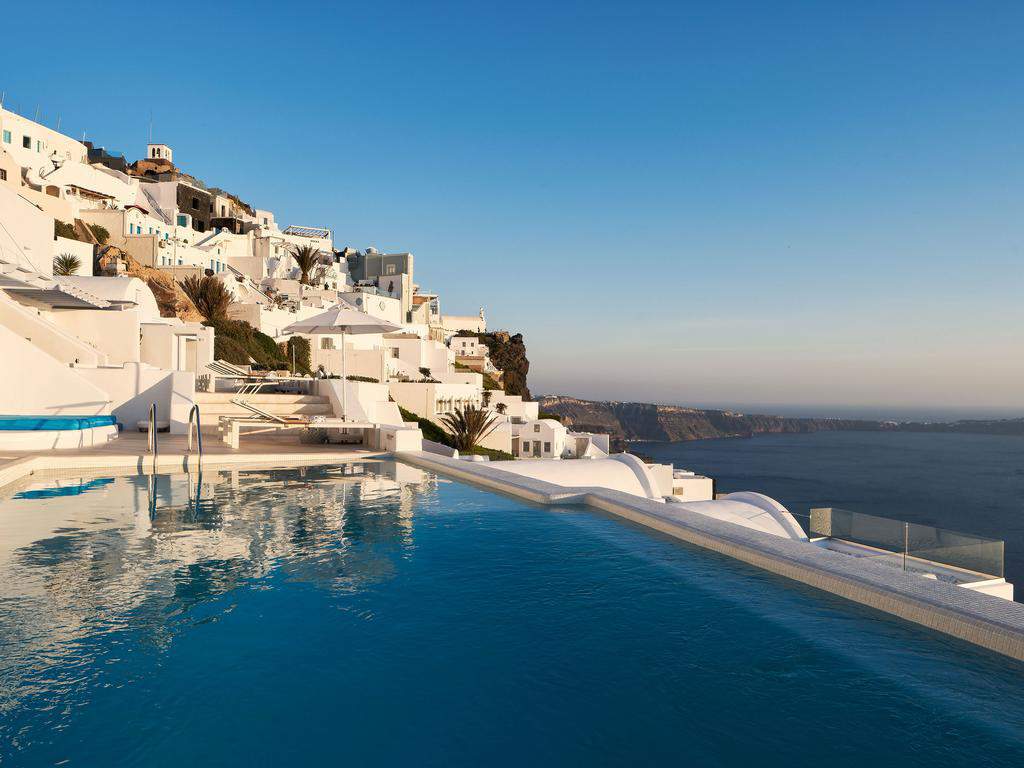 Astra suites is one is Greece's best hotels. It has a little kitchens in every room as well as your own terrace. The suites are spacious and well designed. You can enjoy the infinity pool while admiring the caldera and Santorini's picturesque sunsets.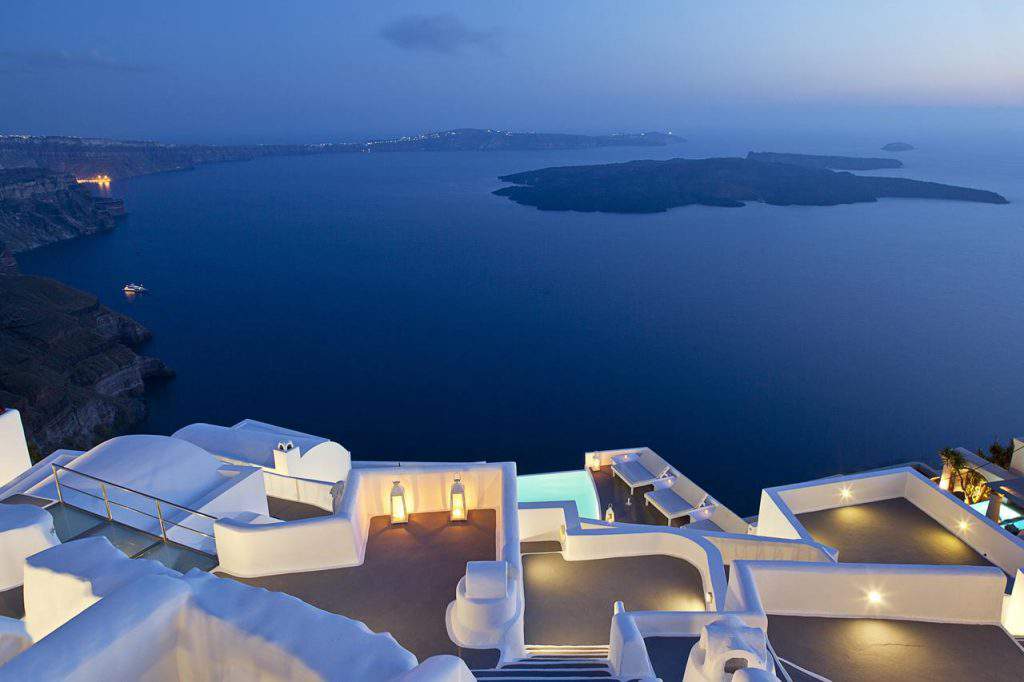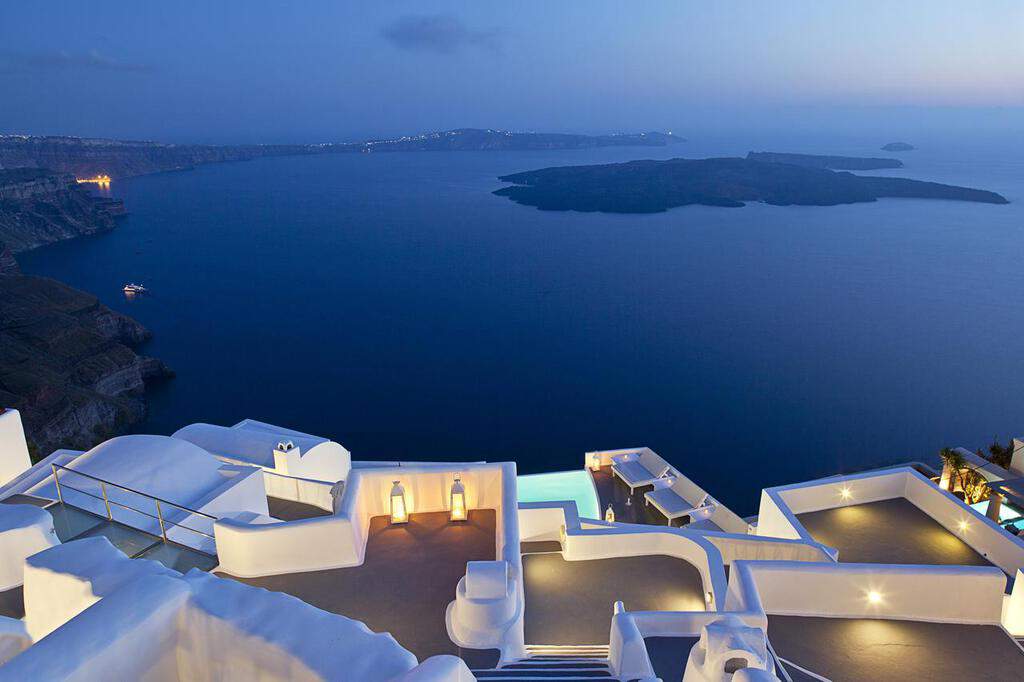 One of the top accommodations on the island. This hotel almost has  it all. From the instagram-worthy scenery, the great amenities to the top-notch staff. A veranda and a magnificent view of the sea is available at every rooms. Book one of the premium rooms to get the finest service you'll ever experience in you entire life.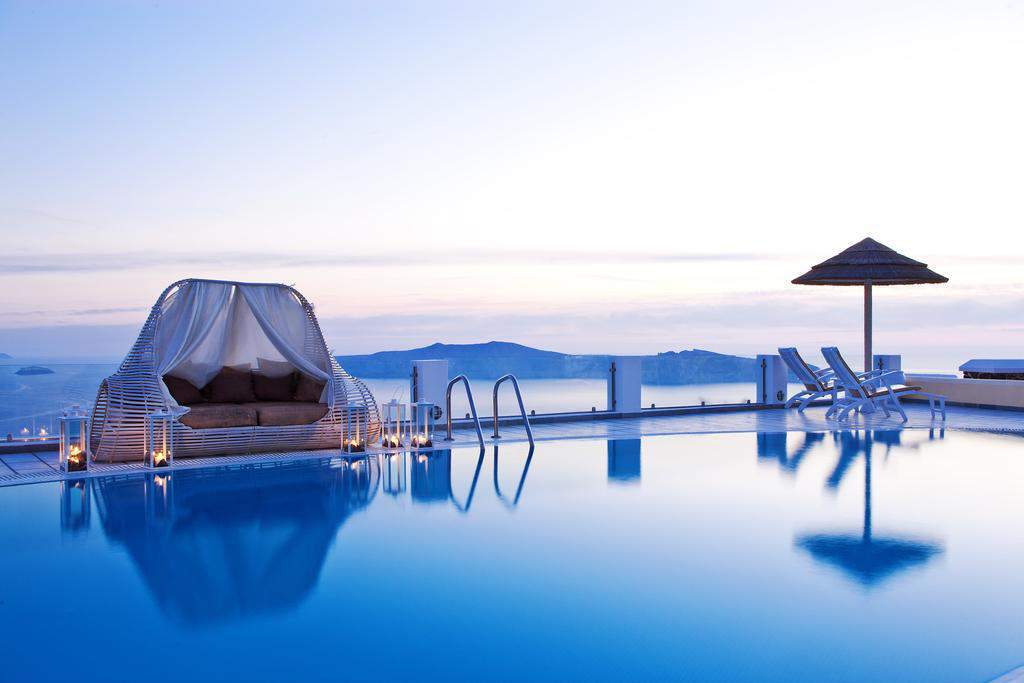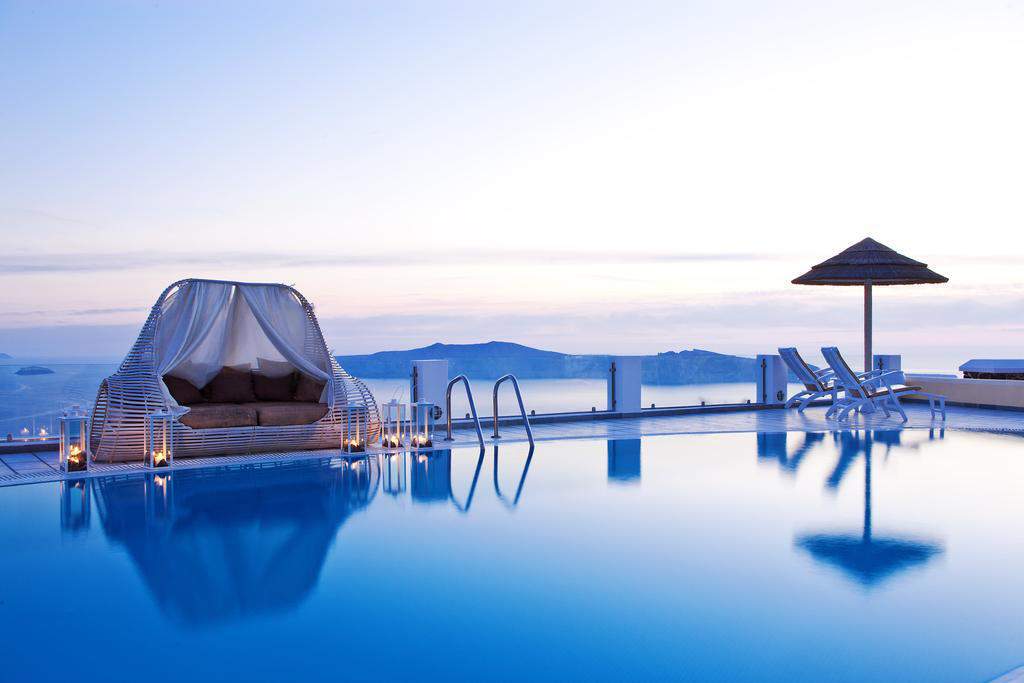 This hotel has excellent staff. They're very accommodating but not to the point that it's annoying. It has one of the greatest views in all of Santorini's hotels. The town of Oia and Akrotiri is visible from the rooms. They also have a spa, an infinity pool, and a restaurant serving delicious greek cuisine and cocktails that are to die for.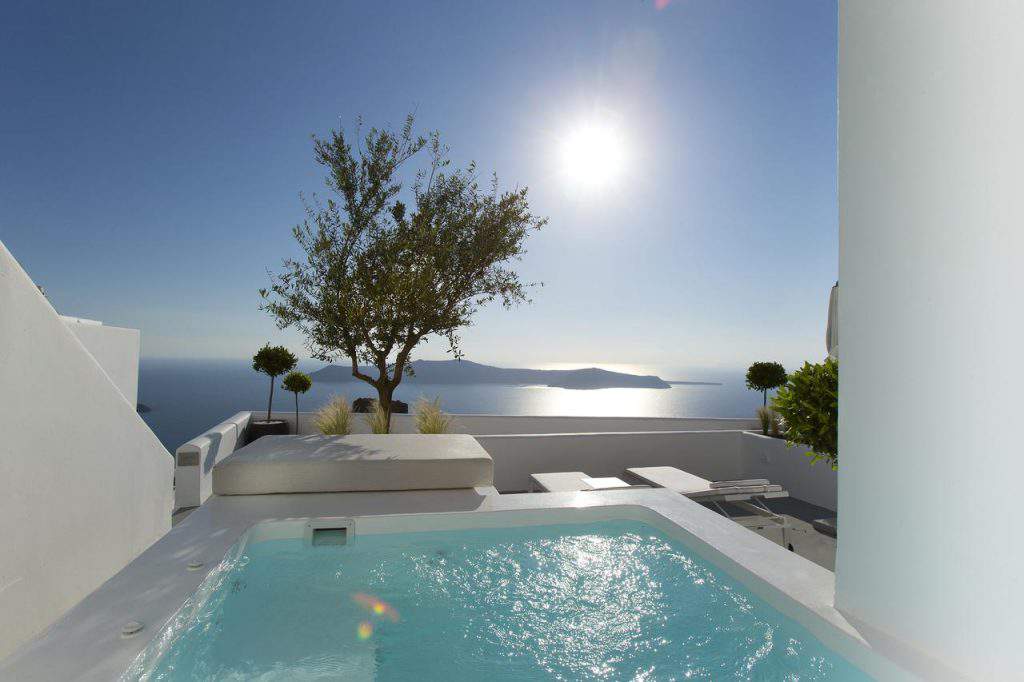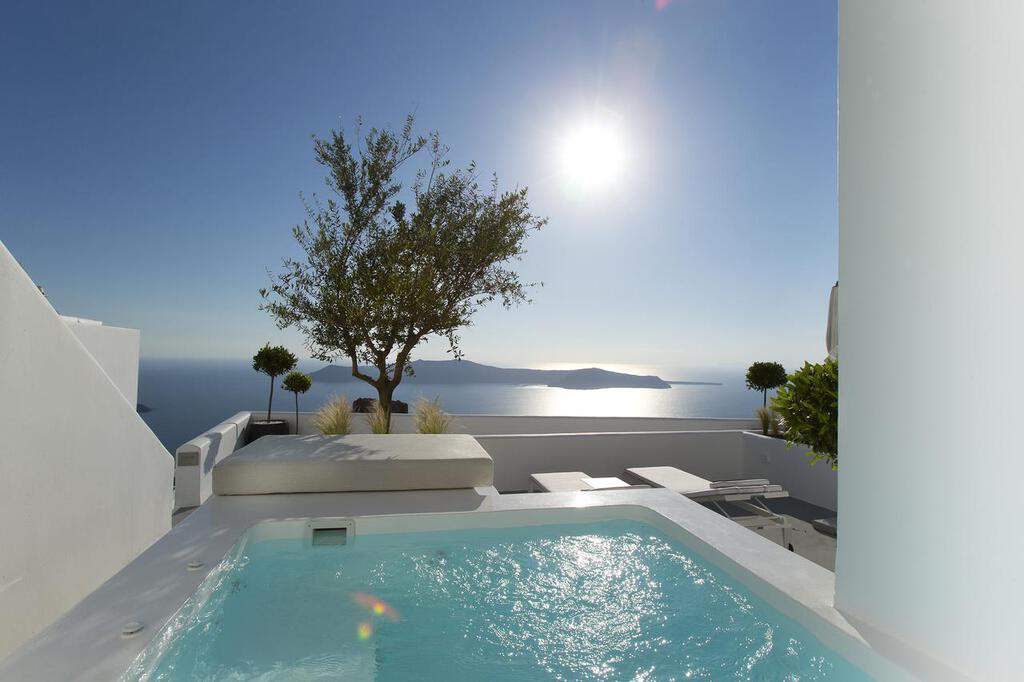 One of the most recommended hotel on the island, Grace Santorini boasts a great view of the caldera, skaros rock and Santorini's scenic sunset. The interior design is one of a kind and truly a feast for the eyes. The restaurant and pool are unmatched on the island. It's unfortunate that Grace is so popular that you need to reserve a room years in advance before your trip. It's a testament to its greatness.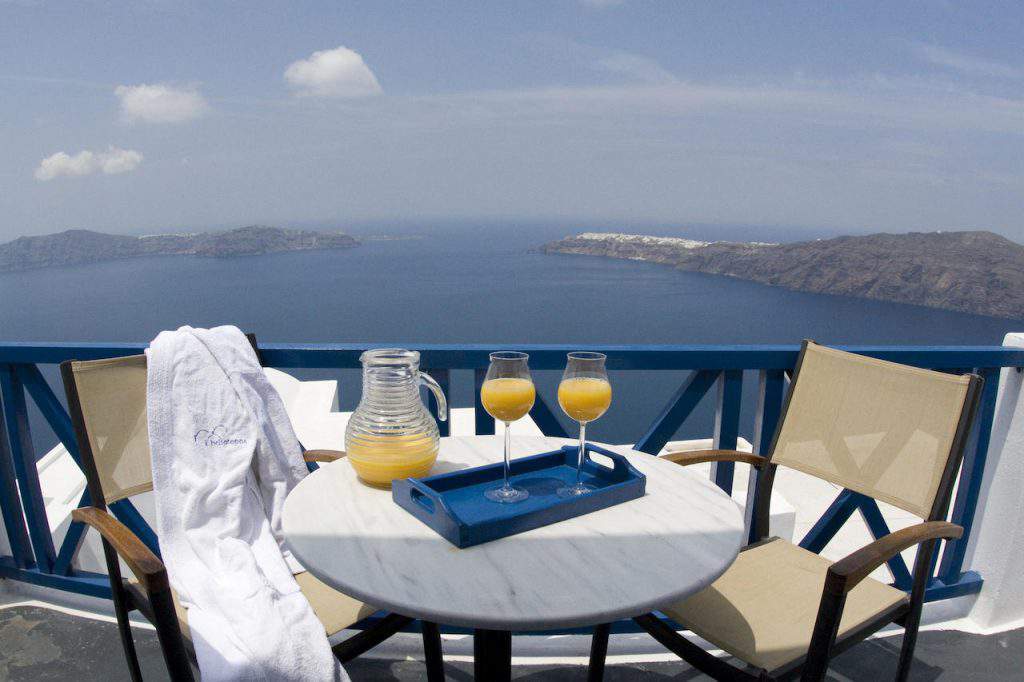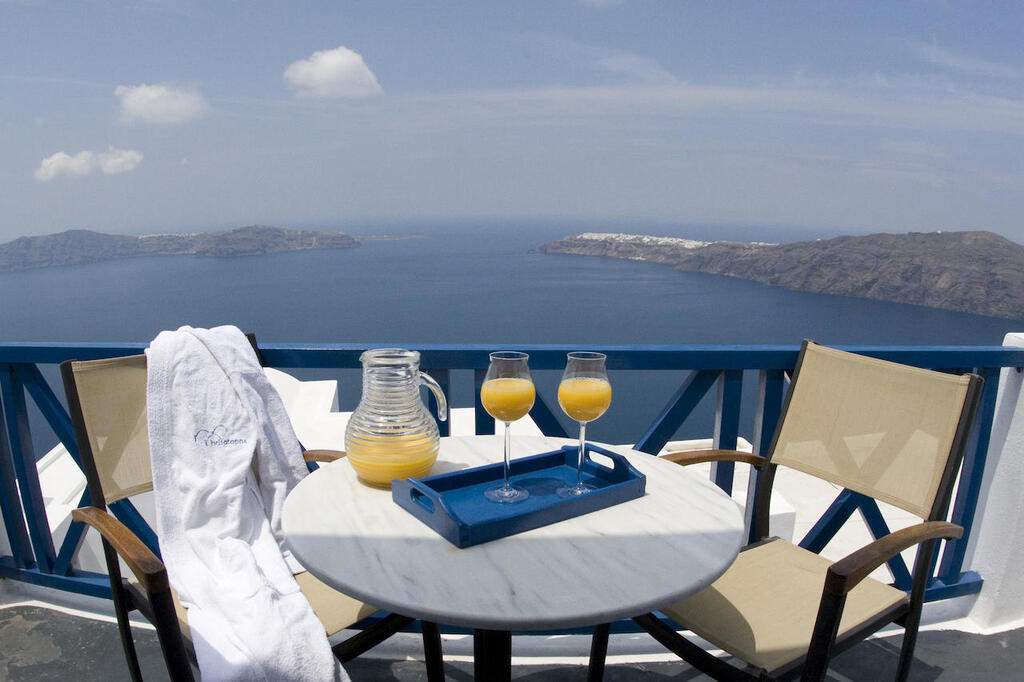 All of the rooms in this hotel have their own balconies and wonderful views. All of their rooms are one of a kind with some having their own kitchen and some looking like caves. The hotels also has a great infinity pool and wine bar. It caters mostly to families especially those with children.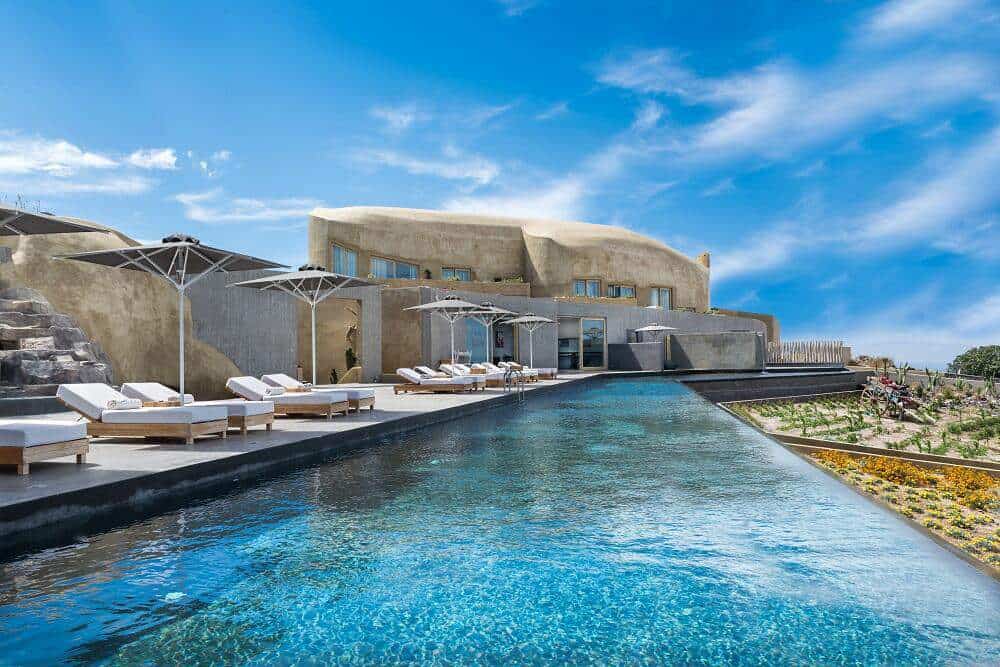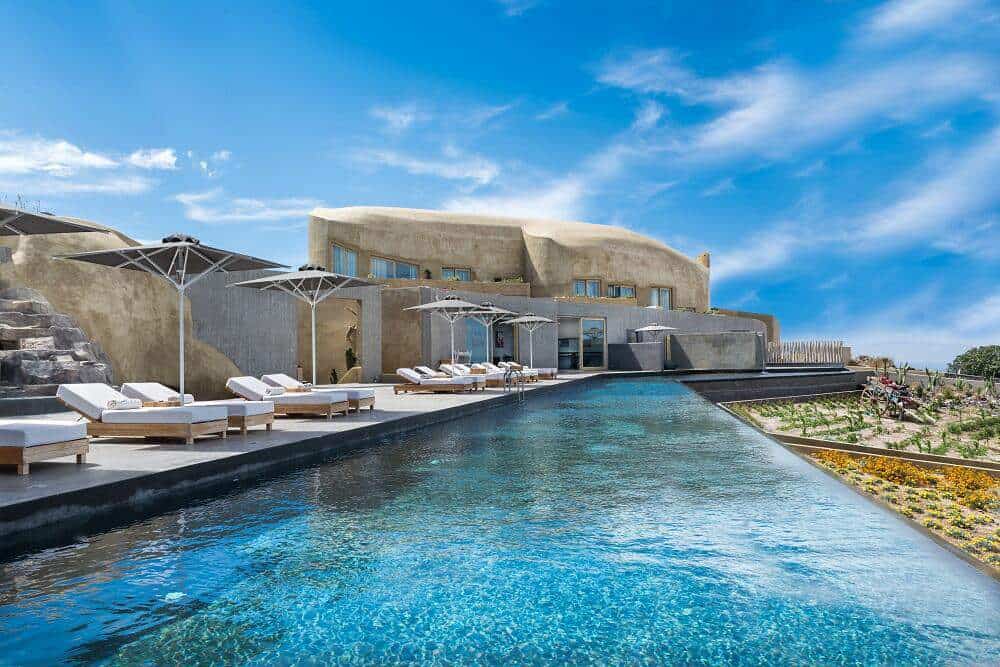 This hotel is best for families, especially those with children. It has a lot of activities for kids like cooking lessons, yoga and toys included in the suites. It has a big spa that offers massages, skin treatments, yoga and spa packages. It also has a restaurant that serves amazing and healthy food made with 100% fresh and local ingredients.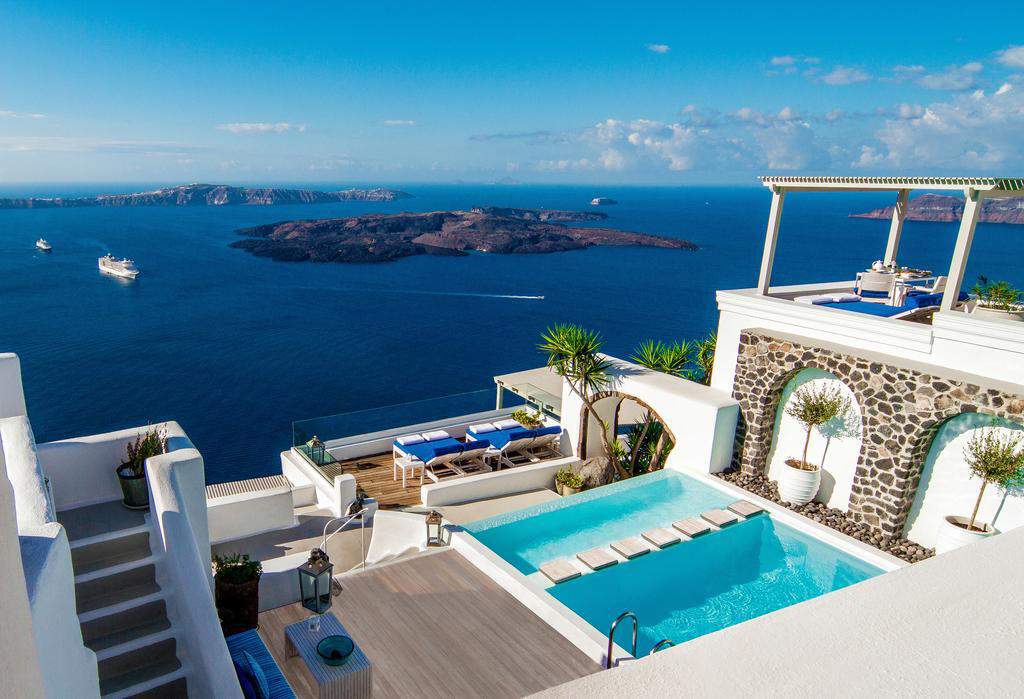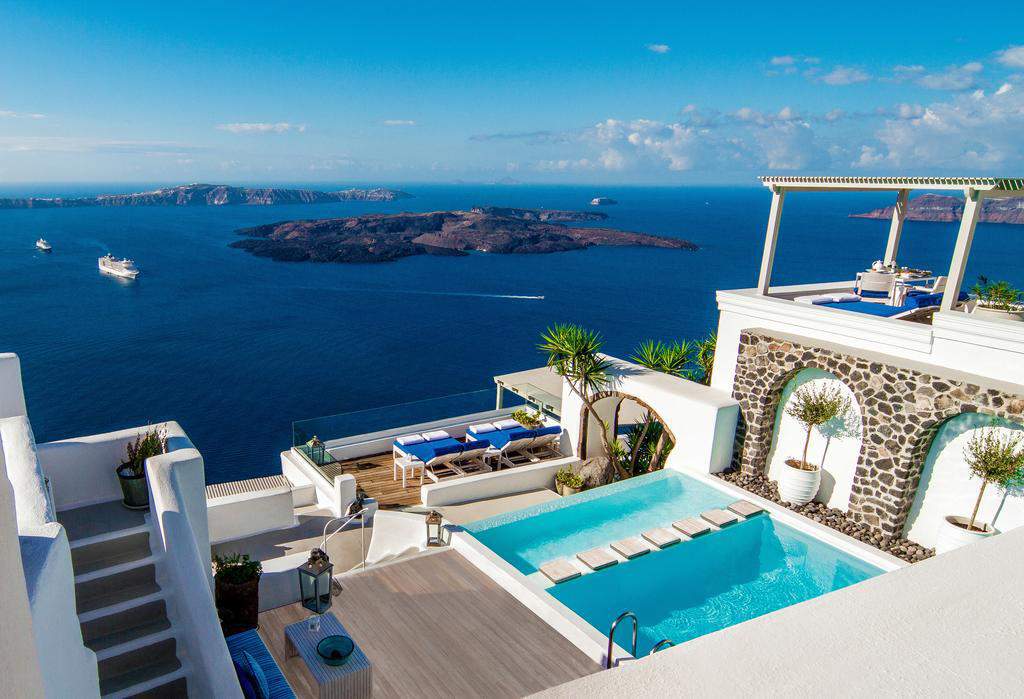 This hotel offers jacuzzis, pools, a spa and infinity pool. It has a restaurant that serves authentic greek food. The entire hotel is nearly designed and the rooms look like beautiful caves. The Caldera can be seen clearly from every point of the hotel. The staff is so accommodating that in service alone, you already got more than your money's worth.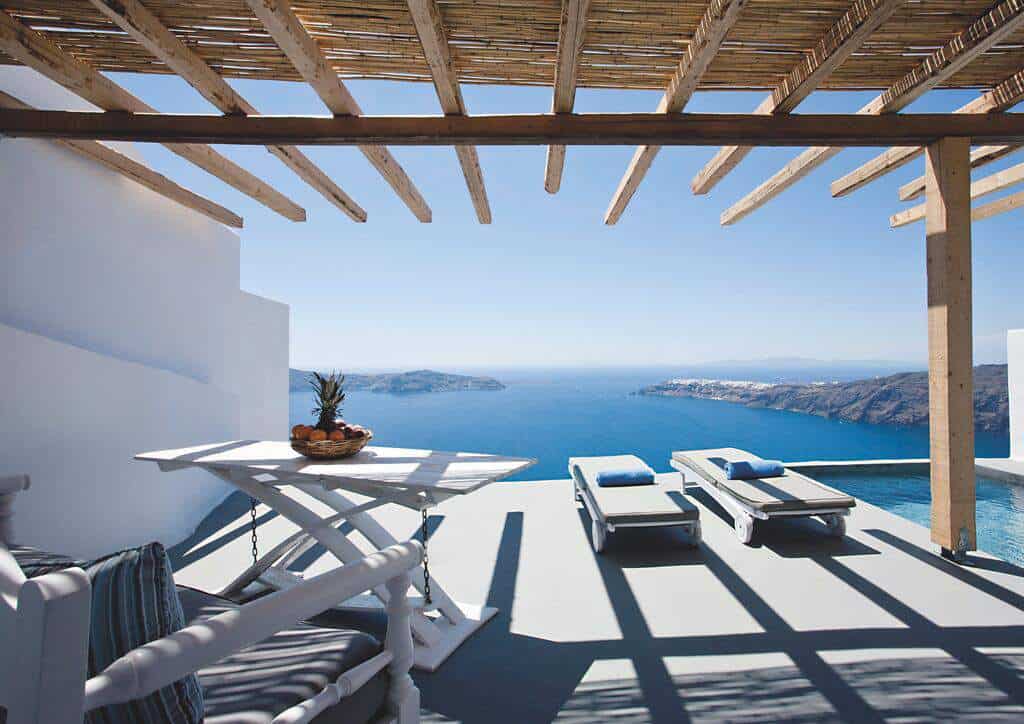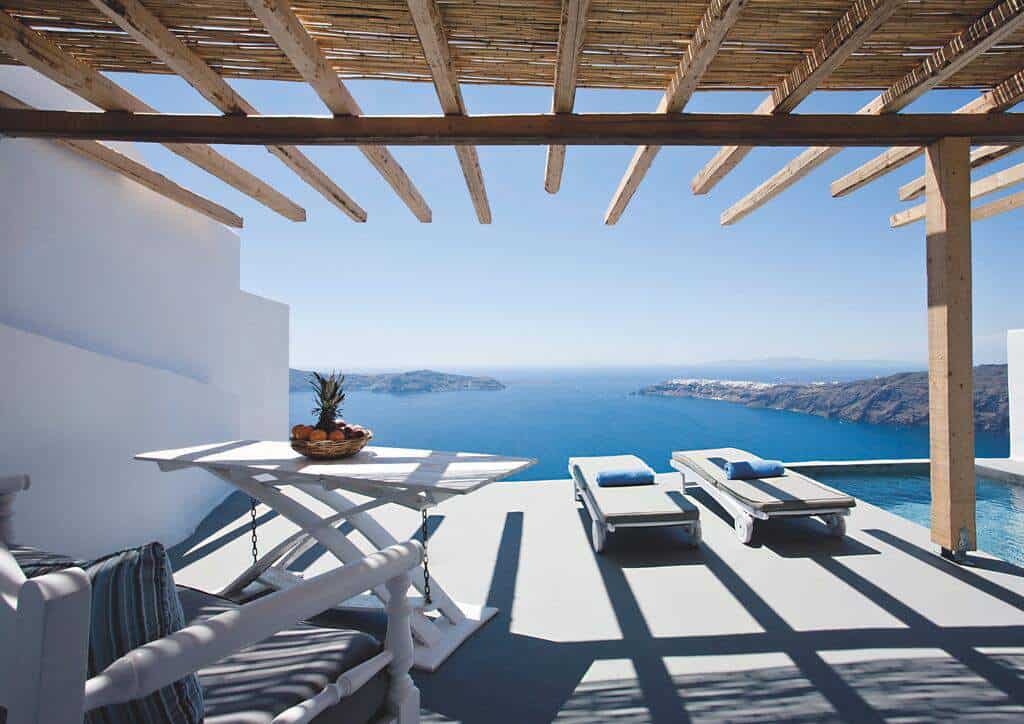 Perfect hotel to stay in if you're a history buff. This hotel was a winery in the 18th century. It has traditional architecture and rooms that look like caves. Amenities include a common pool and a caldera view at any point in the hotel. It serves an impressive four course breakfast that's a genuine greek recipe made using local ingredients. Relax and eat while staring out into the caldera from the terrace. Remezzo's rooms have different features depending on which one you booked. Some have little kitchens, heated pools, and even a jacuzzi.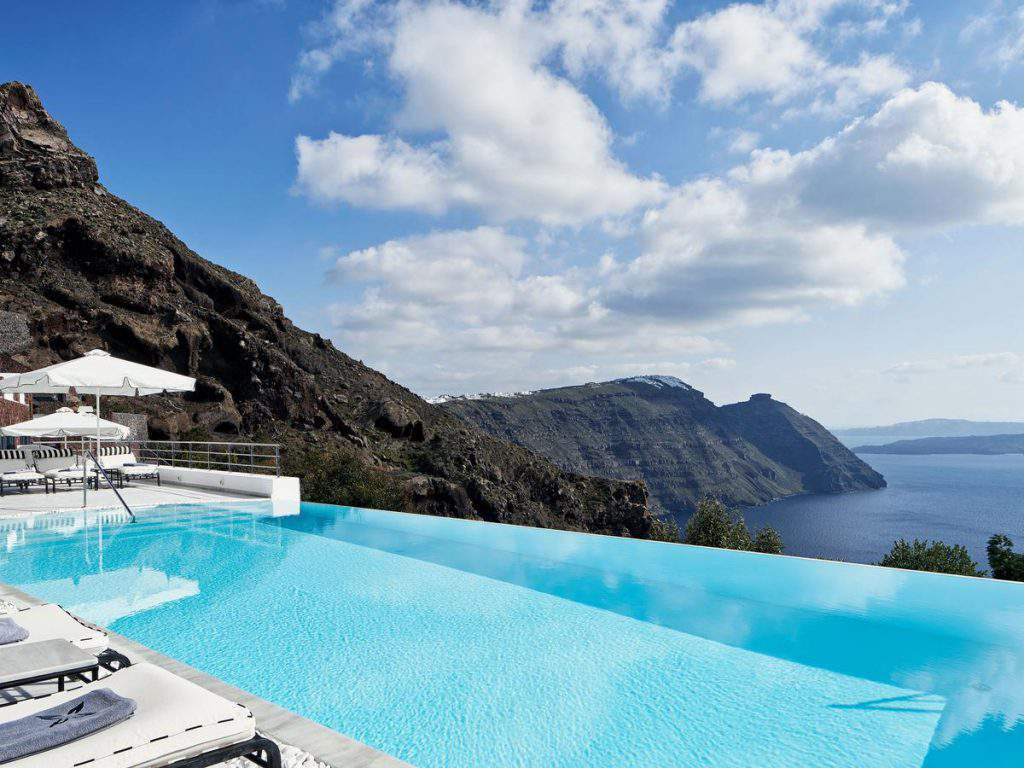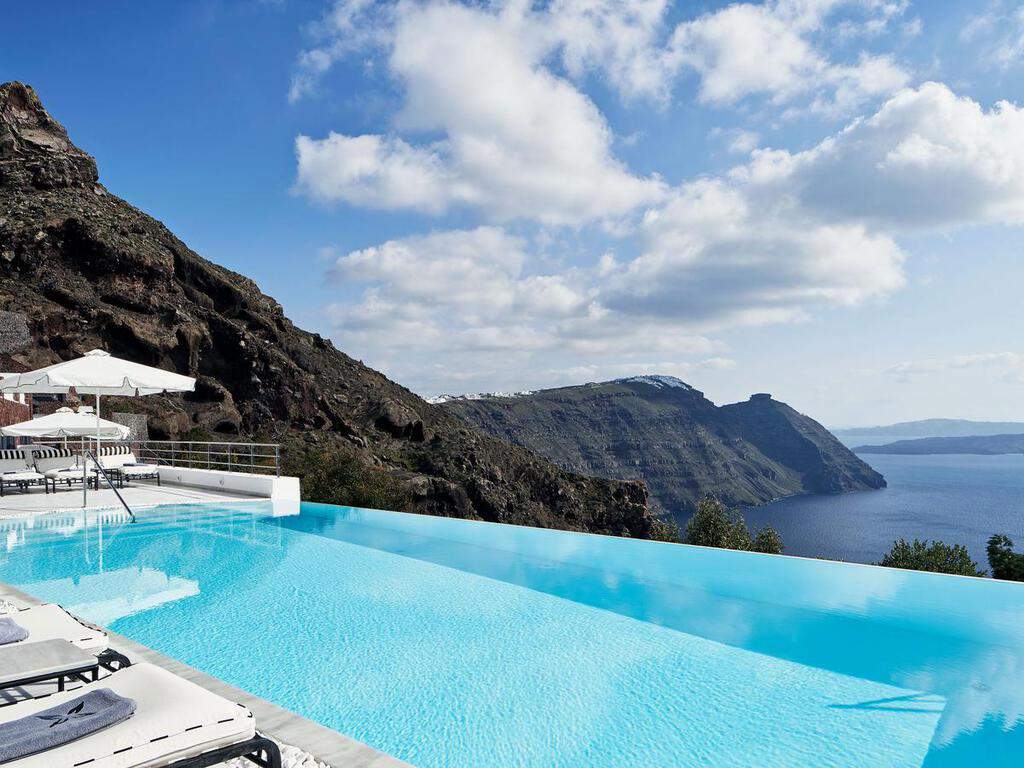 San Antonio is the perfect place for a honeymoon. It's quiet, secluded and stunning. It's a good place to stay in and relax if you want to explore the island. Although it's best to rent a car since it's isolated. There's not much around San Antonio and the busy town of Imerovigli is 40 minutes away. Buses do stop in front of the hotel every now and then but walking seems to be the best, most reliable option aside from the rental car.
Read our detailed San Antonio Hotel review.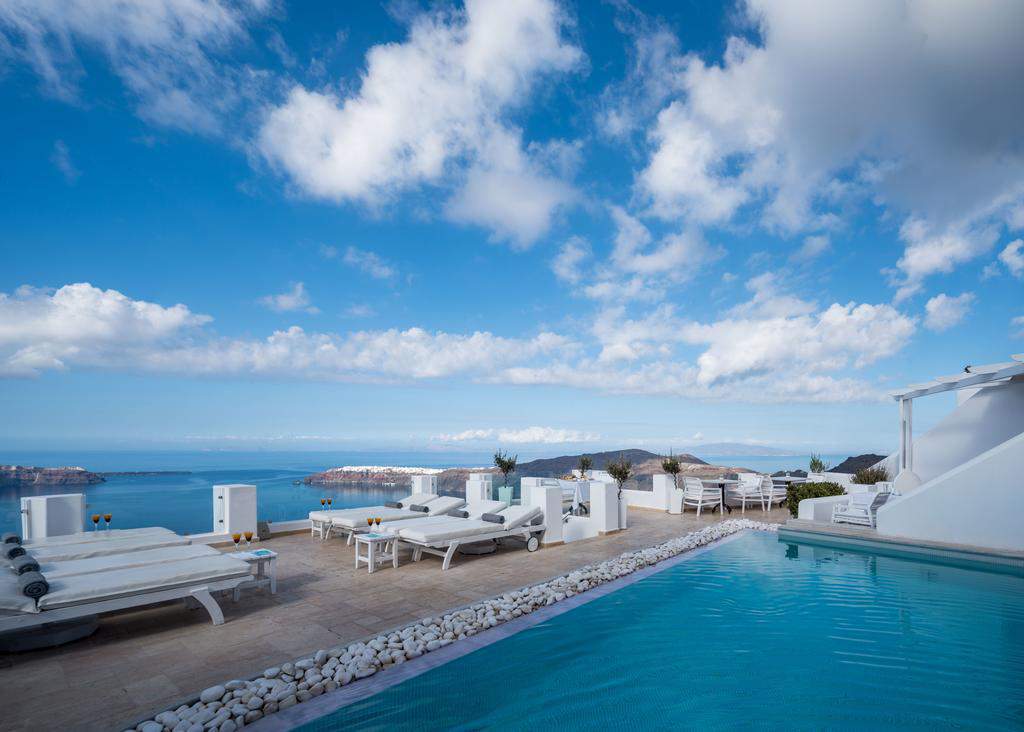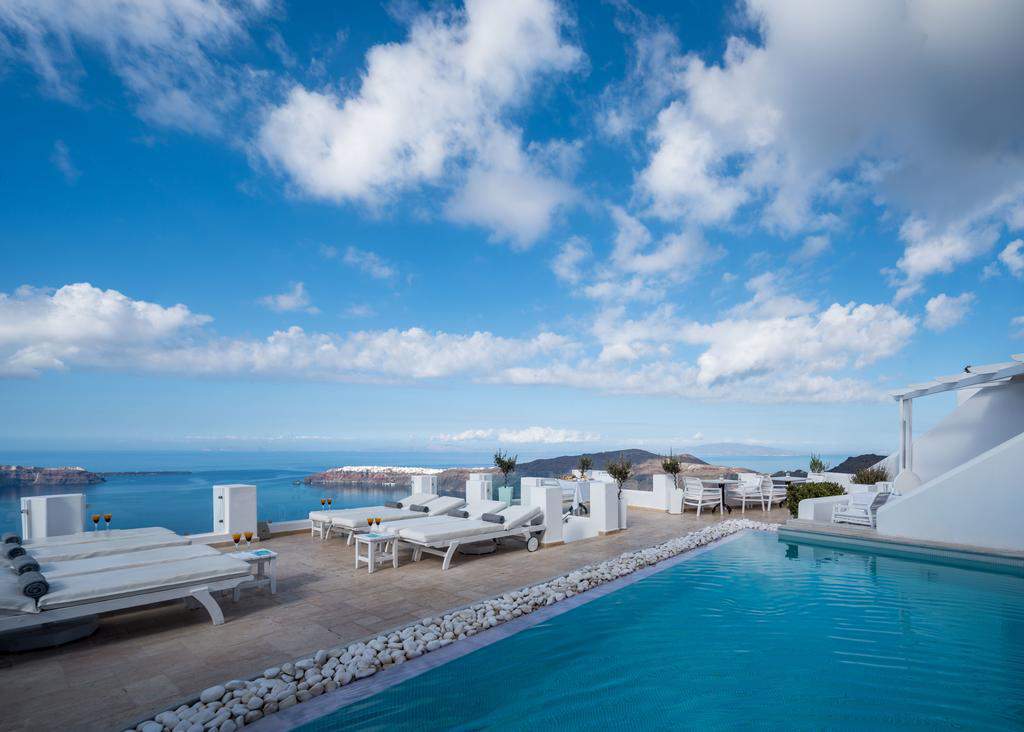 This hotel has over the top service with breakfast and champagne delivered to your room every morning. It features a great view of the caldera and a common infinity pool. Your experience with the hotel depends on the room you chose. Some suites have jacuzzis and some have private pools. Diners here are served on a terrace where you can eat while admiring the view.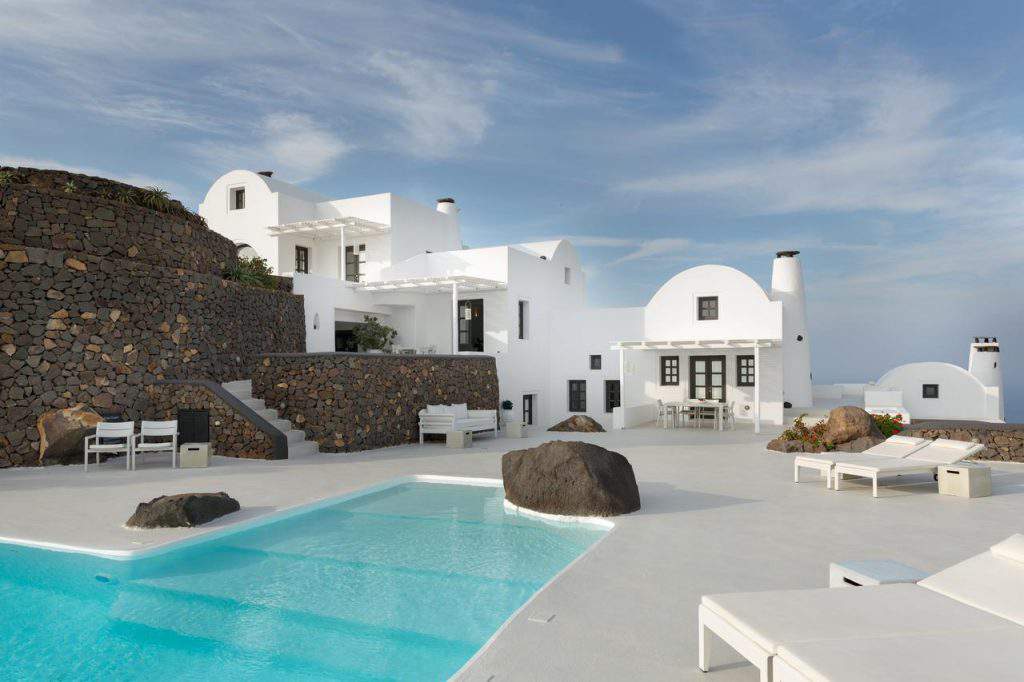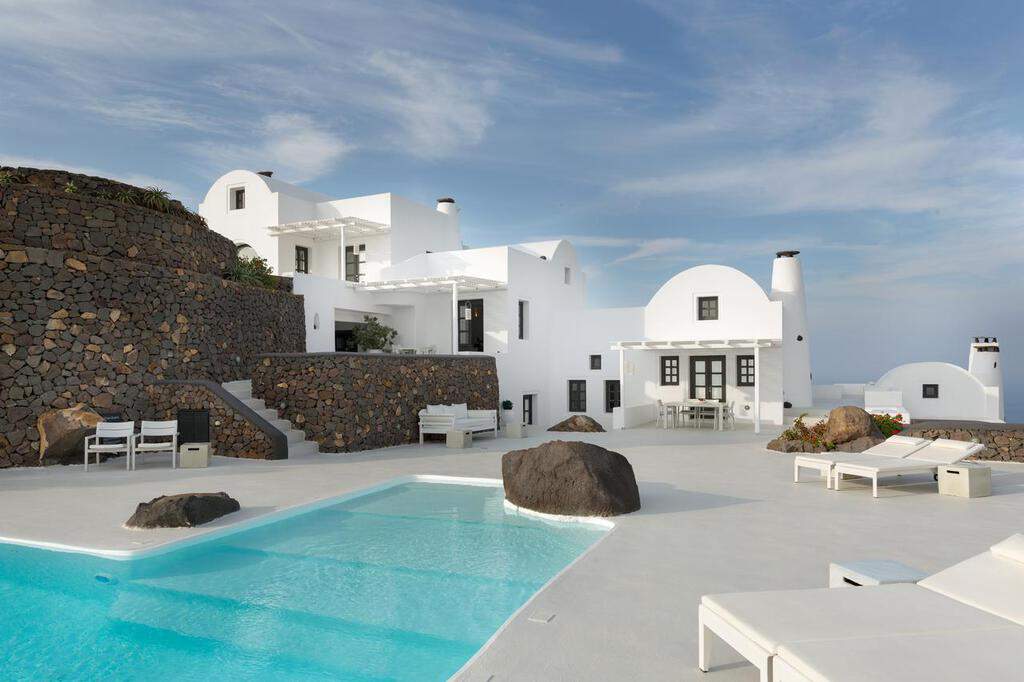 This hotel offers a rarely matched kind of luxury. The service is top-notch and the villas are large and well decorated. Some of them have an outdoor jacuzzi and another one has a private pool. Santorini's magnificent sunrise and its scenic caldera can be enjoyed at any spot in the hotel, even while your in the pool.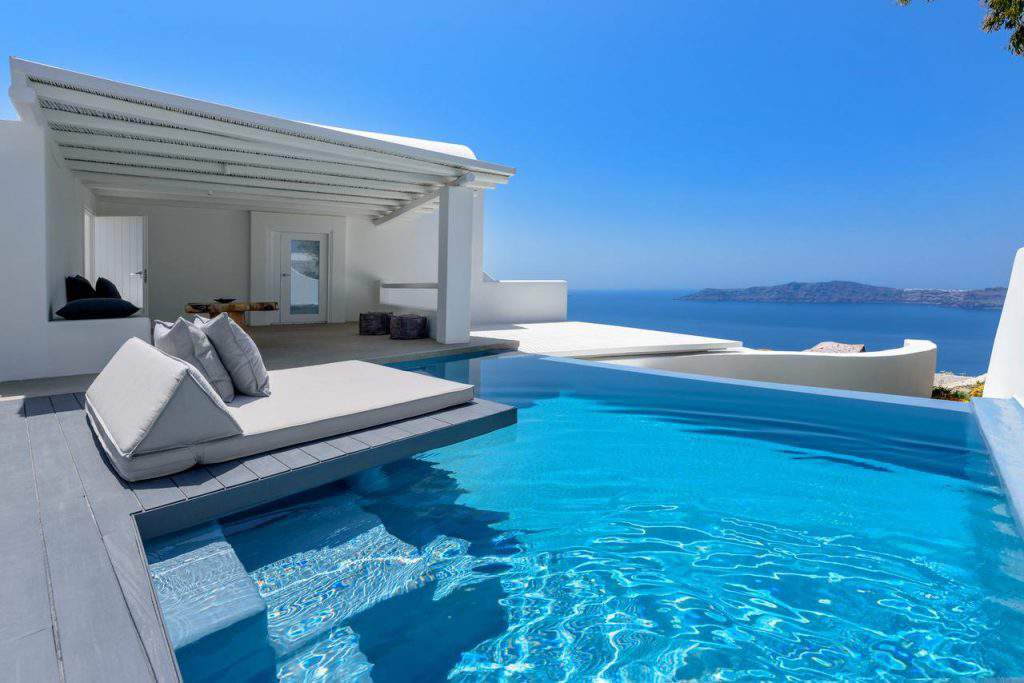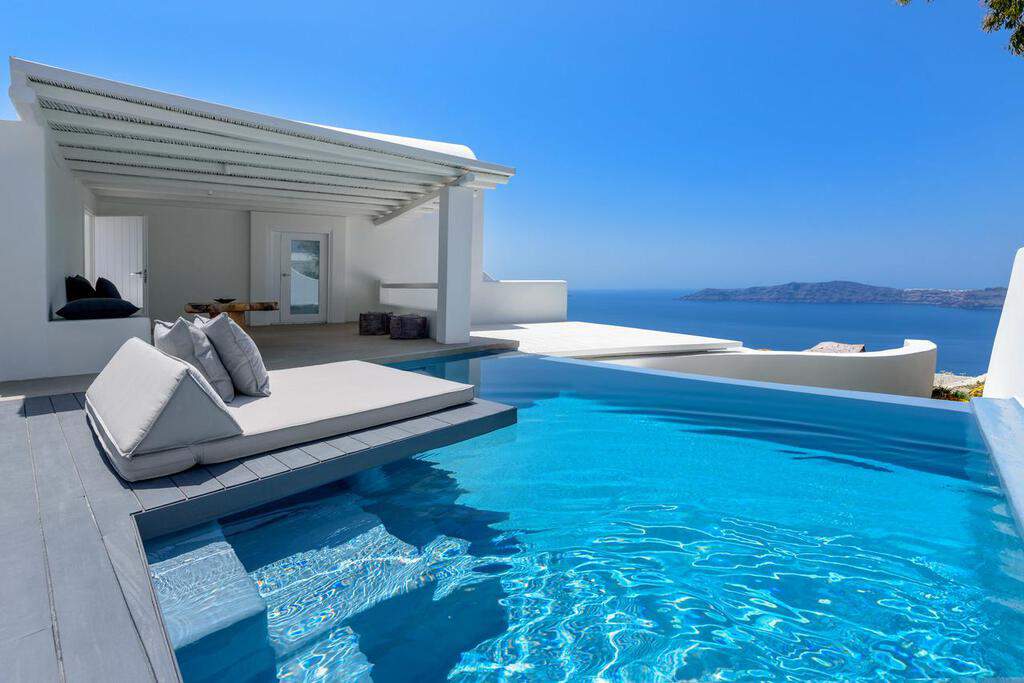 This is a newly built hotel that's great for honeymoons. It has easy access to the main parts of town and the bus stop. It's rooms all have their own hot tub or private pools. It also has a common pool, bar, and a restaurant. A great view of the caldera can be seen from anywhere in the hotel.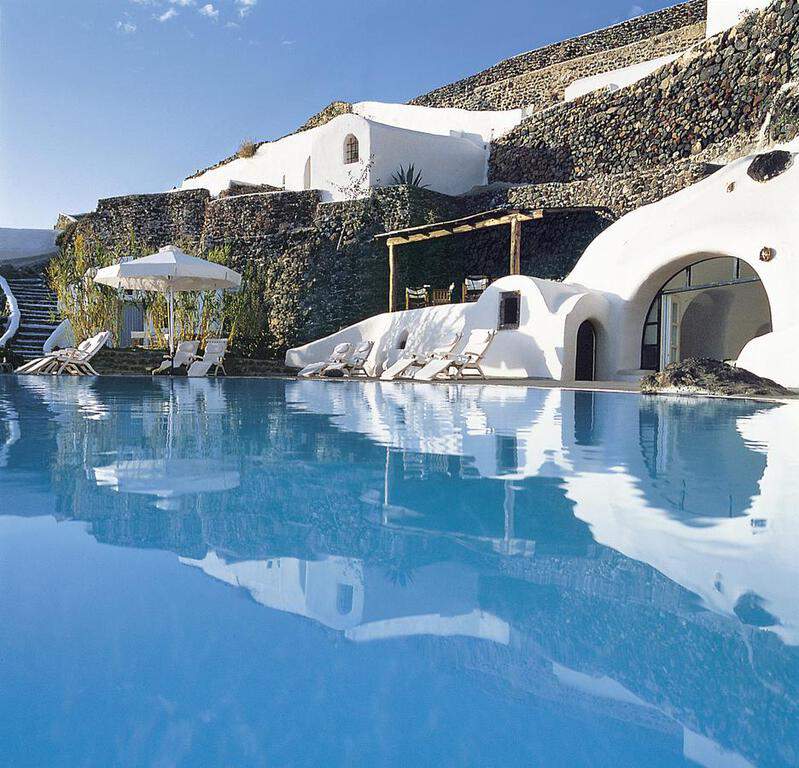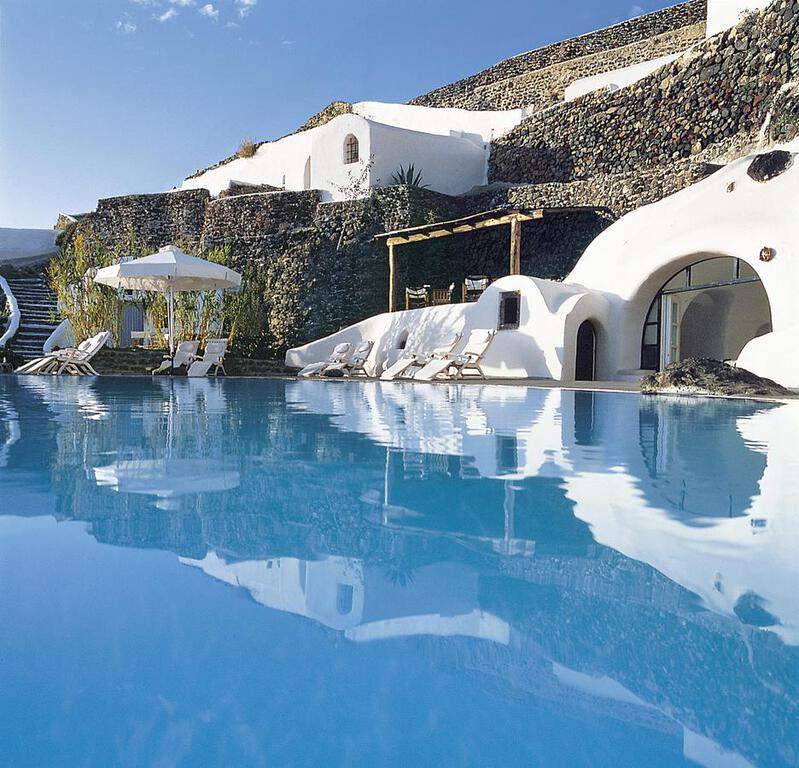 Rooms at this hotel all have their own little kitchen. Perivolas is a minimalist-designed hotel that offers a common infinity pool and a great view of the caldera. You can also get a room with your own private pool.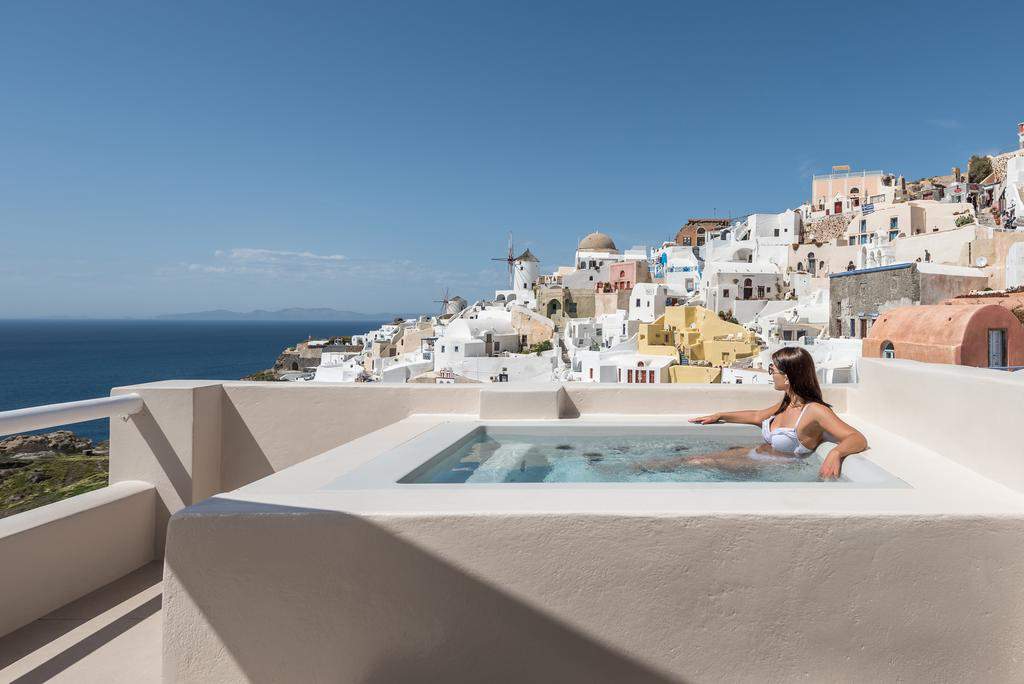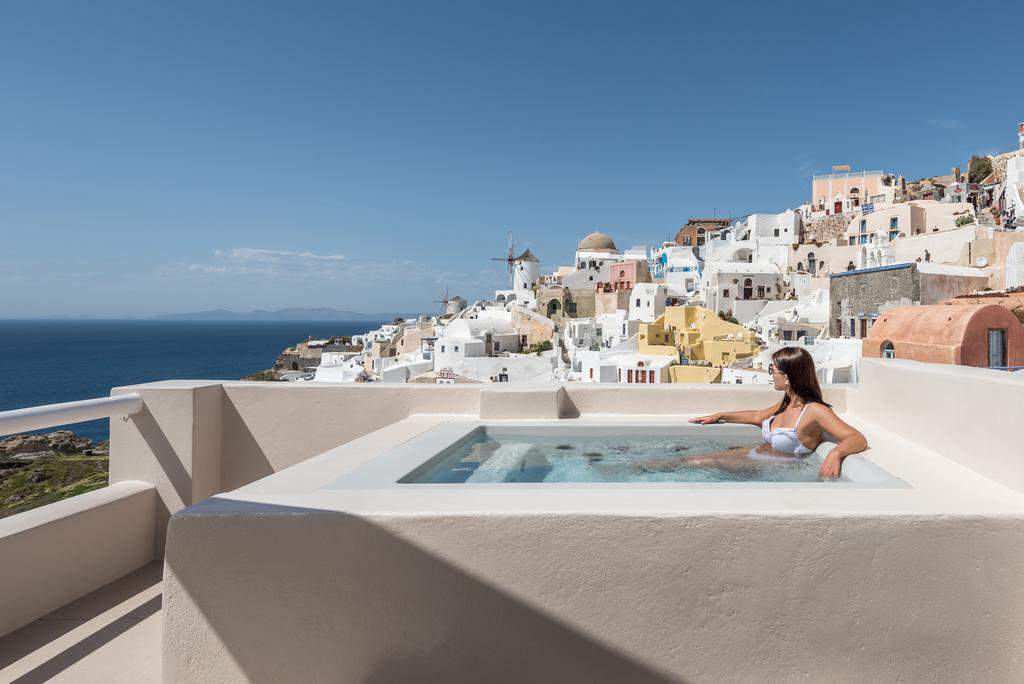 A great hotel to stay in if you're going for a romantic atmosphere. Every room has a great view and amazing design. The cave pool room is one of Santorini's best rooms.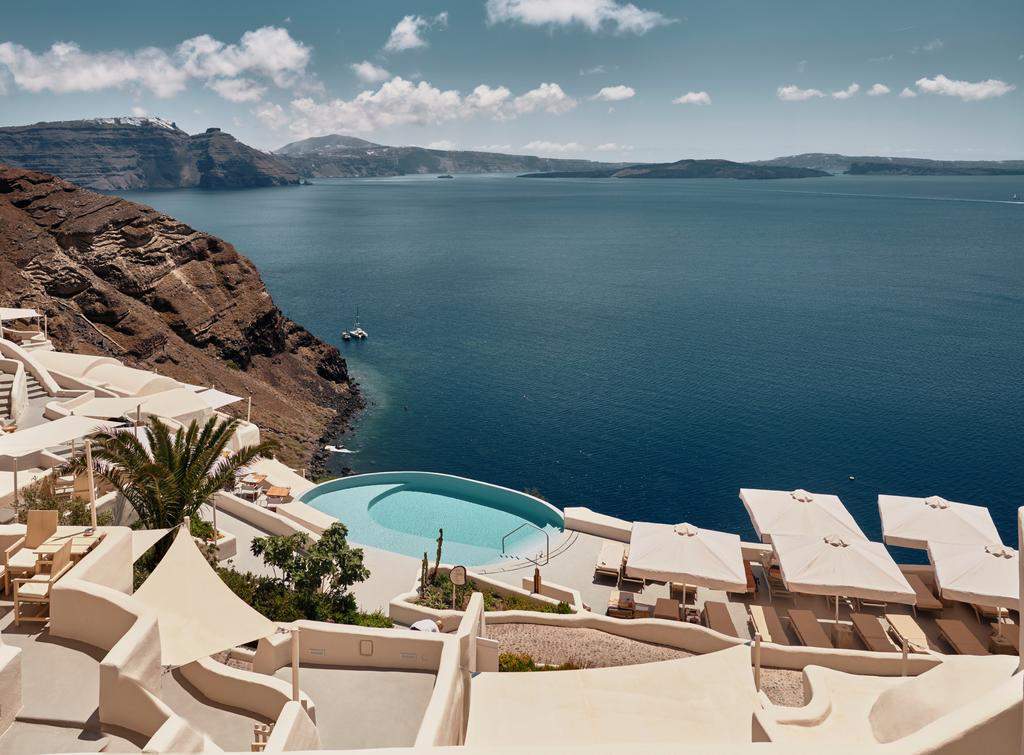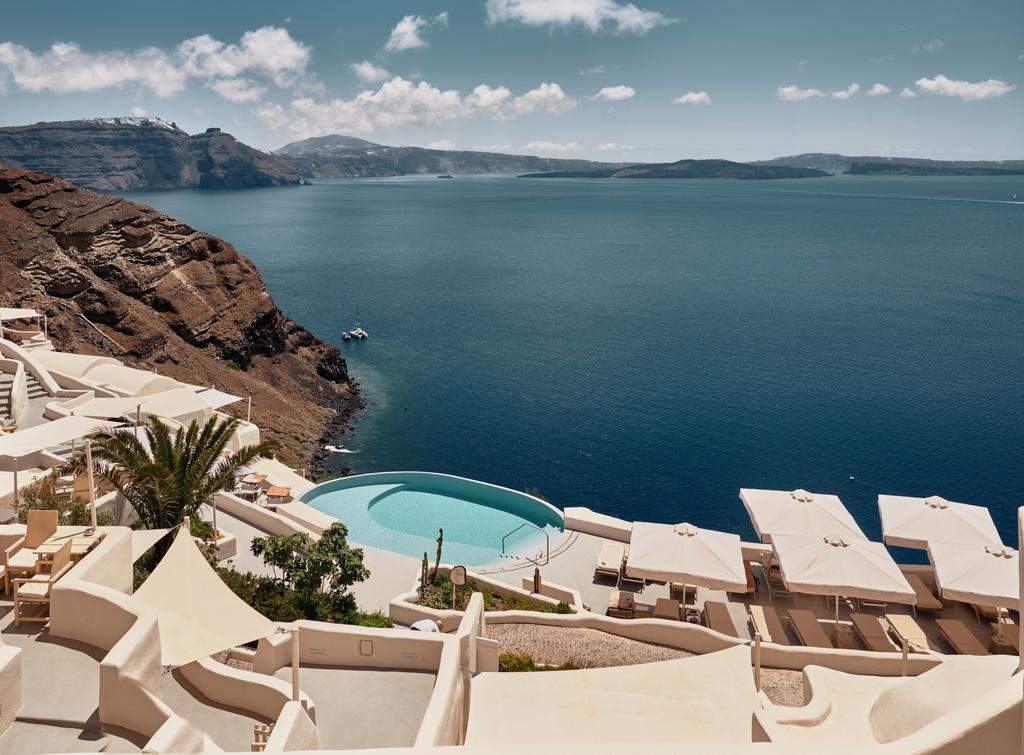 A little far from the main parts of town but and is really quiet and secluded. It has a private terrace, serves delicious dishes and has a great view of the caldera.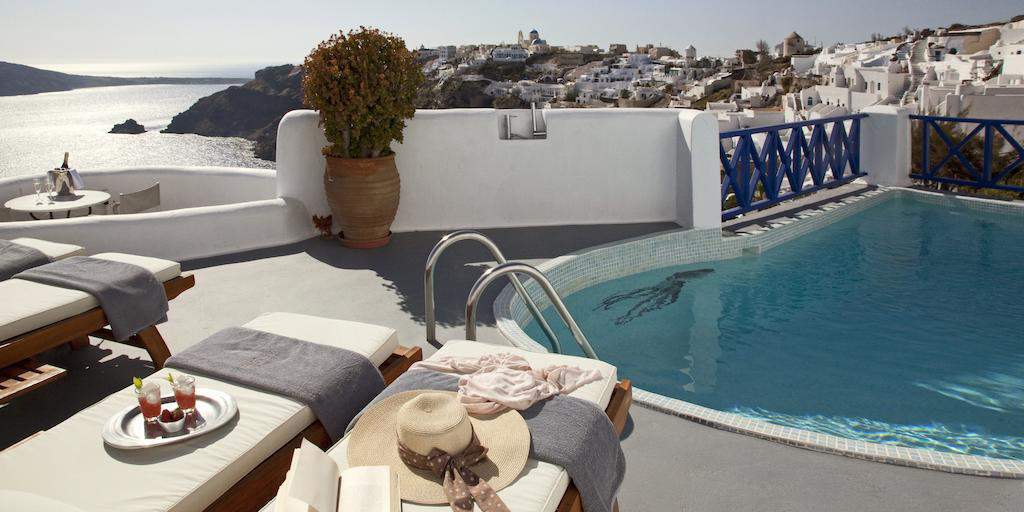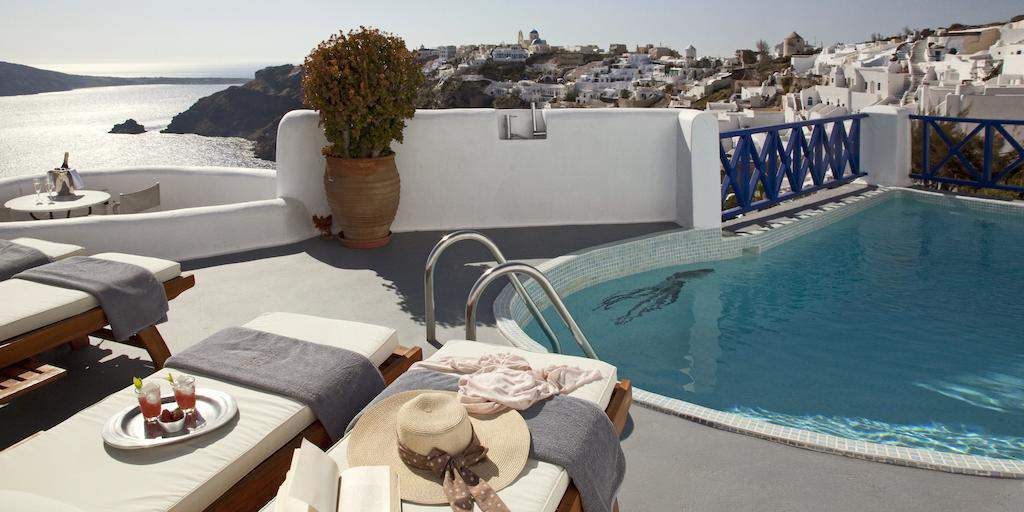 This hotel has amazing views and a very quiet atmosphere. It has a common pool but no complimentary breakfast. Meals can be ordered to be delivered straight to your room. Features depend on the room but some of them have private pool, patio or jacuzzis.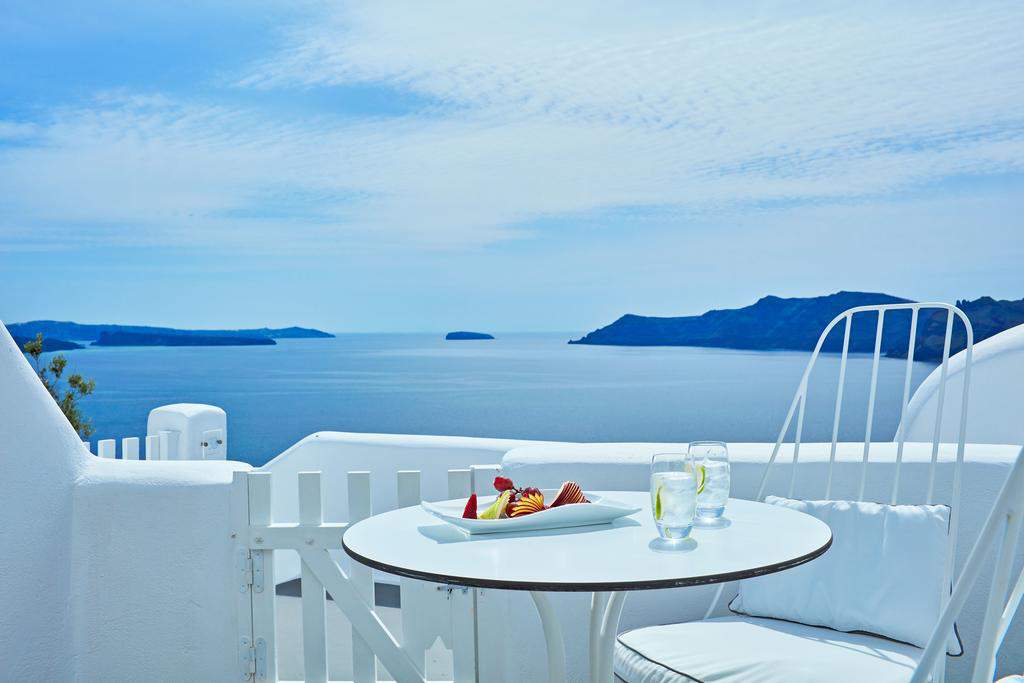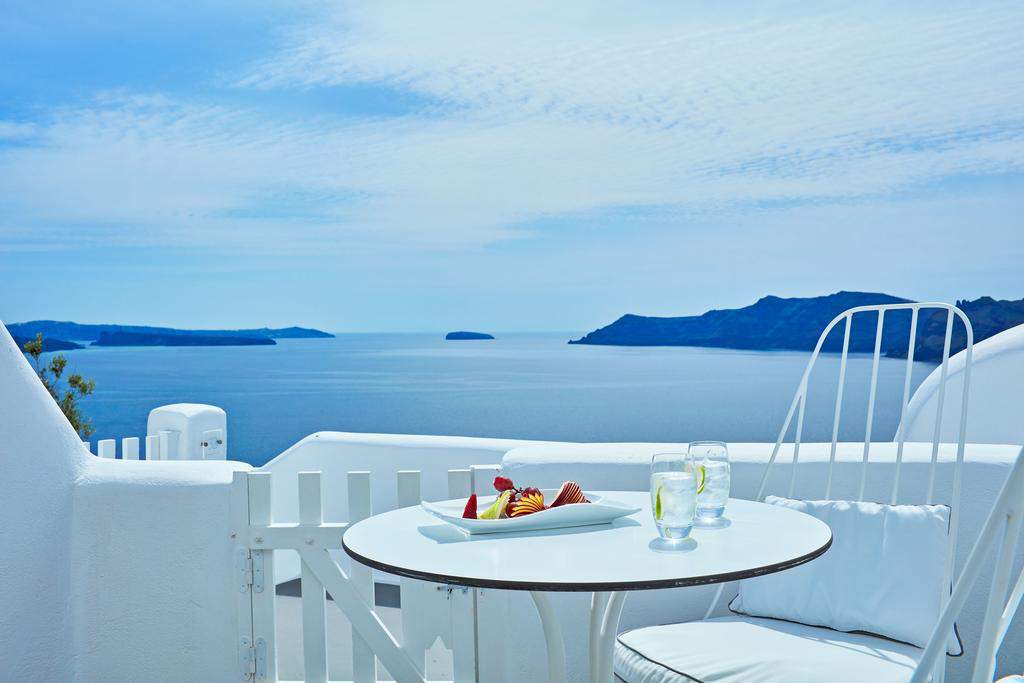 This hotel has its own high-end restaurant and bar. You can choose to have a room with a private pool or a jacuzzi. It also has spa services and a common infinity pool. The staff is amazing and very accommodating.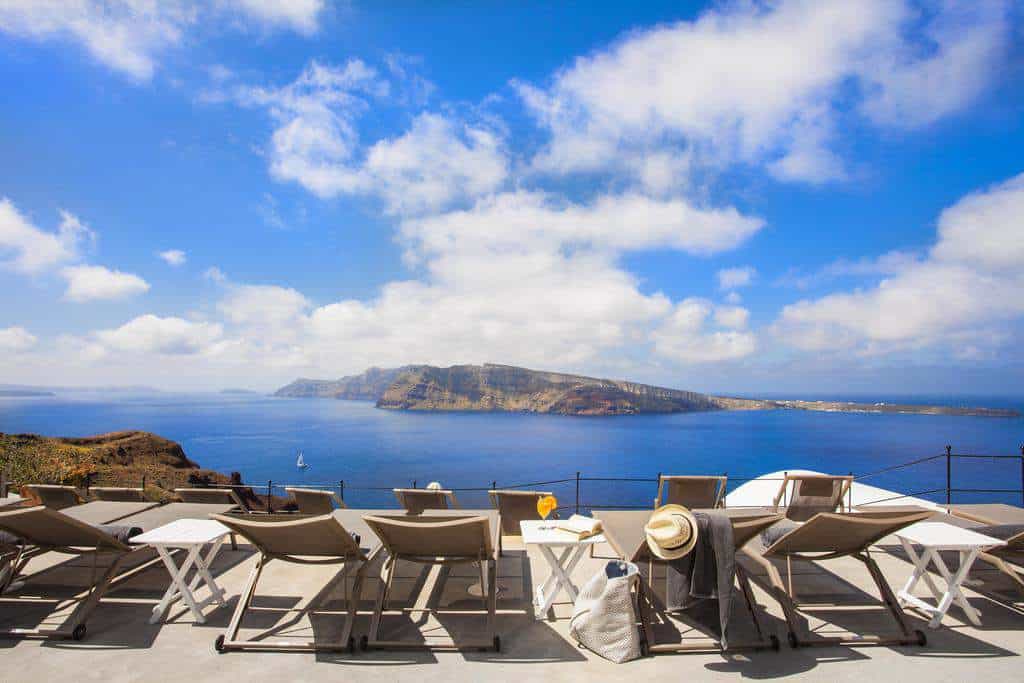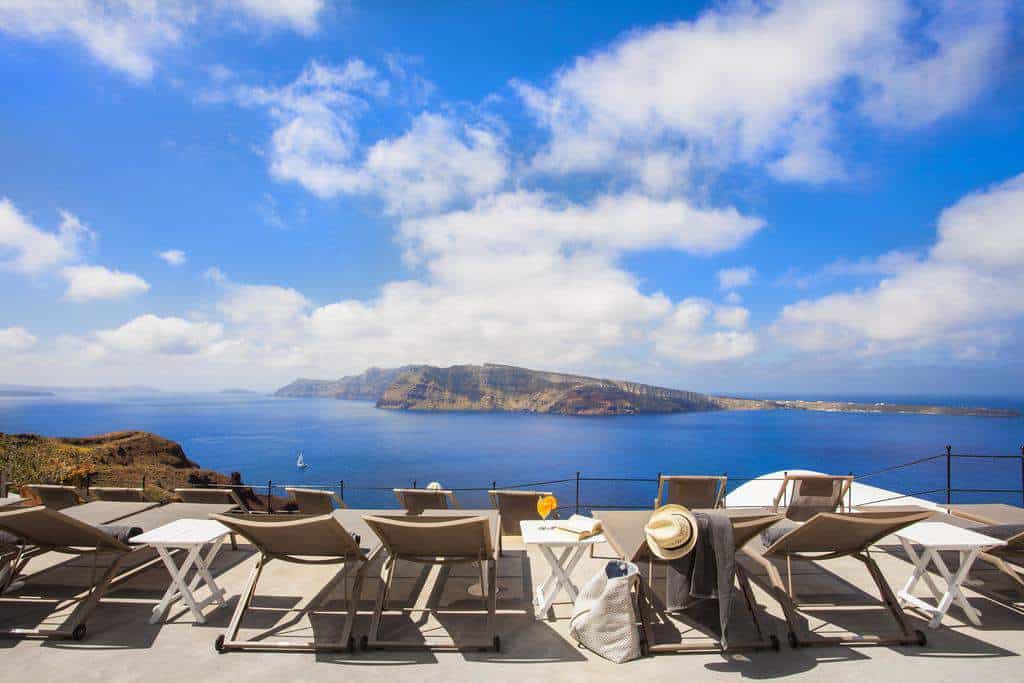 It's not a great hotel for the disabled. This hotel has a lot of stairs. It's really close to the main parts of town but it's really quiet. You wouldn't really feel the crowd and the movements of the town given the hotel's location down a cliff. It has great interior design and great views of the sea and the sunset.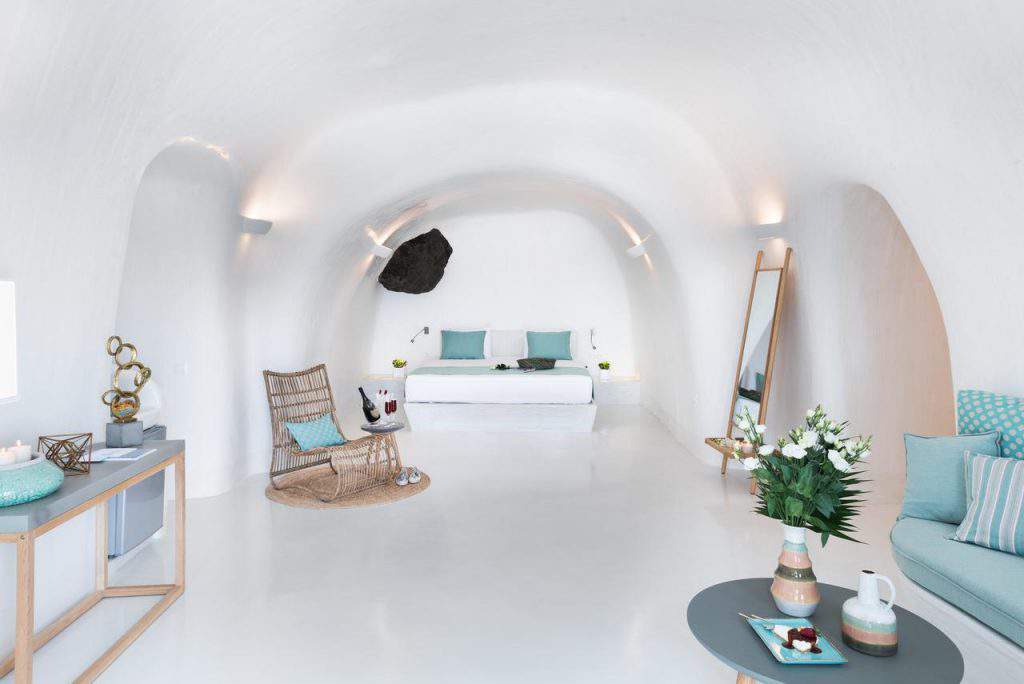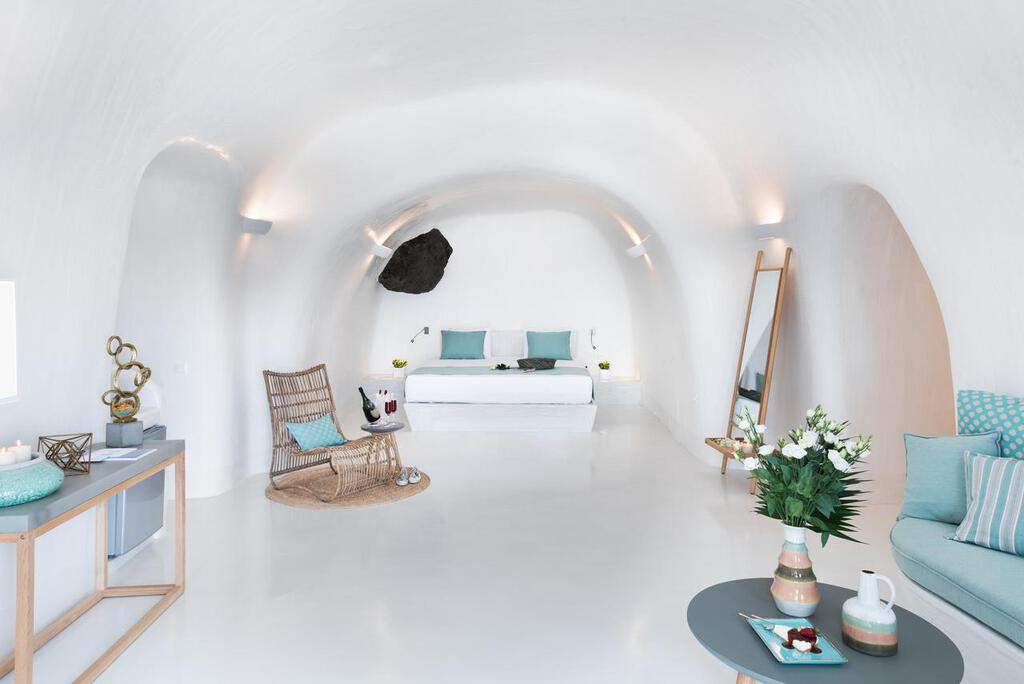 This hotel can remove you from the busyness of the town without taking you too far. Its high walled establishment gives the illusion of seclusion and quietness. All of their rooms have heated indoor pools. Maregio has the traditional Greek style cave rooms that are painted white.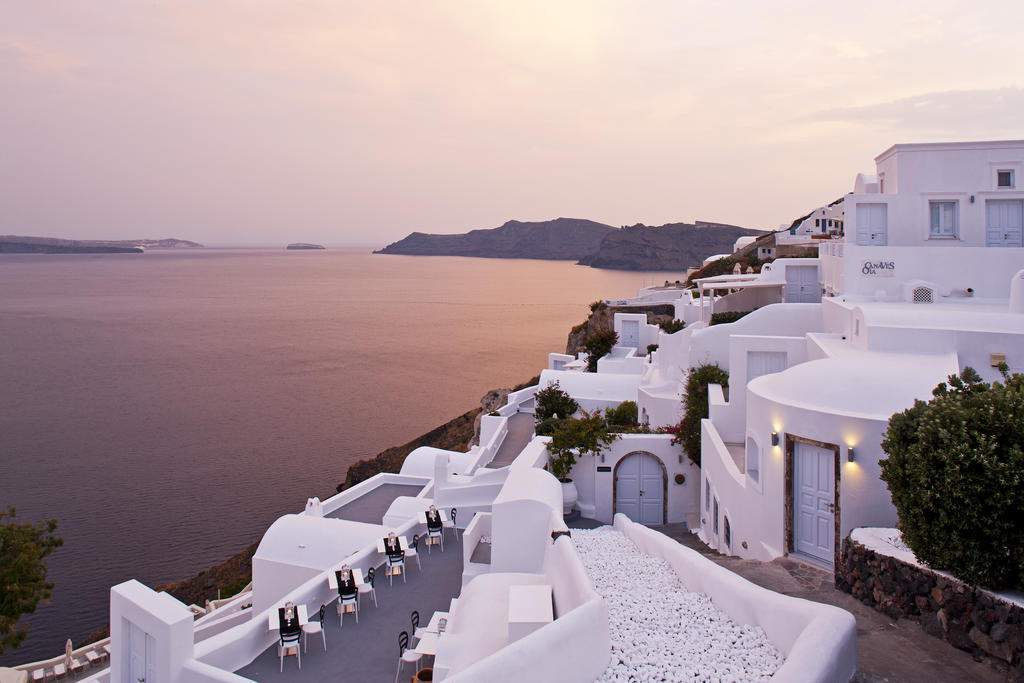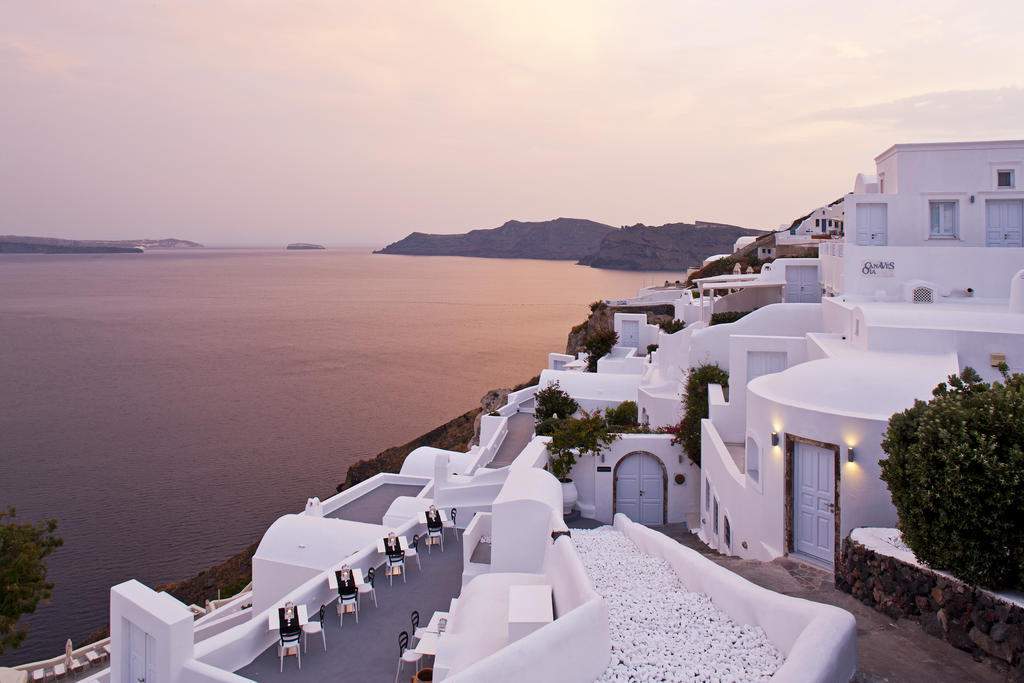 White Greek style cave suites and common pool. It also has a pool bar and a great view of the caldera. It has a great restaurant and a handy elevator for people who are having trouble with the stairs. Some of their rooms have a private pool and some are large enough to house 7 people although advertised as only for 3.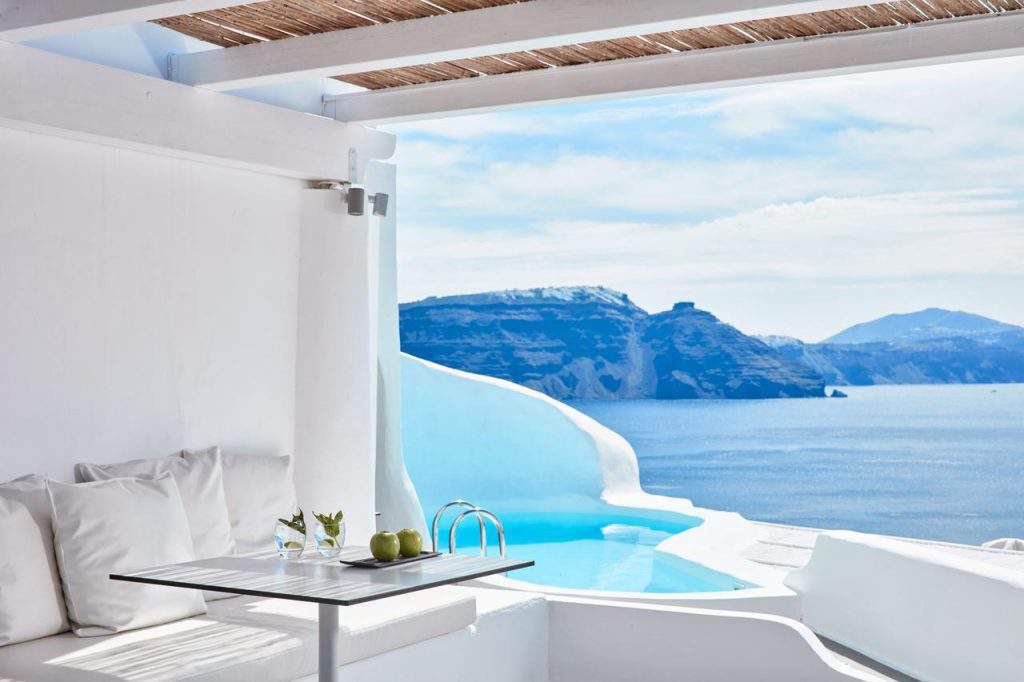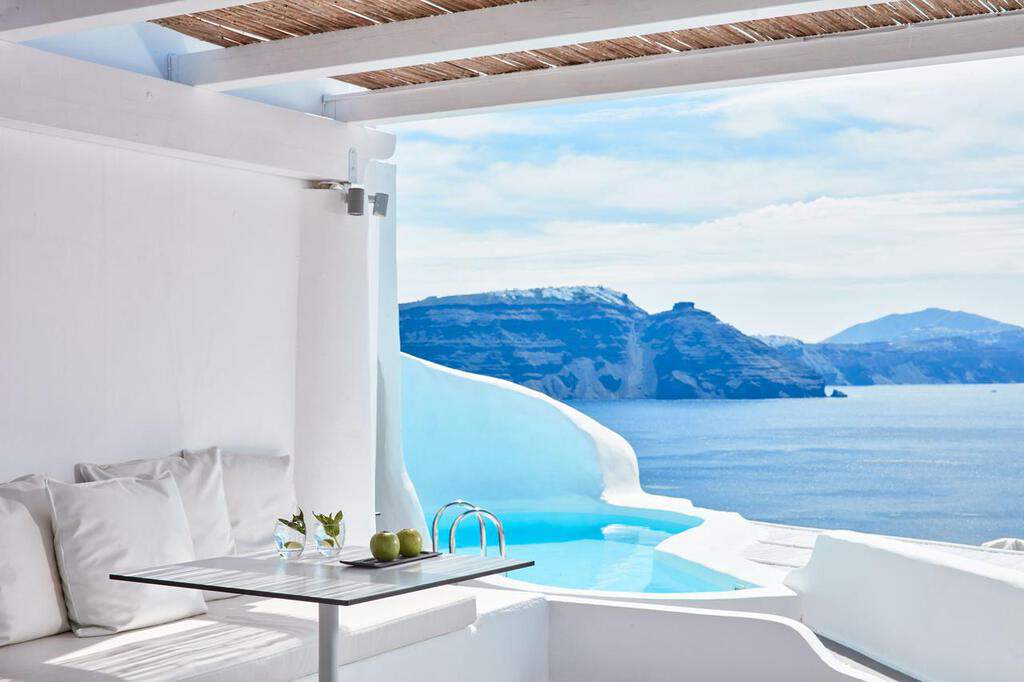 A really popular hotel on the island of Santorini. It has a handy elevator, if you're having trouble with the stairs. They have 3 common pools, serves delicious breakfast and a famous restaurant that's definitely not to be missed. It's located on a great spot in Oia so you don't have to worry about being far away from everything.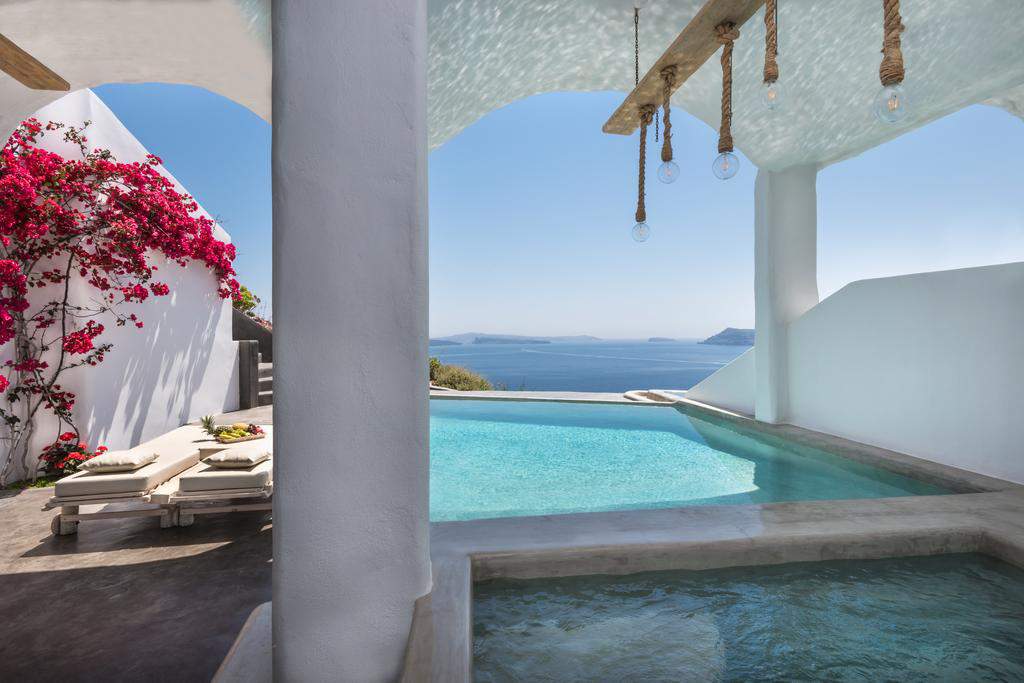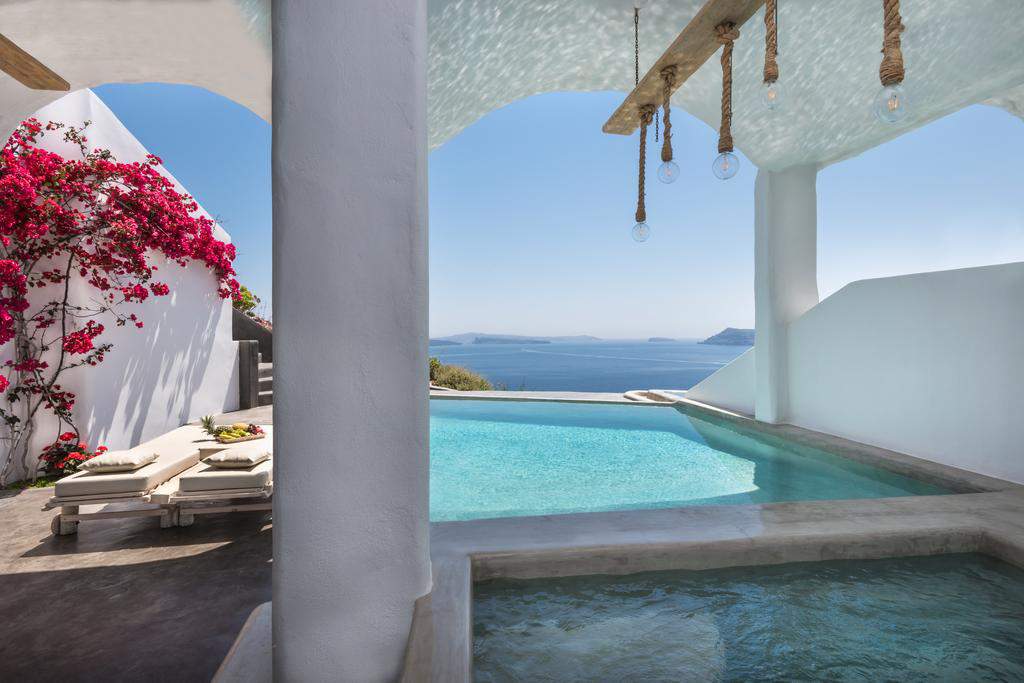 This hotel has a michelin chef at their restaurant. It's rooms all have jacuzzis or pools and their own terrace. The rooms are molded to be cave-like. It features 1 warm pool. 1 regular one and a great restaurant. Plus it's got great views of the caldera.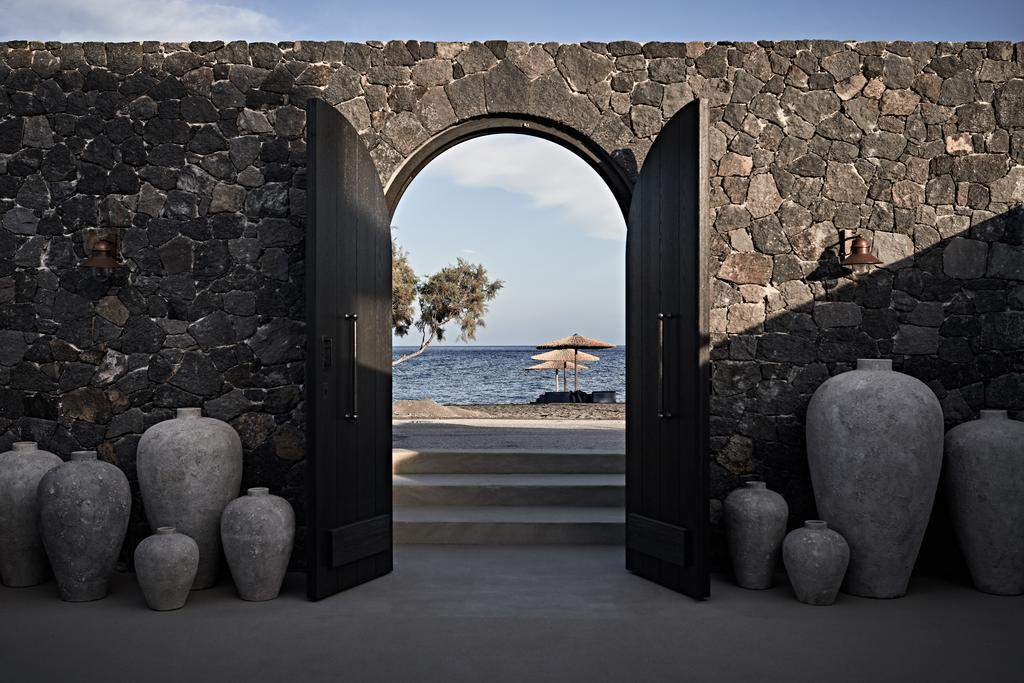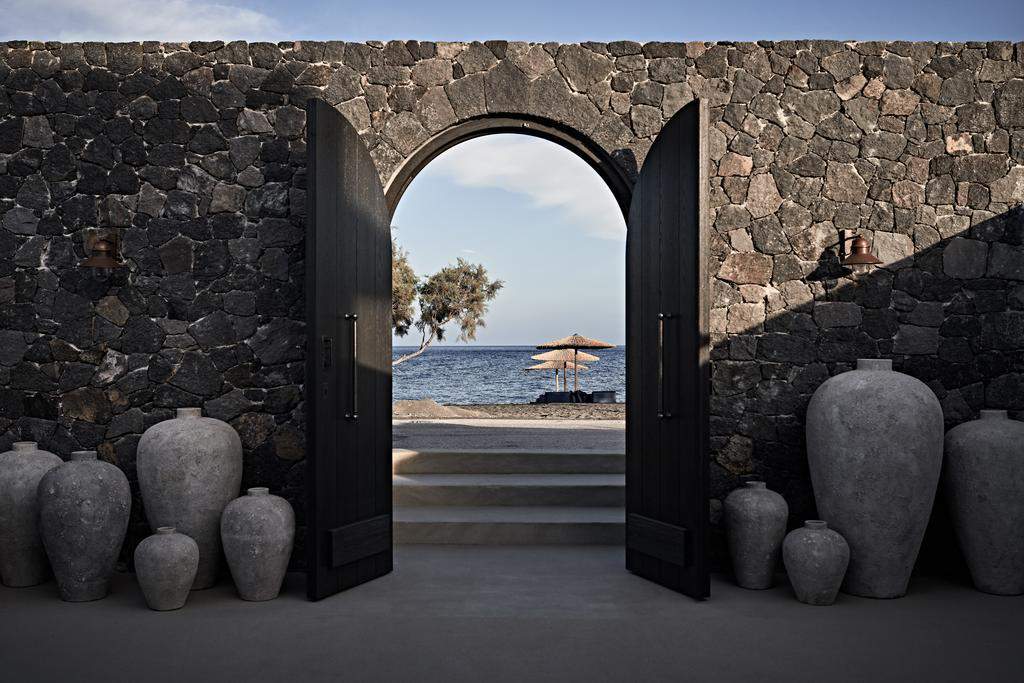 This hotel is one of the best accommodations on the beach. It's rooms have either a private pool or a jacuzzi. It's located on Perivolos' black sand beach and is the best property on that part of Santorini. All of its rooms breathe quality and sophistication.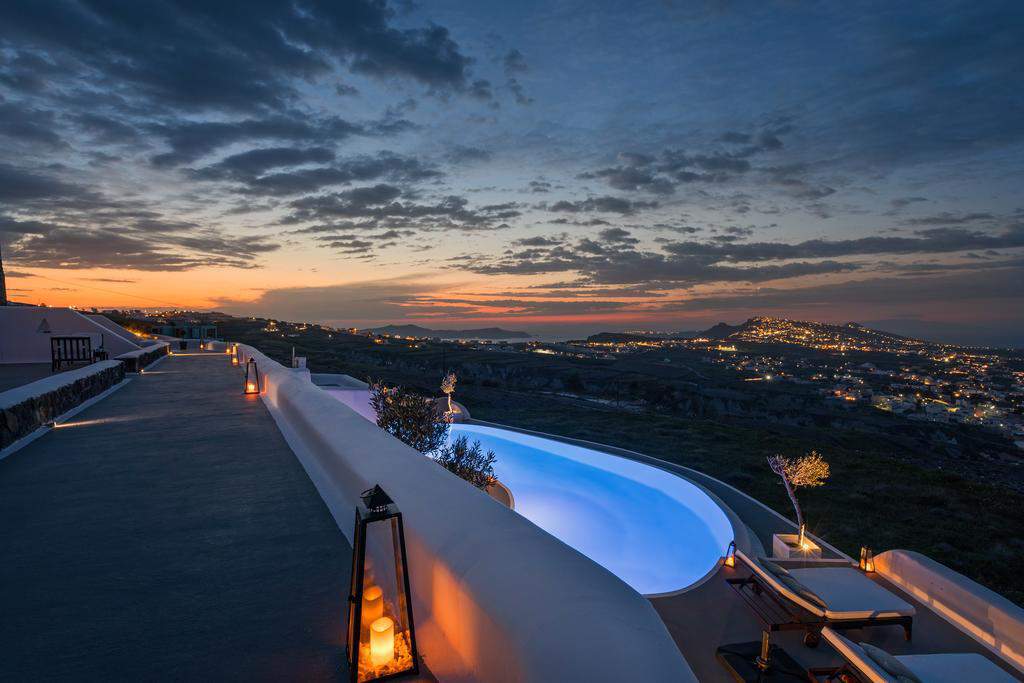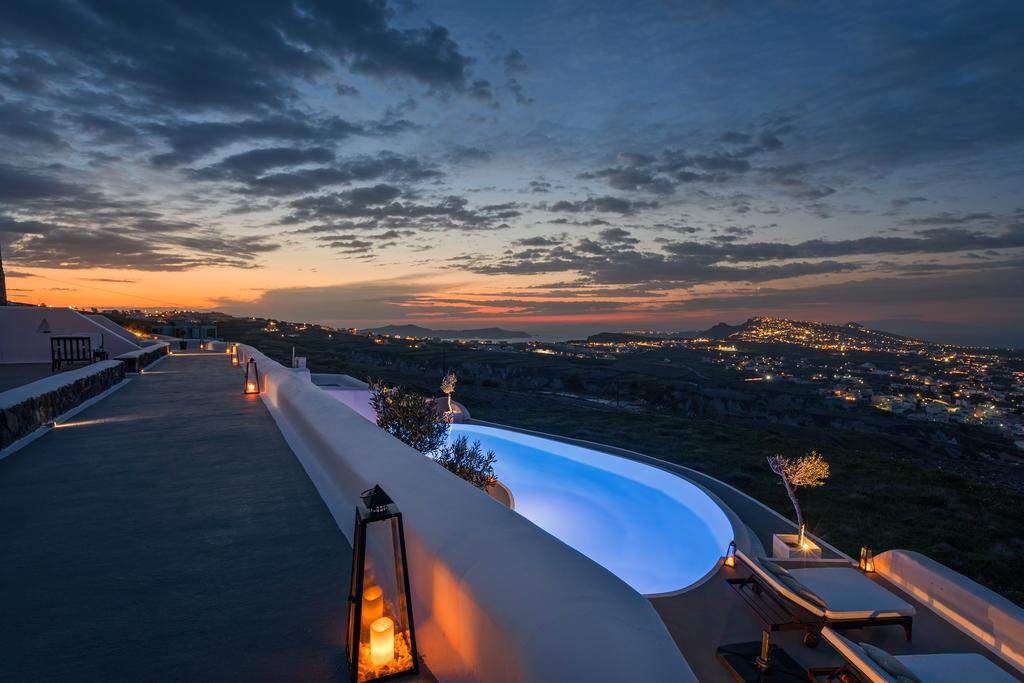 Rooms here either have a jacuzzi or a private pool. It also offer spa services, a common infinity pool anda common cave pool. It has a great location right at the beach.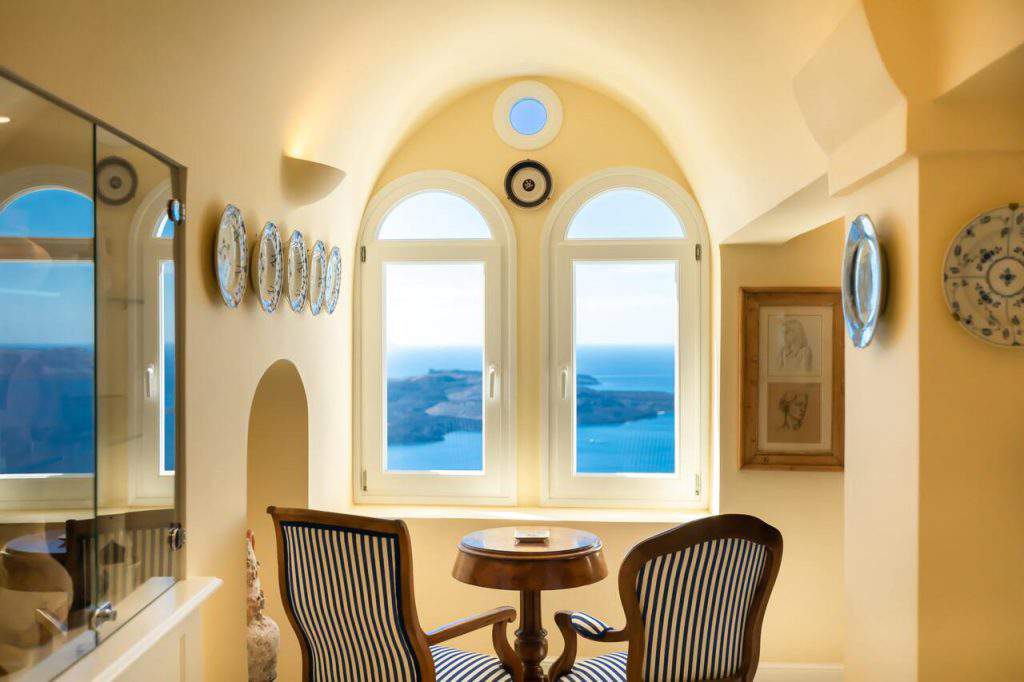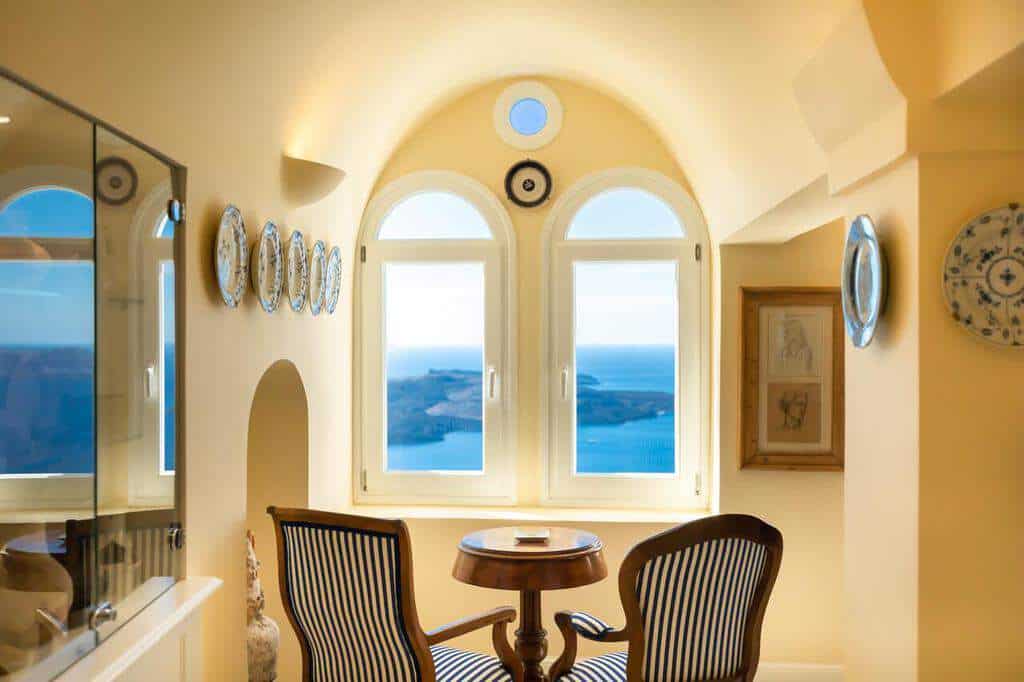 This hotel offers nice rooms, great views and a fantastic service. It also has a great common pool. The hotel is located at a good spot that it isn't taxing to getto ti. The owners are very hands-on and are really kind.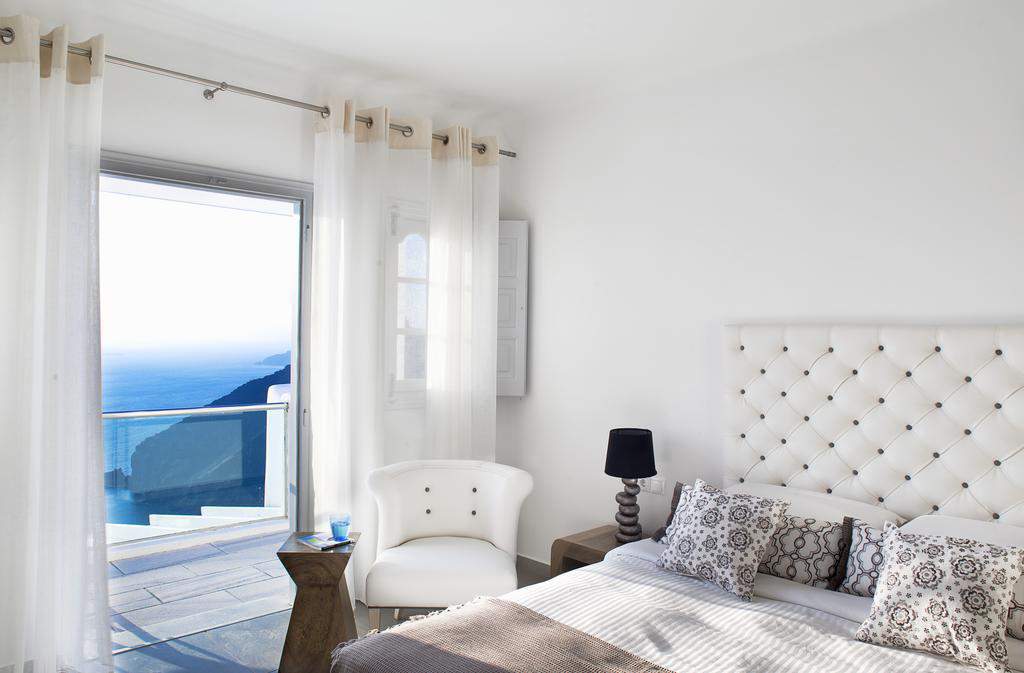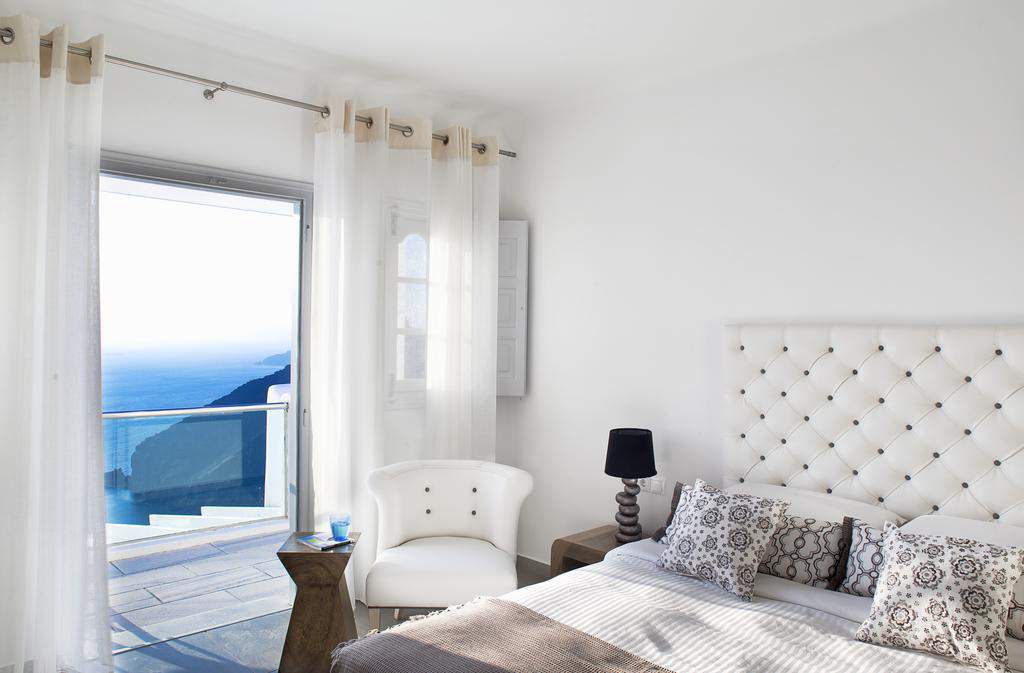 If you want the best experience, go for the premium rooms but the regular ones are worth the money as well. This hotel offers great quality although it's not as good as the others on this list. Considering the view and service it's definitely almost up there with the others.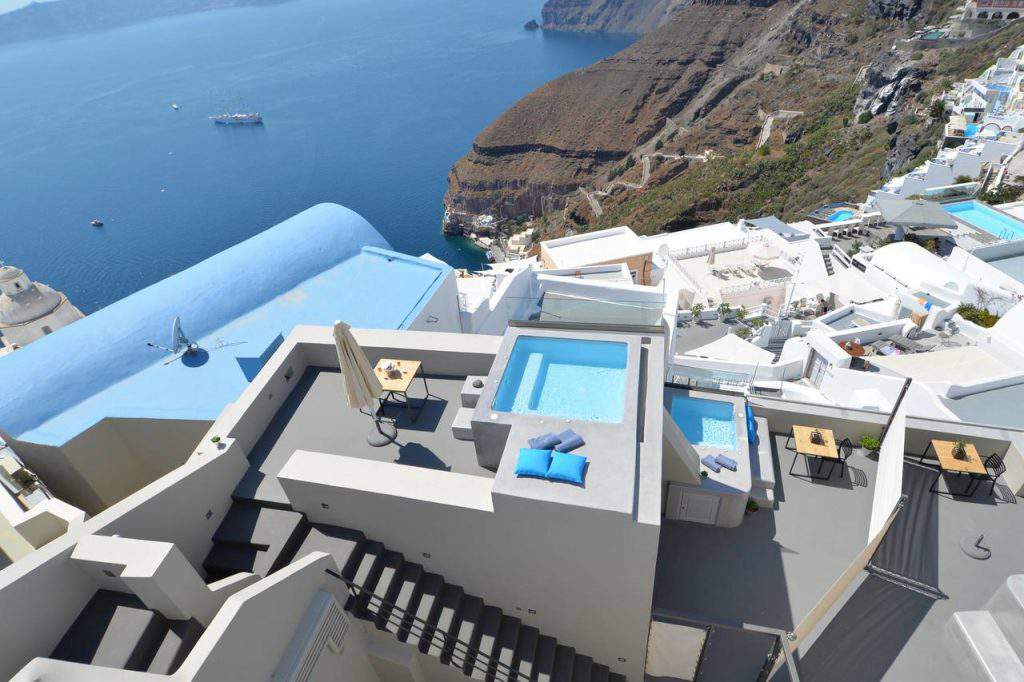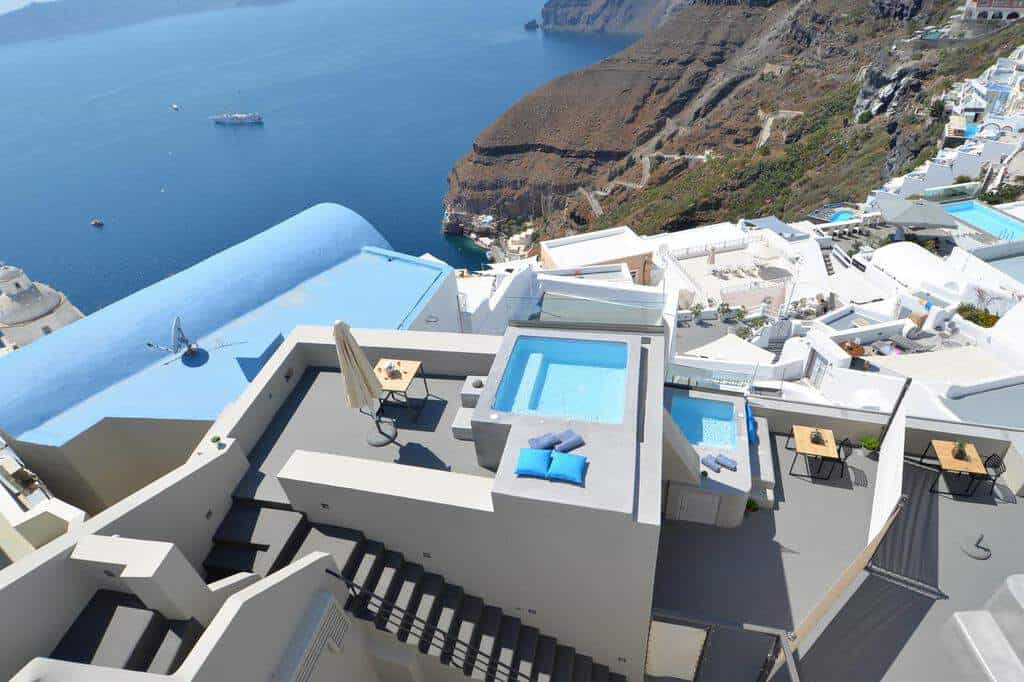 This hotel offers very few but extremely large rooms. It boasts a great spot in one of the busiest towns in Santorini and a magnificent view of the caldera. It's great for families, especially those with little kids.The establishment seems relatively quiet and relaxing despite its location. It's very accessible so those having a hard time walking won't have a hard time getting to it. All of their villas have their own pool.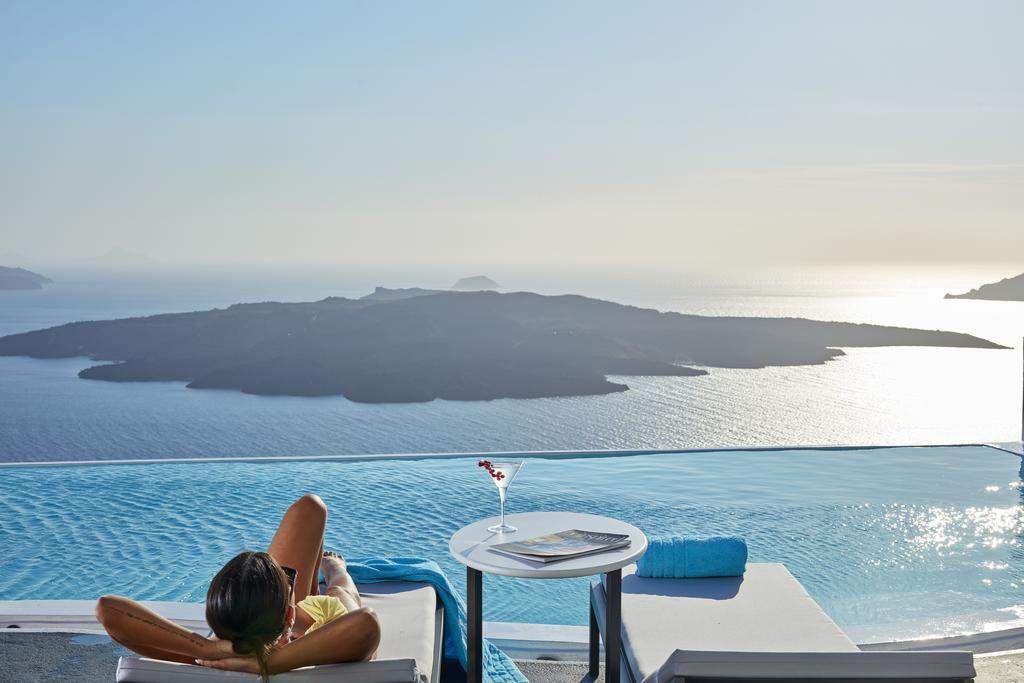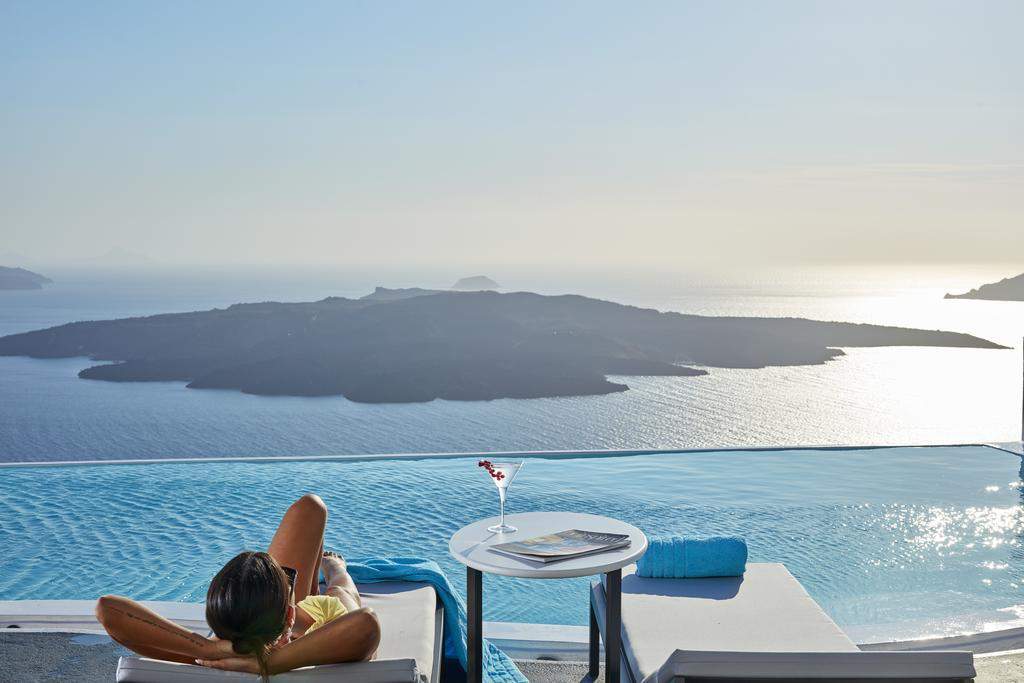 This hotel sits at a good spot in the town of Fira. It's close to shops and restaurants. It offers a great infinity pool. Their villas are huge and great for groups and families. Although the hotel has a strict rule about refusing children 13 year of age and below so take note of that before you book. Cosmopolitan sits on the front row of Fira's night scene. It's the perfect place to stay in if you want to be part of the town's crazy nightly parties.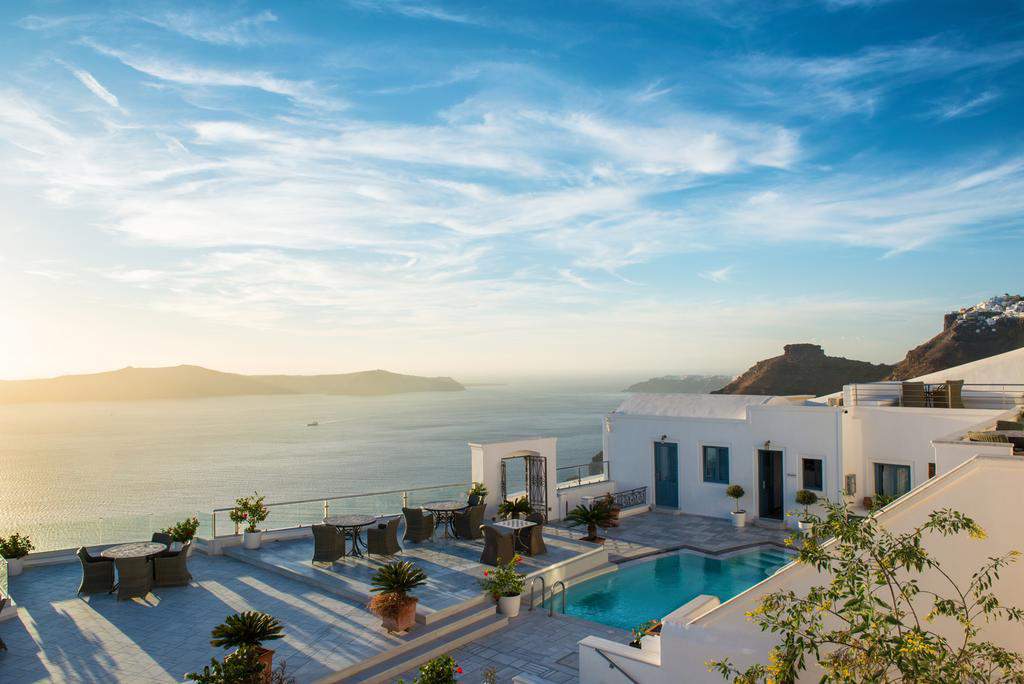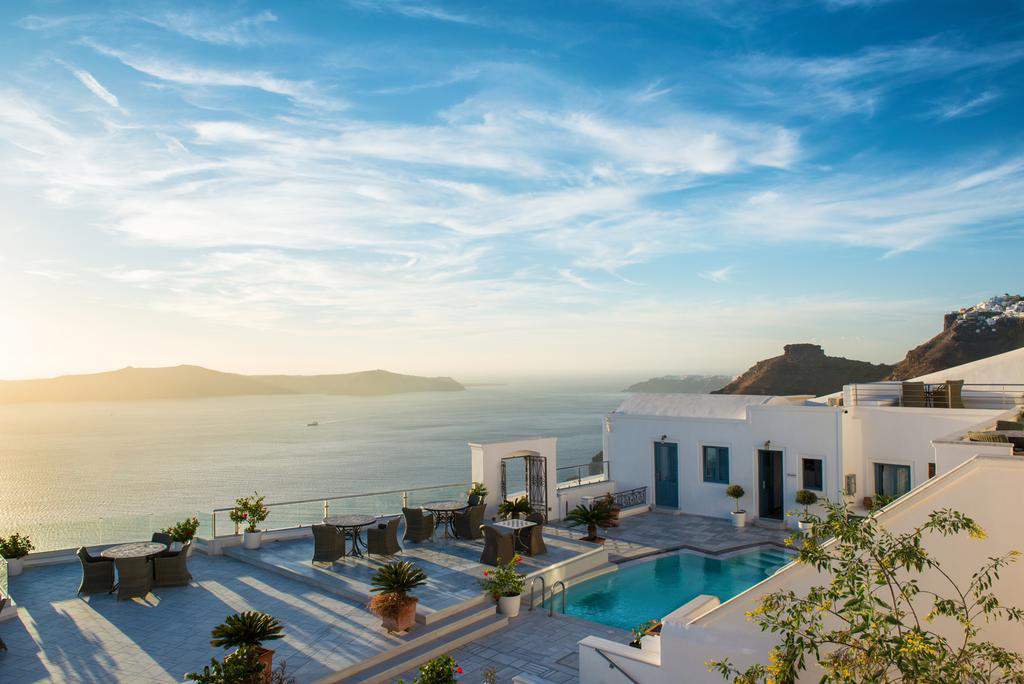 A quiet  and relaxing hotel despite sitting in a busy and noisy town. It offers a common pool and jacuzzi. You can also have your dinner at the terrace where you can admire the caldera view while you eat. Some of their rooms have jacuzzis while others have heated pools. Anteliz has easy access to everything including high-end shops, restaurants and Fira's crazy night scene.  
This is a really great, child-friendly hotel. They accept little children and even offer babysitting services. It sits at a great location in Fira and has gorgeous views of the caldera. Each room has their own terrace where you can admire the view from. This hotel has a great high-end restaurant and has rooms large enough to house 6 people. It's also very close to the main parts of town so you don't have to worry about missing out on all the action.
Which part of the island is the best place to stay in?
This is really a hard question that doesn't really have a definite answer. You have to first decide whether you want more of the beach or the view. 
On the western side of the island sits the caldera in all of its magnificence. If you want to experience more of this amazing view, then best stay in one of the four core towns that border the west side of Santorini. Fira, Oia, Firostefani, and Imerovigli. 
On the eastern side of the island sits the beaches. It doesn't have the magical view but it does offer unique volcanic shores  and clean, sparkling waters. Good hotels and restaurants are also found in beach towns so finding accommodations there is very easy and actually much cheaper. 
Santorini is not avery big island. It will only take you 15 minutes of driving to get from one side of the island to the other. You will find the caldera at the high western point of the island and the beaches at the eastern low point.
Santorini's beaches are beautiful and finding accommodations in them is not very hard. Choose between the more popular Kamari or the quieter Perissa. Kamari is more accessible from Fira than Perissa. Plus it as more hotels, shops, and restaurants. Perissa, on the other hand, is more beautiful but secluded. Aside from swimming, there aren't much to do on this part of the island. It's better to stay in Kamari since you can just visit Perissa during the day. 
If I choose the caldera side, which town do I choose to stay in?
It's not easy to say. All four towns have their pros and cons. It really depends on what your preferences are. 
Fira Imerovigli, Oia and Firostefani are all great places to stay at and you're not really losing in choosing any of them.
Go for fira if you really like to explore and get busy. All the best activities and restaurants are in that area. Not to mention the explosive night scene. 
Go for Oia for the romantic atmosphere. It's a great honeymoon site. There aren't really much of a night scene but some of the best dishes on the island are served here. 
Go for Firostefani to take a break. It's close to Fira but is still very quiet. It's the perfect place to escape the busy town without going too far. 
Staying in Fira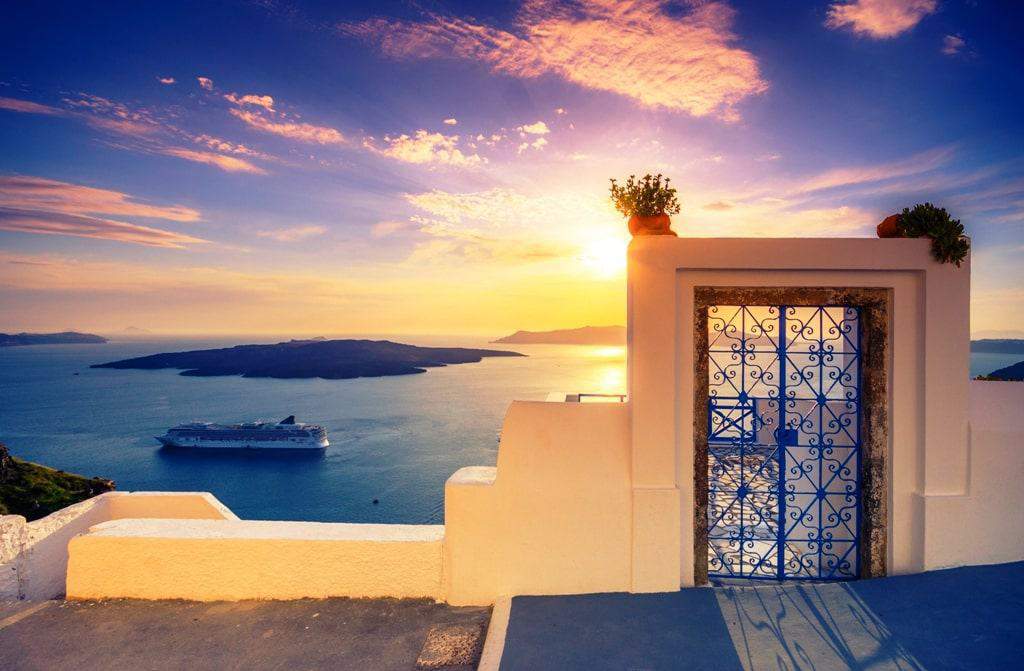 Fira is the busiest town in all of Santorini. You can get a great view of the caldera from Fira. 
If you came to Santorini for the night scene and the view, then Fira is the best town to stay in. It's Santorini's largest and busiest towns.  The most stores, bars, hotels and clubs are found here. Staying in this town means you get to take part in all of the action 24/7. Fira is the unofficial center of Santorini's tourism industry. It's the best place to get a bus going anywhere. Travelling from one place to the other requires a stop or bus transfer on Fira. There's a strict noise limit on the island so it never really gets too much. The only downside is that Fira's views can sometimes be blocked by the nearby island of Thirassia which is much taller. 
Where to stay in Fira
The best place to stay in is Aria Suites. It has superior quality. It offers a common pool and accessible location. It's the one of the best luxury accommodation Santorini has to offer. 
Try these other great hotels in Fira:
Anteliz Suites
Keti Hotel
Cosmopolitan
Staying in Oia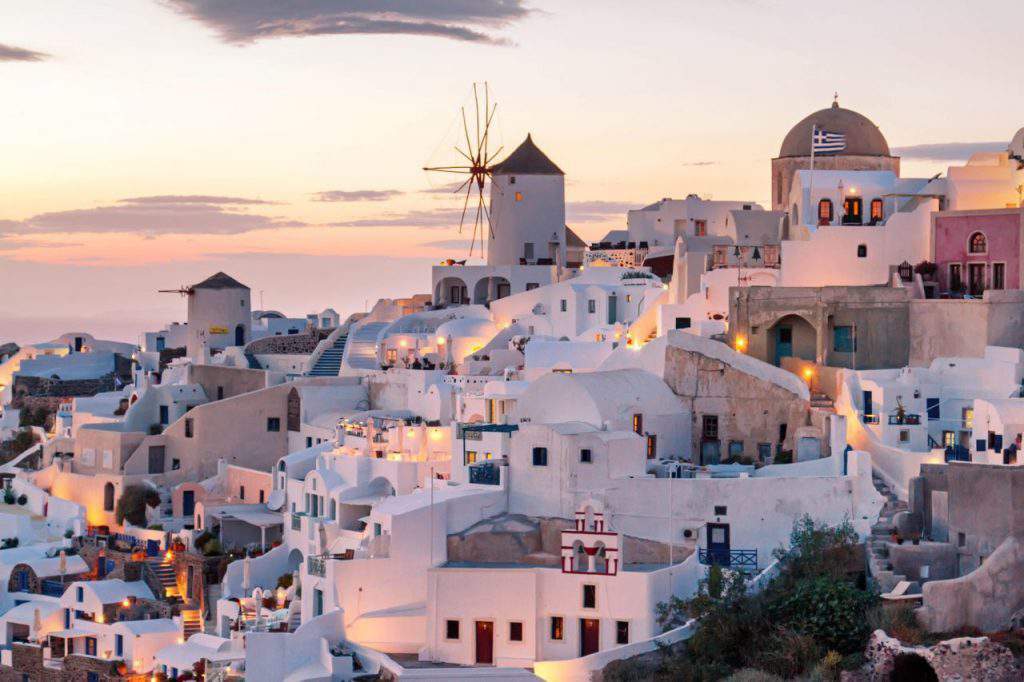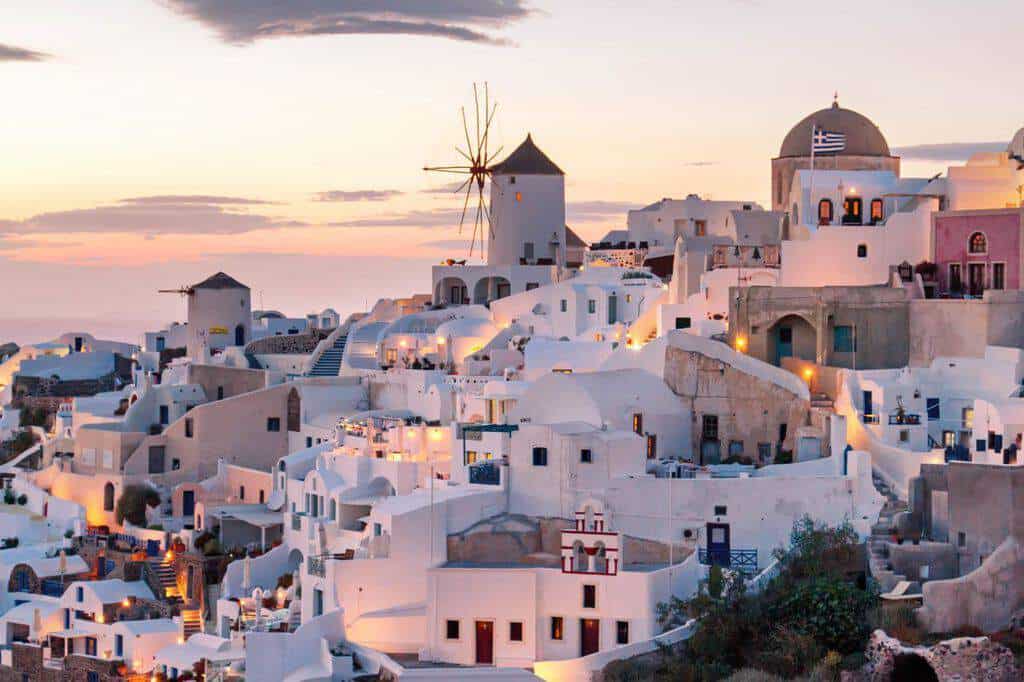 Oia has some of the best restaurants in Santorini. It's a 2 hour walk from Fira but the sights that will greet you as you walk will make it feel so much shorter. Oia has one of Santorini's best sunsets. It has the second best view of the island surpassed only by Imerovigli. Oia also has a lot of tourists but it never gets as noisy as Fira. Although it doesn't have much of a night scene that Fira is known for. Oia's main attracting factor is its beauty and the views you can get standing on it. People travel to Oia just to get a look at caldera and the sunset. 
The best place to stay in Oia is Katikies Hotel. It's one of Greece's most recommended hotels. 
Try these other great hotels in Oia:
Mystique
Andronis Luxury Suites
Oia Castle Hotel
Ikies Traditional
Perivolas
Canaves Oia
Staying in Imerovigli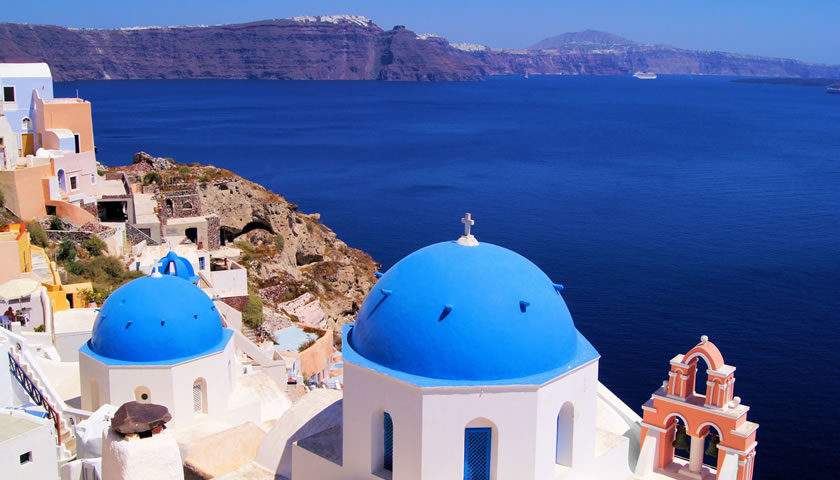 There's very little spots in Imerovigli where you can't see the caldera. Astra Suites is a great place to experience Imerovigli.
Experience the unique views and ambiance of Imerovigli. The town sits in the highest point in Santorini so its views of the caldera down below are unmatched. This town is not far from the other core town with Fira being only 25 minutes away and Firostefani even closer. Imerovigli is the most quiet of the four towns but it has its own share of great accommodations and restaurants. Don't worry about being stuck in Imerovigli because buses and taxis come every now and then to take you wherever you want to go. If you're in Santorini to unwind and relax, this is the perfect town for you. Imerovigli has a night scene of any kind. It's just you and the amazing view around you. 
Try these other great hotels in Imerovigli:
Cavo Tagoo
Grace Santorini
Aqua Luxury
Absolute Bliss
Chromata
Aenaon
Staying in Firostefani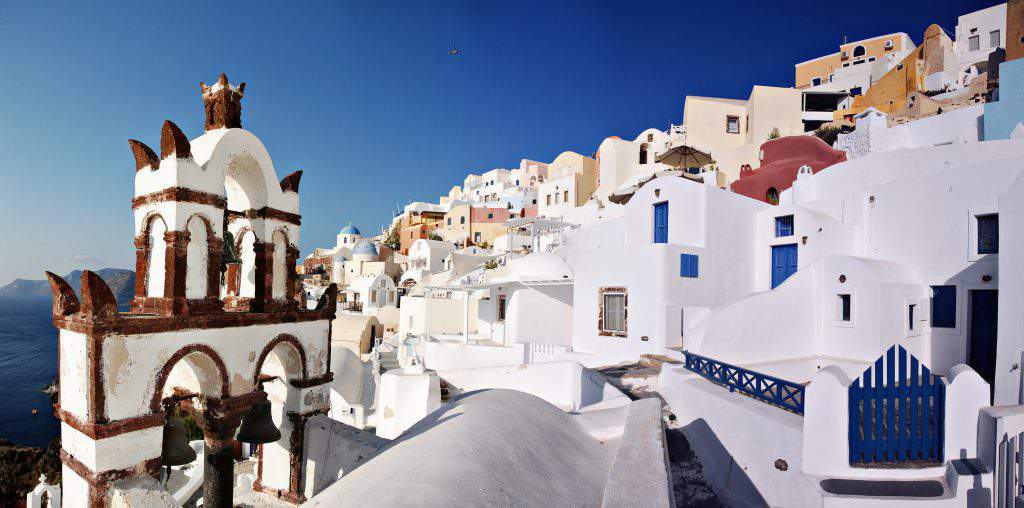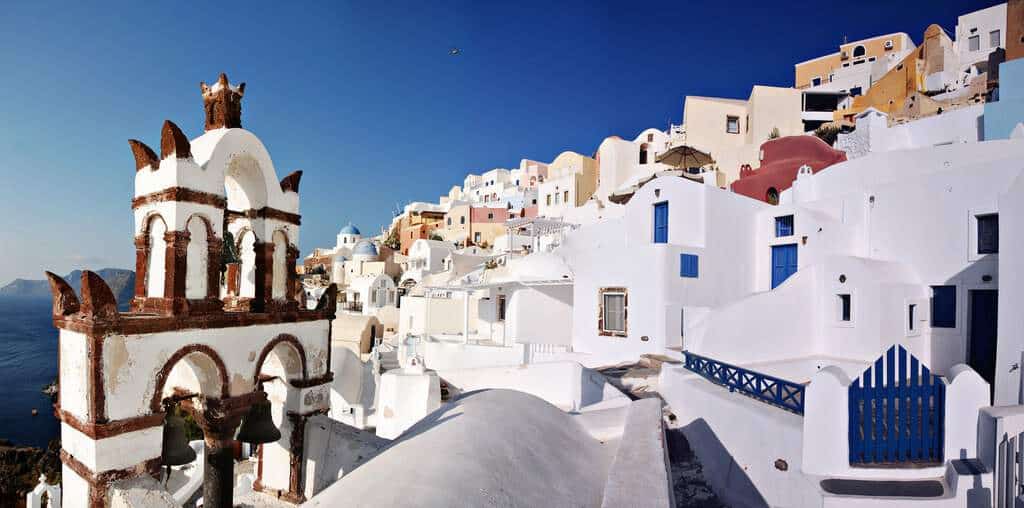 Experience Santorini from gorgeous hotels in Firostefani. This town sits right next to Fira. It's the perfect place to be when you need a break from the busy town.
There's really no obvious mark that will tell you where one town ends and one town starts. If you want to experience Fira but can't sleep through the noise at night, then Firostefani is the best place to stay in. It has no bars of any kind or a any night scene. 
Experience Firostefani from the beautiful rooms of the Tsitouras collection.
Try these other great hotels in Firostefani:
Belvedere
Homeric Poems
Mill House Elegant Suites
Dana Villas
Staying in Kamari Beach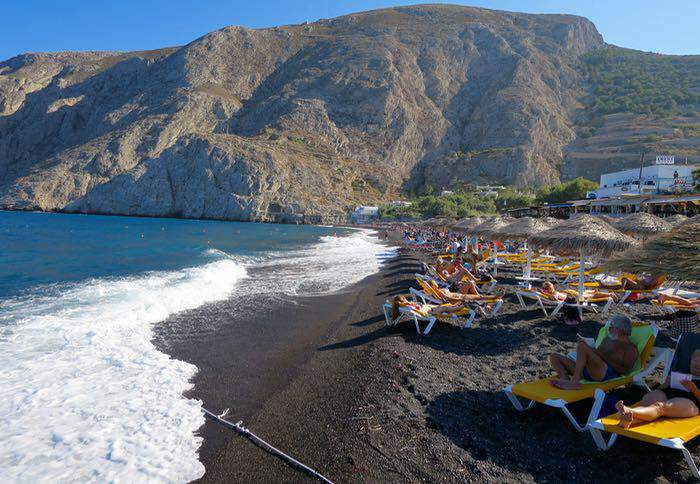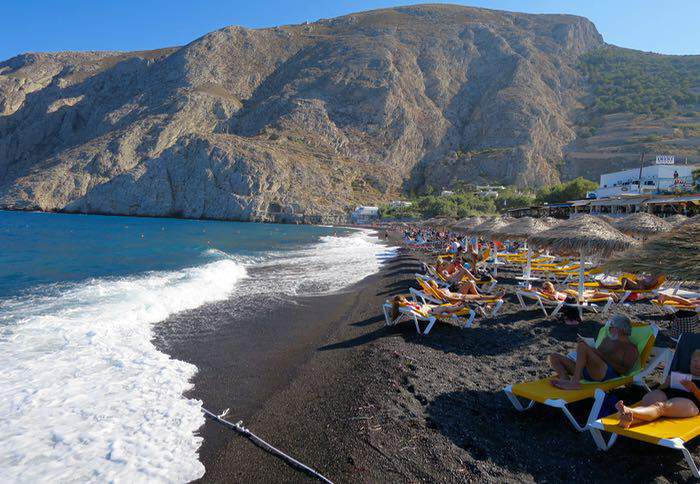 Kamari Beach is the closest beach from Fira. It's only a good 15 minutes by bus. It's the most popular beach in Santorini because of its accessibility. Kamari has great hotels and restaurants left and right and is very pedestrian friendly. It's ideal for families even those with little children. Staying on Fira and visiting Kamari beach by day is the best thing to do instead of staying on the beach. 
You can easily find accommodations in Kamari Beach. 
Santorini Kastelli is the top pick if you're thinking of staying on Kamari Beach. 
Try these other great hotels in Kamari:
Tamarix Del Mar Suites
Acqua Vatos Santorini
Santelli
Zephyros
Cavo Bianco
Staying in Perissa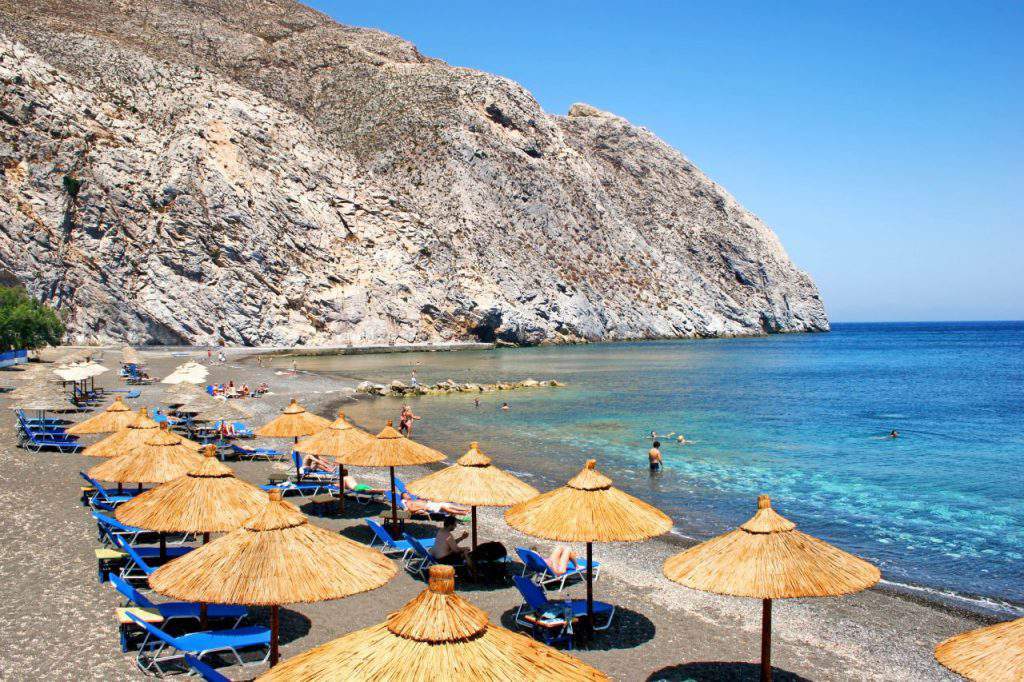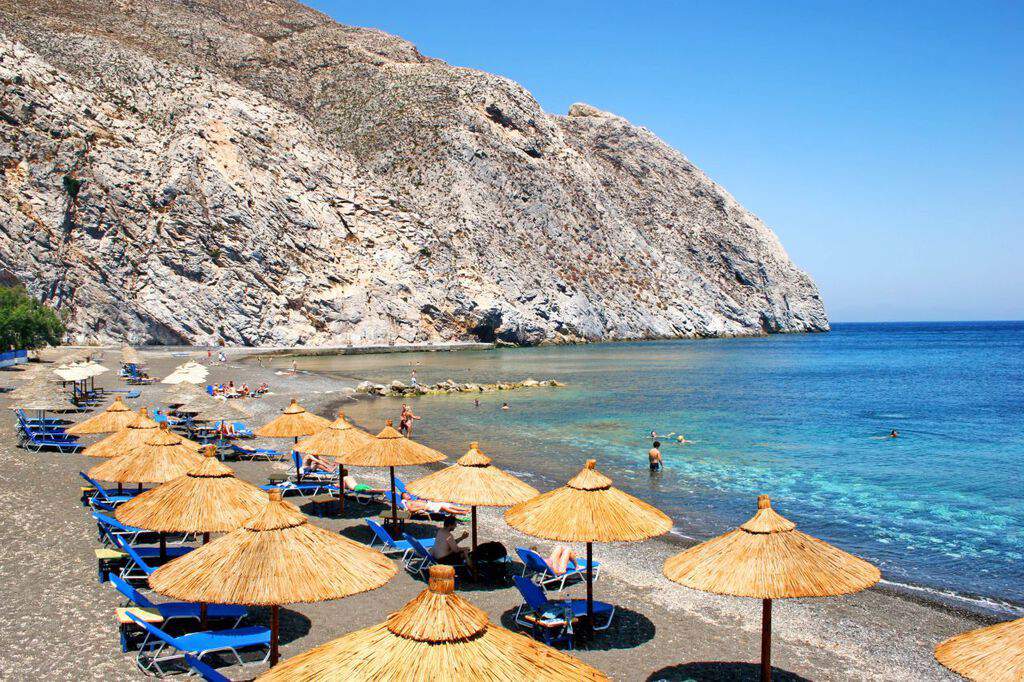 Unlike Kamari, Perissa beach is far from Fira and much harder to commute to. That's why Kamari is more popular even if Perissa more beautiful of the two. There's also a handful of bars, restaurants and hotels inthe area. 
Meltemi village is the best accommodation you can find in Perissa beach. 
Try these other great hotels in Perissa:
Aqua Blue Hotel
Veggera
Sellada Beach Hotel
Rooms with jacuzzis and pools in Santorini. 
Private pools, hot tubs and jacuzzis are trendy and popular in Santorini. Many hotels in Santorini have private pools and they're not so hard to book. 
Experience Santorini from San Antonio hotel
Regular pools might seem good enough for you, but Santorini is really cold at night. Especially from May-October except for July and August when the summer sun reaches its hottest state. Then you might find yourself dipped in the warm and relaxing waters of a heated pool or a hot tub. This is why they're so popular on the island. 
Sophia Suites is a fairly new hotel with great views and even greater plunge pool. It's located in the town of Imerovigli. 
Try these other great hotels with private jacuzzis and pools:
Fira
Keti Hotel
Astro Palace Hotel and suites
Celestia Grand
Enigma Apartment and Suites
Aria Suites
Firostefani
Oia
Kastro Oia
Perivolas
Santorini Secret
Filotera suites
Armeni Luxury
Canaves Oia
Aspaki by Art Maisons
Filotera
Halfway through Imerovigli and Oia
Imerovigli
Dreams Luxury 
Absolute Bliss
Senses Boutique
Pegasus Spa
Grace
Iliovasilema hotel
Astra
White Hotel
Pyrgos
Vedema
Kamari
BUDGET HOTELS
Here's a list of quality and affordable accommodations in the island:
In Fira:
Both are very affordable even with amazing views. 
In Firostefani:
Villa Maria Damigou
Villa Ilias
Some of their rooms are cheaper because they don't have the caldrea view. 
In Oia:
They offer rooms that are simple but quality and with great views(Although some don't have them).
If you're on a really tight budget, go for the Caldera Butterfly villas, Lilium Santorini, and Volcano View. They're affordable but good quality hotels located in the caldera.Although you'll have to walk about 20 minutes to get to the main parts of town but for the price, it's definitely worth it. 
Things To Know
Here are some things you should know before booking a hotel in Santorini:
If you choose to stay on the beach, the kastelli is the best place to stay in. You contact them at:+30 22860 31530.
While establishments in the beaches can't compare to those in the western side of the island, The kastelli sure comes close. It has 4 common pools on the property, easy access to great restaurants and bars and serves really good breakfast meals.
Kastelli resort in Kamari beach
While you're in Santorini, the 4 caldera towns are the best places to stay in. Kamari beach is beautiful but it doesn't have the caldera view that makes the island so special.
Santorini is the one place you should never be cheap on your hotel. But it doesn't mean that you can't save  on accommodations while you're there. 
Should you go for the sunset or the caldera view?
Sunset lasts a couple of minutes while the caldera doesn't really go away. There's plenty of establishments boasting about having the best sunset views and it's always better to just watch it from there. 
What place has the best views of the island?
If you're looking for the view, nothing beats that of Imerovigli. It's the best location to sightsee on the the island. 
As for hotels, Grace Santorini has the best views. You can see other towns such as Oia and the caldera from the rooms. 
Other hotels to look out for are Galaxy hotels, Kasimatis and Avaton. They nabbed the highest locations on the island and has the unblocked views around them.
The next best ones are Tholos and Astra Suites. They're slightly lower than the ones above but they still have great views. They have unmatched views of Skaros rock.
Aenaonis also a great place to stay in if you're going for the view. Both Oia and Imerovigli  can be seen from its location. Although it's a little far from everything. It's a great hotel for those who are looking for some peace and quiet. 
At some point of the year, Both the Altana Traditional Houses and Suitesand the Chromatahave great views. They have a great view of the sunset but given that they're a little low, their views tend to get blocked. 
Stay at Ketihotel if you're looking for a view in Fira. In Firostefani the Homeric Poems, Belvedere Suites and Tsitouras Collectionare the best choices. 
If you decide to stay in Oia and you're going for the perfect caldera view, for for the Katikies, Ikies and Canaves Hotel. If it's the sunrise you're after, then Esperas Traditional Houses is the perfect hotel for you. 
What's a good hotel that doesn't have a caldera view?
Vedema Resort, in Megalochori, is a great hotel without the caldera view. It's 10 minutes away from Fira and offers huge rooms. This hotes make up for the lack of view with basically everything else. It's got excellent service, serves great meals at their restaurant and has one of Santorini's best common pools.It also has easy access to shops, restaurants and bars. 
Where do I stay to get a quiet, relaxing ambiance on the island?
Since Fira and Oia have busy and noisy atmospheres, peace and quiet are hard to find in them. Here are some hotels that offer silent, relaxing ambiance perfect from honeymoons and romantic endeavors. 
Try these other great hotels in with privacy:
Aenaon Villas
Vedema Resort
Zannos Melathron Hotel
When do I start Booking?
Secure a spot at least 6-12 months before your actual trip. Trying to book 2-3 months prior to your vacation will get you nothing. Hotels in Santorini fill up fast. Top hotels should be booked at least 9 months in advance or even a year if you can. Especially for those trips that will fall on Peak tourist season, extremely early booking is a must.
What are Cave Hotels?
Rooms built into the side of a cliff are called cave hotels. They're very popular in Santorini with many top hotels offering different designs and variations to attract tourist. These hotels are great to stay in especially in the summer when the weather gets really hot. These rooms stay cool no matter what temperature it is outside which makes them more preferable than common rooms especially during peak tourist season. These rooms sell out like hotcakes so be sure to books early if you want to get your hands on them. All the four core towns on the calderan site of Santorini has cave hotels. 
Where is the best place to eat in Santorini?
Imerovigli, being the higher-end town, has the some of the best restaurants on the island. The same could be said for Oia. Despite these towns having lesser number of establishments, they managed to have the best ones located on them. Fira has some really great restaurants but because of the number of stores in that town, you're going to have to try many dishes before you find one that's good and absolutely delicious. Take a look at this list for the best restaurants in Santorini.
When should I go to Santorini?
Santorini enjoys its best and driest weather between April and November. If you want to experience the summer heat and the most vibrant state of Santorini, then schedule your vacation between June to September. If you're trying to get away from the sun but still want to see Santorini's picturesque views, then visit during the start and end of the wet season. For Santorini, that's between March-May and October-December. 
It's best to just stick to the normal peak tourist seasons months. Sure it's going to be crowded and the accommodations are hard to get but all this is the time that Santorini is open and ready for visitors. The airplanes and the Ferries are travelling back and forth, hotels are at their most alert state, and all restaurants and bars are open and ready for business. Plus coming at this time means that other islands are open too so you can island hop after you're done it Santorini.
What's the best activity on the island?
There are so many things to do in Santorini. Aim to have a full, busy schedule everyday. Whatever you do and no matter how hard it seems, finish the walk from Fira to Oia. There's a footpath between the two that takes about two hours of walking to finish. It's one of the most rewarding activities you can do in Santorini. The view that you see while you're walking is the best kind of view that the island has to offer. 
Places to eat
If you're in Fira, check out
Restaurants: Ouzeri, Argo,Lucky's Souvlaki,Naoussa
Bars: Tropical, Kira Thira Jazz, Koo Bar, Two Brothers
If you're in Oia, check out
Restaurants: Roka
Bars: Mary Kay
If you're in Pyrgos, check out
Restaurants: Cava Alta
If you're in Ammoudi, check out
Restaurants: Ammoudi Fish Taverna
If you're in Imerovigli, check out
Restaurants: Anogi, Avocado,Mezzo
If you're in Exo Gonia, check out
Restaurants: Metaxy Mas
Read more:
When to visit Santorini
Where to eat in Santorini
How to get from Athens to Santorini
Santorini's Infinity Pools
Exploring Santorini's beaches
How to get from Crete to Santorini
How to get from Mykonos to Santorini