If you're thinking of traveling to Orlando as a family, you're on the right track. Here you will find a lot of plans and recommendations to make your trip a success. Orlando is a first class family destination in the United States with such a wide range of offerings that it is impossible to cover in a single getaway or vacation. Here are 22 of the best family resorts located in Orlando, Florida.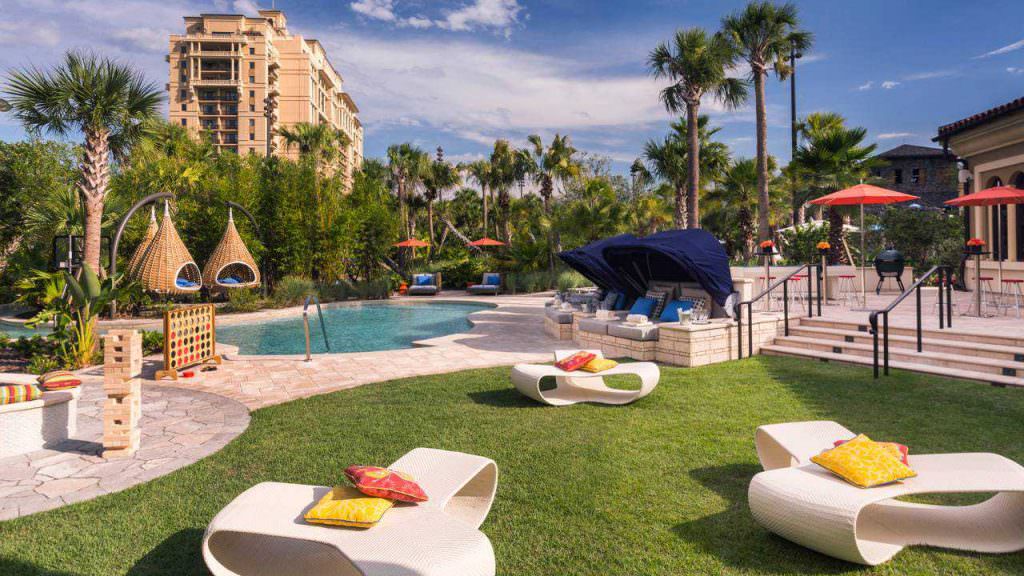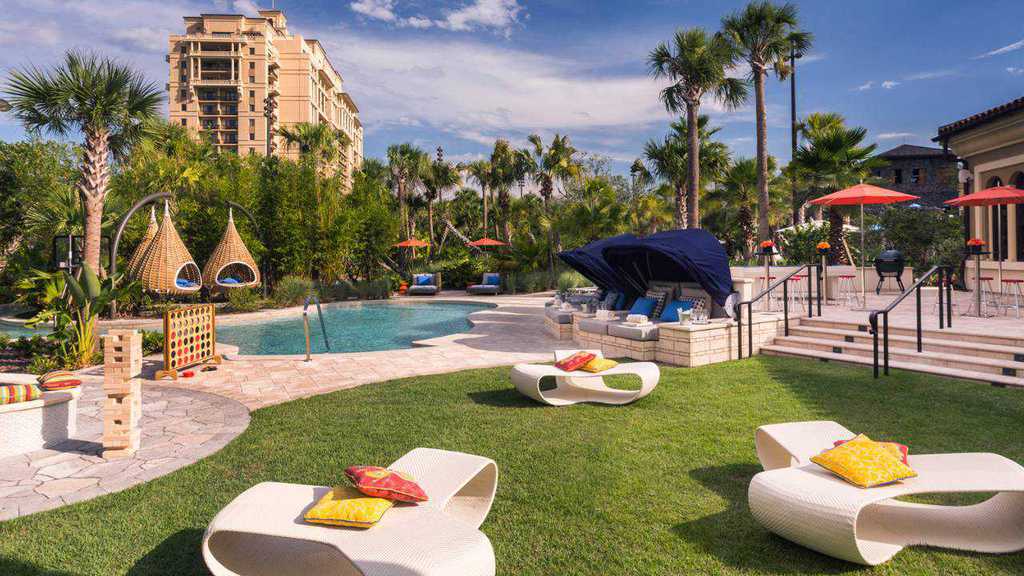 Booking.com is a legitimate and convenient website in looking for and booking a wide variety of hotels for a great price. All of the places listed down here can be found there.
The first one lies within Walt Disney World Resort, the Four Seasons, which is one of the fanciest places to go to as a family in Orlando. The best amenity in this deluxe hotel is their enormous pool area installed with water slides and a lazy river, perfect for a fun time with kids. Should you wish to book a few days in this little paradise, grab your phone and dial 407-313-7777.
You might also want to consider the Portofino Bay Hotel at Universal Orlando. If you're a family of four, the "Despicable Me" Kids Suite is highly recommended. Entirely decorated with the fictional yellow creatures from walls to furniture, this room includes 2 twin beds for the kids and 1 king-sized bed for the parents. If you're interested in booking a room, call 407-503-1000.
If you're a big happy family of six, then the very cozy and modern-looking One Bedroom Family Suite of Hilton Orlando Buena Vista Palace is just the right one for you. The suite is inclusive of one bedroom and a cozy living area. Go ahead and call 407-827-2727 to book a worthwhile getaway!
You will never run out of fun things to do by the pool at the Coco Key Hotel and Water Park Resort. The resort offers an enormous water playground space where your kids can have the best time of their lives. You can also relax within the connecting rooms of the Family Room which can accommodate up to 8 members of the family. If you think this is the best place to unwind for your family, call and book at 877-875-4681.
The Holiday Inn Resort Orlando Suites & Waterpark is a great place for the kids to splash around and for the parents to unwind. If you're a little family of four, you'll fit just right in a King Suite or a one bedroom. For a large family of six, you might be interested in booking the Two Bedroom Suite. This might just be the vacation you're looking for, so go ahead and call 407-387-5437 to book a suite.
The next best place is the Hyatt Regency Grand Cypress, which, as the name suggests, is a deluxe hotel surrounded by lush foliage and greenery. The King Rooms that they have is good for a family of four. Go and make yourself at home here by calling 407-239-1234.
The Point Hotel & Suites Orlando might be your home away from home. Experience modern living with the homely Family Suite which houses 3 king-sized beds and a sofa bed, best suited for up to eight people in the family. Don't miss out on the vacation of a lifetime, call 407-956-2000.
Universal's Cabana Bay Beach Resort might be your family's next destination where everyone can wind down at the chic Courtyard & Tower family suite, spacious for a family of six. If you're looking for a bigger place that can accommodate a family of eight, then their Two Bedroom Suite is the right one for you.
If you're down for something advantageous yet economical, come on down for a night or two at the Comfort Suites Maingate East where they have Queen Rooms for four people. The good news is they offer their guests breakfast for free. A great deal, indeed! To visit them, call 407-507-3808.
Tenth on the list is the Westgate Palace Resort where you can sleep in a Two-bedroom Villa for four, equipped with a cooking area. If you're looking for something more luxurious, try their Deluxe Two Bedroom Villa which can house up to six people. Go for well-deserved family time and book by calling 407-996-6000.
The Wyndham Lake Buena Vista Resort Disney Springs of Walt Disney World Hotels will not disappoint as it gives you an amazing view of its famous theme park while you tuck yourself in on one of their Queen Tower Room for a family of four. Book at 407-828-4444 to hang out by the happiest place on Earth.
Another amazing place located in the Disney Springs Resort is the B Resort and Spa. After a day or two at one of their rooms for five inclusive of two queen-sized beds and a sofa bed, you might never want to leave. If this is exactly what you're looking for, pick up the phone and dial 407-828-2828.
If you want a more lavish-looking set-up, the Floridays Resort Orlando is just around the corner and it might be the best place to have a vacation of a lifetime for you. Call 407-238-7700 to book either a two-bedroom suite for six or a three-bedroom suite for eight.
The Staybridge Suites Lake Buena Vista is an amazing place for families of all sizes. A family of eight would fit right in their Two Bedroom Suites whereas a little family of four can go for the One Bedroom Suites. Experience luxury for yourself, give them a call at 407-238-0777.
A dip in the pool and a good night's sleep at one of the Two Bedroom Family Room for four or the three-bedroom for six at the World Quest Orlando Resort might do you good. Make it happen and hit their hotline at 407-387-3800.
Escape the busy life for a short while and take a vacation with the fam at the Wyndham Grand Orlando Resort Bonnet Creek which offers King Rooms inclusive of bunk beds which can house up to six family members. While you're at it, have fun by the arcade with the kids! It's your time to unwind, call 407-390-2300 now!
Another great deal to add to the list is the Quality Suites Royale Parc Suites. As the name suggests, its quality for a reasonable price. Don't miss out on a great staycation at one of their spacious one-bedroom and two-bedroom for up to ten people, dial-up 407-396-8040 to book now.
The Best Western Orlando Gateway Hotel is a great choice for a sleepover during the holidays or when you just feel like taking a break with your family. If you're up for it, grab the phone and hit 407-351-5009 to book.
If we're basing on cheap finds, you might want a day by the pool and night within a Basic Room for four at The Florida Hotel and Conference Center for your family's vacation. To reserve a spot, call 407-859-1500.
If you're looking specifically for Double Suites with two full beds and a sofa bed for a family of six or if you just want a place to stay in on the weekends or holidays, then you should check out the ones at Ramada Suites Orlando Airport. Don't pass up the chance and call 407-240-3939 now.
Soak up some sun by the pool at the Avanti Resort Orlando, one of the best budget hotels around town. If you're stopping by as a family of four, the Deluxe Queen Rooms are very much recommended. Book in advance and call 877-821-3010.
Last but not the least, the rooms with two queen-sized beds, good for four, is up for grabs any time at the SUNSOL International Drive. It's a very affordable family hotel and a perfect getaway. Hit them up at 407-203-2664 for a reservation.
On the other hand, if you're looking for family-friendly apartments around Orlando, Florida, below are some of the places that might be good for you. Everything listed is inclusive of a cooking area and access to swimming pools. Most are equipped with machines for laundry and dishwashing, a dining area, and free access to the internet.
The Melia Orlando Suite Hotel's suites have full kitchens. The two-bedroom suites can house up to six people while the family suite is a great fit for up to seven in the family.
A large family of six or eight can choose from the Three-bedroom Apartment or a two-bedroom one at Diamond Resorts' Grand Beach Resort. The same family sizes can also consider checking in on the two and three-bedroom villas or three-bedroom townhouses at the Orlando Fun Rentals.
The Junior and one-bedroom suites at the Legacy Vacation Resorts at Lake Buena Vista is a quaint place for a small four-people family getaway.
Lastly, Marriott's Imperial Palms Villas open its arms to any family of up to six people with their three-bedroom villas.