Wouldn't it be amazing if there was a one-size-fits-all method of traveling from Rome to Florence? You may be scratching your head right now. Should you take a bus? Maybe you've considered renting a car. You could also fly from Rome to Florence. BUT there's one travel method that really shines. You can make your trip BY EXPRESS TRAIN!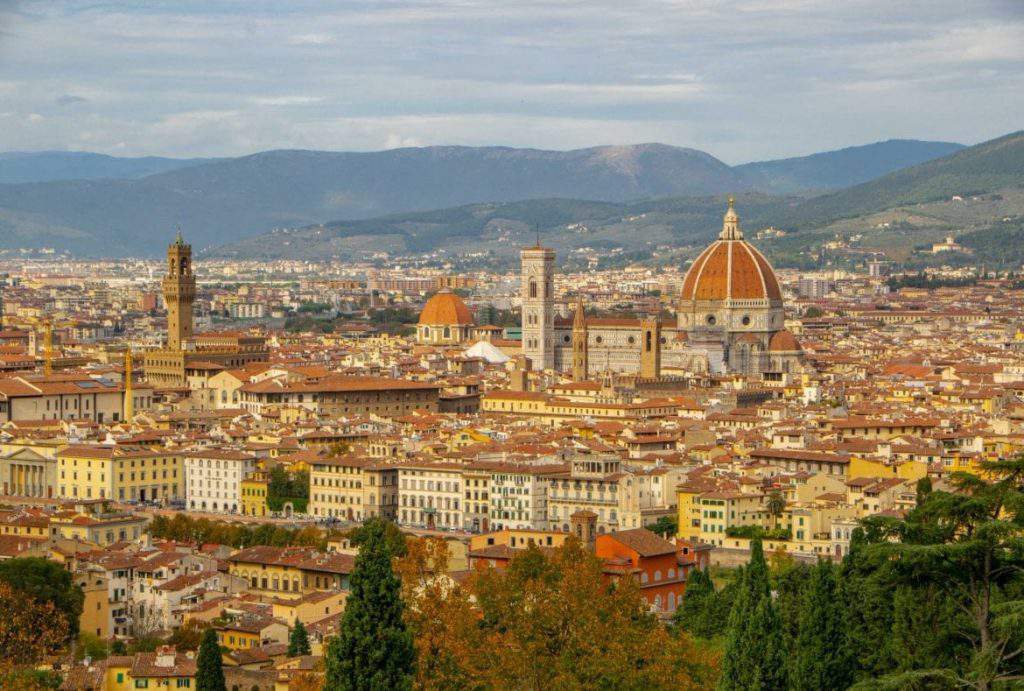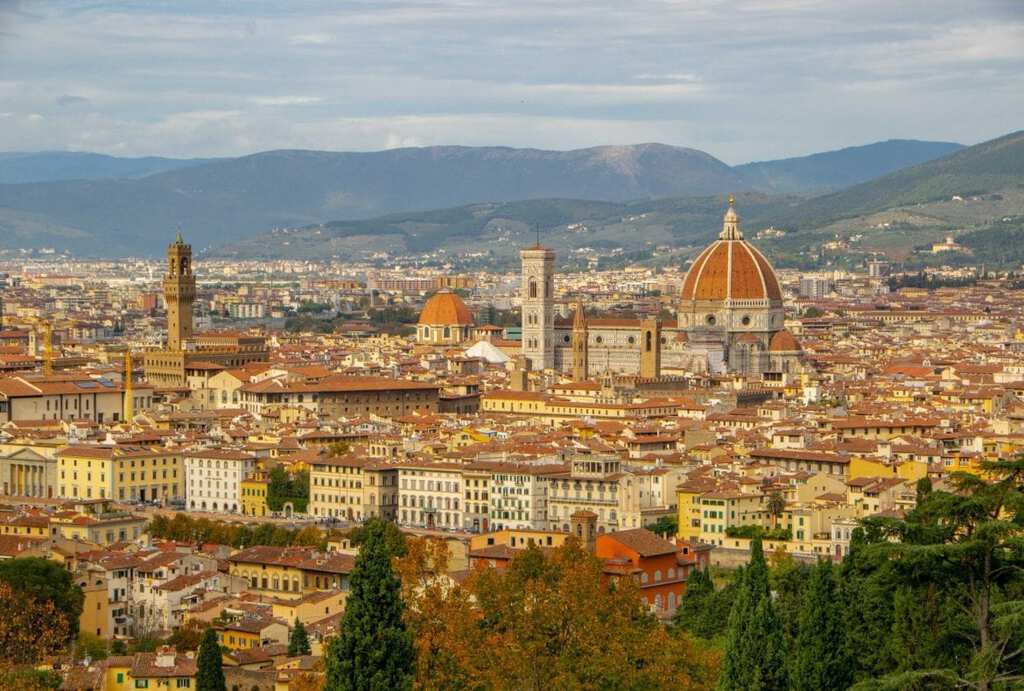 Sometimes the journey is just as important as the destination. We know what your destination is. And Florence is a beautiful city! Regardless of which travel method you choose, we want to help you choose the best JOURNEY! Follow us as we guide you through a wonderful journey of excitement through the train stations and tracks of Italy.
The Underdogs
It's impossible to have a "BEST" without having runner-ups as well! We aren't your bosses, and don't want you to think we're power-tripping on your journey! That's why we'd like to present these alternative options of travel. While they may not be the "best" options, they are definitely good choices. Let us take you on this very short adventure through the ones who couldn't quite make the cut!
Bus
Maybe you've thought about taking a bus from Rome to Florence. This isn't a bad option. Buses are less expensive than local trains. BUT take longer to travel than express trains. They also take about the same amount of time to travel as local trains. Buses will be equipped with internet, restrooms, and snacks. Not too shabby, right?
Driving
Driving is another option. You could always rent a car for your visit to Florence. This can actually work well if you plan on visiting other Tuscan cities. Are you planning on staying in Florence for most of the time? If so, you'll find driving to be a hassle. Parking is expensive in Florence. And it's limited.
You must also consider that most Florence hotels are in pedestrian-only zones. There are also toll roads! We don't want to see you go through that kind of torture. Will most of your time be spent in Florence? If so, please don't take the driving option!
Flight
How about taking a flight from Rome to Florence? Sure, it would only take around 55 minutes in the air. BUT how about the time that it takes getting to and from the airports? It takes quite a while! You also have to clear security at the airport. This option is far more of a hassle than taking the express train. You will definitely spend less time on the "journey" part. But how about all that time you'll lose doing things you don't want to do? We hope you think hard before jumping on this option!
Train
Have you considered taking a local train? This is a decent option if you're on a budget. It will take quite a while to travel by local train though. You can expect anywhere from 3.5 hours to 7+ hours. Local trains do have restrooms. Some (not all) offer wifi. Local trains DO NOT carry food or drinks. This truly is the 2nd-place out of all options. Trains in general are just the best options for travelers!
Express Train
An express train is 100% the best option for you! There's plenty of space in the seats. You'll be able to easily store your luggage. Express trains are very affordable! You'll find amenities such as food and drinks, electric outlets, and restrooms. Local trains are the runner-ups. Let's go into further detail about these 2 best travel options!
Schedules
Looking for a constant string of trains? Expect to find a train running from Rome to Florence at almost any time that fits your needs.
Need some examples? The Roma Termini station connects to Firenze Santa Maria Novella. You can catch a train every 2 to 10 minutes. Most express trains are ran through Italo. A majority of local trains run through Trenitalia.
You can expect trains to travel between 5:35am and 8:55pm on the weekdays. You'll also find 2 overnight local trains running from 12:30am to 7 or 8am. Holiday trains and weekend trains travel from 5:45am until around 10:35pm.
Pricing
Expect to see a range of prices for train travels. Do you plan on connecting with Roma Termini and Firenze SMN? The express train tickets will cost from €15.90 up to €61.00. Local trains can cost anywhere from €14 up to €23.
You'll get the best deals in the early morning! Try to book your train before 6:45am. Business travelers take trains during the later morning and evening hours. And this causes prices to be a little higher during these times!
Planning to take an express train? You'll be able to choose between a 1st-class or 2nd-class option! Local trains will only offer 2nd-class to you. First-class options can be 2 or 3 times more expensive.
Consider 2nd-class for this short trip! The 2nd-class trains have good spacing in their seats. And they recline. You'll get free wifi and access to electrical outlets. First-class offers bigger seats. Got a lot of luggage? More space for items are granted on 1st-class trains.
Are you bringing family along? Consider the Italo option. They have discounts for families including senior citizens and children. Do you have a child under 3 years old? They ride for free! BUT if you have more than one infant, expect to pay for another seat.
Italo has a family program that lets your family sit all together! Enjoy their company with these assigned seats. Seniors will get a discount of 40%!
Trenitalia also offers some neat discounts. Children under 4 years old get a free ride if in your lap! You'll find a 50% discount for children between 4 and 11! These trains are not often full. This means that your kid can move from your lap and into an available seat! Be sure to check out the Bimbi Gratis program.
Children under 15 years old will get a free ride! BUT you'll need to make sure your tickets are ordered 2 days in advance. You'll need a group of 2-5 people with at least 1 adult.
Where can you purchase Italo and Trenitalia tickets? Just look for the designated kiosks or offices at the Roma Termini station. You'll find these in the station lobby. It's on the Platform level. Also look for your orders online! Just be sure to purchase at least 24 hours before the train's departure.
Delays
There are often delays for Italian trains. BUT this is usually only by a few minutes. Delays are most common around holiday times. Expect delays around Christmas and Easter time. This is almost a guarantee. There are way more passengers during these times!
What else could cause delays? Worker strikes! These never come as a surprise though. Worker strikes are almost always announced 2 weeks in advance. There are certain months when these strikes are not allowed (January, July, August, December). Trains still operate during strikes. But it's on a specific schedule. Don't worry too much.
What if a delay is long enough to cause you to miss a connection? You'll be able to redeem your ticket for the next train out. And this is within an hour of your original departure. What if your train is the last connect of the day? Just let the conductor know. He can probably have the train wait for you!
Kids
What will a train experience be like for your kids? If you have a child under 12, that child will need adult supervision. Children of ages 12-16 can travel by themselves. But they'll need signed consent from the parent. Do you have an unaccompanied minor? Get a hold of Trenitalia for more details.
Do you have a kid under 3 years old? Italo offers a free ride for your child. That is, as long as the child sits in your lap. Be sure to scroll up and find out more about Italo's offers for kids! Also scroll back up to be reminded of the offers by Trenitalia.
Food
Looking for some vending machines? Satisfy that snacking urge! The express trains at Italo have machines equipped with coffee, drinks, and plenty of snacks. You'll get a table at your seat. You'll share your table if you're in a group of four. This table will be larger!
Want to check out the mall scene? Roma Termini has one that's 3 stories tall! You'll find all sorts of restaurants, coffee shops, and a grocery store as well. You'll find most of the restaurants in the northwest portion of Roma Termini. Some popular options are El Pan d'na Volta and Mercato Centrale Roma. You can find the grocery store at the Underground level.
Want to find some good eating outside of the station? No problem! There are a handful of good restaurants on the border of the station. These include Er Buchetto and Nerone.
Station Locations
You can find Roma Termini downtown. It's right by the Roman National Museum. East of this is the University. You'll find some specialty museums in this area! These include math, medicine, chemistry, and much more. You'll also be within walking distance of the Colosseum, Pantheon, Trevi Fountain, and Forum.
Looking for some great Florence attractions? Santa Maria Novella is in the main part of Florence. You'll be within walking distance of many great attractions! Look for the Accademia, Duomo, and Uffizi Gallery. You'll be able to find some cheap hotels around this station. Some of the best restaurants and bars are short trips by foot.
Roma Termini
This is the biggest train station in Italy! It's one of the biggest in Europe as well. Love to shop? You'll be amazed at Roma Termini's 3-story mall! Offices for tickets will be located on the Platform level.
Don't know the Italian language so well? Maybe not at all? Don't fear! All of the signs here are written in both Italian AND ENGLISH! The maps have English as well. All restrooms are located at the Underground level of this station. Two of them are on the sides of the main gallery. The other is in the middle of the Giolitti wing!
Be sure to check out the Roma Termini map to guide your station adventure. It's color-coded for an easy user experience. Restaurants will have an orange color on the map. The different services will be in yellow! Looking for clothing? It's the color purple! The convenience stores and grocery store are labeled in dark green. All other shops have blue! That's easy navigation!
The main entrance of Roma Termini is on the platform level. There's a huge display that will tell you of recent arrivals and departures. Confused about how the trains will be listed? Have no fear! All listings will start with the number of the train. This is followed by destination, departure, and the platform.
All three floors of Roma Termini have shops, restaurants, and coffee shops! Are you disabled? There are elevators to accommodate you. Feeling like getting some exercise? Roma Termini has several sets of stairs. Climb away!
Italo
Looking for the fastest and cheapest trains? Your best best is to look towards Italo. Be sure to check online for purchasing options! The site is easy to navigate. Just choose your time, the number of adults and children, one-way or a round trip, and you're on your way!
You'll be offered a wide range of options with the time frame you select. Don't worry about purchasing from a train that's unavailable. You'll find trains with limited seats highlighted in red. Looking to save as much money as possible? Looking online is going to be your best bet.
What ticket-type will you select? The options include Comfort, Prima, Smart, and Club Executive. The basic ticket is Smart. It has reclining seats with lots of space. Tables are included as well! Look for the electrical outlets and wifi. Vending machines are included! Comfort is similar, but has seats a bit bigger. Looking for a welcoming snack and drink when you board? If so, Prima may be the ticket for you. You'll get access to the station lounge if you book Club Executive. The most popular option is Smart! This is because the trip is so short.
How do payments work? You can pay with either paypal or your credit card. You'll be given a boarding e-ticket. You must show this to the officers on the train!
Kiosks
Are you worried about handling purchases online? That's fine too. You can buy tickets at the station kiosks! Just select Firenze S.M. Novella as the place you're traveling to. You'll need to input the amount of passengers in your group. Specify if they are adults, children, or seniors. Next, just pick what time you'd like to depart. Choose your type of seat next! Do you plan on purchasing your ticket the same day of travel? Be prepared to spend a little more money.
There's also an optional part involved at the kiosks. You can put in your contact details and add any perks that you wish for. You'll be able to pay with a credit card, contactless cards, different coins, or Euro notes. After paying, just pick up your ticket from the plastic door at the bottom of the kiosk!
Trenitalia Ticket
Wondering what to expect on this ticket? We've got you covered. The train number will be labeled with a red underline. This is what you'll use to find your boarding platform. Any express train ticket will give you an assigned seat. It doesn't matter if it's through Italo or Trenitalia. Your seat number has a purple line underneath it. Any electronic ticket will have all of this info. And it will have a QR code which is scanned for your entry onboard.
After The Ticket
Already have your ticket ready? Just head towards the platforms. These are behind the ticket offices. You'll find a handful of electronic displays that will give you train info. You'll get the scoop on any delays as well. You'll need to leave the station lobby to reach the platforms. You can reach the platforms from the main area of the station.
Just follow the blue lights down the platform path! The Giolitti wing is bolded with a blue path for easy navigation. Soon you'll reach the Left Luggage. Right around the corner will be information for renting cars, info for tourists, and the medical center. Look for the green and white ticket-validating machines!
Need some cash in hand? You'll find an ATM by the ticket-validating machines. Pick up some Euros and relax during your vacation!
Downstairs
What can you find on the bottom floor? You'll be able to find restrooms! But wait, there's more! A small grocery store can be found down here. Go ahead and take care of those last-minute needs! Looking to pick up some medication? You'll be able to do this downstairs. There's a pharmacy to meet your needs! There are also 5 ATMs on this level. There's also a shoe store and a Sephora down there!
Restroom Warning!
Can you imagine paying to use a restroom? Well, this is the case here. The restrooms are located downstairs. It will cost €1 to take care of your human needs. It takes coins only! Don't worry though, because there's a change machine right before the barriers.
Moving Forward!
You've ordered your ticket, you've done some shopping, have eaten some good food, and handled your personal needs. Now it's time to board your train! You need to find a ticket-validating machine if you have a paper ticket. These machines are scattered throughout the station. Do you have an electronic ticket? Make sure it's easily accessible! You have to show it to the officers when boarding the train.
You've gotta find your platform now. Look for your platform number on the corner that's closest to the tracks. Be sure to go by the train number. Have you found your platform and train? Now it's time to find your carriage! You'll find these numbers on red signs that say, "Carrozza/Coach" right above the platform.
Onboard The Train
It's time to find your seat! The numbers will be listed above the windows. Do you have any carry-on luggage? You'll find some storage above the seats. This is similar to a plane. You'll notice tables at all of the seats. If you're in a larger group, you'll have a bigger table.
Look for the power outlets below the table. You can find EVEN MORE storage for your luggage behind the seats. Have any big bags? These will go between the carriages.
Didn't want to pay for the restrooms at the station? Good job on holding out! You'll have free access to the restrooms onboard the train. Do you have a baby on board? There are baby-changing stations as well. These are located in the center of the train. Handicapped people will be able to take advantage of grip bars in the restroom.
Need to satisfy that caffeine craving? There are vending machines on the trains that offer tea and coffee! Also look for cold drinks and snacks. These are also in the middle of the train. Want to surf the web during your travel? No problem! You'll have access to free wifi.
Finally In Florence!
That wasn't so bad, was it? You're now in Florence! You'll find many restaurants and shops inside of Firenze SMN station. Look in the underground level for a mini mall! If you're facing the shops, you will find the station exit on the left. Now that you're where you need to be, it's time for the next move. You can easily walk to nearby hotels in Florence's City Center. Feeling lazy? You can also hail a taxi right across from the train station!
Conclusion
Do you agree that the best way to travel from Rome to Florence is by train? We don't want you to think that this is your only option. Of course you can take a plane, bus, or even rent a car. We just don't think this is the most ideal for you! We do recommend that you do a little more research outside of this article. We want you to make the most informed decision possible on your way to Florence!
It's not always about the destination, but also about the journey! Florence is a beautiful city to arrive in. But let's not forget just how important the journey is! That is what we aimed for in this article. We hope that we've helped make your "journey" as easygoing as possible! And not only that. But we also hope that you have a great time on your vacation in Florence! Happy traveling!
Read more:
Rome Travel Guide
Best Hotels in Rome
Rome's Top Neighborhoods
Best Time To Visit Rome
Best Hotels in Florence
Best Gelato in Florence
Pisa To Florence
Things To Do in Florence