Hotel Estherea Amsterdam (Review)
Located next to the renowned Medieval Centre of Amsterdam, Hotel Estherea boutique hotel echoes that historic charm. This hotel is based right next to canal and features eight extraordinary buildings. The hotel was opened in 1942 by a WW11 widow and is still operated by the family, 3 generations later. A romantic style runs throughout its many themed rooms.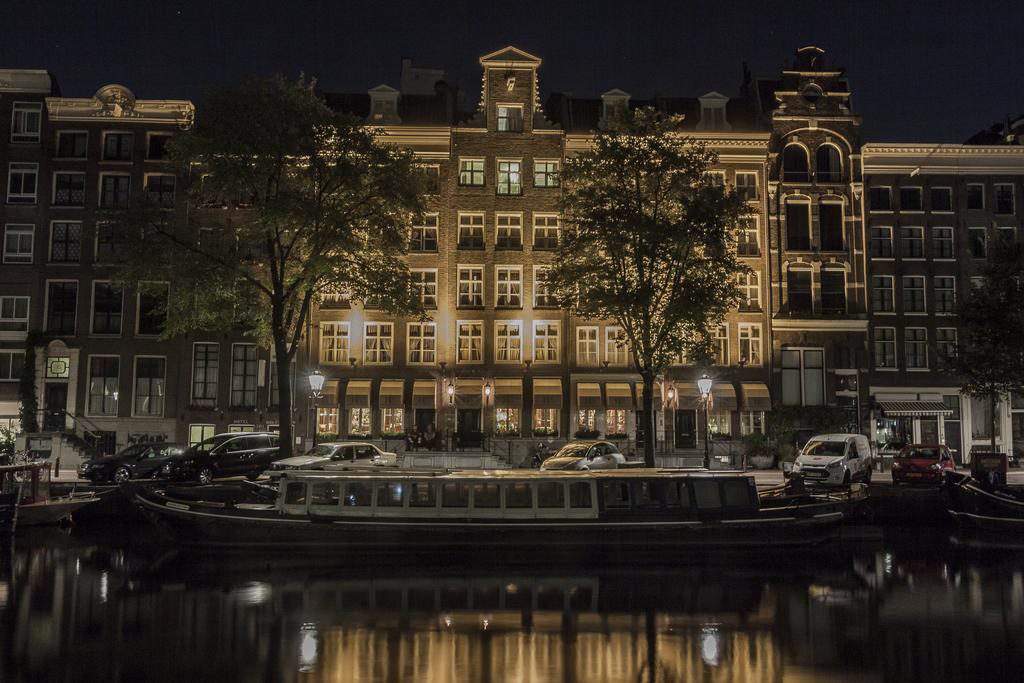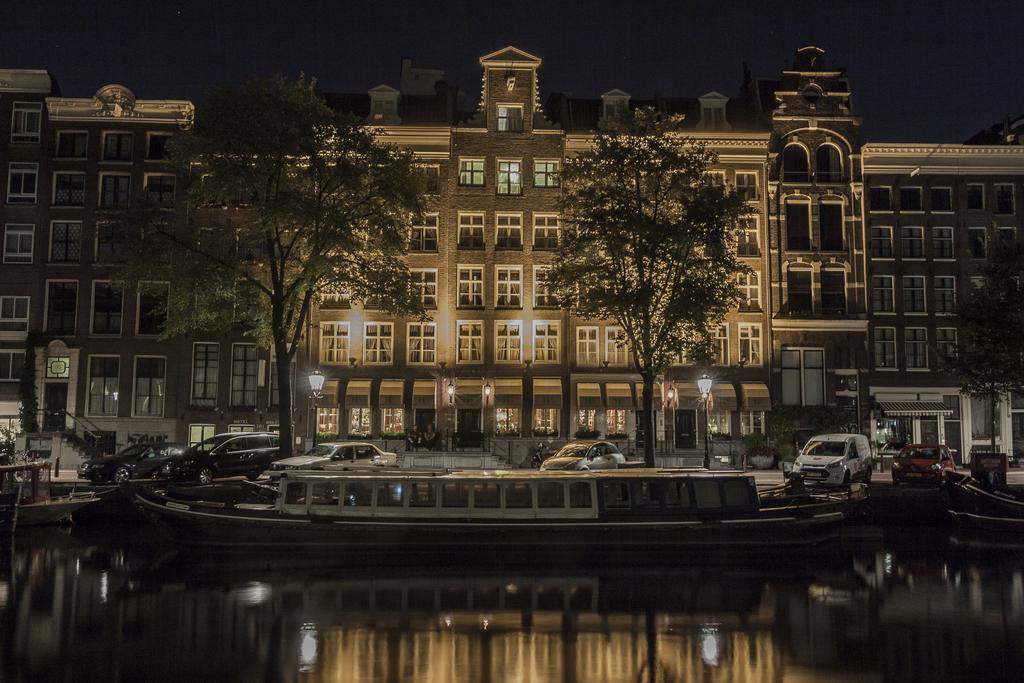 Location: Singel 303-309, 1012 WJ Amsterdam
Find the best deals and prices here.
From four poster beds fit for kings and crystal chandeliers to beautiful jewel tones that are incorporated in the décor and fabrics, you really feel like royalty here. There are many different sizes of rooms, all intricately decorated, whilst keeping the medieval atmosphere. It is centrally located, which allows easy access into the city centre and the friendly staff are on hand to assist with your needs.
The easiest way to get to the hotel from Schiphol Airport is to take the train to Centraal Station. From there, #1, #2 or #5 tram will take you to Spui which is only a short stroll from the hotel.
Nearest Tram Stop: Spui
Neighbourhood
Alongside the Singel canal and part of the iconic Canal Belt and Medieval Centre. For restaurants and shopping, you can walk to the Nine Streets area in just minutes and the famous Dam Square can be reached in less than 6 minutes. Centraal Station is only a few stops away and you can reach the Museum Quarter by tram in 15 minutes.
Very nearby you can find Nine Streets, the Canal Belt, Spui square and Anne Frank House
Find the best deals and prices here.
Contact
Phone: 020-624-5146
Email: [email protected]
Website: estherea.nl
Find the best deals and prices here.

Essential Information
How to Book: You can find the best prices at Booking.com. It is recommended to make reservations at least 3 months ahead for busy seasons including Christmas and New Year's, mid-March to mid-May and July-August.
Where to Park: Onsite parking for 55 euros
Room Viewpoints: Canal rooms feature Singel canal views. The basic rooms come with courtyard views and deluxe rooms will have viewpoints of the Spulstraat or the courtyard dependant on which one you are provided. There are 92 rooms total.
Age-range: This hotel is suitable for all ages, whilst generally most visitors are couples.
Extra Services: There is in-room laundry available, free tea, coffee and snacks for guests as well as Ipads, computers and a library.
Facilities
Pool: No pool available at this location
Jacuzzi: No jacuzzi available at this location
Gym/Fitness Centre: Downstairs this hotel features a small-scale rec space with equipment from TechnoGym.
Wheelchair Accessibility: No amenities or suitability for handicapped visitors.
Family services: Baby-sitting is available to guests as needed for an extra charge. Complimentary baby bunks and large beds can be supplied and anyone under the age of 12 is welcome to stay in the included beds for not extra charge. In Maria's bar there are highchairs available if needed.
Food/Beverage
Breakfast: From 7am – 10:30am there is a buffet breakfast for 18 euro per person. No free breakfast provided.
Dining: While there is no restaurant in the hotel, Maria's Bar does have some food options, basics like burgers and pastas, available at decent price.
Bar: Maria's bar is open all day and has a full range of drink options available. This bar is exclusive to hotel guests.
Room service is also available 7am – 11pm.
Rooms
The hotel offers many room options based on your needs and budgets. The types are listed below.
Classic
Deluxe
Canal
Family
Orange Suite
Rose Suite
For the best views in the hotel, we recommend the Canal Room which offers breath-taking views of Singel canal. If you are looking to really experience some historic medieval charm, Estheréa offers two luxury suites, the Orange Suite and the Rose Suite, with beautiful décor and character.
If you are visiting with your family, there are many room options that are set up to accommodate everyone, including the space to bring in extra beds as necessary.
Please note that smoking is not allowed in any rooms at Hotel Estheréa.
Transportation
Where Can You Walk: You can reach many attractions within minutes of Hotel Estheréa. Some include Spui Square, Dam square, Anne Frank house and the busy Jordaan district. You can also walk to the iconic Red-Light District and the Medieval Centre of Amsterdam within minutes and about 20 minutes' walk is the Medieval Quarter.
Where Can You Tram: With the nearest tram stop being Spui (about 4 minutes' walk), you can travel either north or south on this line. North will take you through the Medieval Centre, finishing at Centraal Station. If you go South, it will take you through the Museum Quarter and towards Leidseplein.
Cost of Taxis: It is usually faster to take public transport or walk to your destinations in Amsterdam but if you would you like to taxi, be aware that you will pay half the cost of a taxi if you take an Uber within the city. From the airport to Hotel Estheréa, you will pay about 35 euros for taxi OR Uber.
Restaurants Nearby
For do-it-yourself meals you can swing by Marqt supermarket which is located just 3 minutes away.
Happy Pig Pancake Shop is a huge hit with families. They have organically made pancakes, both savoury and sweet. Located 1 minute away.
Lucius has been around for 40 years serving an amazing seafood-based menu and is a staple of the local community. The venue is name for their infamous Pike, but they also serve many other flavourful seafood and shellfish dishes. It can get busy, so we recommend making a reservation. Located 2 minutes away.
Haesje Claes is a true Dutch experience. Their menu features traditional dishes in a cosy and rustic atmosphere. Located 2 minutes away.
D'Vijiff Vlieghen offers canal-side dining accost 5 canal houses. Their specialty is creating a unique twist on traditional Dutch food and it is incredibly popular. You will need to reserve a table if you are planning on dining at this 17th century historic landmark. Located 2 minutes away.
Restaurant De Struisvogel is inspired by classic French dishes and based in an underground location. Located 4 minutes away.
Tomaz offers vegetarian options in their French and Dutch fusion brasserie. Located 4 minutes away.
Bredas innovative menu has been crafted by some of the best chefs Amsterdam has to offer. This is the place to go if you're looking for an experience to remember, with multi-course meals on offer as well as unique lunch and dinner options. They also have an extensive selection of wines. You will need to have a reservation for a meal here. Located 5 minutes away.
Ful u Mandarijn incorporates an extension selection of Sichuan and Cantonese style menu items including Kung Pao chicken, dim sums and Peking duck pancakes. All based in a polished setting. Located 5 minutes away.
The Seafood Bar takes walk-ins and is a popular restaurant for, you guessed it, seafood. They're especially well known for their oysters and champagne and popular for their large seafood platters. Located 5 minutes away.
Bars Nearby
De Admiraal has an extensive selection of liqueurs and jenevers. Then are also the largest classic tasting house in Amsterdam. The best part? They are located 2 minutes away.
Café Schuim is great bar for a younger crowd. It's a dingy and graffiti lined bar and can get very busy in the evenings and on weekends. Located 3 minutes away.
Café Hoppe is a historic pub/café with a beautiful terrace. Located 3 minutes away.
Flying Dutchman Cocktails has an amazing cocktail selection, served up by its award-winning bartending staff. It's a small and intimate cocktail bar located only 5 minutes away.
Bubbles & Wines serves a massive assortment of champagnes and wines (over 50!) and is usually bustling with fashionable guests. They also offer a small menu of delicious nibbles. Located 6 minutes away.
Pulitzer's Bar is based inside the Pulitzer Hotel and is a classy place to grab a drink. They serve signature drinks along with classic cocktails in an art deco setting. Located 6 minutes away.
The Tara is a good old classic Irish Pub that is hugely popular for expats wanting to mingle together and view various sporting events. Located 6 minutes away.
Amsterdam Tours
If you're looking to join up with a tour group, we've got you covered. Check out some close-by tour options below.
Gs Brunch Boat is a unique brunch experience that combines Amsterdams canal tour with a large menu of brunch options and includes bloody Marys and mimosas. This hour and a half boat tour runs all year long and launches from Keizersgracht 177, which is 8 minutes away.
Lovers Canal Cruises is perfect for the couple looking for an intimate canal experience. These tours last an hour and you will leave in a small boat from the docking area near to the Anne Frank House, which again is located only 10 minutes away.
Jewish History Amsterdam offers informative tours around the western canal ring, which is the Jewish area of Amsterdam. These will usually start from the Anne Frank House which is located 10 minutes away.
The Secret Food Tour is a must do for the foodies out there. You will get a real taste of traditional Dutch foods at various renowned locations and get to sample dishes like stamppot and stroopwfel. The tour begins at the Anne Frank House which is located only 10 minutes away.
Local Shopping
We've compiled a list below of some of the coolest shops close by the hotel. These are some great options if you're looking to have a wander and browse what the area has to offer.
Concrete is a super cool street are exhibition space that also features clothing and footwear designed by local artists. Located 2 minutes away.
Laundry Industry is a clothing shop offering street wear which is Dutch designed. Located 3 minutes away.
If you're an avid reader check out Athenaeum, which is arguably Amsterdams biggest, locally owned, bookshop. They have a large variety of books available and it's located just 3 minutes away.
We Are Labels features urban wear from a ton of iconic streetwear brands like Norr, Numph and many others. They've got many footwear and accessory options as well. Located 4 minutes away.
Scotch & Soda is now a world-wide recognized name, but it is Amsterdam based. They specialize in denim and urban wear for both women and men. Located 4 minutes away.
Mendo is a bookstore specializing in the arts, including fashion, design and photography books. Located 4 minutes away.
American Book Centre has got a huge selection of English books to choose from. Located 4 minutes away.
Zipper Vintage Clothing is a hipster's dream, with a ton of cool vintage clothes from patterned shirts to poodle skirts and everything in between! (Can't forget those zoot dresses). Located 4 minutes away.
Marie Stella Maris is a local beauty and skincare line. This favourited brand sponsors worldwide clean water projects by offering some of their earning to the cause. It's located 5 minutes away.
For those wanting a handmade and unique accessory, check out Amsterdam Watch Company. Featuring one of a kind watches from amazing designers. They will also fix and revamp old watches here as well. It's located 6 minutes away.
Read more:
Hotel NH Collection Amsterdam Doelen