The 20 Most Beautiful Greek Islands
Do you need help choosing the best Greek islands for a couple, a family holiday, a weekend getaway or just to enjoy the serenity of the beach? We've got you covered! Here is a guide to the most beautiful Greek islands and how you can access them.
So which Greek island has the most beautiful beaches? The Greek island with the most beautiful beaches is Crete. The Balos Beach in Chania is formed by an incredible lagoon of warm waters and sea of turquoise waters.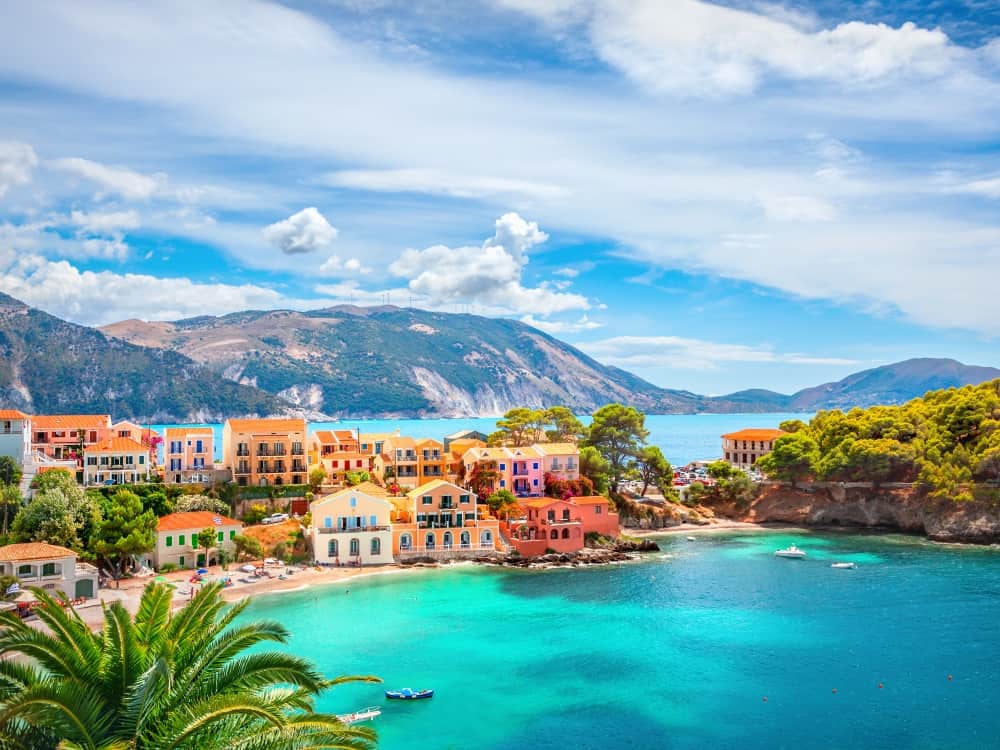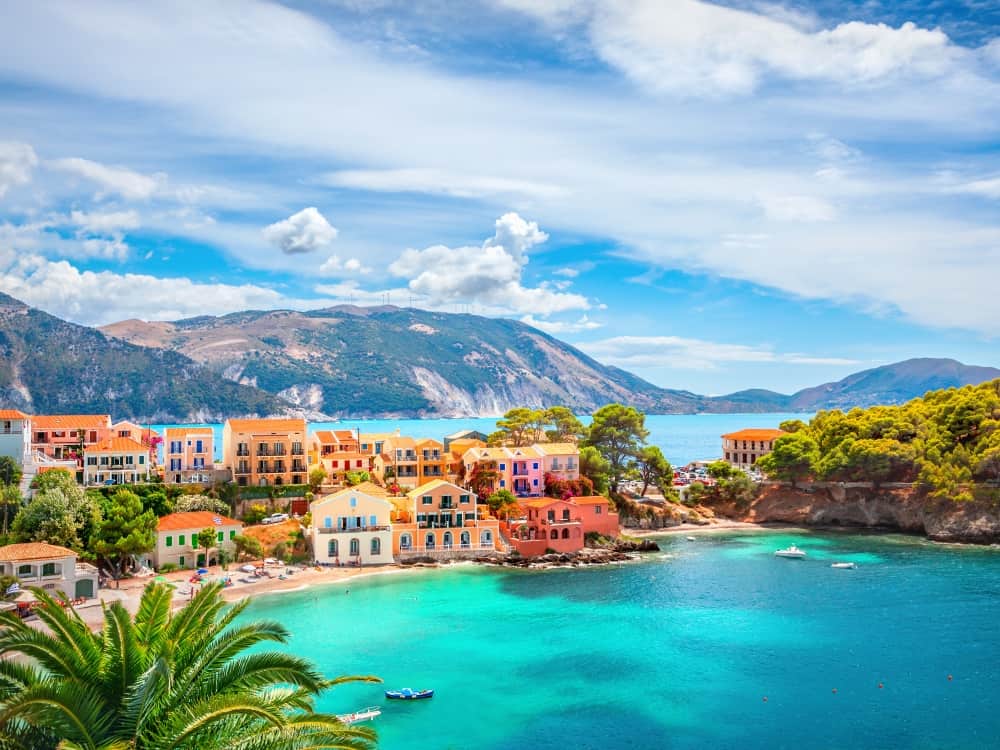 Although Greece is a paradise for lovers of history and architecture, it is no less so for those who are looking for islands that are isolated from everything and where the few inhabitants have small country houses next to waters that seem to be from another world.
We discover the 20 most beautiful Greek islands, one of the most spectacular treasures of this magnificent country for you to dream of seeing them as soon as we can travel again.
Santorini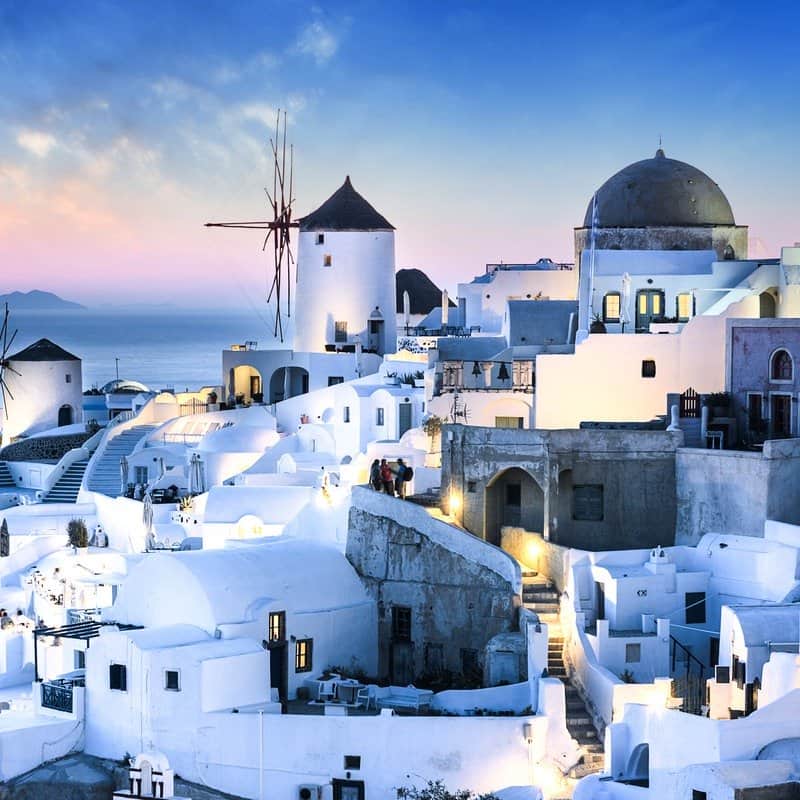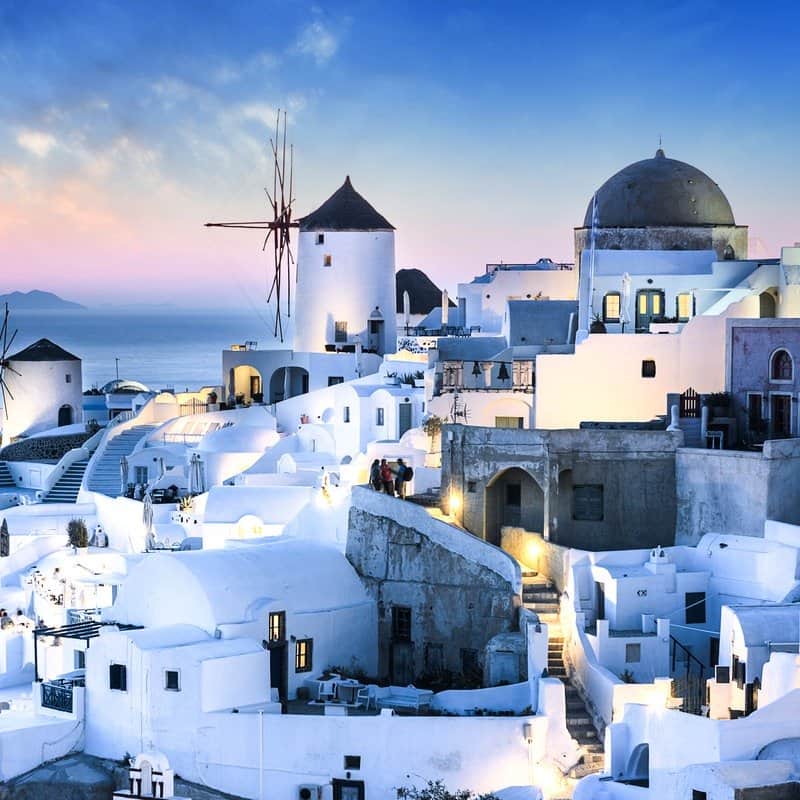 You may feel you've already been there. Surely you have seen more than once the typical postcards of whitish houses with their domes contrasting with the bright blue sea (if not, look at the picture below).
Well, you have to go and see for yourself and be surprised that not all beaches are golden sands, in fact some are black! Santorini is the southernmost island of the Cyclades, made of volcanic rock. Hence the color of its dunes.
How to get to Santorini: Good news! You are just one flight away from enjoying a cocktail on the beach of one of the most beautiful islands in Greece. Fly directly to Santorini from several European destinations.
Mykonos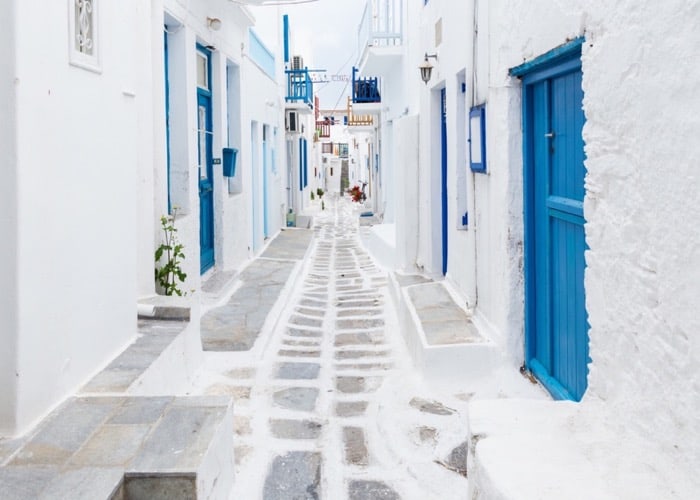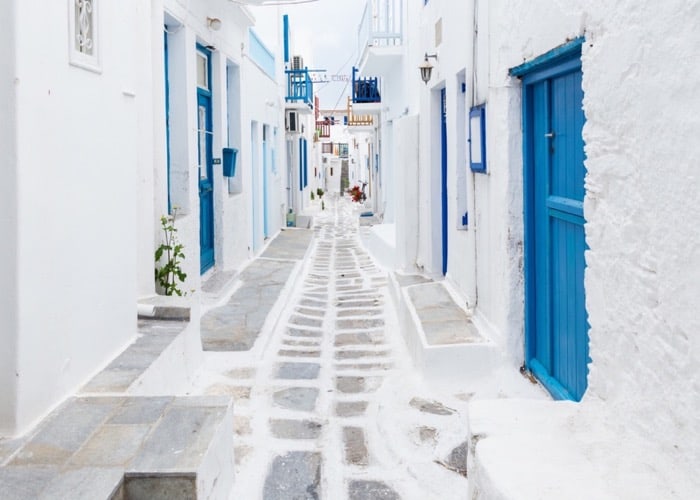 While Santorini, is the favorite spot for lovers, Mykonos is the ideal place for endless parties. It is the most popular stop for islanders looking for fun and has gained a reputation for bringing together the best pubs in the Greek islands, from delicious cocktails in Caprice to the best dance disco in Argo Bar.
How to get to Mykonos? Fly by day and party by night! You have direct flights from Europe with Aegan or other carriers.
Corfu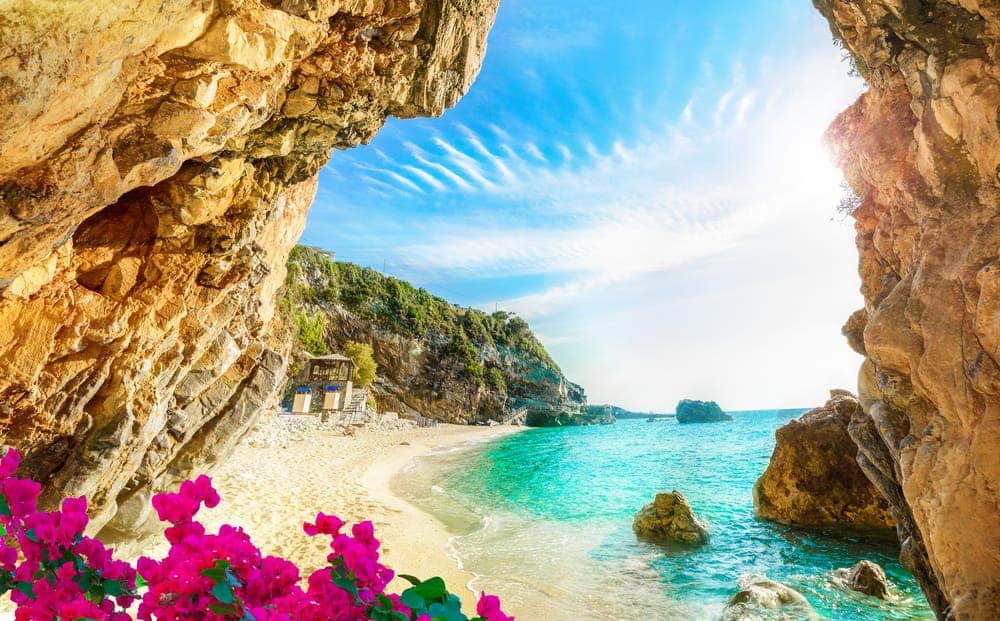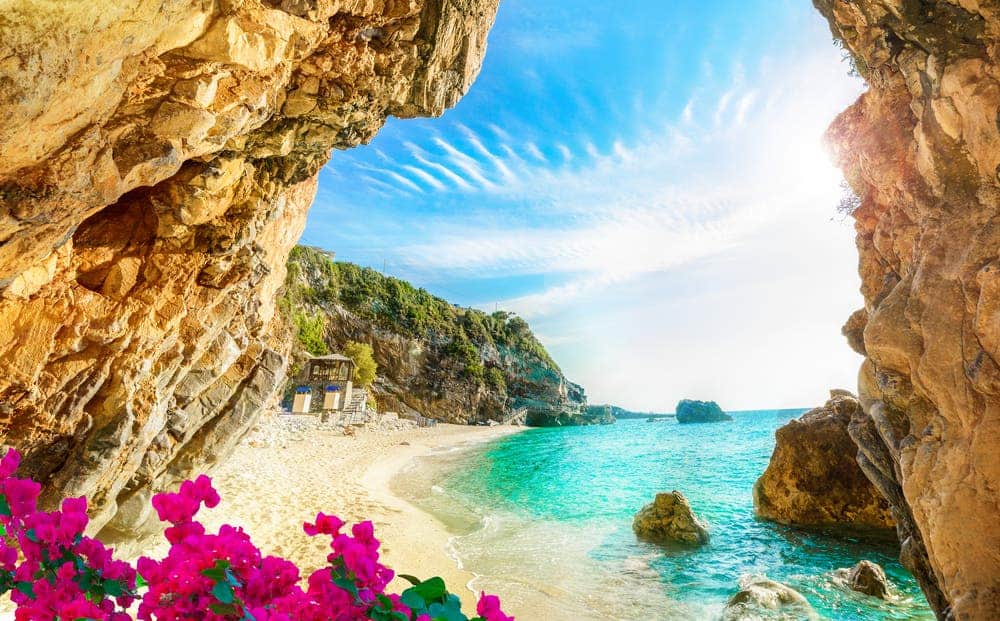 Corfu, one of the most beautiful islands in Greece, was the hiding place chosen by Jason and the Argonauts after stealing the Golden Fleece, and the stage chosen by Shakespeare for one of his plays. It seems that the island of Prospero, the protagonist of The Tempest, is inspired by Corfu.
And a lot of drama is what you'll find in the swanky bars and pubs of Kavos, but head to Old Perithia in the northwest and you'll see the other side of the island. This is the oldest town in Corfu, located at the foot of Mount Pantokrator, and surrounded by peaceful vineyards and beautiful Venetian-style ruins.
How to get to Corfu: it is one of the most accessible and popular islands to visit with direct flights from Europe.
Milos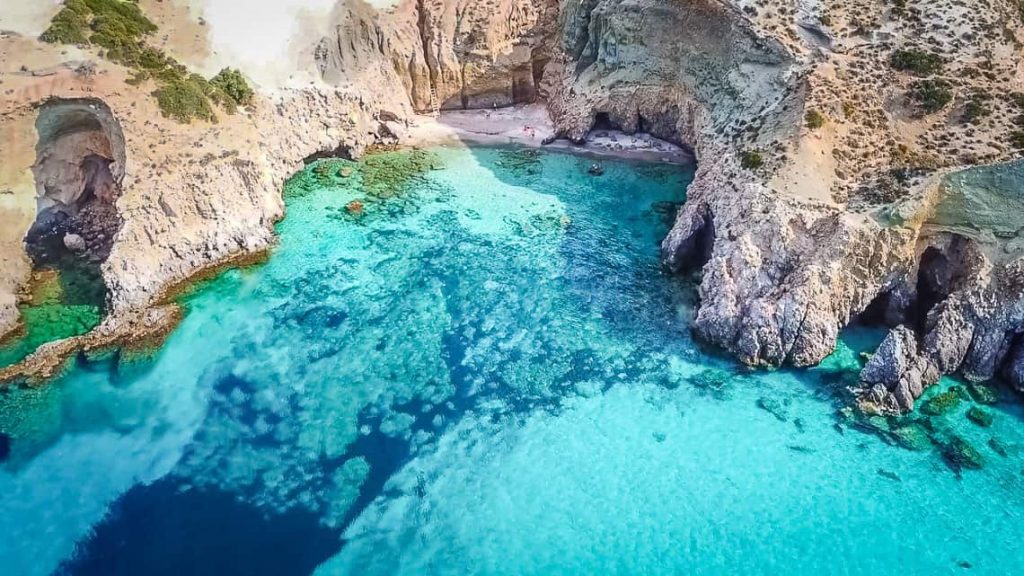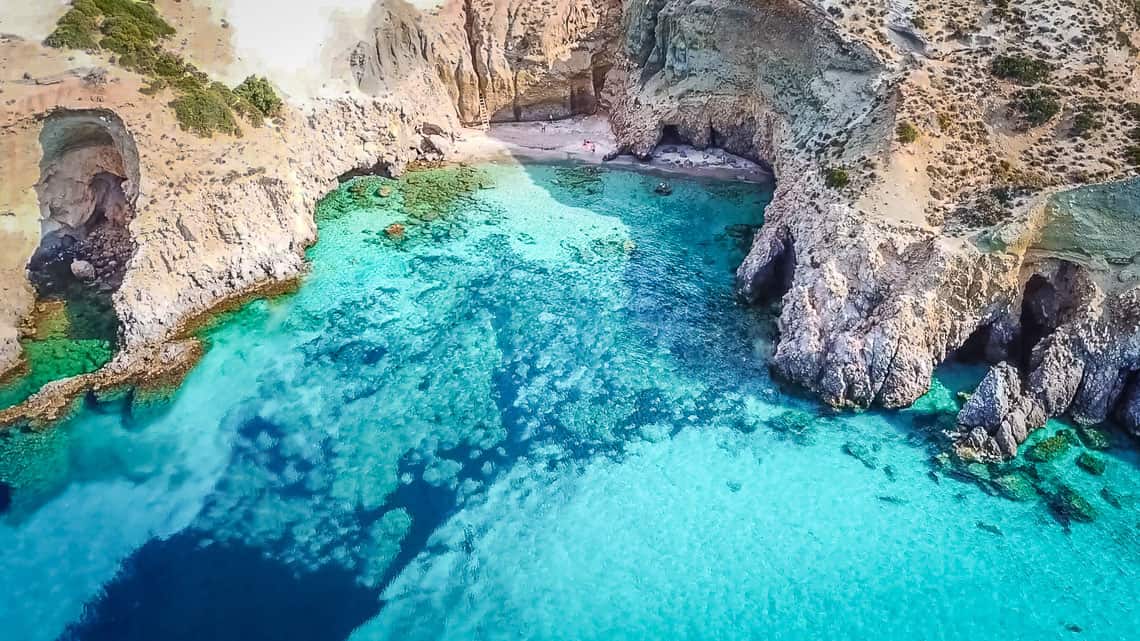 Another of the volcanic islands in the Cyclades, and a mandatory stop on any cruise around the Greek islands. Milos is gaining a reputation as a holiday destination with international tourists, although its turquoise water and rocky hills have been popular with locals for years. Also known as "The Island of Colors", Milos is relatively quiet compared to its larger neighbors, so you can still enjoy its unspoiled landscape.
How to get to Milos: part of Milos' charm is its nature, hence its small airport. Unfortunately there are no direct flights from Europe, so the best option is to fly to Athens and then board a ferry from Piraeus.
Kos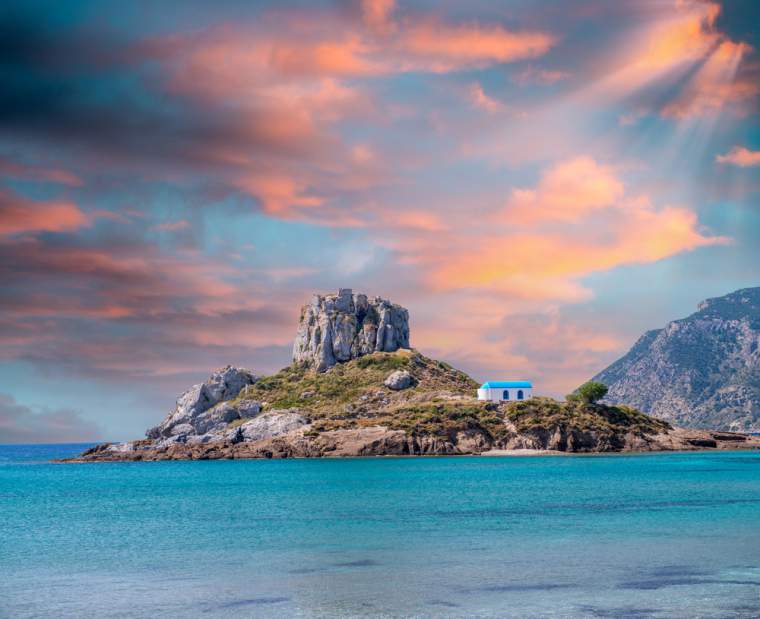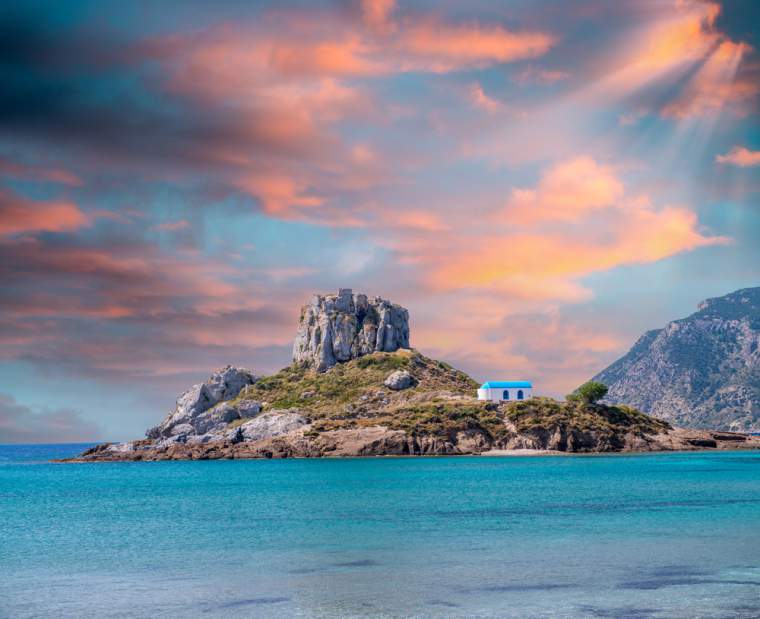 Kos is the third largest island of the Dodecanese after Rhodes and Karpathos and one of the most beautiful Greek islands. Kos is the birthplace of Hippocrates, the father of modern medicine.
Why not go and see the place where he learned his knowledge as the beautiful Asclepeion? To enjoy lazy days on the beach and in the sun, the best thing to do is to go to the southwest coast, for example, Kefalos, an ideal place to spread out your towel and spend the day.
How to get to Kos: There are no direct flights. One of the best options is to go to Athens and there take another flight to Kos.
Crete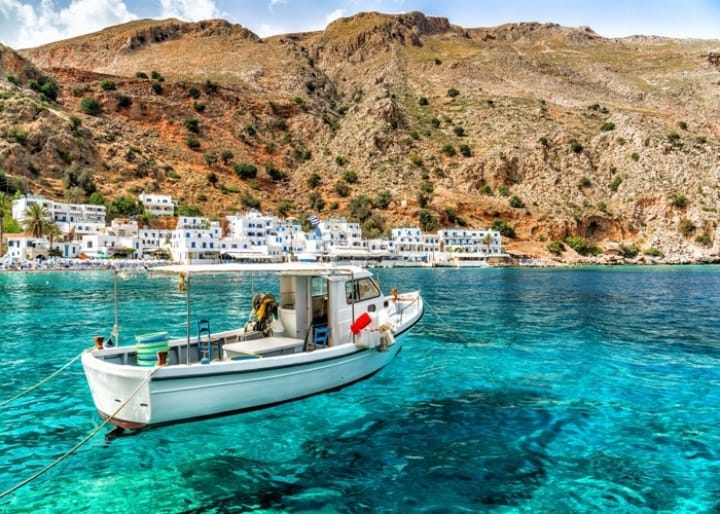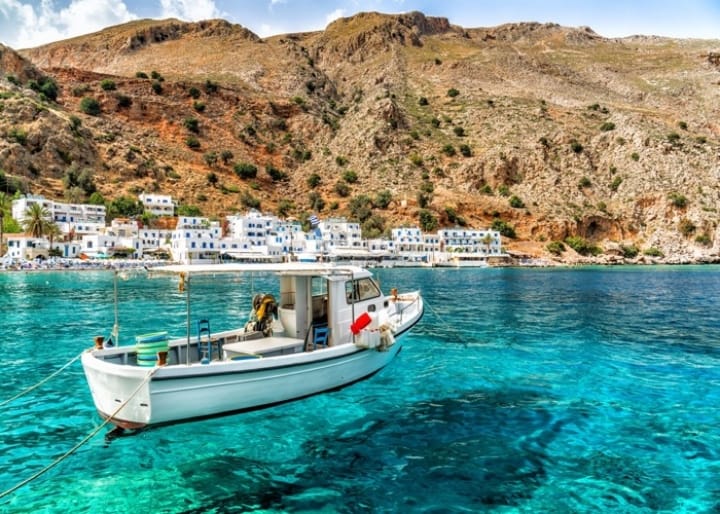 Crete, one of the largest Greek islands, is home to the legendary Palace of Knossos. The Bronze Age complex is considered the oldest city in Europe, dating back to 7000 BC.
Today, there are dozens of beaches for you to complete your tan, plenty of fun in the party town, Malia, and traditional taverns hidden in villages located on the hillside all over the island. Be sure to try a dish of snails, steamed, fried, or grilled, as they are the islanders' most delicious specialty.
How to get to Crete: Are you still tempted by the taverns we have named for you? There are direct flights from Europe.
Naxos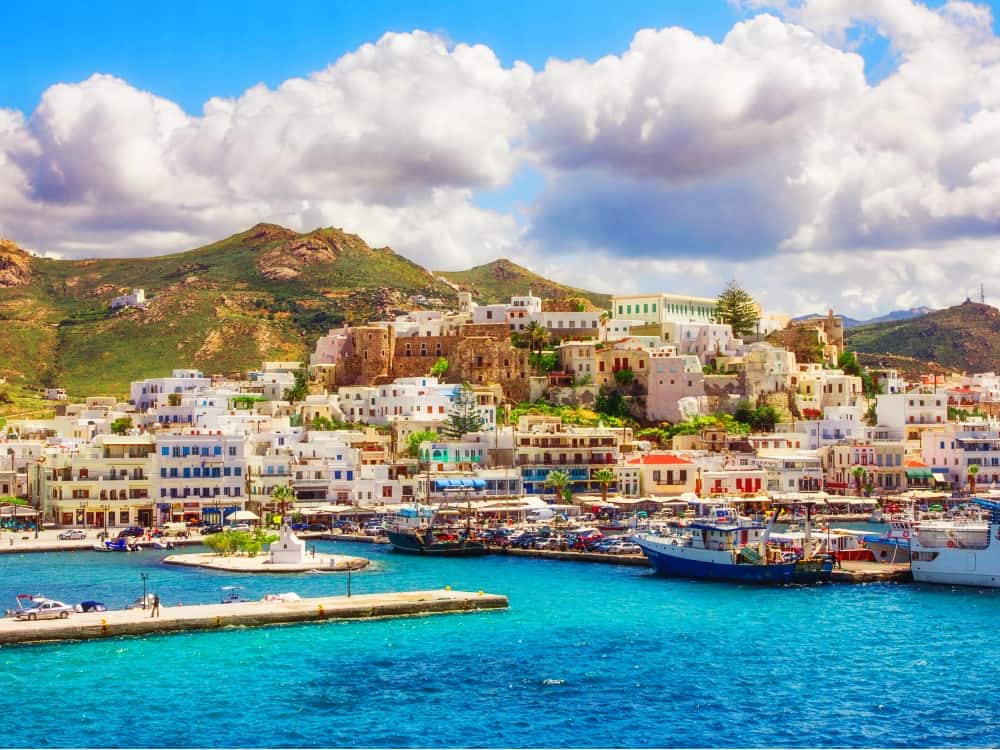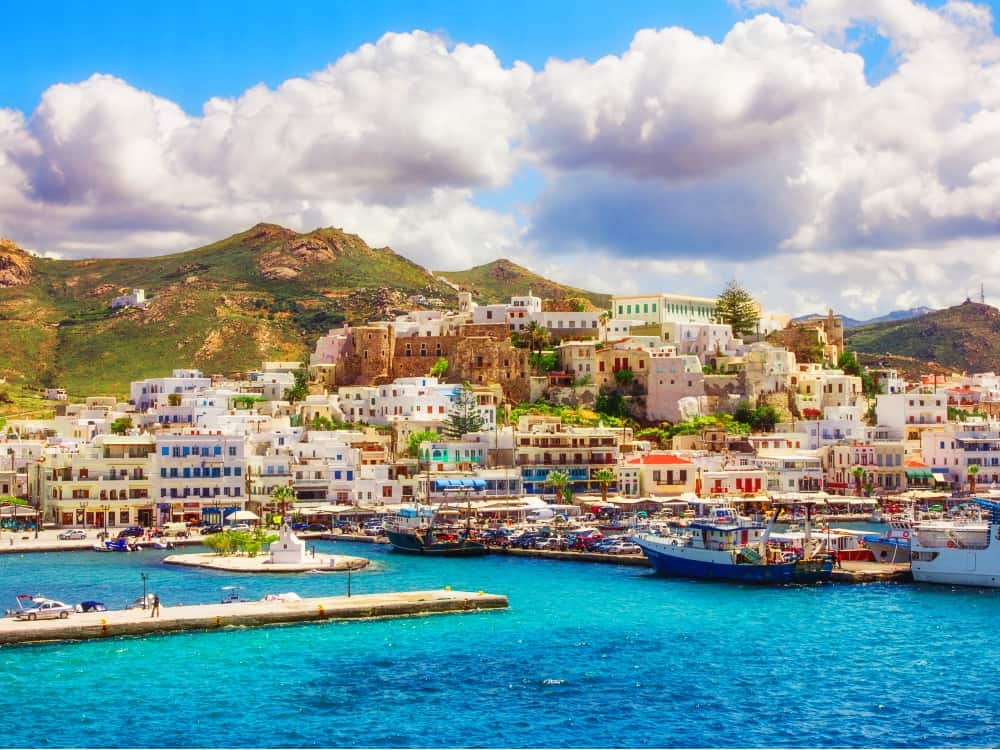 It is possibly the greenest island in the Cyclades and one of the most beautiful islands in Greece, whose incredible natural beauty has made Naxos known as the "Hawaii of Greece".
Almost 100 km of white sand beaches bathed by incredibly clear waters are the perfect place for the most beautiful declaration of love. Do as Dionysus, the Greek god of wine, and find a maiden to marry in Naxos, or take your partner for a romantic retreat.
How to get to Naxos: Naxos may have beautiful beaches, but no international airports. If you want to visit this idyllic island, your best option is to fly to Santorini or Mykonos, and then take a ferry.
Paros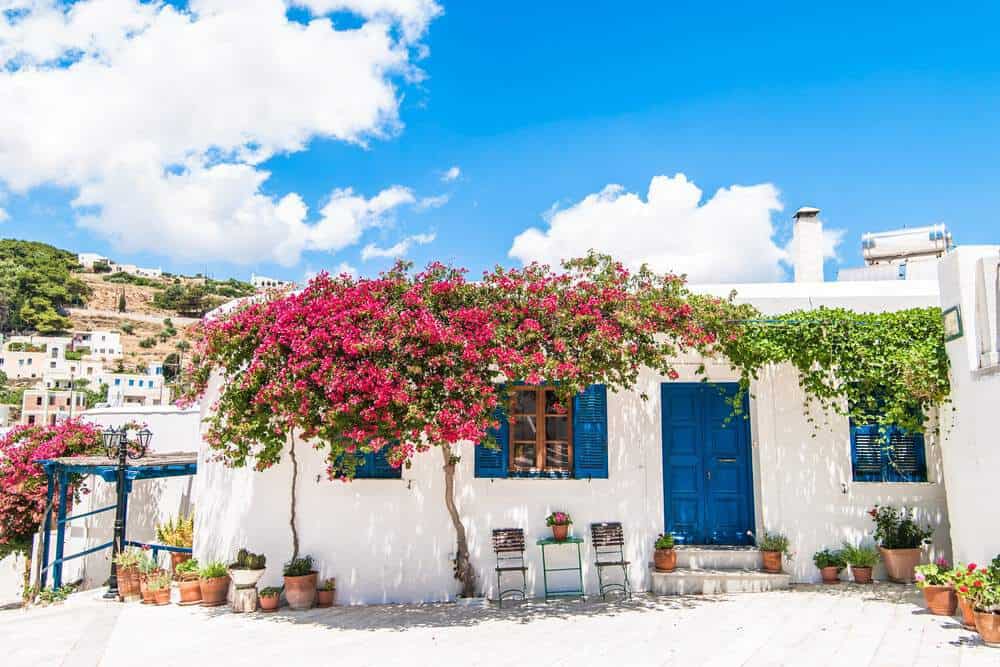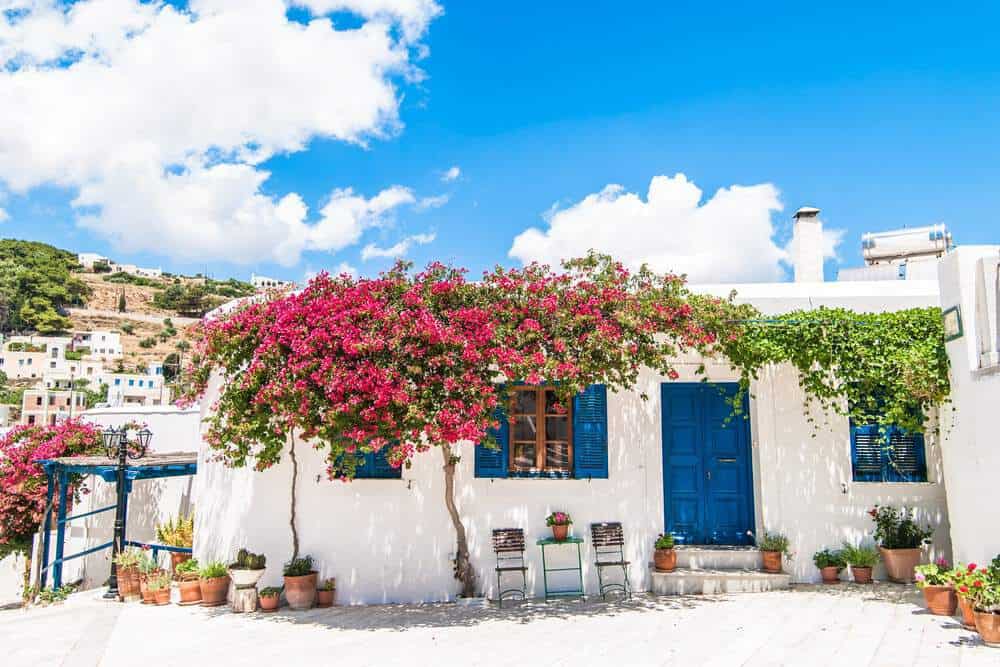 Considered a pearl in the Aegean Sea, Paros is often just a stopping point for tourists on their way to Ios and Santorini, but it really deserves a little more time to get to know it in depth.
Home to a lot of postcard-perfect villages, when you visit make sure you visit Parikia (the main town) Lefkes and Marpissa, to name just a few. And don't forget to try meze, the Greek version of Spanish tapas!
How to get to Paros: once again, you can't fly directly to the island, but don't let that discourage you: you simply have to take a ferry ride from Athens, or even, from Santorini.
Folegandros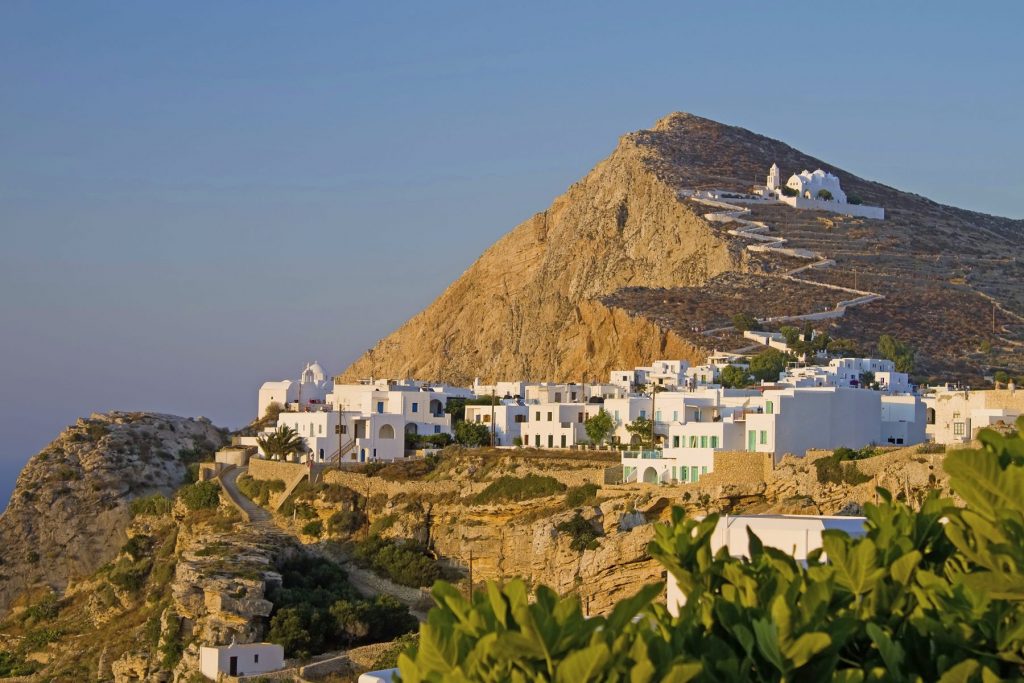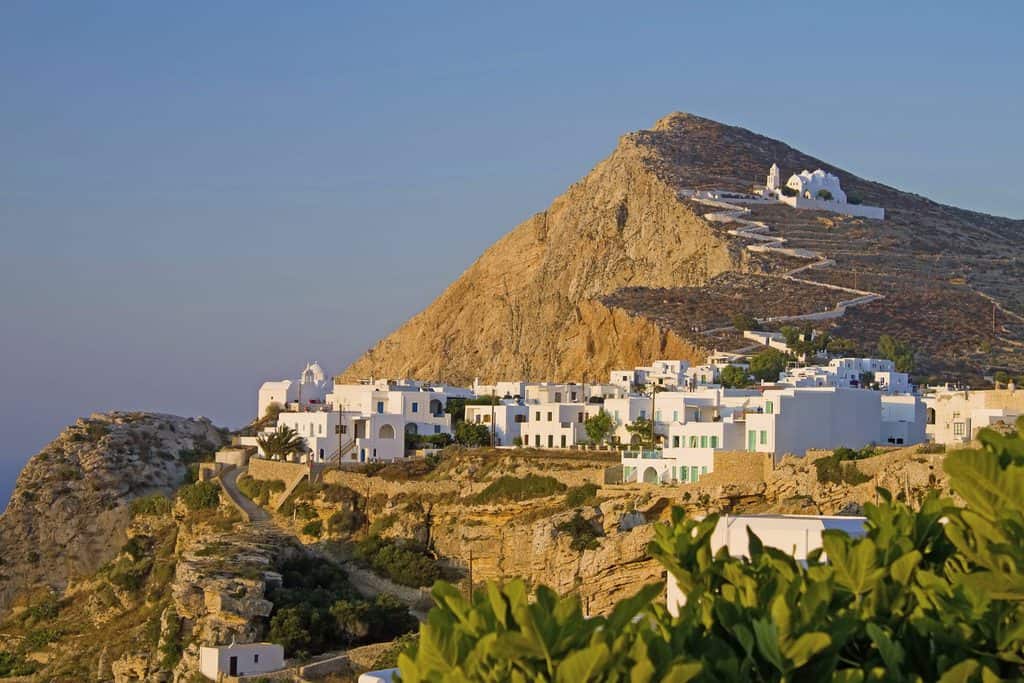 Not a typical cruise around the most beautiful islands of Greece, Folegandros has few distractions outside Angali beach, the city of Chora, Karavostasi port or the village of Ano Meria. But escaping to Folegandros is perfect if you're a hiking fanatic.
However, in high season, and despite being a little quieter than its neighbouring villages, Folegandros reaches its maximum occupancy and the accommodations fill up quickly, so make sure you book in advance.
How to get to Folegandros: Folegandros has no airport, but it has regular ferries to and from Santorini.
Alonnisos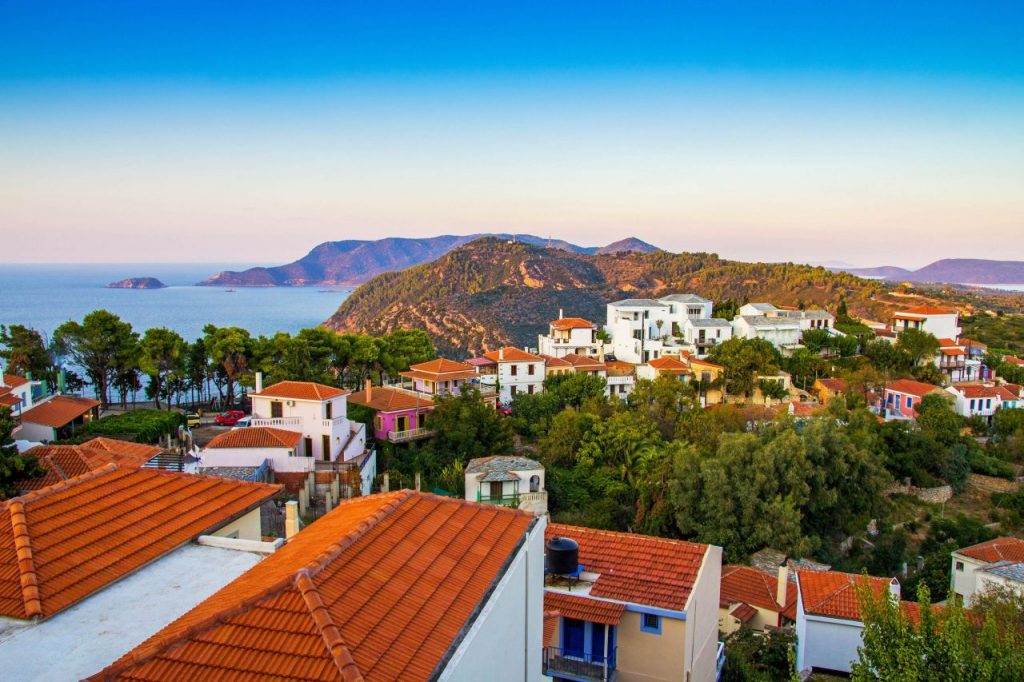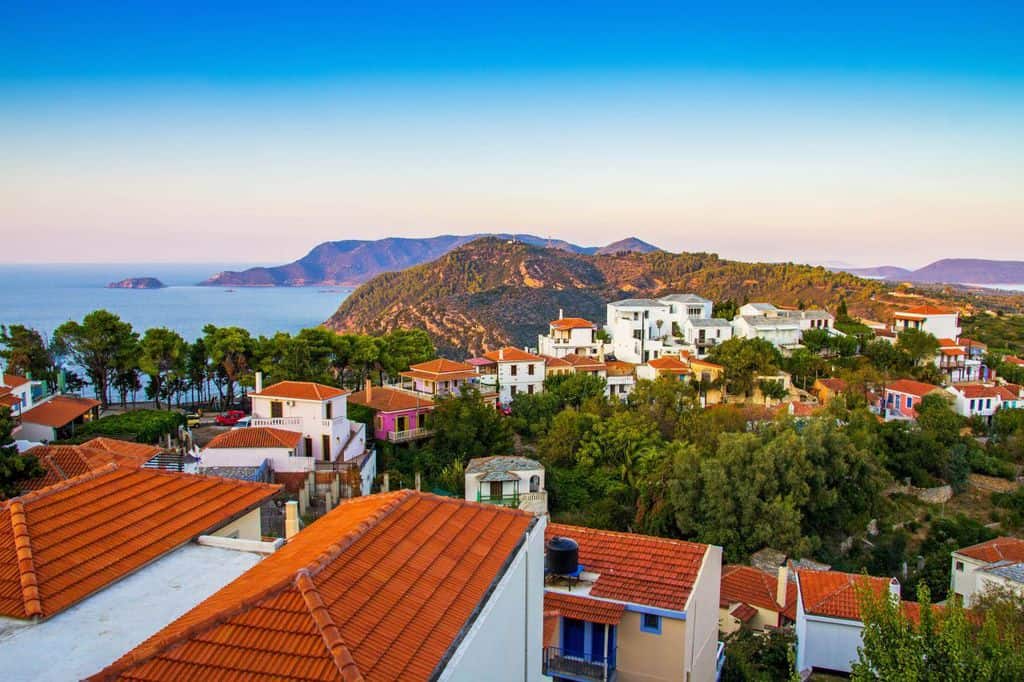 Pine forests and pebble beaches are already waiting for you in Alonnisos. This island, located in the Sporades group, has become popular in recent years thanks to responsible tourism lovers who are looking for a greener Greek outing.
There are many resorts on the island that allow you to live directly with nature, in addition, Alonnisos has a large marine park, the largest in Europe, ideal if you want to observe the famous monk seals or enjoy a little diving.
How to get to Alonnisos: although beautiful, this island does not have an airport either. Fly to Skiathos or Athens, and from there get a boat ticket to get there.
Kefalonia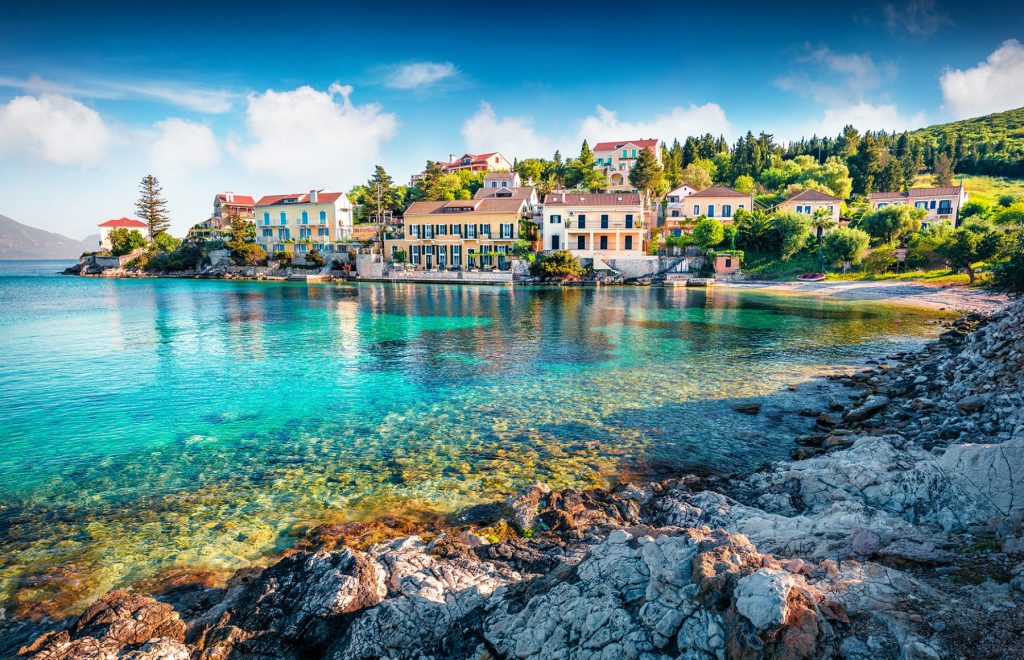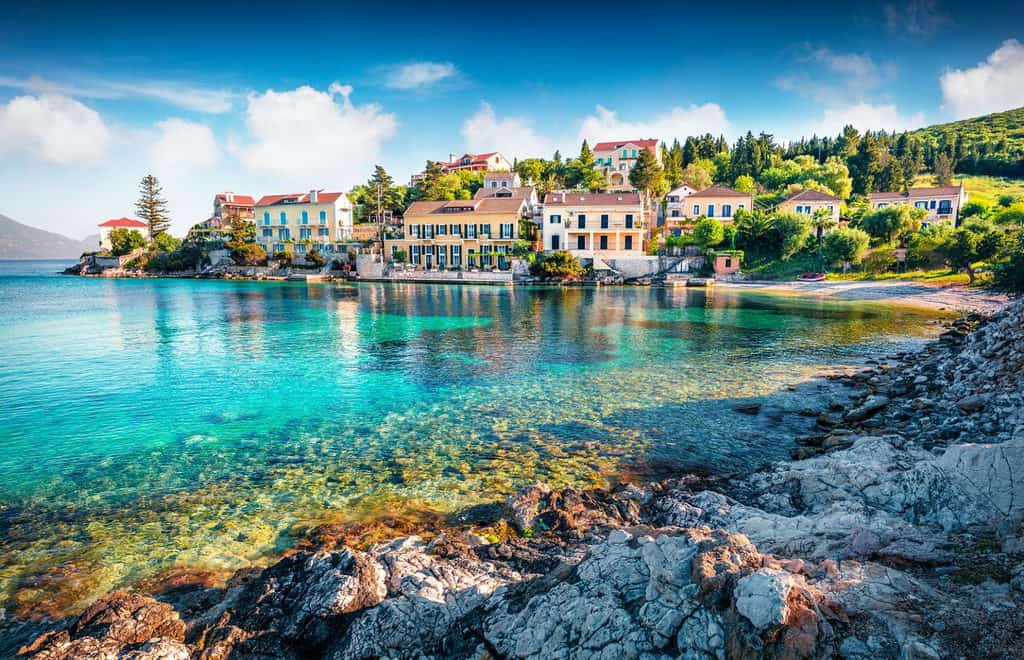 Of the Greek islands, Kefalonia is the sixth largest, and is the perfect place to complete your journey through these Aegean pearls. Not only will you enjoy its wide lakes and imposing mountains, but also the delicious hummus and olive dishes you will find in the local taverns.
The local cuisine is especially known for its meatloaf, an unglamorous but certainly delicious dish. Want to know a curiosity? Kefalonia recently appeared on the big screen thanks to the romantic film The Mandolin of Captain Corelli, starring Nicholas Cage.
How to get to Kefalonia: although Kefalonia has airports, there are no direct flights from Europe, the best thing is to travel to Athens and from there take a flight to the island.
Patmos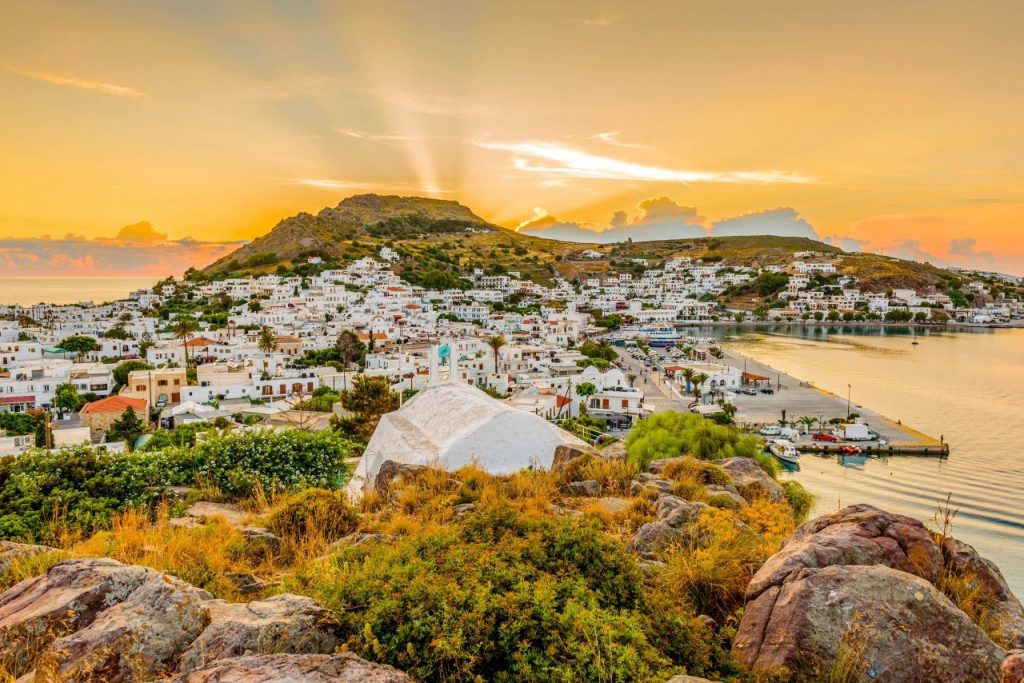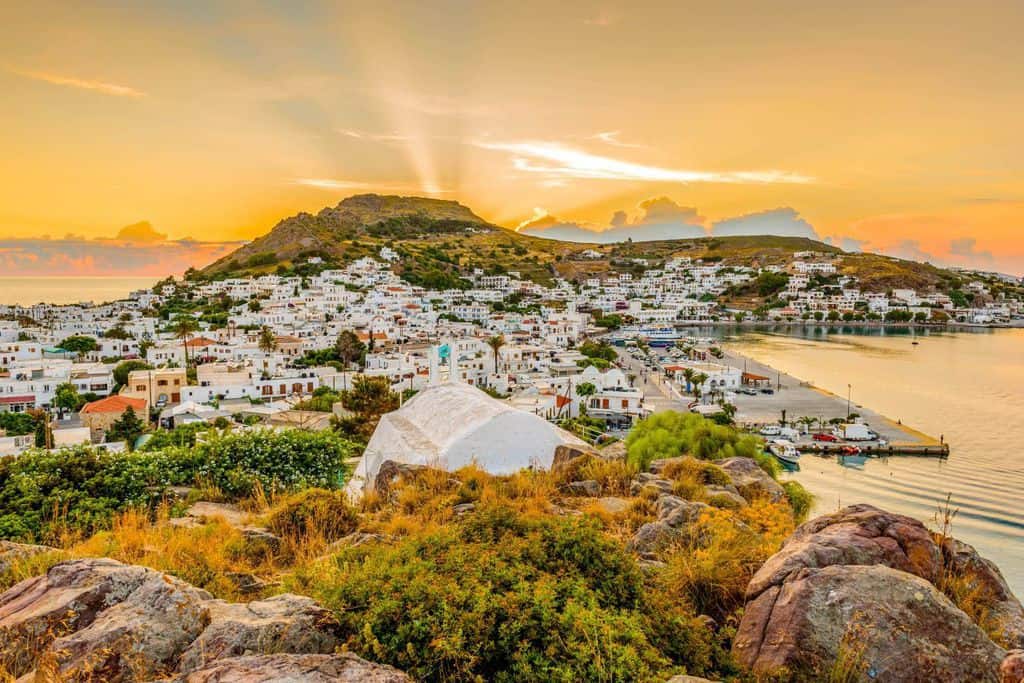 Supposedly chosen by St. John as the place to write the Book of Revelation, the caves of Patmos are a UNESCO World Heritage Site and for that alone it is worth going to take a look.
It's also almost a must to visit the island's volcanic hills as well as swim in the blue waters, all perfect plans to escape the usual tourist packages – the only thing that will interrupt your peace and quiet will be the church bells and goats!
How to get to Patmos: The closest airports to Patmos, another of the most beautiful islands in Greece, are Leros and Kos. We suggest you fly directly to Kos, before taking one of the daily ferries.
Hydra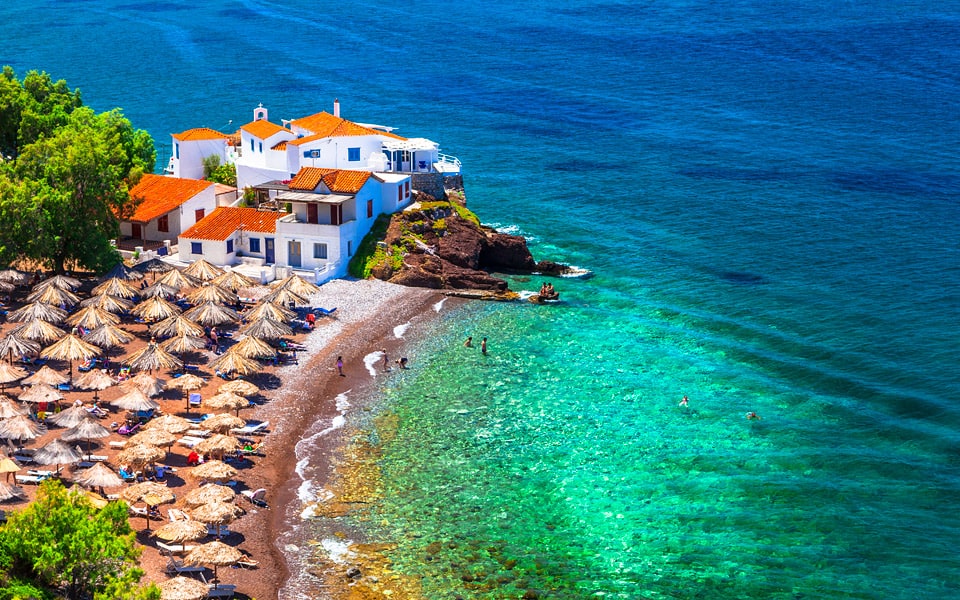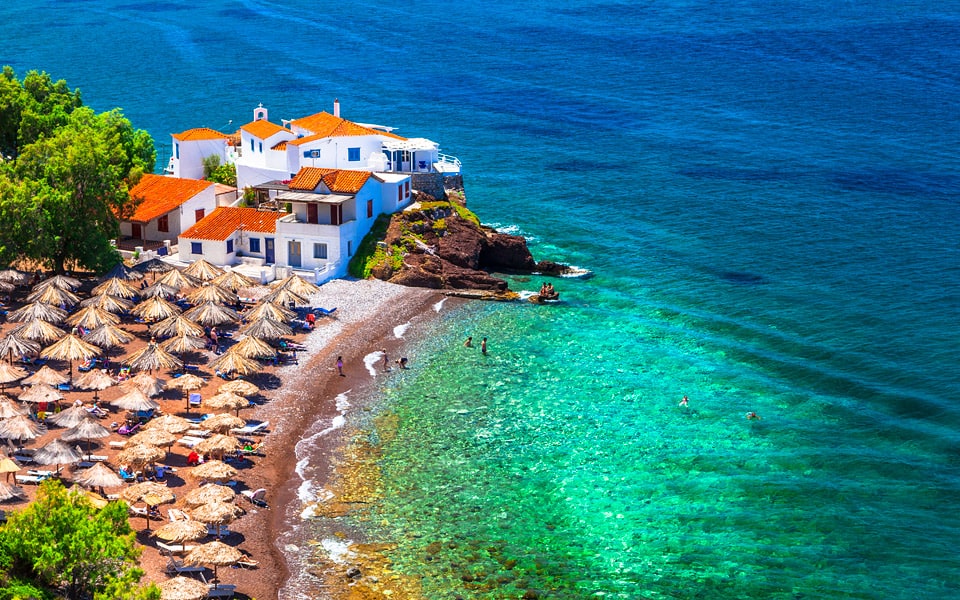 Oh, Hydra! This island in the Saronic Gulf is the difference between a simple cruise around the Greek islands and an unforgettable trip. From Athens, you'll reach it after only an hour and a half on a catamaran.
You can visit the museum at the Cathedral of Hydra, or go into one of the many local art galleries and jewelry stores. In the afternoon, look for a traditional tavern in Kamini, a small village with a beautiful pebble beach.
And of course you must visit the famous Pirofani restaurant which has been serving souvlaki (kebabs) for more than 20 years.
How to get to Hydra: You guessed it! There is no airport on Hydra. Your best option is to fly to Athens, and then sail to Hydra.
Skiathos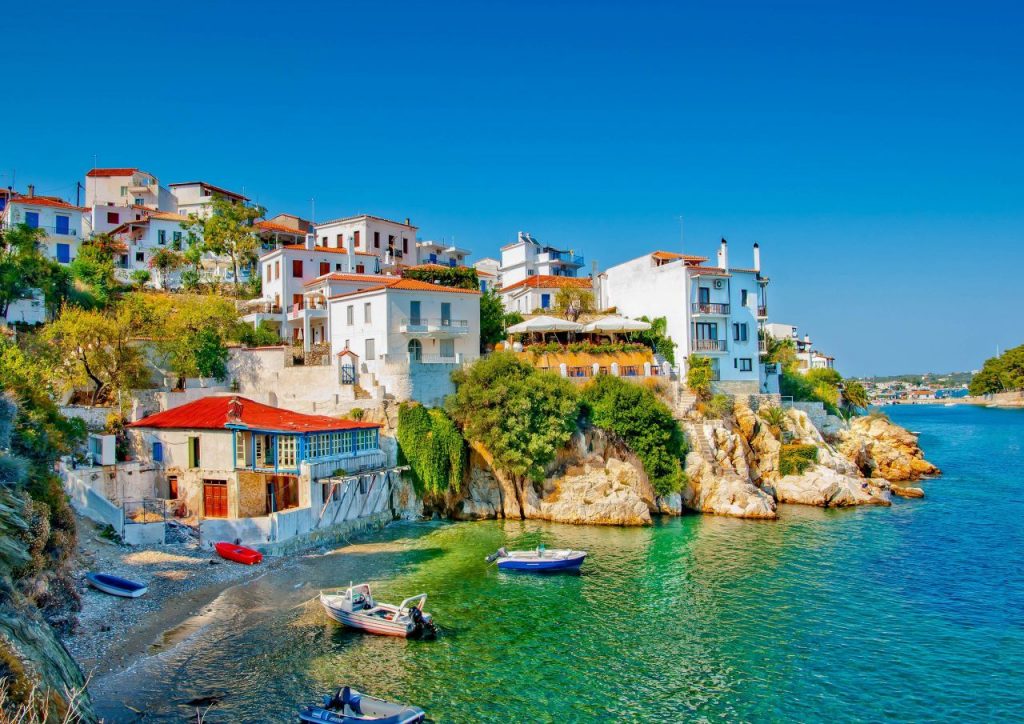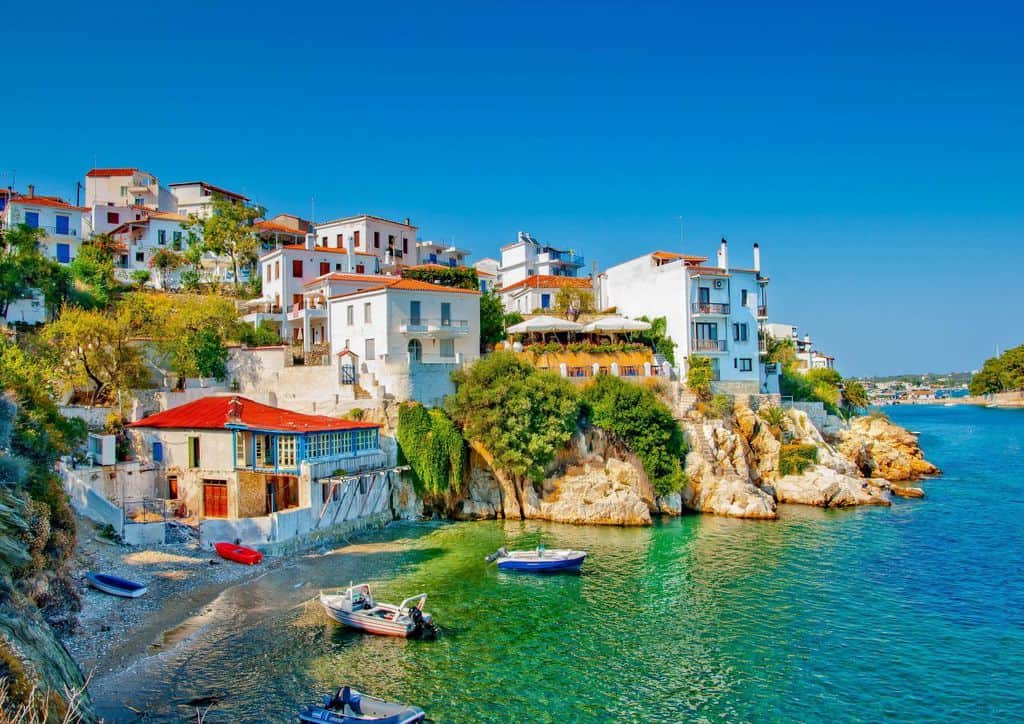 The smallest place in the Sporades Islands, Skiathos, is perhaps the most elegant and certainly one of the most beautiful islands in Greece. Here you will find narrow cobbled streets full of local craft shops, cafes and restaurants.
Gems and jewels, handmade on the island, are unique souvenirs. But apart from shopping, the other two popular activities in Skiathos are sunbathing and swimming. And you can do both on any of the island's 60 beaches: Koukounaries and Kanapista are just a couple of the best spots.
How to get to Skiathos: There are no direct flights from Europe to Skiathos, so you must travel by plane to Athens and from there make a stopover on the island.
Rhodes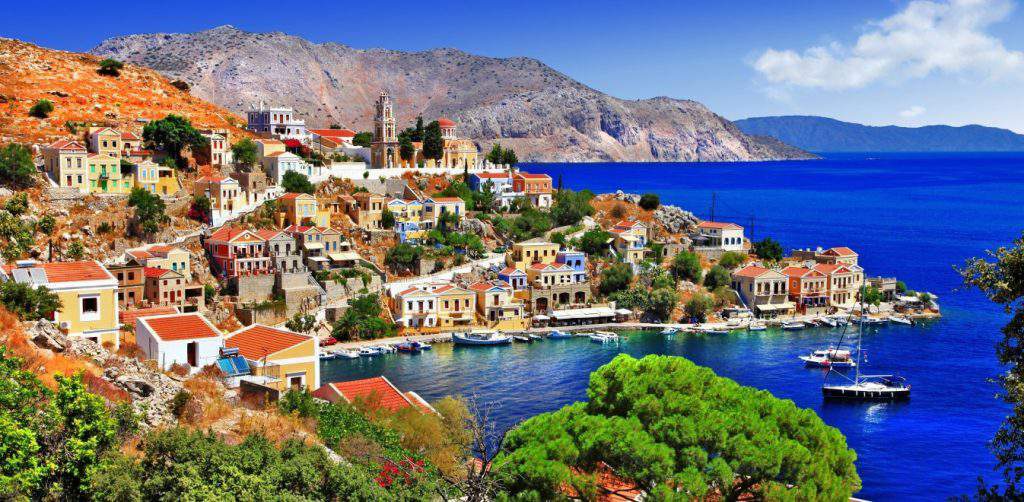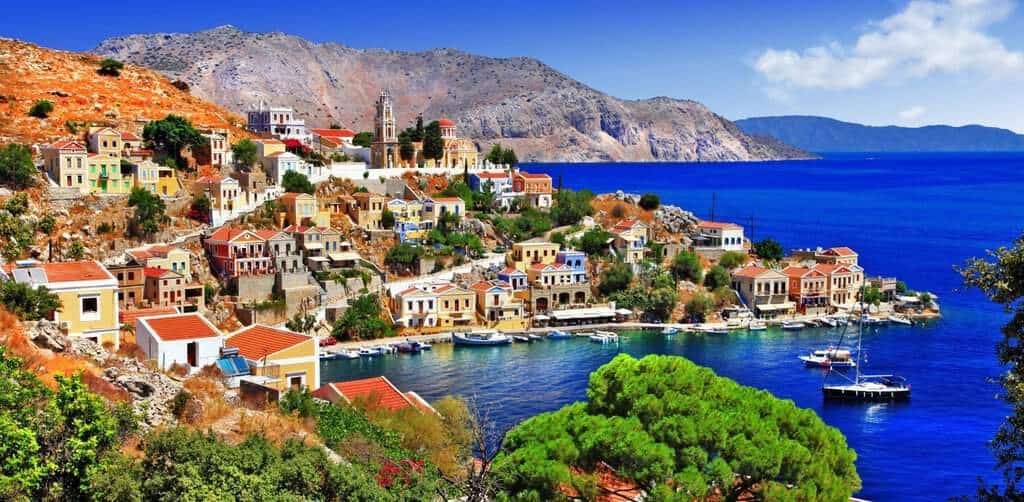 If you were to call a rose by any other name, that would be Rhodes, a name derived from rhodon, the Greek word for this romantic flower. Rhodes is one of the most beautiful Greek islands and is full of historical sites, such as the castle of Kritinia, a 16th century Venetian fortress.
In fact, there is so much ancient history here that the entire centre of Rhodes Town was declared a UNESCO World Heritage Site in 1988. In antiquity, it was famous for the Colossus, a 30-meter statue dedicated to the sun god, Helios.
How to get to Rhodes: the best way is to combine a flight from Europe to Athens and make a stopover on the island of Rhodes.
Samos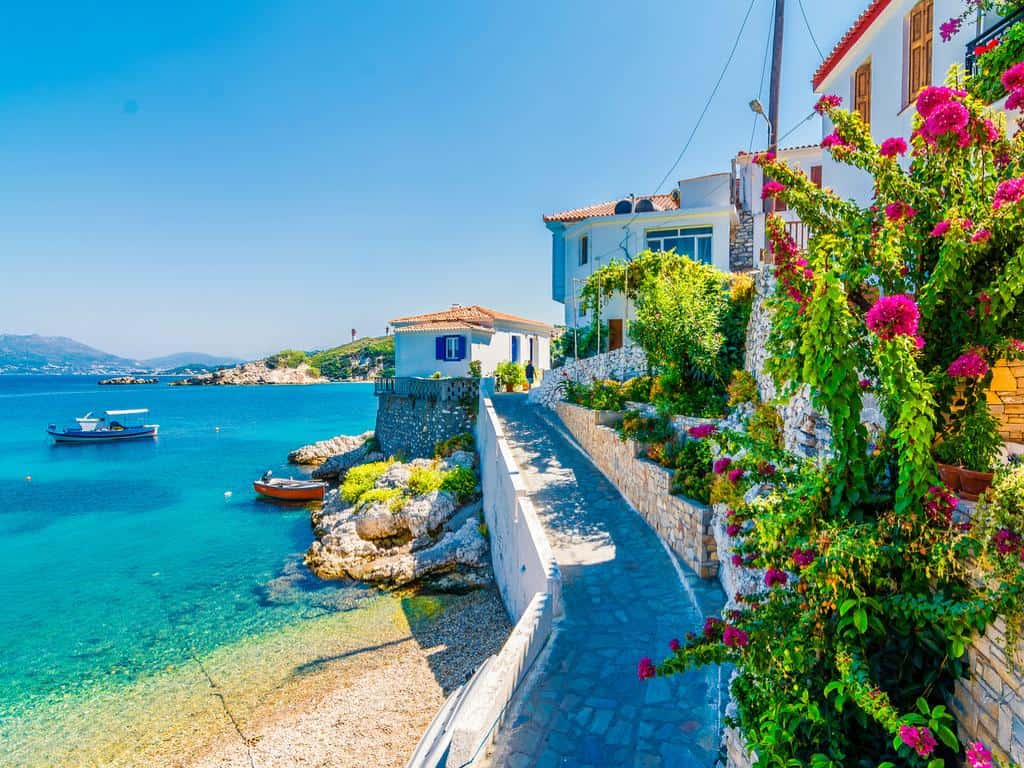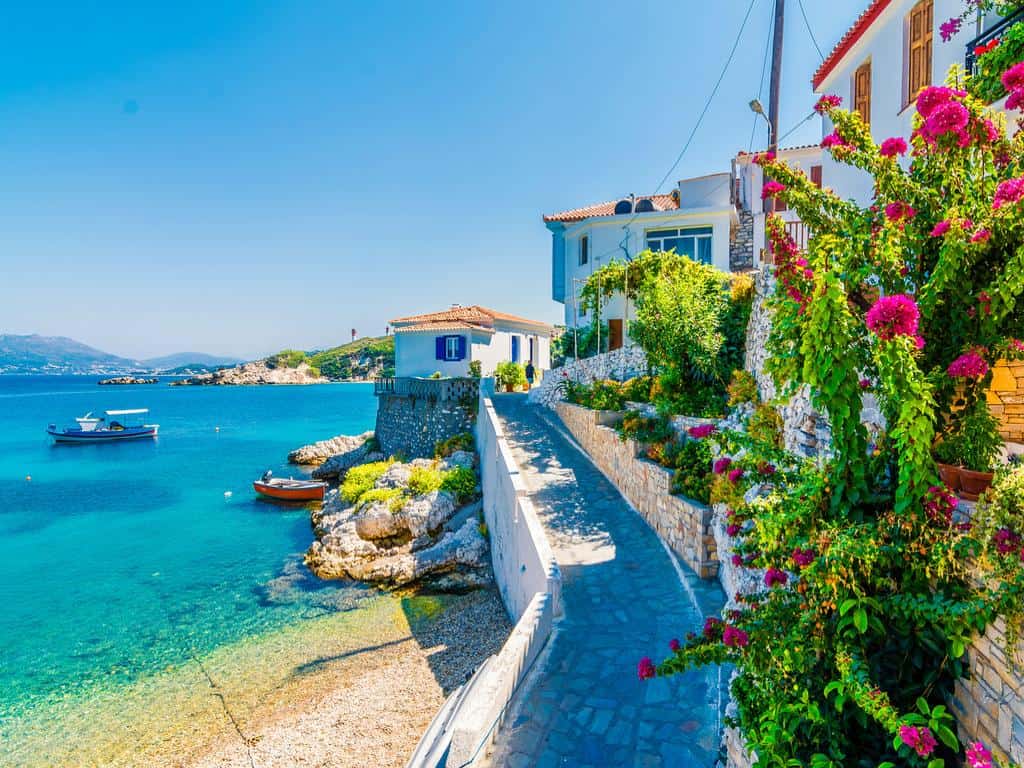 Looking for more UNESCO World Heritage sites to complete your list? Then you must go to Samos, birthplace of the famous mathematician Pythagoras, and see the Temple of Hera, an ancient sanctuary dedicated to the wife and sister of Zeus.
Samos is also a brilliant place for hiking and mountain biking: there are over 45 trails to choose from!
How to get to Samos: save your cycling for when you arrive, as the only way to get there is to take you to the airport. Take a flight to Athens and stop over at Samos.
Ios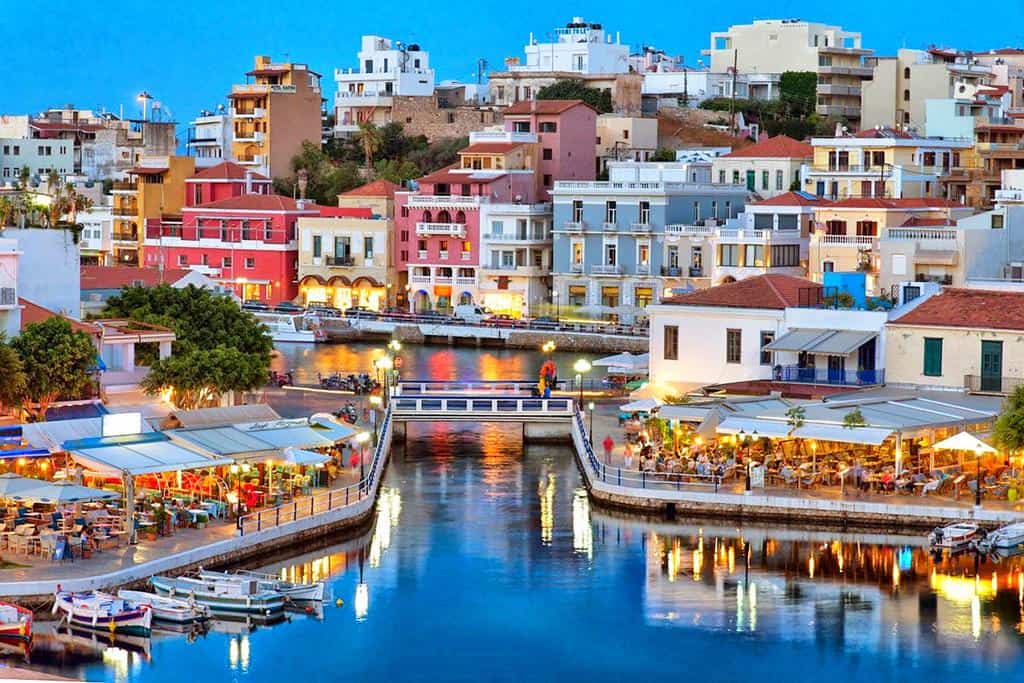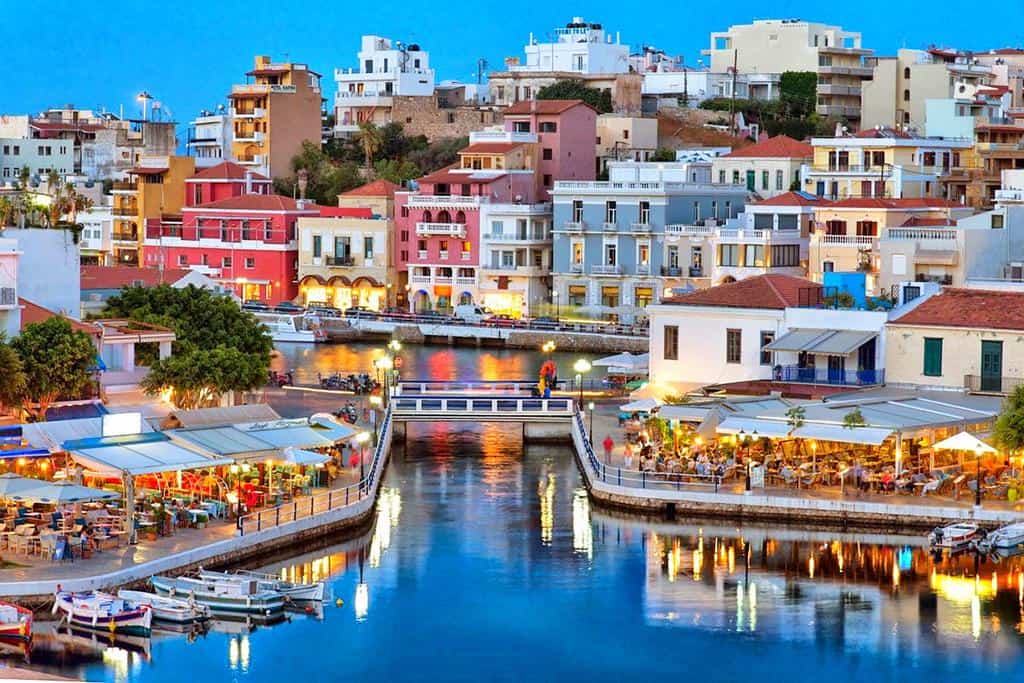 The once hippie territory is now the ideal place to party on the Greek islands and has already become popular with young people looking for fun in the sun. The best way to explore it is on two wheels, preferably motorized, as it is quite mountainous.
Rent a scooter and explore all the hidden coves and bays. Don't forget to say hello to Homer on one of your walks, they say his grave is on this island.
How to get there: there is no airport in Ios, but if you fly to Athens or Santorini, you can get there by ferry.
Zakynthos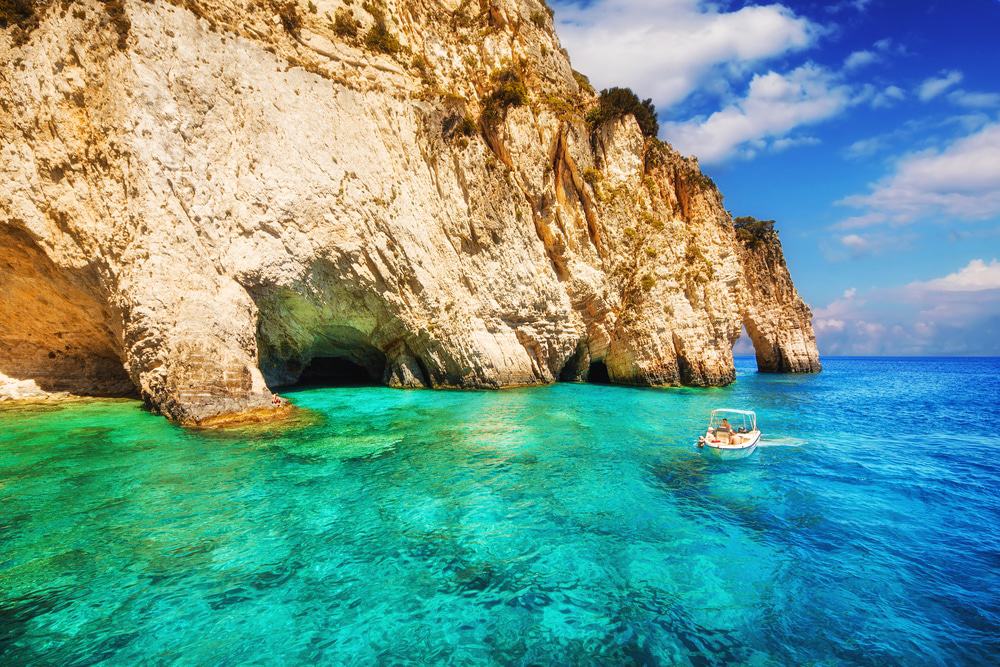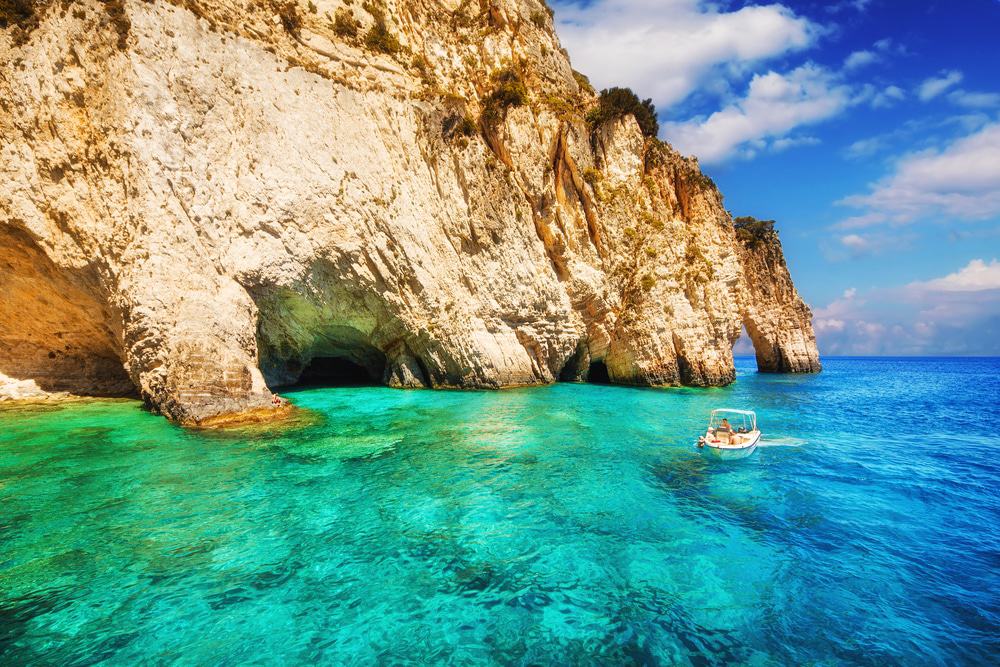 You've probably seen the picture hundreds of times. The island of Zakynthos is one of the most photographed in Greece, especially Navagio beach, where, in 1981, a smuggler's shipwreck took place, the remains of which can still be seen and have just formed that unrivalled mystical halo.
Other perfect beaches worthy of a romantic setting are Gerakas, the site where loggerhead turtles take refuge, and Tsilivi, perfect for families because of its huge range of water sports.
How to get to Zakynthos: This island is well served by its international airport. Our recommendation is that you fly first to Athens and from there take another flight to the Island of Zakynthos.
Skopelos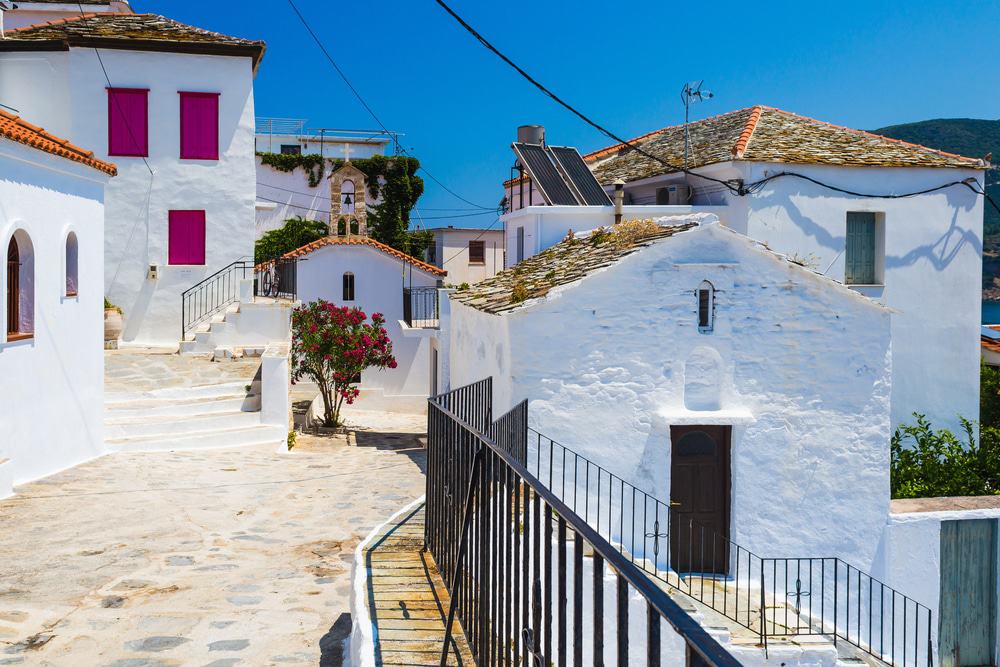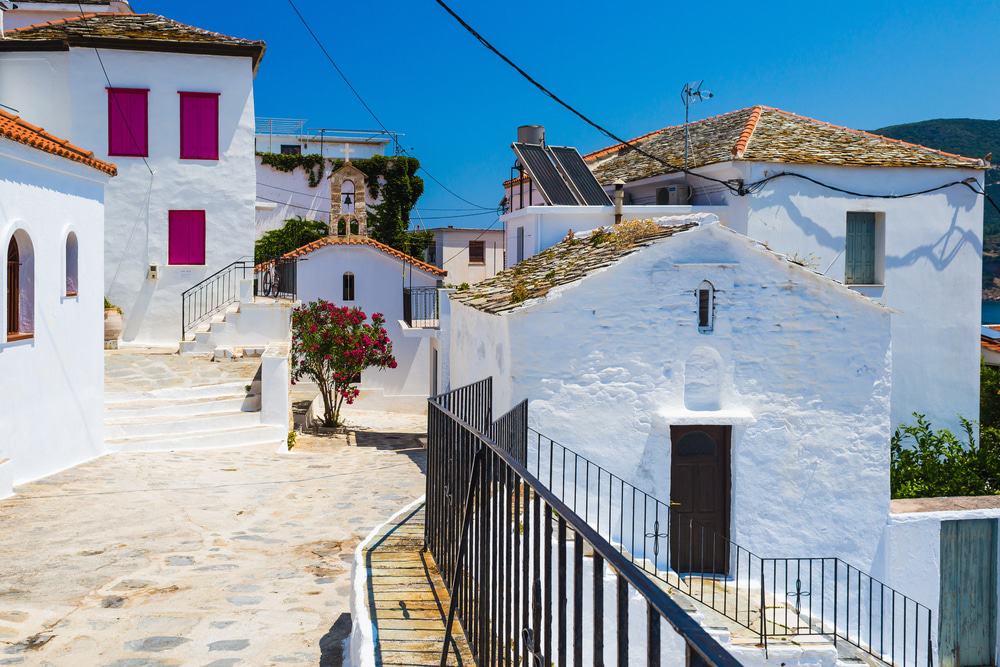 The largest of the Sporadic Islands. The impressive Skopelos is covered with rocky hills and pebble beaches. Unconventional for typical Greek island cruises, there is only one main road that ends in the city, where most of the accommodation is also located.
Our recommendation is that you spend an afternoon visiting Glossa to see the traditional houses and the views of neighbouring Scythos.
How to get to Skopelos: the nearest airport is Scíathos, so it can only be reached by sea: either by ferry or hydroplane.
Amorgos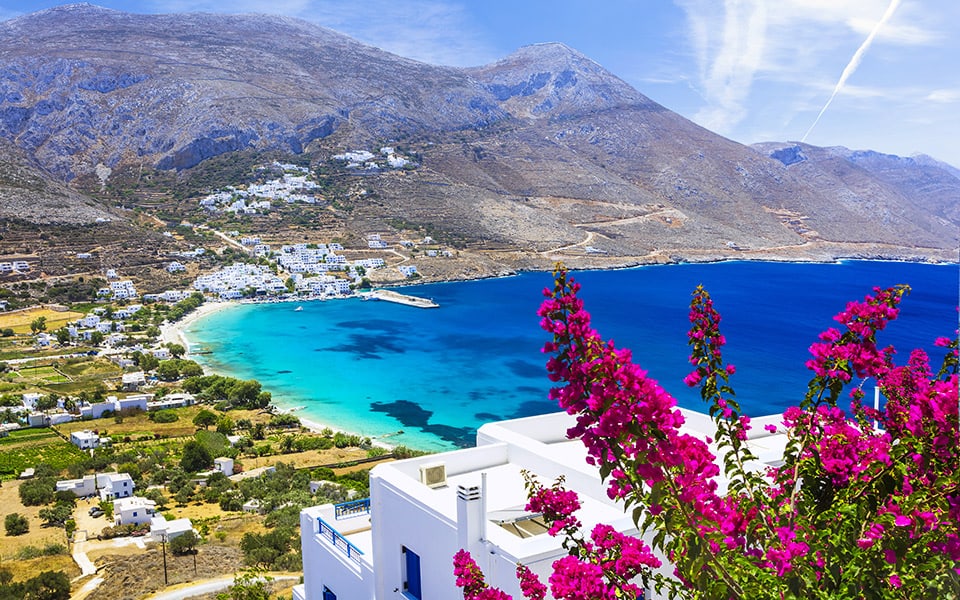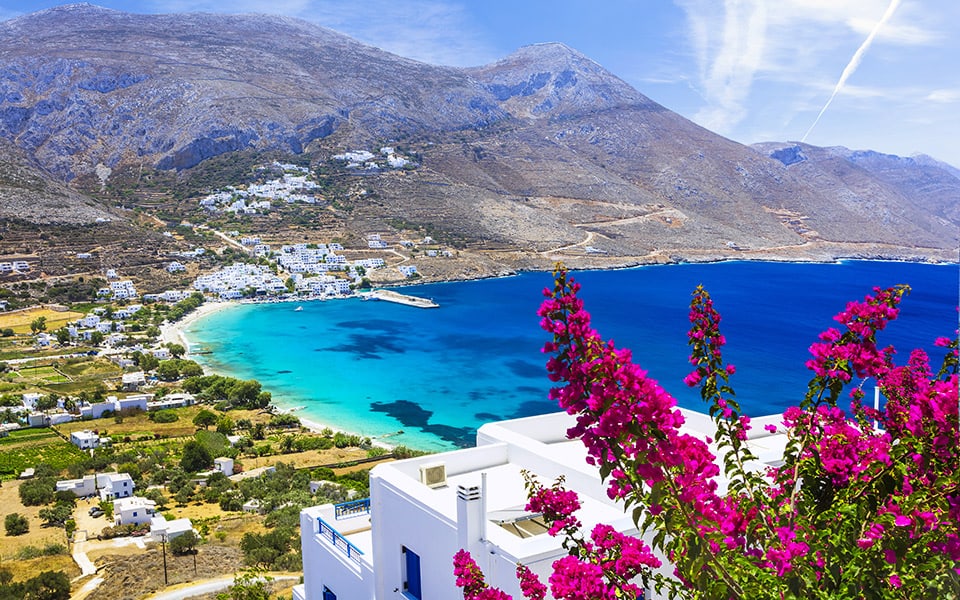 Go on an adventure on one of the most beautiful islands in Greece, Amorgos, and enjoy its unspoiled beauty. You can take a long walk and cross the island through various film trails, take a donkey ride or rent a car.
Whichever mode of transport you choose, take a look at the monastery of Hozoviotissa, clinging to the edge of the cliff over the dazzling blue sea. In fact, the water here is so blue that in 1988 it was featured in the French film The Big Blue.
How to get to Amorgos: Santorini airport is the closest, or you can fly to Athens. Either way, you also have a ferry trip waiting for you (but a very picturesque one, that's why).