Best Places To Stay in Barcelona
Despite the size and grandeur of Barcelona, it is easy for pedestrians to tour its center. There, you can find most of its popular sights and sounds are found. Some tourist spots will need a rail ride though, so choose while when selecting a neighborhood for accommodations. Your location will be essential for your experience.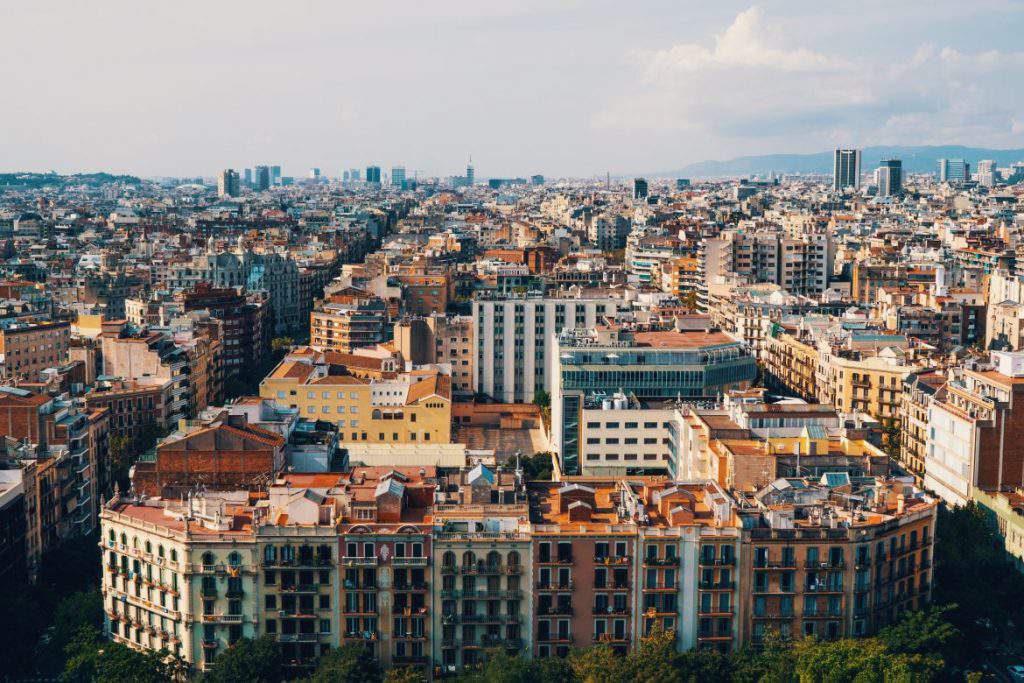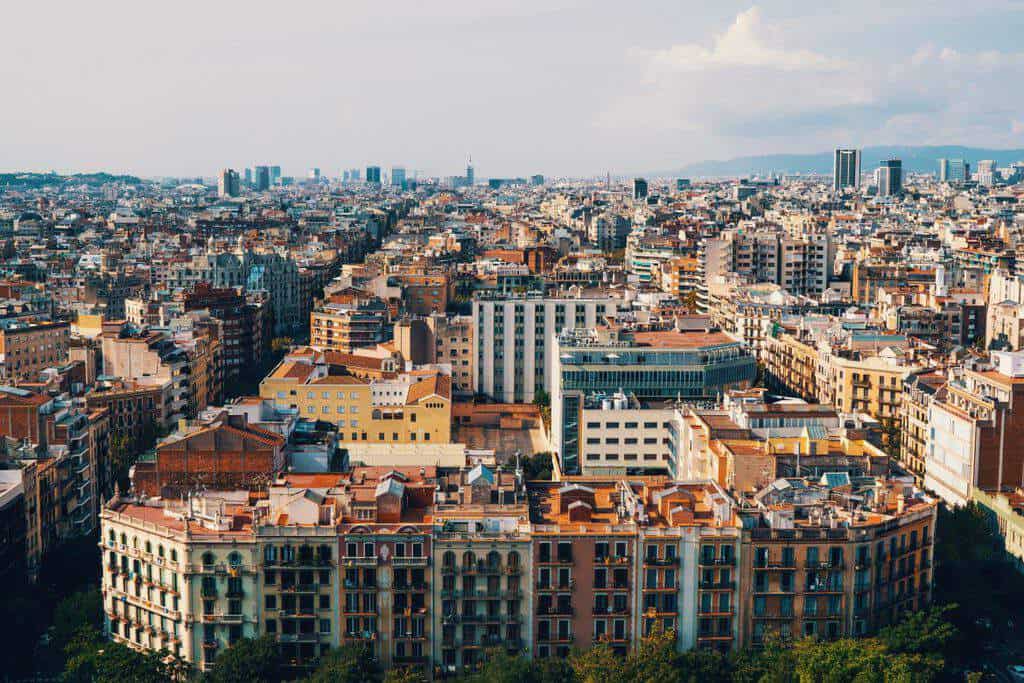 Most Popular Luxury Hotels:
Mandarin Oriental
Majestic Hotel
Cotton House Hotel
Most Popular Mid-Range Hotels:
Hotel Neri
Mercer Hotel Barcelona
Ohla Hotel
Most Popular Budget Hotels:
Chic & Basic Born
Hostal Oliva
Itaca Hostel
The Neighborhoods of Barcelona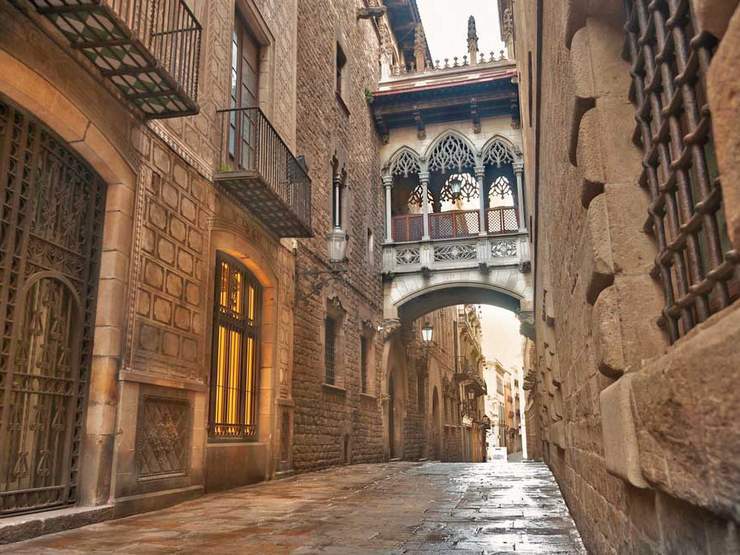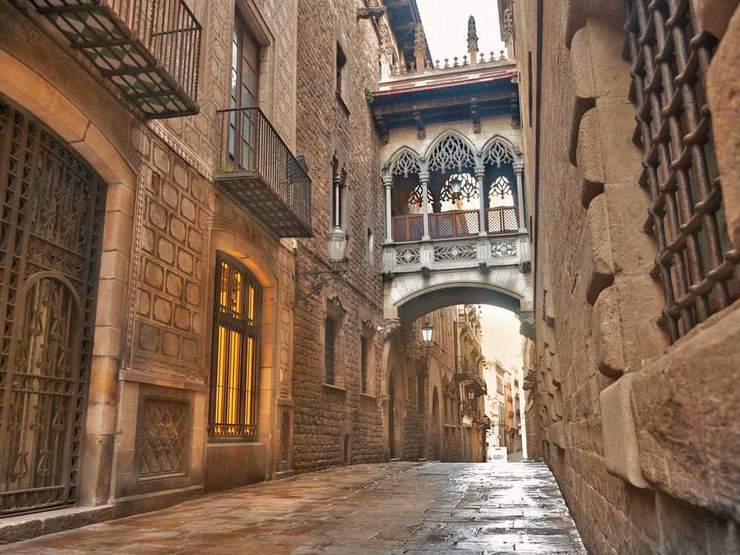 Although the neighborhoods El Born and Barri Gòtic have some great quality hotels for you, the top hotels can be found around the Eixample neighborhood, an upscale and modern area. A great pair of neighborhoods for family hotels are Poblenou and Gràcia, but these are located somewhat farther from Barcelona's main attractions. If you're looking for more affordable options, Barceloneta, El Raval, Poble Sec, and Sant Antoni, are great choices to check out.
Barri Gòtic neighborhood is a great place to stay if you want to be near plenty of tourist spots and interesting neighborhoods. This includes the Gothic cathedral of Barcelona city. The area is a hodgepodge of plazas and streets still resembling medieval times. This is due to its long history of inhabitants going all the way back to Roman period. This city area is easily a crowd favorite, especially because of its cuisine, accommodations, and shopping centers.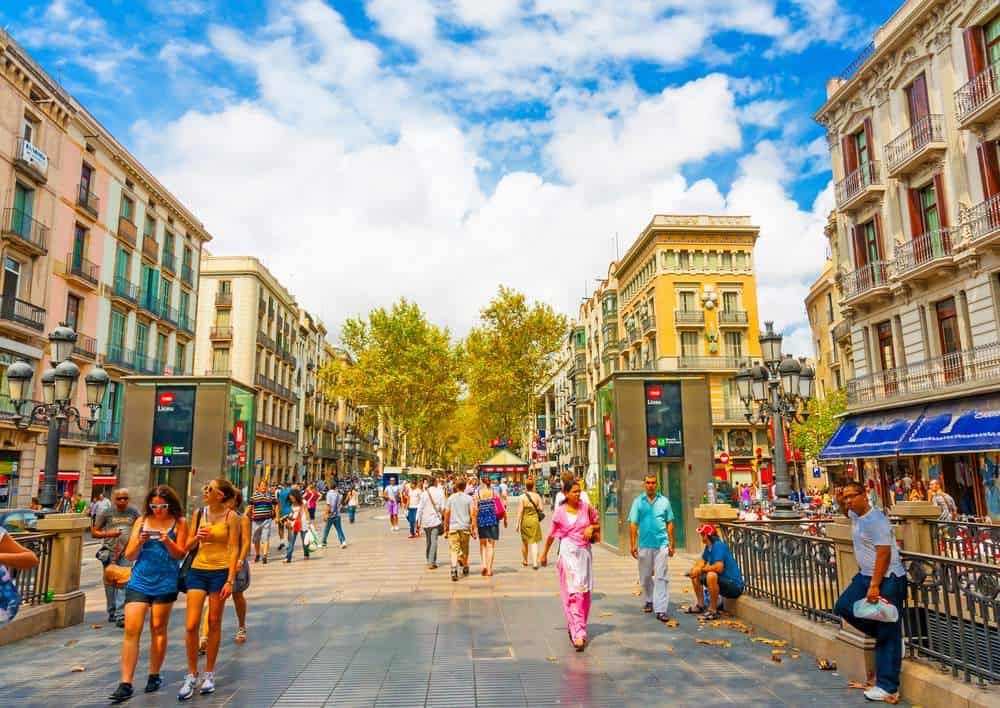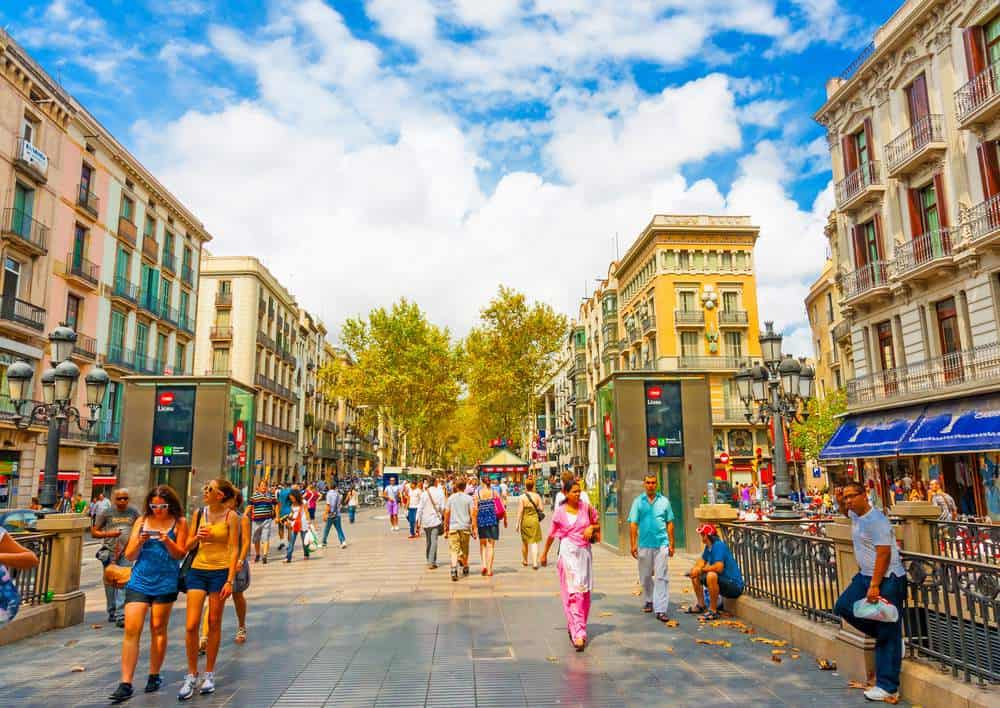 La Rambla is the beautiful street lying between Barri Gotic and the bohemian-feeling El Raval neighborhood. This neighborhood used to carry an intimidating image, but has mostly acquired a friendly environment through gentrification. Even then, its unique character is seen all around its streets, through its stores, bars, and boutiques.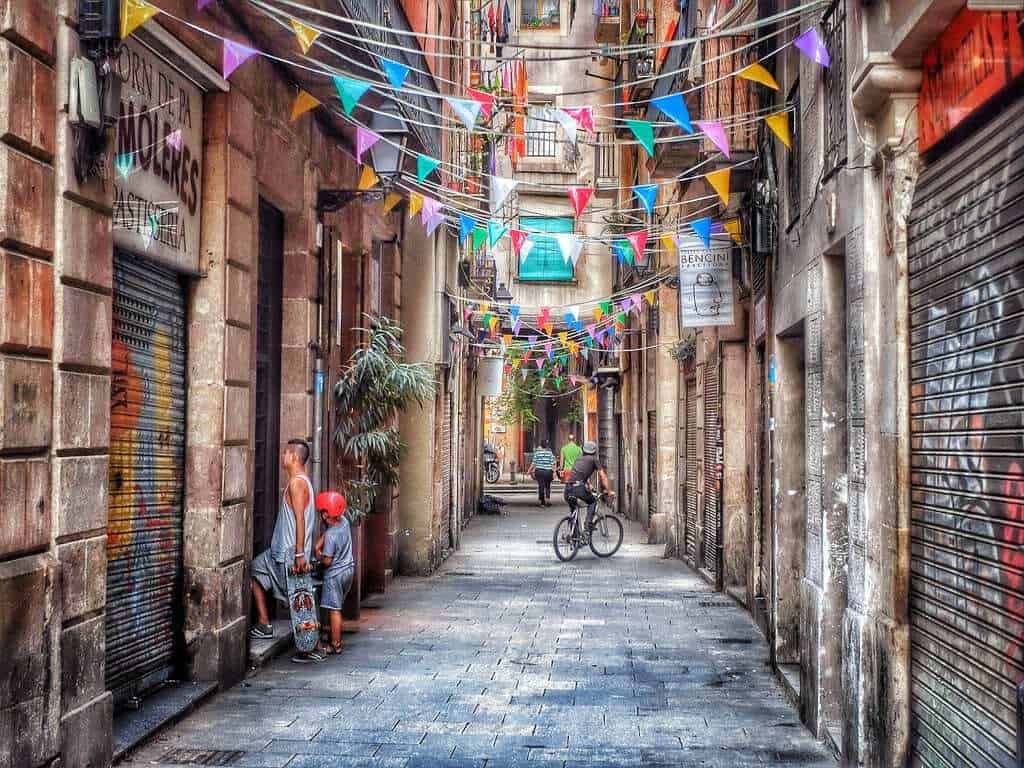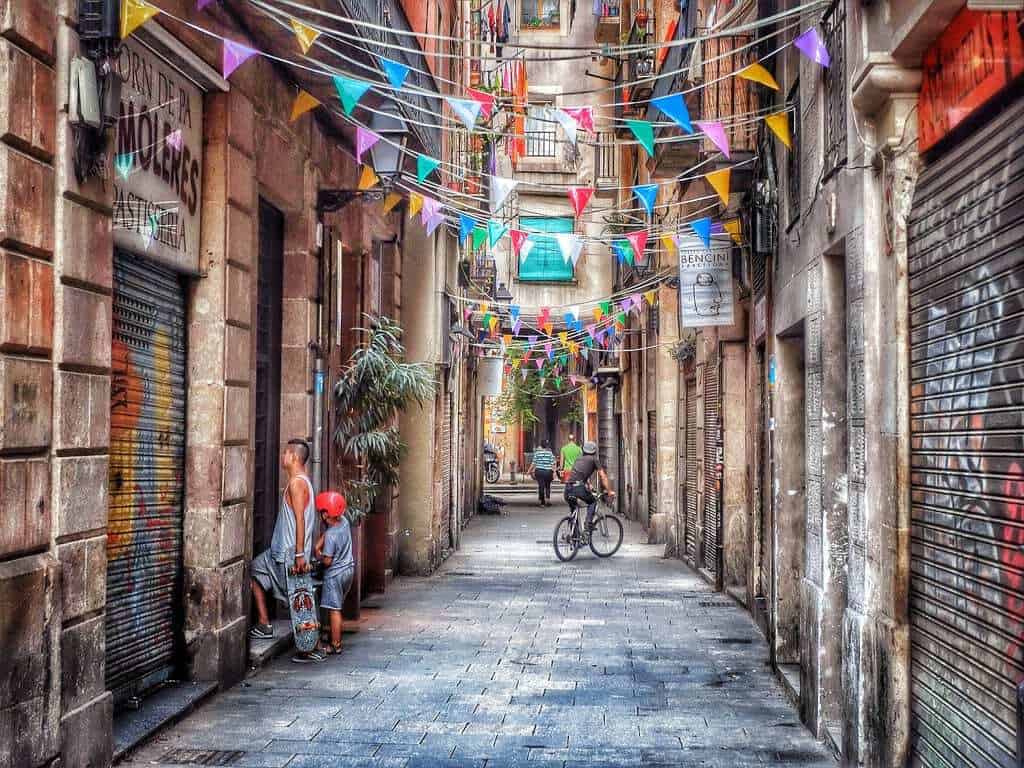 El Born, found on Barri Gotic's opposite side, also has medieval streets winding through it. It also has some great destinations. These include its Chocolate Museum for families, and the Picasso Museum for those who can appreciate high-brow art. You can also browse through the boutiques and tapas bars nearby. And there's the beautiful park sitting between El Born and Poblenou.
On the northwest edge of Barcelona lies Eixample, an upscale and vast area with sunny streets complemented by trees. You'll find that this neighborhood is a contrasts heavily with the dim streets of Ciutat Vella. Within this upscale area are the Sagrada Familia, expensive boutiques, fine dining, all among Modernist-styled buildings.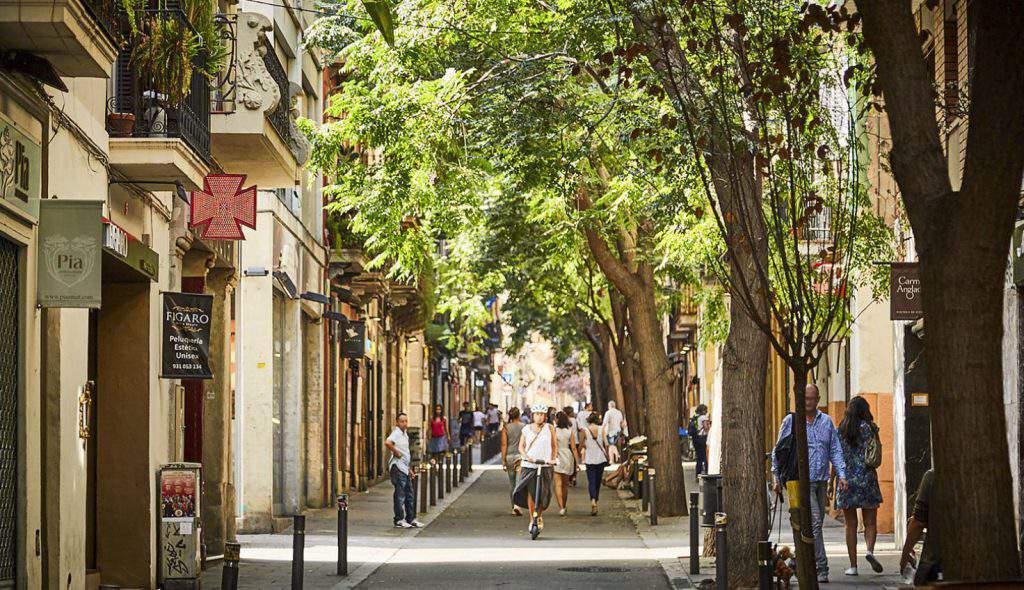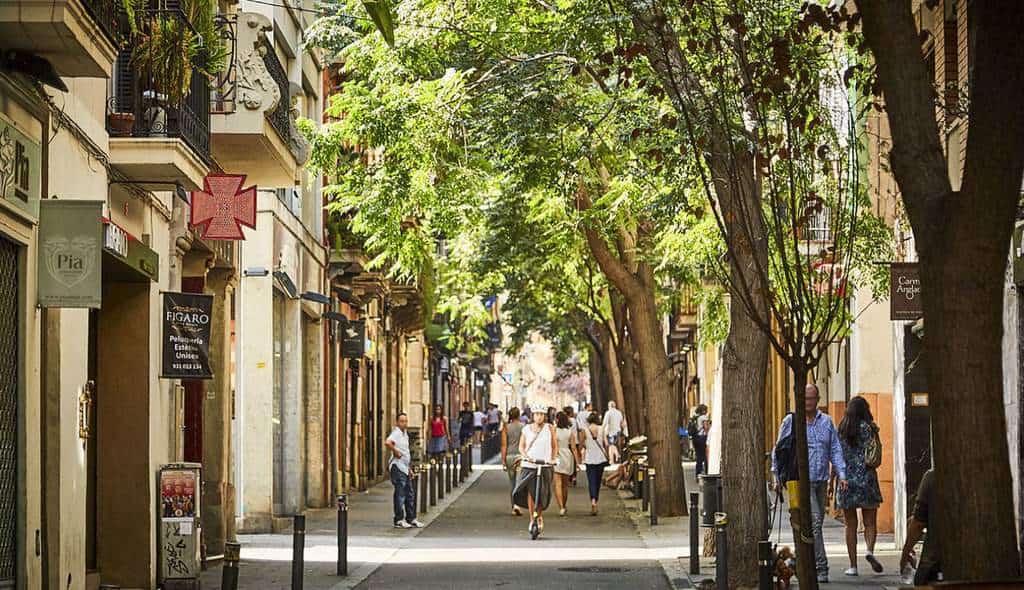 Even further to the edge of Barcelona, past Eixample, is a village inside a city: the residential neighborhood of Gràcia. Here you'll meet plenty of artistic youths and young families, sharing the same area as Gaudi's Park Güell.
The Sant Antoni neighborhood is a triangular area great for those in search of food trips. Sitting between El Raval, Eixample, and Poble Sec, there are plenty of fusion restaurants and tapas bars to visit. You can experience an energetic nightlife among those places too.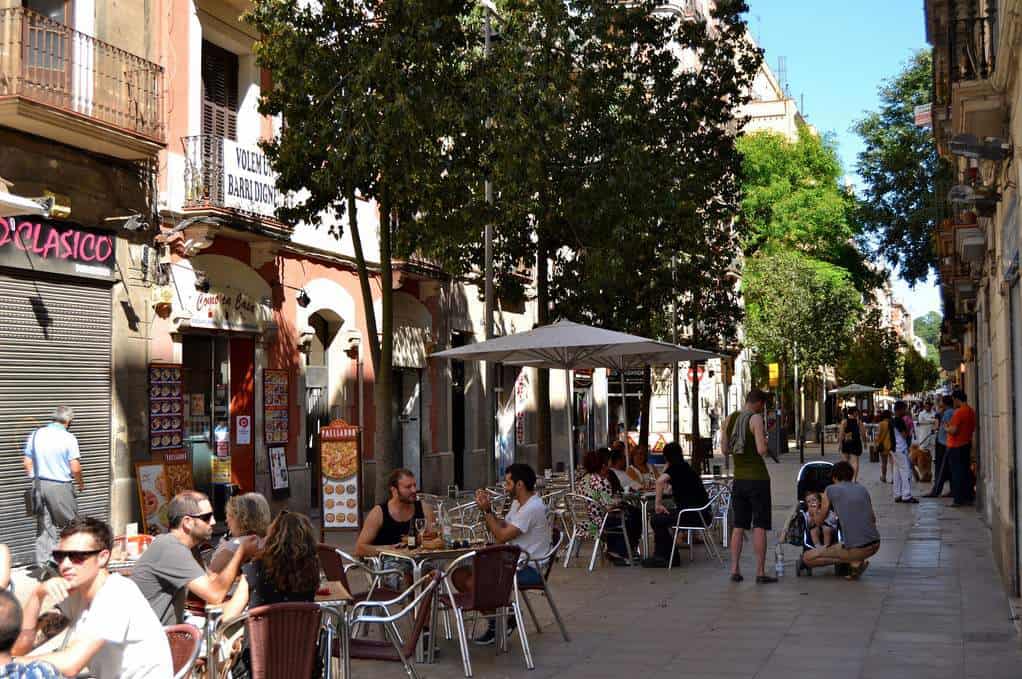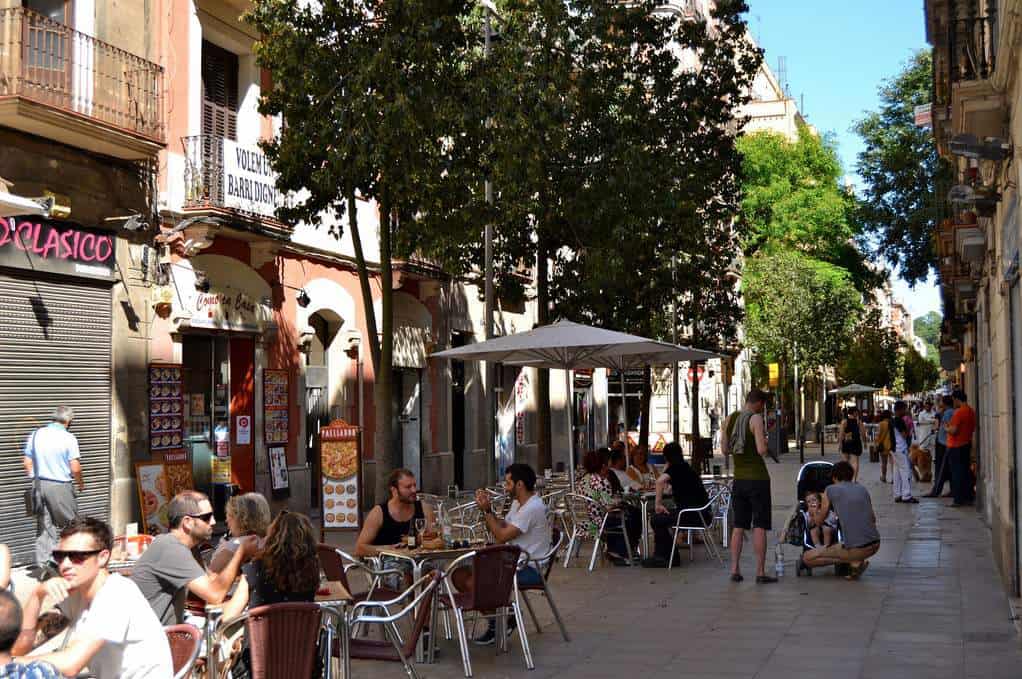 Poble Sec, just beside El Raval and by the wide street of Avenida del Paral-lel, is full of trendy bars and restaurants. It is also located by the foot of Montjuïc hill, which houses museums dedicated to the artist it was named after. You can get to these either on foot or by cable car. Otherwise, you could enjoy the tapas bars in the area as well.
From Poble Sec, you can also take a cable car to Barceloneta, which used to be a fishing village. Now, it's full of restaurants specializing in seafood and tapas bars. On the way you'll see the yachting marina below. Once there, you can enjoy a whole day or night at their beach. Even better, Barri Gòtic and El Born are both easily accessible from here.
Toward the coast, northeast of Barceloneta, you'll find Poblenou. This area catches your eye with their sharp architecture, lively night parties, and many beaches. Staying here is a great choice if you want to spend the days at the beach and the nights at clubs and parties.
The Best Places To Stay in Barcelona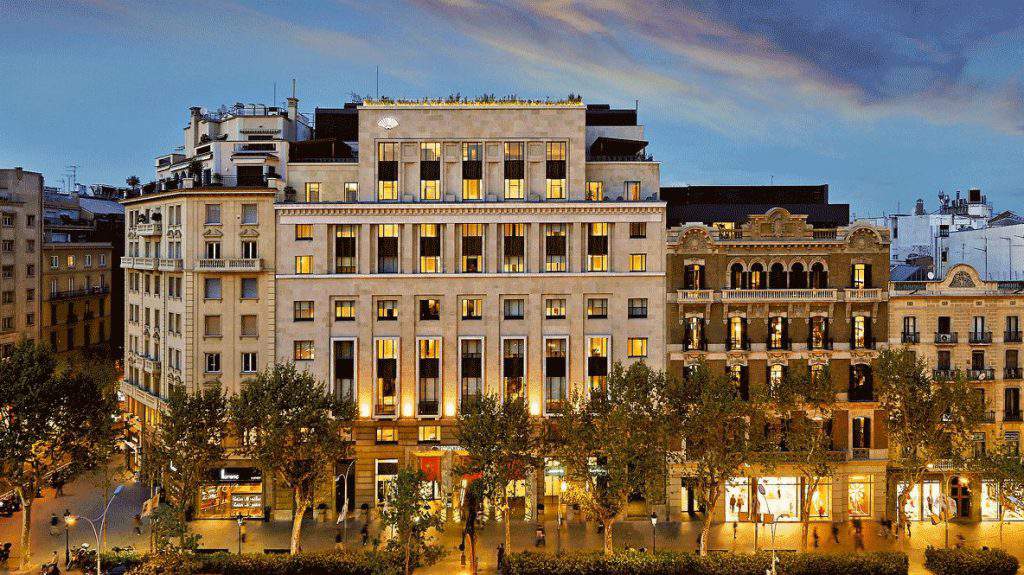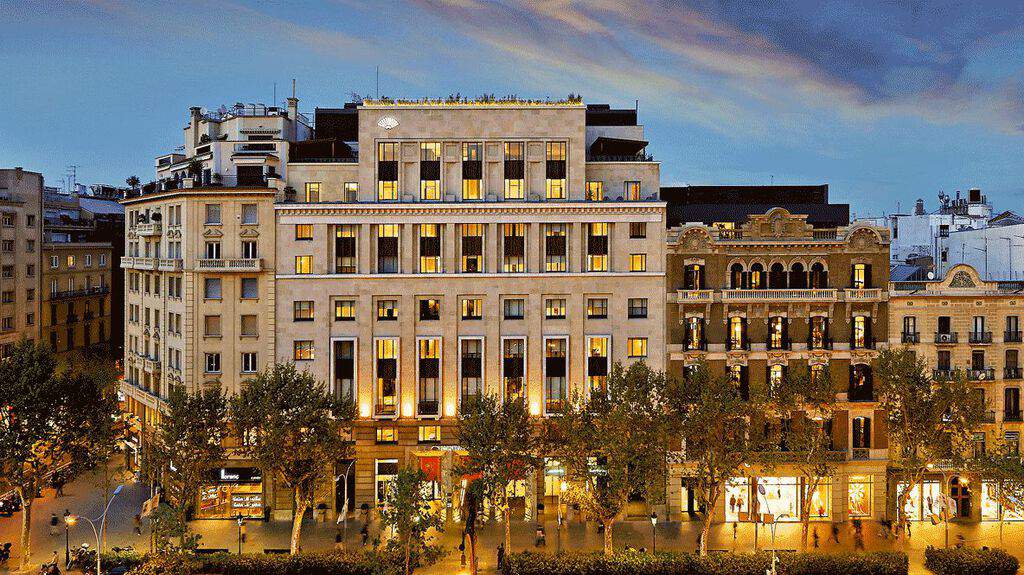 Come See the Sights at these Neighborhoods: Sant Antoni, Eixample, Barri Gòtic, and Poble Sec
Barri Gotic is a great place to wander medieval streets and old architecture. Exiample neighborhood is where you can find Sagrada Familia, among other Modernist structures. Poble Sec will treat you to both classical and contemporary art. Sant Antoni will house you near El Raval, Montjuïc which offer their own art museums.
First Time in Barcelona? Consider Staying in Barri Gòtic or Eixample
Barri Gòtic, which sits nearby most of Barcelona's sights and sounds, is a great place for first timers to stay. This way, seeing most of the great tourist spots for the first time will be quite easy. From here, you can also easily walk to the nextdoor neighborhoods, Eixample, El Born, and El Raval, and simply take the metro to Gràcia and Montjuïc. Eixample is a great alternative since here you can find the Sagrada Familia and tons of Modernist architecture.
Looking for a Food Trip? Check out the Restaurants in Barri Gòtic, Barceloneta, El Born, El Raval, Eixample, Poblenou, Poble Sec, and Sant Antoni
Barcelona overall is a great foodie destination. For classy fusion cuisine and tapas bars, visit El Born and Barri Gòtic. For tasty seafood and fish, Barceloneta has you covered. El Raval will be great for modern and unique cuisine, even offering a few vegetarian restaurants. If you're looking for something finer, the Michelin-starred upscale restaurants in Eixample should appease your fancy. But if you want some good old casual food trips, the streets of Poble Sec, Poblenou, and Sant Antoni are full of restaurants and tapas bars.
Are you a Night Owl? Enjoy the Nightlife of El Born, Barri Gòtic, Eixample, El Raval, Poblenou, and Sant Antoni
Barri Gotic, El Born, El Raval, and Sant Antoni are great areas to find buzzy tapas bars and cocktail bars. They will stay up all night with you. Eixample, nicknamed "Beerxample," boasts bars with plenty of craft beers, beside more expensive tapas and cocktail bars. If you're more the dancing type, Poblenou and its many beach clubs will entertain you through the night.
Looking for a Romantic Getaway? Check out Barri Gòtic
There are plenty of great romantic areas in Barcelona. From Montjuïc's scenic landscape and distance from the city, to Eixample's walkable streets housing Modernist architecture and luxury hotels. However, Barri Gòtic's hazy ambience, medieval architecture, and small, cozy hotels top them all. If you're looking to enjoy a trip with your significant other, we highly recommend staying in this neighborhood.
Traveling with a Family? Come stay at Barceloneta, Barri Gòtic, Gràcia, or El Raval
Barceloneta is your ultimate Barcelona beach destination, which is great for people of all ages to enjoy. Barri Gòtic is central to plenty of Barcelona's attractions, making it a great accommodation for families. El Raval's a great walkable neighborhood as well, and even has its vast park at its edge, which includes great meadows and a zoo for kids to explore. But if you prefer a quiet place to get away, Gràcia is a peaceful area with a Park Güell, and is great for meeting locals.
Want to Live the Pedestrian Lifestyle? Walk around Barri Gòtic
The medieval architecture of Barri Gòtic makes this neighborhood an absolute pleasure to wander around on foot. Explore the little streets and lanes and discover the neighborhood's old quirks. Other options to the pedestrian lifestyle would be El Born, which is located right beside Barri Gòtic.
Are You a Beach Lover? Check our Barceloneta and Poblenou
A mere walkable distance from the great La Rambla, Barceloneta is the longest beach in Barcelona, as well as an enjoyable family destination. On the other hand, northeast of Barcelona is Poblenou, which houses five beaches with breakwaters between them. Although Poblenou is relatively far from Barcelona's famous tourist spots, we still recommend this to beach lovers.
Looking for Local Cultural Enjoyment? Visit El Raval
El Raval is known as a quirky, diverse, and bohemian neighborhood. Here, you can enjoy mingling with young, independent, artsy locals and shops. This area also used to the city's red light district, which gives it another dynamic sense of edginess and character.
More on the Cautious Side? Stay in Eixample, Poblenou, or Poble Sec
Barcelona is more or less a secure city during the day. However, pickpockets are less common in the higher-class neighborhoods of Eixample, Poblenou, and Poble Sec. These neighborhoods are also on the safer side among those in Barcelona.
Take Care around these Parts: El Born, El Raval, Barri Gòtic, La Rambla
El Born and Barri Gòtic have several small alleys that are best avoided at night. If you're in these neighborhoods, stay around more well-lit and crowded areas. El Raval, as well as the areas around the stations to Montjuïc's north, are also less safe at night. If you're walking on La Rambla and the food market La Boqueria, make sure to watch your belongings as there are many pickpockets in those areas. Be careful as well of the nightlife in Barri Gòtic, El Raval, and El Born, since the drunken youths can prove to be somewhat troublesome.
Best Neighbourhoods in Barcelona
Barceloneta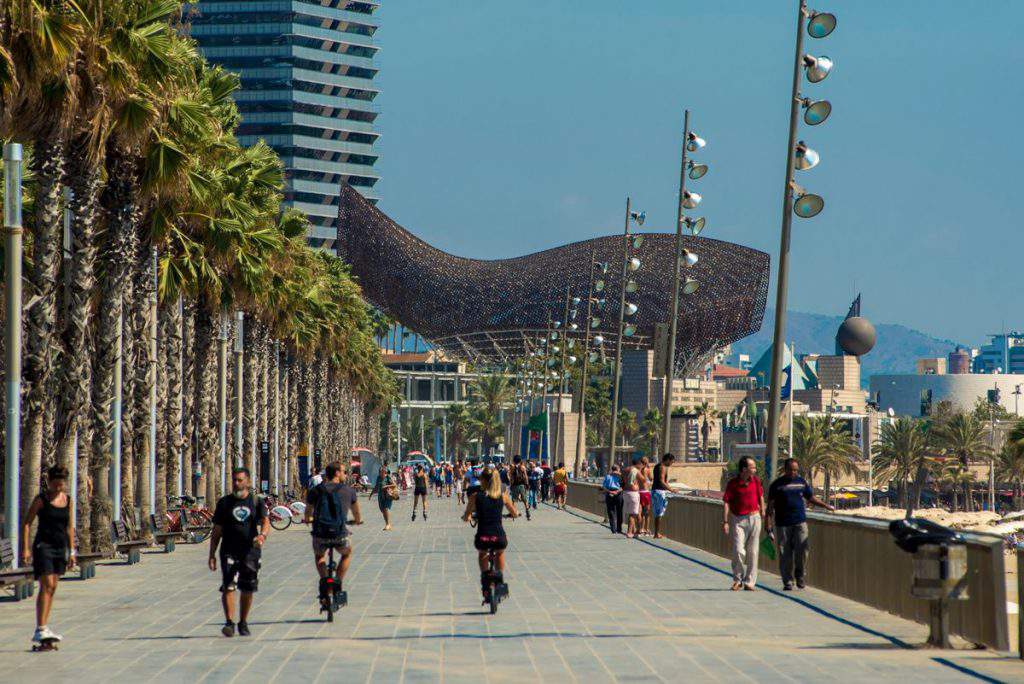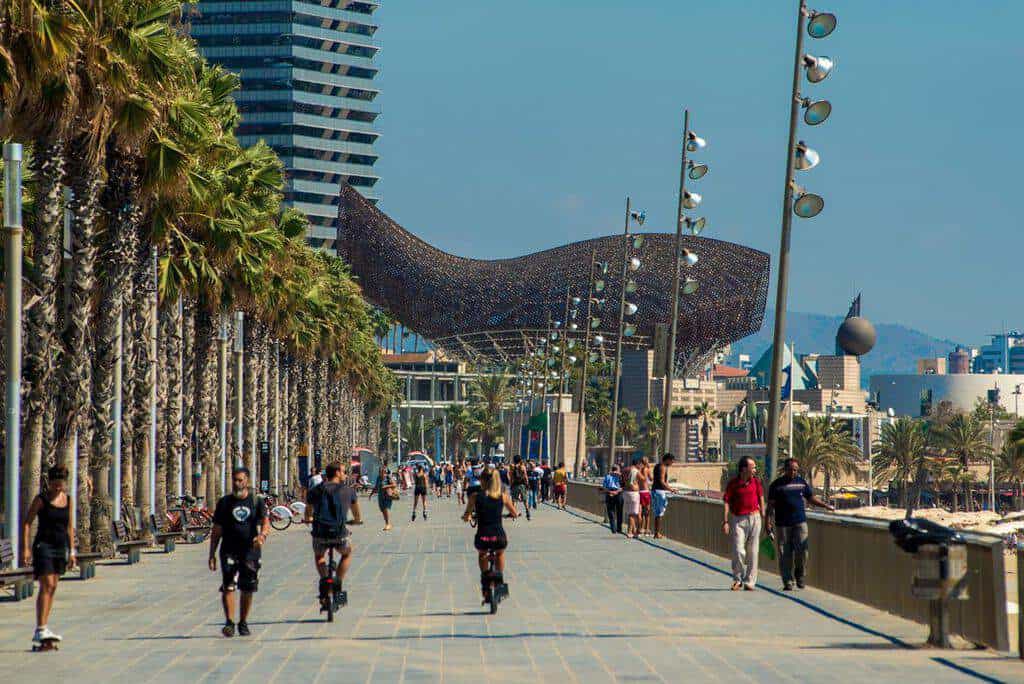 Barceloneta used to be the fishermen's quarter. It is located at the El Born's south and easily walkable from La Rambla's southern part. The neighborhood right beside the marina that's full of the rich and famous with their fancy yachts. However, Barceloneta itself is full of working class people which lends it a more authentic atmosphere. Its most famous destination is its huge beach that spans a couple of miles with a promenade that's always filled with lively people. The beach has a cable car headed to Montjuïc that passes through the harbor. There's the Barcelona Aquarium which is beside the marina and is an attraction for schoolchildren and tourist families. Inside the neighborhood are narrow streets that house Barcelona's most delicious seafood restos, small tapas eateries, and bodegas. There are only a small amount of budget-friendly and mid-range hotels, and one luxury hotel located at the beach.
Top Luxury Hotels: H10 Port Vell, Hotel Arts
Budget-friendly Hotel Recommendations: Hotel 54 Barceloneta
Barri Gòtic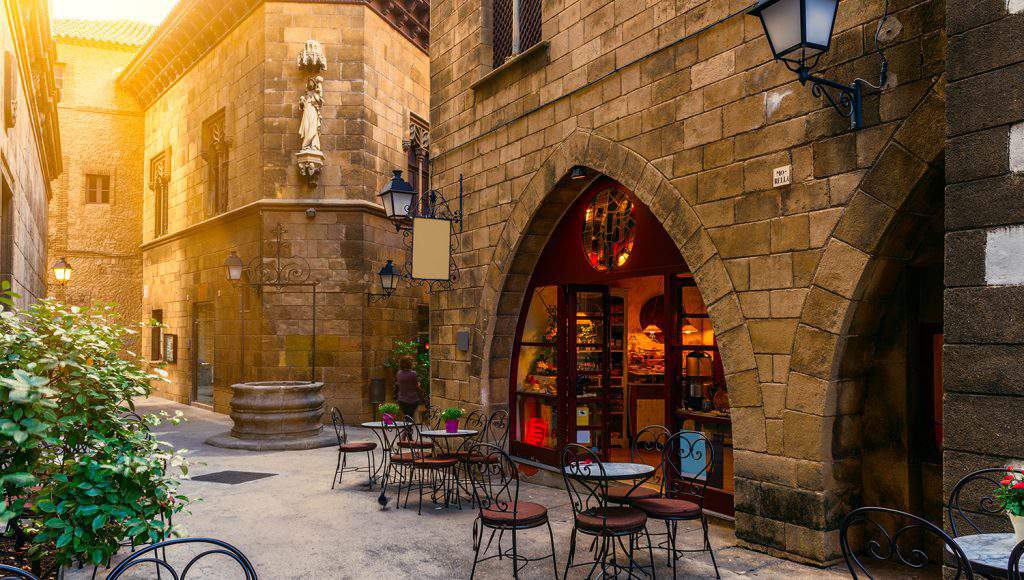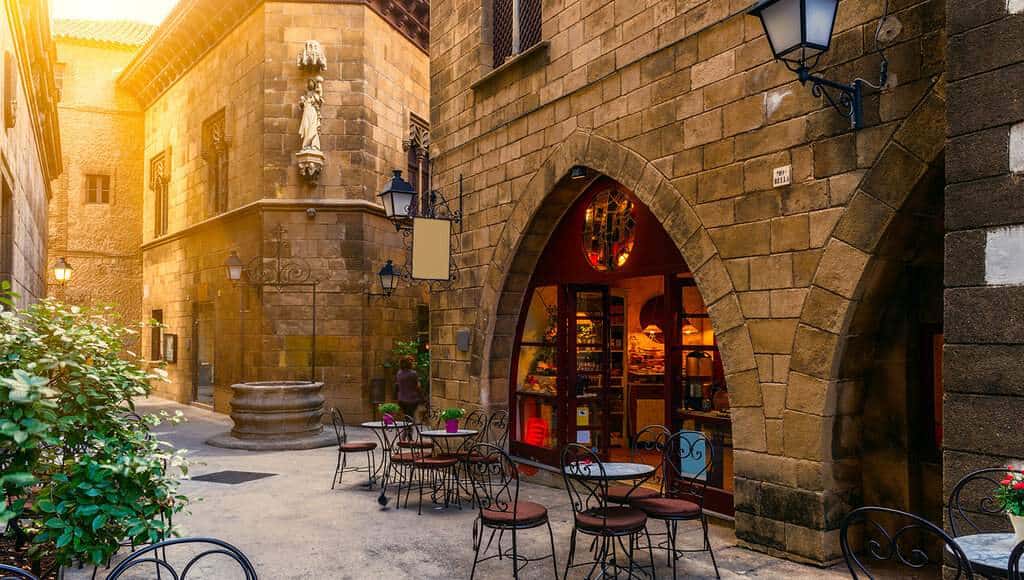 The Barii Gòtic is smack dab in the center of Barcelona and is considered as the historical heart of the city. The streets of the Barri Gòtic forms a maze that you could get lost in. But that's okay, because there are so many shops and restos that you can browse and enjoy. There are restaurants and tapas bars. There are also boutique shops concentrated at the Carrer dels Banys Nous. If you want to relax and admire the views, look for their landmarks like the Plaça Reial or the Pont Gòtic at Carrer Bisbe. There are even traces of old Roman ruins amongst the Gothic and Baroque buildings. You'll be intrigued by the whole gothic ambience of the area. The La Rambla covers the southwest border of Barii Gòtic. It's Barcelona's most popular boulevard where crowds of tourists, locals, street vendors, and performers flock together. Be sure to check out the La Boqueria market where you can find great tapas stalls. Two blocks or so away from La Rambla, you'll find delicious eateries there as well — whether it's fine dining or a small bar you're looking for. Several other tourists spots you should check out include the Museu d'Historia de Barcelona and Gothic cathedrals. If you're planning on staying here, there are boutique hotels with budget prices you can avail.
Top Luxury Hotels: Hotel Ohla Barcelona, Mercer Hotel
Budget-friendly Hotel Recommendation: Gran Hotel Barcino
Eixample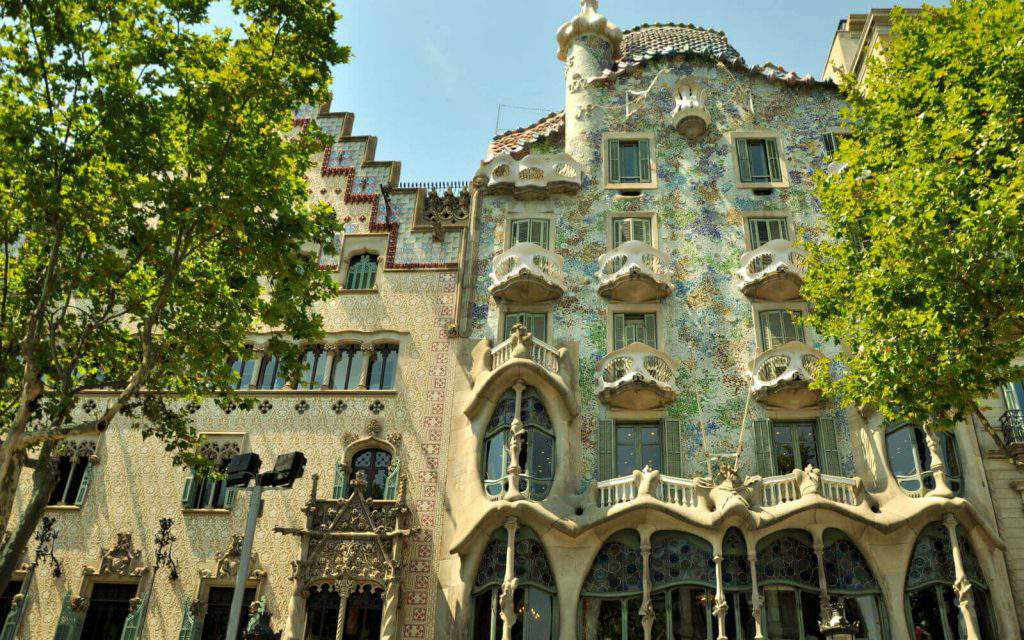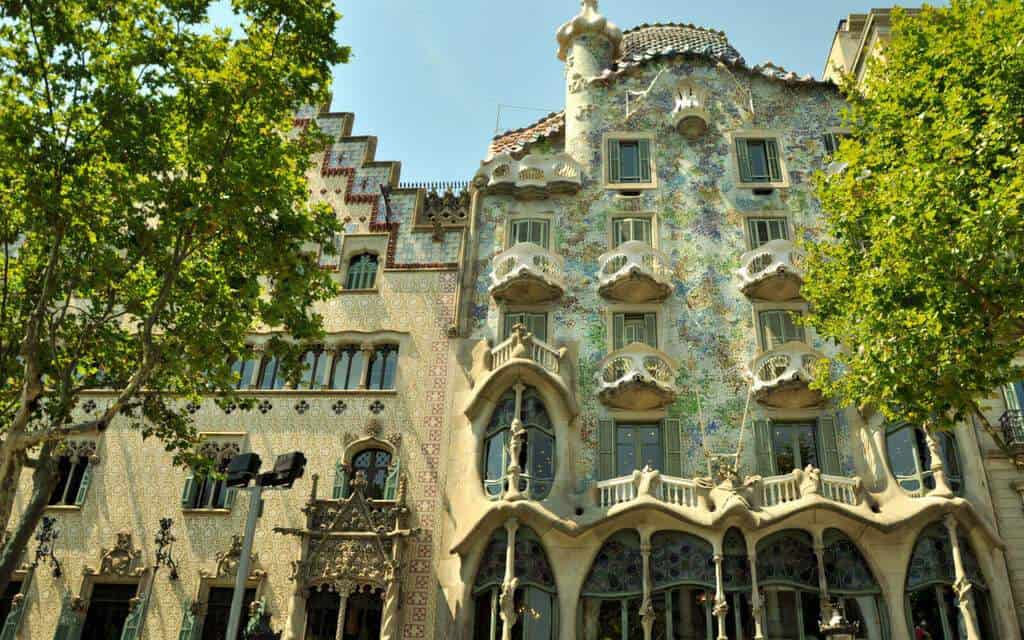 Eixample is the vast yet upscale neighborhood to the north of El Born, El Raval, and Barri Gòtic. Trademarked by its broad and walkable avenues, Eixample is full of luxury hotels, some of which are among Barcelona's best. Along these roads are tons of beautiful and marvelous Modernist architecture, among which are Casa Battló and La Pedrera by Gaudi, found on Passeig de Gràcia. Sagrada Familia, the famous baroque cathedral, is a short walking distance away from Avinguna Diagonal. Another great sight to see is Lluís Domènech I Montaner's piece, Castell Dels Tres Dragons. Eixample has also acquired by nickname "Golden Square" (or "Quadrat d'Or" to the locals) for its designer stores and luxury boutiques on Passeig de Gràcia. Budget hotels are rarer in this neighborhood, as they specialize in their luxury hotels and bed & breakfasts.
Top Luxury Hotels: Hotel Omm, Cotton House Hotel
Top Budget Hotel: Next To
El Born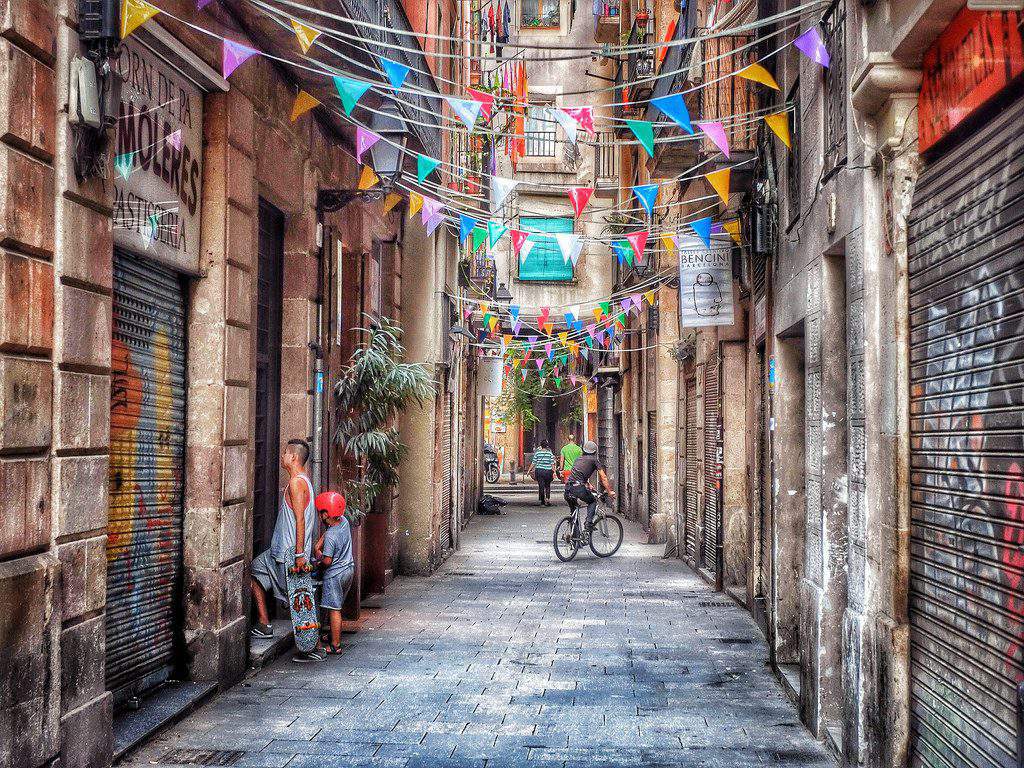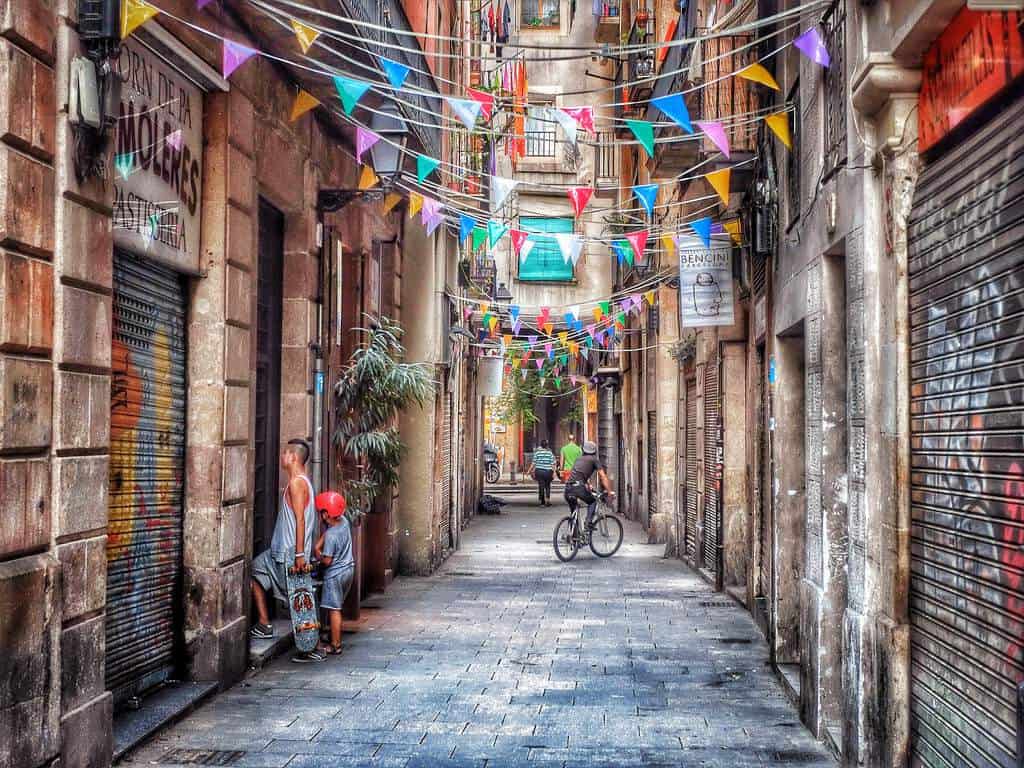 Within the Old City, Ciutat Vella, and apart from Barri Gòtic, El Born lies beside Via Laietana, waiting to be enjoyed. El Born is a winding little neighborhood spun by little streets, and has enough attractions to keep you occupied. Among these are the family-friendly Chocolate Museum, the Museum of World Cultures, and several options for high art lovers. You'll find the Picasso Museum, the European Museum of Modern Art, and Palau de la Música Catalana, a majestic masterpiece of Modernism. El Born is also somewhat a quieter area than Barri Gòtic, and is closer to Barceloneta's beautiful beaches than Barri Gòtic is. Even then, these short distances are teeming with vintage fashion stores, coffee shops, tapas bars, and restaurants. If you're in search for some traditional cuisine, visit the bars and restaurants around Passeig del Born and Plaça de Santa Maria. If your pleasure is more modern and fusion cuisines, go ahead and explore the Plaça Comercial area. The northeast of El Born there are some great spots to commune with nature — beautiful lakes, friendly zoos, and Parc de la Ciutadella's gorgeous fountains. You will also hardly run out of choices for where to stay. El Born has plenty of budget hotels, reputable accommodations best for families, and unique but attractive bed & breakfasts.
Top Luxury Hotels: Grand Hotel Central • K+K Hotel Picasso
Best Cheap Hotel: The Moods Catedral Hostal Boutique
El Raval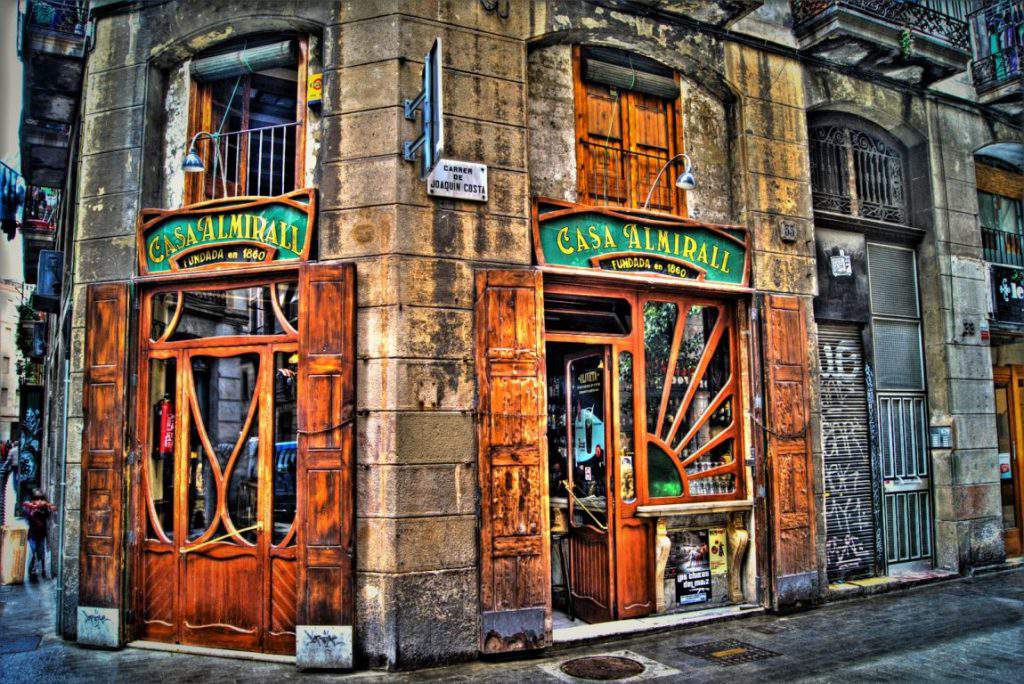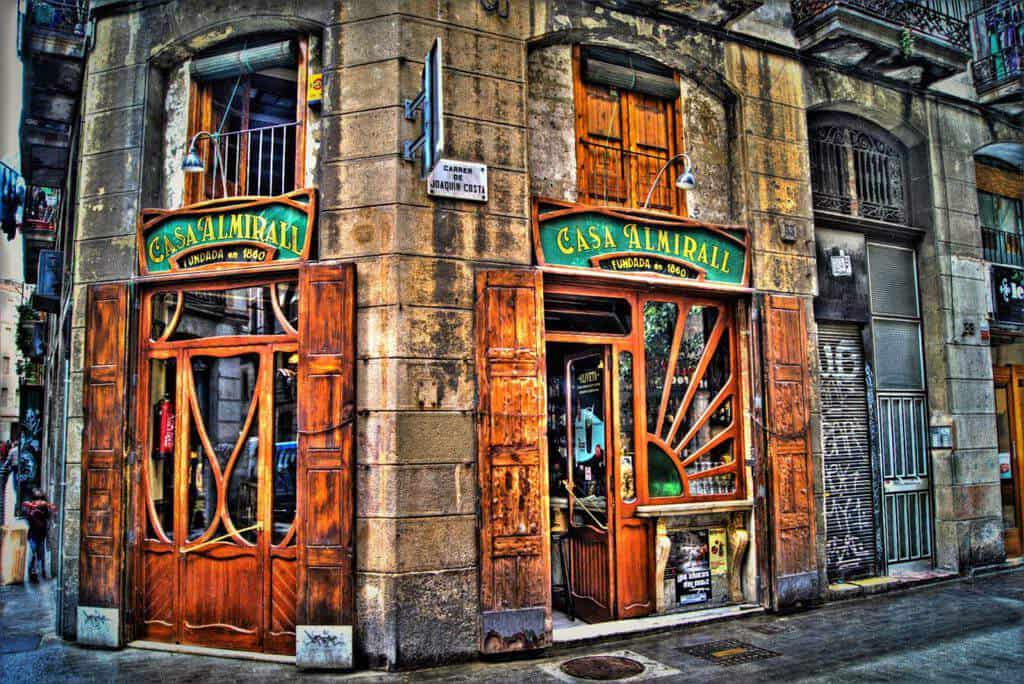 Although El Raval was formerly the red-light district of Barcelona, it has long since risen to be known for its mishmash of local culture. This bohemian town between Sant Antoni and Barri Gòtic is great for art lovers and artists alike. Here you can find the Barcelona Museum of Contemporary Art, along with one of Gaudi's buildings, the Palau Güell. El Raval also offers great merchandise from its unique crafts shops and vintage boutiques. You can find them around Carrer de Riera Baixa and Carrer Tallers. For those searching for a food trip, El Raval has some vegetarian restaurants and modern tapas bars. It also has several dining districts around Carrer Joaquin Costa, Carrer del Dr. Nou, and Carrer Pintor Fortuny. For accommodations, El Raval has some great budget options, among quaint and beautiful bed & breakfast hotels. If you want fancier accommodations, there are a handful of luxury places to stay. Although the area is relatively safe, be sure to take care of your belongings as there are still pickpockets who might pass you by.
Top Luxury Hotels: Barceló Raval, Hotel 1898
Top Budget Hotel: Chic & Basic Ramblas
Gràcia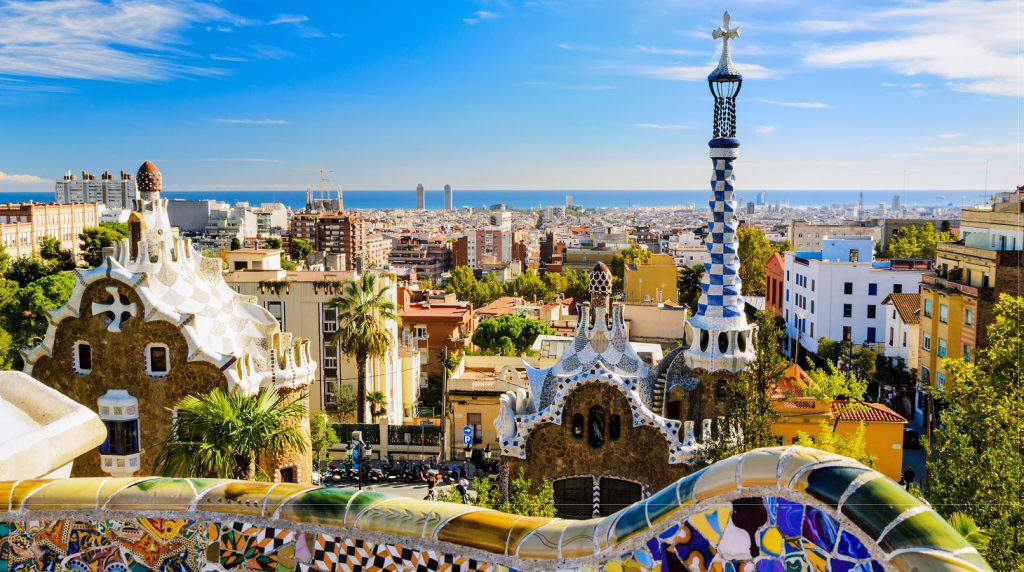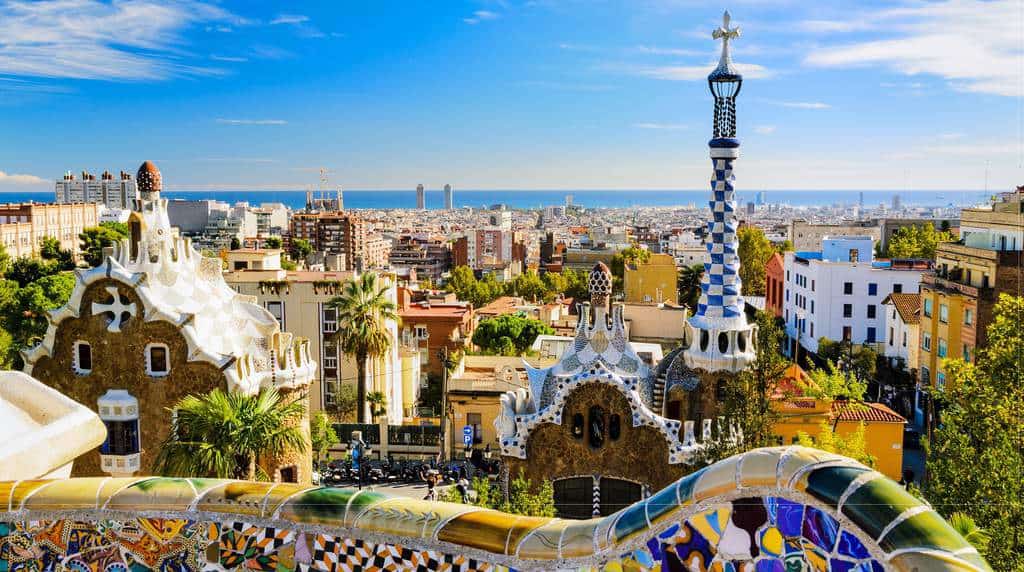 Gràcia's a quaint district that used to be a village separated from Barcelona until it became a part of it. It's between the hills in the city's north and Eixample. Artists, families, and newcomers to Barcelona appreciate the quiet atmosphere the neighborhood brings. The main tourist spot here is Parc Güell. It's a creative hilly landscape with colorful touches, thanks to its Modernist designer Antoni Gaudí. If you want to get fashionable, there are indie fashion shops throughout the Carrer de Bonavista area in Gràcia. For great food and parties, the Carrer del Torrent de l'Olla is full of ethnic restos and trendy bars. There are a lot of accommodations with great budget options available in the district.
Top Luxury Hotels: Pol & Grace Hotel
Budget-friendly Hotel Recommendations: BCN Urban Hotels Bonavista, Hotel La Casa del Sol,
Montjuïc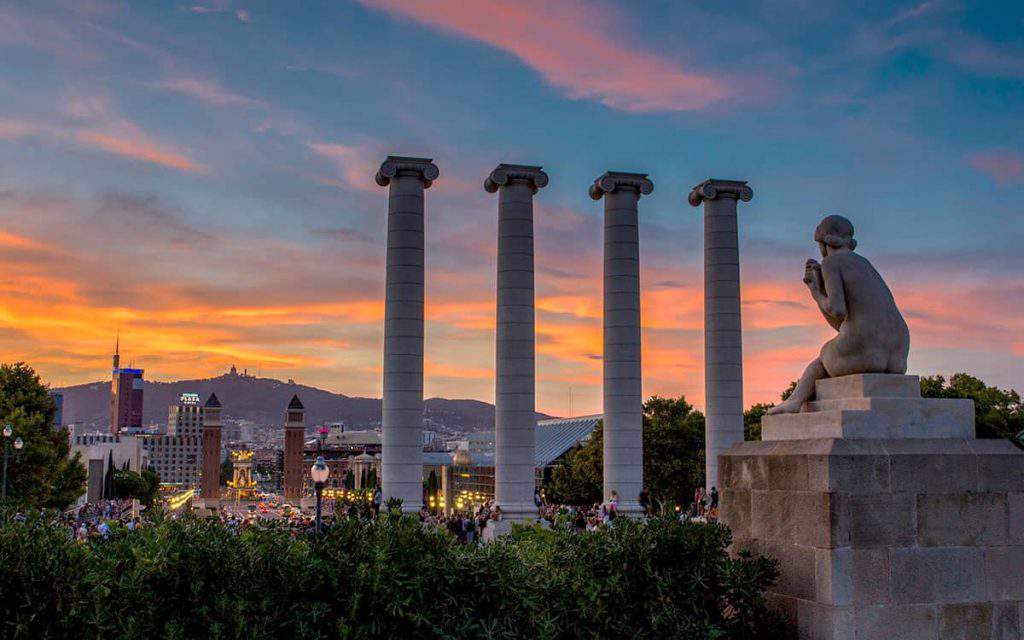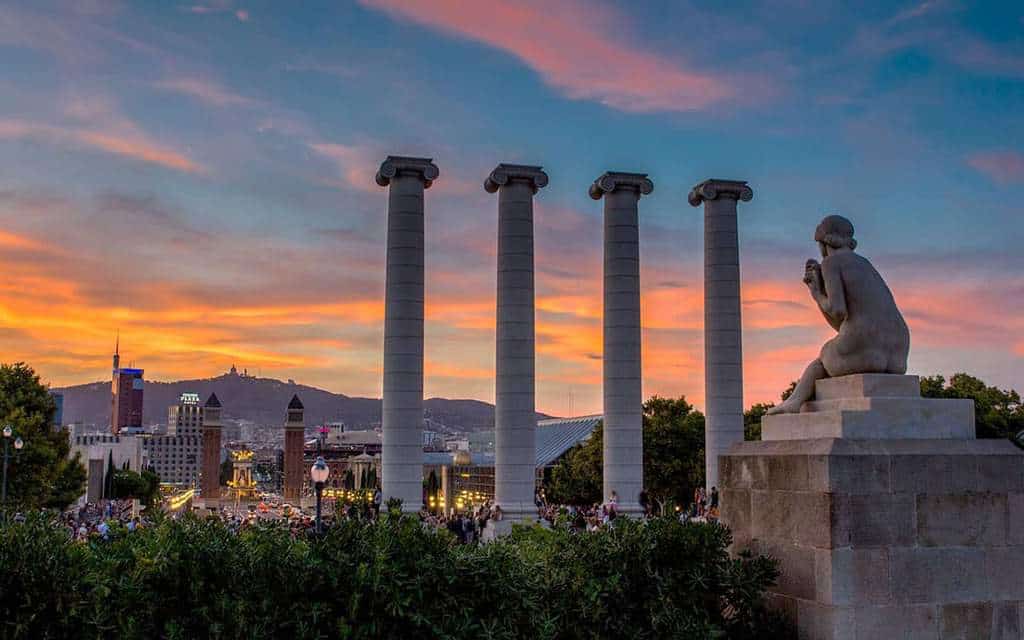 Montjuïc or "Jewish Mountain" stands tall and proud above the sea port and has long been Barcelona's symbol. Its hill contains many awesome landmarks. On the hill, there's a fortress that provides a breathtaking view of the city, as well as the Olympics stadium. There are various beautiful gardens and parks that you can relax and take a stroll in. For art lovers, the Museu Nacional d'Art de Catalunya and Fundació Miró are some of the most famous art museums the city has to offer. Both of them reside in the Palau Nacional. These attractions can be easily accessed using a cable car or funicular from the Paral-lel station. The International Exhibition held at 1929 made huge buildings that can still be found across the boulevard. There are lights and sounds shows during the summer evenings by Montjuïc's magic fountain. If you plan on staying in Montjuïc, there's only one luxury hotel. It's located at the cable car's final stop which is also a great spot boasting a scenic view.
Top Luxury Hotel: Hotel Miramar
Budget-friendly Hotel Recommendations: Hostal Barcelona
Poblenou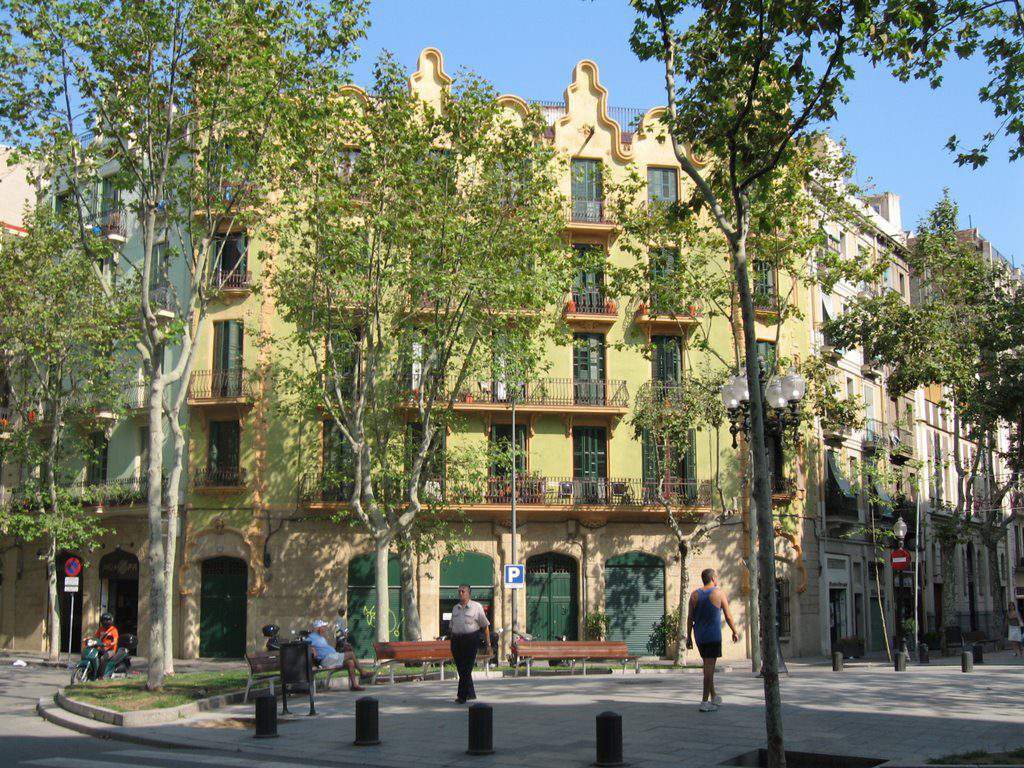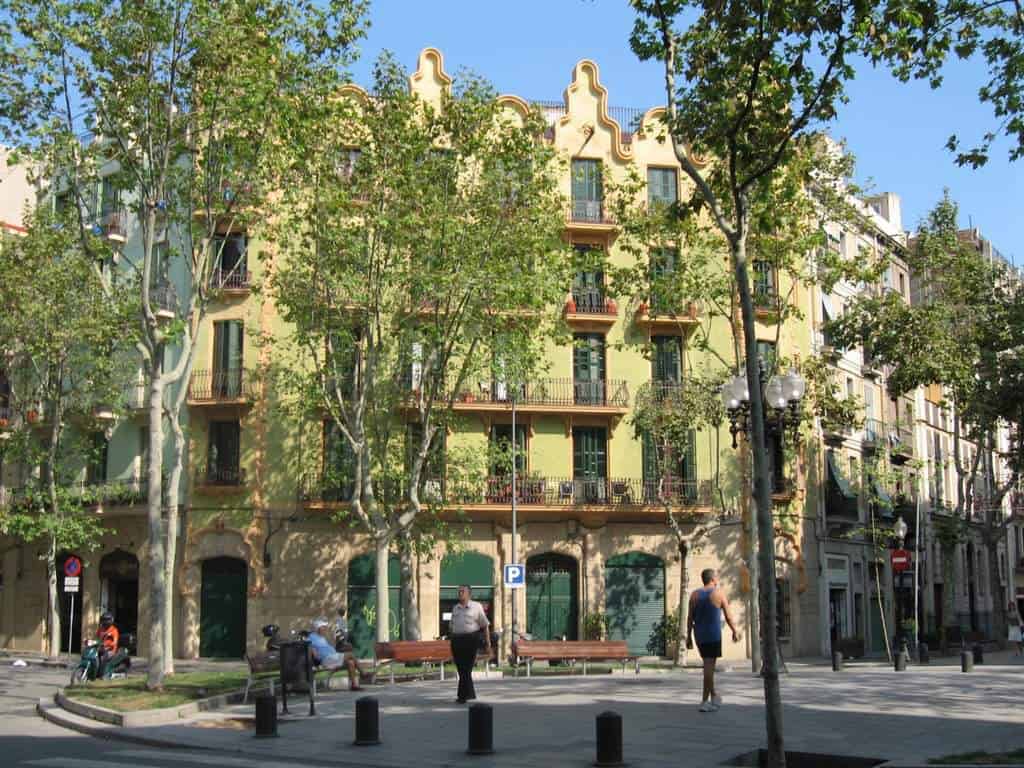 The Poblenou located by the north coast of Barceloneta used to be industrial district with dilapidated storage facilities. Now, it's been transformed completely with new office buildings, large nightclubs, cool beach bars, and modern hotel now occupying the area. These made it popular for businessmen and young professionals who like to party hard. If you're interested in going clubbing, then Poblenou is the neighborhood for you. Clubs are scattered throughout Carrer dels Almogàvers. The Rambla de Poblenou boulevard streets showcase a variety of cafes, cocktail bars, and contemporary fusion restaurants for the hip crowd. Ready your beach attire too since Poblenou has a few of the city's cleanest beaches. Keep in mind though that Poblenou is located far away from many of Barcelona's other attractions. There are varied selections of places to stay in ranging from 5-star, high class hotels to budget-friendly and family-friendly ones.
Top Luxury Hotels: The Level at Meliá Barcelona Sky
Budget-friendly Hotel Recommendations: ibis Styles Barcelona City Bogatell
Poble Sec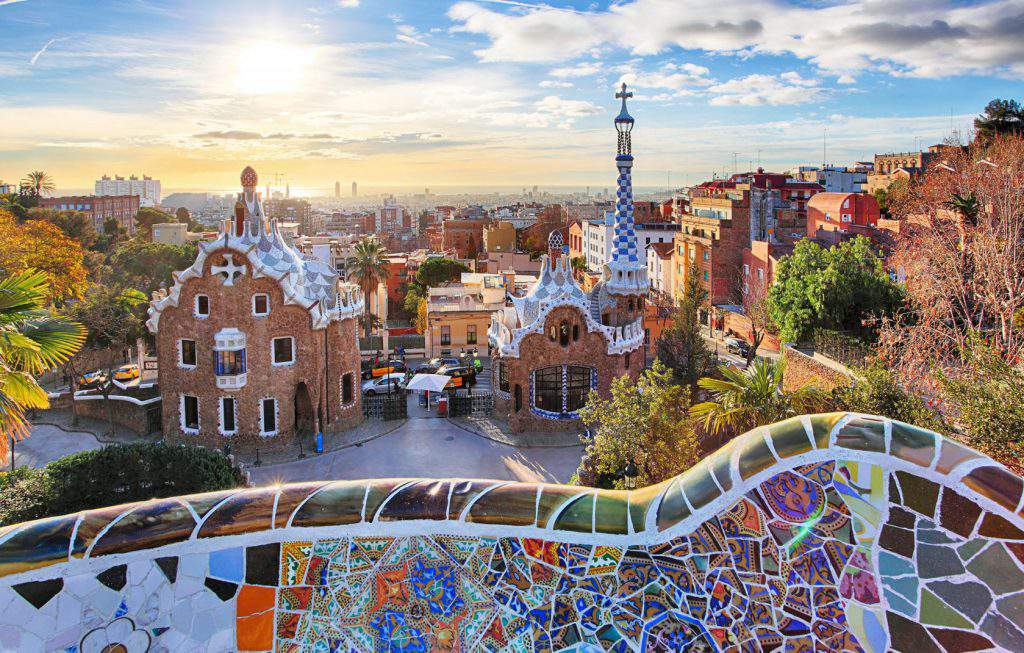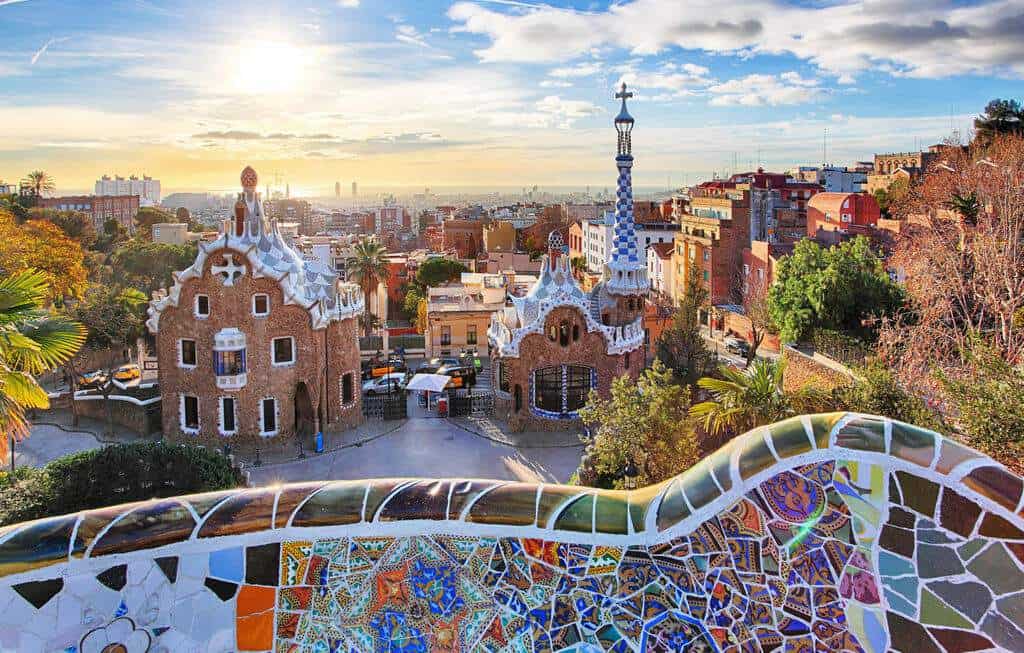 The Poble Sec is another neighborhood filled with the hip and young crowd. It spans Avenida de Paral-lel from Sant Antoni to El Raval and through Montjuïc's foothills. The hills have interesting attractions and the night is full of parties with great food and drinks. The Carrer Bla features a lot of tapas bars and live music as well. There are good budget-friendly and mid-range hotel options.
Top Hotel: Tryp Barcelona Apolo Hotel
Budget-friendly Hotel Recommendations: Hostal Apolo
Sant Antoni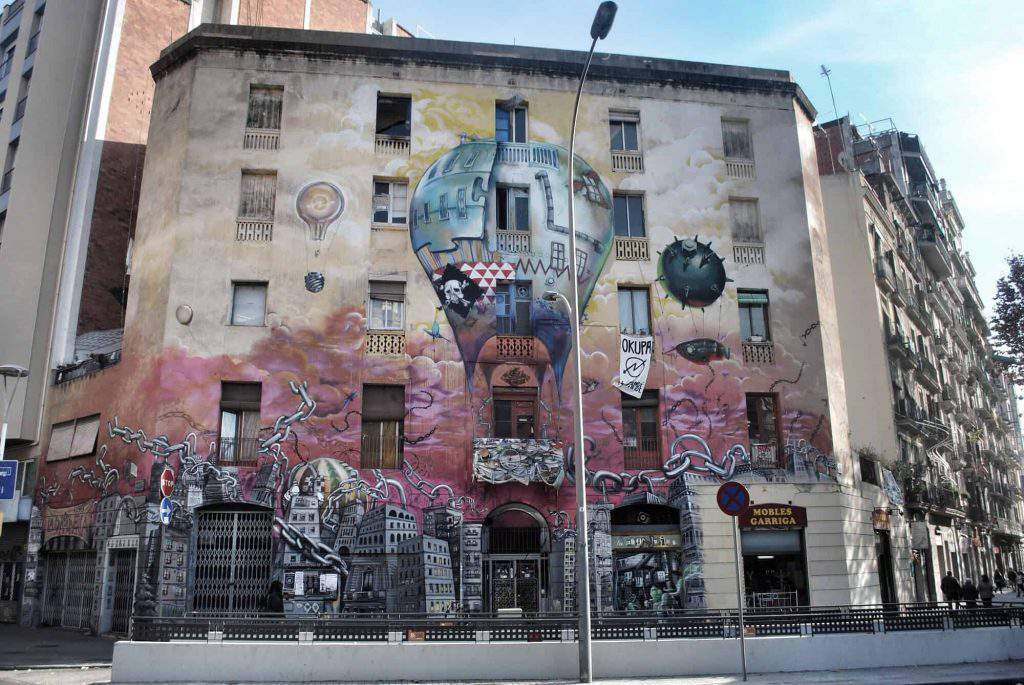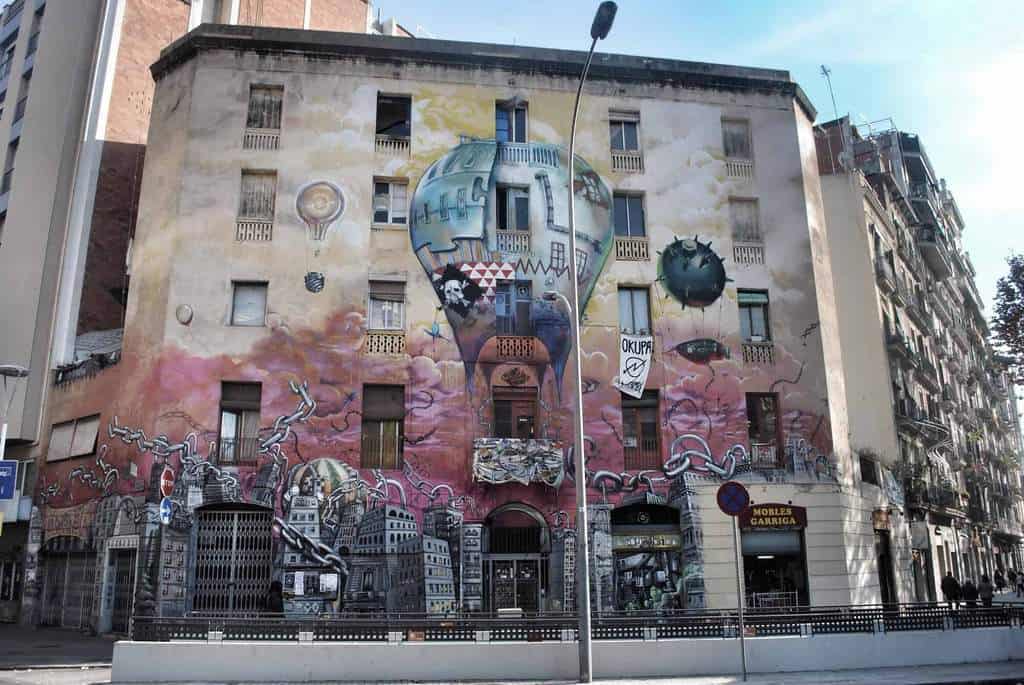 Located in the middle of Eixample, Poble Sec, and El Raval, the Sant Antoni neighborhood is shaped like a triangle. It's highly considered as a foodie heaven. If you're watching your expenses, there are lots of budget-friendly trendy cafes and tapas bars to be found at Carrer del Parlament. If you're willing to splurge for more delicious food, the Avenida del Paral-lel houses the tapas bar run by famous Spanish chef Ferran Adrià which is also Michelin-starred, along with high class restaurants. You have nice mid-range options for hotels here. Montjuïc and Barri Gòtic are also easily walkable from Sant Antoni
Top Luxury Hotel: Two Hotel Barcelona by Axel
Budget-friendly Hotel Recommendation: Hostal Centric
Top Hotels on the Beach
H10 Port Vell — This is a four-star luxury hotel located at Barcelona's harbor. It's in a historical building so the design and ambience is very quaint and elegant, yet the rooms have modern designs.
Hotel 54 Barceloneta — This hotel feels very trendy with an excellent rooftop that boasts quite the view of the beach.
Hotel Arts — A five-star hotel experience with a great selection of luxury rooms, restaurants, and a pool and spa.
Pullman Barcelona Skipper — Excellent staff service, spacious luxury rooms, and delicious tapas for the guests to indulge in.
W Hotel — Cpmplete with excellent rooms, an infinity pool, spa services, and a rooftop bar. Also, the hotel is uniquely designed to look like a sail.
Read more:
Barcelona Travel Guide
Things To Do in Barcelona
Where To Eat in Barcelona
Best Time To Visit Barcelona