Cavo Tagoo Santorini Review
Planning a romantic vacation at a quiet but stylish hotel with breathtaking views in Imerovigli? Look no further than the Cavo Tagoo Santorini. A pinnacle of glamour and enchantment, Cavo Tagoo Hotel in Santorini is a 5-star luxury boutique hotel that opened around the latter part of 2016.
So how much does it cost to stay at Cavo Tagoo in Santorini? The cost of staying at Cavo Tagoo Santorini starts from $750 per night for the suite with a hot tub. The Cavo Tagoo Diamond Suite With pool costs approximately $1250 a night.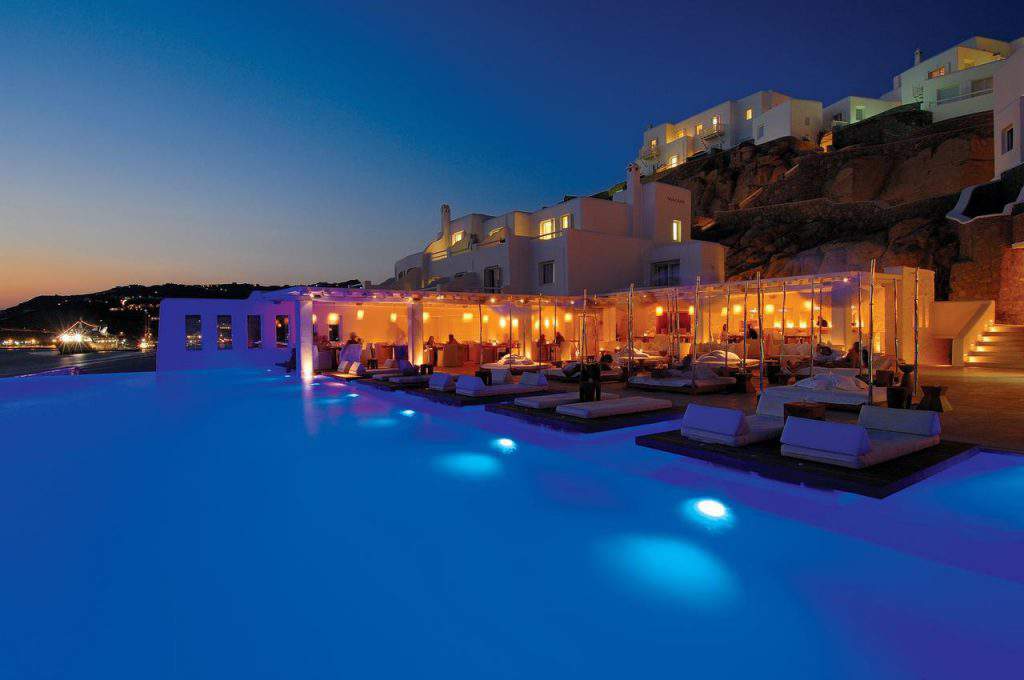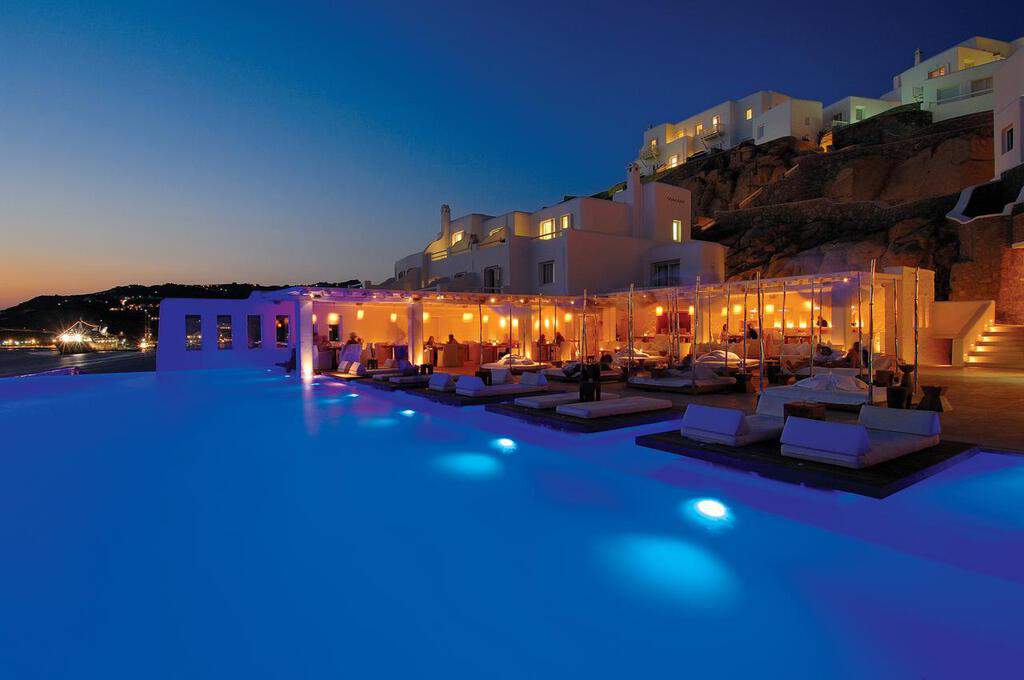 Cavo Tagoo Hotel Overview
This stylish hotel is situated above the caldera and will give you privacy and uninterrupted vistas of the caldera, Aegean and life-defining Santorini sunsets.
So a lot of people ask, can you go to Cavo Tagoo for the day? It's not possible to go to Cavo Tagoo for the day and use their amenities without booking a room for at least one night. Unlike other hotels where restaurants, pools etc. are open to the public, the facilities at Cavo Tagoo are exclusively for their guests.
In a true sense of elegant sophistication, Cavo Tagoo has a contemporary Cycladic architectural style with furnishings and finishes made of rich wood, suede and copper.  
You can stay in any of their 13 posh and luxurious suites with private heated pools or Jacuzzis and unrivalled views.
The hotel's infinity pool is heated and has floating double-sized sun loungers. The pool is right beside a covered lounge area where you can relax on bali beds or lounge chairs while looking over the majestic caldera, the volcanoes (old as well as new), Skaros Rock, Oia and Thirassia Island.
Cavo Tagoo houses the award-winning OVAC, a fusion restaurant that blends Mediterranean and Japanese flavors. You can have some tasty sushi and thoughtful cocktails or choose from their fantastic selection of wine.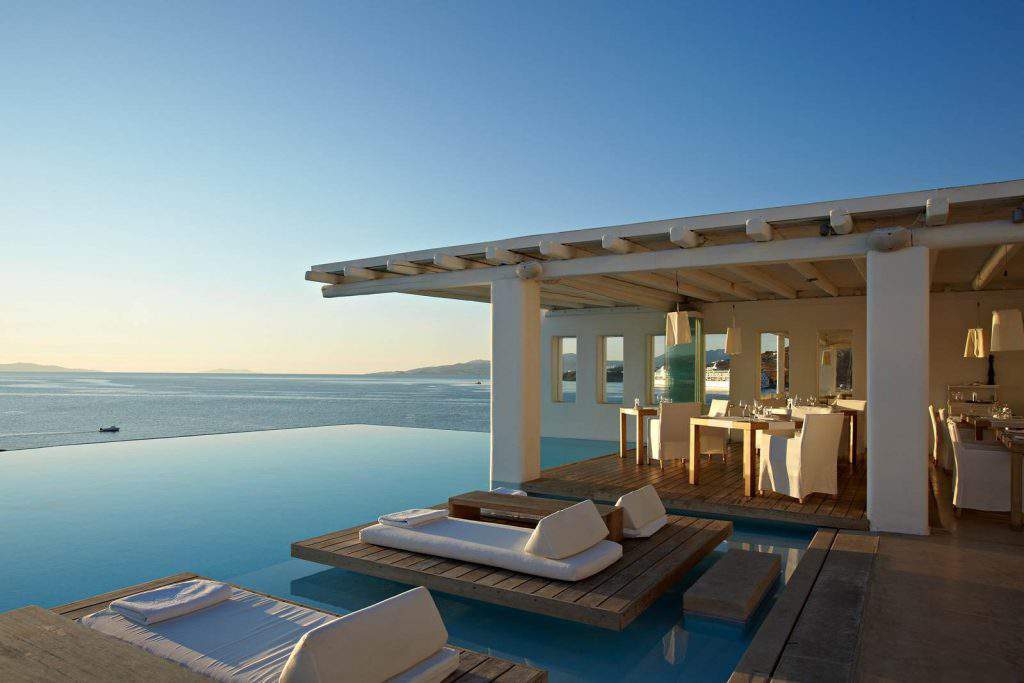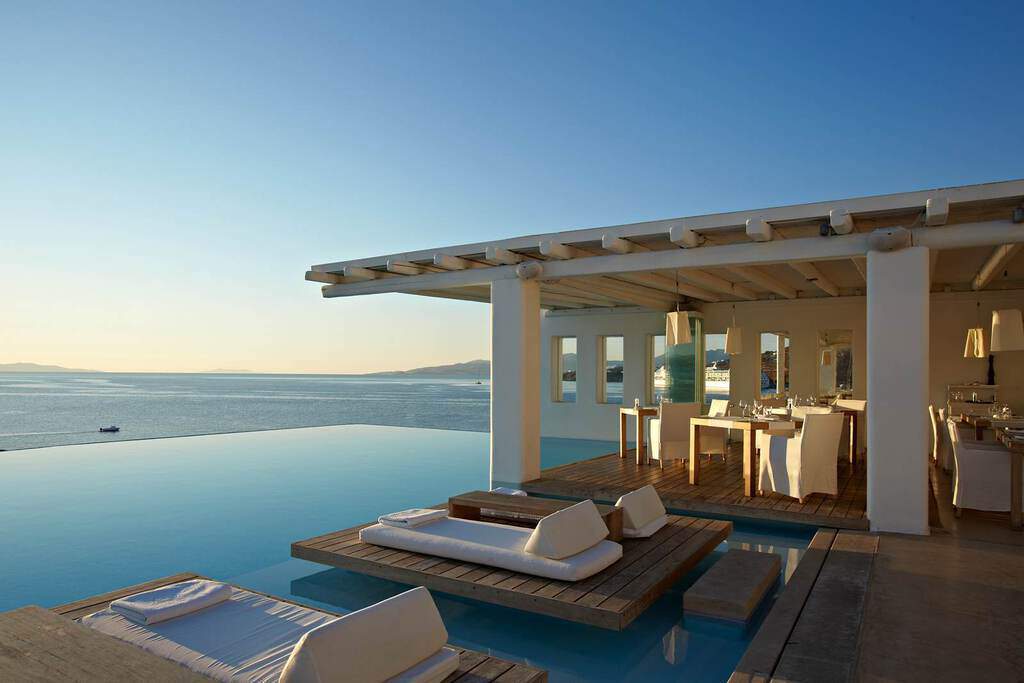 Email: [email protected]
Phone:+30 22860 27915, +30 22860 27900
You can make a booking and get the best available price here.
Ages: Cavo Tagoo has no age restrictions. Although, most of their guests are North or South American couples celebrating their honeymoon or their anniversary or any romantic occasion, including a proposal. 
View: You get a stunning view of the caldera from your hotel room and anywhere in the hotel. 
Beach: If you want some sea action, Koloumpos Beach just 5 km on the northeast side of the hotel, while the Exo Gialos beach is 5.4km away on the north end. The impressive cliffs, sculpted by wind, of Exo Gialos is 7.2km away on the hotel's south end. They are just meters away from East Breeze Restaurant and Bar. It would take you 14 minutes by taxi or car to get to East Breeze. Yalos Restaurant and Bar is a little closer at 11 minutes by vehicle and is located at a small harbor at the hotel's north end.   
 Private Jacuzzis/Pools: You can relax in your indoor Jacuzzi or swim in your heated outdoor pool in your Cavo Tagoo Diamond Pool Suite. If you want a private outdoor heated pool as part of your accommodations, get the Cavo Tagoo Pool Suite or the Honeymoon Pool Suite or the Pool Suite. If you want a private Jacuzzi that's outdoor, book the Superior Suite or the Senior Suite or the Suite. If you rather wanted your Jacuzzi indoors, get either the Junior Suite or the Executive Double. 
Extras: No need to worry about leaving your furry family member behind on a vacation. Cavo Tagoo is pet friendly, and you can bring your cat or your small dog (7kg or below) with you. This is also a perfect place for special events like weddings, anniversaries, etc. The concierge is excellent, and they have a turndown service every night. 
Parking: The hotel offers valet parking for free onsite. 
Best Time to Book: Cavo Tagoo accepts guests from the middle of April until the latter part of October. They are closed for the rest of the year. If you're planning to visit during high peak season of June to September, make sure that you have made your reservations 4 to 6 months before your travel date. Make reservations not less than 2 months before your travel date on shoulder or low seasons.   
Additional Facts: Cavo Tagoo's driveway is made of beautifully laid cobblestones. Once you step inside its double doors, you'll be led right to the modern reception area. 
The adjacent lobby that is designed to be both indoor and outdoor has a stylish contemporary design that features natural elements. This theme can be seen all throughout the hotel.
The hotel's All Day Lounge is at the top floor providing stunning vistas of the caldera. The lounge is next to the infinity pool which is just above the charming lobby.
From the pool and the lounge, you can see Imerovigli village with its whitewashed buildings perched on the hills. Skaros Rock can be seen just below the village. If you turn to your right, you'll be treated to the view of the volcanoes and Thirassia Island.
How To Get To Cavo Tagoo
Cavo Tagoo is situated among the best views of Santorini right at Imerovigli's northern edge. Some guests may find the location remote as the area is very quiet, but it is just 26 minutes away on foot or 4 minutes away by vehicle from the attractions and restaurants of Imerovigli village. 
If you want some outdoor activities, the Oia-Fira Hiking Trail is one minute away on foot. 
You also just need to walk for about 4 minutes to get to the nearest bar and restaurant in Santorini Princess, which is a neighboring hotel. 
You no longer have to worry about airport or ferry port to hotel transfers as Cavo Tagoo provides round trip complimentary transfers. 
If you're driving your own vehicle or renting a car, know that parking in the Imerovigli area is challenging. Luckily, Cavo Tagoo is perched on the caldera's side, off of Fira to Oia's main road, so driving there is easy. Plus, they also have valet parking so you don't have to worry about parking. 
If you are planning to visit Fira or Oia, there are direct buses to both locations with the bus stopping right outside the hotel's doorstep.   
Hotel Amenities
Cavo Tagoo boasts of a gorgeous infinity pool that is kept heated. It is right at the caldera's edge with sun loungers floating on the pool and Bali beds around it. 
The hotel does not offer spa treatments, but you can request for an in-suite massage therapy or have it done in their treatment room. 
Cavo Tagoo accepts guests of all ages even dogs (maximum 7kg), but they don't have any special facilities or amenities for kids. Their open-plan suites can accommodate 3 guests while the Superior Suite can sleep 4 guests. 
Thehotelhasnofitnessgymonsite,butexcursionactivitiescanbesetupforafee throughCavoTagoo'sconcierge.   You can arrange for climbing tours or wine tours, or jet and helicopter charters, or yachting and scuba diving, etc. 
Although Cavo Tagoo has no age restrictions, it is unsuitable for people with mobility issues. Typical of a caldera hotel, it has a lot of stairs, and since it only has 13 rooms, it has no elevators.   
Room Information
Best Room: With its 44sqm indoor space and 65sqm outdoor area, a private indoor Jacuzzi, a sofa bed and a queen bed, the top-tier Cavo Tagoo Diamond Suite is the hotel's finest suite. Its shaded terrace (outdoor area) has a daybed as well as an exclusive heated pool with stunning views of the Aegean and the caldera. Definitely a room for some pampering. 
Room Types: Cavo Tagoo Diamond Suite (has outdoor pool and indoor Jacuzzi), Cavo Tagoo Suite (has heated outdoor pool), Honeymoon Pool Suite (has heated outdoor pool), Superior Suite (has outdoor Jacuzzi), Pool Suite (has heated outdoor pool), Senior Suite (has outdoor Jacuzzi), Suite (has outdoor Jacuzzi), Junior Suite (has indoor Jacuzzi), Executive Double (has indoor Jacuzzi). 
For Families: Cavo Tagoo accepts guests of all ages including dogs that are not more than kg, but they have no facilities or amenities for children. If you're staying with your family, get the hotel's Superior Suite with Outdoor Jacuzzi as it is the only accommodation that can sleep 4 people. Its 55sqm interior area and 21sqm outside area is comfortable enough for a group. It has two floors with the living area and a bathroom at the ground floor. Another bathroom and the main bedroom is at the second floor. The huge veranda with the Jacuzzi that overlooks the beautiful caldera, is also located at the second floor. 
Smoking Room: Cavo Tagoo implements a strict No-Smoking policy in the rooms. If you need to smoke, you can do it at the common outdoor areas or at your private open air terrace.   
Dining Options At Cavo Tagoo
24-hour room service is available at Cavo Tagoo Hotel.  
They serve a la carte complimentary breakfast in OVAC everyday starting from 8:00 am until 11:00 am. If you want some romantic breakfast in bed, you can have it brought to your suite.  
Breakfast is Greek fare focused featuring fresh and flavorful local produce. Their juices and coffee are excellent. If you didn't make it for breakfast, brunch is also available after 11:00am for an extra fee. 
You can have your lunch or just some cocktails or snacks by the pool any time of the day at the All Day Lounge. They serve casual but elegant food and drinks from OVAC restaurant's kitchen. 
OVAC is the hotel's fusion restaurant that has won several awards. The food is perfect but pricey. Understandingly so, because their menu is a blend of Japanese and Mediterranean dishes prepared by a widely acclaimed executive chef. 
If you like fish, they use amazingly fresh fish in a range of raw or cooked preparations. Their Wagyu beef and king crab are absolutely delicious. Your favorite rich desserts and signature cocktails are hands down fabulous.  
You can have your lunch in OVAC starting at 1:00pm. They serve dinner until midnight.  
If you are planning to propose, OVAC is the ideal place. They even have a table that is specially reserved for special occasions like proposals.   
Transportation
ATVs: The locals hate this slow mode of transportation as they cause traffic holdups in already congested areas,making it hard to get around.They have already banned small-motored ATVs from going on the roads,and a full ban will probably be passed soon.ATV's,however,are very popular with tourists.
Motorcycles/Scooters: You'd see lots of locals on scooters,but unless you're familiar with the area,we suggest that you stay away from motorcycles or scooter.Remember,this is the caldera.The terrain has lots of potholes and dirt roads.The streets are narrow,zigzagging,hilly,withsteepdrop-offs and no guard rails.Most of the areas don't even have street lights so it is dangerous for those on scooters or motorcycles who don't know places well.
Taxis: Stathmos Taxi is the closest taxi stand, but it is located in Fira. Walking to another town or taking a bus so you can grab a taxi is impractical, and it might take a long time for a taxi to be available. Take note that the whole island only has 25 serving taxis for guests from around 1,000 Airbnbs, villas and hotels. We suggest that you book your taxi ahead and request them to go directly to the hotel to meet you. The taxi fare to Fira coming from Imerovigli is about €10. Taxi rate from Imerovigli Village to the ferry port or airport is about €20. There would be a couple of dollar surcharges for advanced taxi bookings and luggage carrying.  
Walking: Cavo Tagoo is situated right at Imerovigli's northern edge on the Trail of Oia-Fira. The closest restaurant is at Santorini Princess, which is also a hotel that is just 4 minutes away on foot. The boutiques, shops, restaurants and attractions of Imerovigli village are just 20-35 minutes away on foot from the hotel.   
Things to do near Cavo Tagoo
Attractions
Agios Geogios Church:This small whitewashed church marks the starting point of the trail to Skaros. It stands on a platform on top of the caldera and gives you a gorgeous vista of the surrounding areas. (Walking distance: 29 minutes) 
Anastasi Church:This lovely church has a blue dome and stunning views of the caldera and Skaros Rock. This is a popular church for wedding ceremonies and even photo shoots. You need not worry if wedding plans are not in your list yet, you can always just take a picture with the church in the background. (Walking distance: 28 minutes) 
Imerovigli Basketball Court:This is not considered as an attraction but this is Imerovigli's main parking space. If you're driving a vehicle, it would be wise to know this basketball court's location. (Walking distance: 24 minutes; driving distance: 5 minutes) 
Fira-Oira Hiking Trail:This is a hiking trail that connects Fira and Oia. It spans 10. 5km in length and is a top attraction in Santorini. The trail is only one minute-walk away from the hotel. While taking a walk at this mix of dirt trail, cobblestones and sidewalk, you are treated to the awe-inspiring vistas of the caldera and the Aegean. It would take you 1 hour and 4 minutes to hike the trail from the hotel to Byzantine Castle Ruins (Oia Castle). If you want to reach the end of the trail in Fira, close to Keti Hotel, it would take 50 minutes of hiking and another 20 minutes of walking if you're taking a Skaros Rock detour. 
Skaros Rock:This is an impressive formation made of volcanic rock that contains a medieval town and castle ruins that dates back to 1207. Panagia Theoskepasti is an active monastery that can be found at the base of the Rock. You have to walk for 28 minutes to reach the trail head and 10 minutes more to get to Skaros.   
 Breweries and Bars
Buddha Bar Beach:This is not just a cocktail bar but also a shisha lounge and upscale restaurant. It offers a stunning view of the caldera and Skaros Rock. It is a bit pricey but with what it can offer, it is just on point. (Walking distance: 26 minutes)
Cafes
Hlios Bakery:This café serves good coffee, although their deli sandwiches and pastries are pretty basic and nothing exceptional. This is a nice café if you are in a tight budget though as they have very cheap prices. You can have them deliver the food to your location, but they only accept cash for deliveries. (Walking distance: 28 minutes)   
 Grocery Stores and Markets
Jimmy's Market Cava:This market is also a deli that has a good selection of goods, especially wines. They serve breakfast sandwiches and great coffee. If we compare this with Hlios, their breakfast has way better quality. They don't offer deliveres, however, so Hlios takes the lead for convenience. (Walking distance: 27 minutes) 
Supermarket Nissi:This market gives the best prices available in Imerovigli and is considered as the friendliest in the area. (Walking distance: 26 minutes)   
 Restaurants
Anogi:We suggest that you come to Anogi with an empty stomach since their servings are huge. They have al fresco (open air) dining with large portions of flavorful classic Greek and local specialty dishes. (Walking distance: 25 minutes) 
Avocado:This very charming restaurant has a very friendly staff. Their menu is composed of traditional Greek dishes with Cycladic recipes and a wonderful selection of pure Santorinian wines. (Walking distance: 24 minutes) 
La Maison:This restaurant provides phenomenal service while serving equally sensational food and wine. Enjoy fine dining in Contemporary Greek style with the sweeping view of the caldera in the background. (Walking distance: 29 minutes) 
Le Moustache:This restaurant offers elevated Mediterranean and Greek dining experience. You can enjoy the panoramic sunset while sipping their amazing cocktails. (Walking distance: 21 minutes) 
Santorini Princess:This is Cavo Tagoo's neighboring hotel. Their restaurant serves Modern Greek dishes and standard or solid signature cocktails all throughout the day. You can watch the sublime caldera sunset from the restaurant's lounge area. (Walking distance: 4 minutes) 
The Athenian House:If you're looking for fine dining that is elegant and sophisticated, this is the right place. Their contemporary Greek dishes incorporate modern and imaginative gastronomic techniques using ingredients that are locally-sourced. The result is just amazingly delicious food. Plus, you get to dine while admiring the spectacular views of caldera sunset. (Walking distance: 28 minutes)  
Shops
Under a Fig Tree:This upscale boutique is located on Oia-Fira trail. It features Greek-designed accessories, swim wear and fashion. (Walking distance: 33 minutes) 
Pegasus Boutique:This boutique is situated beside Pegasus Hotel. Although small, they have a great selection of shoes, swim wear, accessories and clothing created by Greek designers. (Walking distance: 30 minutes)   
Read more:
San Antonio Hotel Review
Santorini – The 2020 Travel Guide
Santorini – Best Hotels
Santorini – All Hotels
Santorini – Family Hotels
Santorini – Best Fira Hotels
Santorini – Best Oia Hotels
Santorini – Best Firostefani Hotels
Santorini – Best Imerovigli Hotels
Santorini – Boutique Hotels
Santorini – Cave Hotels
Santorini – Honeymoon Hotels
Santorini – Sunset View Hotels
Santorini – Budget Hotels
Santorini – Best Villas
Santorini – Beach Hotels
Santorini – Caldera View Budget Hotels
Santorini – Hotels with Private Pool
Santorini – Best Hotel Infinity Pools
Santorini – Airbnb in Santorini
Santorini – With Kids
Santorini – Best Things to Do
Santorini – Best Time to Visit
Santorini – Best Restaurants
Santorini – Where to Stay
Santorini – Best Beaches
Santorini – Best Travel Agencies
Santorini – Vacation Packages
Santorini – Wedding Guide
Santorini – 1,2,3, and 7-Day Itineraries
Santorini – Wine Tours
Santorini – Volcano Boat Tours
Santorini – Sailing Tours
Santorini – Private Tours
Santorini – Best Bookstore
Santorini – Day Trips to Santorini
Santorini – Where is it?
Santorini – Is it Safe?
Santorini – Getting to Santorini
Santorini – Car Rental
Santorini – Photographers
Santorini – Santorini Cruises
Santorini – Athens to Santorini
Santorini – Crete to Santorini
Santorini – Mykonos to Santorini
Santorini – Mykonos or Santorini
Santorini – Crete or Santorini
Santorini – Fira or Oia
Santorini – Where did the Kardashians Stay?
Santorini – Holiday Guide