What To Do In Greece With Kids
Are you looking for some ideas of what to do in Greece with kids? If so, you're in luck, because this post is packed full of information about family-friendly activities in the country. From exploring ancient ruins to swimming in the Mediterranean Sea, there's something for everyone here.
So what to do in Greece with kids? Here is a list of things to do in Greece with kids:
Visit one of the many ancient ruins, like the Acropolis in Athens or the theater at Epidaurus.
Take a boat ride to one of the nearby islands, such as Mykonos, Santorini, or Crete.
Go swimming or sunbathing on one of the beautiful beaches.
Ride a donkey through the narrow streets of a small town.
Sample some of the local cuisine, like gyros or souvlaki.
Attend a traditional Greek folk dance performance.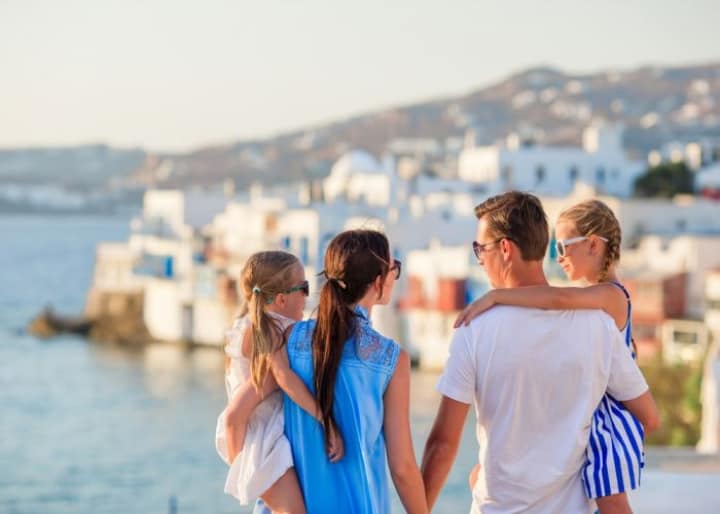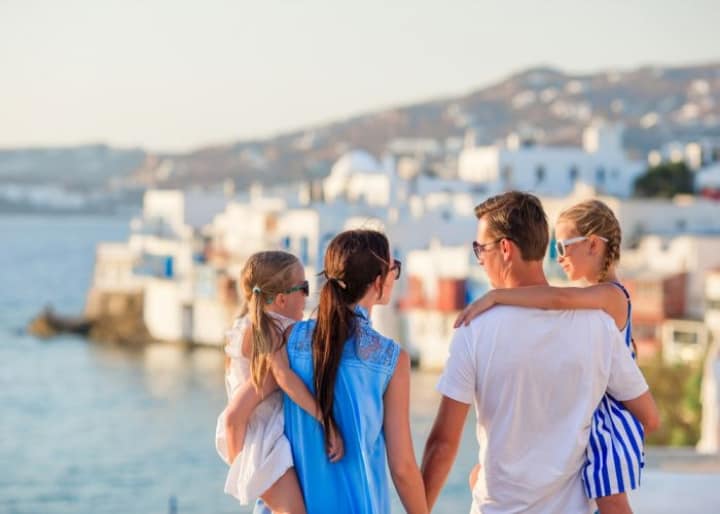 There is a long list of islands in Greece that are perfect for a family holiday. Some of them are Mykonos, Rhodes, Corfu, and Crete that are blessed with great beaches.
There islands are very kids friendly and are perfect for family.
But, my personal favorite island for families is Naxos.
Santorini on the other hand is taken as a destination for couples, but I must say, it is with no doubts a wonderful family vacation destination especially when you have kids that are like 6 or above.
The Top 7 Greek Islands For A Family Trip
Paros
Corfu
Crete
Naxos
Rhodes
Mykonos
Santorini
Best Islands For Specific Activities
For families(to spend quality family time) : Naxos
For families having teenagers (fun and adventurous): Paros, Santorini, Mykonos
For beaches(for fun with water and sand): Ios, Naxos, Crete, Mykonos 
For history(to know about ancient Greece): Rhodes, Crete, Santorini
For Biking(riding joy): Kos
For Hiking(walking, fun, adventure): Folegandros, Naxos, Crete, Santorini
For island hopping: Naxos, Ios, Paros, Santorini, Milos and Mykonos. All of these islands are well known for hopping on island and ferry aconnes them all well.
For food: Every one of them. Believe me Greek food is delicious.
For Luxury: Mykonos, Santorini
For Activities Outdoor: Santorini, Crete
For Solitude and Quiet: Ikaria, Folrgandros, Karpathos
Important Tips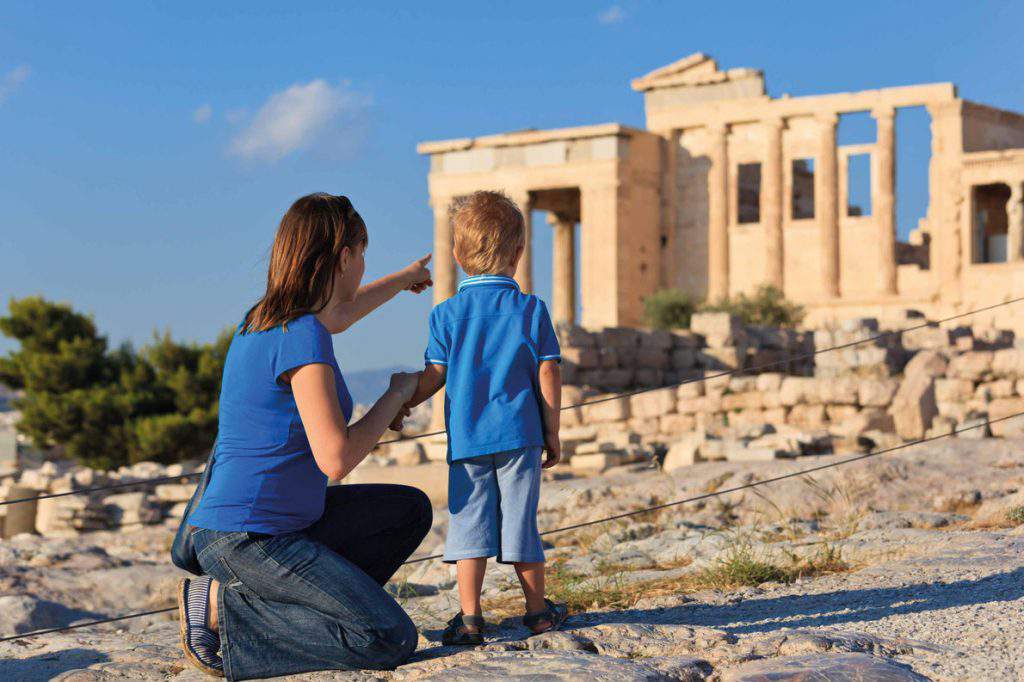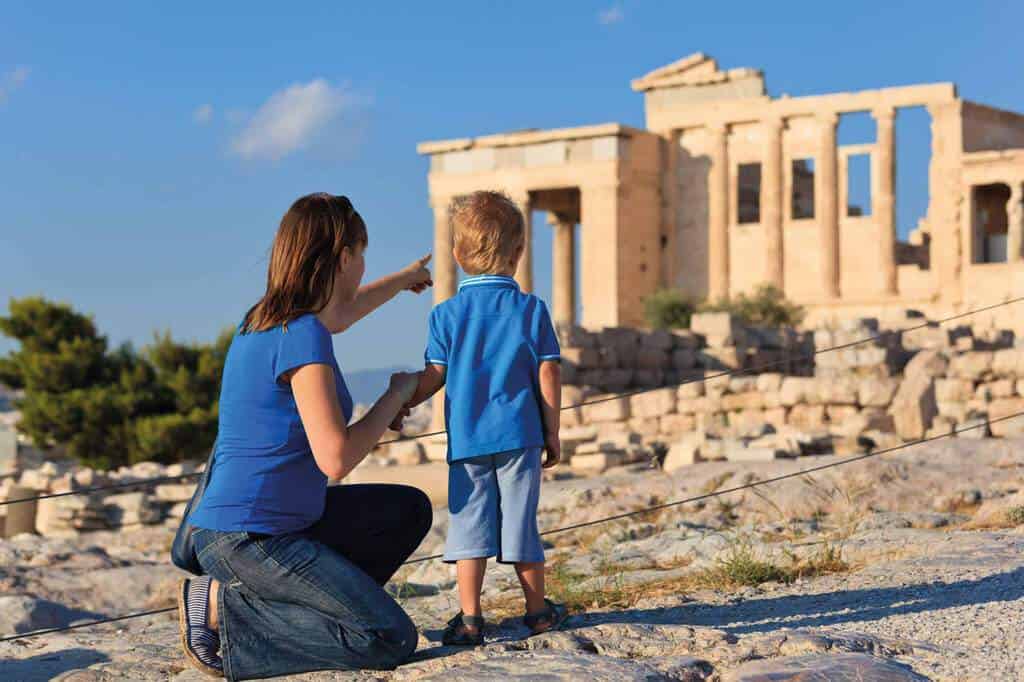 Greece is one of the best destinations for family holiday
Europe altogether is one of the best holiday destinations and among the places around Europe the islands in Greece and Greece itself as a whole are among my favourite family vacation destinations. Wonderful beaches, incredible history, delicious food and hostile people. What else do you need? Also, Hopping on Island by ferry makes it all adventurous proving us the opportunity to admire destinations that are distinct and amazing.
Greece in particular is an easy destination to be at from United Kingdom and any other places in Europe
There are flights that go directly from places like London, Amsterdam, Paris, Manchester, Rome and Oslo to the islands like CreteCorfu, Mykonos, Santorini, Kos, etc. depending upon the time of year making Greece trips easy and quick. Visiting from the United States to the islands of Greece will need 2 flights for sure usually making a connection through Western Europe. But there are a very few cities in North America like NYC and Toronto that have direct flight provisions that also only for Athens. But neither of the cities have the provision of flying directly to the islands of Greece.
The best time for visiting Greece for family Holiday
Starting from around the end of May to the first few days of September has the excellent climate in Greek Island for swimming, beach time, families and of course kids. This time of the year is when the sky is blue, sun is shining and there is a very low chance of rainfall.
A full day seeing Athens' Highlights
Palka's historical sights, Acropolis Museum, Acropolis which are the top attractions of Athens can easily be visited in a single (occupied) day. And on the morning after, getting on the ferry (maximum number if ferries leave between 7-8 am for the islands from Athens) and taking your kids to the beach might just me a perfect plan.
Crete, Santorini and Rhodes are most popular Islands in Greece for its Culture and History
For the best sight of history among all the islands in Greece you must visit Crete (Knossos which is near Heraklion). The Lindos' Acropolis and The Rhodes Town (which is the Middle ages City) belongs to Rhodes. The story of the destruction of the island by volcanic eruption, the caldera and the volcano can be seen on Santorini.
Kids friendly Beaches in Greek Islands
There are wonderful beaches like Naxos, Antiparos, Corfu, Skopelos, Lesvos, Mykonos and Skiathos which are great for families. But the best among the finest beach in Greek Island especially for kids is in Crete which is Elafonisi Beach. Yes, Santorini has a unique set of beaches which are great for swimming but as volcanic rocks compose them they tend to have high temperature in the sunny afternoon.
Kids Friendly Restaurants around Greece
Most of all Greek eateries have family friendly ambience where kids can get pampered and are welcomed in a very nice way. There might be exceptions at places like Mykonos and Santorini as they are famous for nightlife and all but still even those have a number of kids' friendly places. So except for some exceptional cases, you kinds will be more than welcomed at Greek restaurants on all islands.
Tour Guides in Greece
As their national law makes it compulsory for a tour guide to have pursued degree in History of Greece in order to work as a Tour Guide, the guides here are professional. So, when you get yourself a guide you will know everything you intend to from the guide. There are also some sights where you can just find guides around you whereas in other sites you might have to book your guide in advance. Especially if you are vising Athens, we highly recommend you to take a food trip.
10. Plan a Holiday in Greece with Best website 
It's a humble request not to plan a Holiday in Greece simply by booking a package. You might be getting low-rated hotels and worst flights. It is anyway easy to plan your holiday by yourself. You can go to Kayak.com and get best airfares, Hotelscombined and Booking.com for best hotels and go to GTP for schedules.
Do You Need To Book in Advance?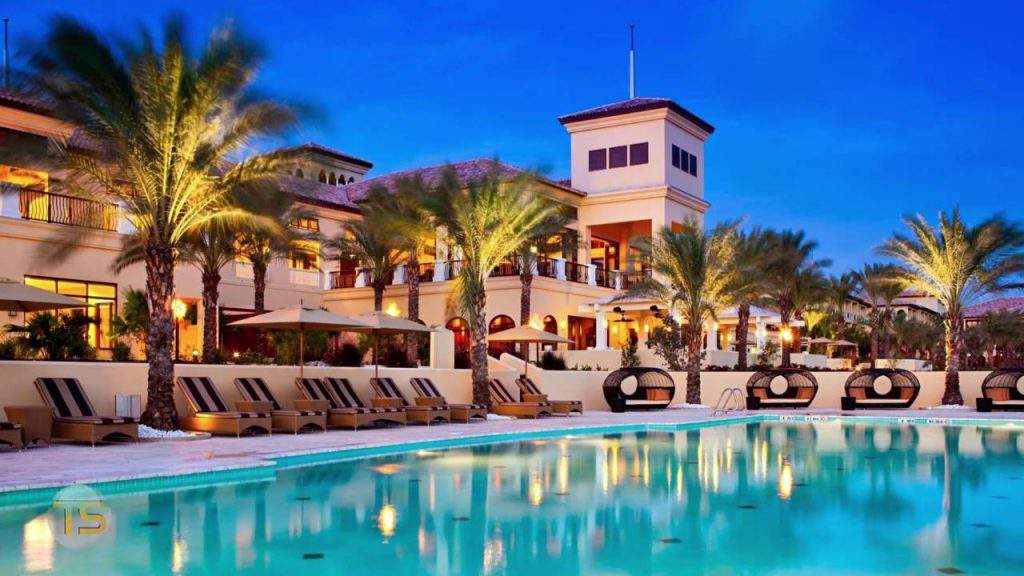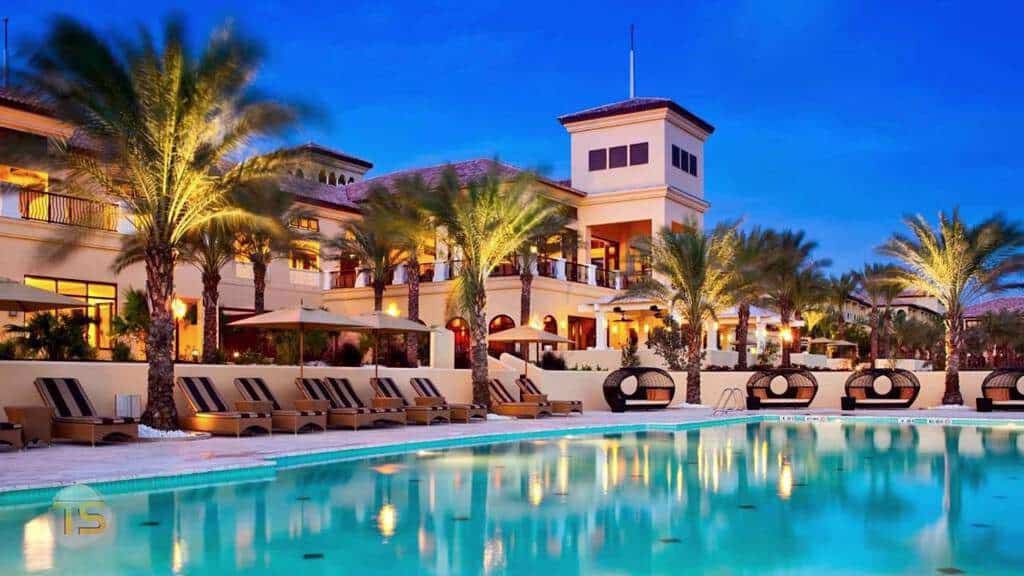 If you are planning your visit on a busy holiday time like for August or in July that also for the most visited islands like Mykonos or Santorini then yes, booking is actually a must. But as you walk away from the popular dates and popular islands it becomes less and less essential to book. So, arriving without reservations on places like Paros or Naxos in September or June will have no problem. But the thing is it's always better to be safe and also, in general, early booking leads you to getting you best prices.
Being on the safe side is always good especially for the first visit to any new place. But also keep in mind that flexibility is also helpful at times. Having flexibility on the things like for how long to stay and being open to choices among destinations is also good. So, try finding a perfect balance. May be you could try booking hotels for a handful of days earlier and then going on with the flow afterwards.
Flexibility might not be affordable in all cases. If your holiday plans are for high season and you feel like you won't be able to afford the flexibility or have a large group of people involved in the holiday plan you must book hotel rooms in beforehand. If you somehow end being on an Greek island with no reservations at all you might have to pay higher bills that would have cost a lot less if you have had reservations.
If you end up in an island with no reservations at all you might end up seeing the owners welcoming the ferry. These will be the hotels within the budget but will still be clean and nice to stay. Even if you somehow end up trying out one of these hotels I suggest you to walk from quay so that you will have to face fewer problems or no problems at all. Also try to make the person pinpoint your hotel on the map so that you do not end up miles outside the town.
Particular considerations to me made while travelling with Family in Greece
Greek Islands can be considered as an easy and mostly fun destination for vacations for families. Special vaccinations are not at all required. The dishes are pretty good in there and there and are kids friendly.
Transportation will also cause no problem to you whether it is by bus, plane or ferry. It is quiet efficient and also comfortable.
The thing that might be challenging is to find rooms in hotels that are suitable for people that are 4 or more in number. Almost all hotels have a small room with 2 beds or even one with a tiny balcony and a fridge of small size. Yes, there exists other option except for this but that will require pre-booking.
Also, if you are planning your visit with a toddler or very small children you might want hotels with special settings for you.
Looking for the time of the year which is the most beautiful to visit Greek Island with family?
The best moths are September and June for sure to go on a holiday trip in Greece. If you need narrower timeline I must say that middle of September is best of the options in the time. By September the climate is just perfect, the water is no longer chilly as in the first few days of summer. However the place starts getting crowded starting from June till August ends. By the starting of September you will see less no. of travellers and you will easily get into best hotels, restaurants and all.
You might also get things your way even in the peak seasons, but, you don't know that exactly. It is always good to be safe. So, you can at least do your booking for your rooms and get prepared for the hustle bustle if you are planning your visit in between July and August.
If you are willing to take some risk with the climate over there you might as well visit Greece on October and May that is if you are aiming for swimming time and beach. But, if you are aiming for hiking, biking or visiting historical places your best choices can be somewhere in the middle of April to June and again late September to first few weeks of November

Getting To The Islands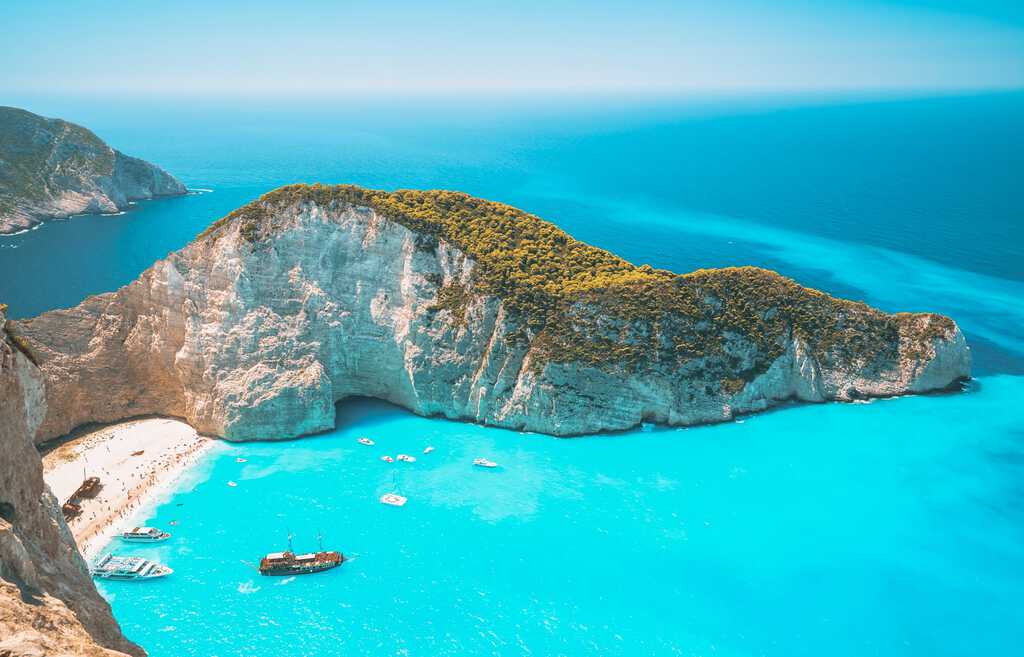 Flight + Ferry
 A fun, adventurous vacation, it is. You could totally travel to Athens, take a tour there and then enjoy magical ride in the ferry to Greek Islands.
The negative part about this might be that it might take a no. of days from your vacation time. So this option might not work for you if you have limited time of a week or two.
Also the schedule of a ferry can be altered due to Cyclades and high wind in August. If there are cancellations for one day or more (very rare but might happen sometimes) you might mess up your itinerary
Direct Flights
The Western Europe's Travel hubs like London, Paris, Amsterdam, etc. tend to have cheapest flights.
Pros: Budget airlines of Europe have the cheapest deals for directly reaching the islands in Greece. Also, if you are visiting from any other continent like Asia, Australia or North America you will actually have a chance of spending some time at your dream cities through transit.
Cons: If you are coming from continents outside Europe it might actually also be difficult. The flights of low cost often are from small regional airports and not where you initially landed. So, getting from 1 airport to there just might take your day. Suppose if the two airports are in opposing directions.
Also, a few no. of islands do have flights directly from outside Greece. In current context, Greece only has international flights in islands such as Santorini, Rhodes, Mykonos, Kos, Corfu, Samos, Zakynthos, Lesvos and Crete.
Athens + Ferry
Pros: You get maximum time on island. Your choices of island increase from inside the country. Also, if your plan is to visit Small Island your only choice is flying from Athens.
Cons: You will definitely miss hopping on island by ferry. Also, you can hop on ferry instead of taking a flight back nice you have reached the island. You can also travel to any other nearby island by ferry. A ferry of high-speed might just take you to places as quickly as the flight
Greece With Italy / Turkey
Ferries are definitely an option from or to Italy and Turkey. Ferries run in between Ancona, Bari, Brindisi and Venice to Greek island. *-12 hours is the time they take and are overnight ferries often, so booking at least a few days beforehand would be good. If you wish for having a sleeping compartment or take some vehicle with you are suggested to book in advance.
Ferries run in between Ayvalik and Lesvos, Cesme and Chios, Kusadasi and Samos, Bodrum and Kos and Marmaris and Rhodeson the Turkey side. The ride varies in length. Rides are approximately 1to 3 hours and booking can be done a day before departure.
A very good itinerary might be: Flying to Istanbul, take a tour to Turkish coast, then travel to Greek Island by boat and then return home from Athens via flight.
Budget Airlines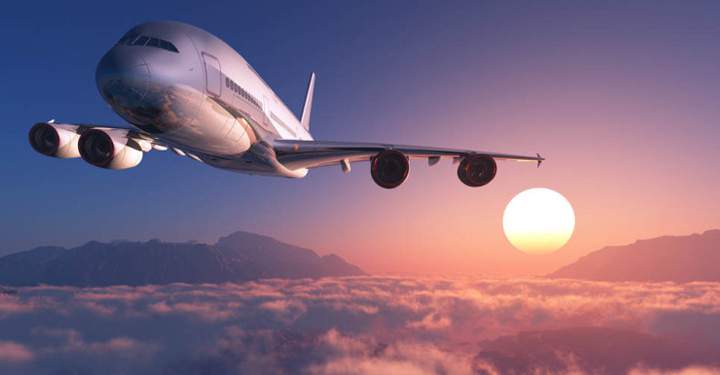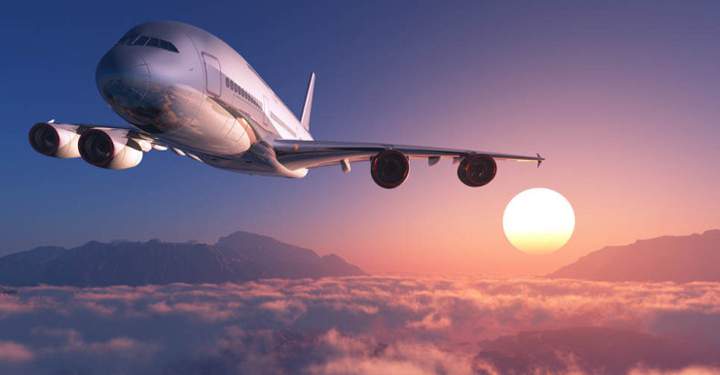 There exist a lot of airlines flying to Greek Islands or to Athens. Below are listed some of them that are the most well-known and have flights to Greek Islands from airports around Europe.
·     Ryanair
·     Air Baltic
·     EasyJet
·     Aegean Airlines
·     jet2
·     Air Baltic
·     Lauda Air
·     NIKI
·     TUI Airways
·     Wizzair
·     Thomas Cook Airlines
·     Germanwings
·     Air Italy
·     FlyBaboo
·     Transavia
·     Norwegain
·     Atlas Global
Greek Ferries With Kids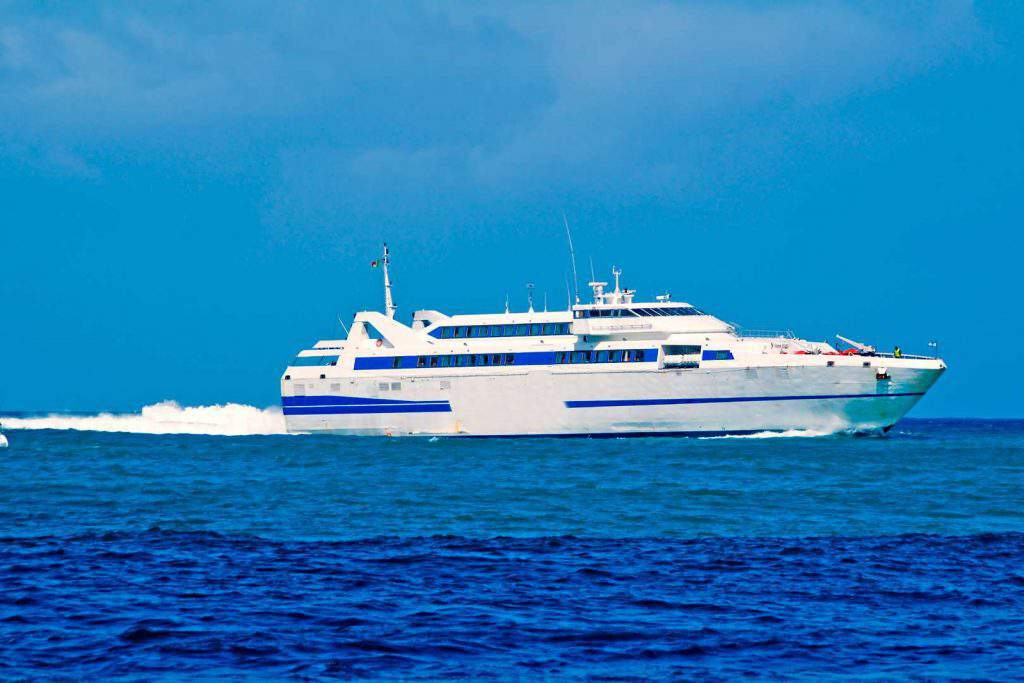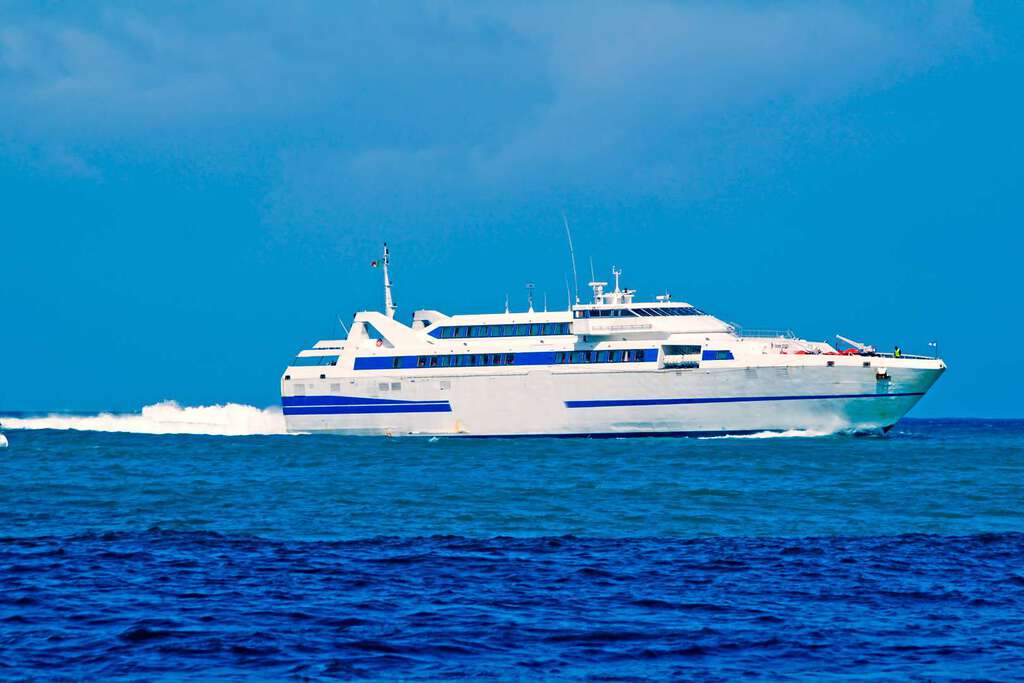 Travelling around the islands of Greece by ferry is with no doubt the most magical adventures on a good trip on the Greek Islands. Hopping in the ferry around the Greek islands especially in places like Cyclades, where islands are too close from one another is found to be a lot of fun, always. Also, if your trip includes moving around the islands then ferry makes it very easy.
Booking the ticket a day before or two is fine for foot passengers. You can just get yourself a ticket and enjoy hopping on boat the next day. But, ferries from Athens or near it require booking few days earlier, early especially in the high season. You will find local agents for that purpose. If you are present in Athens a small no. of days earlier for you travel to Greek Islands then you are suggested to pre-book your tickets. You can book your tickets with any agent of any travel agency that you meet while visiting around Athens. Signs can be seen all around to buy tickets for ferry t so you don't need to worry about it at all.
It gets more difficult if you are taking more than just a few hours trip on a ferry. So if you are planning for a longer ride then you may have to consider the following things
You might as well take some catamaran or any ferry of high-speed. For that you will at least have to do the booking at least before some days in advance. You might as well need shipping cabinet. For that to you are required to book at least a some weeks early.
 You might also want to take some vehicle with you on board. So, if you are planning to do so I highly recommend you as the spots are less in number to book it in advance so that you will have no problem later on.
 Planning a vacation in Greece can sometimes be tricky because of ferries schedules I never released in advance Buying tickets of ferry from other than the country itself is not be as simple as you think it can be. As the schedules are not released more than a month or two before this makes it very difficult in finding out the scariest and buying tickets online from outside the country. This can get very confusing.
Ferry tickets for families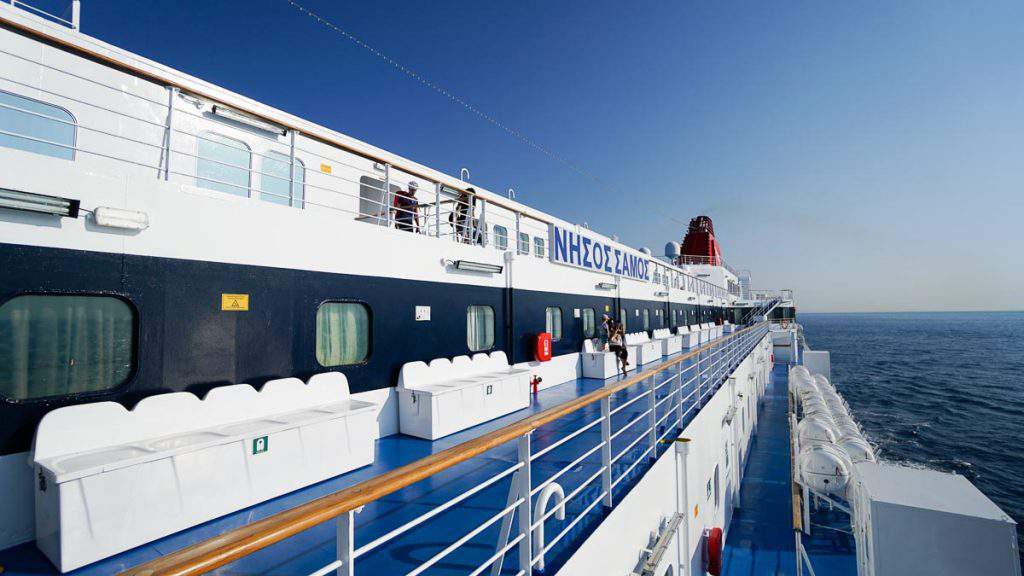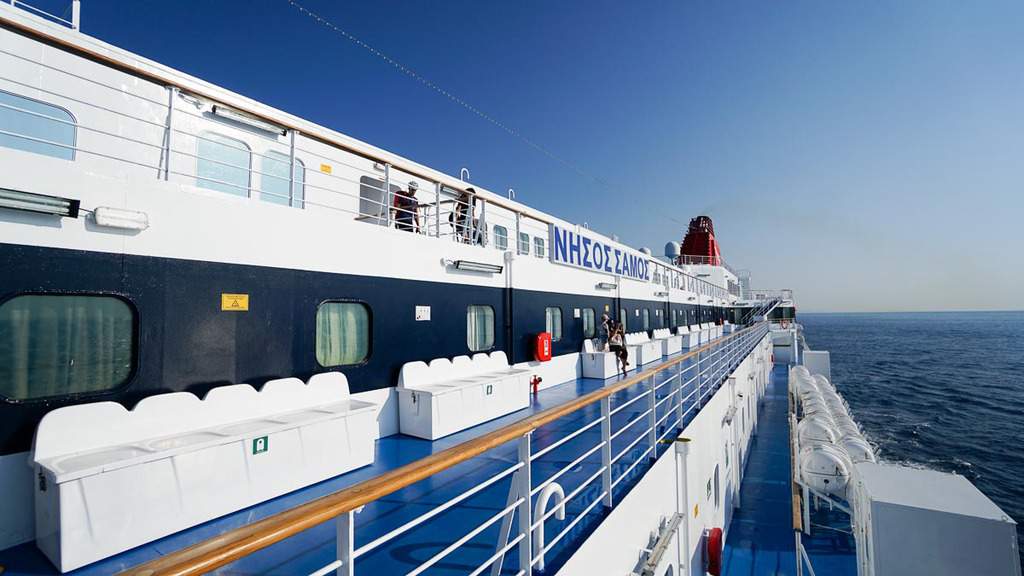 ·     As the government sets the price, the prices for two similar fairies will not differ between two destinations but amenities and speed services can change greatly between different companies and ferries.
·     Even if the season is winter, you can always find minimum of one fairy a day that connects most Islands from Athens.
·     Downtown Athens is connected by subway with the help of the Piraeus port which makes getting too very easy and cheap.
·     Figuring out which port to go to is not an easy job for a person doing it for the first time. It can get confusing so you can start by planning to be on the port before an hour of departure so that even if you get confused you can at least reach there on time.
·     You'll also find many places where you can buy snacks to eat before getting on the ferry of your choice.
·     The port is connected to the airport through suburban train where the boat leaves for the Islands in Greece. But if Athens is where you are flying to, you do not need to reach there, you can bypass it easily.
·     The maximum number of ferry going to the island leaves extremely early with sunrise, so it is better to stay the in Athens at night.
·     Flying of Dolphin hydrofoils or ferries of high-speed are very expensive. They are double the cost of a normal ferry.
·     Tickets can be bought to any destination on any fairy. This might be a problem only if you are doing so on the ending of July or the first half of the month August, especially on the days when Greek islands are pretty full of people.
·     If your ferry trip is long enough and you are staying overnight then cabins might be a better option
·     Checking of the series schedule closely while returning is necessary especially if there are some other small islands left to visit. They might just have a ferry in a day, hence the destination might also not be where you want to go.
·     It is also a very common mistake that people make, thinking that ferries do travel between any two Islands around Greece. Ferries happen to have their own groups around which they travel.
·     June to September is a high season time for the Greek Islands so you can find boats going around all the popular islands around Greece. However, there are fewer boats in winter but the departures will happen all year long are as follows:
Ferries that leave early morning
·     From Piraeus to Tinos, Syros and Mykonos
·     From Piraeus to Naxos, Ios, Santoriniand Paros
·     From Piraeus to Serifos, Milos, Kythnos and Sifnos 
Overnight ferries that leave in evening
·     Around Hania of Crete from Piraeus
·     Around Heraklion of Crete from Piraeus
·     Around Rhodesand its neighbour islands from Piraeus
·     From Piraeus to Chios and Lesvos
Sites that provide you with schedules of ferry for Greek Island:
Sites that allow you to book ferry tickets
Island Groups in Greece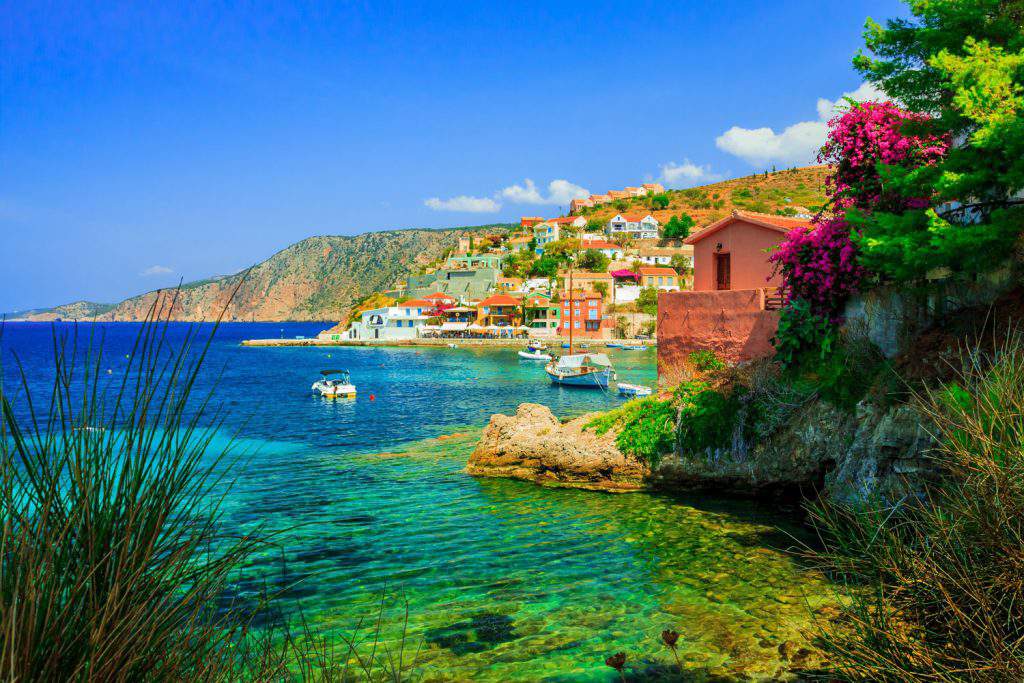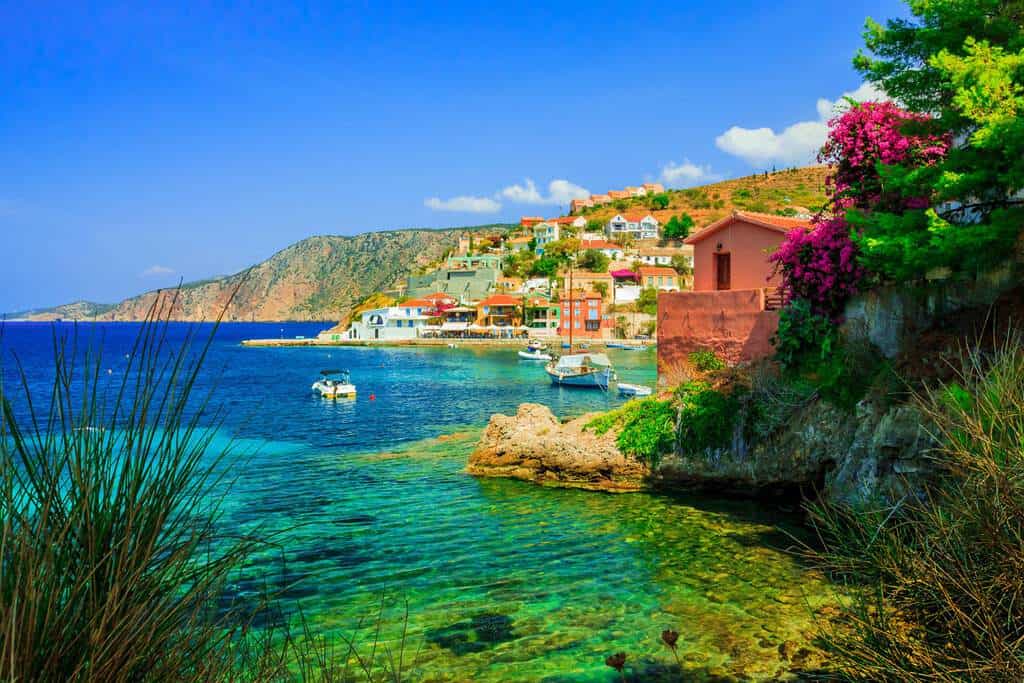 The islands in Greece are categorized in several groups. The reason behind this is partly administrative and partly historical and geographical. Transportation availability within the group is more common than transportation availability among two different groups. It is not ok to assume that the two neighbouring islands tend tol have frequent number of transportation availability if they belong to different groups of Islands. Among the popular groups of island for tourist some of them are as follows:
·     Saronic Islands – Only a small no. hours away from Athens. Poros, Hydra, Agena and Spetses are some of the mostly visited islands of this group.
·     Cycladic Islands-  They lie in between the Sea of. Aegean Ios, Naxos, Milos, Mykonos, Santoriniare some of the most visited islands.
·     Dodecanese Islands- lying on Turkey's coast, on the South-western side. It is10-18 hour's travel on ferry. Samos, Lesvos, Chios are some of its popular islands.
·     (Northern) Sporades- contains north-east section of Aegean and is close to Istanbul and Thessaloniki. Popular islands in this group are: Skyros, Skopelos and Skiathos.
·     Crete– The largest of all islands in Greece so it has its own group of island. It's about 10-15 hour ride from Athens by ferry. Hania, REthymno and Irakilo are the main islands here.
·     Islands in Ionia: The group lying in west Greece. About 1 to 2 hours travel by boat from the ports in western Patras and Igoumenitsa and more than a night travel in ferry from Brindisi or Bari in Italy. Kefalonia, Zante and Corfu are
Tips & Tricks
Best time to visit Greece for wonderful weather: From June till September
Most occupied months: starting from July till August, specifically from the middle of July to the last of August
 Most affordable destinations: Ios, Lesvos, Naxos, Chios
Electricity power: 50 Hz, AC power supply of 220 volts. round 2 pin plugs are used as outlets
Best time for buying tickets for Greece: If you have pre planned your holiday long before it starts and have time to purchase the tickets on the discounted price then go for it else wait for the prices to drop if the people going on vacations are planning for other destinations.
Itineraries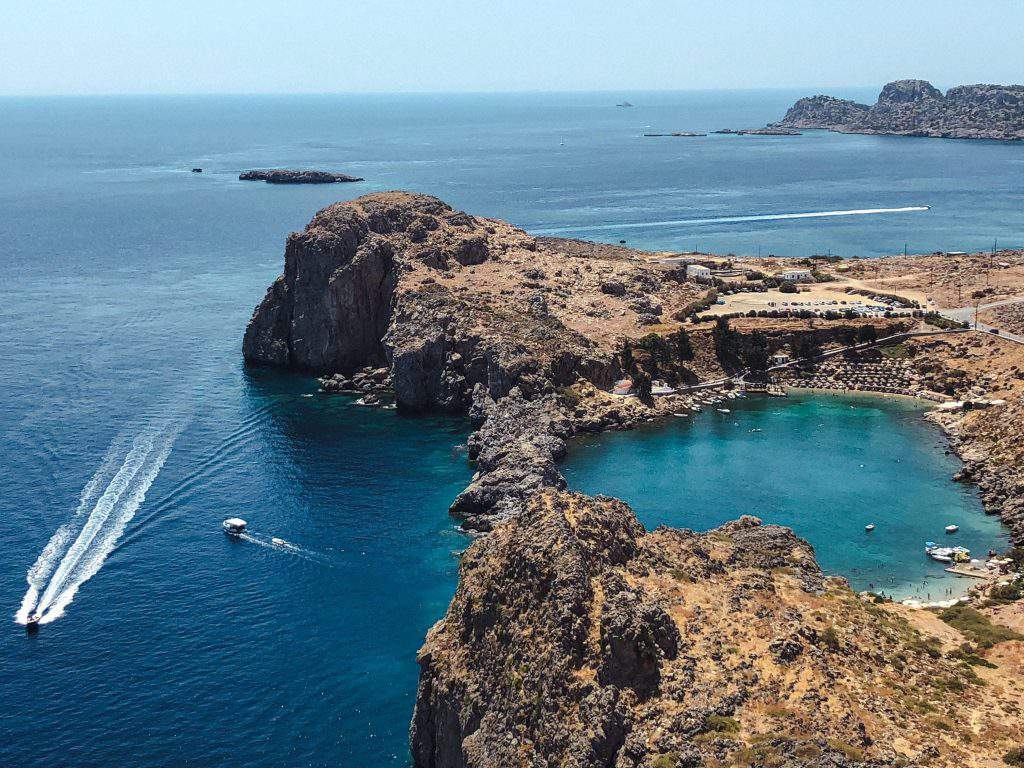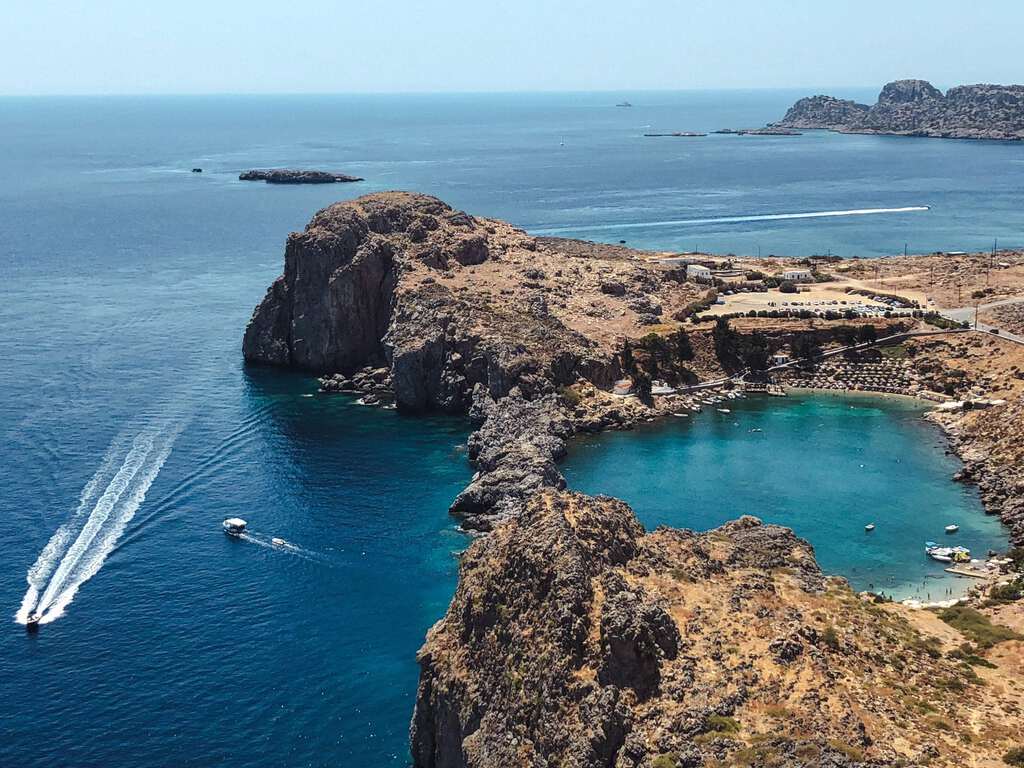 1 Week Itinerary
 Visit to at least 2-to three Islands maybe around Cyclades as they are closer to the earth ends and the ride in the ferries from Island to another is short and cheap and also the tickets are easily available for booking. Santorini,Naxos, Milos, Mykonos, Paros, Folegandros are the best among the ones in Cyclades. You can always end your trip spending one day at Athens.
2 Week Itinerary
You can follow the one-week itinerary from above and then spend The other week in Crete
1 Month Itinerary
Samos or Lesvos around the Islands of Aegean can be the places from where you can start your trip using a direct flight from Athens or you could also use the ferry. Move to the Dodecanses after spending one week in the Islands to spend a time of around 7 days inRhodes, Karpathos, and Ikaria. Then you can do as recommended in two-week itinerary.
Island Hopping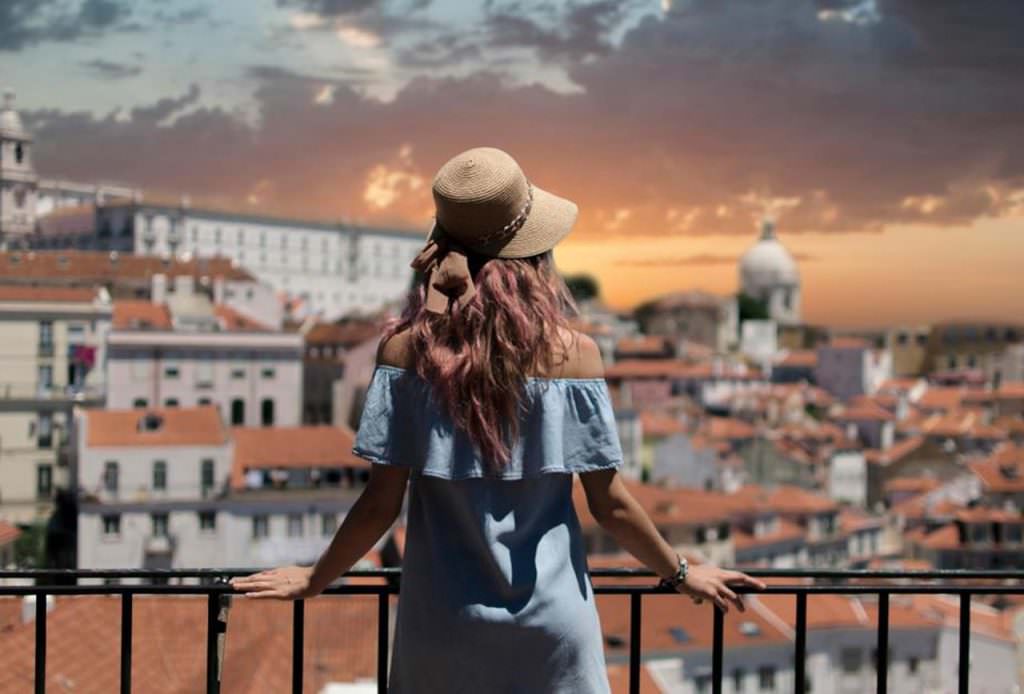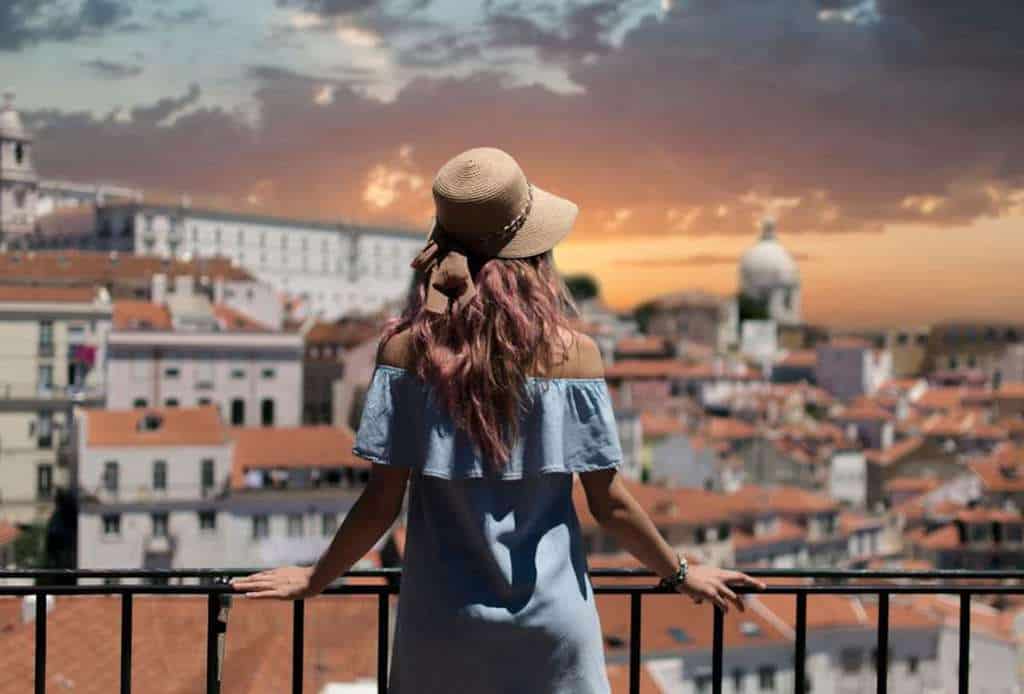 It is all about Island hopping. As Greece contains a large amount of great Islands a visit to at least 2-3 Islands is a must. So don't limit your trip to an island and explore more as much as you can.
But be careful do not visit a large number of Islands. You must keep in mind that 2 nights at a minimum is required to get the feeling of being on an Island. So don't rush yourself so that you can visit a large number of Islands.
Crete is an exception because it is a huge Island and you will need at least one week to visit this Island well. So if you are on a pack- schedule and you want to visit a large number of islands then Cretemight just not be the finest option among all. It is far away from Athens and consumes time to visit around because of its size This Island has the combination of all: art, culture, beaches cities, ports everything. You won't even know how the time flew while visiting this place. Only when you have a minimum of ten days or more you can go and see Santorini– the closest neighbour.
Keep in mind that restaurants and hotels on most of the islands are closed in the cold winter months. You will definitely find a few open places but remember there might only be a few number of them. If you are visiting the islands that are less popular then they might closed even before than the popular ones. The popular Islands may start to close by middle of November and re-open again from the late March whereas the less popular Islands might be down from September itself and be closed up until the middle of May.
Regions in Greece
Northern Greece: Not to be ignored- The places around Northern Greece might not be famous as the south and destinations but they do have beautiful destinations that are looked up as a best vacation package. If quiet places are what you are looking for then trust me the northern part is your best option.
Combining Greece with the neighbouring country is considerable: Turkey or Italy may just be the best options for combining the tour with Greece .You can travel to Greece from these countries by boat overnight. There are good circular routes from northern Greece's Thessaloniki, Istanbul and popular coasts and beaches in Turkey to the Aegean islands and the Sporades.
Wind in summer can get intense, around August especially around the Cyclades. On the southern island coast, the wind is felt originating in the north. Particularly Nexos has a large number of beaches that are protected which are located on the South Western coast.
Same places and islands might have different spellings-This is mostly because of the existence of variations between the Greek and the English names. Some of them that are the cause of many people's problems: Zakynthos and Zante is in fact same island, Kerkyra is Corfu, Thira is Santorini, Chania is also Hania. And Iraklion is also Heraklion.
Moreover Salonika and Thessalaniki are in fact the exact same city. Also Athens is use as an alternative to Piraeus while talking about routers of ferry.