Athens To Santorini – How To Get From Athens To Santorini?
Have you ever been to Athens and fallen in love with the city, but also wanted to see more of what Greece has to offer? Well, Santorini is the perfect place to visit next! Check out this guide on how to get from Athens to Santorini. It includes all of the information you need, like how to buy tickets and what time the ferry leaves. So, whether you're planning a trip or just curious about how it works, keep reading for everything you need to know.
How to get from Athens to Santorini? The two main ways to travel from Athens to Santorini are ferry and flight. Riding a plane is the quickest and most hassle-free transportation to Santorini from Athens. Travel time is just 45 minutes. Ferries do take  about 5 to 8 hours in the sea but they offer the stunning scenery of the caldera and the cliffs as you get near Santorini.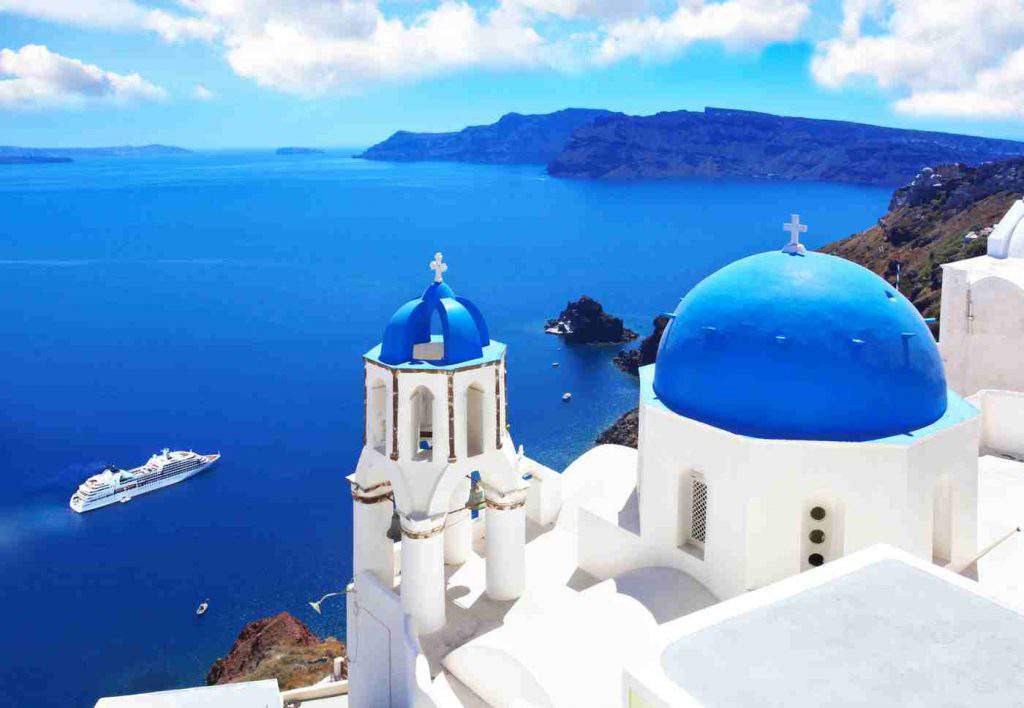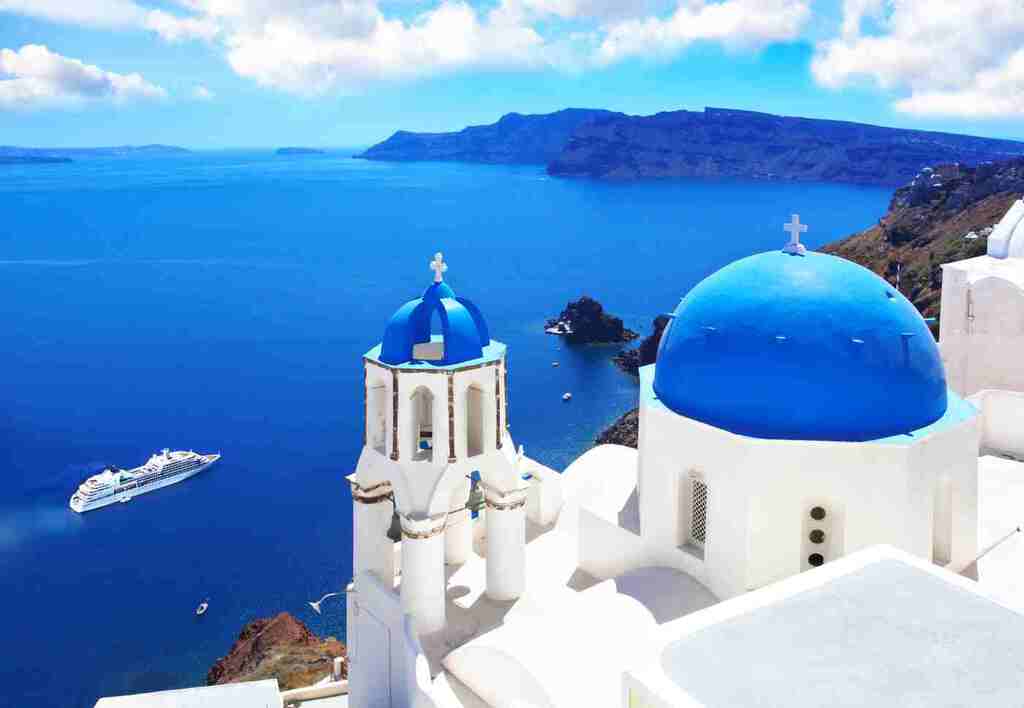 It takes about 45 minutes from Athens to Santorini by flight. The plane lands at Santorini International Aiport (about 25 minutes to Oia and 10 minutes to Fira). Flights are priced at about $40 to $175. During the summer, at least 4 ferries a day sail from Athens to Santorini. Travel time is about 5 to 8 hours. Tickets are priced at €20 until €76.
If you'll gonna be riding smaller ferries particularly from July until September, you can book your tickets at least one to three months ahead of time as seats could get sold out pretty quickly compared to the conventional ferries. 
Athens to Santorini by ferry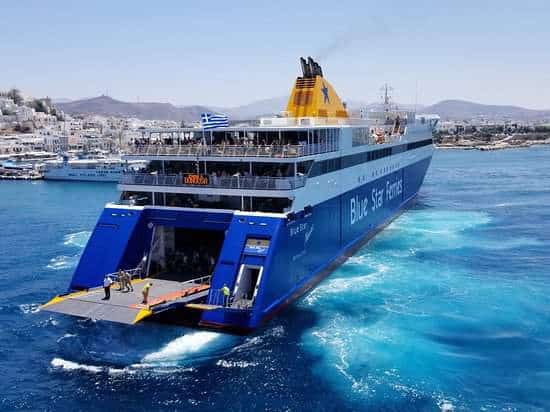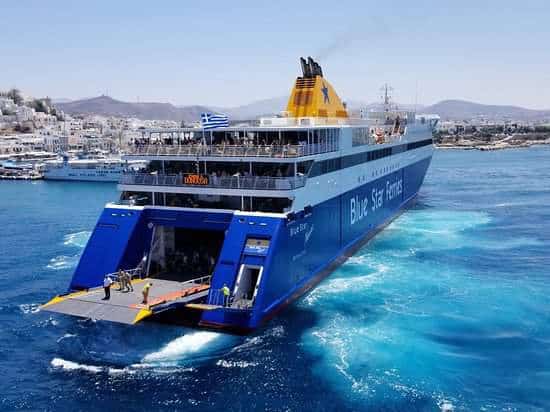 Blue Star has a daily ferry that ply the Athens-Santorini route althroughout the year. It regularly departs Athens around 7:30 in the morning. Towards the end of March and beginning of April, highspeed ferries of Hellenic Seaways and SeaJet  will run the Athens-Santorini route as well. During the summer, at least 4 ferries will be available daily for Athens-Santorini route. To purchase tickets ahead of time, head on to FerryHopper.com.
So which ferry is the most ideal to ride when going to Santorini from Athens? 
The top choice is Blue Star. It has an early morning trip to Santorini that leaves at 7:30am from the port of Piraeus. Being in the subway to Piraeus port at 6:30am gives you enough time to catch your trip.
Blue Star also has open-air decks with space for you to roam around and see the stunning views of the caldera and cliffs as you approach Santorini. If you are in for the view, Blue Star is for you. The trip is long but the scenery can make up for it.
If you are going to book in advance, purchase tickets straight from Blue Star. 
Highspeed ferries to Santorini from Athens are the quickest option. It just take around 5 hours. However, the space is limited and you have to stay seated for the duration of the trip unless there is a stop-over in a port. Outdoor decks are not available so you have to settle for the view from the windows which is limited and blurry.
It is recommended that you book your tickets for highpeed ferries in advance as seats get sold out quickly particularly for montgs of July and August. 
Unlike in larger ferries like the Blue Star, tickets on highspeed ferries do get sold out faster especially during peak season. Make sure to book ahead of time. In general purchasing ferry tickets is convenient once you are in Athens or has arrived in Greece. Go to any tour office at least a day prior to your preferred travel date. The prices are government-regulated so they are just similar for all tour offices.
There are luggage compartments where you can store your baggage upon  entering the ferry. There are also luggage compartments inside but you need to bring your things all the way up into the stairs.
Which is the most affordable transportation from athens to santorini?
Large ferries such as the Blue Star are the most affordable. Next are the highspeed ferries. Flying costs the highest. However, plane tickets purchased early may cost just a little more than highspeed ferry tickets. 
Riding a plane may seem the quickest option but if you consider the time you will spend getting back at the airport and complete security, flying is just 2 hours faster than a highapeed ferry. 
Olympic Air and Aegean Airlines both fly to Santorini from Athens. 
For those who won't explore Athens, you can also spend less time traveling if you just transit through Athens International Aiport and from there fly straight to Santorini. 
Do I need to buy my ticket  ahead of time if I plan to ride a ferry to Santorini from Athens?
Purchasing ferry tickets ahead of time is unnecessary as tour agencies in any Greek island sell tickets. 
However, during July and August, highspeed ferries to get sold out pretty quickly. To reserve your seats, I highly suggest that you book your tickets a week before your trip. For months of July and August, dedicate at least 2 days before your trip to purchase your tickets for Blue Star. Preferably buy it in person from any tour office in Athens over booking online. 
Buy ferry tickets ahead of time from the online sites of Hellenic Seaways, SeaJets and Blue Star to avoid the additional fee that tour offices add on the original price of the ticket. 
But if you'll gonna be in any of these 3 situations, booking your tickets ahead of time will be the best option:
Your travel dates fall on the same week as August 15 as it is a major Greek holiday. The locals come back to their home islands and towns. Ferry tickets get sold out immediately so make sure to book your tickets some days before.(Disclaimer: I was able to secure tickets even if I've commuted through a ferry on this holiday in the past). Another peak season is Easter.
 You are going to bring a car, purchase your tickets in advance as vehicle compartments are limited and get sold out immediately.
 You're gonna be sleeping in a cabin, you might want to book tickets ahead of time to secure your spot. 
How does economy class differ from other classes such as  cabin, business and VIP?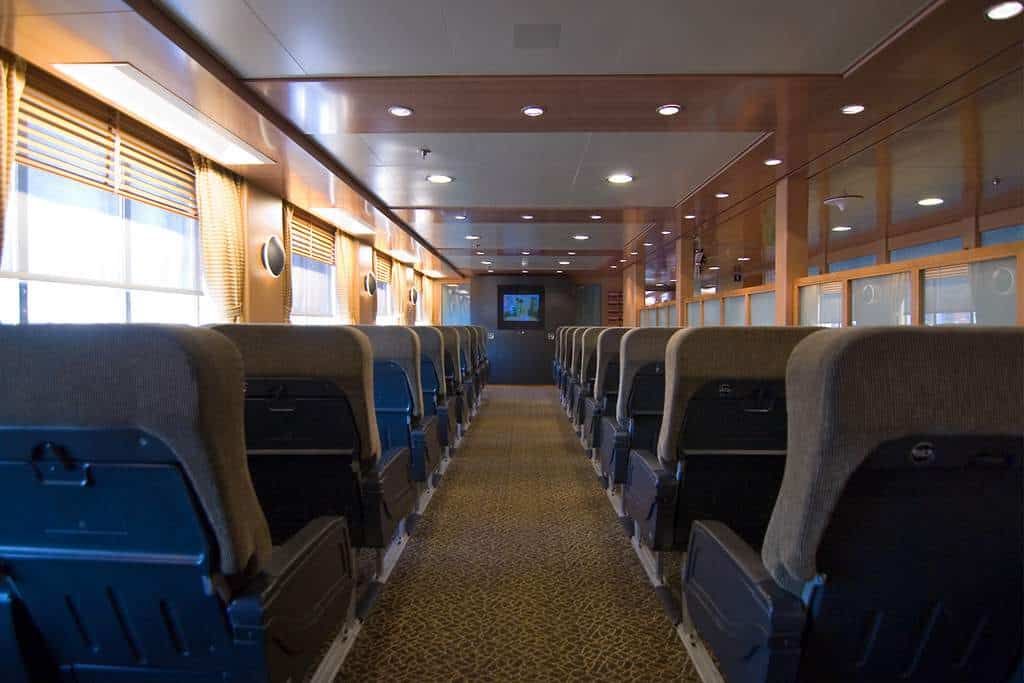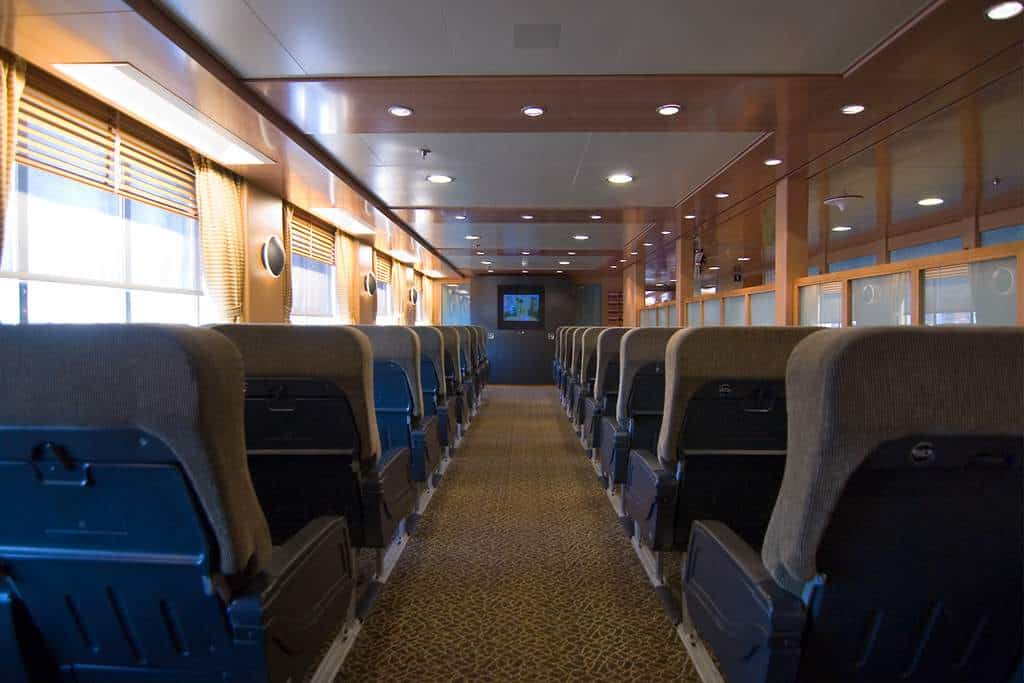 For large ferries like the Blue Star: The open-air deck, outdoor seats, cafes and restaurants are accessible to passengers in the economy class.
Tip: It is worth upgrading into reserved airplane-style seat for an additional €4. Or else, you might have to find a an available seat or stand up.
If I'm traveling in the months of July and August, I would surely book these special seats in economy.
Is buying seats in business class for a ferry bound for Santorini cost-effective?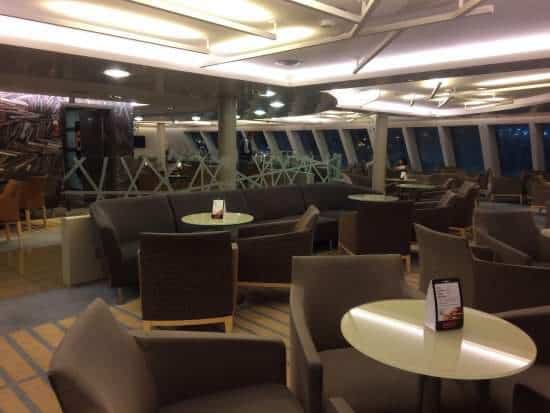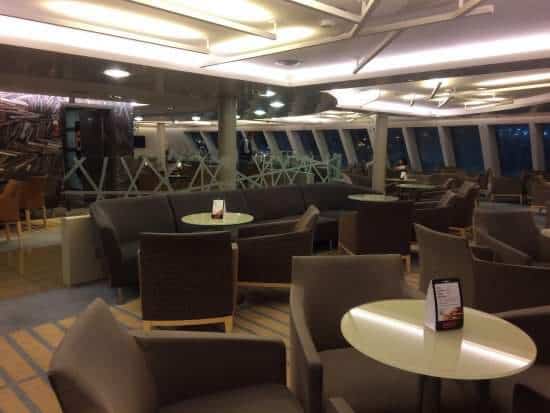 If you're gonna go business class do it when you are going to ride a SeaJet ferry. 
Flying your way From ATHENS TO SANTORINI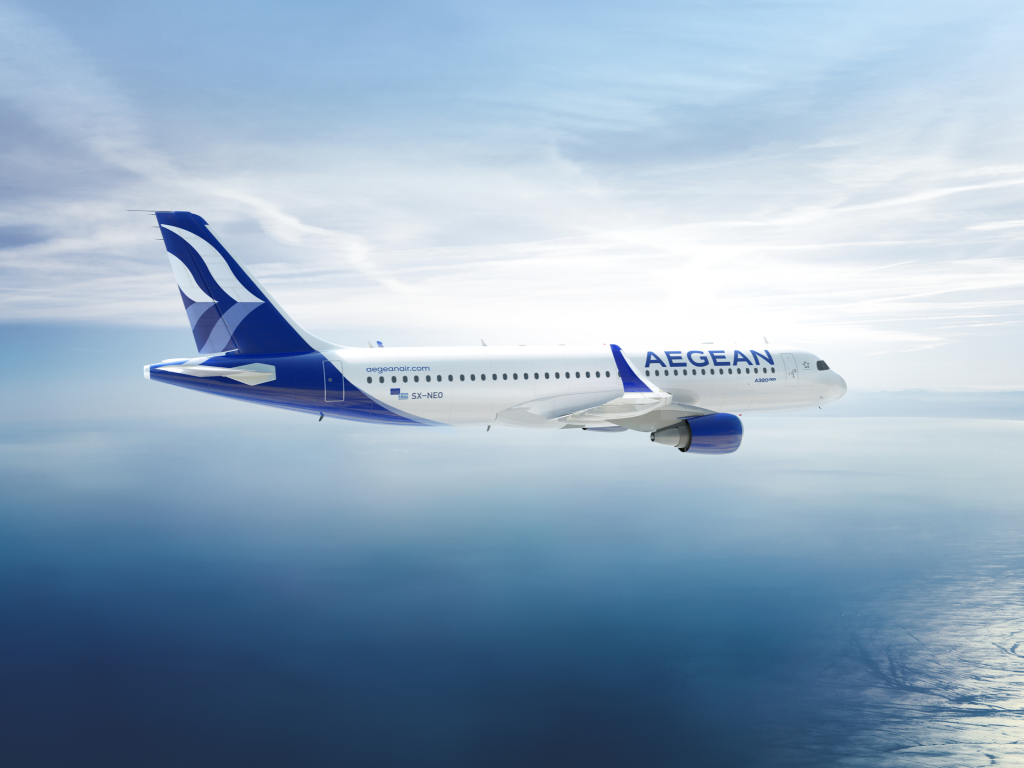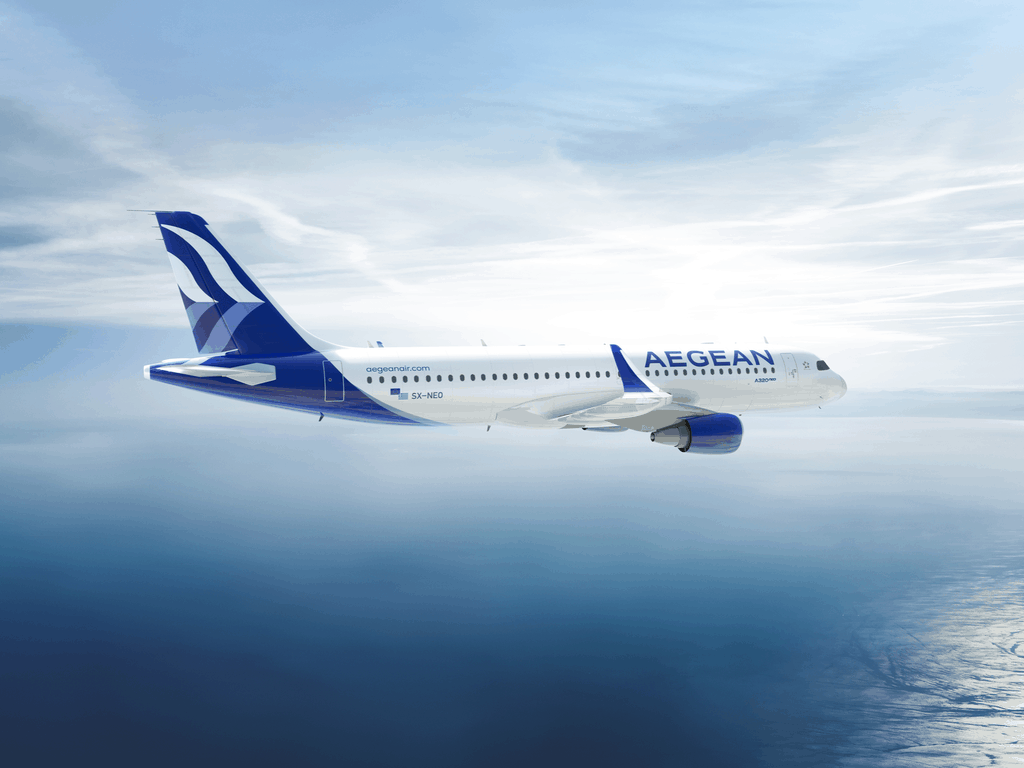 There are regular flights  everyday for Athens-Santorini route available all throughout the year. More than 15 flights daily will be available particularly in the months of July,  August and September. Major airlines  that fly from Athens to Santorini include Olympic Air, Aegean Airlines,  Ryan Air and EasyJet. If your travel plans are pretty much set, book your flight early on as plane tickets get sold out faster than ferry tickets.
Suggested Day Tours and Side Trips to Santorini from Athens
Athens and Santorini Holiday (2 Days)

It is an organized travel package that will lead you to Santorini from Athens without the hassle and in a very affordable price. Package inclusions are Blue Star return trip tickets for Athens-Santorini route and vice versa, hotel transfers for both cities, and overnight hotel accommodation (3-star rated in Santorini) with complimentary breakfast, The hotel is commonly located in the beach resort town of Kamari. The beach is nearby. There are nightlife, stores and restaurants available. A free and easy one day Santorini island tour is also included in the package. Guests can visit the historical site of Akrotiri, Fira, Imerovigli and Oia. 

The travel package is ideal for those who want to have a worry-free vacation without the burden of spending too much money in both Athens and Santorini. However, you always have the option to reserve accommodation and avail ferry tickets on your own.
Find out more about getting to Piraeus Port from Athens International Airport.
Find out more about getting to Piraeus Port from Athens City Center.
Physical Copy of Ferry Tickets
Piraues port has dedicated ticket booths for Hellenic Seaways ( right) and Blue Star Ferry(left). You can ask the cab driver to drop you off in front of the kiosks. Coming from the metro station, these booths are readily visible. Online booking must have a bar code or else you still have to retrieve your physical tickets. 
Important Information about Ferries in Greece
Travel time to Santorini from Athens is at least 8 hours in a large ferry and about 5 hours in a highspeed ferry. 

No walk-in passengers. Purchase tickets days before the date of your travel. Ticket booths are beside E7, a short distance from the X96 bus stop and the train station. 

You can buy tickets from Aktina Travel Agency in Athens International Airport arrivals section. This is ideal if you'll be touring Athens first for some days. This saves you time from purchssing tickets online and picking up the hard copy of your tickets. 

There are no round trip or multi-trip tickets available. You can only purchase one-way tickets separately.
Price of Ferry Tickets
Blue Star- Economy(€38), VIP(€53) and Cabin (€69)
Highspeed Ferry-  Economy(€60), Business (€63) and VIP (€76). There is an additional 10% on the ticket price if arriving on Piraeus on a Sunday or Monday and leaving Piraeus on a Friday or Saturday. 

The most ideal online site to book tickets is FerryHopper.com. You can also directly purchase from the company websites of ferries.  

GTP. GR is the best online site to check for the current ferry timetables. However, booking directly to the ferry company is more convenient. 

Piraeus is the nearest port to Athens. It's 30 minutes from the city through the metro. The port for ferries going to Mykonos and other Cycladic islands are at gates E6 and E7, just in front of the metro station. The ferries are clearly visible. Just go with the group of people.

Rafina is the other port. It is more preferable for travelers from the airport. It has less ferry schedules than Piraeus but it is a better jump off point to Mykonos. From the airport, ride the bus across the Sofitel Hotel. No need to purchase tickets from the booths, just hand out the €3 in the bus. 

The Greek name of Santorini is Thira.

Large Ferries – Also known as car, conventional or slow ferries. They have the most common transportation to Mykonos with Blue Ferries having the consistent daily departures at 7:25 am year-round and at times have a late night ferry as well. The ferries carry both passengers and cars. They have open-air decks and can survive through choppy waters.  

Highspeed Ferries- Include Hellenic Highways' Highspeed 4, 5 and 6 and NEL Highspeed. These large enclosed catamarans are faster and more expensive than car ferries. The windows are wide but blurry. There's no deck. And the ride can be rough during bad weather.

SuperJets and SeaJets- Smaller in size and bumpier than highspeed ferries. Large and highspeed ferriesbare safer. 


Flying Cat – Known as Cat4, Cat5, Cat6. Cat4 ply the Santorini-Mykonos route and in some instances  Athens-Cyclades route. Expect a rough ride during bad weather. 

Sea sickness- You'll be much better off in the bigger Blue Star ferry as it offers a smoother ride than the latter ferry types.

Cancellations due to bad weather- Trips can get canceled one or two consecutive days particularly during the windiest month, August. Here is when Blue Star gets reliable as it seldom gets cancelled even if sea is choppy. 

Meals while onboard- Cafes, restaurants and class lounges are available in all ferry types. There are 24/7 food stalls just in front of gate E7 where you can buy snacks before boarding the ferry.
Gate E6 is for ferry of Blue Star bound for Santorini. 
Gate E7 or E8 is for HighSpeed 6
These gates are in front of the train station of Piraeus.
When you get off the subway, go towards the metro station's exit then walk to the left. The Hellenic Seaways and Blue Star ferries for the Cycladic islands are in E6 to E8 gates. They are clearly visible as most people coming from the train station go there.
Airport bus, train station and ferry port in Piraeus. You can notice the old walkway that marks the ferries for Mykonos and Santorini. 
Suggested Accommodation close to Port of Athens
Piraeus is the nearest ferry port from Athens city center. It can be reached by subway within 20 minutes. As departures of most ferries can be as early as 7  or 8 o' clock in the morning, passengers tend to  think that they have to spend the night before  in a hotel in Piraeus.
However, this is unnecessary. You can stay in a hotel in Athens city center particularly near Monastiraki station. Food places are plenty around the Monastiraki station. Acropolis and Plaka are just nearby. Also as early as 5:30 am, the subway is open. This is more than enough time for passengers to reach Piraeus. Piraeus is not as vibrant as Athens. It is advisable to only spend the night there if you have a late flight and you want to rest a bit before the early morning ferry trip.
To get directly to Piraeus, ride the X96 bus from the airport. 
A for Athens Hotel (Level; Moderate; Location: Athens City Center) – Just a minute away from Monastiraki station, this fabulous hotel is in front of Monastiraki Square. 
Plaka Hotel (Level: Moderate; Location: Athens City Center) – Its interiors are comparable with A for Athens but has better exterior. It's location is less crowded.  Travel time to Monastiraki metro station is just 3 minutes.  
Piraeus Theoxenia Hotel (Level: Moderate; Location: Piraeus) – The most chic among the hotels in Piraeus. The port is just 5 minutes away. 
Triton Hotel Piraeus (Level: Budget; Location: Piraeus) – Even if there are more affordable hotels with similar small rooms and bathroom) in front of the port. Triton Hotel remains a better option even if it is 3 minutes away by walking in another block.