Staying in Miami is pretty expensive. Thanks to its good climate all year round, prices are always regular (and high). However, since it is such a big city, it is very important to choose the right area. Depending on the type of trip you want to make, one thing or another will suit you. In this post we tell you the best areas and hotels to stay in Miami.
Where To Stay In Miami: Best Areas And Hotels
South Beach, if you like to party on the beach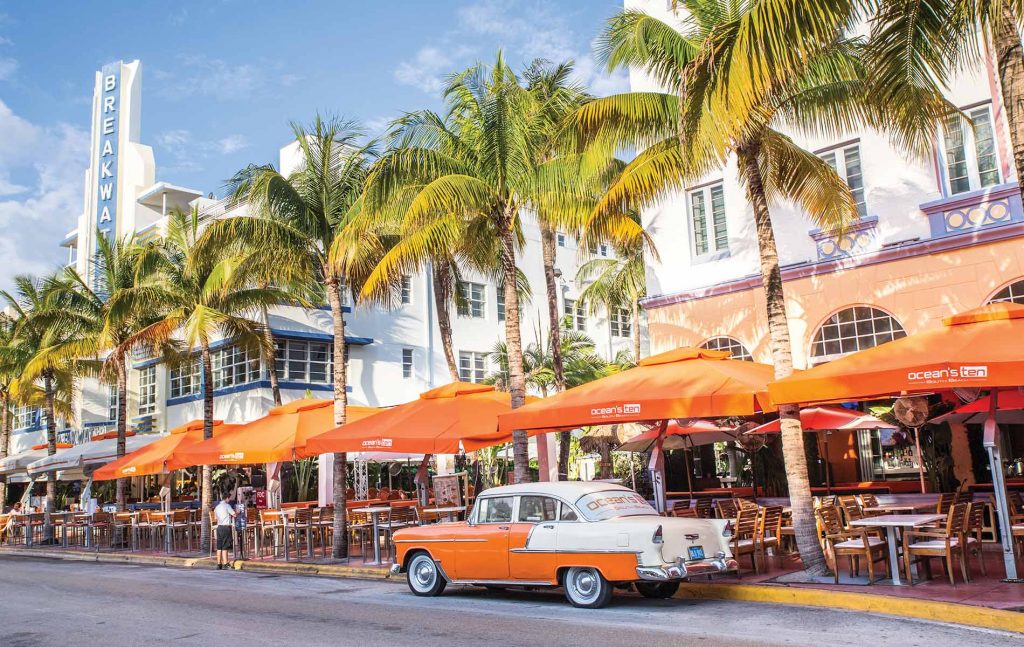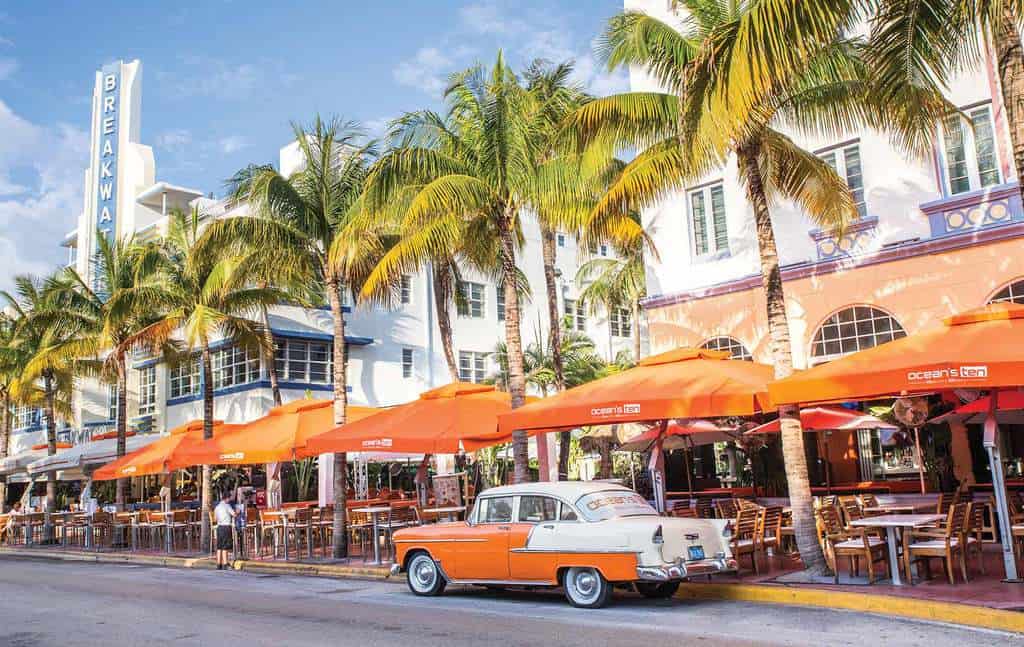 South Beach is the most famous and lively part of Miami. On Ocean Drive there are many bars and clubs where you can party and spend a lively night. So if you like to party, we definitely advise you to sleep in South Beach. Besides, sleeping there you will have the beach right in front of you. It's true that the water in South Beach is not bad, but we wouldn't come here for a vacation: the beach is full of people and you don't get any peace of mind. The farther away from Ocean Drive, the better.
South Beach is the most expensive area to stay in Miami. You've got the party and the beach, so this ends up paying off.
Also, the Art Deco district is beautiful and worth a visit. Although to fall in love with this area you don't have to spend the night. So if you're not planning on going out or going to the beach every day, we think there are better areas to stay in Miami considering the value for money.
The best hotels to stay in South Beach
1 South Beach Hotel
W South Beach
Ithaca of South Beach Hotel
Brickell, the best area to stay in Miami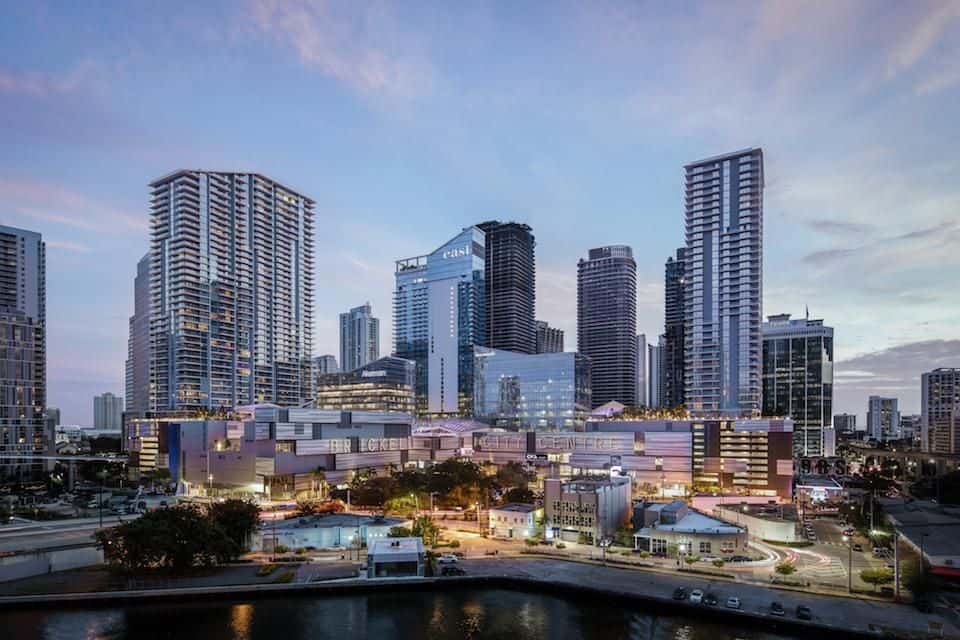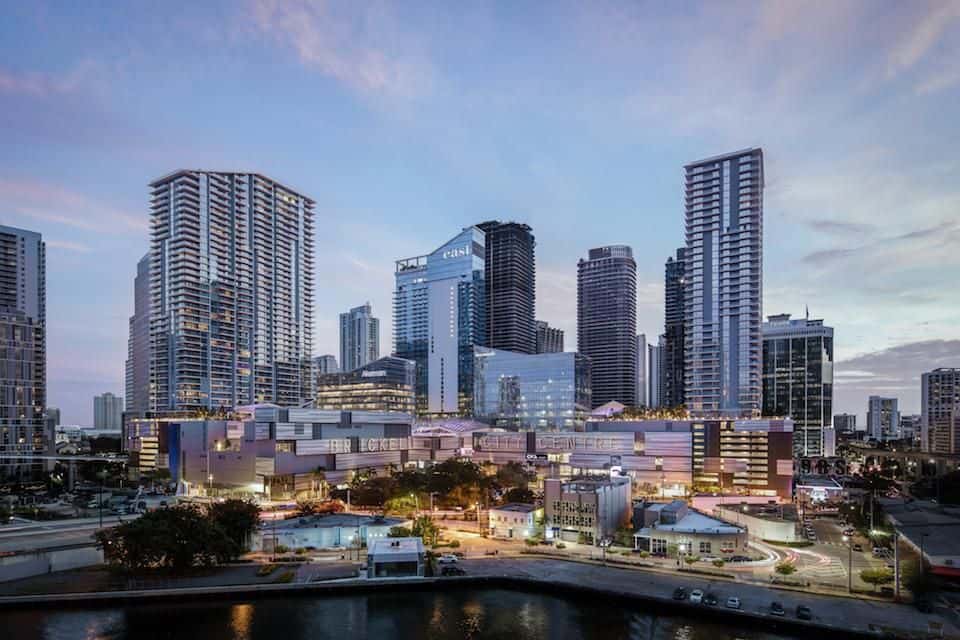 And Brickell is just one of those areas. It's where we stayed and, frankly, we recommend it. It's our favorite part of town! It's Miami's financial district but at the same time it has a more than acceptable shopping and nightlife. Among its attractions is the Brickell City Centre, a nice shopping mall where you can spend the afternoon shopping and many restaurants and rooftops where you can have a drink.
Although there are no hotels or cheap areas in Miami, in Brickell you'll find very good accommodations at reasonable prices. It's also a super safe area to stay in Miami. In Brickell you can take the MetroMover (a free train that moves around Downtown) directly. Therefore, if you don't travel by car you can move around the city for free.
We recommend Brickell for the quality and price of their hotels and also for their peace of mind and good atmosphere. The location is good, you can perfectly reach downtown on foot and by public transportation to South Beach. Also, getting from the airport by train is very easy, it takes only 30 minutes.
Our recommendations in Brickell:
Hyatt Centric Miami
East Miami
Fortune House Hotel Suites
Downtown Miami, a rather expensive alternative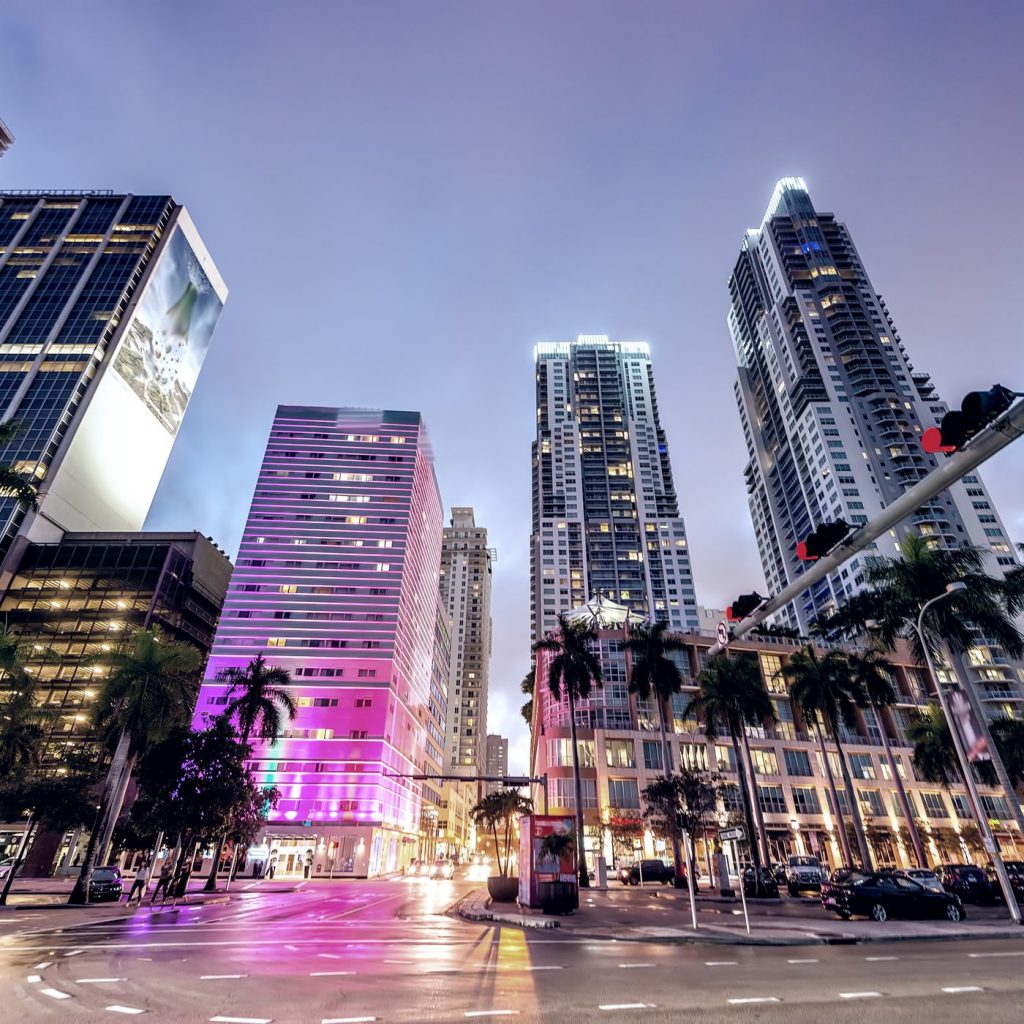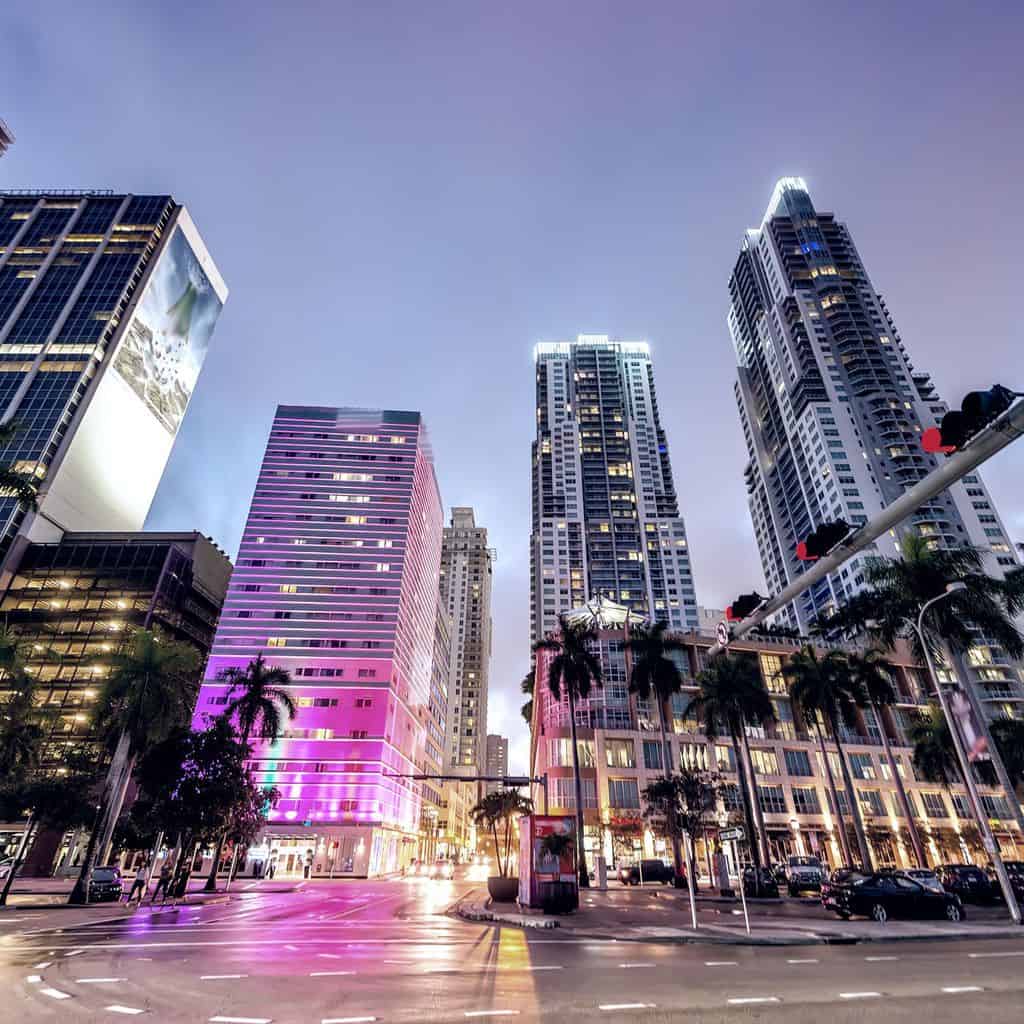 Downtown Miami and Brickell are separated by the Miami River. Both parts are the business center of the city but we believe there is a lot of difference between them. It is clear that the Downtown is better located: closer to South Beach and to the main attractions of the city. And also better connected.
But unlike Brickell, the atmosphere is worse. Similar to any Downtown in a big city in the United States. During the day there is no problem because people work, but at night there is no one left and the streets are deserted. On the other hand, Brickell does have a lot of restaurants, making it a much nicer area to stay in Miami.
As for the price, in Downtown Miami you can find some of the most luxurious hotels in the city. So in general it is one of the most expensive areas to stay in Miami. To sleep in the Downtown, we advise you to do it in Brickell which is nicer and cheaper.
Good accommodations in the Downtown:
Hyatt Regency Miami
Eurostars Langford
Courtyard by Marriott Miami Downtown
Mid-Beach, relax on the beach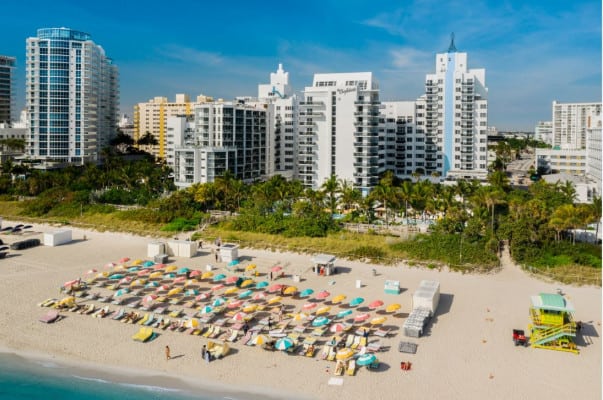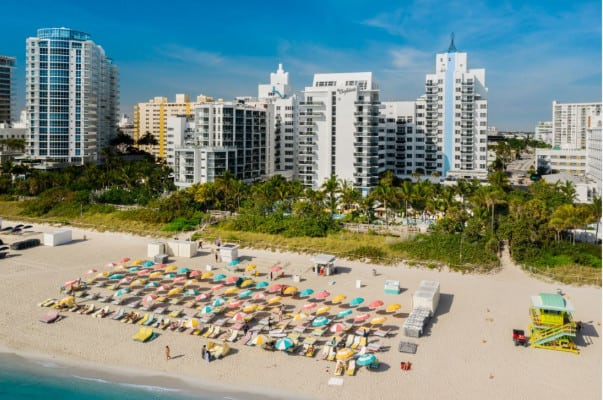 Although we would never come to Miami for its beach, we have to admit that it's not bad at all. However, we didn't like South Beach very much because it's crowded and you don't have peace of mind. If you're looking for a little more relaxation, we suggest you sleep in Mid-Beach, just to the north. You'll see that when you get away from Ocean Drive, Miami Beach is another world. The streets are quiet and there are nice shopping areas.
Mid-Beach is home to some of the most spectacular hotels in Miami Beach, and it's right on the beach! As you can imagine, the beaches are much quieter, so if you're looking to unwind in a hammock, you'll be much better off here. Of course, prices are quite high as they are usually luxury hotels.
Good hotels in Mid-Beach:
The Setai Miami Beach
Hotel Croydon
Nobu Hotel
The surroundings of the airport, the cheapest place to stay
Sleeping next to the airport can seem very tempting because hotels are much cheaper than anywhere else in the city. But you have to be careful when choosing the right one because depending on which one you choose you will have to live an odyssey to get to the center.
For your reference, in the surroundings of the airport you can find really good hotels with breakfast included for only 100 ? per night. That is to say, much cheaper and nicer accommodations than most in the center. But it's tricky. It is not the same to stay in the North, South or West (Doral) as in the East of the airport. It changes a lot, especially if you want to move around with public transportation. In Miami parking lots are very expensive, so we recommend leaving your car at the hotel to move around the city.
If you want to sleep near the airport and visit the city, at least in the east. That is, next to the airport train station. We believe that the east of the airport is a very smart area to stay in Miami. In 50 minutes by train or bus you will be in the center of the city and save yourself from having to pay for parking. If you want to save money, it's a good option, and most of them include a free shuttle to the airport!
Good hotels in the east of Miami airport:
Holiday Inn Express & Suites Miami Airport East
Hyatt Place Miami Airport East
Coconut Grove and Coral Gables, distant options but good value for money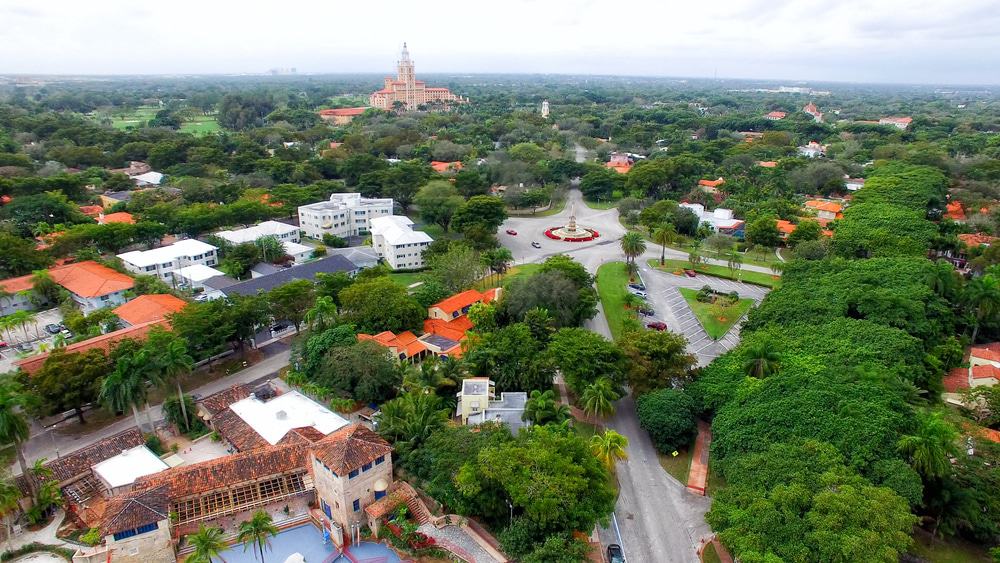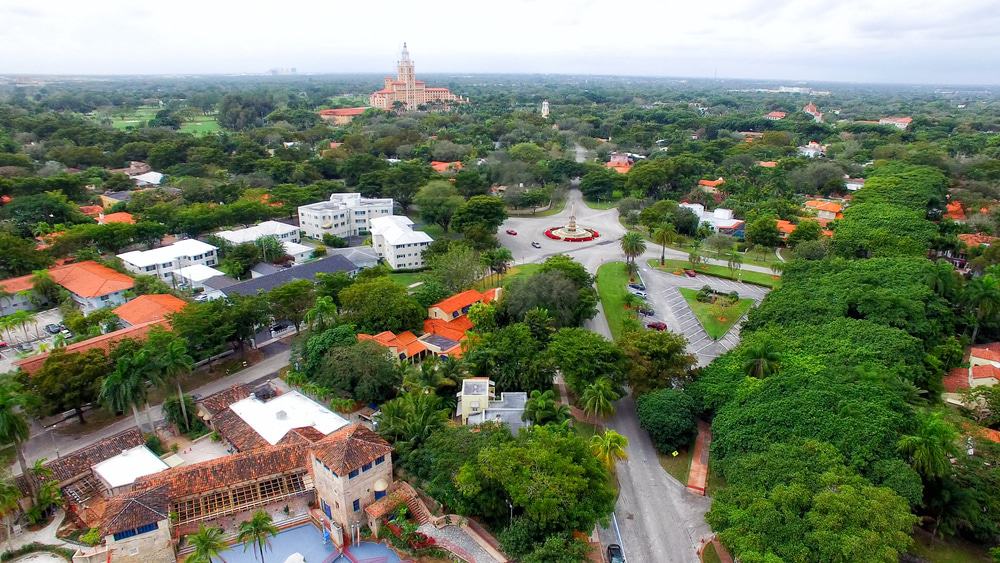 Both Coral Gables and Coconut Grove are good alternatives for staying in Miami. There are many hotels with good prices (for being Miami) although you should know that they fall somewhat far from the center. Even so, they are two quiet, residential areas and, in general, very pleasant.
For your reference, if you sleep near Coconut Grove or Coral Gables station it only takes 30 minutes by train to Miami Downtown. Not bad! So we think these are two areas to consider for their price.
Our recommendations:
Hampton Inn Miami Coconut Grove / Coral Gables
Four Points by Sheraton Coral Gables
Read more:
Orlando Travel Guide
Things To Do in Orlando