Hawaii has only two seasons, winter and summer.
So what is the best time to visit Hawaii? The best time to visit Hawaii is in April, May, September and October. It's a lot rainier during winter, but this is the perfect season for surfing. You can also enjoy the island in November when there are fewer number of tourists.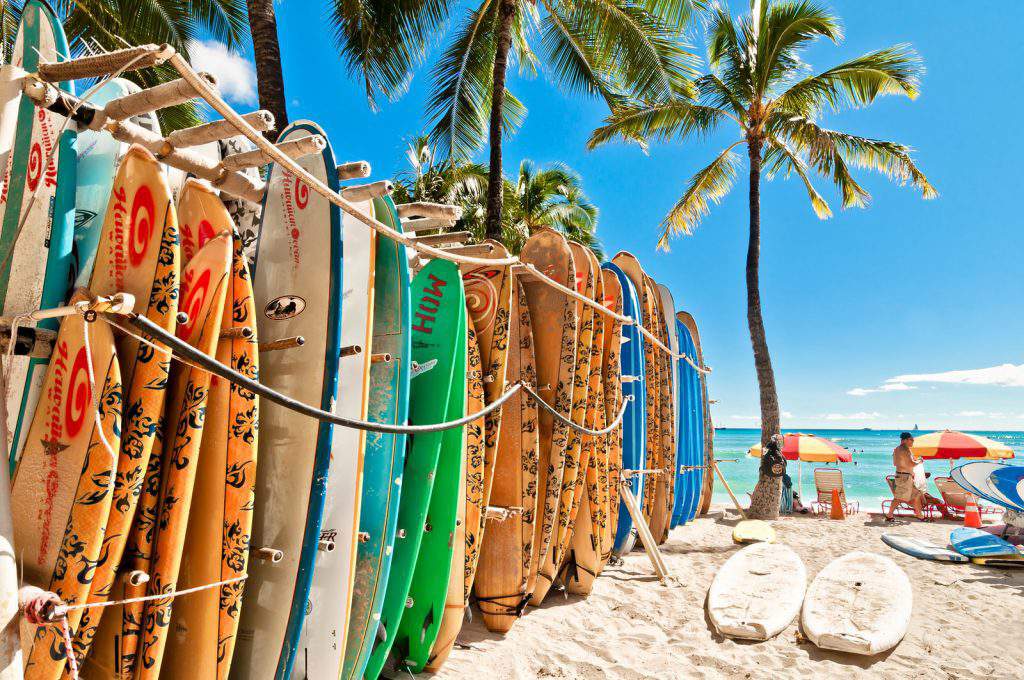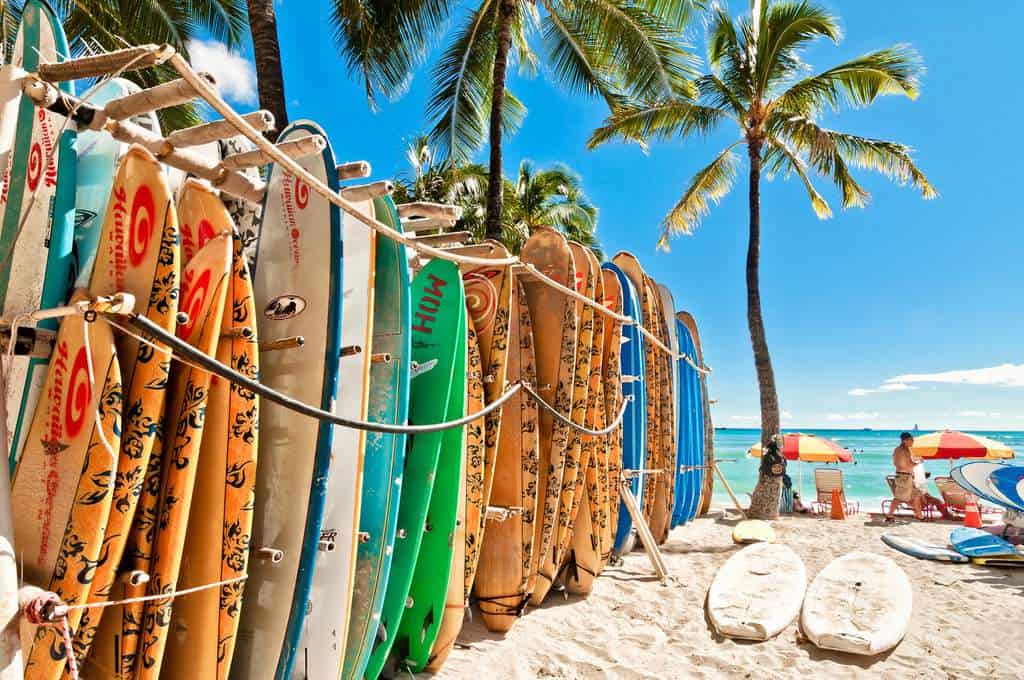 Seasons in Hawaii
Hawaii has only two seasons, winter and summer. It rains more and the waves in the north shores are bigger during winter season. June to November is hurricane season although huge storms are uncommon in Hawaii.
The temperatures in summer can rise up to 31°C. You can enjoy perfect weather conditions during the months of April, May, September and October.
There's a lot of family friendly hotels in Hawaii, but they get full very quickly during peak season. So if you're visiting in July to early January, consider getting booked at least three months before your scheduled trip to avoid any inconveniences.
Best Time To Surf in Hawaii
When and where to go surfing in Hawaii depends how skilled you are as a surfer.
Pro surfers hit the north shores during winter months to catch big waves, especially in Oahu. But if you're a beginner, it's better to practice with little bumps of waves in the south shore for your safety. You can also go surfing during summer when the waves are smaller.
Hawaii Weather Month by Month
It's always warm in Hawaii, no matter what time of the year you go there. It rains more during winter, which is from November to March. Hurricanes are experienced during from June to November, although it's not that usual. Momentary rain falls happen regularly anywhere on the island. The rainiest regions are in Kauai and Hilo. West Maui and Kona Coast has the warmest temperatures. The waves are larger and stronger during winter, mainly on Hawaii's northern shores.
January
January is somewhat cold in Hawaii, the temperatures going down to 20°C. Light rains should expected during this month. Gigantic waves hit the north shore but you can also enjoy some big waves in the west. Always bring a jacket or wear layered clothing at night or if you're going to visit areas in high altitudes.
February
February has almost the same temperatures as January at 20 to 26°C. Large swells can be observed in the north and western coasts. You still need to wear a jacket or quick drying outfits if you're going to be whale watching. The waves are strong and you might get wet.
March
The weather conditions in March are still similar to February with smaller chances of rain. There are still big waves in the north shore but not as big as peak winter season. The waves on the west this at this time are larger than the northern waves.
April
The temperatures from March to April are still the same. But it doesn't rain that much anymore. You can still wear layered clothing but you can leave the umbrella at the hotel. The waves anywhere on the island are calmer and the water starts to feel warmer. This is the perfect time to go snorkeling.
May
It is the beginning of summer in May. The air is starting to get warmer and the sun shines brighter. The waves remain normal as water temperatures begin to get warmer. This is the perfect time to go to Hawaii because the weather is just in the right condition…
June
June in Hawaii is beautiful and bright. As the waves from the north begin to calm down, surfing season is starting in the south. The warm temperature of the ocean is relaxing, and it's the best time to go swimming.
July
The warm temperature remains the same in July, but it rained more this month than previous. The waves in the south shores are at their highest this month. If you're going on a helicopter tour or seeing the Haleakala Crater, it is still advisable to wear a jacket.
August
August has the hottest temperature in Hawaii with very little rain. The waves are still calm up north, while there are bigger waves in the south. The swells on the eastern and western sides of the island are also beginning to increase in size.
September
The water is really warm in Hawaii in September. The waves are just the same size on all shores and the air is still as hot as it was in August. September has more rain than any other summer month but not as rainy as it is in the winter.
October
October is the last summer month and it is beginning to rain again. The waves on the south and east side of the islands have started to calm down. On the north and western side, the waves are starting to build up for the upcoming winter months. Always bring a jacket or rain gear if you plan to travel here this month.
November
November in Hawaii sees more rain three times more than it did in May or August. Don't forget to bring an umbrella and prepare some alternative activities in case the rainfall ruins your plans. The air and water temperature has begun to cool down and the waves are picking up again in the north and the west.
December
It really feels like winter already in December as the air begins to cool down and will continue to in the following moths. The water starts to cool down as well but still warm enough for a comfortable swim. The waves in the south have disappeared as the northern and western waves continue to grow larger and gain more strength. You can already spot a couple of whales this season.
Most Popular Events in Hawaii
January Events
North Shore Surf Competitions in Oahu: January is peak surfing season in Hawaii, and there are several competitions scheduled on Oahu's north shore. Volcom Pipe Pro at the Banzai Pipeline happens at the end of January. There is another event knowns as The Edie, will be held in Waimea Bay. However, this isn't a sure even because of the event's minimum wave size requirement. The Edie has only been done about 9 times since 1984.
Chinese New Year in Oahu and all islands: Witness amazing fireworks, lion and dragon dancers, kung Fu demonstrations and wonderful music during Chinese New Year celebrations at the Chinatown in Honolulu
February Events
Maui Whale Festival in Maui: This is a month long event presented by the Pacific Whale Foundation to help increase awareness on humpback whale protection. The main even is the Parade of Whales on World Whale Day.
POW! WOW! Hawai'i in Oahu: This festival on international arts, music and culture happens during Valentine's week. Take your date with you and have a look at the gallery installations, art and mural projects, listen to lectures and music. It will surely won't be just an ordinary valentine's date.
Waimea Town Celebration in Kauai: Try your luck on the deconstructed triathlon or satisfy your sweet tooth while competing on an ice cream eating competition. This event lasts eight days and has many more activities.
Waimea Cherry Blossom Heritage Festival in Big Island: Experience a unique celebration of both Japanese and Hawaiian culture. Participate in the tea ceremony, make origami, dance the hula, taste food and listen to music are just some of the activities that you can do.
March Events
Honolulu Festival  in Oahu: This three-day celebration of Hawaii and the Pacific Rim takes place in Waikiki. Learn more about Hawaiian culture through food, dance and arts. Catch the parade at the end of the festival.
Kona Brewer's Festival in Big Island: The Kona Brewers festival features participants from 47 breweries and chefs from 29 restaurants. The activities for this festival include a hula, a home brewer's contest, live music and a fashion show made from garbage.
April Events
Merrie Monarch Festival in Big Island: This festival runs for three days and includes a hula contest, invitational arts fair, hula shows and a parade through Hilo. You can request for tickets by mail if you want to join any of the competitions. All other events are free.
Waikiki SPAM JAM  in Oahu: Hawaii is obsessed with SPAM. This festival takes place in the evening and chefs from different restaurants create new SPAM recipes. There's a lot of arts, crafts and retail that features SPAM. The event is free of admission but you can help by donating a can of SPAM to the Hawaii Food Bank.
Honolulu Brewers Festival in Oahu: This festival features over 100 craft beers from Hawaii, Mainland US, and other countries. There's live entertainment and food. Tickets were sold out immediately because it was limited to just 2500. Be sure to pick up your ticket as soon as if becomes available.
May Events
Lei Day in all islands: This is typically celebrated every first of May and it features a lei contest, hula dancing and live music.
Lantern Floating Ceremony in Oahu: Every year, as the sun sets on Memorial Day, around 40,000 paper lanterns are lit to float in honor of fallen soldiers. These lanterns have prayers and messages written on them. They are carried by the wind to the waters on the Ala Moana Beach.
Kauai World Challenge Canoe Race in Kauai: This outrigger canoe relay race challenge begins at Kapa's Beach Park and continues for 36 miles along the Kauai coast, ending at Salt Pond.
East Maui Taro Festival in Maui: Held at Hana town, this celebration feature staple Hawaiian foods including taro pancake and poi pounding. You can also buy your favorite ingredients at the farmer's market.
June Events
Pan Pacific Festivalin Oahu: This is a yearly event celebrating the Pacific Rim arts and food. There are over 100 performances that you can see and a parade at the end of the festival.
King Kamehameha Day in all islands: King Kamehameha the Great is a king who united the Hawaiian Islands. This public holiday celebrated in his honor all over Hawaii, which features a floral parade with pa'u riders. The largest even takes place in Oahu.
Maui Film Festivalin Maui: If you're able to catch this festival while you're in Hawaii, take advantage of it. Catch a film while dining on fine foods and participate in the panel discussion and film screening at the Wailea resort area.
July Events
Koloa Plantation Days in Kauai: Learn more about the history of the Koloa Plantation in Hawaii. Participate in different festival activities and get to know more about the community.
Honolulu Surf Film Festival  in Oahu: To learn more and celebrate the history of surfing and the influence that it has brought to culture, you can head over to the Honolulu Museum of Arts where you can watch for a whole month different types of film exploring the history of surfing in Hawaii.
Prince Lot Hula Festival  in Oahu: The Prince Lot is a forty-year old hula festival held every year and holds the title of the biggest hula event. Popular hula groups perform and display their hula dancing skills during this event.
Joy of Sake in Oahu: The biggest sake-tasting event in Hawaii pours over 300 sakes while you taste food prepared by the best restaurants in Honolulu.
August Events
Ho'oku'ikahi Establishment Day Hawaiian Cultural Festival in Big Island: It's a celebration of ancient Hawaiian culture. The event is free of admission, but you have to learn one craft before leaving to support the preservation of Hawaiian culture. Participate in the Ho'okupu Ceremony, go on canoe rides and learn more about Hawaiian cuisine during food tasting.
Na Hula Festival in Oahu: Although the Prince Lot takes the title for the largest non-competitive hula festival, Na Hula is the longest free hula festival held at the Queen Kapi'olani Park.
Hawaiian International Billfish Tournament in Big Island: The Billfish tournament held in Kona lasts up to five days. The community was requested to join and watch the weigh-ins every afternoon. You may also have a photo-op with the newest Miss Billfish.
September Events
Kauai Mokihana Festival  in Kauai: This cultural celebration lasts a whole week where attendees can enjoy watching or participate in hula and music competitions, sit in during lectures and checking out the craft fair.
Aloha Festivals  in Oahu and all islands: A celebration held all over the state, each island has their own Aloha week but the largest in Oahu. This event brings in about 100,000 people every year. Attendees can enjoy watching the royal court stage, the floral parade, and the biggest block party in Waikiki beach.
Okinawan Festival in Oahu: Celebrate anything and everything Okinawan in Oahu. Participate in karate, dance and taiko drumming. Enjoy delicious food and the watch lion dancing performances.
October Events
Hawaii Food & Wine Festival  in Oahu, Maui, and Big Island: Separate events are held all over the three islands. Some of the things to see during this festival include different food tasting events, cooking competitions and classes. You need to buy three separate tickets if you plan to go to all three events,
Coconut Festival in Kauai: This annual celebration includes a coconut cooking competition, a cooking demonstration and coconut pie-eating contest.
Ironman Competition in Big Island: The largest and most iconic triathlon competition in the world. You can only join this competition if you pass the qualifications.
November Events
Vans Triple Crown of Surfingin Oahu: This popular surfing competition done on the beaches of North Shore in Oahu. There are three events where each has a holding period where the competition happens during the period when the waves are largest. This event starts in November and goes on to December.
Kona Coffee Cultural Festival in Big Island: Come and celebrate the rich history and culture of Kona Coffee in Big Island. During this eleven-day celebration, you can visit different events all around the Kona Mountains and shores. Compete in coffee cupping contests, go on farm tours and participate during the seminar on the science of coffee.
December Events
Festival of Lights  in Kauai: Check out the County Building decorated in lights during the opening ceremony and all through the month of December. The decorations were made from scratch out of recyclable materials.
Moku'ula by Moonlight in Maui: Here, you can listen to stories about modern Hawaiian concerns along with music from slack keys and the ukulele. Bring your own seats and quilts then head over to Lahaina beach for a relaxing and educational experience.
Wailea Village Mochi Pounding in Big Island: It's a festival where everyone makes rice cake traditionally by beating the sticky rice. They believe it brings great fortune for the coming year. Entertainment includes taiko drumming and fortune telling. Food stalls are also available.
Best Time to go For…
Snorkeling and Water Sports
One of the best reasons to go to Hawaii is you can enjoy water-based activities no matter what season it is. The perfect time to go snorkeling and swimming is still during summer months. 
Did you know that Big Island and Maui has the finest snorkeling spots than any other place in Hawaii? This is because it doesn't rain a lot in these locations. Not like when you go snorkeling in Kauai. Because it rains there more than anywhere else does, it affects the clarity of the water.
Kauai may not be ideal for snorkeling, but you can find incredible hiking trails there. Just like surfing and snorkeling, you can do this anytime of the year. However, it is safer to hike with more light and less rain, so hiking should best done during summer. It's ideal to start hiking in daybreak when the temperature is not too hot yet. Don't forget to bring lots of water and sunscreen!
Whale Watching
Whale watching can be done every year from December until April. However, the best time to go see the whales is in February until March after they give birth. You can spot them anywhere in Hawaii but they mostly gather within the coasts of Maui, Molokai and Lanai. 
You will find better offers for cruises during Thanksgiving week and the middle of December. There is a lot of different boats to choose from when you go in the month of April, September, and October.
Volcanos
The most active volcano on the island is the Kilauea, and it is constantly erupting since 1983. Some eruptions can be either intense explosions or just lava flowing on the ground. There is always a chance to see lava anytime when you visit. You also have to consider the weather when you go to Kilauea. It is colder up on the volcano than when you're down at the beach. It's better to go during summer so you can stay warm.
Fishing
You can go fishing in Hawaii anytime throughout the year. Depending on the season and which island you go to, you'll be surprised to find what's on your hook. There is no exact fishing season in Hawaii. You'll always something biting on your line. If you're able to catch a skipjack during winter, there's also a chance you catch one too during summer. Moreover, if you're lucky, you might catch a whale or two while you're fishing. 
Hiking
It can get really cold up in Mauna Kea during wintertime. Going there in summer months during a new moon is the perfect occasion for stargazing. When you reach the summit, you can use their first class telescopes to gaze at the heavens above. Because of Mauna Kea's high elevation, the oxygen level at the top is very low. It's advisable to take a rest for one hour mid climb to get used to the weather. If you've been scuba diving, wait for a day before going up Mauna Kea.
Mauna Kea has different levels snow all throughout the year. Skiing and snowboarding are some of the things that you can do here apart from stargazing. The snow level for these activities is perfect during February and March. You can drive up to Mauna Kea but you will not find any lifts and ski resorts in here. You will find however, what was described to be one of the best snows in the world.
You can get discounts when you buy your tickets early and select travel dates during in the middle of the week. In addition, you will definitely find affordable prices for plane tickets and hotel rooms when you travel in the spring or fall. Except during the final week of April, when it's high season in Japan, and also during Thanksgiving week. It's cheaper to travel to Hawaii in June and July than the winter season, however travel promos are uncommon during this time.
Peace & Quiet
Hawaii has quiet months when you can also enjoy the islands with less people. The month of November has the least amount of visitors, except during Thanksgiving week. The early weeks of May, June, September and October also has few visitors. April is also a good time to go except for Golden Week and during Easter.
To Plan A Beach Wedding
If you're planning to have a beach wedding in Hawaii, the best time is in summer when there is a small chance of rain. Try to avoid Kauai and Hilo though, because it rains there almost all the time. Hurricanes are uncommon in Hawaii so it is okay if you want to get married between the months of June to November. 894970If you're planning to have a beach wedding in Hawaii, the best time is in summer when there is a small chance of rain. Try to avoid Kauai and Hilo though, because it rains there almost all the time. Hurricanes are uncommon in Hawaii so it is okay if you want to get married between the months of June to November. 
Plane fares change significantly all the time. You can buy your tickets at least four months or six weeks before your preferred travel date to get the best deals. If you're travelling during Thanksgiving week until late December, it would be best to buy your tickets at least eleven month in advance.
Best Time to Travel to Each Destination
Oahu
The ideal time to go to Oahu is in April, May, September and October. The weather is mostly warm all year with temperatures rising up to 31°C. The temperature doesn't change much when you're near the shores, but gets colder and rains more as you go higher inland. 
It usually rains at night in Oahu, especially from December until February. Dry season is from June to August. The heat in the water rises during August to November, then it gets colder in January and April. 
There are large surfing competitions during November to March when massive swells hit the shore. March to May is the perfect time for surfers to enjoy big waves with fewer tourists at the beach. 
At the southern shores, whale season happens in December to March. The hotel room rates and airfares are higher because it's peak season. Excluding Golden Week, rates begin to go down beginning in April until mid-June. Also later in the year in September to December when there are less tourists.
Maui
The weather in Maui is almost the same as Oahu. The perfect time to go there is in April, May, September and October. It's just a little colder in the winter. The west of Maui is mostly sunnier while the eastern side of the tropical forest is somewhat cooler due to a little rain in the day or at night.
It rarely rains in Maui from June until October. Light rainfall begins in the month of November up to March. Ocean temperatures rise during August until October then starts to get colder by January until March. Waves tend to go higher in the north shore from November until February. 
Whale watching season starts in December until March. This period is also Maui's peak season as a high number of tourists head to the island. The price of hotel rooms are really expensive at this time. Rates begin to lower and go back to normal by April as the number of tourists become smaller.
Kauai
You can enjoy good weather, cheaper prices and less tourists when you travel to Kauai in April, May, September and October. It's almost always raining in Kauai, and the weather conditions in different areas of the island are different from each other. 
It rains regularly on the northern and eastern sides of the island, but the southern side is often sunny. The western side of Kauai around Waimea Canyon is dry. Near the heart of the island is Mt. Waialele, is one of the wettest places on the planet. 
The temperatures in Kauai range from 27-29°C throughout the year. July to October experiences the warmest temperature, while December to March has cooler temperatures. Short rains are expected all year round. Although the island experiences dry weather during May to September. The seawater is hotter during August and October and gets colder during January to April. 
Big waves hit the north shore during November until February. December to March is peak season and whale watching season. The island experiences off peak season from April to June and September to December.
Big Island
Big Island is also enjoyable in low season during the months of April, May, September and October. With less tourist, beautiful climate and affordable rates, it's hard not to have a good time on this island. Big Island just like its name is literally the largest island in Hawaii. Even bigger than the size of all the islands combined. 
The climate in Big Island is mostly steady all year. The temperatures range from 27 to 31°C in Kailua-Kona. Meanwhile in Hilo and Volcano, temperatures reach 26 to 28°C. Rainy season is during the months of March and April. Dry season is experienced mid-May to late July. Even though both regions experience rainy and dry seasons during the same period, Hilo and Volcano gets twice more rain that Kailua-Kona during rainy season.
They also share very similar ocean climates. Both experience warm ocean temperature in August until October. February and March have colder ocean temperatures. The perfect time for surfing is during winter, in December and February, even though swells are slightly smaller in Big Island than the rest. 
December until March is high season and whale season in Kohala Coast and Hilo Bay. Moreover, just like the other islands, Big Island's low season is during the months of April, May, September and October.
Travel Seasons in Hawaii
Hawaii experiences high season starting in December until March. This can be felt particularly during at Christmas and New Year break. Everything from airfares, accommodation and rentals cost a lot more than usual. All hotels impose stricter policies on guests when it comes to deposits and cancellations. If you plan to go to Hawaii during this period, prepare and make reservations ahead of time. 
April to June and September until mid-December is Low Season in Hawaii. During this season, everything is cheaper and affordable. The coasts and other tourist spots have fewer people as well.
Summer in Hawaii is from mid-June until the end of August. During this time, a lot of families travel to Hawaii while the kids are on vacation from school. A lot of people take advantage of lower prices during summer. The only drawback is that most tourist attractions will be full of tourists. You rarely get offered travel promos during this time, and if there are any, they usually come around the last moment.