Skiathos, the most popular and cosmopolitan island of the Sporades archipelago is not only a paradise for beach lovers but also for those who want to be in touch with nature.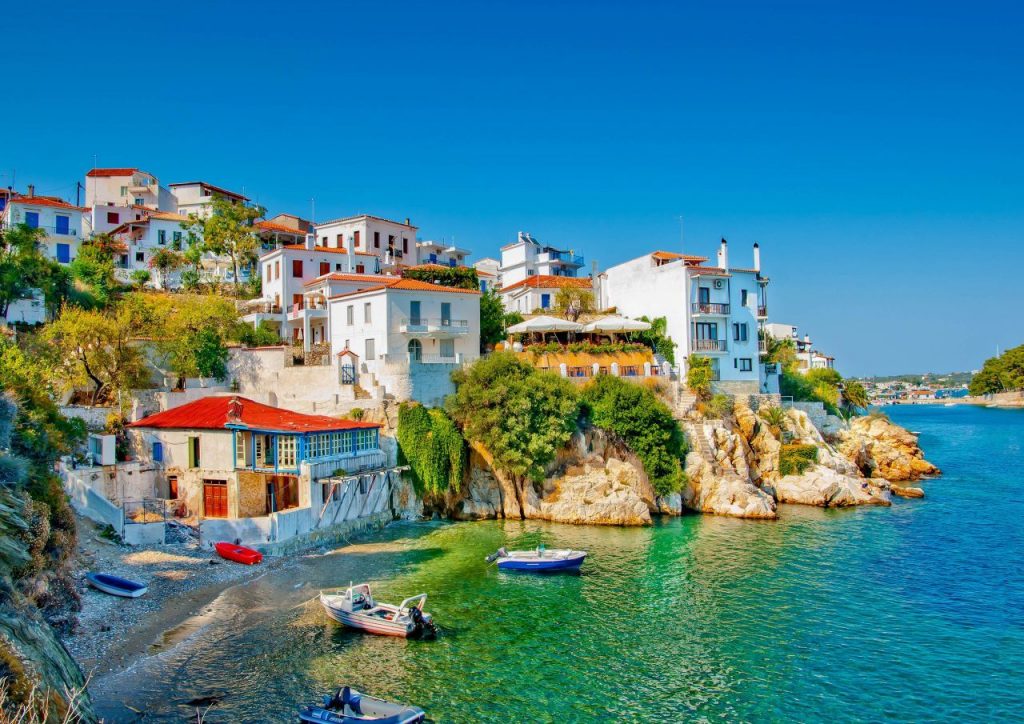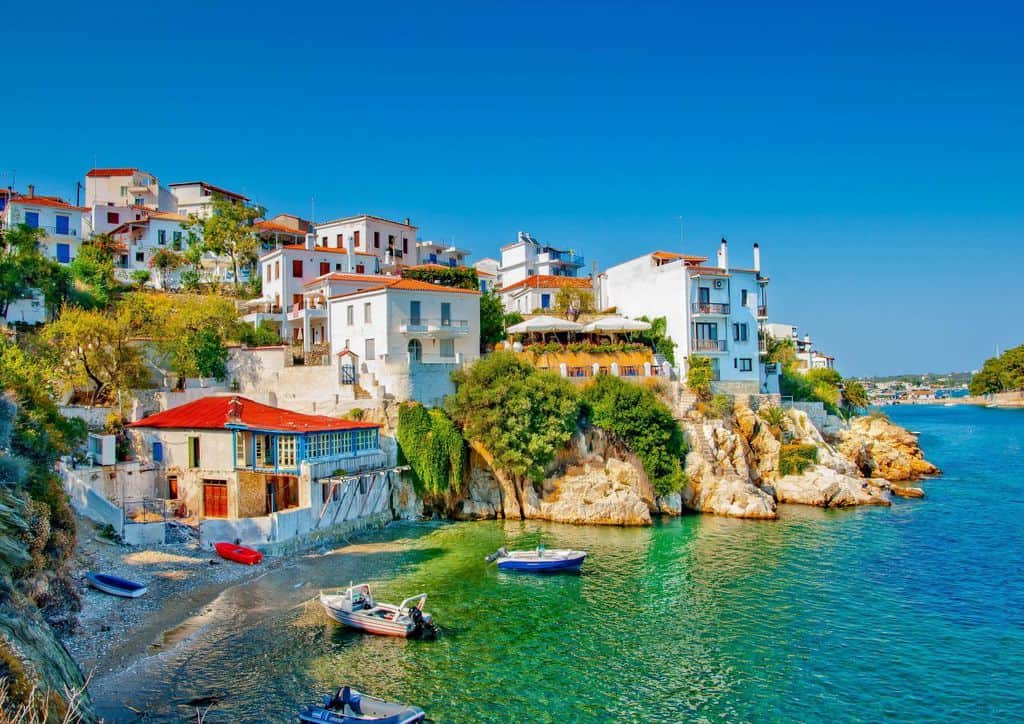 Despite its small size and the growth in tourism that this island has experienced in recent decades, Skiathos has a lot of charm. Its hallmarks are its paradisiacal beaches and lively nightlife, but if you are looking for peace and quiet, you will also have no trouble finding lost spots to relax in.
Discover its 60 paradisiacal beaches
If there is one thing that makes Skiathos stand out, it is the beauty of its beaches. Lalaria, is one of the most imposing of the island. Surrounded by impressive and impassable steep cliffs, Lalaria can only be reached by sea when the weather allows it. This beach of small rounded pebbles has a natural arch carved into the rock. It will capture you by its spectacularity.
Another must-see beach in Skiathos is Koukounariés. Declared as one of the most beautiful beaches in the Mediterranean and a protected natural reserve, the lush vegetation that surrounds it with the forest reaching the beach, its golden sand and shallow crystalline waters make it a paradise to enjoy a great day at the beach.
Other beaches worth visiting are Banana (small and large), Agia Paraskevi and Troulos.
See also: Best Hotels in Skiathos
Spend the day in Tsougria
Tsougria is a small uninhabited island in front of Skiathos that you can only reach after a short boat trip. Visible from the capital's clock tower, it is one of the best excursions from Skiathos. My recommendation is that you take a boat or water taxi in the morning and spend the day on its four beautiful beaches. You will be surprised by its emerald waters and fine sand.
If you prefer, you can also climb the rocky surface of the island (don't forget to take suitable footwear) and contemplate the nearby Skiathos and Skopelos. Tsougria is not inhabited but during the summer months you can find a beach bar there to have a snack and buy drinks.
Hiking and sport
One of the most recommended activities in Skiathos is hiking. The island has many well-marked trails through impressive pine forests. You can also take routes that will take you to discover beautiful coves, old monasteries and the odd solitary place with spectacular views of the Aegean.
You can also practice all kinds of sports such as paragliding, water skiing, diving and snorkelling or even horse riding.
Visit the ruins of the medieval fortress of Skiathos
Perched on a rocky promontory on a peninsula north of the town of Skiathos, this fortification was built to be pirate-proof and was the island's main settlement until 1830, when it was abandoned in favour of the present capital. The remains of four churches and a mosque, the gateway to the fortress and part of the wall are still preserved.
Enjoy its bustling nightlife
If you're one of those who dance until dawn… Welcome to Skiathos!
Not unlike the famous Mykonos, Skiathos has bars and clubs for all tastes and boasts one of the most cosmopolitan nightlife in Greece. The majority of the venues, full of young people and good atmosphere, are located in the pedestrian street along the port and in the old town. Some beach bars also stay open at night and organize parties on the shore until the early morning.
Strolling through the narrow streets of the old town of Skiathos
Packed with ancient alleys and beautiful corners with stairs where you can take one and a thousand pictures, walking through these alleys is a real pleasure. Entering its charming shops, sitting down to eat a typical dish in one of its many restaurants or having a coffee in one of its charming little terraces under the bougainvilleas is, without a doubt, something you should not miss during your stay on the island.
When to visit Skiathos and how to get there
The best time to visit Skiathos is in spring and summer. Most establishments such as taverns, hotels and nightclubs open between mid-May and early June and remain open until the end of September.
The town of Skiathos is the main port of the island and is connected to some of the main Greek cities such as Volos or Thessaloniki and other ports in the area. You can also reach it by plane from Athens.
Moving around Skiathos is relatively affordable as it is a small island and the distances are easy to cover. You can rent a car or a motorbike, or use public transport to get around, with buses connecting the various villages, beaches and points of interest.